Bangkok is the gateway to Asia. It's a great starting place for anyone visiting South East Asia, and is a natural stop-over location for many who are travelling elsewhere in the region. As such, most visitors tend to have anywhere from 1 day to 3 days in the city before moving on again. Whatever your plans may be, the below itineraries have got you covered, from 24 hours in the city, to 3 days.
Visiting Bangkok
Bangkok is a captivating city. A hot pot of vibrant colours and intoxicating aromas, meeting with centuries-old traditions and towering modern skyscrapers. It's an exhilarating experience, both stunning and chaotic, and on first experience you will either love it or hate it.
It took us a day to climatise (both to the heat and to the chaos), but we personally, loved our time in the city. The below itineraries draw on our own experiences during our time in Thailand, many of which we featured during our recent round-up of 10 things to do in Bangkok.
Getting around Bangkok
As you would expect from a major city like Bangkok, it has an incredibly well-developed and reliable public transport system. If you're only staying in Bangkok for a short while, you'll want to maximise your time in this bustling city and get around as quickly and efficiently as possible from place to place.
BTS Skytrain
The Skytrain is one of the most efficient ways of getting around Bangkok, with over 60 stations across three lines. The coverage may not be as thorough as say the New York subway system, or London underground, but the Skytrain will certainly get you the majority of the way towards the major sites and locations in Bangkok, and the rest of the journey can easily be continued on foot, by boat, taxi or Tuk Tuk.
The Skytrain is super easy to navigate and cheap, making travelling around the city a breeze.
Boat
To truly appreciate this dynamic metropolis, consider exploring it by one of its most iconic features—the Chao Phraya River. This flowing central river is the lifeblood of the city, with many commuters, tourists and freight transporters accessing the river all-day long.
The Chao Phraya Express will be your best bet. There are a number of piers up and down the river, stopping close to many of the main sites and attractions, from temples and palaces, to vibrant neighborhoods.
Taxi
Bangkok is notorious for its city traffic, however sometimes a taxi is unavoidable. If your hotel can arrange taxi pick-ups for you then I recommend you arrange this with your hotel, as we found this to be the most reliable option when we needed a taxi.
You can also download 'Grab' (a bit like Uber) to book taxi rides around the city. However, we found this to be unreliable, as most drivers would cancel the pick-up even after confirmation.
Tuk Tuk
Have you even been to South East Asia if you haven't ridden in a Tuk Tuk? For many, it is a right of passage when in the region, but for most, you'll certainly find it is the quickest and easiest way to get directly to where to you want to go.
Beware the fares can be inflated – however Tuk-Tuk fares are typically negotiable. Make sure you ask the driver for the fare to your destination first and then negotiate to a price that works. For us, this is where Grab came in handy as we would often find the price that was being charged on Grab, and if we were happy with that, use that as a benchmark with the Tuk Tuk driver. Fares are usually cash-only so make sure you have some change on you. Whilst bargaining is part of the fun, please be respectful and fair when negotiating.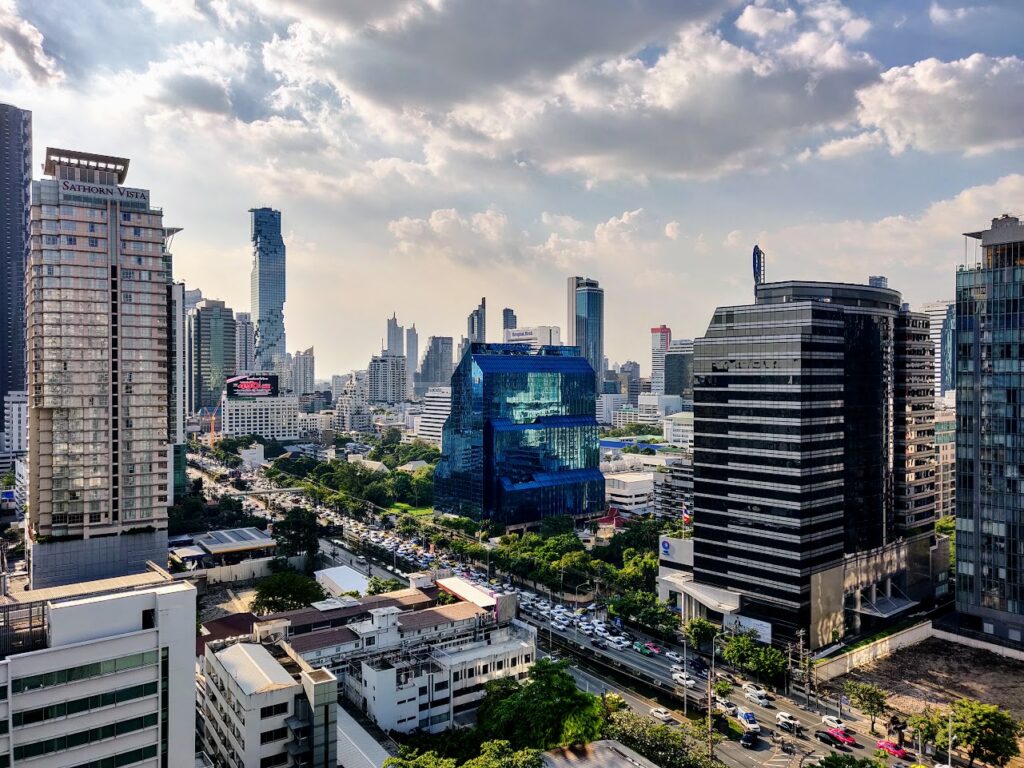 Your 3 day Bangkok Itinerary
Day 1: Temple hopping, visiting The Grand Palace, Wat Phra Kaew (Temple of the Emerald Buddha), Wat Pho (Temple of the Reclining Buddha) and Wat Arun (the Temple of Dawn). In the evening, dive into Thailand's culinary delights with a food tour!
Day 2: Explore the old capital of Thonburi. In the evening, explore the local markets for food, and take in the views of Bangkok from the rooftops. 
Day 3: Spend a leisurely morning at Lumpini Park, splurge in Bangkok's huge shopping malls. In the evening, explore the sensory overload that is China Town and the back backer haven of Khao San Road.
Day 1: Temple Hopping
Bangkok's temples are iconic, and if you only have 1 day in which to explore the city, spending a day temple hopping will give you a good flavour of the main highlights that this incredible city has to offer. "Wats" (temples) are not only places of worship in Thailand, but are also architectural marvels adorned with intricate details, glistening gold, and vibrant colors. By exploring these temples, you'll gain insights into Thai spirituality, history, and artistry. That said, there are over 400 temples in Bangkok – so where do you start?
Three of the most popular temples worth visiting (and easily doable in one day) include Wat Phra Kaew (Temple of the Emerald Buddha), Wat Pho (Temple of the Reclining Buddha) and Wat Arun (the Temple of Dawn), plus The Grand Palace, which houses the Temple of the Emerald Buddha.
You'll encounter countless Buddha statues and images of various sizes and poses. Be mindful not to touch them, and never climb on or point your feet at Buddha statues. Please note, you must dress modestly, removing shoes before entering sacred areas. We have a separate write-up about visiting these temples on a DIY-temple hopping tour here, including travel options, an overview of appropriate temple etiquette and what to wear, but below is a quick summary of each site.
The Grand Palace
Built in 1782, the Grand Palace is a vast complex of over 100 buildings, palaces, courtyards and pavilions, which served as the official residence of the Thai monarchs for over 150 years. Some of the buildings are restricted, and while it is no longer the royal residence, some buildings are used as Government offices and the Grand Palace remains an important centre for royal ceremonies and events.
The Grand Palace is a stunning masterpiece of Thai architecture and design, shimmering in gold leaf, each building is beautifully impressive, characterised by intricate details, ornate decorations and colourful mosaics, and wrapped by a tall 1.9km long wall. You can easily spend your time here just marvelling at the ornate structures and vivid murals.
The complex is split into two main areas: the royal residential areas, and Wat Phra Kaew. Within the grounds of the Grand Palace is one of the most important and sacred temples in Thailand, Wat Phra Kaew, housing the highly regarded Emerald Buddha, a small, ancient statue carved from a single block of jade. It is considered the most sacred and holist Buddha image in Thailand. You cannot take photos inside this temple, but it is well worth a visit.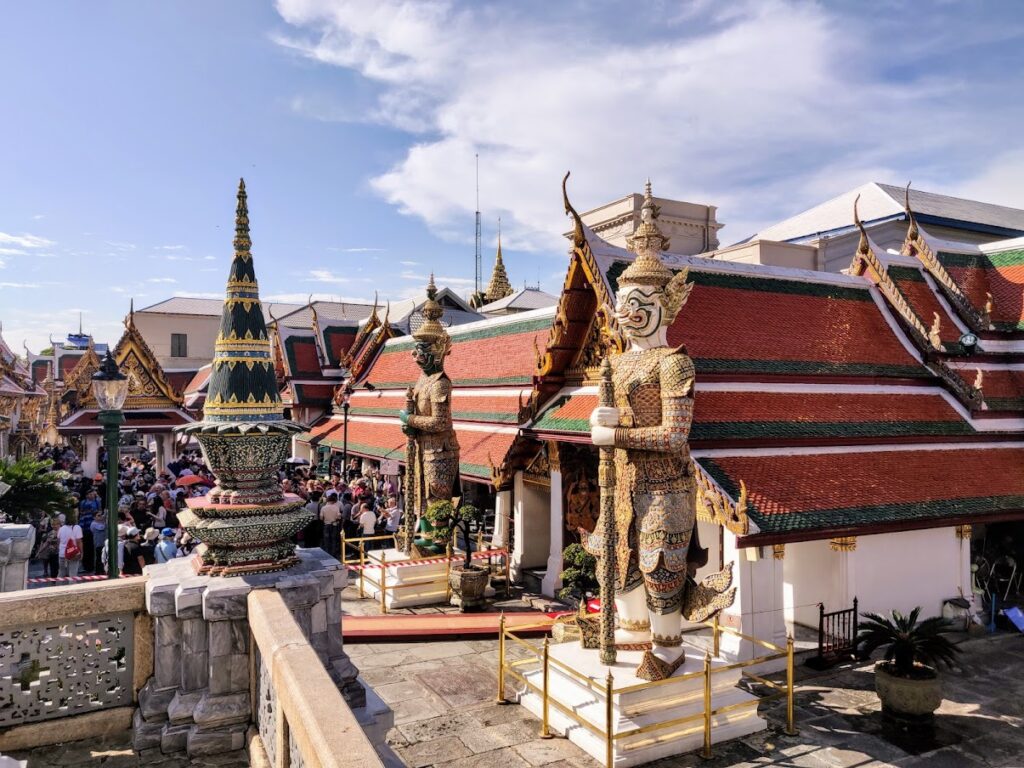 Wat Saket (The Golden Mountain)
Wat Saket, also known as the Golden Mountain Temple is a stunning and captivating temple, nestled on top of a man-made hill, overlooking all of Bangkok.
Wat Saket's origins trace back to the Ayutthaya period (14th-18th Century – although it underwent major renovations in the late 18th Century). It sits on top of a 79m high white mount, known as Phu Khao Thong, with a sweeping spiral staircase of 318 stairs around the outside of the mount, presenting you with stunning views over the city as you ascend.
One of the temple's most distinctive features is its gleaming gold chedi (stupa) that crowns the top of the temple complex, where from the roof you have yet more panoramic views across the city. This will likely be a very different experience to the Grand Palace, and we felt that Wat Saket embodied everything we thought a temple should be, it was serene and peaceful, with nothing but the sound of birdsong and windchimes from the roof. A true oasis within the city.
Wat Pho (The Temple of the Reclining Buddha)
Wat Pho is one of the oldest and largest temples in Bangkok, dating back to the 16th Century. The temple is expansive and consists of multiple courtyards with beautifully landscaped gardens and serene ponds, chapels, and intricately adorned buildings with ornate decorations or colourful ceramics.
The temple is famous however for its colossal reclining Buddha, covered in gold leaf and measuring an impressive 46m in length and 15m in height. It is an important symbol of Buddha's entry into Nirvana. But Wat Pho is not just known for this, it has the country's largest collection of Buddha images, and is also recognised as an important centre of traditional Thai massage, and houses a renowned school teaching Thai massage techniques.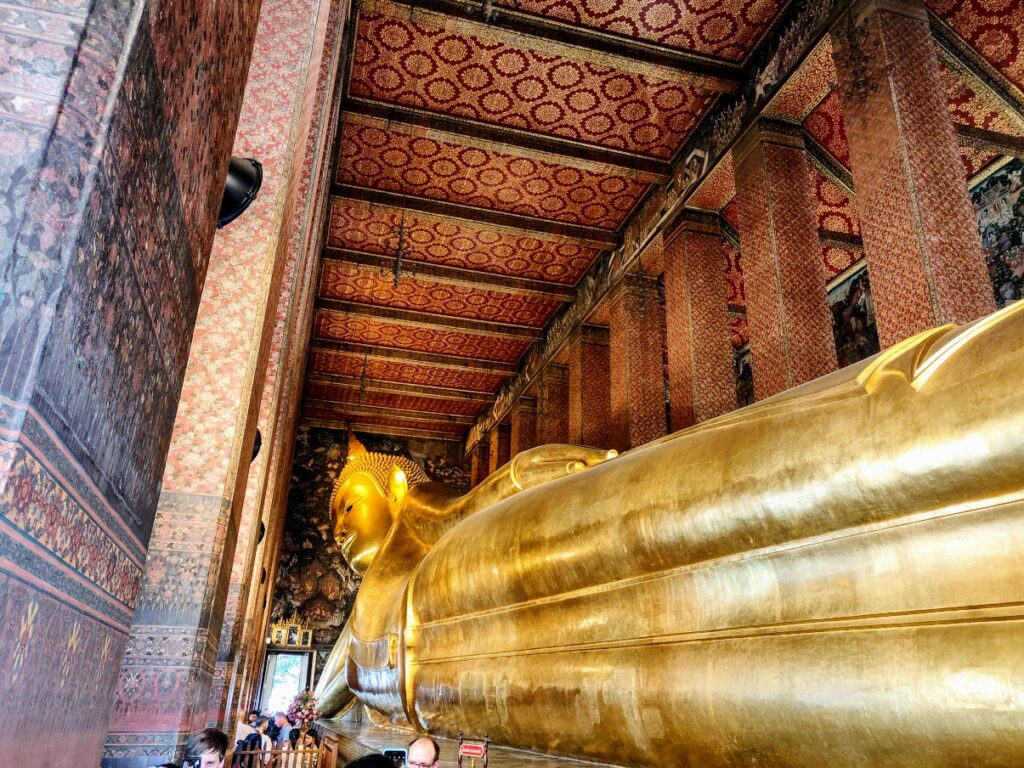 Wat Arun (Temple of Dawn)
For your final temple stop of the day, you'll visit the unrivalled Wat Arun, or Temple of Dawn. Set on a stunning riverside location, it is one of Bangkok's most iconic landmarks and rounds off your day of temple hopping perfectly.
Located on the other side of the river opposite the Grand Palace and Wat Pho, you'll get to see one of the prettiest temples in Bangkok, comprising of its renowned central 70m tall 'prang' (tower), and surrounded by four smaller towers. While the other temples are large and grand in appearance, Wat Arun almost appears delicate, with its central prang adorned with intricate floral patterns and colourful porcelain tiles. It has undergone significant restoration during its lifetime to preserve its architectural beauty, fusing both Buddhist and Hindu design elements. The central tower is said to represent Mount Meru in Hindu cosmology, symbolising the temples role as a bridge between the earthly and divine realms.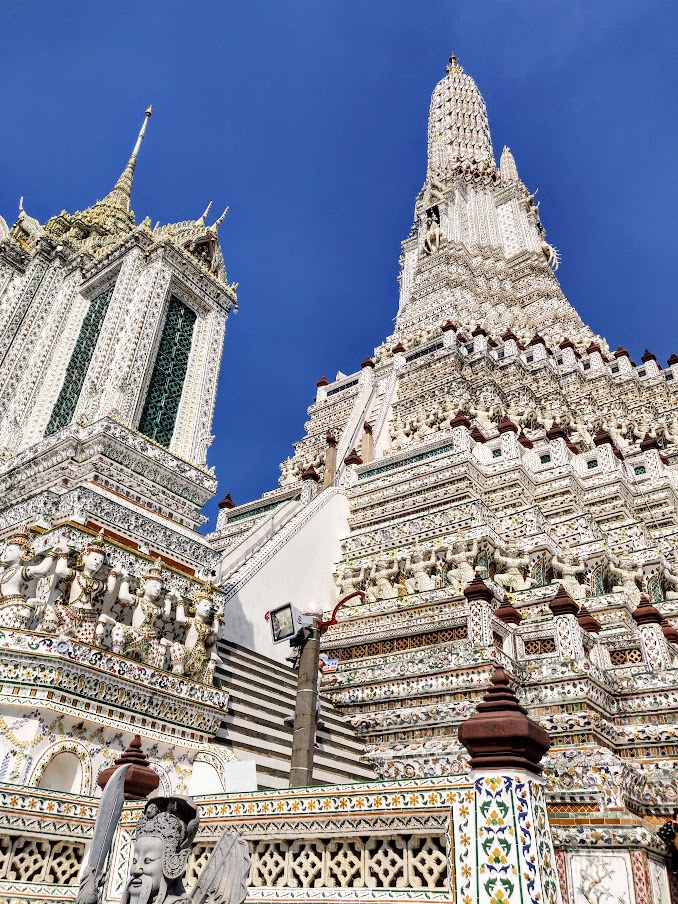 Evening: Food Tour
Thailand is renowned for its street food, and one of your very first experiences in Bangkok must be sampling the delights of local street food vendors. Picture sizzling chicken satays, steaming pots of curry, sweet, sour and spicy noodles, soups & broths, fresh banana pancakes and the taste sensation that is mango sticky rice.
Street food is an integral part of Thailand's cultural fabric and is a way of life throughout the country. Street food vendors often become community hubs, where neighbours, friends and family come together over a good meal. It is incredibly cheap and affordable, attracting everyone from across the city, locals and tourists alike. It is also the epitome of authenticity, supporting local trade and watching dishes be prepared right in front of you.
That said, knowing where to start, what to order, the range of options available, and where to go can be overwhelming. So if you only have a limited amount of time in the city, you want to try the best of the best! A street food tour is a great way to get acquainted with the foods and try something new. We booked with Taste of Thailand, and could not recommend them enough!
We have also provided a much more detailed overview of our experience of the street food tour on our 3 Days in Bangkok trip report.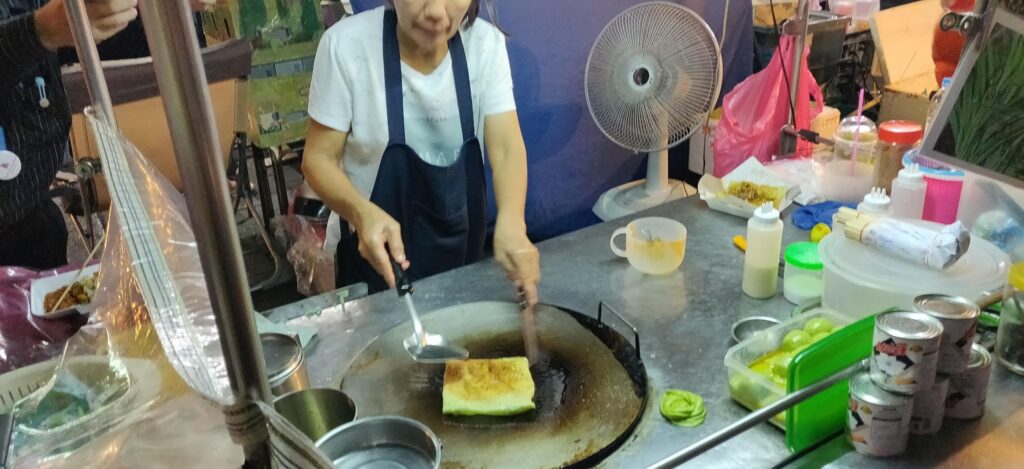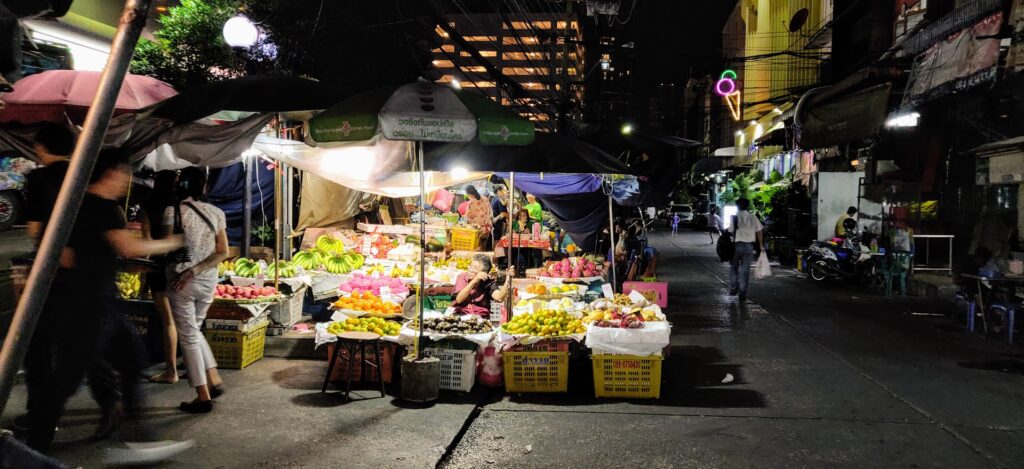 Day 2: Explore the old capital, Thonburi
Once the capital before Bangkok, and known then as the Thornburi Kingdom, Thonburi is a rural residential area within the larger metropolitan area of Bangkok. Consisting of small villages and twisting canals, Thonburi offers a unique blend of historical charm, cultural heritage (with plenty of temples to visit) and a more laid-back vibe and atmosphere, compared to the chaos of the city centre. If you spent your first day ticking off temple hopping, then Thonburi will be a welcome change of pace!
It is a completely different side to Bangkok and well worth spending a day here. Thonburi offers a glimpse into local life; a quiet life along the river, with close-knit communities, family restaurants, and vibrant local markets. One of the most well-known is Khlong Lat Mayom Floating Market, where you can explore stalls selling fresh produce, local dishes, handicrafts, and more along the canals.
Wat Hong Rattanaram and Wat Kalayanamit are two must-see temples in the area also, known for their serene ambiance and beautiful temple detailing.
A trip here will definitely not disappoint, you will be completely immersed in Thonburi life. If you fancy a visit, I really recommend booking a day trip with Small Teak Boat Canal Adventure, who will show you all the sights, amazing temples and the best local eateries in the area. This trip was our Bangkok highlight! We have written a complete overview of our day in Thonburi, which you can find in our 3 Days in Bangkok Trip Report.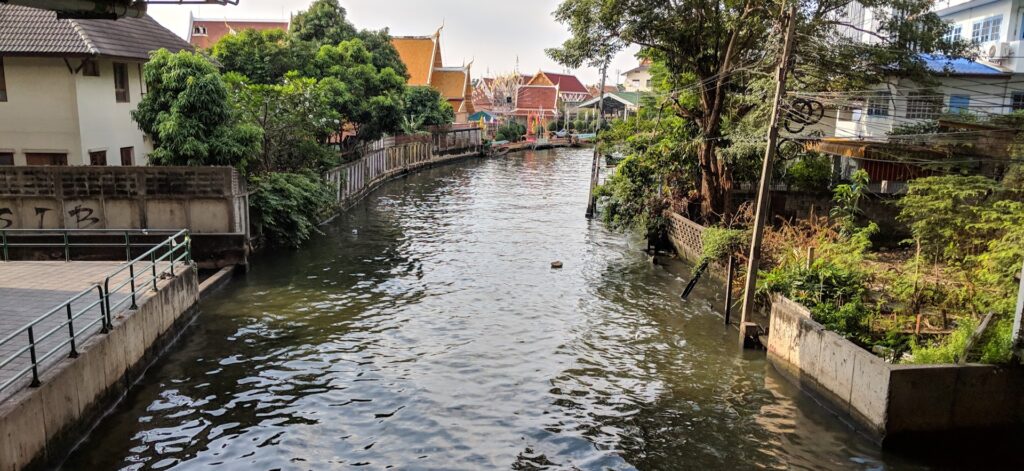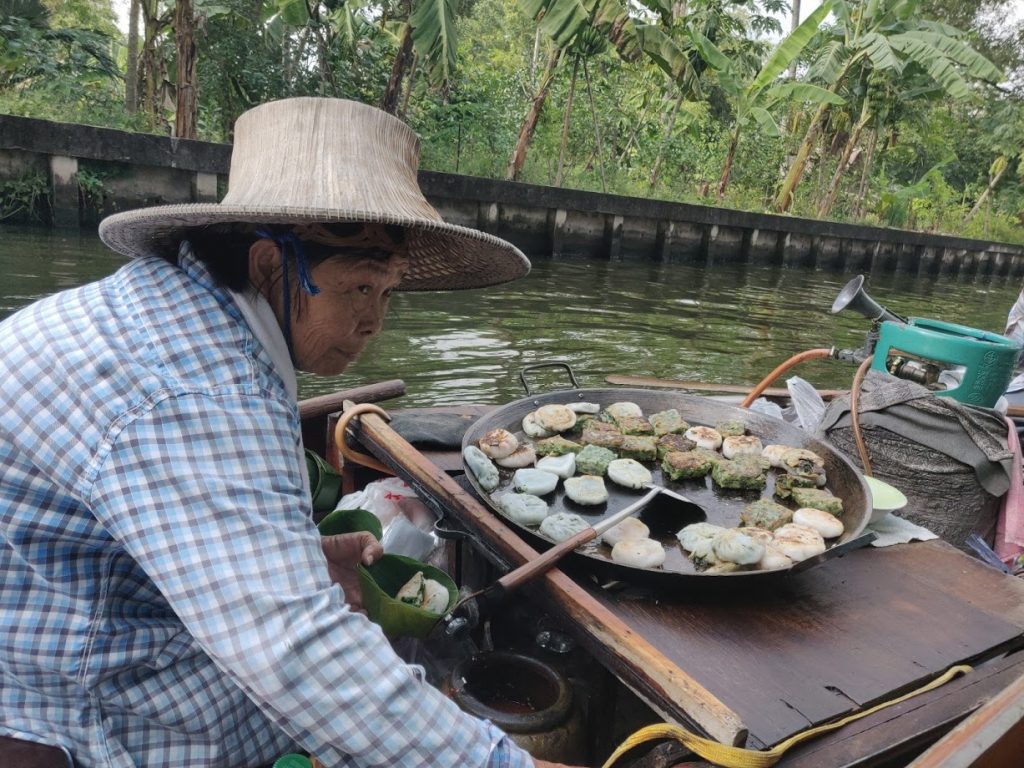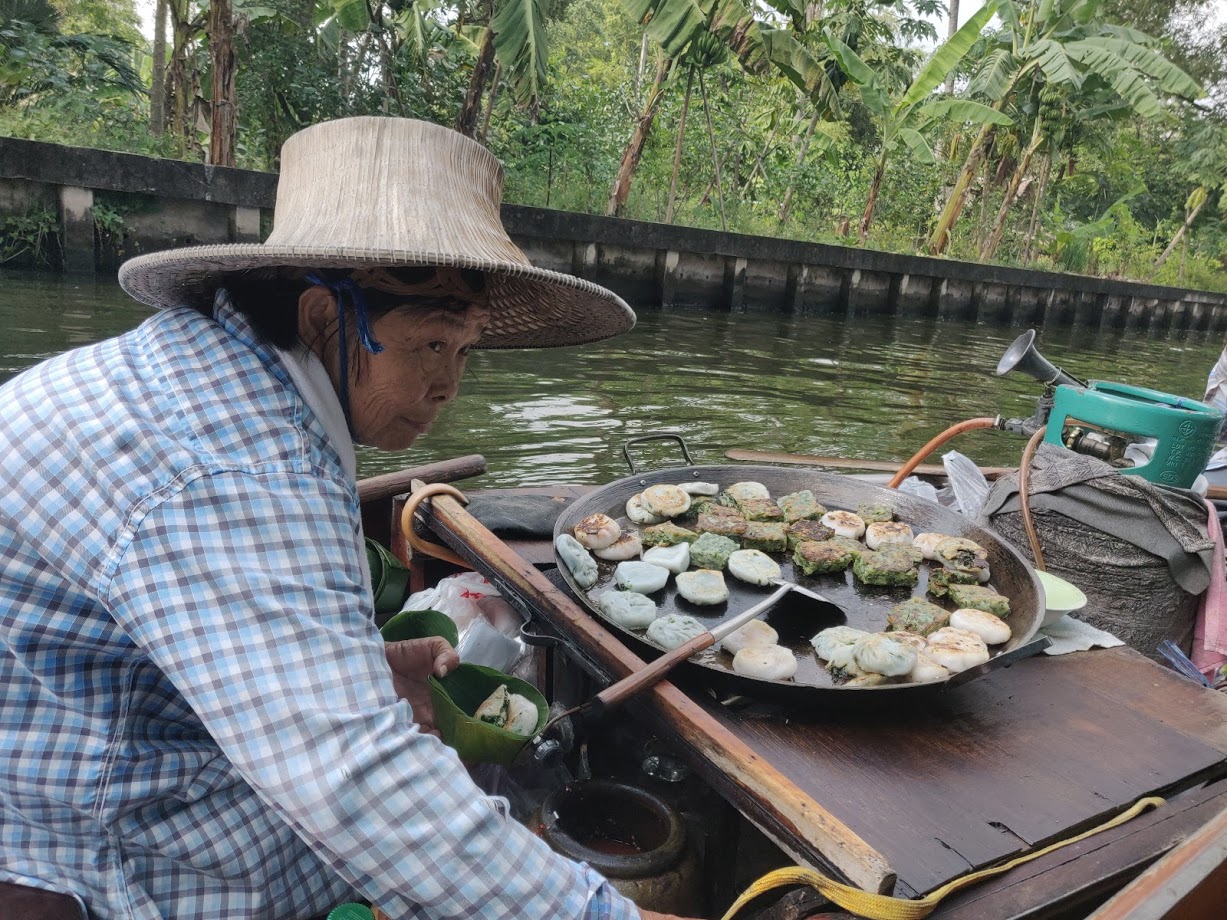 Evening: Visit the local markets and rooftop bars
Visiting a market in Bangkok promises a vibrant and sensory-filled experience, immersing you in the heart of Thai culture and daily life, from street markets, floating markets or traditional bazaars, Bangkok has it all!
Markets in Bangkok are known for their lively atmosphere and bustling crowds, with vibrant stalls and kaleidoscope of products, from fresh produce and street food, to handicrafts, clothing, trinkets and souvenirs. The markets are truly a treasure trove to explore and provide a window into local customs, traditions and everyday life, where you can observe how locals interact and you can chat to sellers to learn more about their products.
After you've spent some time in the evening shopping and eat your way through the market stalls, it's time to grab a night cap and see an entirely different side of Bangkok – from the rooftops!
A view of Bangkok's skyline is like nothing else. The clash of traditional and modern skyscrapers is like a scene from a future-dystopian city in a film. There are various rooftop bars dotted across the city where you can quench your thirst and drink in the chaos of the city below you, but (in my opinion) none that offer a view that quite compares to the Moon Bar, up on the 61st floor of the Banyan Tree Hotel. Split over 3 levels, the rooftop offers stunning 360 degree views of the city around you. Cocktails are reasonably priced and taste damn good too!
Another hot spot worth trying close to the Moon Bar is the Zoom Sky Bar, located on the 40th floor at the JC Kevin Sathorn Bangkok Hotel. Come here at night to be sat amongst the glittering skyline lights.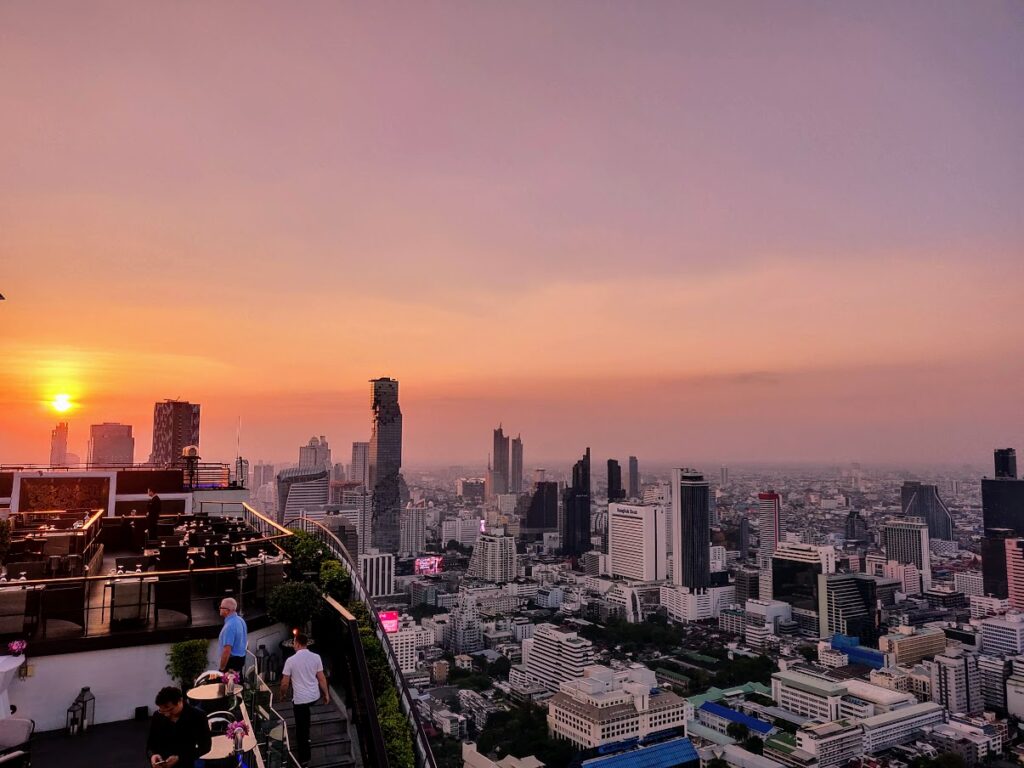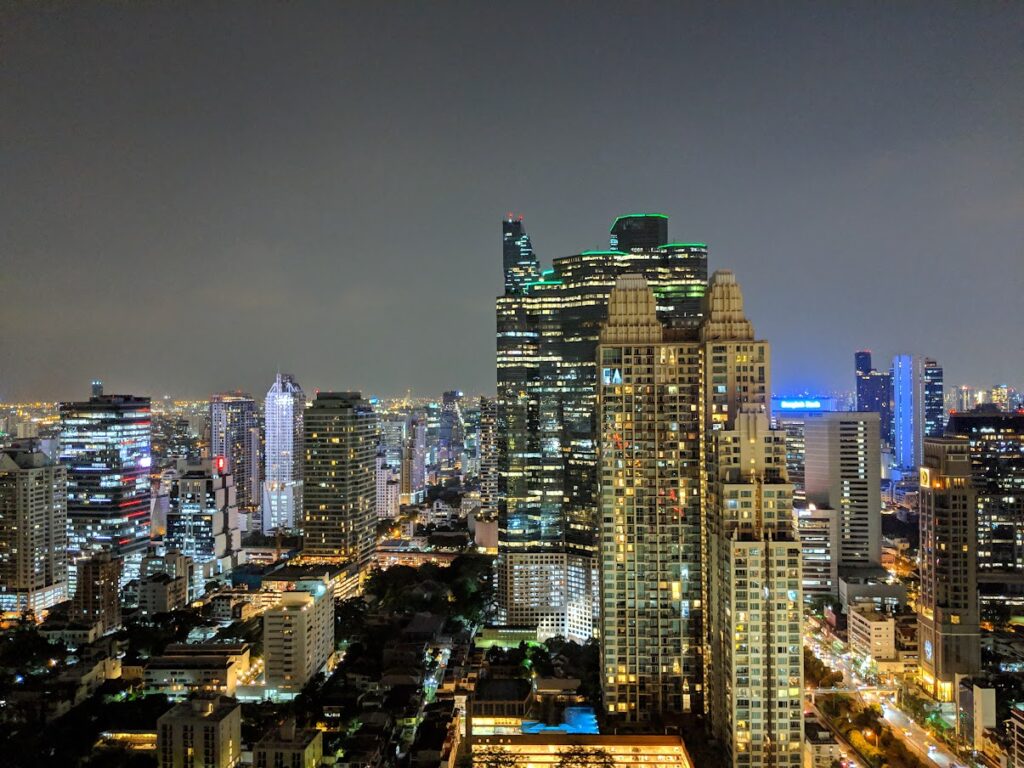 Day 3: Lumpini Park and giant shopping malls
At over 500,000sqm, (142 aces) Lumpini Park is a lush green paradise smack bang in the heart of the city centre. Often referred to as "the green lung" of Bangkok, it is what Central Park is to New York, and is the perfect way to start your final day in this crazy, bustling city.
Situated in the Sathorn District, Lumpini Park is easily accessible from all areas of Bangkok, and is a tranquil retreat for locals and tourists alike. In the mornings you'll often see locals from all over the city jogging or completing a morning Tai Chi ritual. The park is also home to a diverse range of flora and fauna, plus various species of birds, monitor lizards and bats which zip across the lake in the evenings.
After this, why not indulge in some retail therapy in one of Bangkok's huge shopping malls? Bangkok is home to several modern and bustling shopping malls that cater to a wide range of tastes and preferences. Bangkok's shopping malls are well worth a visit – they're expansive and multifunctional, serving as a one-stop destination where you can shop, dine, watch movies, visit entertainment centers, and even attend cultural events or exhibitions. Some of the most popular malls include, MBK Centre, located in the heart of the city centre, Siam Paragon, a luxurious shopping complex known for high-end boutiques, or there's CentralWorld, one of the largest malls in South East Asia.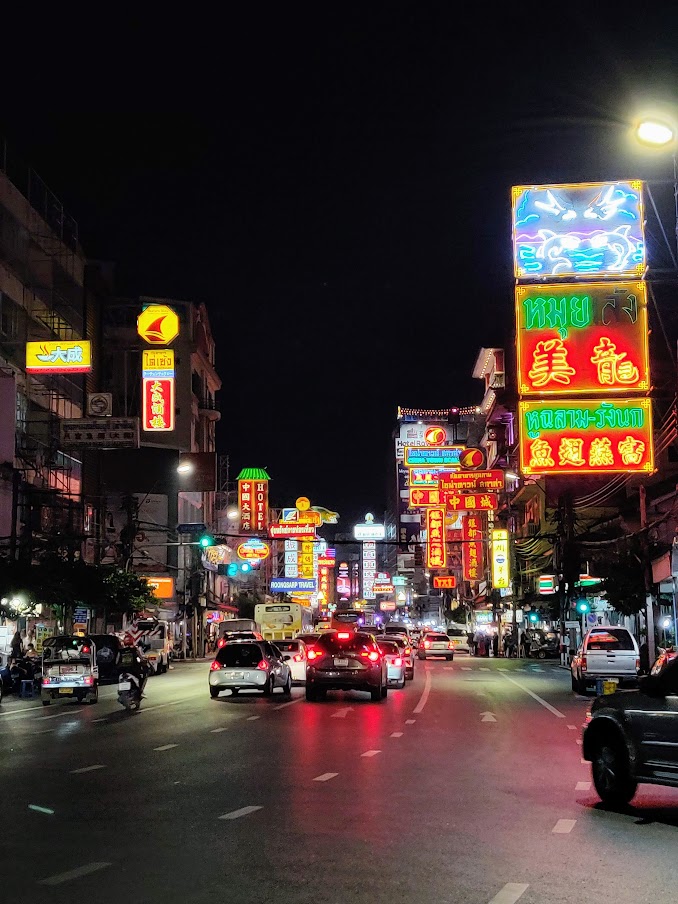 Evening: China Town and Khao San Road
If Bangkok hadn't already been an overstimulating experience for the senses, it certainly will be after you spend your final evening in China Town (Yaowarat Road) and Khao San Road.
Bangkok's Chinatown is a microcosm of cultural diversity and fusion. It's a vibrant neighborhood where Thai and Chinese cultures intertwine, creating a lively and dynamic atmosphere that's unlike any other.
The area has a rich history dating back over a century, and is dotted with historic buildings, temples, and narrow alleys that throw-back to its early days as a trading hub and immigrant enclave. The main street in Chinatown, Yaowarat Road, comes alive in the evening with colorful signs, bustling markets, and a lively street food scene. In fact, you'll find an incredible array of street food stalls condensed here, plus traditional eateries all serving up delectable dishes, from savory noodles to dumplings and curries. It is the perfect place to wrap-up your time in Bangkok and sample some new foods and culinary delights, all before washing it down with some tasty drinks at Khao San Road's renowned nightlife scene.
Khao San Road is a famous and vibrant street located in the Banglamphu neighbourhood. It's known as a havan for backpackers and travelers from around the world, which its cheap hostels, cheap eats and cheap drinks. 
It's a place where travelers often begin or end their journeys through Southeast Asia, and as such has a unique blend of cultures and backgrounds, but ultimately a fun atmosphere. During the day, Khao San Road is a bustling street market where you can find a wide range of items, including clothing, accessories, souvenirs, and local crafts, but Khao San Road truly comes alive at night. The street is famous for its energetic nightlife, with numerous bars, clubs, and street vendors serving food and drinks until the early hours of the morning. 
You can fully expect Khao San Road to be packed full of travelers in the evening. But don't let the crowds put you off – Khao San is definitely a place to be embraced and experienced, and not fought against.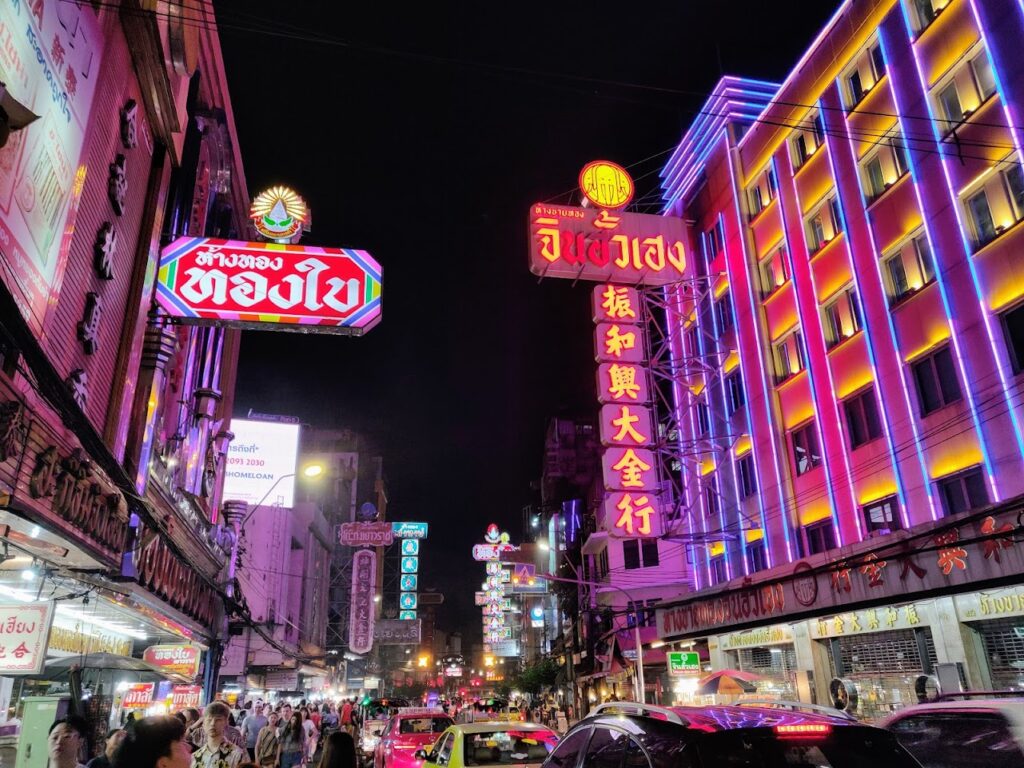 That wraps up your whirlwind time in Bangkok. Whether you're in the city for 1 day, 3 days or more, you will find this city has so much to offer. While these itineraries cover some of the most popular sites and landmarks, once you're in Bangkok, you'll find you're only really scratching the surface.
If you have any questions, or any tips you'd like to share for future itinerary planners, please share them in the comments below. We'd love to hear them!