Iceland is well-known as the land of fire and ice, and by exploring the Golden Circle, you can experience exactly this! Filled with stunning scenery, dramatic mountains and rugged cliffs, geysers erupting in spectacular displays, thundering waterfalls and bubbling geothermal zones, the Golden Circle must be on your Iceland "hit list", and this guide highlights what you need to know and see on-route.
What is the Golden Circle?
The Golden Circle is one of the most popular scenic routes in Iceland, offering you a fantastic introduction to the country and 3 of the most popular natural wonders that Iceland has to offer; namely Pingvellir National Park, Geysir geothermal area and Gullfoss Waterfall – but you'll see there is so much more to see beyond these 3 main attractions (full list + map can be found below).
The Golden Circle can either be done via an organised tour (there are literally dozens of tour companies to pick from offering day trips), or you can hire a car and organise your own self-drive tour. There are pros and cons to each – we hired a car for our trip, which gave us the flexibility to see each of the sights at our own pace, where we could spend as much or as little time at each place as we wanted. However, if you're not comfortable driving in Iceland, then an organised tour might be the better option for you.
How long to spend for the Golden Circle?
The Golden Circle is one of the most popular things you can do when visiting Iceland – not just because of the stunning natural wonders, but it is also an easy drive from Reykjavik, making it easily accessible for everyone, whether you're doing a self-drive, visiting with a tour guide, on a short-trip to Iceland, or staying for 10+ days, it should be on your "must see" list of things to do in Iceland.
If you're planning a self-drive tour, the total driving time for the Golden Circle is 3.5 to 4 hours, starting and ending in Reykjavik, but this doesn't account for any stopping time to enjoy all the sights and scenery you're going to witness. I'd certainly recommend you allocate the whole day to comfortably complete the Golden Circle, about 6-10 will be ample time!
The Golden Circle can be visited all-year-round. Road conditions are typically well maintained, even after heavy snowfall, that said, if you visit during the winter be mindful that your window for daylight hours will be limited (often not getting light until after 9am and getting dark around 3pm). The Golden Circle can still be achieved during this time, you'll just have to be more mindful of your time. We visited at the end of November and found we had plenty of time to see and do everything we wanted to. If you're visiting during the summer however, when you're likely to experience the midnight sun, then you have much flexibility with your travel hours.
Be mindful that the Golden Circle is one of the most popular things you can do when visiting Iceland. If you're not planning on arriving via a tour guide, then you can expect the hours of 10am – 4pm to very busy, regardless of the time of year. When we visited in November, we arrived just before 10am, which gave us a good head start from all the tour buses which arrived shortly after us.
What to see on the Golden Circle?
The "official" 3 sights of the Golden Circle are: Þingvellir ("Thingvellir") National Park, Geysir and Gullfoss Waterfalls. But there are so many other astounding sights and attractions in the area that in recent times the Golden Circle has been expanded to include. Starting and ending in Reykjavik, my full recommendation, as per the map above, includes:
B) Thingvellir National Park
C) Geyser geothermal area
D) Gullfoss Waterfall
E) Faxafoss Waterfall
F) Friðheimar
G) Secret Lagoon
H) Kerid Crater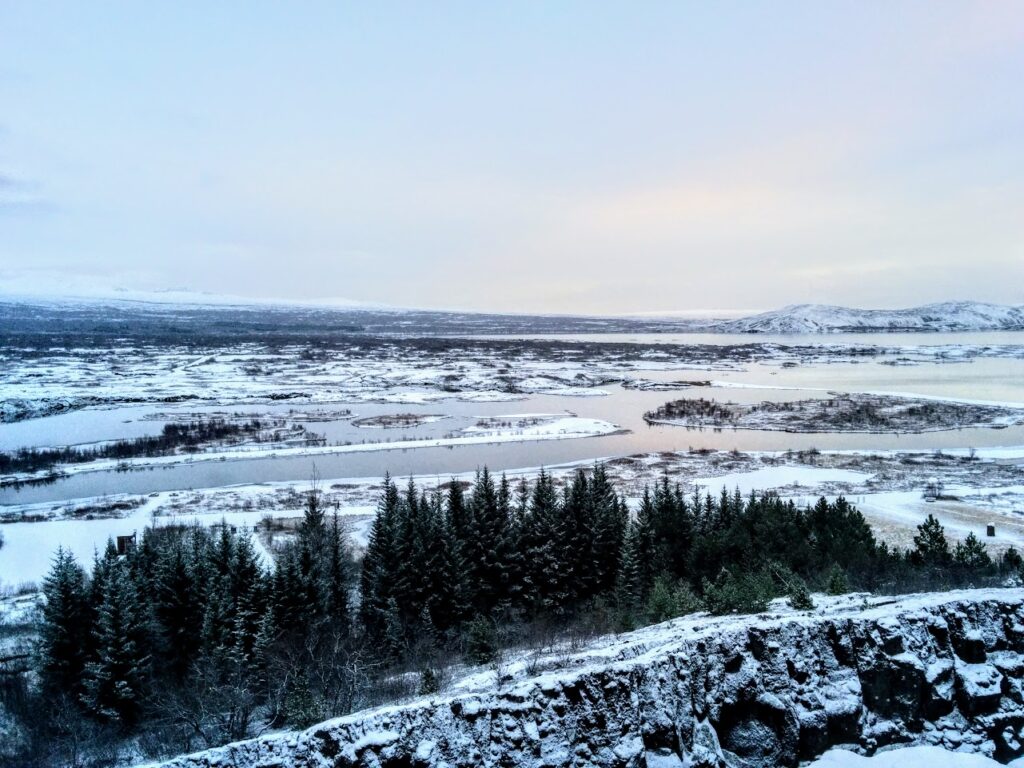 Thingvellir National Park
The first official stop on the Golden Circle, Thingvellir National Park has something for one everyone, as a UNESCO World Heritage Site, steeped in history and a stunning wonder of natural beauty.
In the heart of South Iceland, Thingvellir is the location where the first Icelandic settlers decided to forge their beginnings in 930, during the 9th Century. During their time, they found a need to restore periods of harmony and equity in their growing society, and created the world's very first parliament. Decades later, in 1930, Thingvellir was declared Iceland's first National Park, and a law was passed designating the area a protected area of natural beauty.
You will be spellbound by the scenery here, but one of the other biggest draws to the area is the National Park's unique positioning. Iceland sits across two tectonic plates – the Eurasian Plate and the North American Plate, which are slowly drifting apart from one another. You can visit Silfra, a fissure between the 2 plates, said to have the clearest water on the planet, which you can go scuba diving in if you book via a tour. From here, you can also visit Öxarárfoss, a waterfall which runs over the rift between the 2 plates, or explore some of the many walking trails in the area. I'd recommend you comfortably set aside 45 – 90 minutes here, depending how much you want to explore and the daylight hours you have on your side.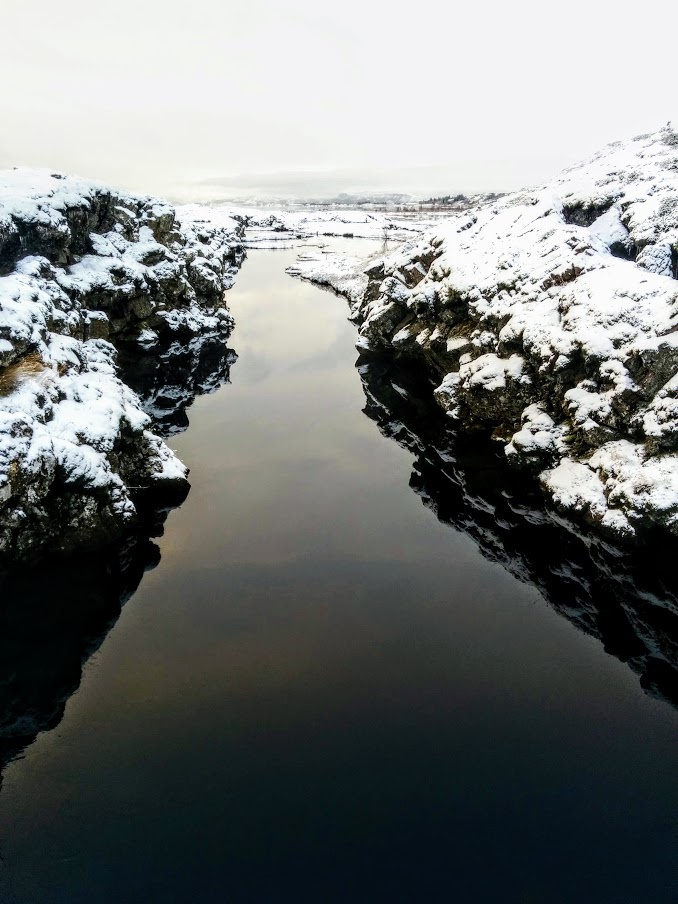 Geyser geothermal area
Roughly 45 minute drive away is your second stop on the Golden Circle – the Geyser geothermal area at Haukadalur. Here, you will find 2 of Iceland's most popular and well-known geyser's, "Strokkur" and "Geysir".
Geysir (also known as the Great Geysir) is the namesake of where the modern word "geyser" comes from – the word is actually stemmed from Iceland "gjose" which means to erupt. It has been demonstrating huge eruptions of hot water for around 10,000 years, but sadly today is basically now dormant.
Strokkur is the smaller of the 2 but the most active, erupting powerful shoots of hot water 20-30 meters into the air, roughly every 10 minutes. You can stand just outside the eruption zone and get an epic view of the eruption happening over you – make sure you wear waterproofs if you don't want to get sprayed with water! You'll find though that the novelty doesn't wear off, and you'll want to watch the eruption time and time again – make sure you have your camera at the ready!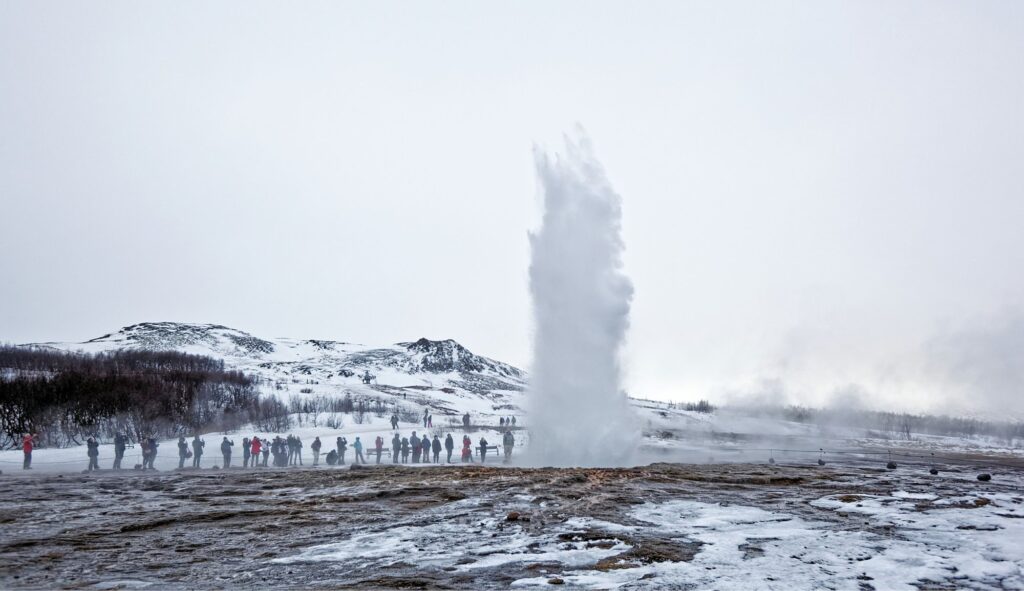 As you wander through Haukadalur you'll be amazed at the sea of bubbling and popping pockets of ground around you. The area is certainly to be admired, but not to be explored off the beaten bath. Some of these bubbling pools can reach temperatures of 100C, so make sure you stick to the marked paths.
Beyond Strokkur, you can follow the path north up a hill where you'll find a beautiful lookout spot across the mountains and valley below.
All in, you can expect to spend no more an hour here, which is a comfortable amount of time. The area is also free to visit, has free parking and toilet facilities, but does have a busy and over-priced cafe.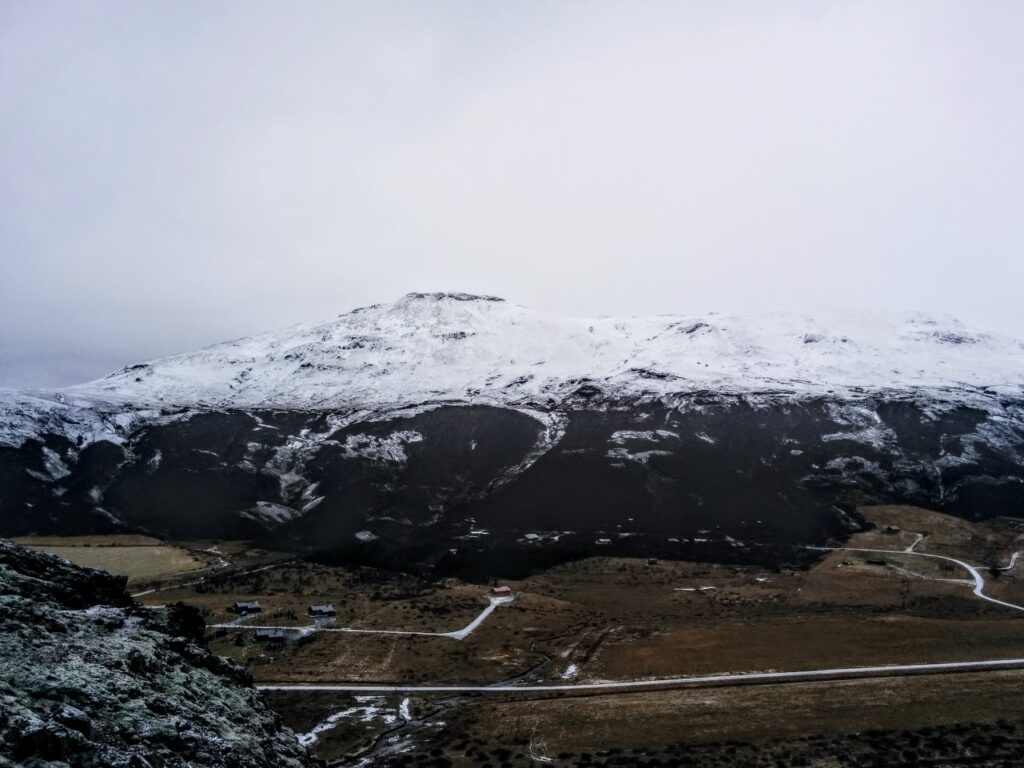 Gullfoss Waterfall
Just 10 minutes down the road you'll come to your 3rd route on the Golden Circle, Gullfoss Waterfall, one of Iceland's most visited waterfalls.
Located on the Hvítá River, which is fed by Iceland's second largest glacier, Langjökull, the waterfall itself is split over 2 levels, plunging 36 feet and 70 feet respectively. The waterfall pinches from its widest point at the top to only a maximum of 20m wide as it pours into the gorge below. The result is a deafening noise of thunderous water and an extreme spray of water.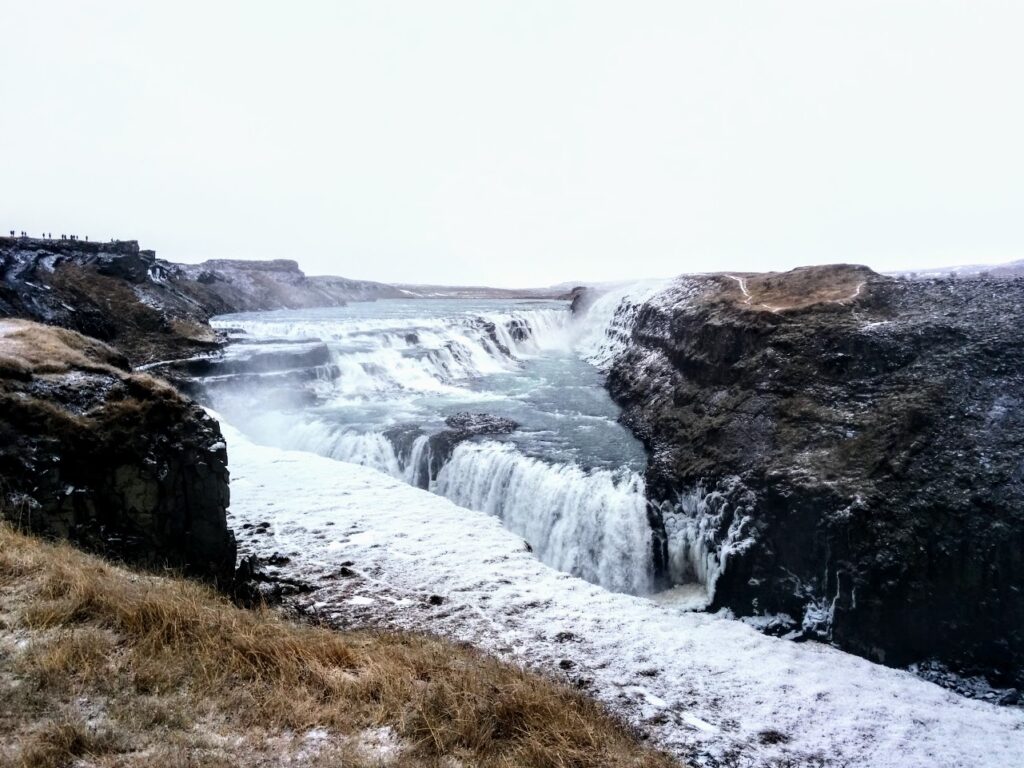 There are 2 viewpoints at which to witness the spectacular waterfall, with steps linking the 2 together, and both offering unique views over the waterfall and river below you. From the viewpoint you can also see Langjökull glacier. Make sure you pack some waterproofs, the plume from the waterfall is so great you can definitely expect to get wet at both viewing platforms.
During the summer, you can walk right up to the edge of the falls and look down to the gorge below you. During the winter you will not be able to get as close, as much of the edge of the waterfall and pathways can be particularly icy and hazardous, but the views are still incredible from the viewing platforms, no matter where you stand.
You can expect to spend about 30 – 45 minutes here, and there are 2 car parks, both of which are free, plus toilet and cafe facilities.
Ordinarily, this would be your final stop on the Golden Circle, but there is still so much to see while you're in the area, which you can comfortably fit into your day trip's itinerary.
Faxi (Faxafoss) Waterfall
A short 20 minute drive down route 35, you'll come to the serene Faxi (or Faxafoss) Waterfall. At 80m wide and 7m high, it may not be as grand, dramatic or powerful as Gullfoss, but Faxi is gentler, and worth a visit for a different experience. Located on the Tungufljót River, you'll find it is also much quieter in terms of footfall compared to Gullfoss, and doesn't attract anywhere near as many crowds. When Oli and I visited in November, we were literally the only people there and we had the whole place to ourselves.
Even during the winter months, you can still walk up to the edge of the waterfalls to take in the view. You can spend as much or as little time here as you like – you can also spend a bit of time exploring the area and walking the trails nearby. Otherwise, I'd say 30 minutes here is ample time to see and experience the waterfalls before moving onto your next stop.
Friðheimar
By now you've probably worked up quite the appetite, so it's ideal timing that a short drive away from Faxafoss is the family-run restaurant, Friðheimar, offering tomato-based dishes.
A tomato-based restaurant?? Sounds strange I know, but this place is well worth a visit! Despite Iceland's long, long, dark winters, the team here grow tomatoes all year-round, harvesting the earth's geothermal activity below them, with a greenhouse stocked with artificial lighting and a climate control system, and their very own bee colony to help pollinate all the tomato plants.
Four different types of tomato are grown at Friðheimar, and you can sample the fruits of their labour with their extensive tomato-based menu, sat at your table amongst the crops – it is truly a unique experience you can only expect in Iceland.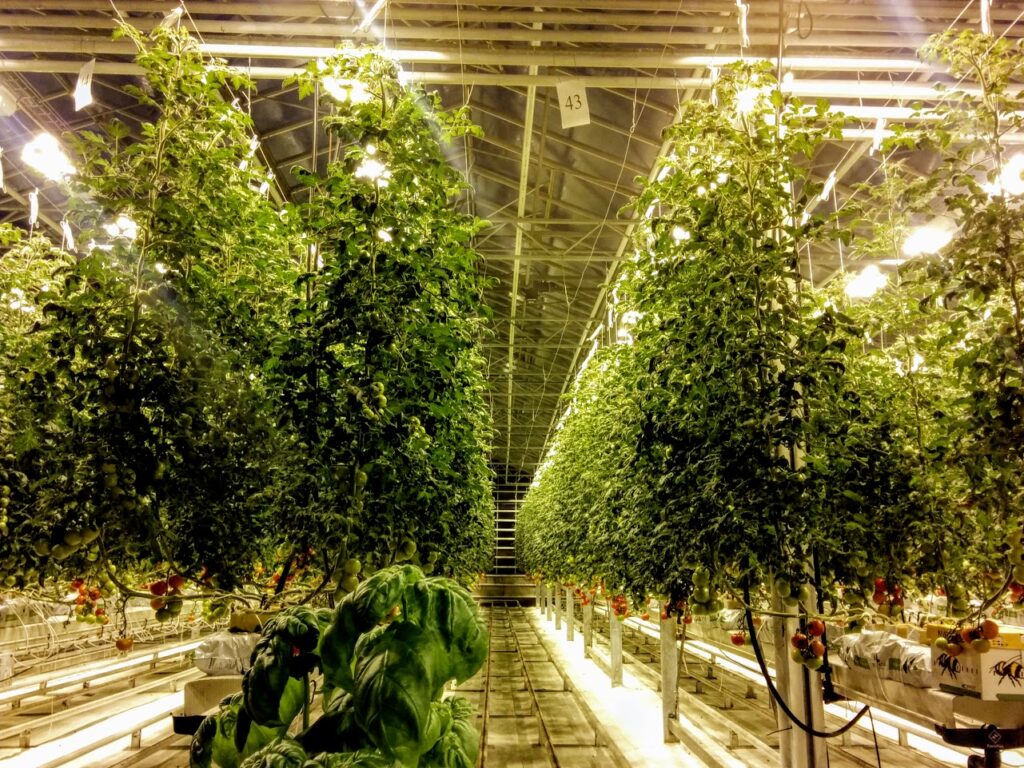 The menu includes Virgin & Bloody Mary's, plus a delicious Healthy Mary, made with honey, ginger and sparkling water – it tastes like a refreshing fizzy cocktail. There's even tomato beer and tomato-based coffees! Food-wise, there's fresh homemade tomato soup and homemade bread, or hearty pasta dishes with a deep tomato puree-based sauce. This place is great to visit at any time of year, but if you come in the winter is the perfect winter warmer. Make sure you book in advance though because it is a popular stop and does get busy. The restaurant is open every day, 12pm – 4pm.
Secret Lagoon
Hopefully feeling well and truly full, it's time to take a load-off and enjoy the wonderful hidden gem that is the Secret Lagoon, in the small village of Flúðir, 15 minutes drive from the restaurant.
The Secret Lagoon is a rustic natural geothermal pool, known for its peaceful and serene setting, making it a preferred alternative for many compared to the more crowded and touristic Blue Lagoon, or even Laugarvatn Fontana, located on the Golden Circle route between Thingvellir and Geyser. It is also considerably smaller (in a good way, in my opinion) and more intimate than these pools, with a more cosy and communal feel.
Open from 10am – 8pm daily, the spa is enjoyable day or night, nestled in a stunning natural landscape, surrounded by lush greenery. The pool is naturally heated by nearby hot springs, and you'll hear the bubbling of water every now and then as more hot water enters the pool, maintaining a temperate of about 38-40C – it is absolutely perfect!
The Lagoon is said to be one of Iceland's oldest swimming pools, dating back to 1891, and in that time, little has changed to maintain it's natural and authentic experience. The only modern / man-made additions includes changing facilities, showers and a small on-site cafe. If you've not come to a natural hot spring spa in Iceland before, it's worth noting you will need to shower naked before you can step foot in the pools. But this is very much part of Icelandic culture and considered disrespectful if you do not shower. The rule is also there for health and safety, as chemicals are not used in the lagoon.
Once in the lagoon, there is nothing nicer than the feeling of bath-temperate water lapping over your shoulders as you bob around the steaming water, especially if you come in the winter months when it's cold outside, the lagoon's water is a welcome embrace from the cold!
Kerid Crater
Should you have time to fit it into your day / depending on the daylight hours you have available is the geological wonder of Kerid Crater.
Known for is striking appearance and vibrant red and orange walls, Kerid is a volcanic crater lake that is said to have formed over 6,500 years ago during a volcanic eruption. It may be considerably smaller than many other craters, at roughly 55m deep and 170m wide, the vivid colouration of the crater is what makes it a unique draw for visitors on the Golden Circle, including it's striking blue/green geothermal lake. This unique colouration is a result of minerals and volcanic rock, exposed by decades of erosion.
There is a small entry fee to access the crater, which helps fund its preservation and maintenance. Kerid is accessible all-year-round, and you can follow the well-marked walking paths to explore the crater and its surrounding area. Kerid Crater offers something different, no matter when you visit. In the winter, the lake can freeze over (such as when we went) creating a milky finish to the lake, while in the summer the surrounding landscape pops with greenery and lush fauna.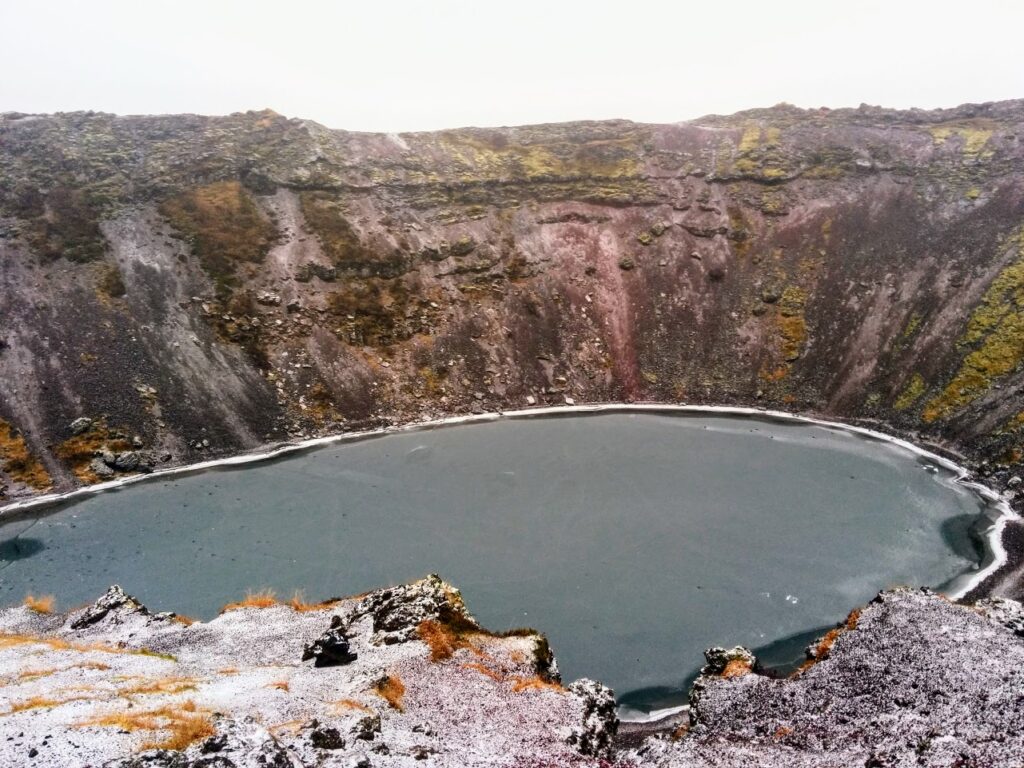 From here, complete the route back to Reykjavik, or your accommodation base. Driving the Golden Circle really is a memorable and mesmerising experience from start to finish. It's a long day, but it's so worth it! We hope you found this Golden Circle highlights route useful – please let us know if you have any questions, or if you've visited these sights and what you thought of your experience. Just drop them in the comments section below 🙂