Bangkok is a captivating city. A hot pot of vibrant colours and intoxicating aromas, meeting with centuries-old traditions and towering modern skyscrapers. With its golden temples, bustling markets and dazzling skyline, we knew Bangkok had to be our first stop during three week trip around Thailand.
We got married in July and waited patiently for four months to jet off on our honeymoon. Finally, November came around and we couldn't wait to get going, traveling around Bangkok, Krabi, Koh Yao Yai and Phuket. Here's what we got up to during our three days in Bangkok.
Day one – travel day
We flew from Heathrow Terminal 5, direct to Bangkok with BA. For the start of our honeymoon I wanted to do something special, so I booked us into the Plaza Premium Airport Lounge. Having never used an airport lounge before, I'm not sure how much they differ, but we had a great experience. The cost was £40 per person, allowing us access for two hours. Access also included complimentary food, which was a pretty decent buffet spread, and complimentary drinks at the bar, which included spirits (except for premium brands) house wines and soft drinks. For us, this was the perfect way to start our honeymoon. There was hardly anyone in the lounge; it was lovely and quiet in there and we enjoyed our free G&T's and vodka lemonades. The lounge also offers fantastic views across the runways and various other gates.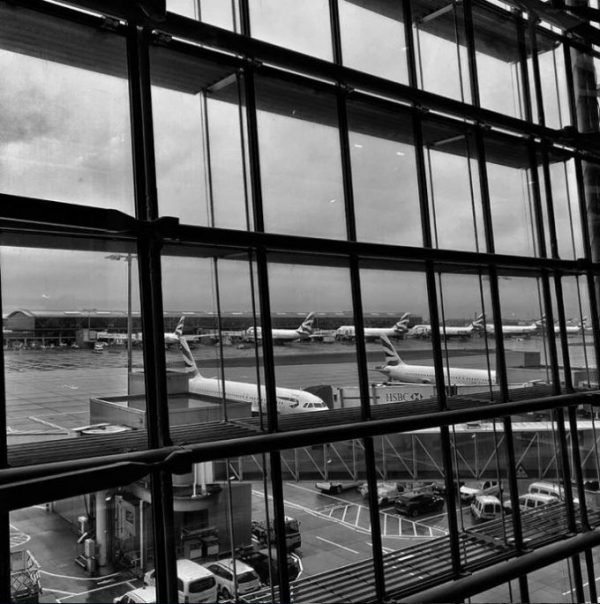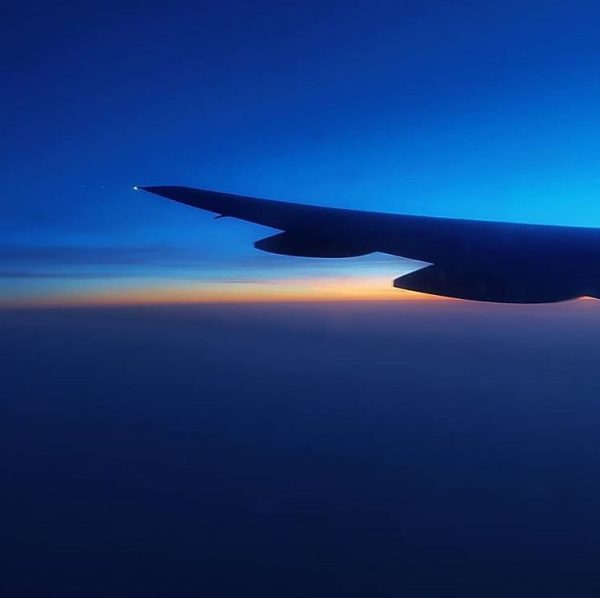 The time flew by and before we knew it, it was time to board our flight! This was only the second time we'd ever flown with BA (the first time was to New York 7 years ago!). We flew economy, but still had plenty of leg room (even Oli who's 6′ 2″). The in-flight entertainment was good and even the in-flight meals were pretty enjoyable! We managed to get some kip on the plane and woke up in time to catch the sunrise, as we entered the South-east Asia timezone.
As we approached Bangkok Airport, BA gave us our tourist cards to complete. You can stay in Thailand as a tourist for less than 30 days without requiring a Visa. There are two parts to the card, one for when you arrive and another section for when you depart at the end of your trip. Make sure you keep hold of the second part and don't throw it away during your trip (which Oli almost did at one point).
For our three days in Bangkok, we stayed at the Banyan Tree and arranged an airport transfer with them. You can travel into Bangkok via a number of transport options; bus, taxi, train etc… From the small bit of research I did, the airport link looked especially easy to navigate (and cheap). We opted in the end for a car transfer, as for once (especially on our honeymoon), we didn't fancy lugging heavy bags around on public transport. The transfer was pretty pricey (£70 one-way) but it was definitely worth the money! A lush 7-series BMW picked us up and we enjoyed being able to sit back and relax after the long flight. It took about 45 minutes to get to the hotel, which wasn't too bad considering the usual Bangkok traffic.
The hotel – Banyan Tree, Bangkok
Our arrival at the hotel was fab! As soon as the car pulled up, we were both personally greeted and welcomed with flower garlands. The staff at the hotel took care of our luggage and informed us there was no need to check-in, as they would do all that for us! They took us straight up to our room and told us not to worry about a thing – we felt like celebrities! Our room was also great, up on the 40th floor with lovely views of the city and river.
Having spent 12+ hours travelling, we wanted to keep our first day pretty chilled. We spent the afternoon at the Banyan Tree's rooftop pool, feeling fully relaxed and lounging in the sun. However, a short 20 minute nap did turn into a two hour snooze on the sun loungers! That said, we woke up feeling refreshed and enjoyed the incredible views from the pool.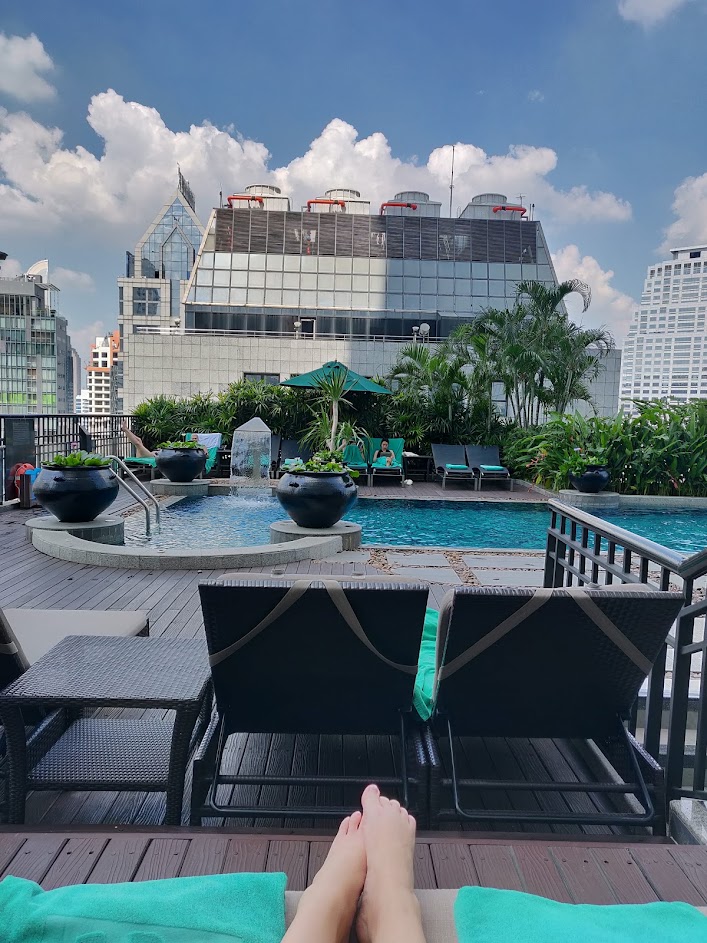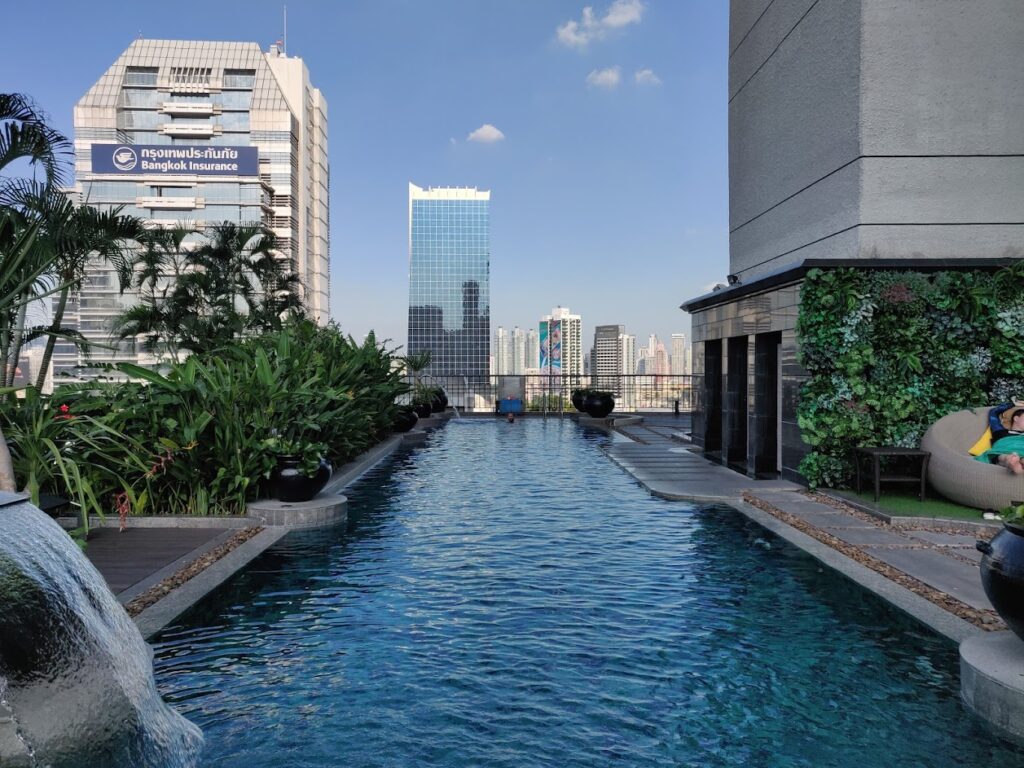 From the rooftop, looking out at the city below, I felt like I was looking at some future dystopian city; it was so surreal to look at. The buildings, traffic and skyline were like nothing I'd ever seen before. It didn't look real! And even though the roads were full of congestion and traffic (which doesn't sound appealing, I know) it was actually incredibly mesmerising, and felt like a real pinch-me moment. Were we really here? Had we finally made it!?
The whole vibe by the pool was super chilled and was just what we needed on our first day after many hours of travelling (lets face it, you never sleep well on a plane even if you do get some kip) and it was a great way to take in the sights and hectic world of Bangkok from afar, before we thrown in amongst it. The below was my all-time favourite view from the hotel rooftop.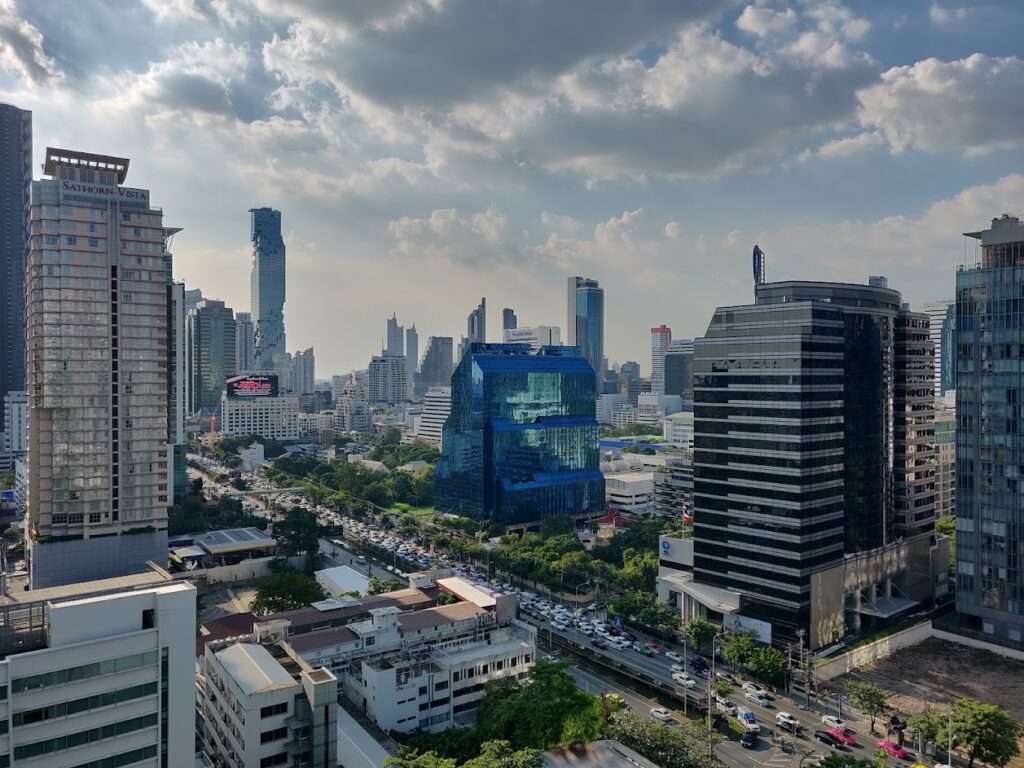 To get ourselves well and truly acquainted with Bangkok, we had booked in advance to join an evening food tour, but not without a quick pitstop for a drink on the hotel's rooftop bar, Moon Bar, to enjoy some sunset views over the city, which was absolutely stunning.
All the way up on the 61st floor, the bar opens at 5pm, which was perfect timing to catch the sunset at 6pm. We grabbed a seat right by the edge of the balcony and took in the uninterrupted views over the city. The drinks were a little pricey (for Thailand), but were no different to what you would pay at a decent bar in London. But what you get in return is so worth it: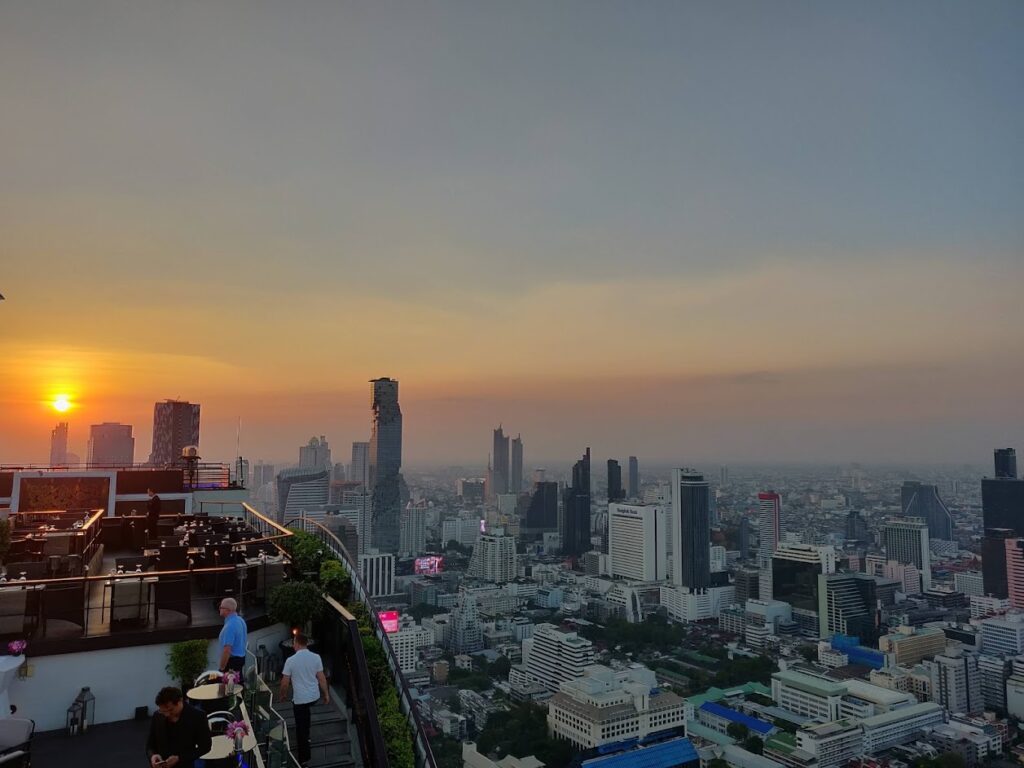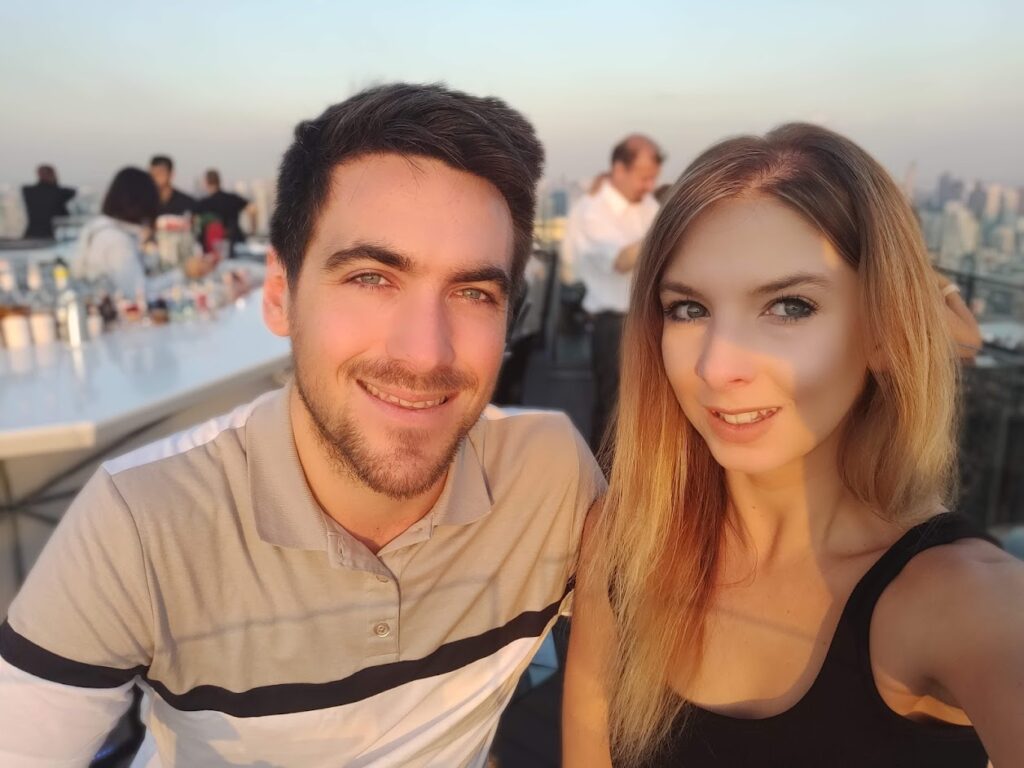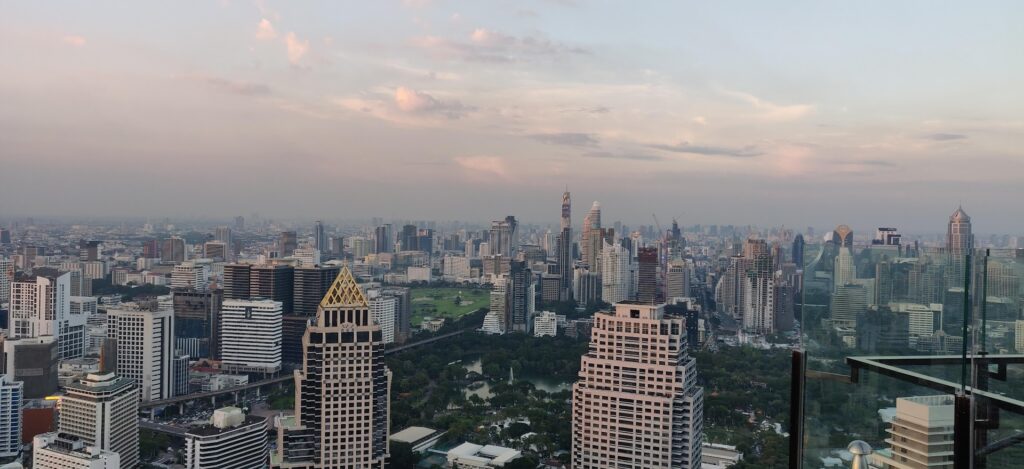 The food tour started at 7:30pm, so after finishing two rounds of drinks, we headed off to the nearest BTS station. Navigating around the BTS is pretty easy. You can either queue up at the main desk, or there are several kiosks, which have both English and Thai languages. With the kiosks, you select the station to travel to and the number of tickets and that's it! Super simple. The only thing to note is that these machines only accept coins (no notes or card payments). This can be tricky when you've only been in the city a matter of hours, but you can change up notes at the main desk.
A few short stops later and we arrived at Saphan Taksin, where we would be meeting our food tour guide. We booked the food tour with Taste of Thailand before we flew out and I'm super pleased we had this on our first day in the city. It was a great way to break us into our three days in Bangkok and get our bearings. Oli and I both love Thai food, but there are so many street food vendors and so much choice, it's hard to know where's good, what's fresh and what's clean, without having an initial benchmark to go from. The food tour was a great way of embedding us and throwing us in the deep end a little with the food.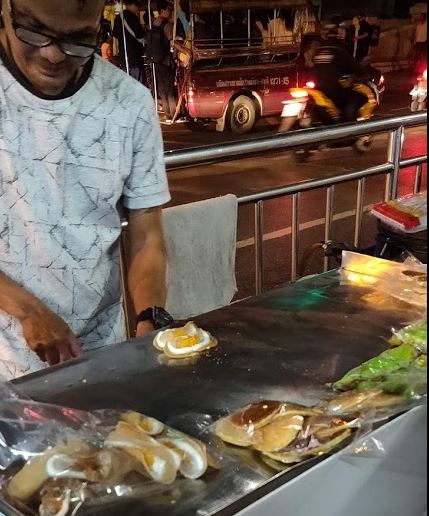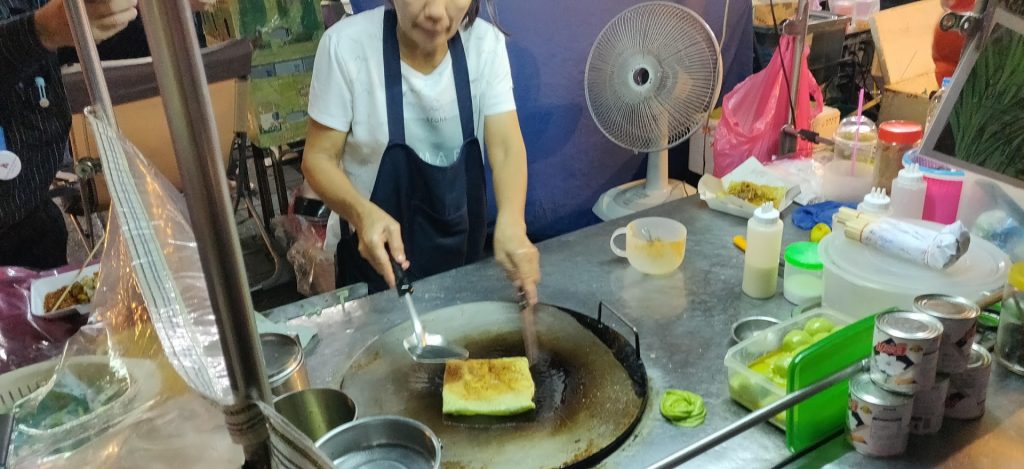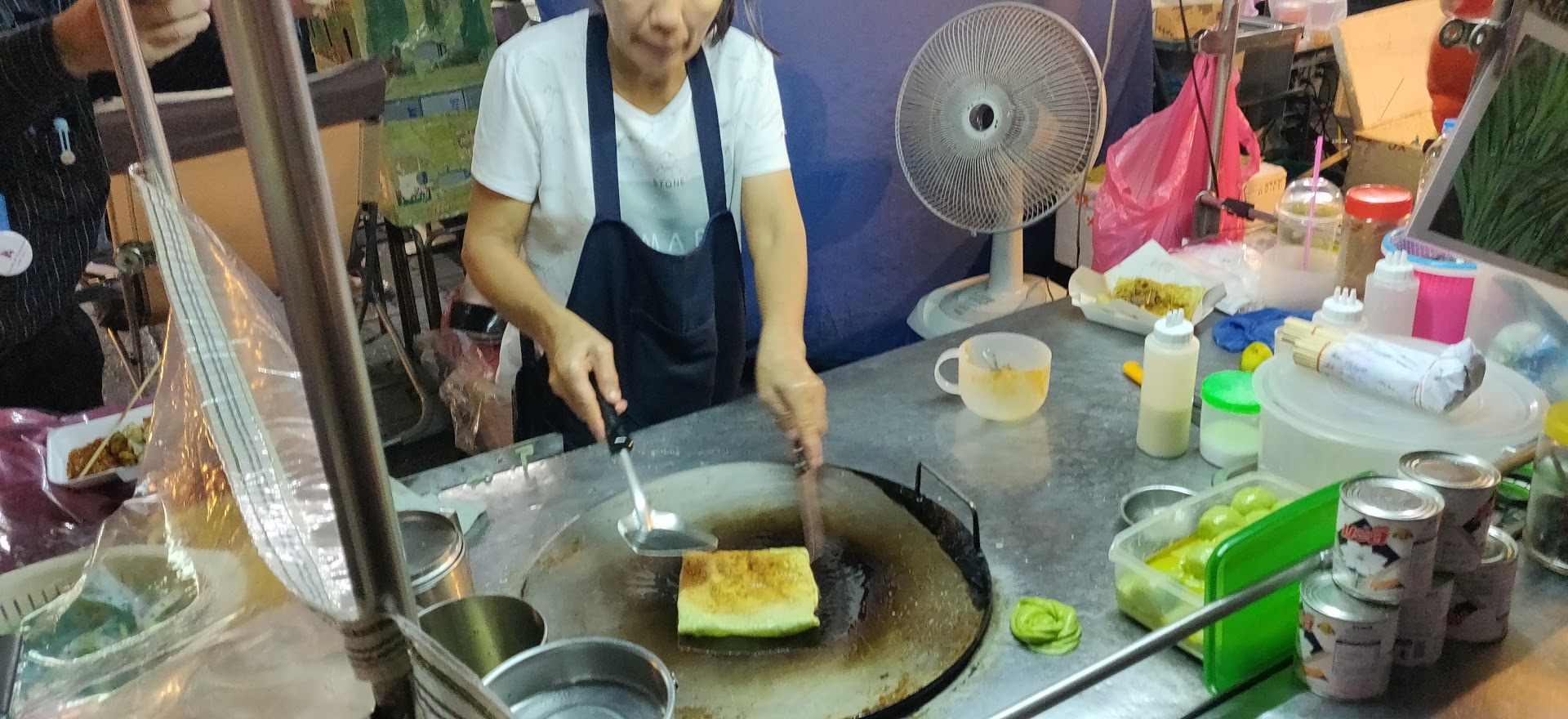 Food-wise the tour was fantastic! We were a small group of six, which was a perfect size and our guide, Heng, introduced us to lots of different curries, noodle dishes, stir-fries, fruits and lush desserts (such as banana pancakes). We were definitely able to experiment more as a result of the tour… Heng took us to a Chinese store, where we tried some "health drinks" and other different beverages. I can't remember what they were, but they honestly tasted vile! I'm sure Heng knew we wouldn't enjoy it, but it interesting to try something more traditional that we ordinarily wouldn't have had. Heng definitely knew his stuff when it came to food though, and we were spoilt with some amazing dishes by lots of local vendors. Unfortunately, on all things non-food, he did ruin the tour for us as a group…
Heng has a lot of love and passion for Bangkok, which is fantastic and we definitely wanted that energy during the tour, but he became way overbearing and overwhelming with it. We over-ran by 1.5 hours in the end (wow, did Heng like to talk!) We all agreed that we booked a food tour because we wanted a food tour, not a history tour. I understand that there are instances where history & food go together, but it did feel like information overload, especially having only been in the city no more than 12 hours at this point.
We all wanted to talk about the different foods we'd tried and all the flavours, but we didn't have the opportunity because poor Heng wouldn't stop talking, interrupting us or talking over us. He was also quite manic; taking constant photos of us in front of weird places (like gates and lamp posts?) He also kept peering into people's homes when he took us around the residential areas, which was a bit uncomfortable for us.
Putting that aside though, he definitely knew his stuff about Thai food and we loved everything about that part of the tour! But for everything else, he sadly made the tour un-enjoyable and we couldn't wait to leave!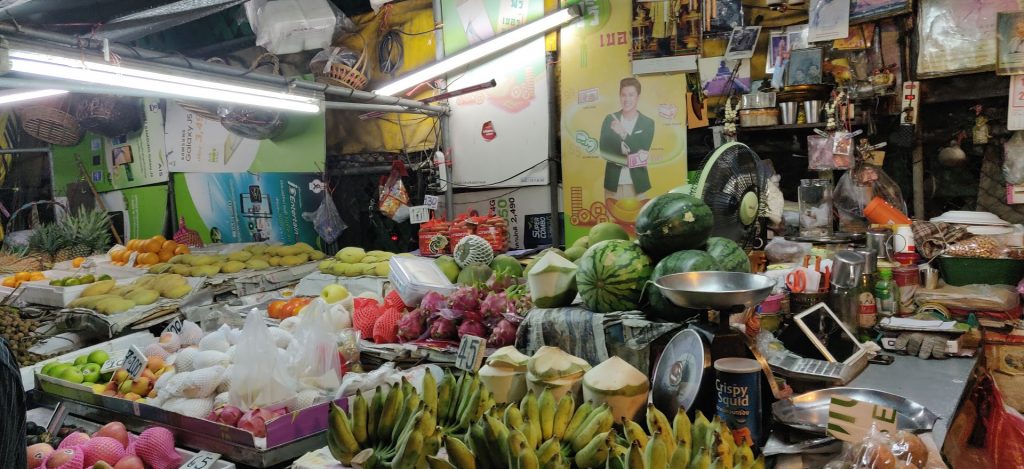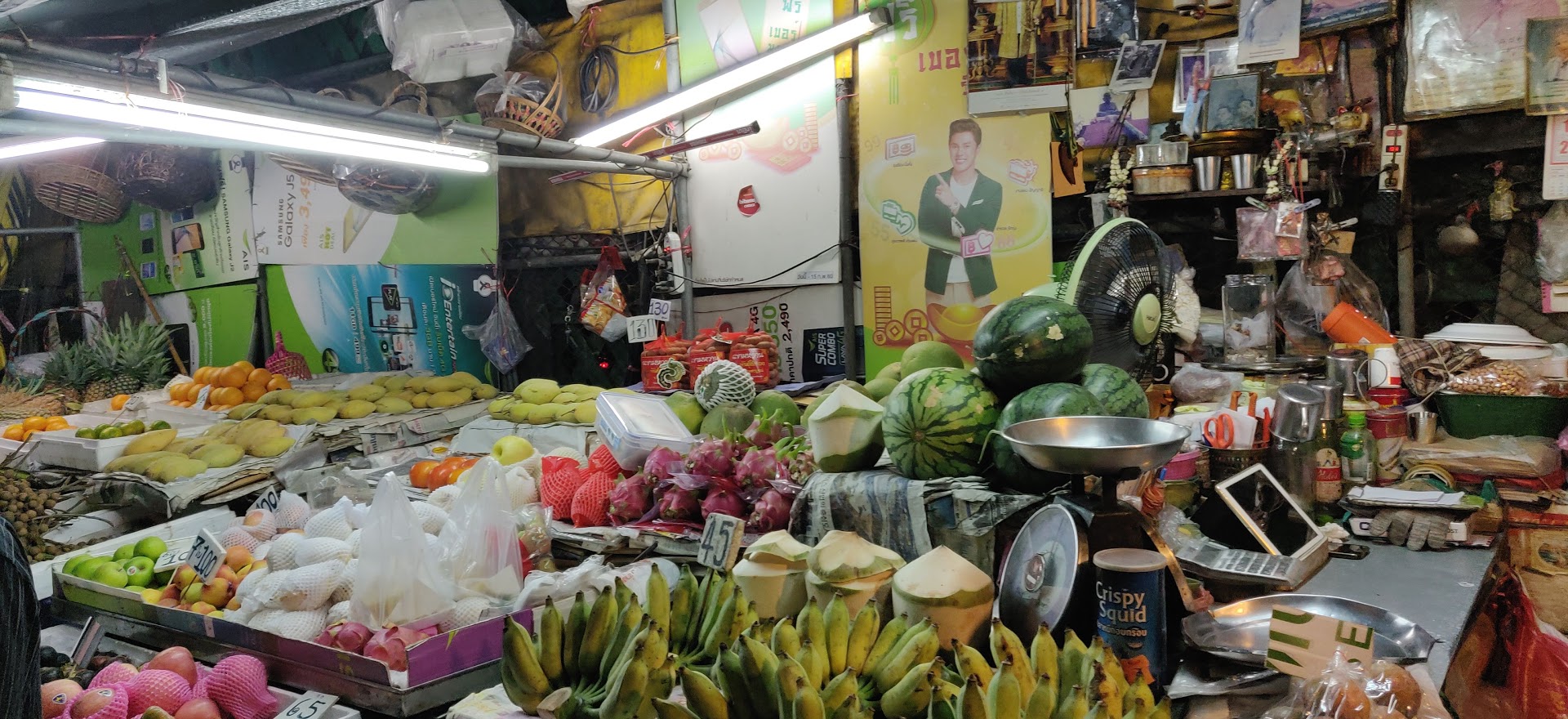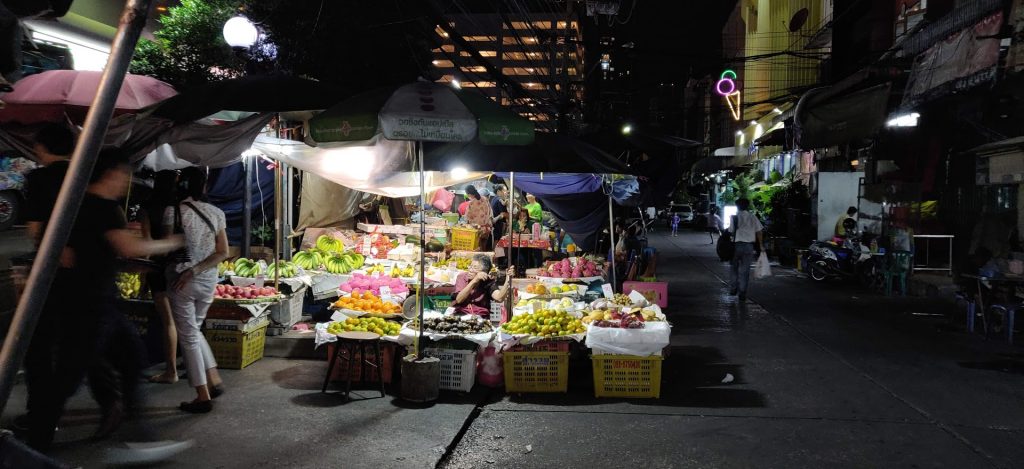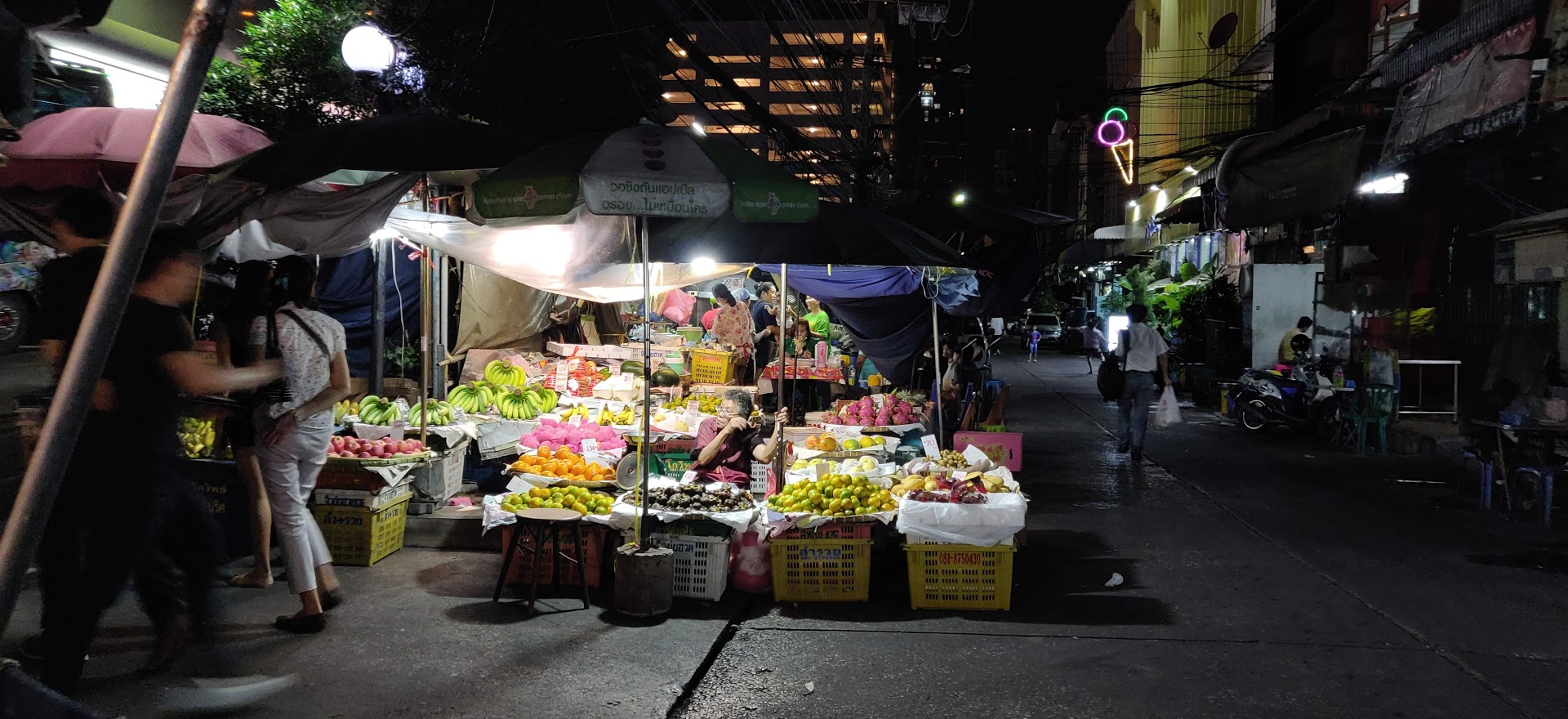 Thai sim cards
On the way back to the hotel, we found a 7/11 and purchased some Thai sim cards, so we could navigate our way around during our three week trip.
Getting a sim card was relatively easy – though we did have to go into about three 7/11's to find what we wanted. Not every store we went into knew what we were talking about or had them in stock, but we got there in the end! There are three main network providers in Thailand; we selected 'dtac' and their 'Happy Tourist' package.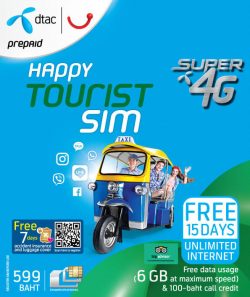 The cost of the sim card gives you data for 7, 8 or 15 days, depending which product you choose. There is also a dtac app you can download on your phone, so you can manage your data spend and top-up as and when you need to. The purchase process is a little drawn out… the 7/11 employee has to take a photo of your passport to register the sim, which can be temperamental, but from that point onwards it's pretty straight forward and worked seamlessly for the entirety of our trip.
Once back at the hotel, we decided to head back up to the rooftop bar for some night-time city views and a nightcap (or two). Bangkok looked even more impressive at night, with a sea of twinkling lights below us. It was the perfect way to round-off our first day, drinking in the views surrounding us.
Day two
After a busy first day, we slept incredibly well and were up early for another jam-packed day in Bangkok! Today we had a tour booked around Thonburi – a rural residential area and Thailand's previous capital. We booked with Small Teak Boat Canal Adventure,  and the tour was absolutely fantastic – one of our Bangkok highlights! A really great way to explore a different side to the city during our three days in Bangkok.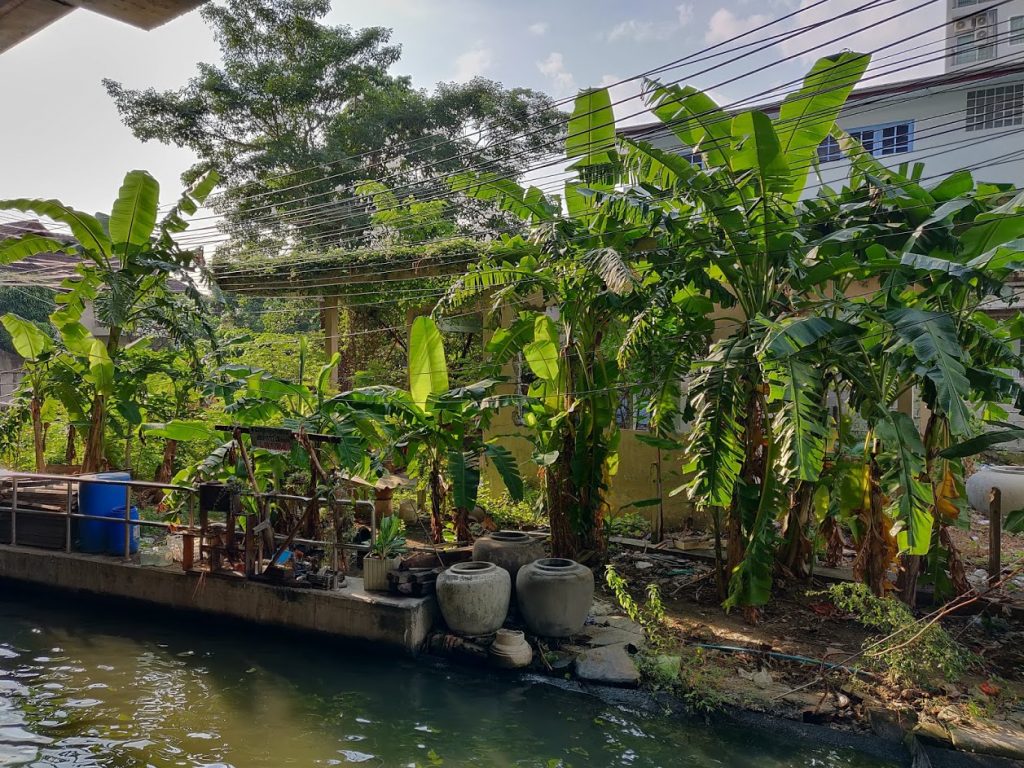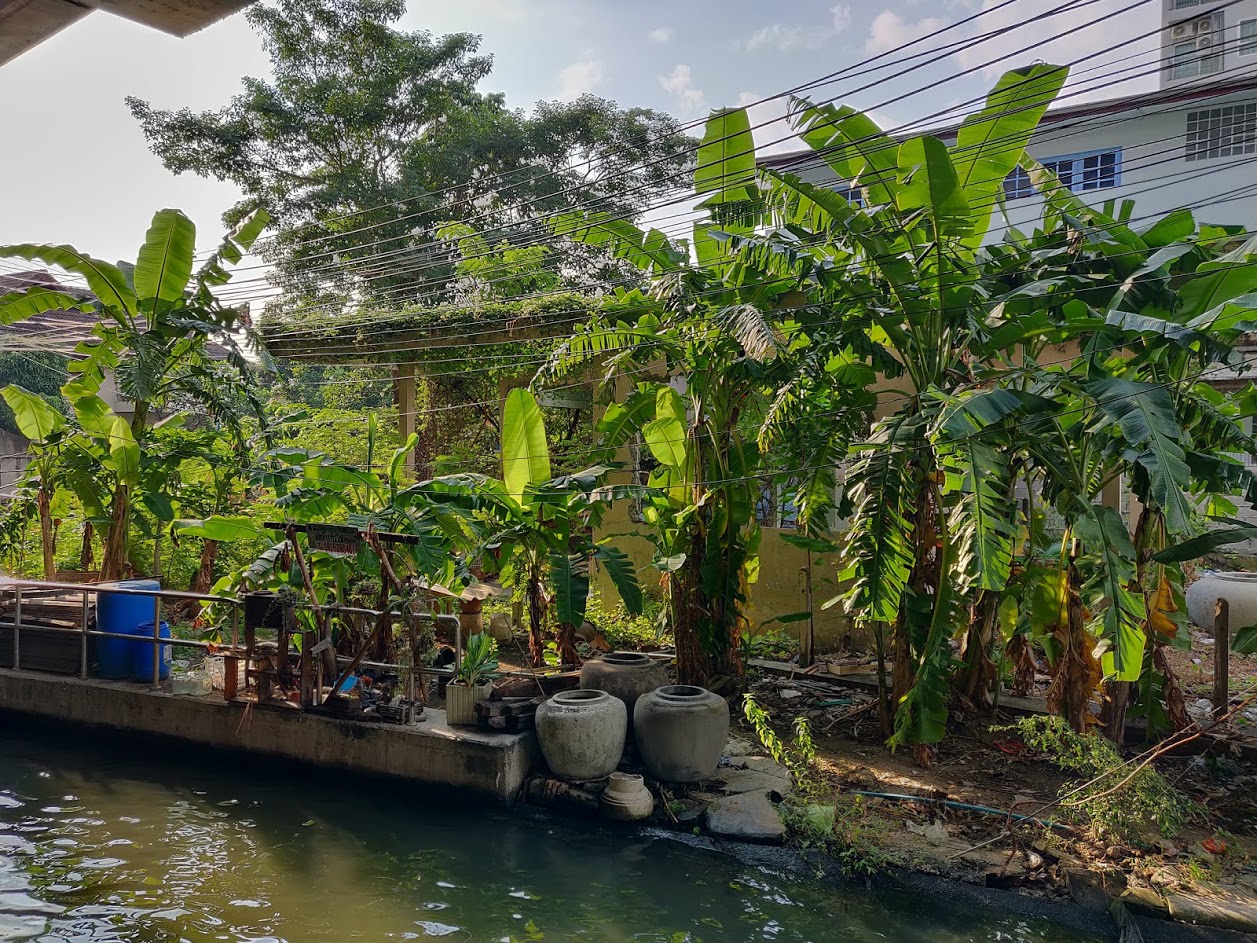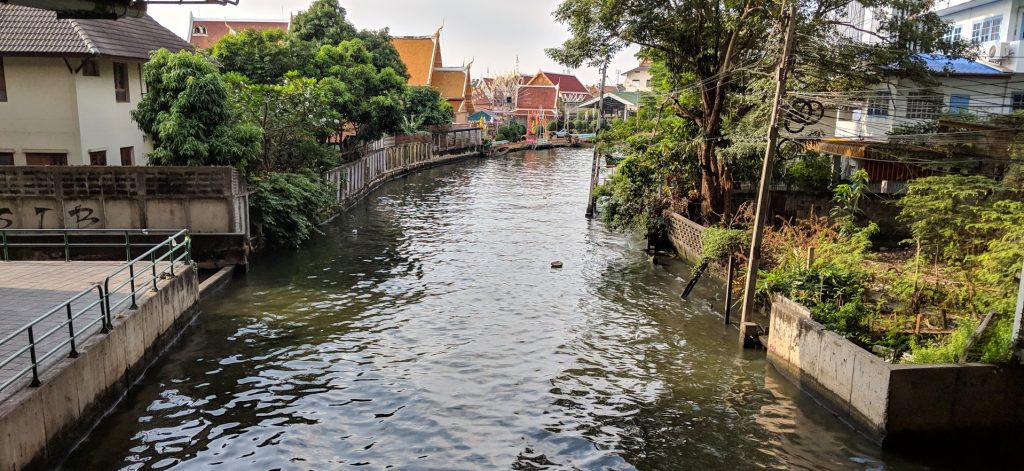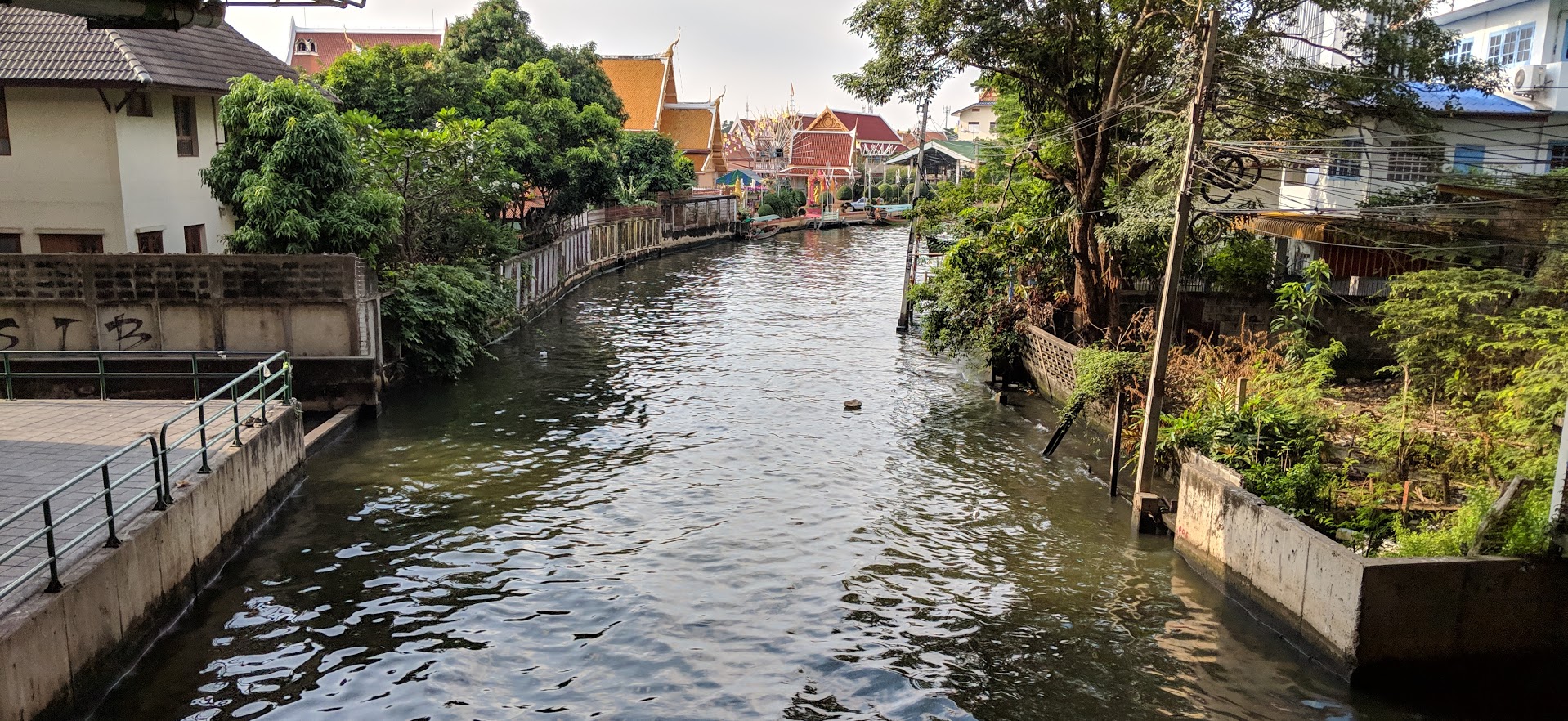 We made our way down to Thon Buri to meet our guide for the day, Marisa (Oi). We booked the tour in advance via their website and sent a few WhatsApp messages to Oi whilst organising the trip. She very kindly offered us a private tour for the same cost as a group tour! This definitely made the trip even more special for us, as we got to enjoy the whole experience all to ourselves.
I loved being able to watch and experience the local,  slower pace of life in Thon Buri, compared to the craziness of central Bangkok. Oi took us down to our boat where we passed a local school and watched their morning assembly, which took place outside. We then made our way down the river in our long-tail boat, towards the Wat Sai floating market. Life along the river looked beautiful and we passed giant monitor lizards basking in the sun, and locals' homes which lined the canal banks. Except for the sounds of the long-tail boats (which make a racket!) the whole neighbourhood was peaceful, quiet and serene.
Having arrived at our first stop, we wandered around the local markets, where we saw an abundance of handmade crafts and fresh fruit. We sampled our first fresh coconut, which was delicious and got chatting to the locals at the stalls. We continued our way through the stalls, where they sold meat, herbs, spices and fresh vegetables for the day. This was easily one of my favourite moments, being able to explore, people watch and take in all the surroundings.
Oi took us to one of her favourite restaurants, which was a little family-run place. The restaurant originated from the floating market days, before they set up their own place some years later. Annoyingly, I can't for the life of me remember the name, but if you book this tour, Oi will definitely take you there. Oi clearly comes here a lot as she knew the family so well, and it was lovely to see them chatting and laughing together. We sat down and the family joined us for a bit, chatting about us and our trip, before serving us the best Pad Thai I had during our whole time in Thailand! I couldn't eat enough of it!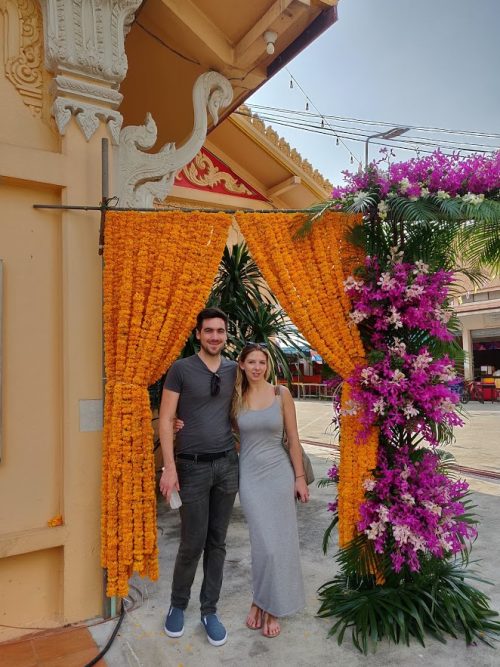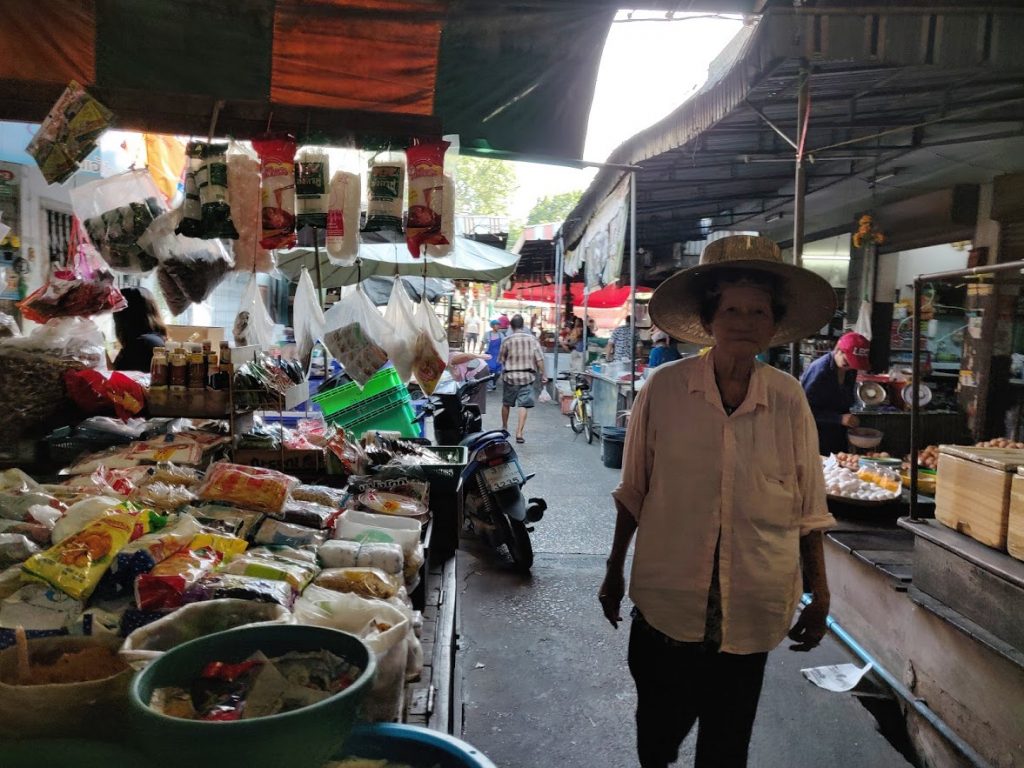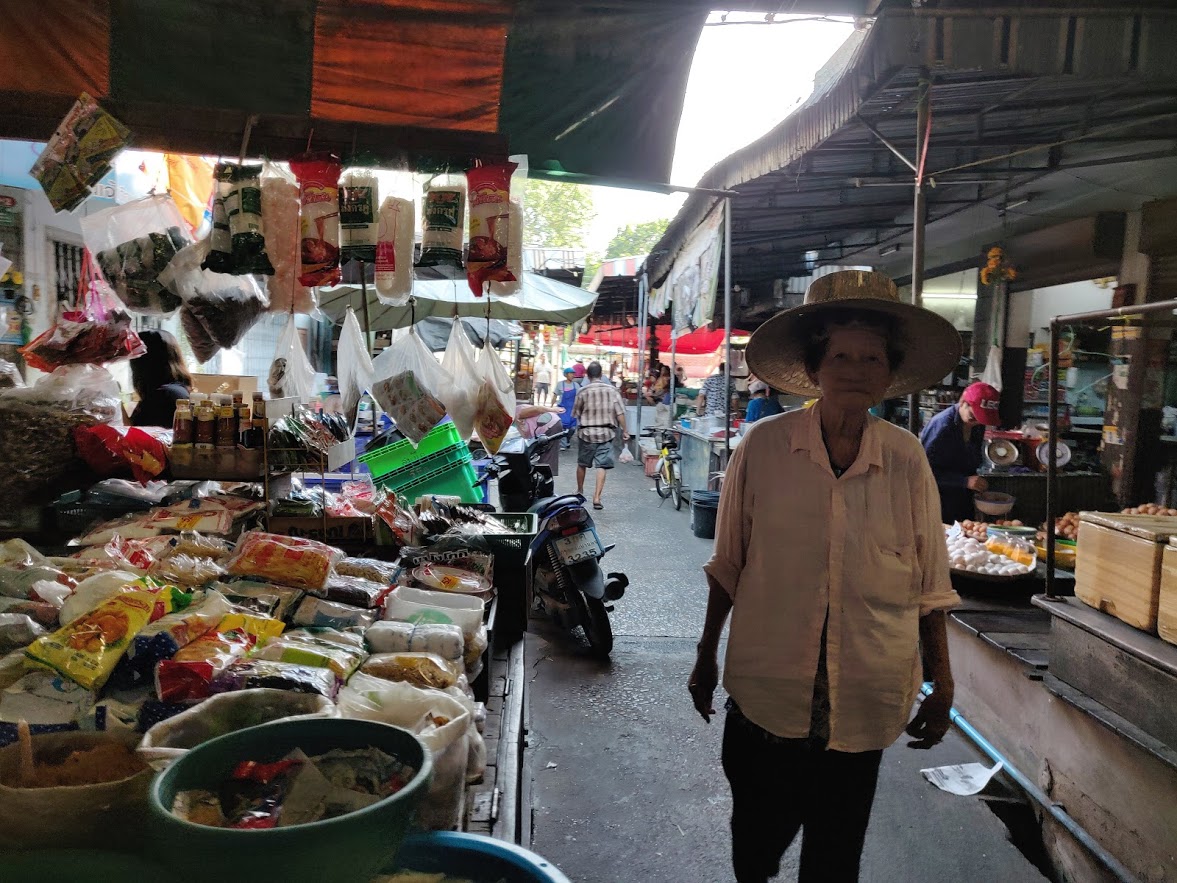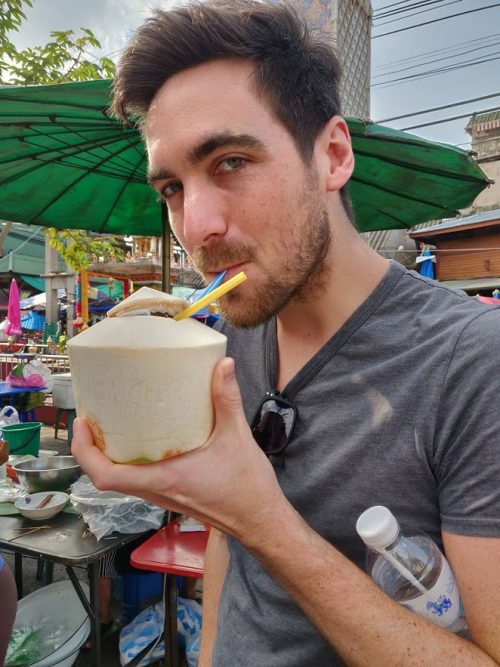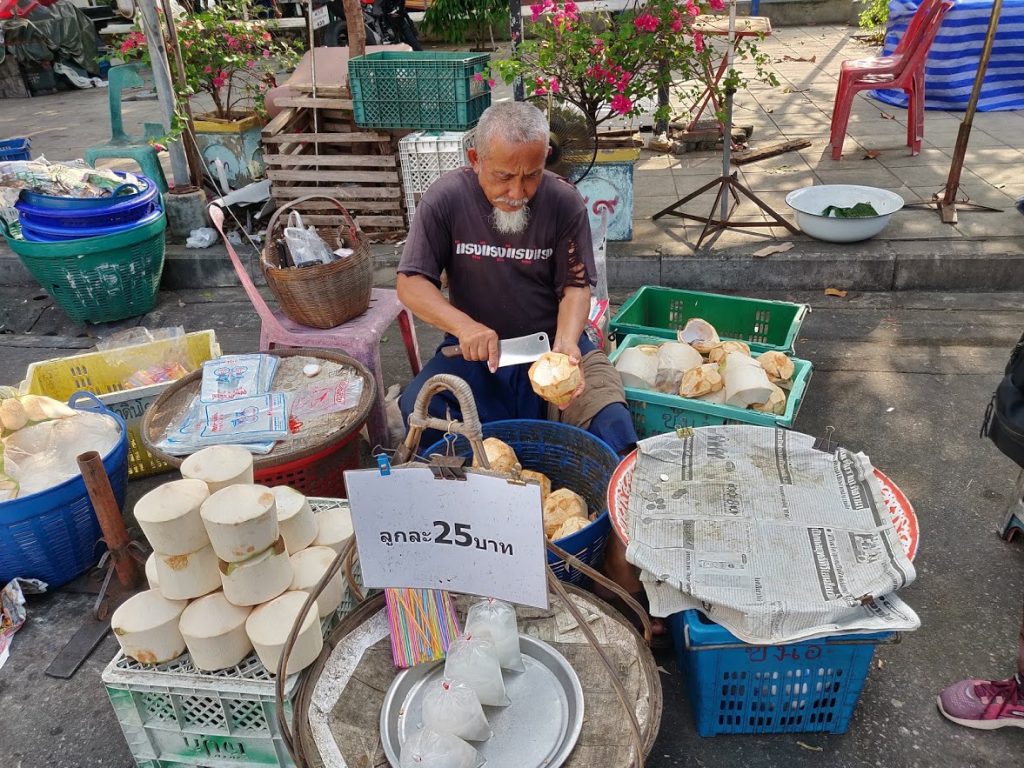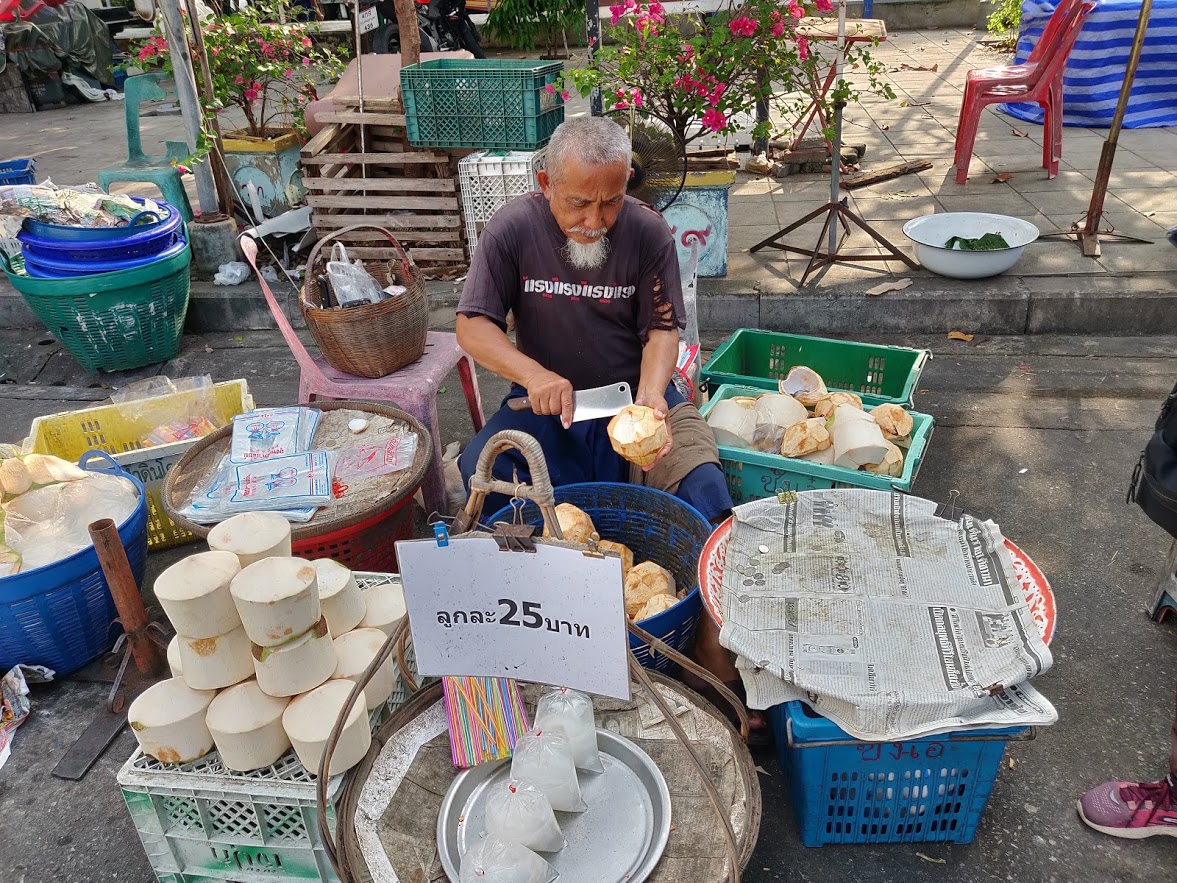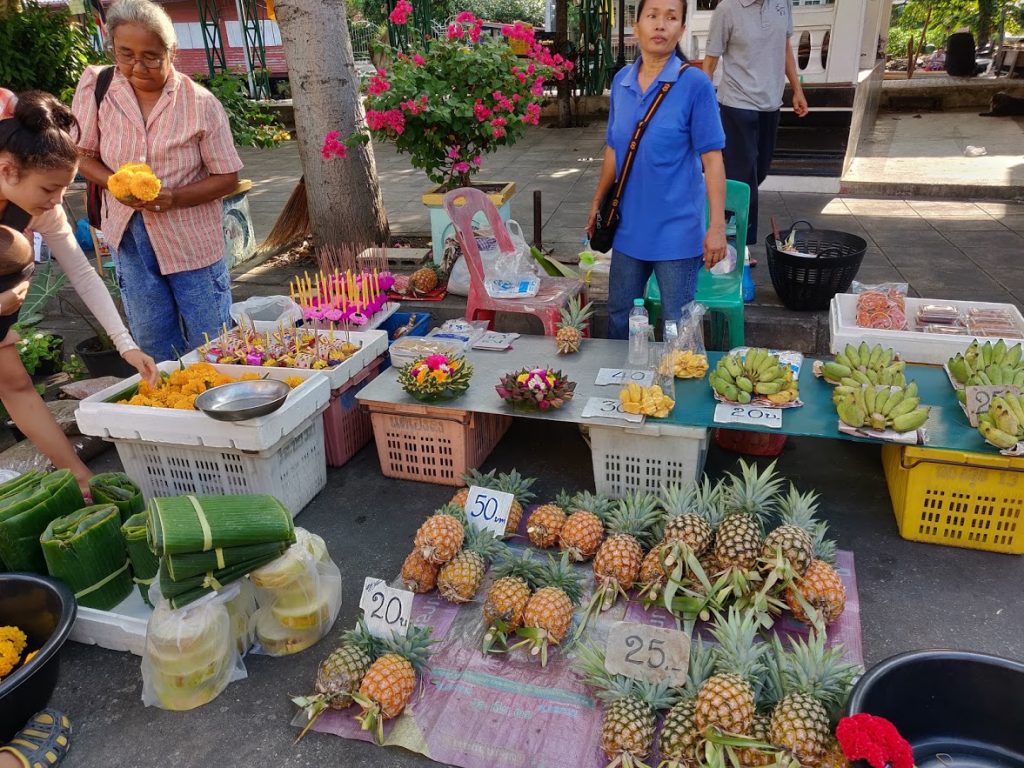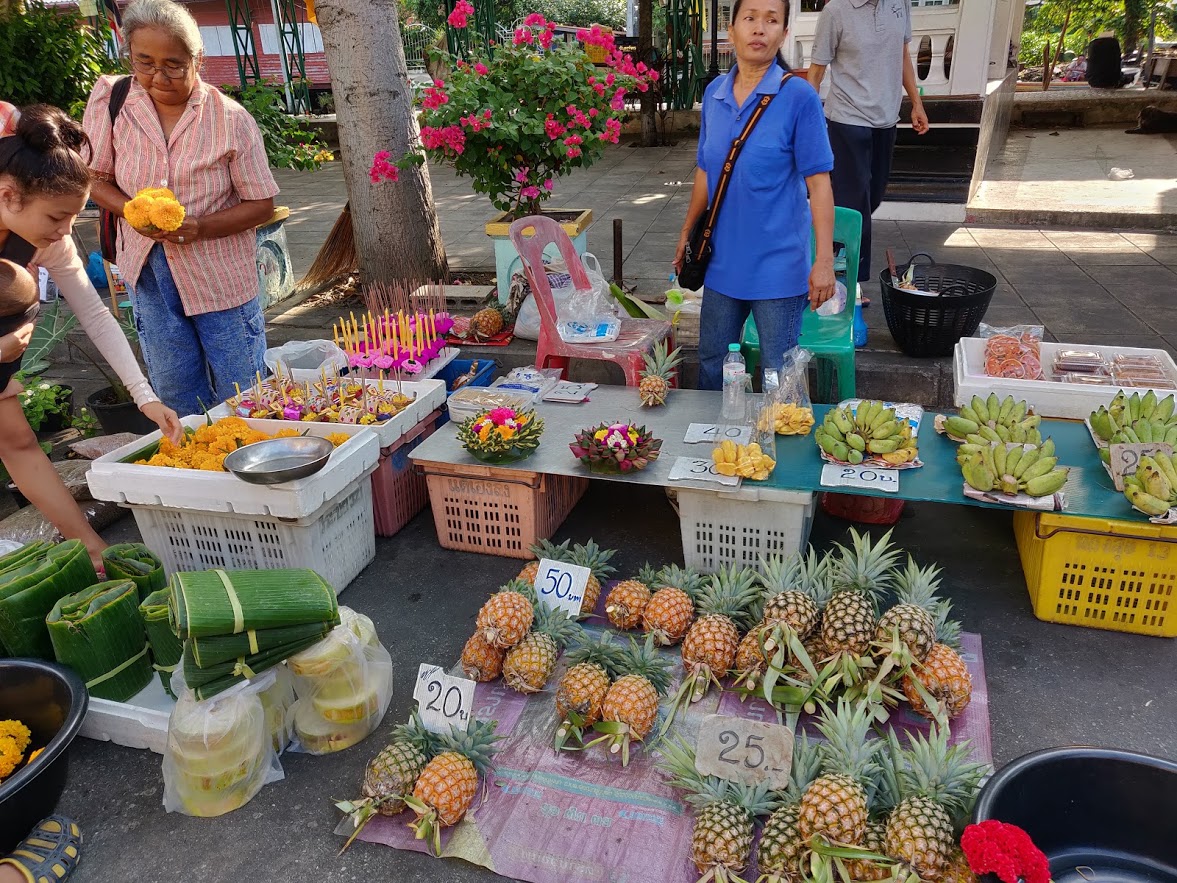 Loy Krathong festival
We also happened to be in Thailand during the Loy Krathong festival. The festivities sees people gather around lakes, rivers and canals to pay respects to the goddess of water by releasing beautiful lotus rafts, decorated with candles, incense and flowers onto the water. We saw a lot of lotus rafts being sold and made, and as we wandered around the stalls, one lady invited me to make my own raft! I sat with her as she showed me how to wrap the trunk base in banana leaf, and together we decorated the base with folded leaves, flowers, candles and incense. It was lovely to take part and see how they craft the beautiful floats and afterwards she very kindly said I could keep my float so I could light it in the park that evening.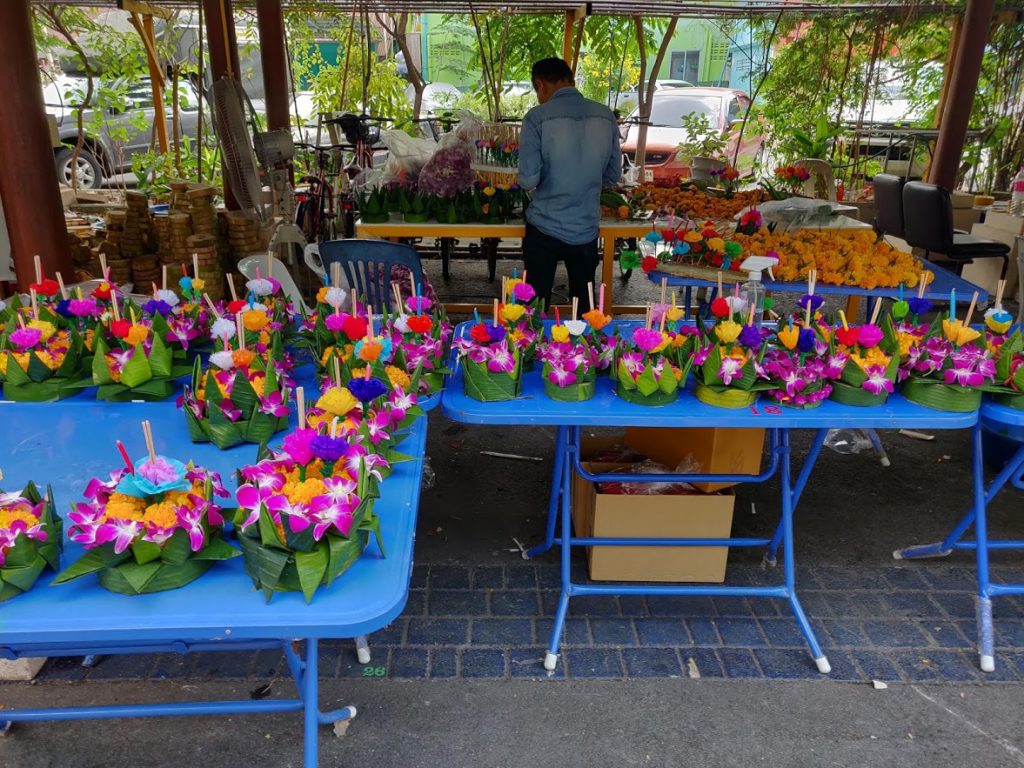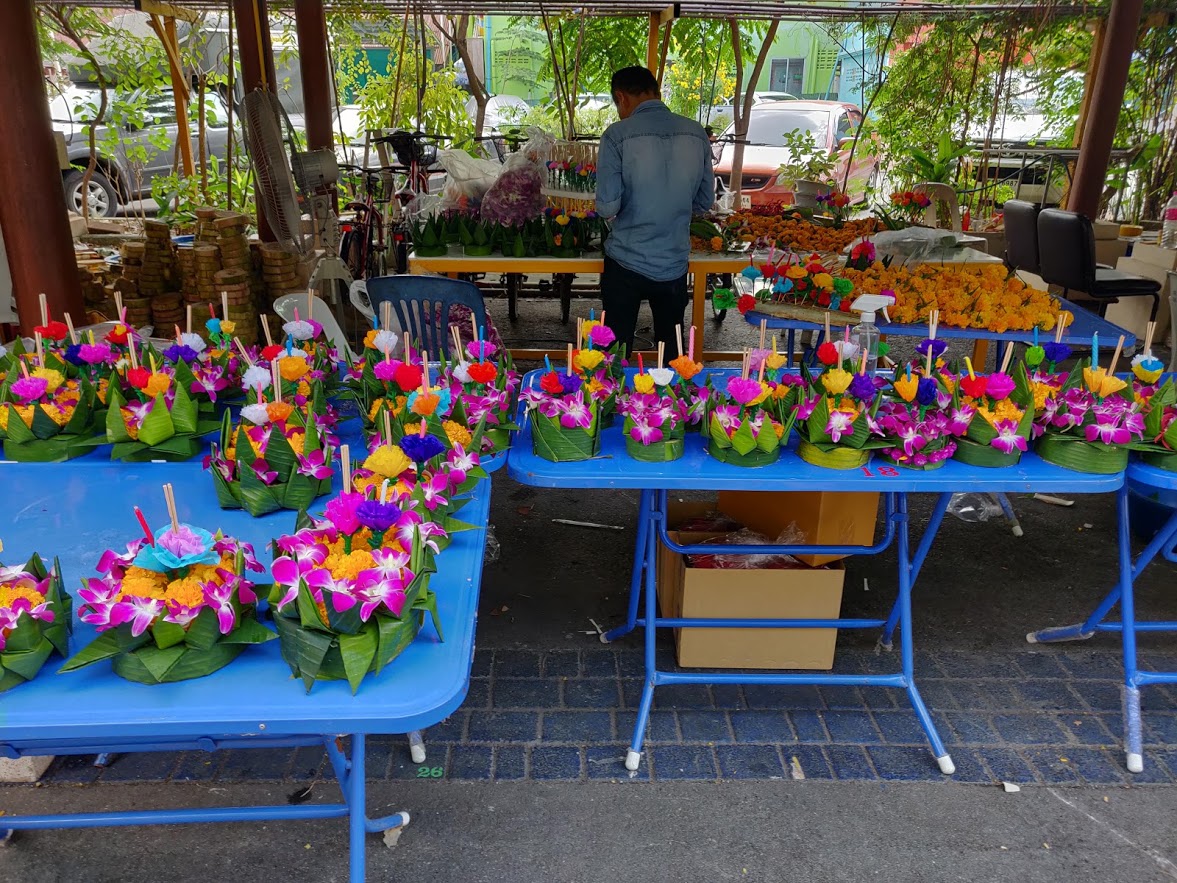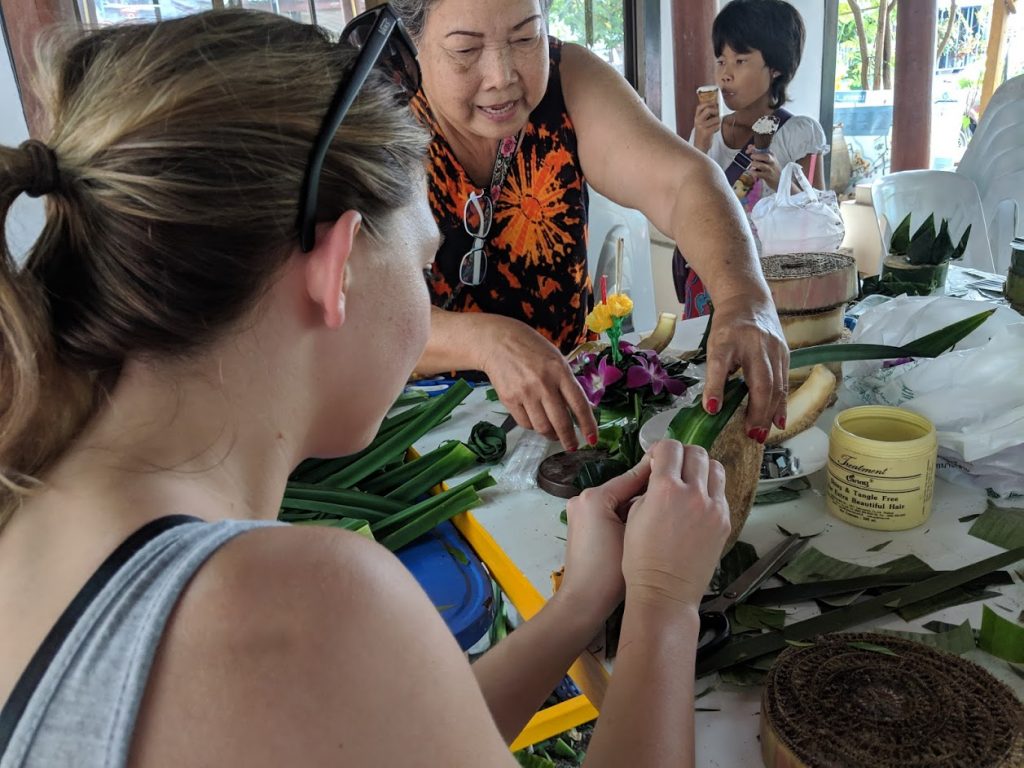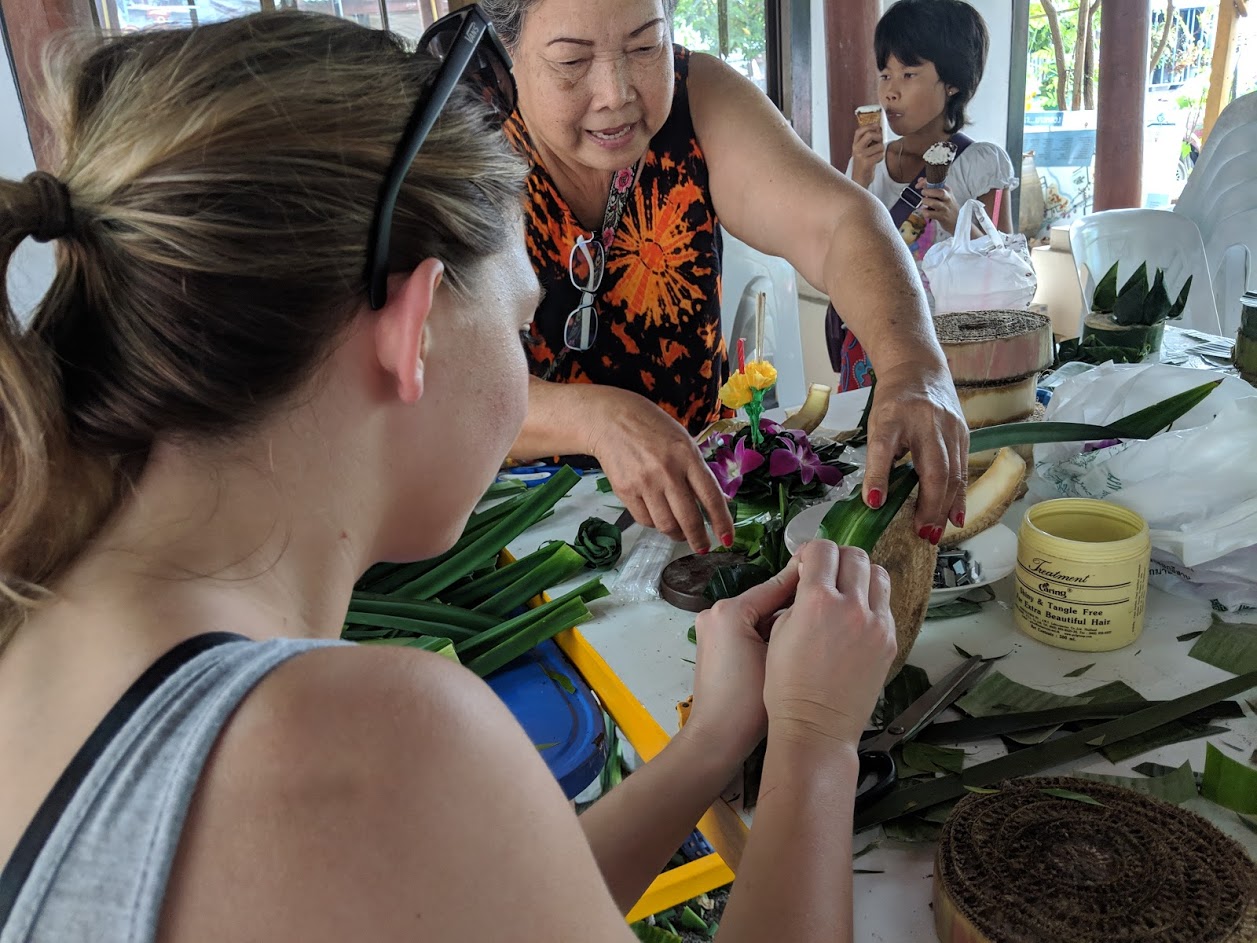 Back on the boat, we made our way back up the river and visited some of the temples lining the canal. Oi explained Thon Buri's history to us, the purpose of each temple, praying rituals and how to interact with Monks and their religion. From here, our trip continued to only get better! Still feeling full from lunch, we stopped off for a drink at The Artists House, which is more than 200 years old. Oi told us about the history of the house and how it became the cafe & shop it is today. 200 years ago, wooden houses like The Artists House were very common along the river, but were replaced by concrete buildings instead. The Artists House fell into disrepair and a few years ago was beautifully restored. They also kept a 600+ year old chedi, which is in the garden. We sat by the canal bank and ordered some drinks, where I tried my first Thai iced tea (SO yummy). Afterwards, we explored the house and the shop, which sells small crafts & stationery and hosts daily puppet shows.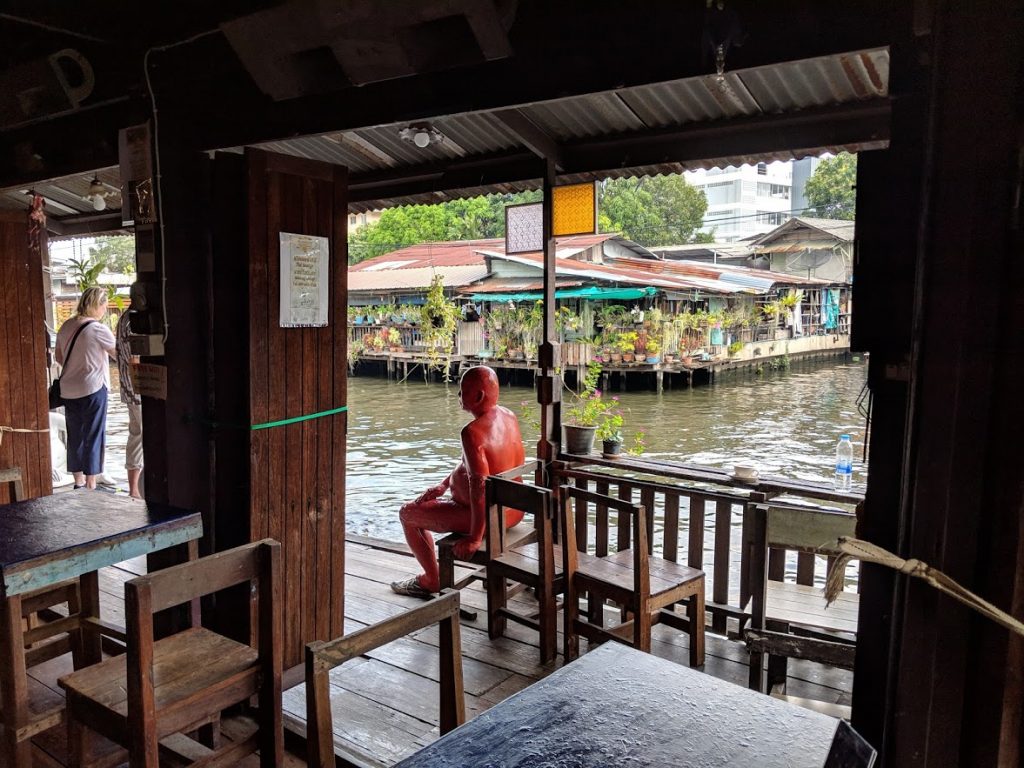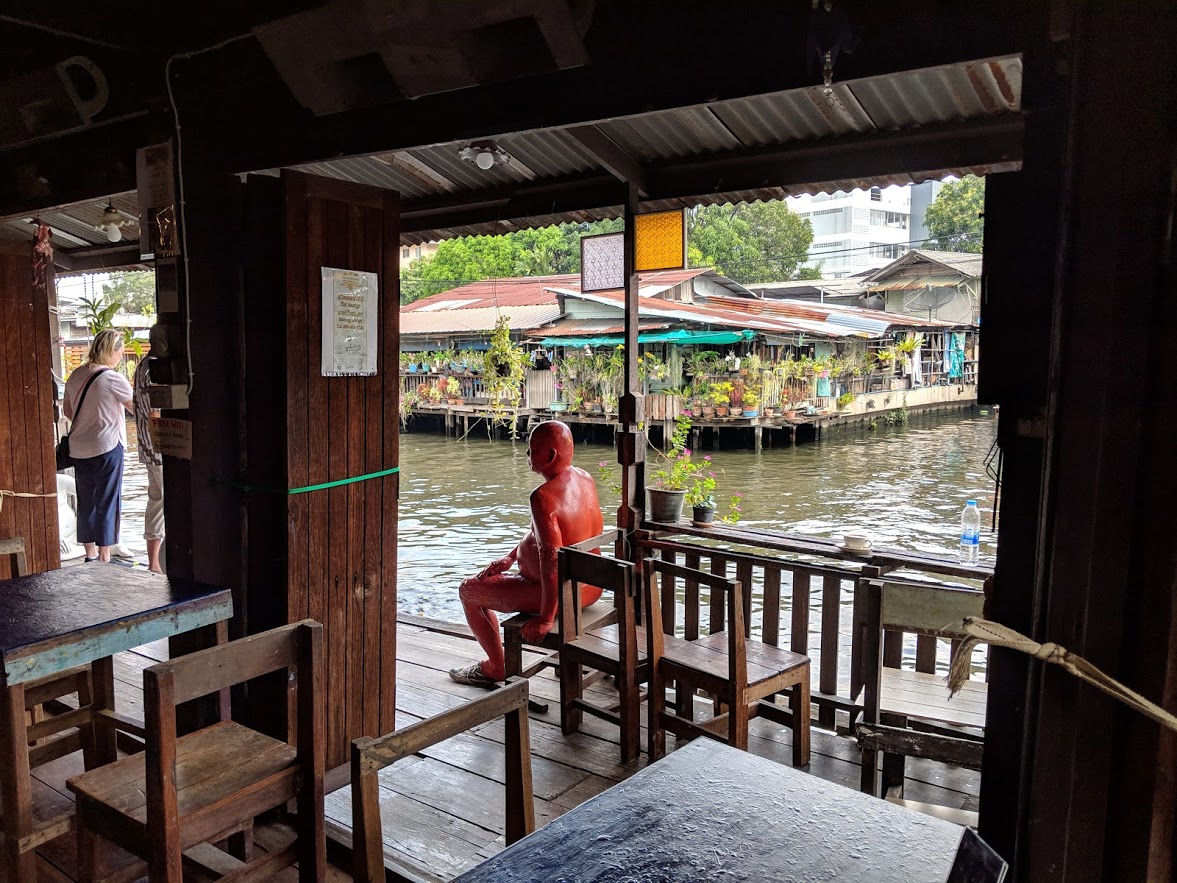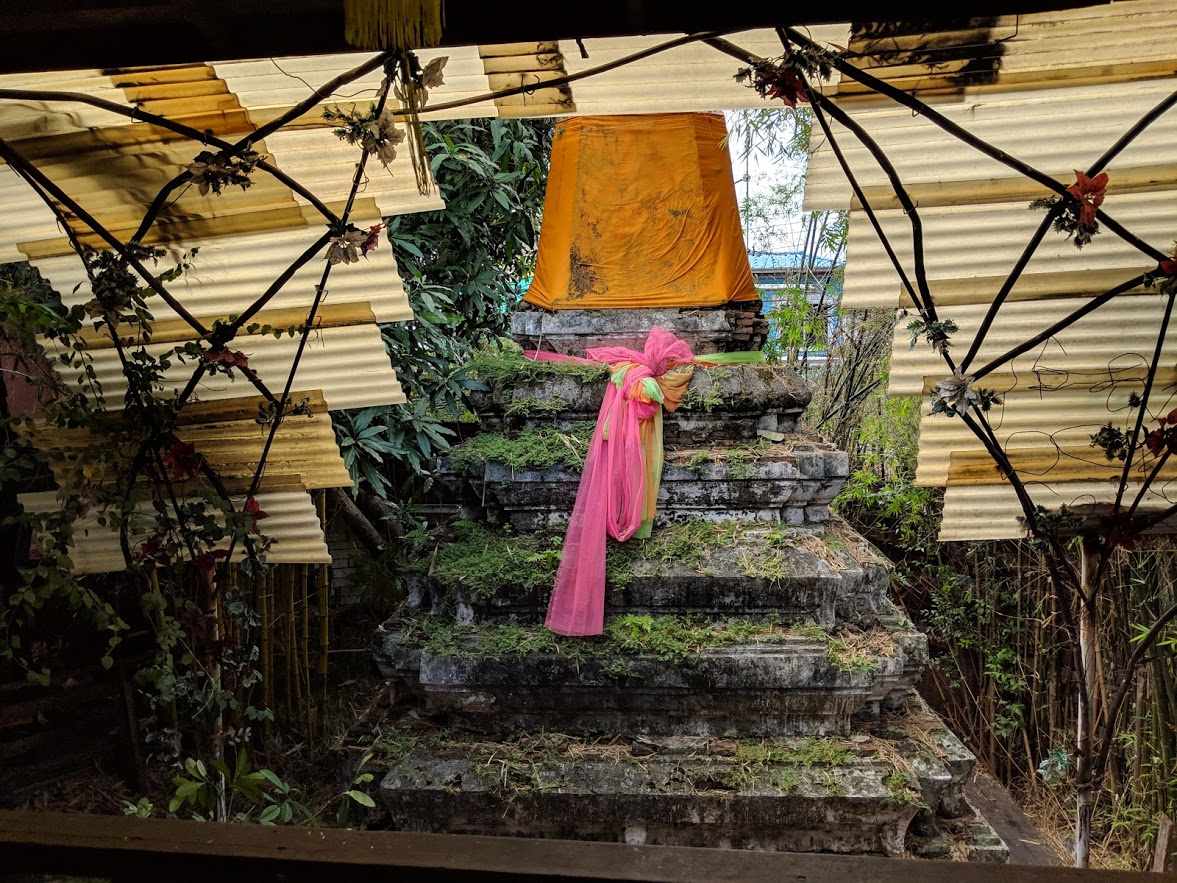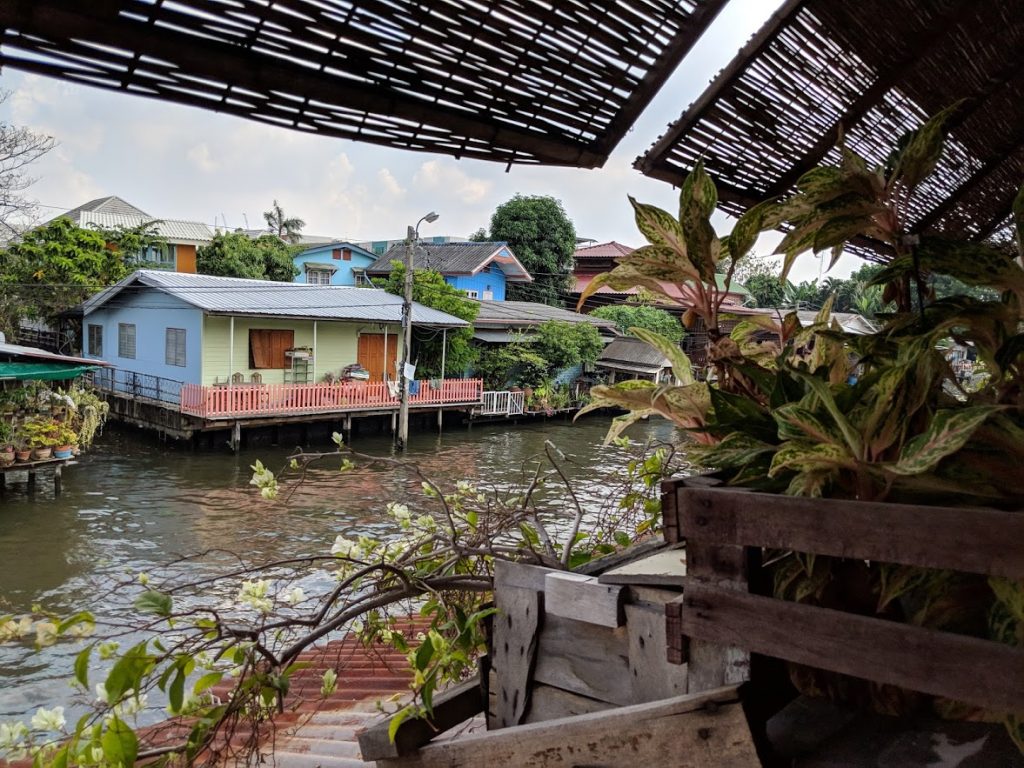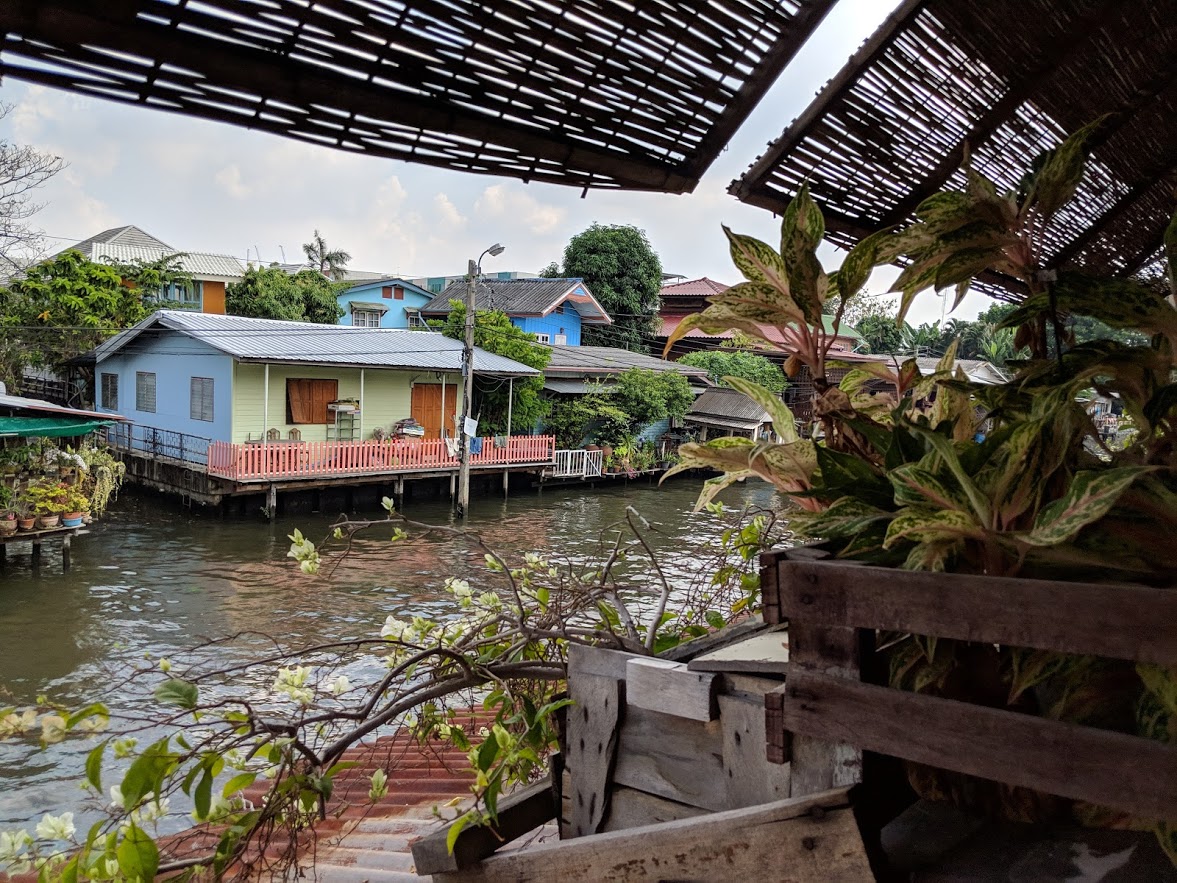 Afterwards, Oi took us back to the boat as we sailed further up the canal. Every now and then they'd turn the engine off and all you could hear was the water lapping at the side of the canals and birds chirping from the trees. Thon Buri is such a beautiful and peaceful part of Bangkok, we could definitely see the appeal of living here rather than in the city itself. As we continued up the river, we were also joined by a local lady cooking and selling food from her boat. Sadly I can't remember what they were, but I remember Oi mentioning they were rice flour parcels with a filling of sorts. They were absolutely delicious and handed to us in little pandan leaf bowls.
We were on our way towards a near-by Orchid Farm, but as if Pad-Thai and rice flour parcels were not enough, Oi took us to another restaurant. She explained Thai people don't eat three large meals, like we do in the UK. Instead they tend to graze, eating a few small meals throughout the day. She was not kidding – I don't think I've ever eaten so much in one day before (but I definitely wasn't complaining).
We sat out in the sun by the water and enjoyed a delicious spicy beef & rice dish. I may have never eaten so much food in one day before, but I've also never eaten so well before! Everything we ate was incredible! We were absolutely spoilt by the food (I miss it so much!) The restaurant was lovely and quiet, with just a few locals sat at nearby tables. After our visit we hopped back in the boat and continued up the river towards the Orchid Farm.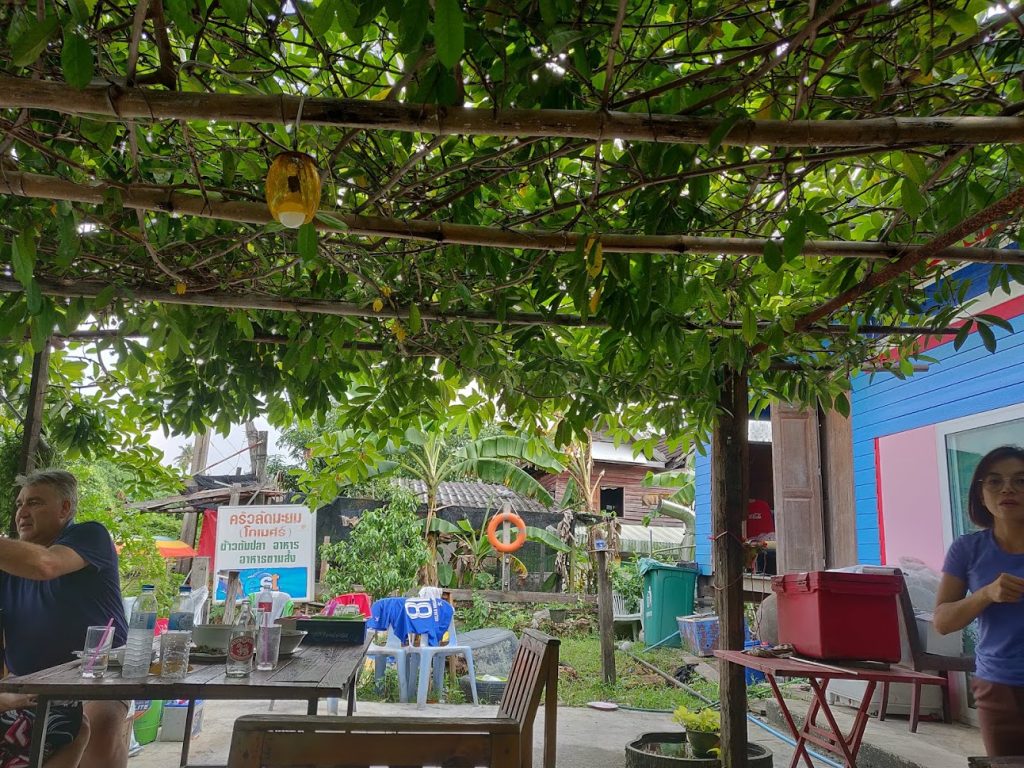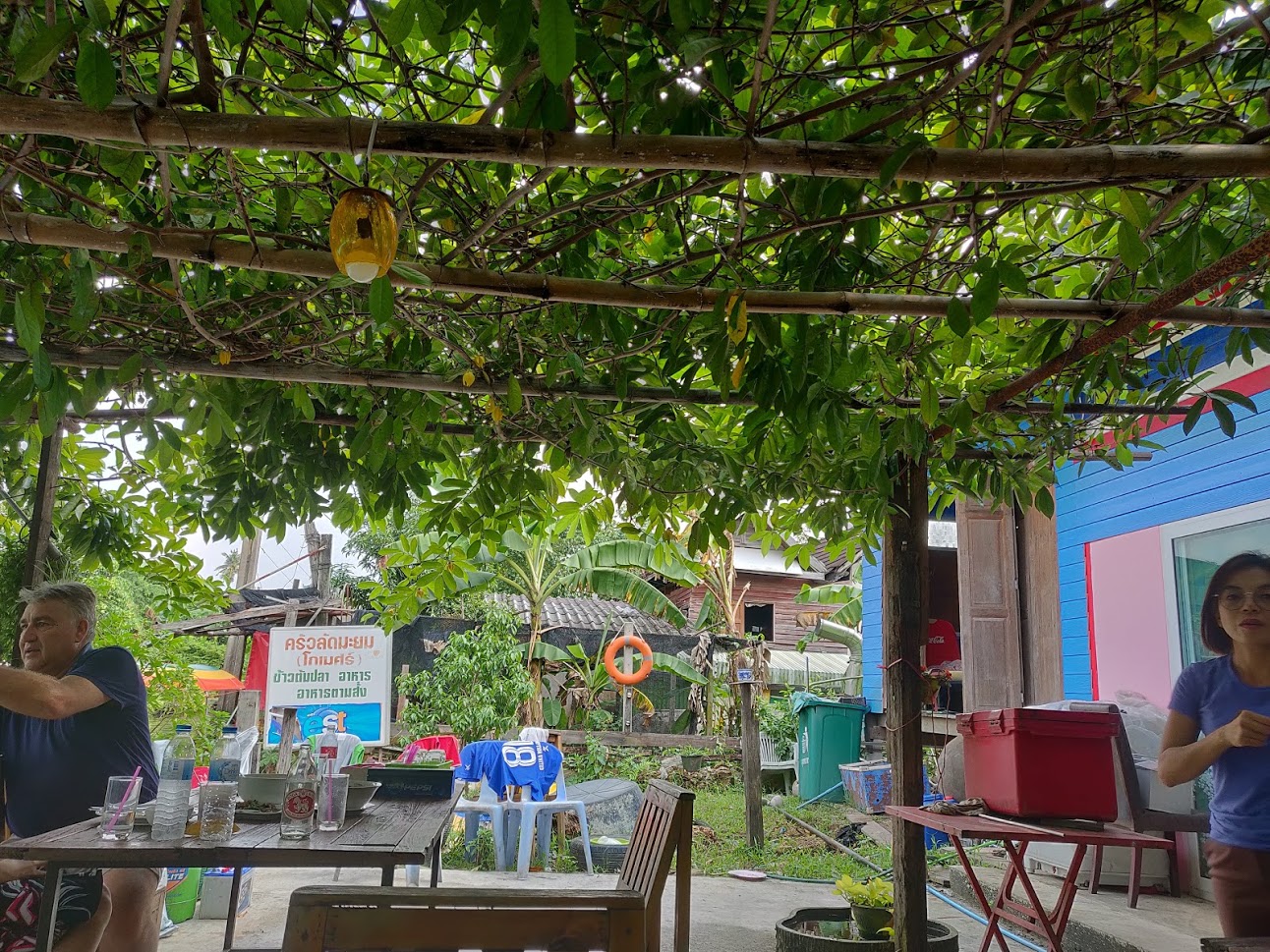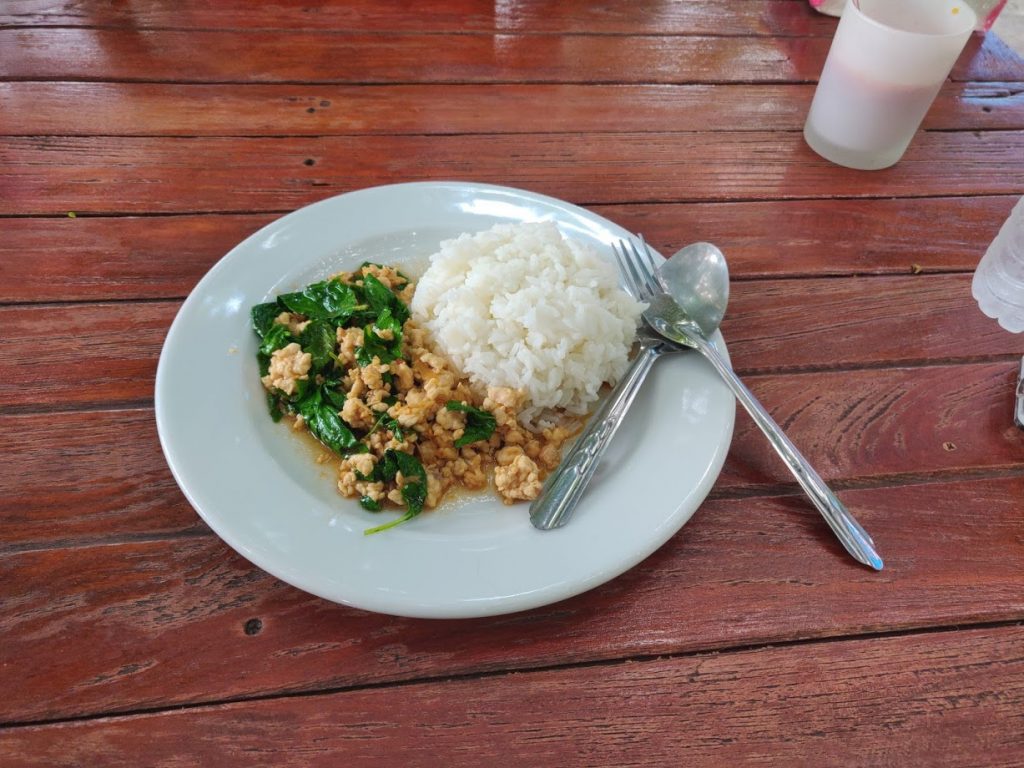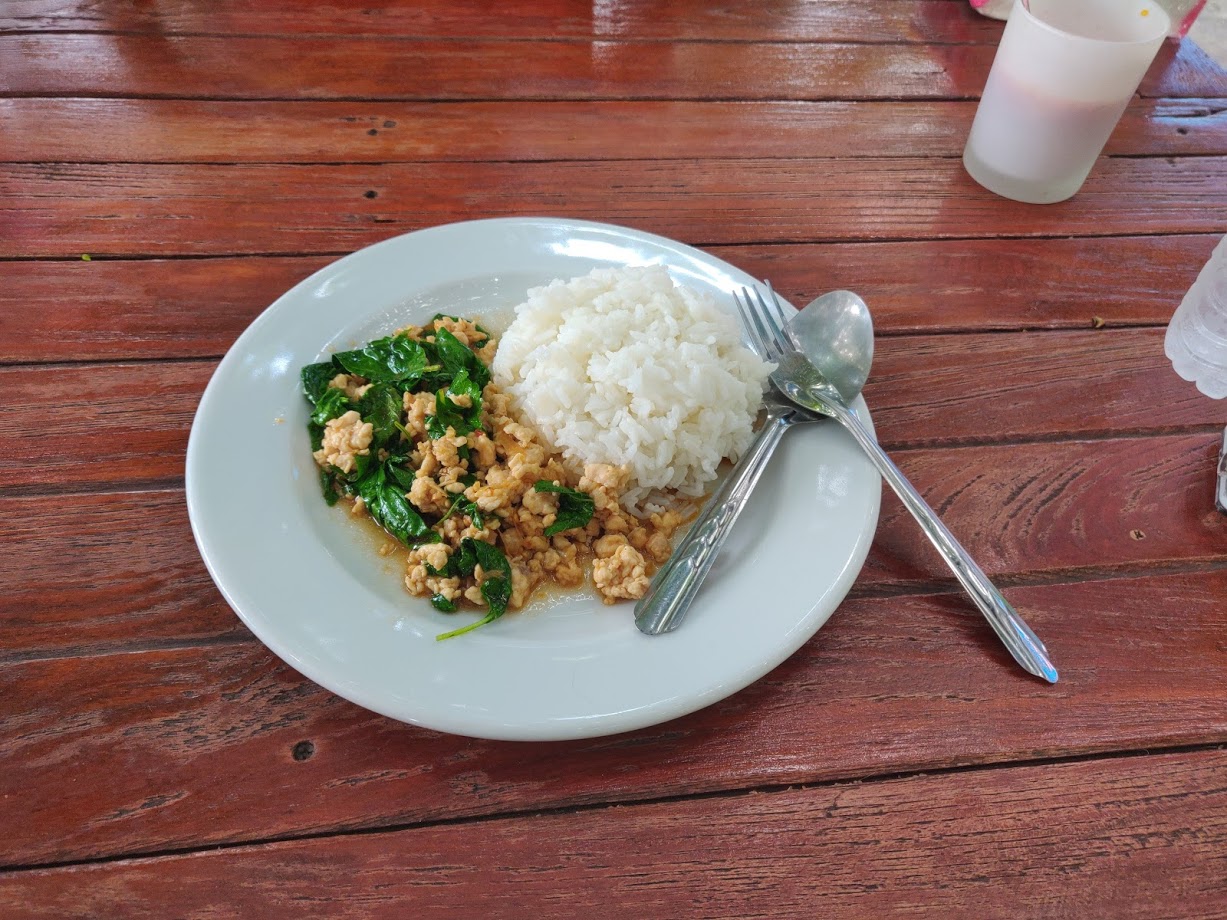 The Orchid Farm was great and so lovely to visit. It was not what I expected at all, but not sure I really knew what to expect thinking about it. Hundreds and hundreds of Orchids, with bold, beautiful colours, as far as you can see. Oi told us the farm provides most of the city's supply of orchids. These orchids are also grown without soil, with their roots exposed to all the elements, which completely blew my mind!
Sadly, this was our last stop on the tour. As we made our way back to our starting point, we had a quick stop at a small pier, where Oi gave us a bag of fish food where we fed a small army of catfish! I have never seen so many fish in one concentrated area in all my life. It was chaos – but strangely enjoyable!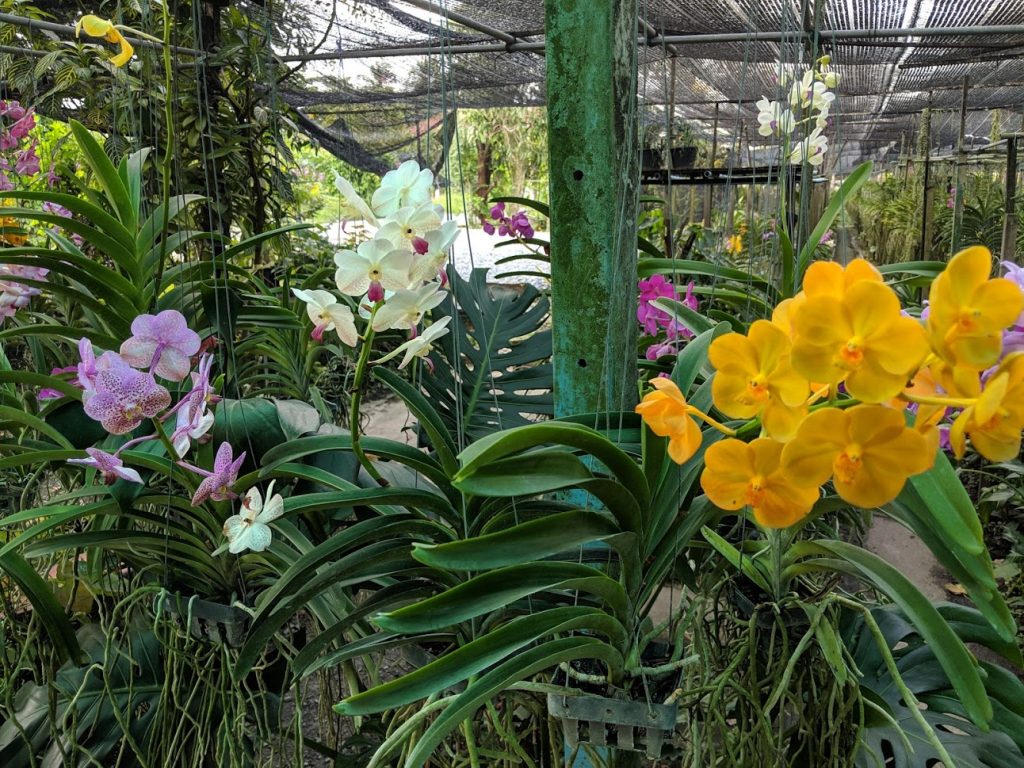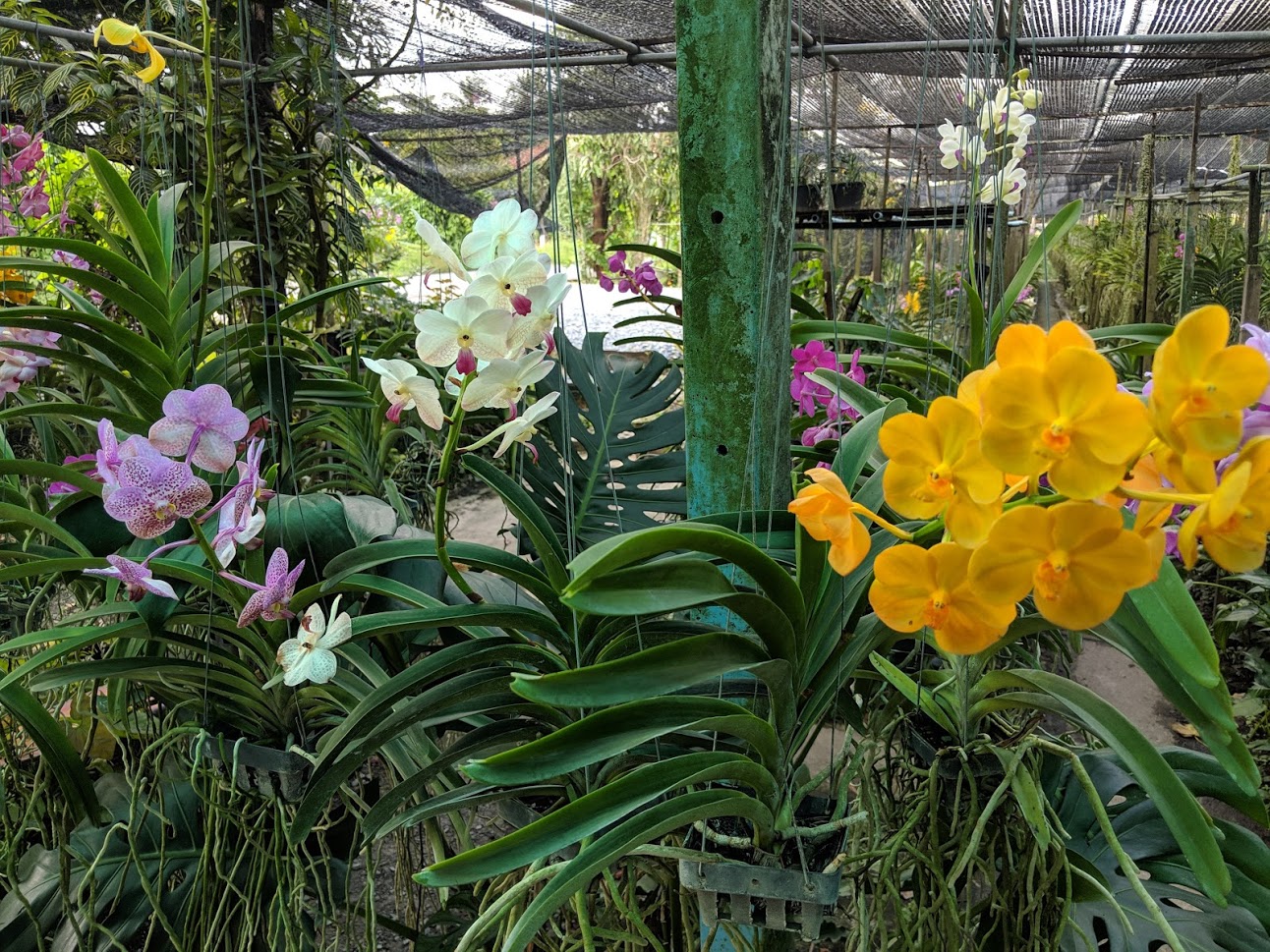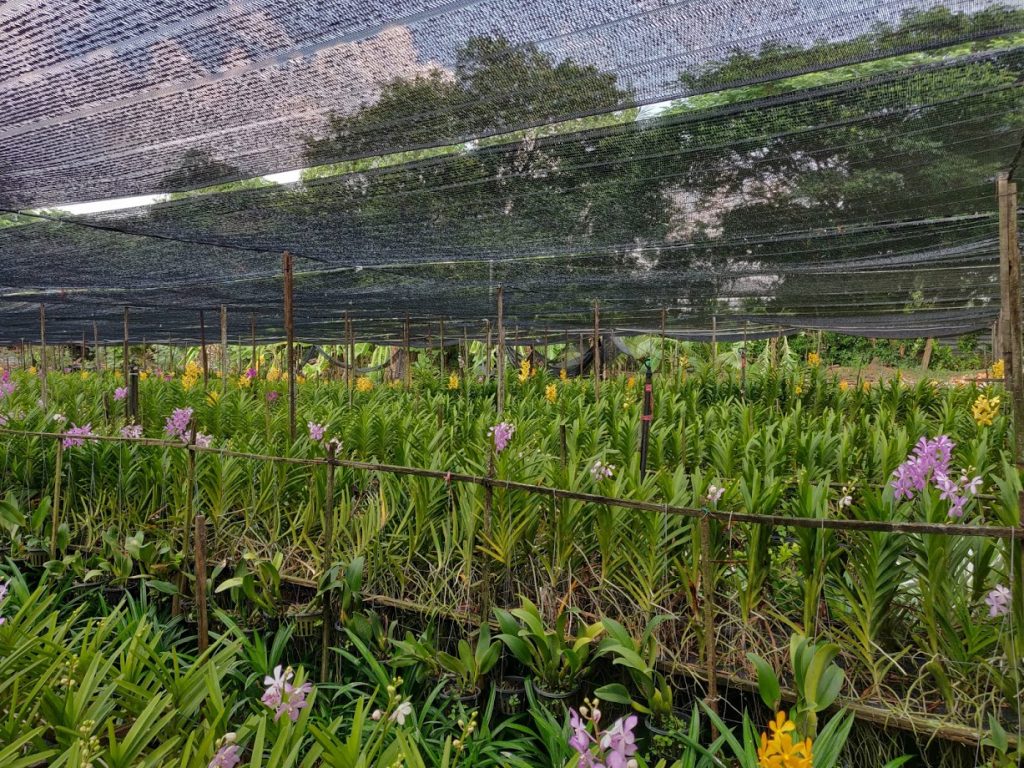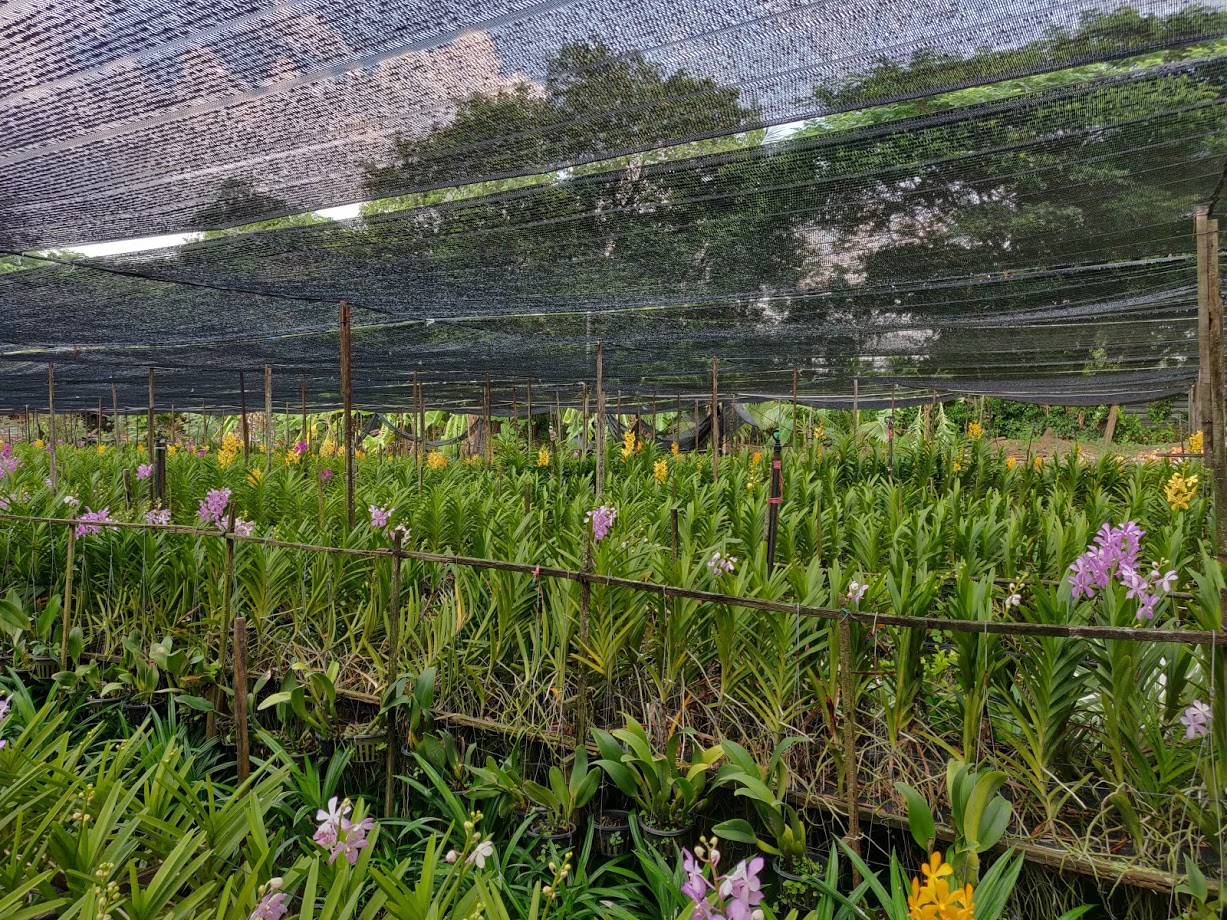 After the tour, we made our way back to the hotel on the BTS and freshened up ready for the evening.
Our hotel was a short walk from Lumphini Park, so we decided to head there for the Loy Krathong celebrations and to give my float a little send-off. We had a nice explore around the park, before taking part in the festivities, where we sat by the lake and watched everyone making their wishes before sending off their floats. Unfortunately some people's floats completely went up in flames while sailing around the lake!
There are skyscrapers and buildings all around the perimeter of the park, so once the sun had set, we sat back and enjoyed the city lighting up around us. We also had loads of tiny bats (about the size of my hand) whiz past us and skim and zip across the water – (I also absolutely love bats! They're my favourite animal, so I was in my element)!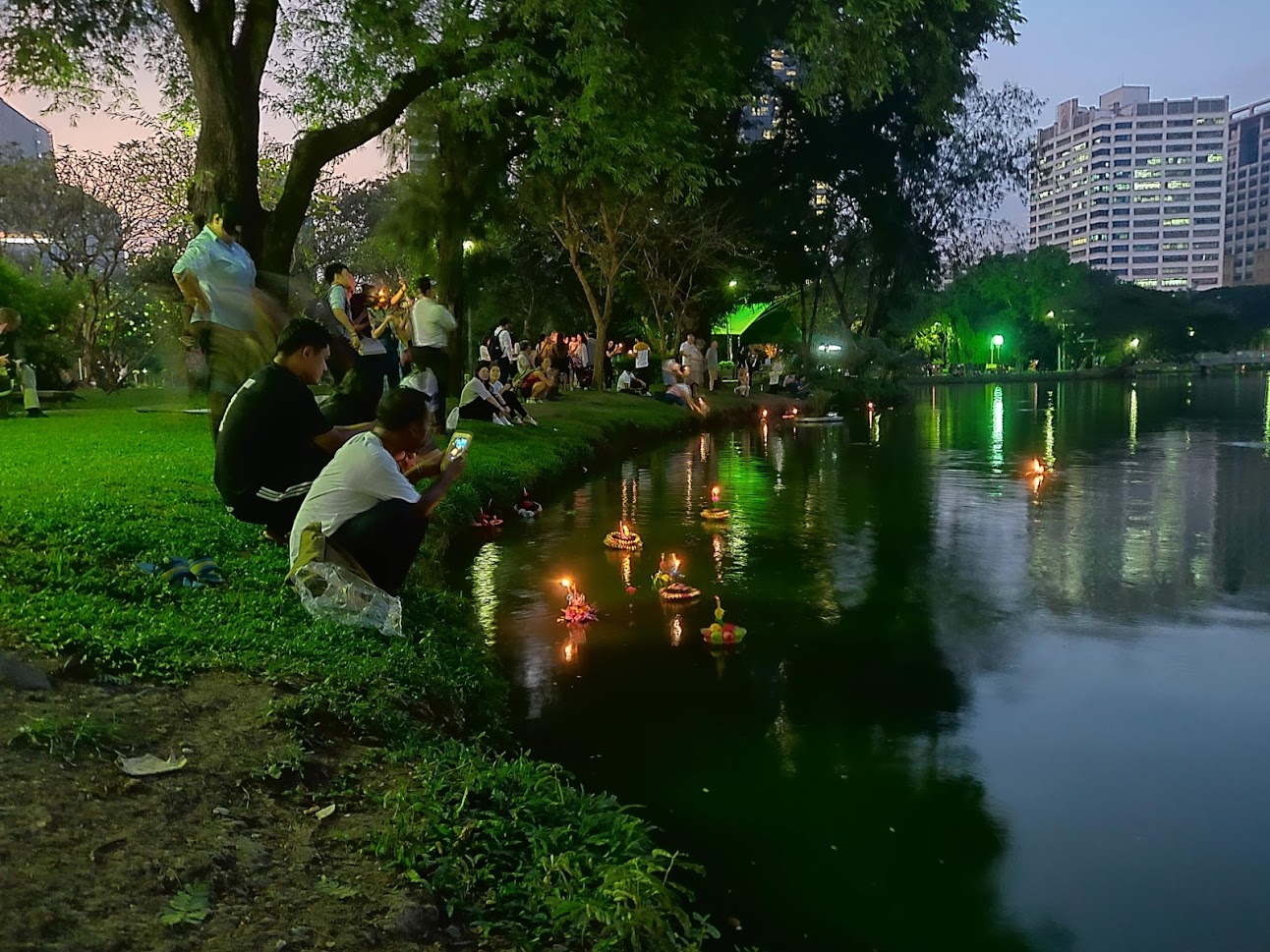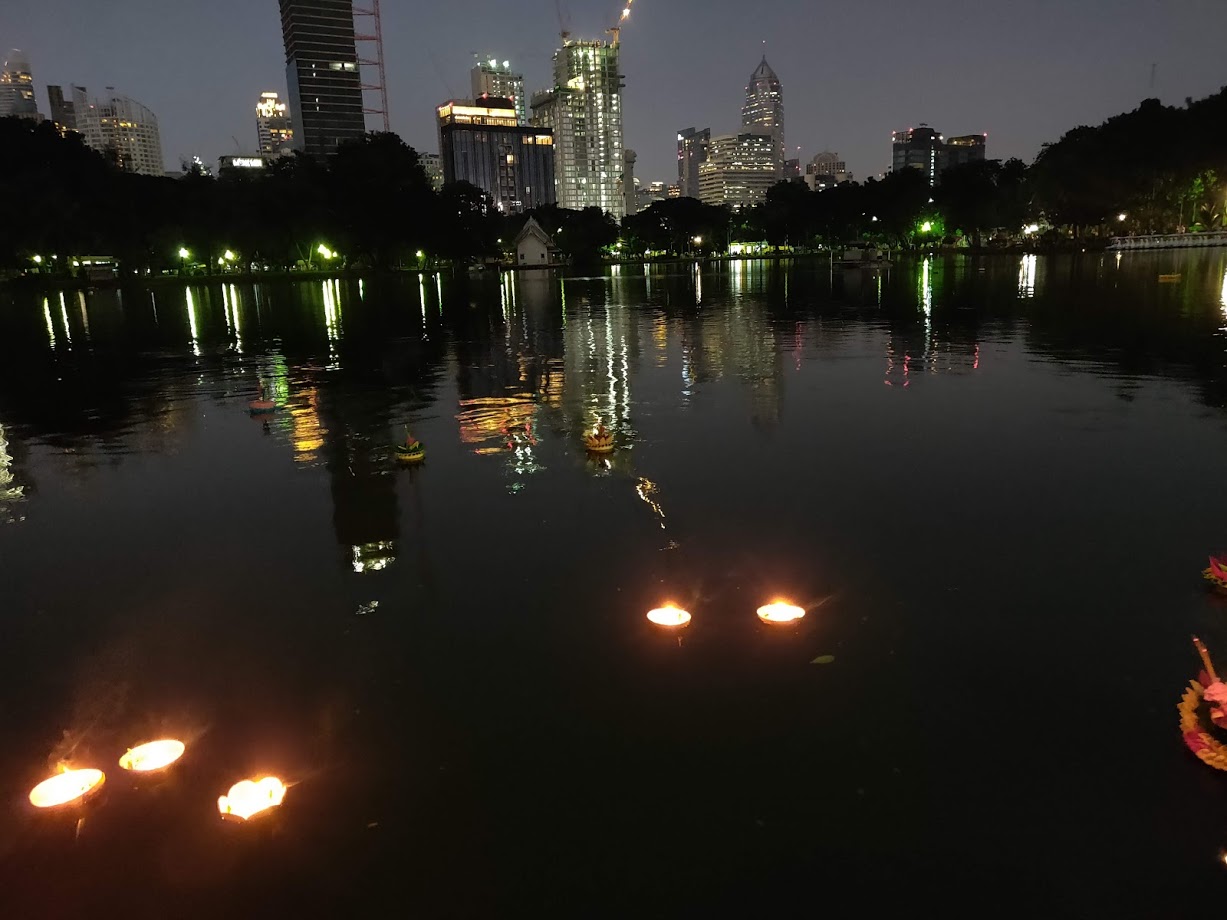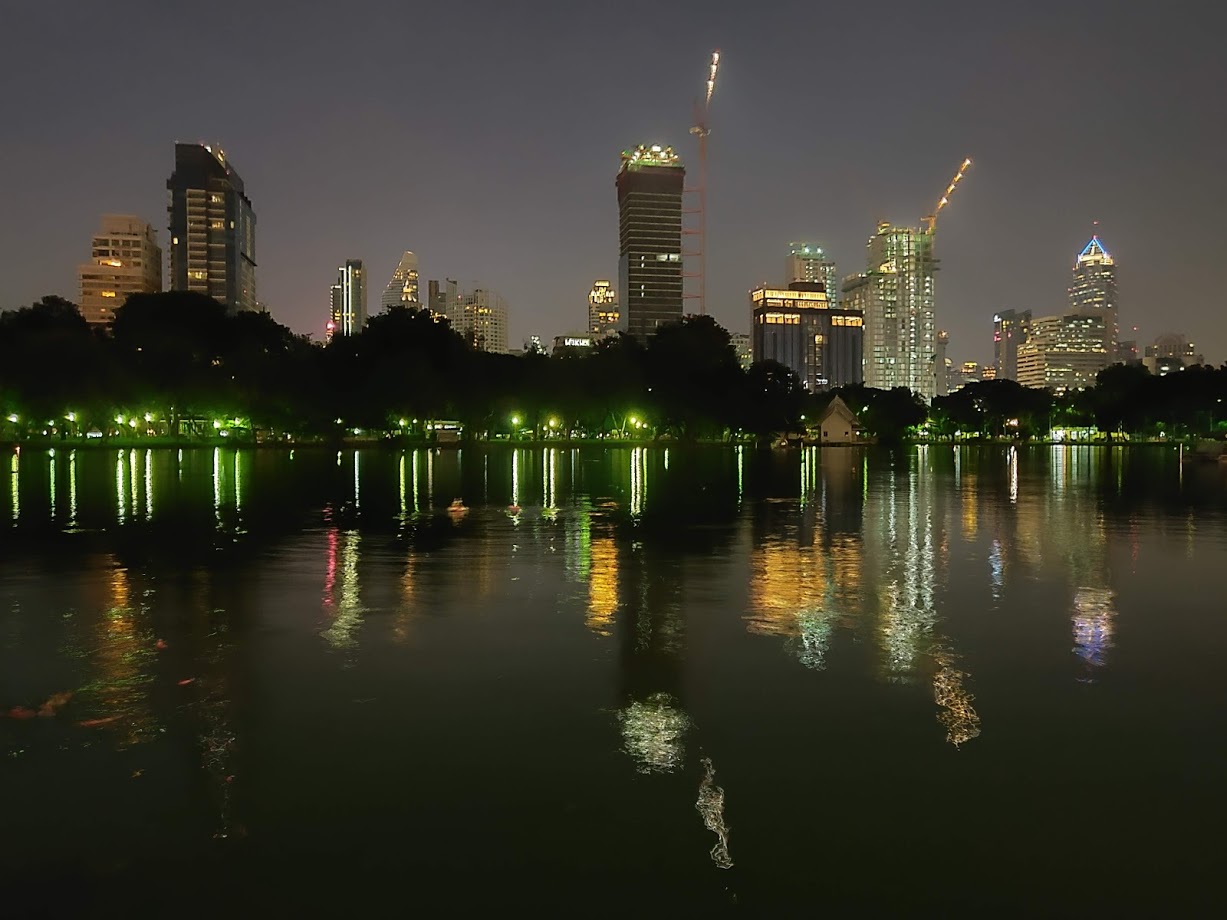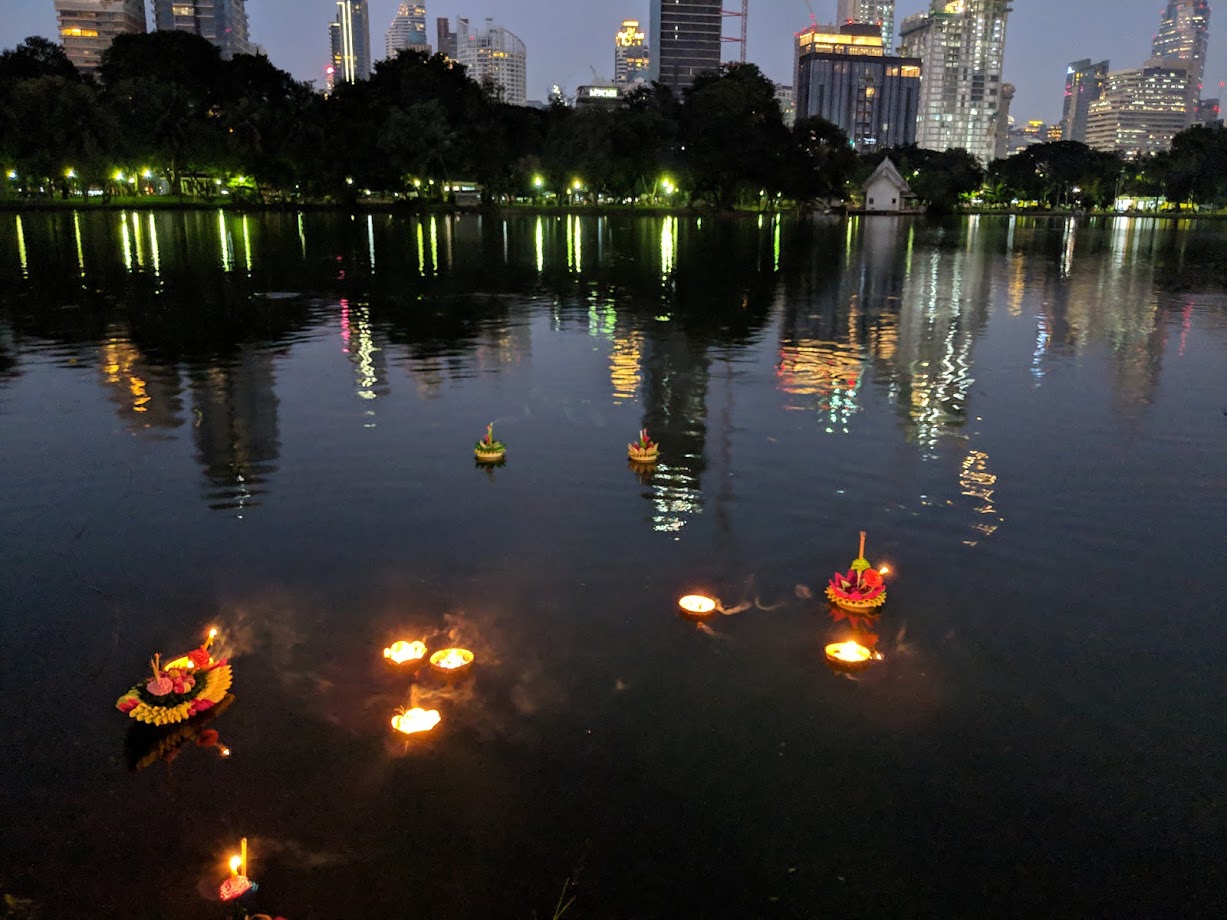 Starting to get the munchies, we decided to head into China Town – which is an absolutely mental part of Bangkok! Just when you think you're used to the hustle and bustle of the city, the area in & around China Town is even more full on and chaotic. It was a little bit of a smack in the face to begin with and we were a little overwhelmed. But once we explored what was on offer along the main road and a few of the side streets, we felt much better and familiarised ourselves with the area.
There was an endless choice of food of offer, particularly seafood (which was unfortunate for us neither of us are lovers of seafood). There were also a lot of signs for Shark Fin Soup, which definitely doesn't appeal to me.
After a bit of an explore, we found a great little place called Fi-Keaw. We ordered a garlic pork (which was very garlicy) and a spicy chicken curry. The dishes were yummy and the staff were lovely. We were lucky to get two seats, as within a few minutes of sitting down there was a massive queue up the street of people waiting for a table.
Feeling sufficiently full, we headed down a few streets towards Soi Nana; I had read this was an upcoming area with good bars and nightlife. Having been there, I'm not really sure I can confirm that it's an up and coming nightlife scene (we didn't see much there?) but we did find Bangkok's first gin bar 'Teens of Thailand' which made some great gin cocktails! We stayed in there for one, before hopping across the road to The Wallflower, which had a fab rooftop bar, with great music and yummy cocktails! We ended up staying here for three rounds of drinks, before deciding it was time to head back to the hotel.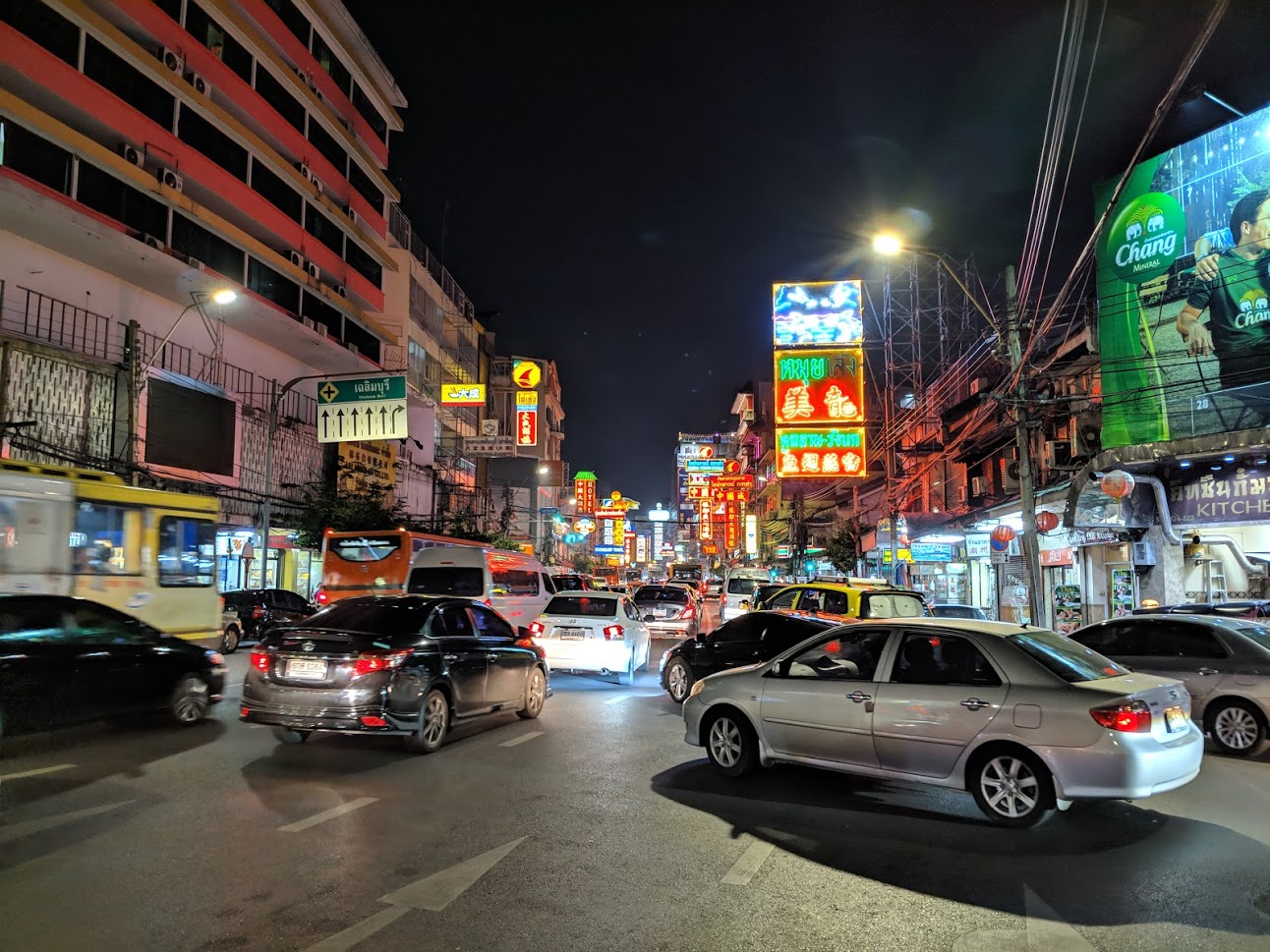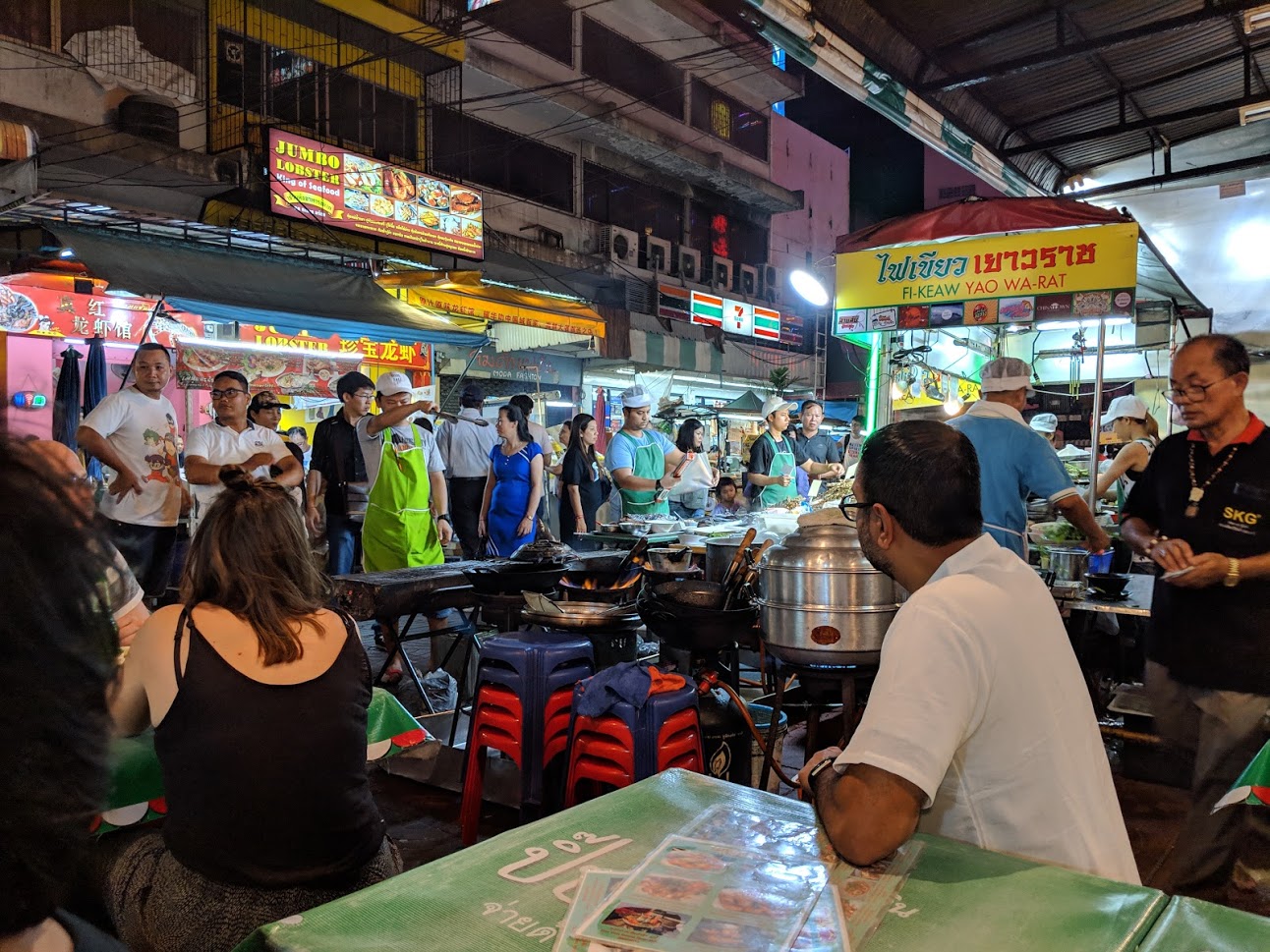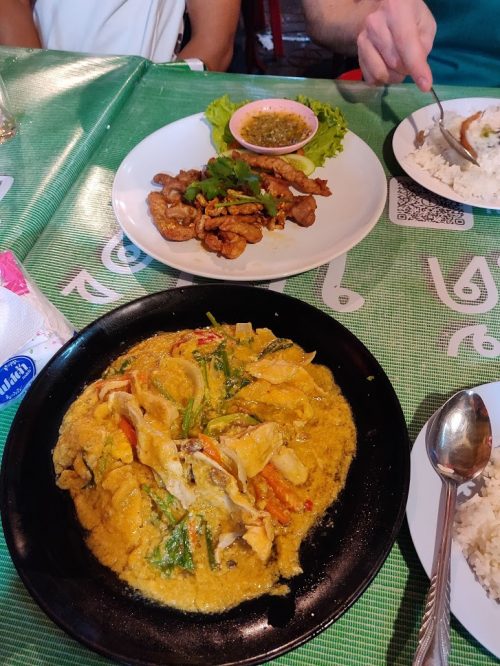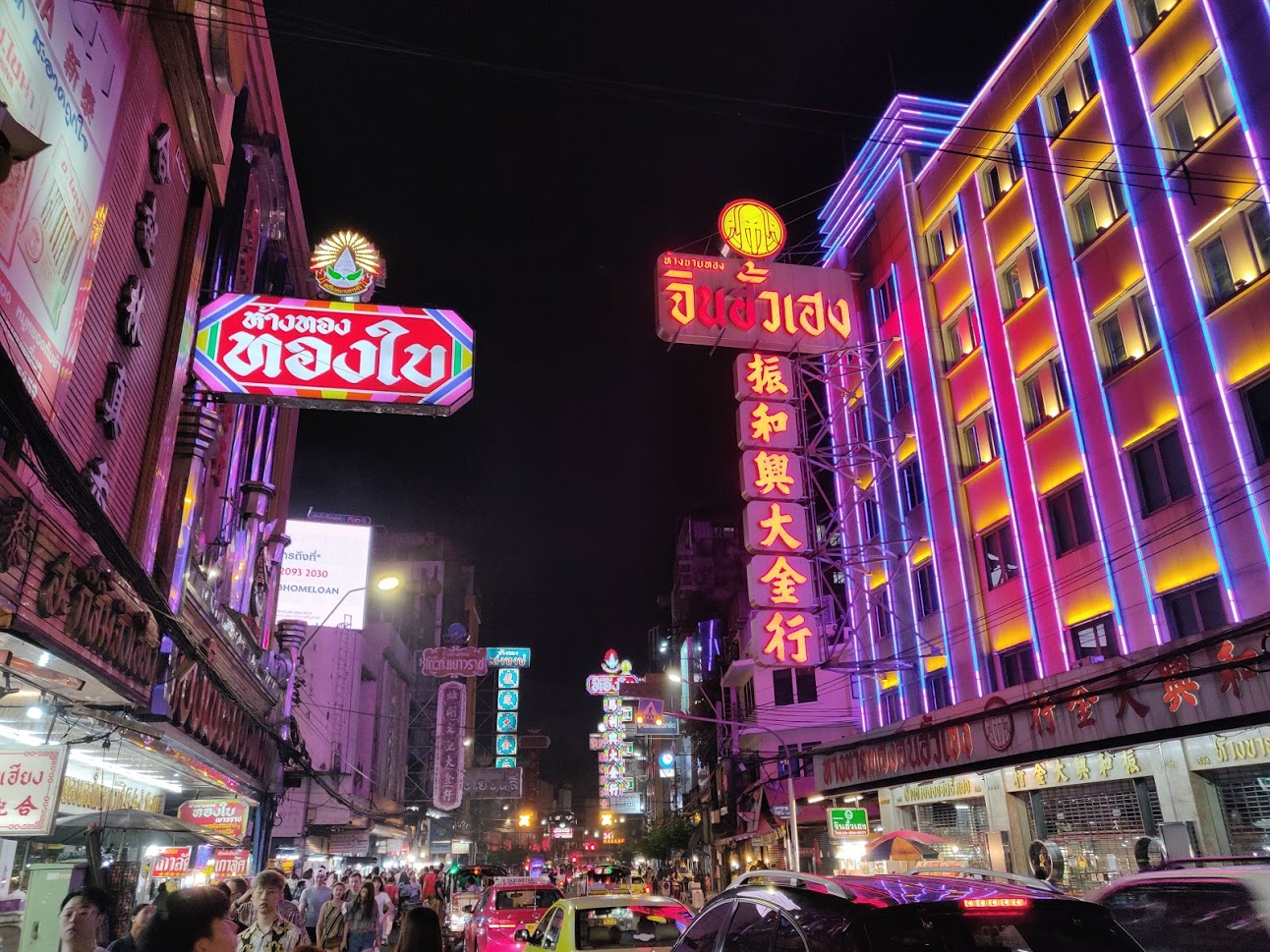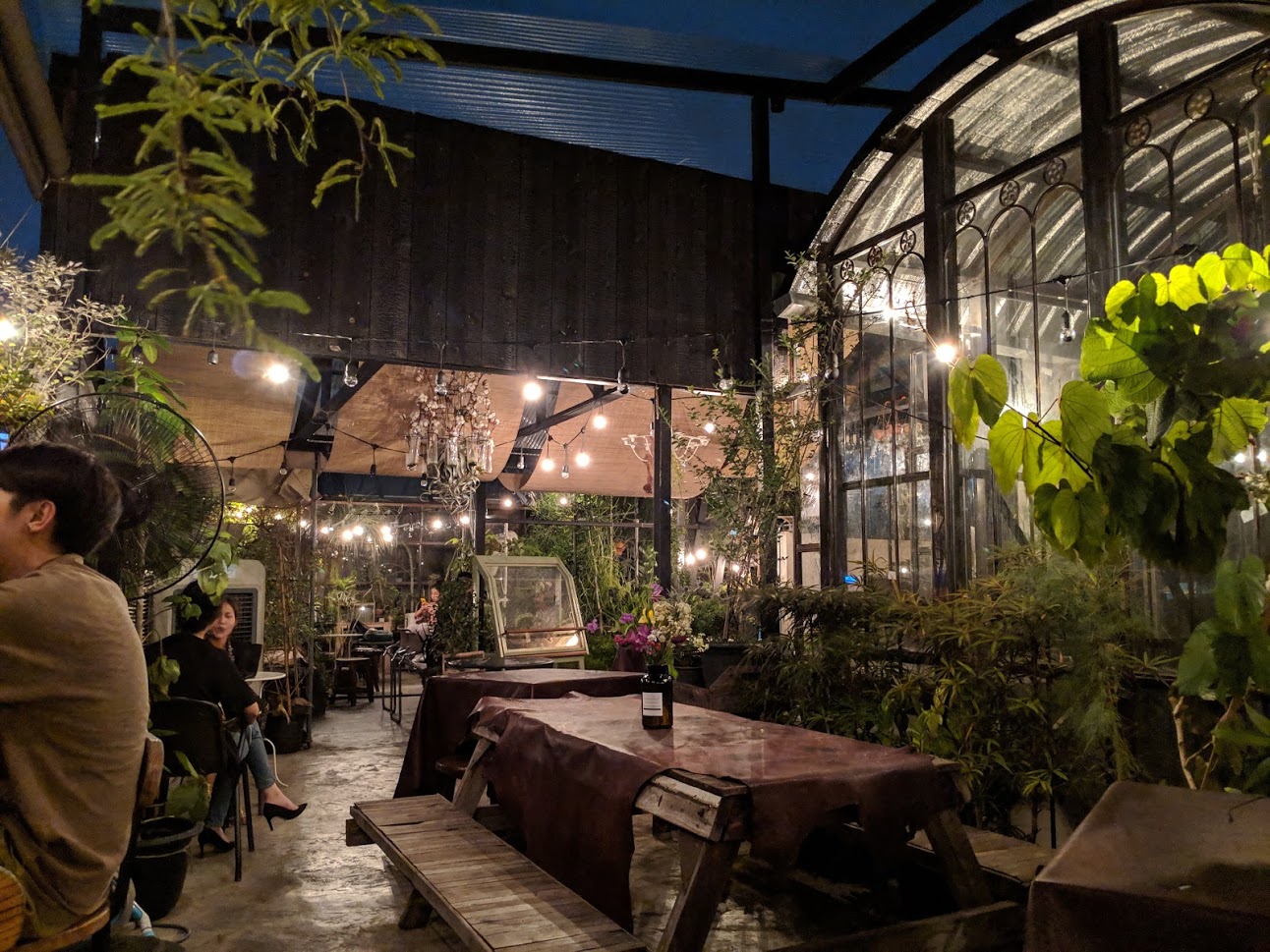 Day three
Today was our last of three days in Bangkok, before we travelled elsewhere. Today was our big temple day!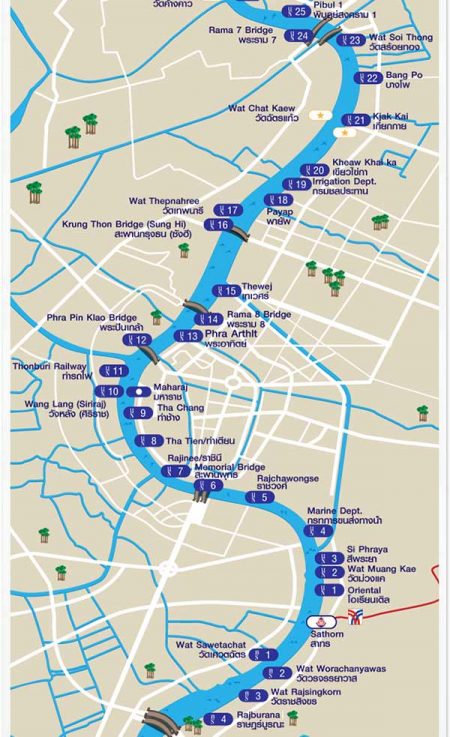 We caught the Chao Phraya River Express, from Saphan Taksin, which took us up the river to our first temple.
There are several different ways of getting around Bangkok and getting to the temples, but the river express is one of the cheapest and most efficient. There are boats anywhere from every 5 to 20 minutes, depending which route you need. There are signs at the ticket book, which make it very clear which one you need.
We hopped on the orange route, arriving at Tha Chang Pier in about 20 minutes, ready to make our way to the Grand Palace.
We had read online that if you're visiting The Grand Palace, arrive early as this place gets packed! We did exactly that and arrived as it opened at 8am, however even at that time it was still rammed! I don't think there is a good or bad time to arrive, it's busy, whatever the hour.
Note: when you're visiting temples make sure you have your shoulders and legs covered (nothing above the knee). Some temples are stricter than others, and will allow a midi dress/skirt or long 3/4 shorts. I would say The Grand Palace seemed particularly strict. I wore a jumpsuit, which sat just above my ankles. At the entrance though I got pulled to one side and told to buy a pair of their elephant pants to cover my ankles. At the time I thought "oh well, that's my bad for assuming it would be fine" but as we walked around the temple I saw loads of girls wearing midi dresses or ankle grazer trousers. I'm not sure why I got singled out, but it's something worth keeping in mind when you're thinking about what to wear.
Once inside the chaos continued! This is what it looked like for us just trying to get through the entrance: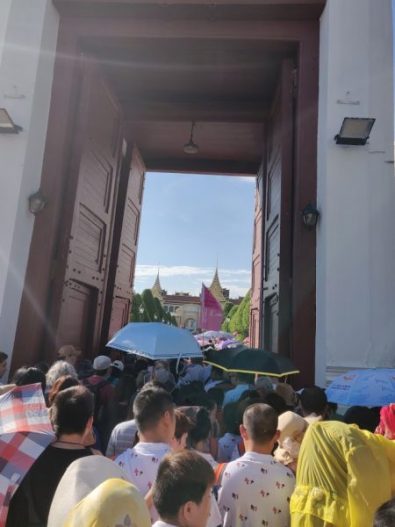 From there, the hysteria continued. I felt like people weren't that interested in the buildings, and instead seemed more interested in posing and taking elaborate selfies outside the buildings. We escaped the madness and found pockets within the grounds, where the masses hadn't filtered. From there it was actually very peaceful and nice to look around.
The buildings in the grounds are all for use by the King and so the general public aren't actually allowed inside any of the buildings, but the grounds and surrounding buildings are very impressive to look at… IF you can see them and get to them through the crowds.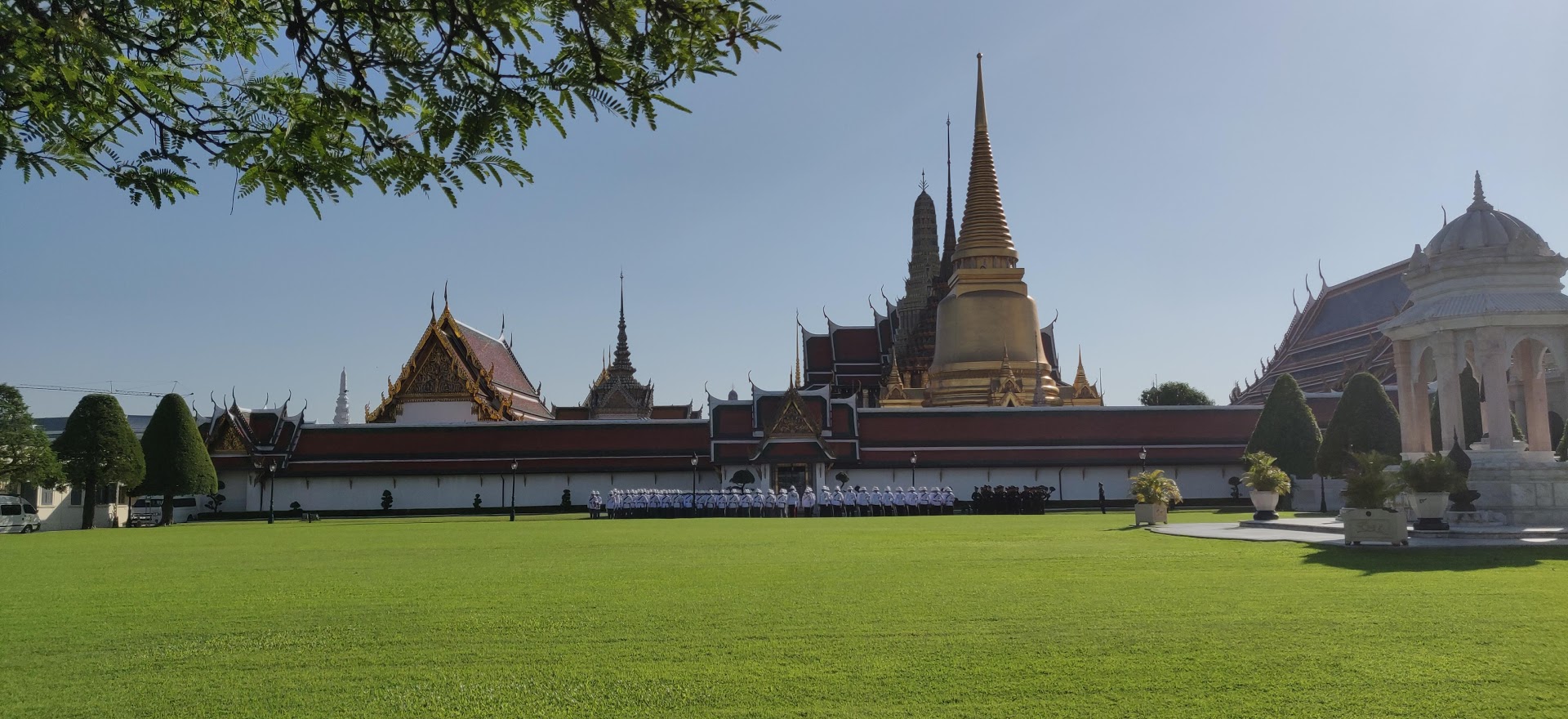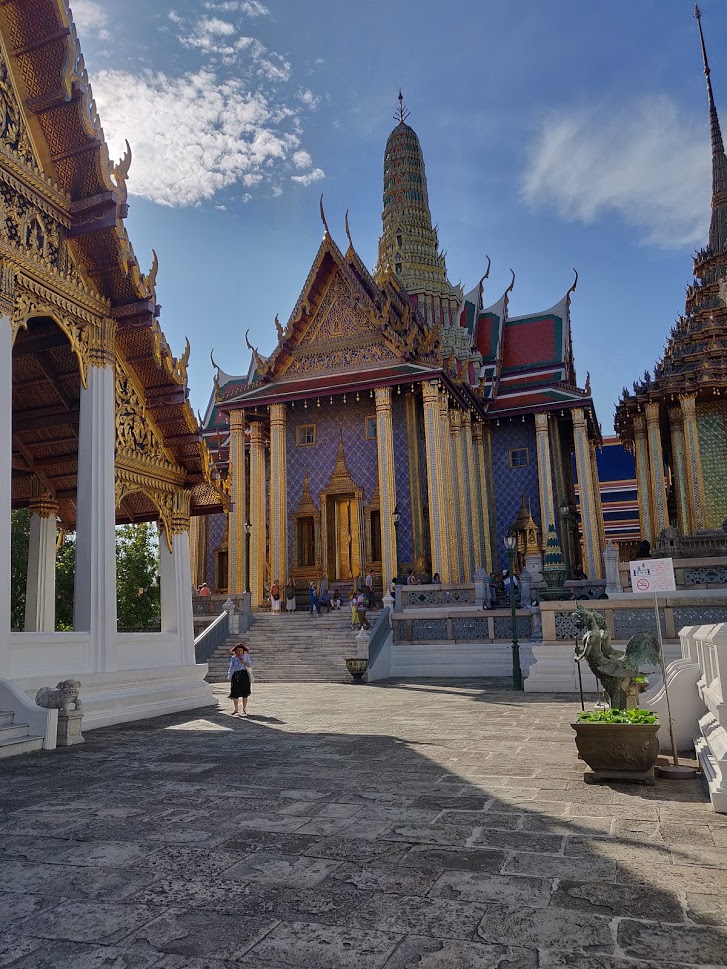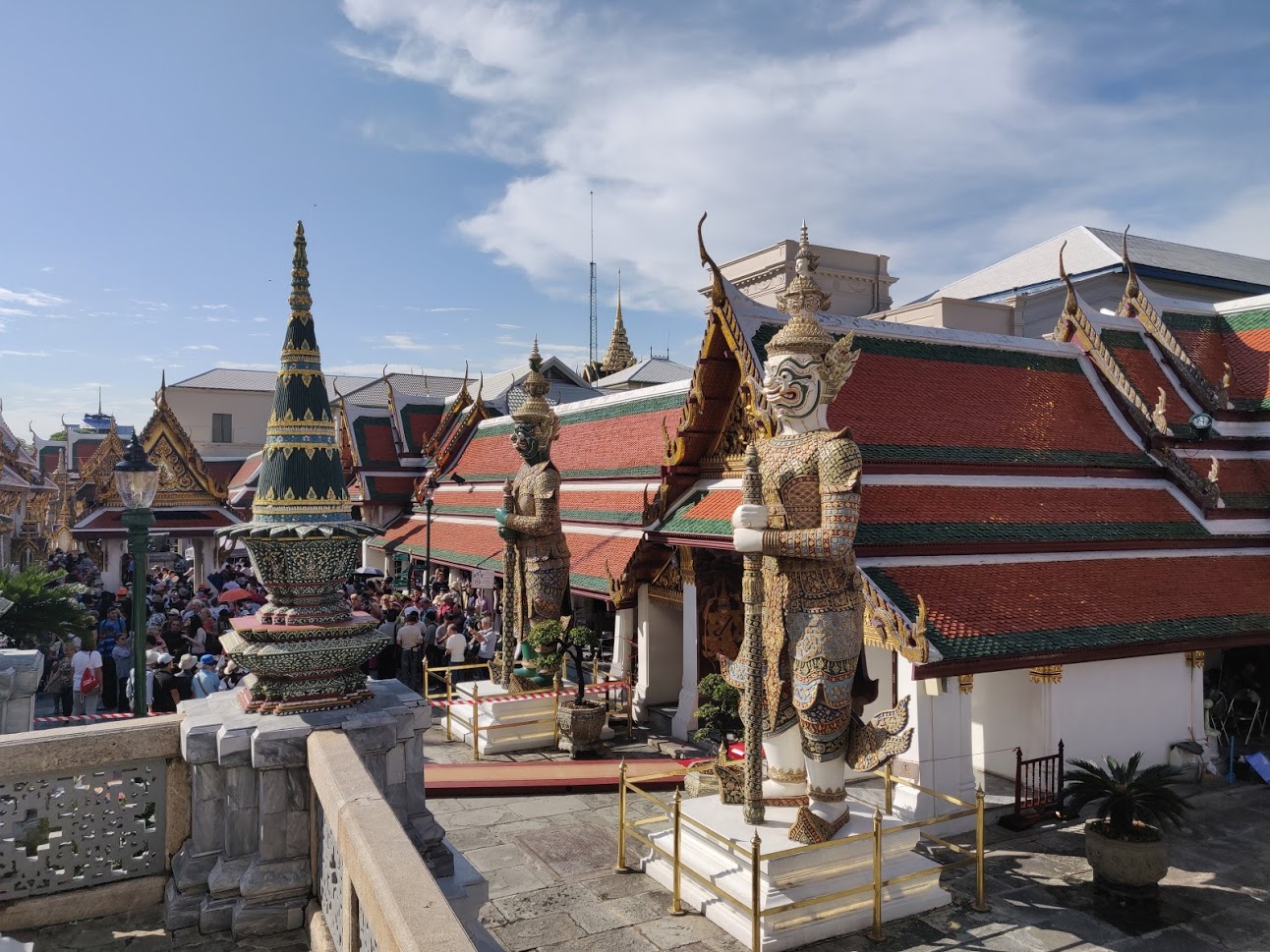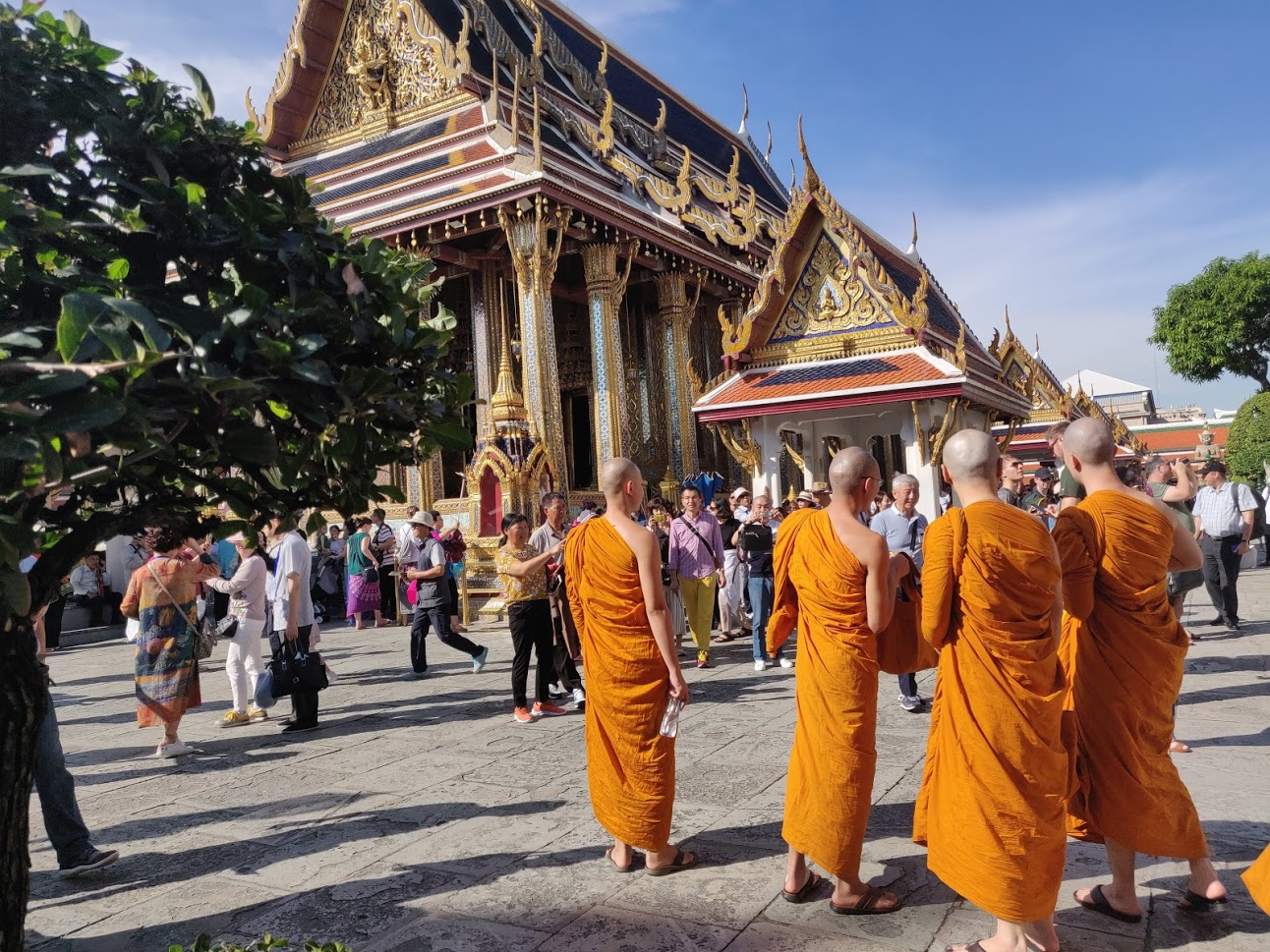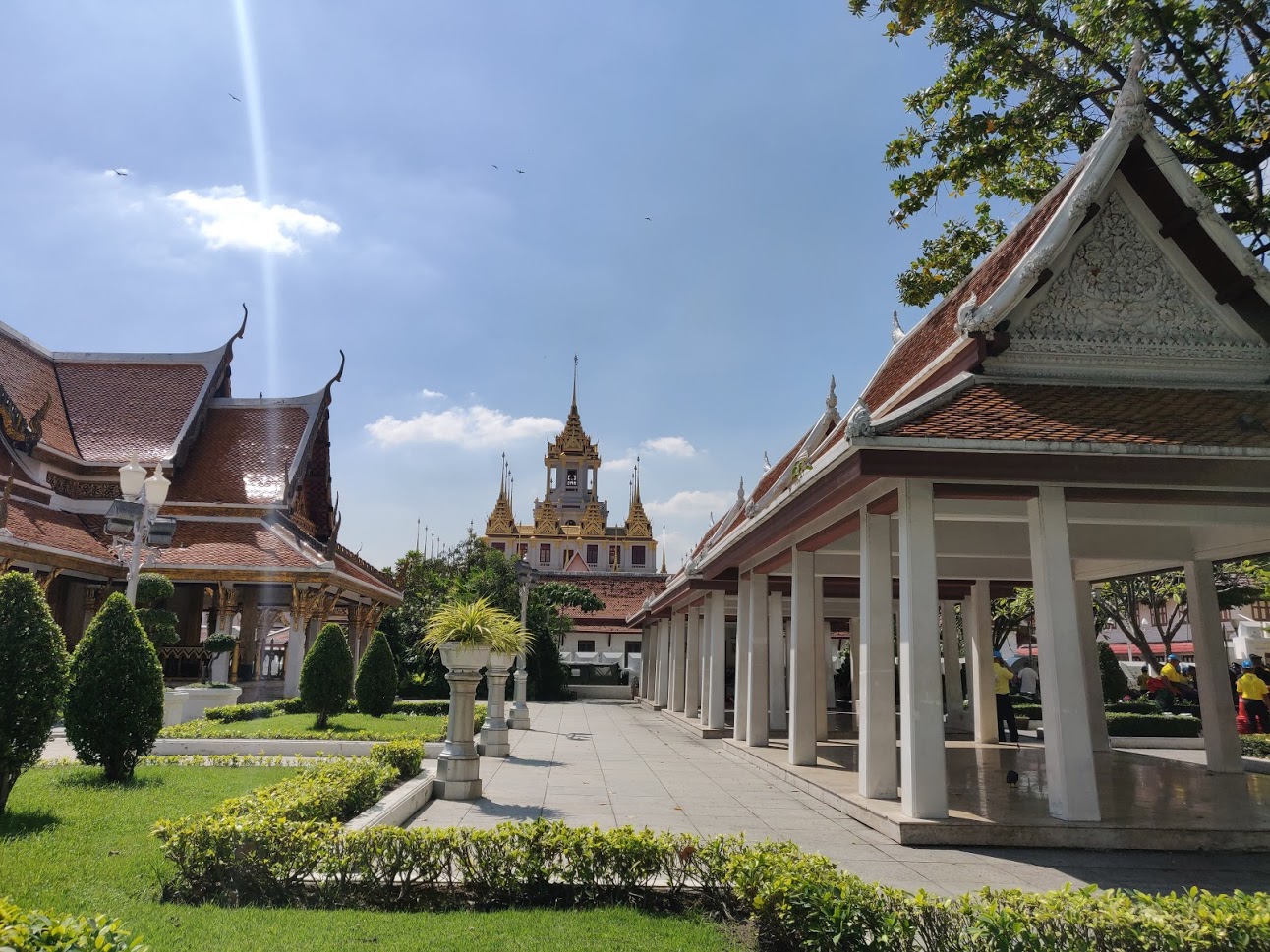 The Palace is very cool; I am glad we got to wander around and see it, but the crowds really did spoil it for us. That, combined with the intense heat (there was no cloud cover that day and 34/35 degrees) it was all a bit too much.
After the Palace we made our way up the main road towards the City Shrine, and then back on ourselves towards Amulet Market. We spent about an hour in this area, wandering around the side streets and market stalls before grabbing a bit of an early lunch. There isn't a lot to see at Amulet Market, but it is still worth a look and great to see another side to Bangkok. It was about 10am(ish) and having been up since 6am to catch the ferry, our feet were already hurting and we still a long way to go throughout the day!
We took a long walk to the Golden Mountain Temple, which according to Google, should have taken 27 minutes, but with our feet hurting more and more it took us over one hour! Every bench we saw was an opportunity to sit down and every 7/11 was an opportunity for water and air con! Eventually though we made it, and it was so worth it! The Golden Mountain Temple was easily my favourite of all the temples we visited.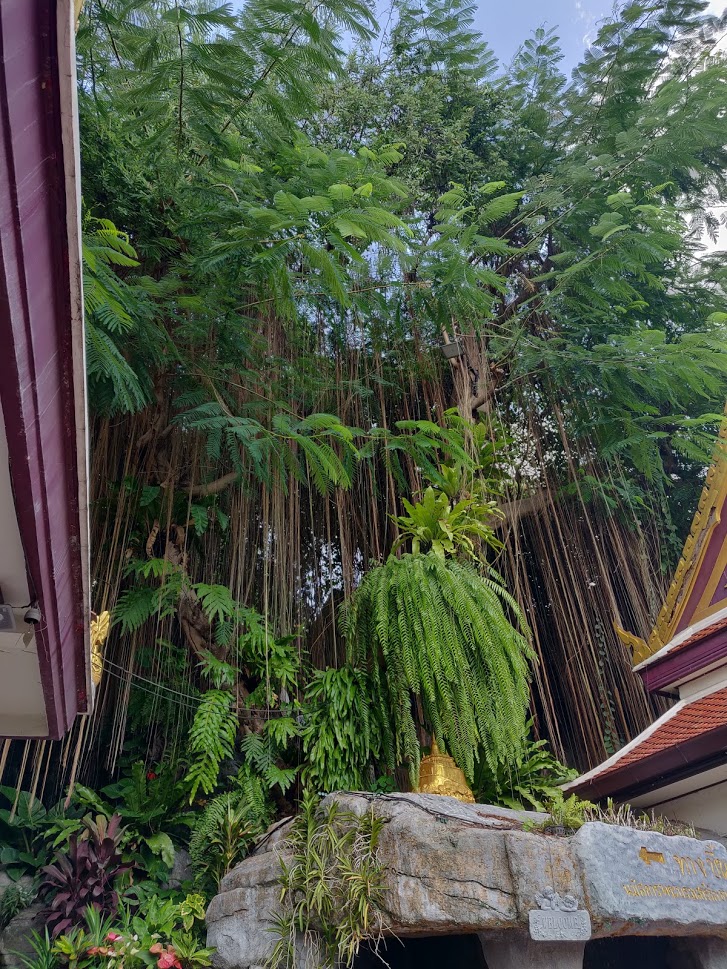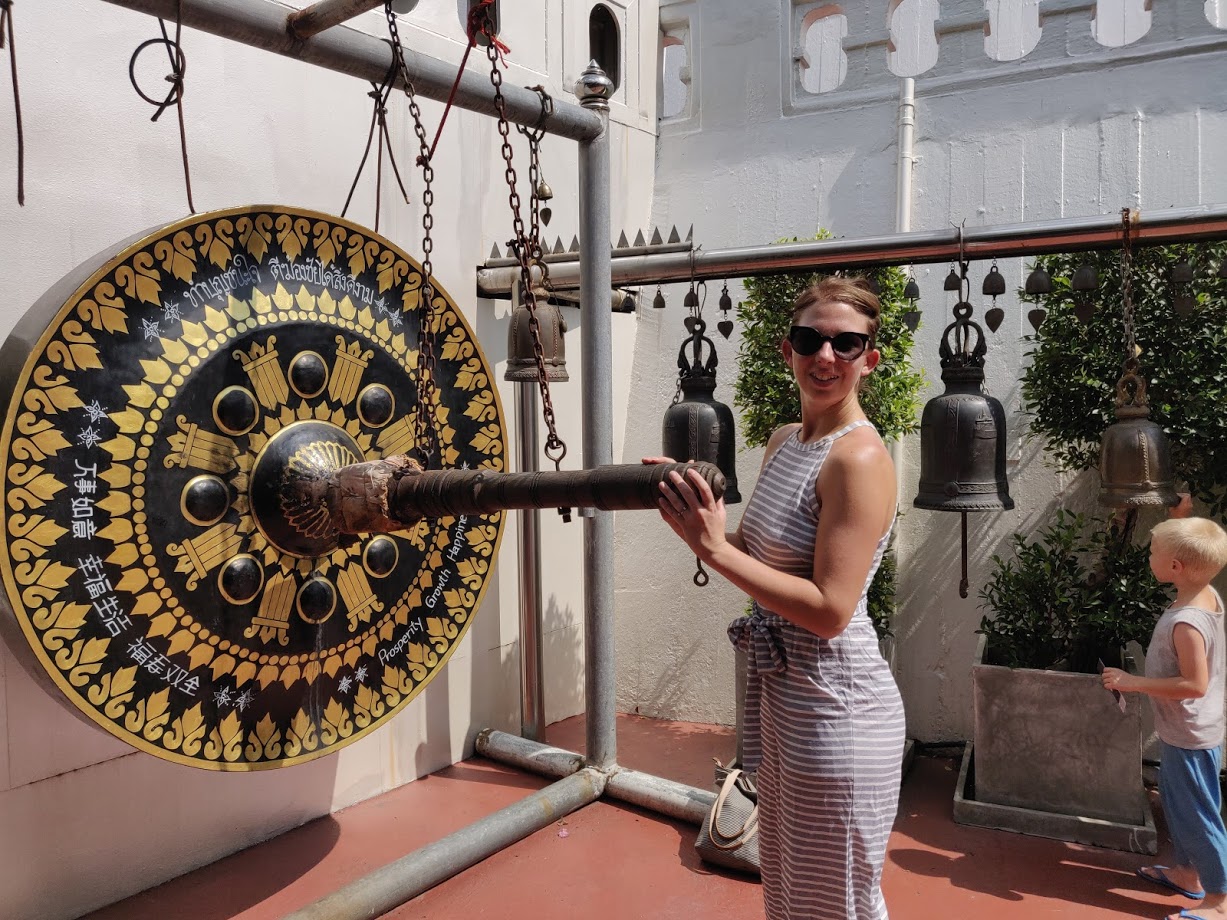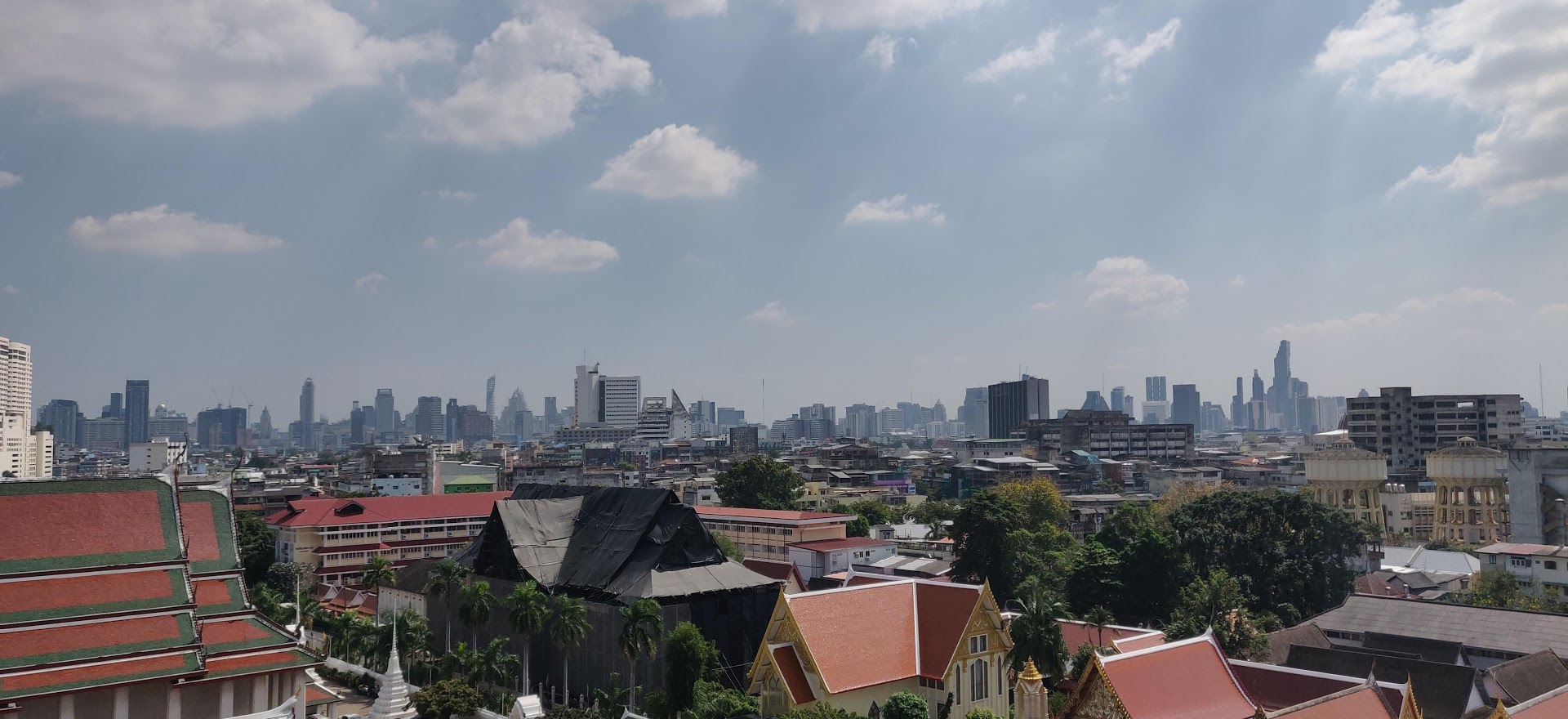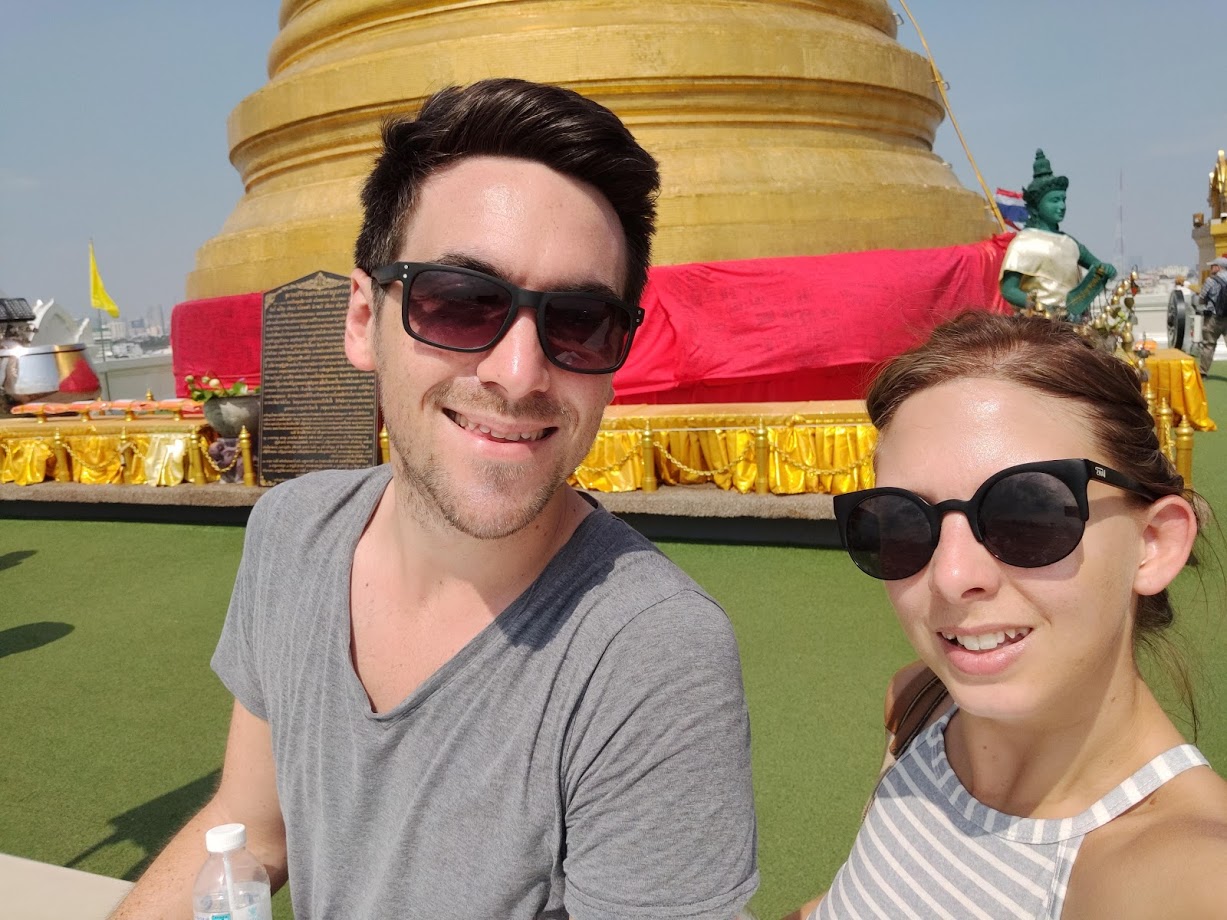 At the entrance is the biggest set of trees towering above you. You then walk up to the top of the temple via a long sweeping incline which wraps itself around the outside of the hill that the temple sits upon. It was a leisurely walk up and took us about 20 minutes. As we got higher there was a massive gong that you can hit – you don't have to hit it hard at all, and the noise just reverberates all around you. Very cool!
Once at the temple, it was a completely different experience to the Grand Palace. People were quiet, they were respectful and actually, there weren't that many people there at all. As we walked about inside, there were a few locals who gave their respects and prayers and it was nice to watch quietly and take it all in. A set of steps take you up to the roof, which is probably one of the most tranquil places I've ever been. We sat on the bench, feeling the sun on our skin and stared up at the massive temple mount in front of us. There were also loads of copper hearts hanging up, which people had written messages on and these were all chiming in the breeze, which just added to the relaxing atmosphere even more. As you wander around the roof, you are also spoilt with some fantastic views of Bangkok around you.
We spent about 1 hour – 1.5 hours here, just drinking it all in and exploring the various other areas and temple sections.
NOTE: Also remember, when you're visiting temples to always take your shoes off and never stand on the threshold – always step over it so as not to disturb the spirits and keep them resting.
It was about 1pm and the next temple on our list was Wat Pho (AKA Temple of the Reclining Buddha). Not feeling up to walking we haggled a Tuk Tuk and hopped in! We downloaded the Grab App (Bangkok's Uber) but we always had trouble actually securing drivers. They always seemed to cancel on us – so we started using this as a benchmark cost and would use that to haggle with local drivers. Our first experience in the Tuk Tuk was definitely a thrill ride, but we loved every single minute.
Wat Pho was another of one of my favourite temples. We arrived and the grounds were just so quiet. It felt like such a nice place to be, we wandered around the different temples within the grounds and generally had the place to ourselves. "Where is everyone??" we thought… until we went to visit the Reclining Buddha. Then we realised that's where everyone was. The room was packed with people, but it wasn't as stressful as the Palace.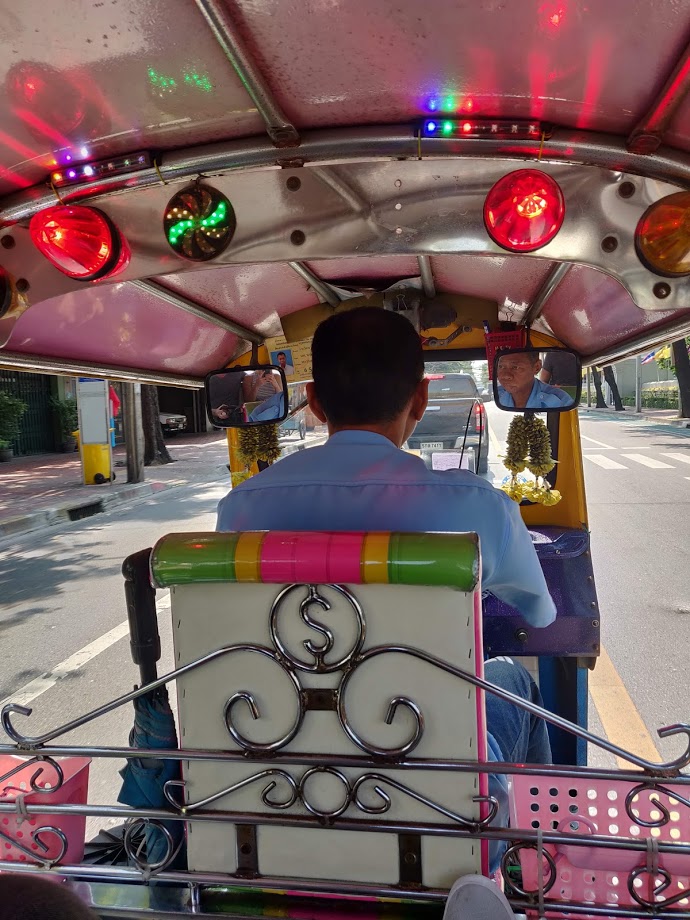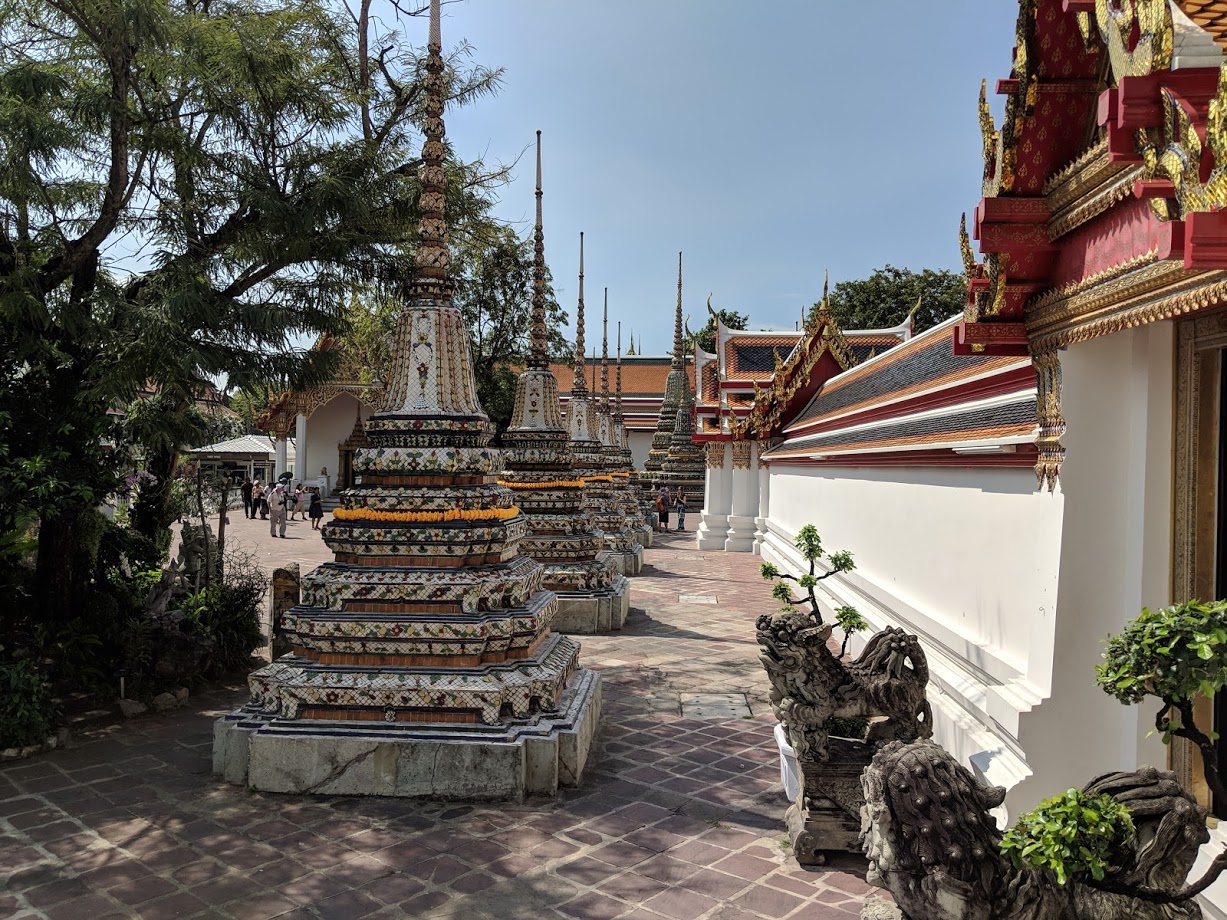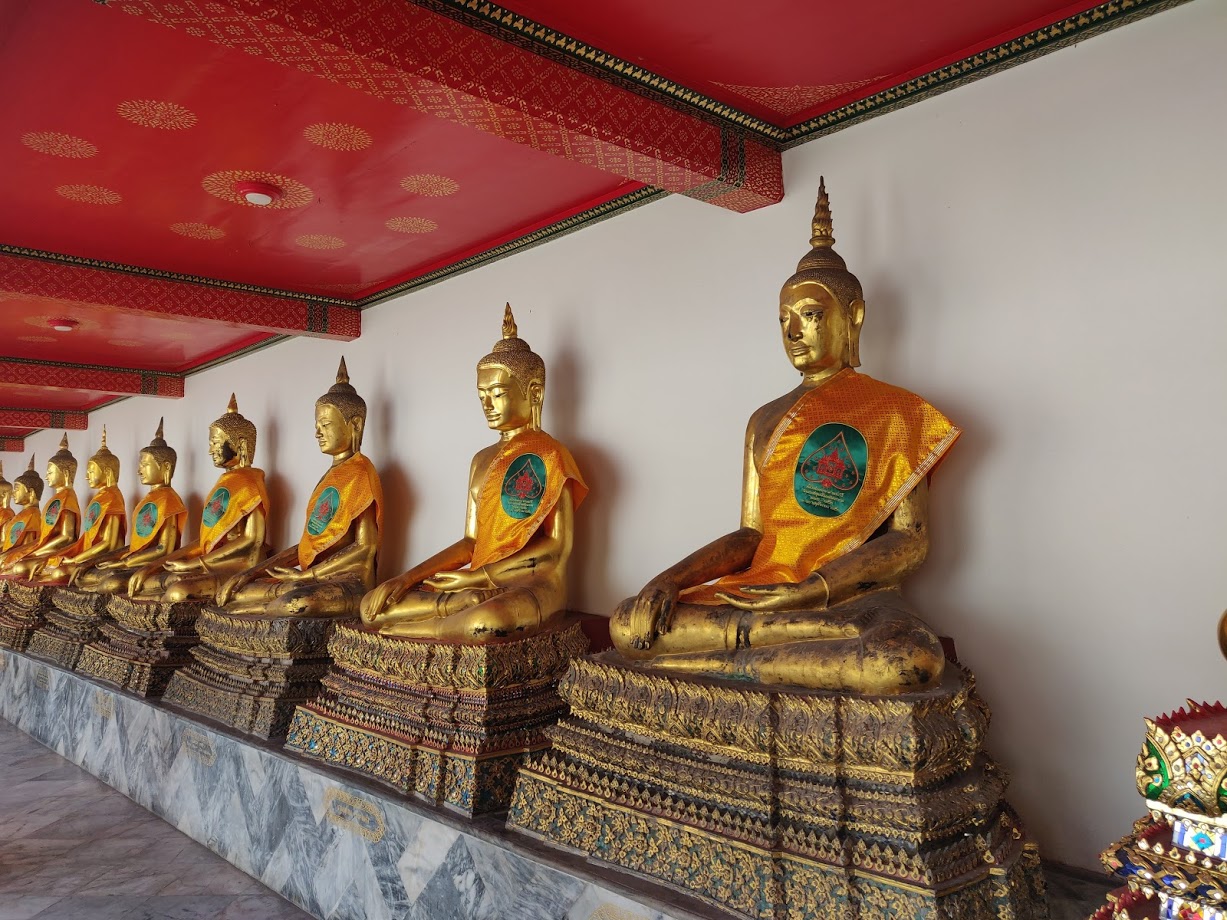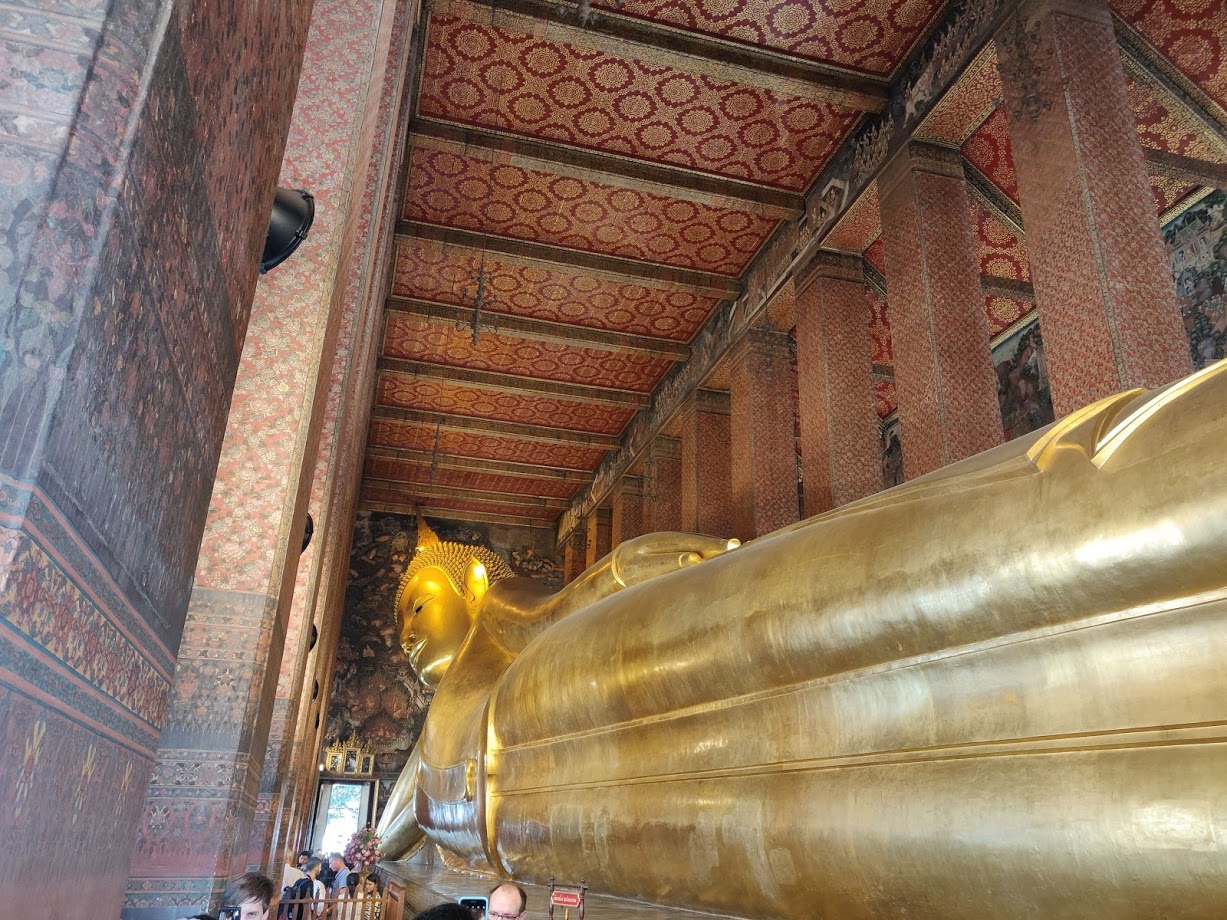 After Wat Pho we had one last stop, which was the temple I was most excited about: Wat Arun. We took a short walk to the pier and hopped and on the ferry which literally crosses straight across the river to Wat Arun. I had been most excited about this temple because I thought at first glance, it was one of the most impressive looking. I had also read that you could climb the stairs to the top and take in the views of Bangkok, but sadly this seemed to be closed off when we were there.
Much like the Grand Palace we also seemed to be surrounded by posers and selfie-lovers. Some people even had props and costume changes! Don't get me wrong, I'm all for a nice photo, it's all part of the memories, but spending more time working on your selfie game than taking in the temples isn't the same to me.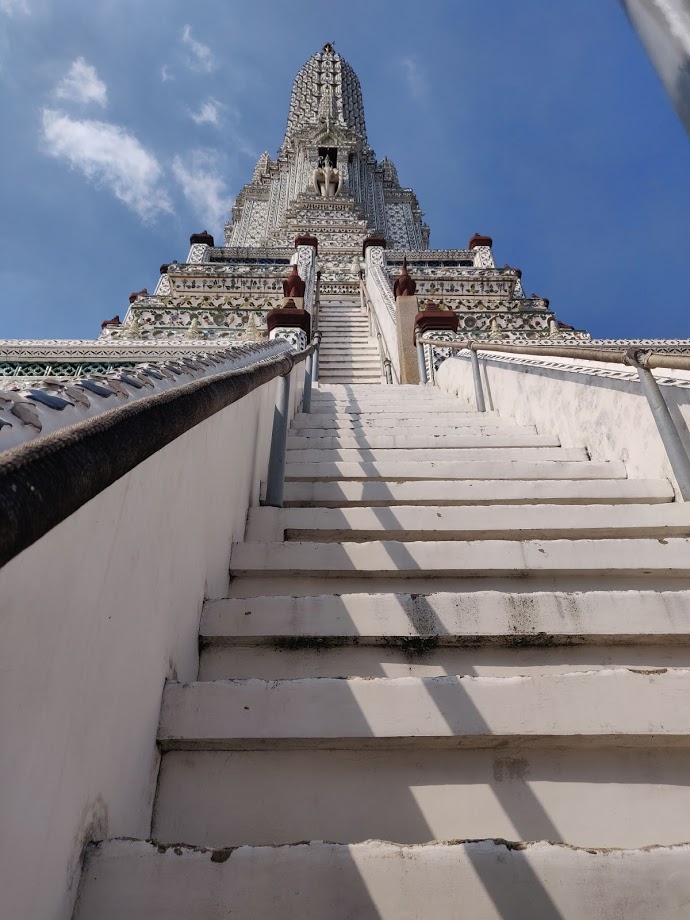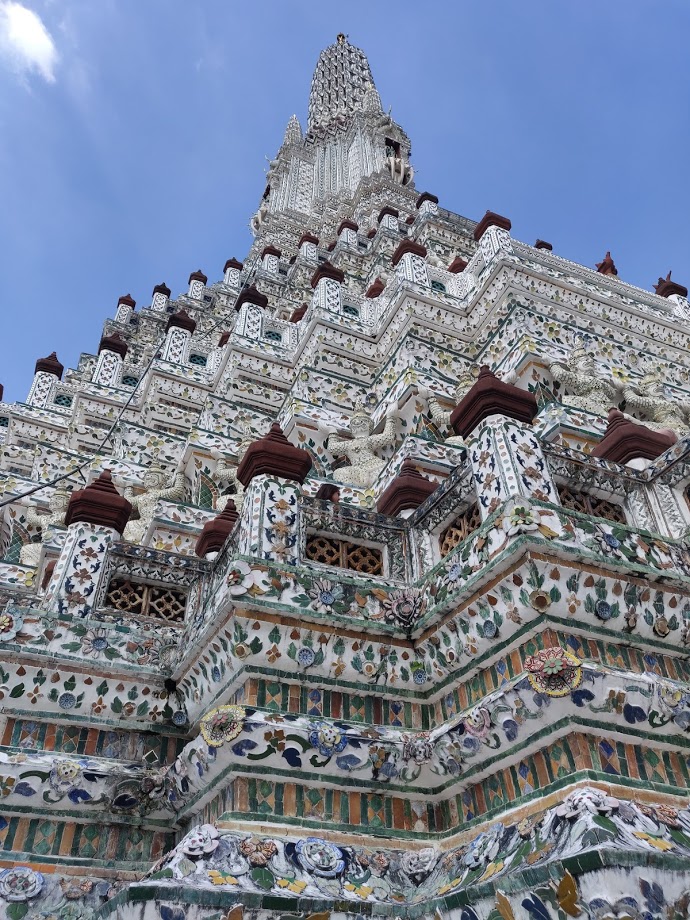 It was about 4:30pm by this point. We had other places to visit on our list, such as the flower market, but feeling sufficiently exhausted, hot and sweaty, we caught the ferry back to Saphan Taksin and made our way back to the hotel for a good nap and freshen up. That evening we decided to stay local and headed to another rooftop bar, Zoom, which is on top of the Anantara Sathorn Hotel. We were there after sunset and had the place to ourselves! They placed good music, made great cocktails and the views from the top were beautiful! We stayed here for 2 rounds of drinks and (at last) caught a Grab to Pat Pong Market.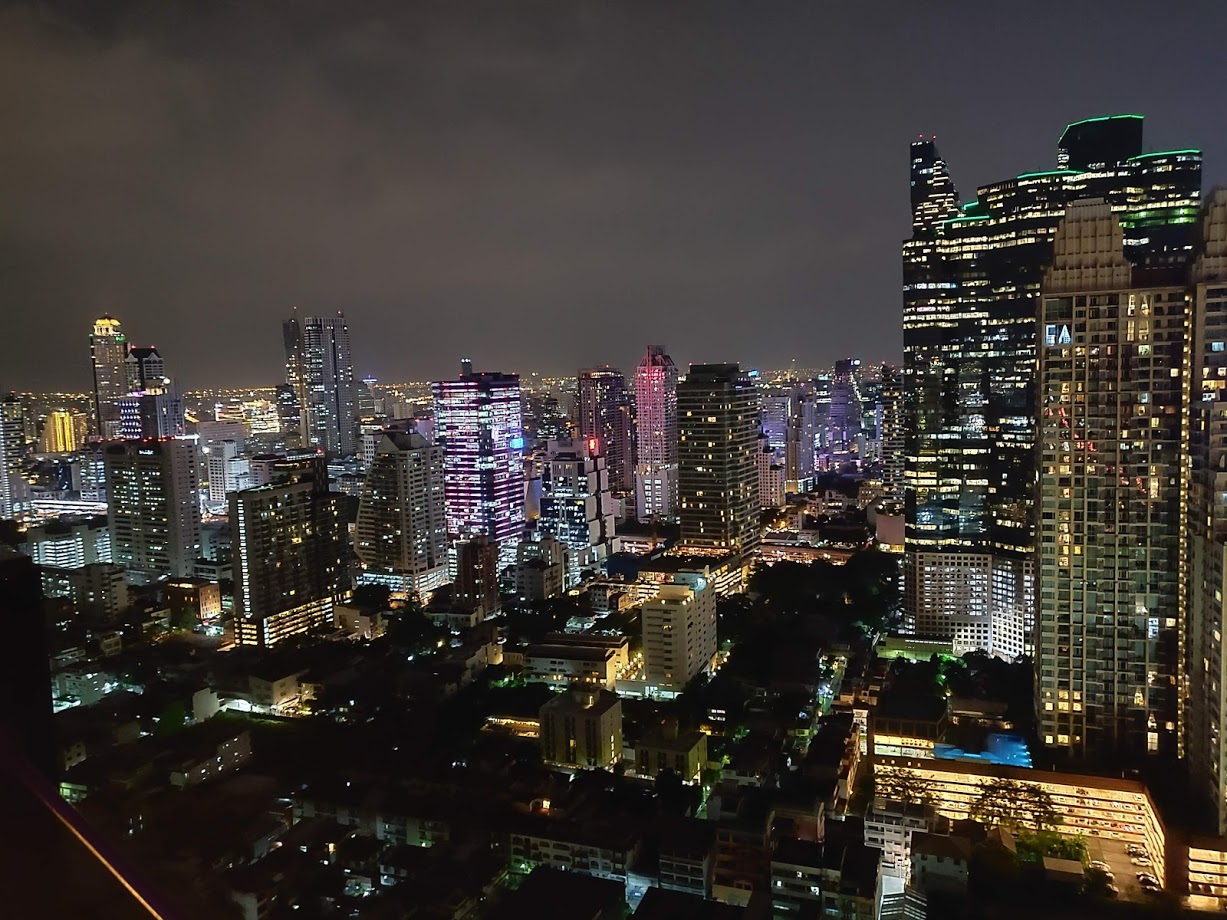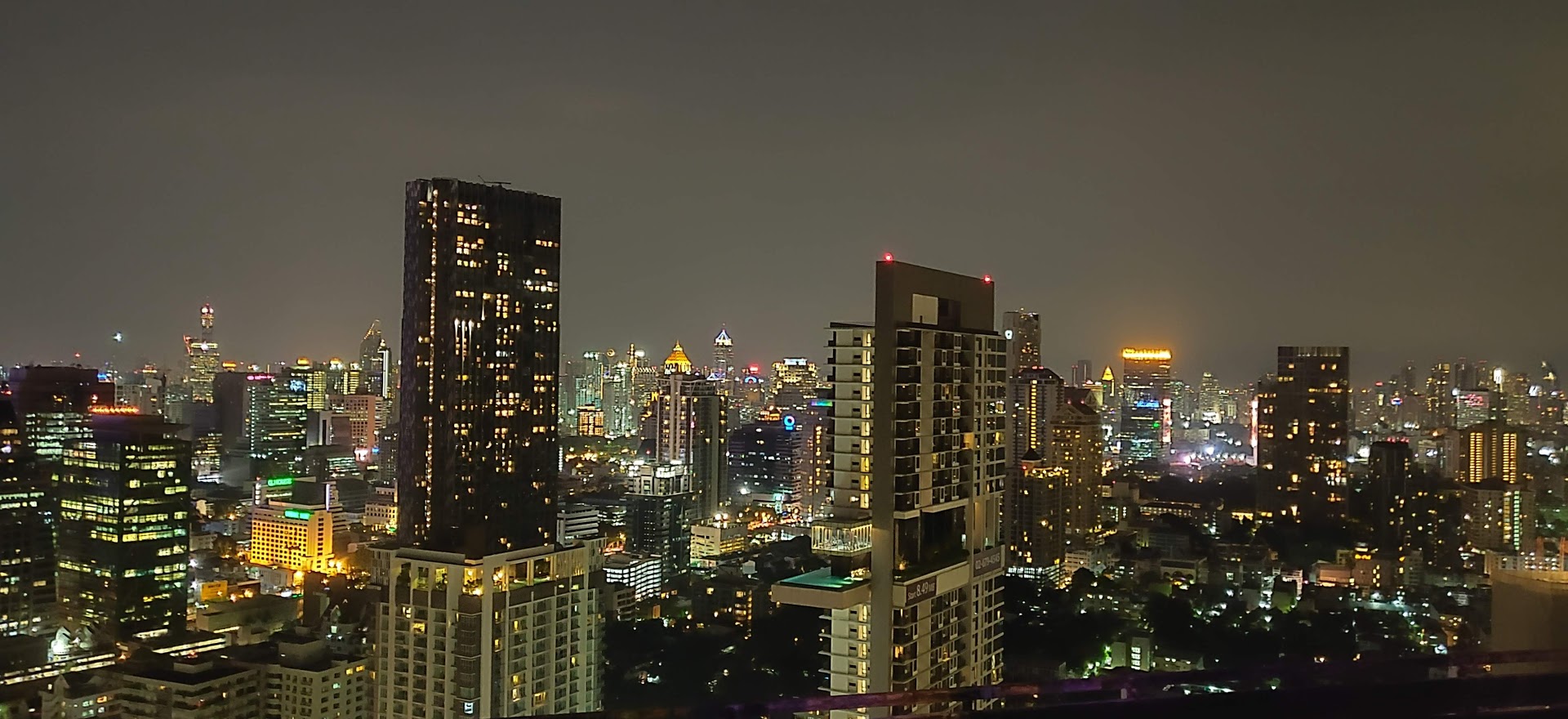 We'd heard bad things about Pat Pong market and how it was dirty and tacky, but we both actually had a really good night out! (I'm not sure what that says about us).
We nosed around a couple of market stalls, before we found a side street where all the street food vendors were, ready for us to feast! There was a lot of choice, so we ate well and finally, after hearing lots of talk, I finally got my first taste of mango sticky rice, which was absolutely delicious!
We had lots of people advertising and selling ping pong shows, but we didn't actually see anywhere showing one, which I think is where most of the negative reviews have come from, so maybe that's why we enjoyed it so much? We found a side street with loads of bars and Oli pointed one out that looked good, until after having ordered our drinks we realised it was a gay bar (trust Oli!). We had a good giggle there and the staff were lovely & made good drinks too! We moved on to another bar next door and enjoyed a late happy hour offer. The nightlife in Pat Pong was really good! It was nothing fancy, just fun, honest bars. Every place offers 5 hour long "happy hour" so you can get some good deals also. We left at about 10pm, fully aware we had to be up at 5am to head to the airport for our flight to Krabi!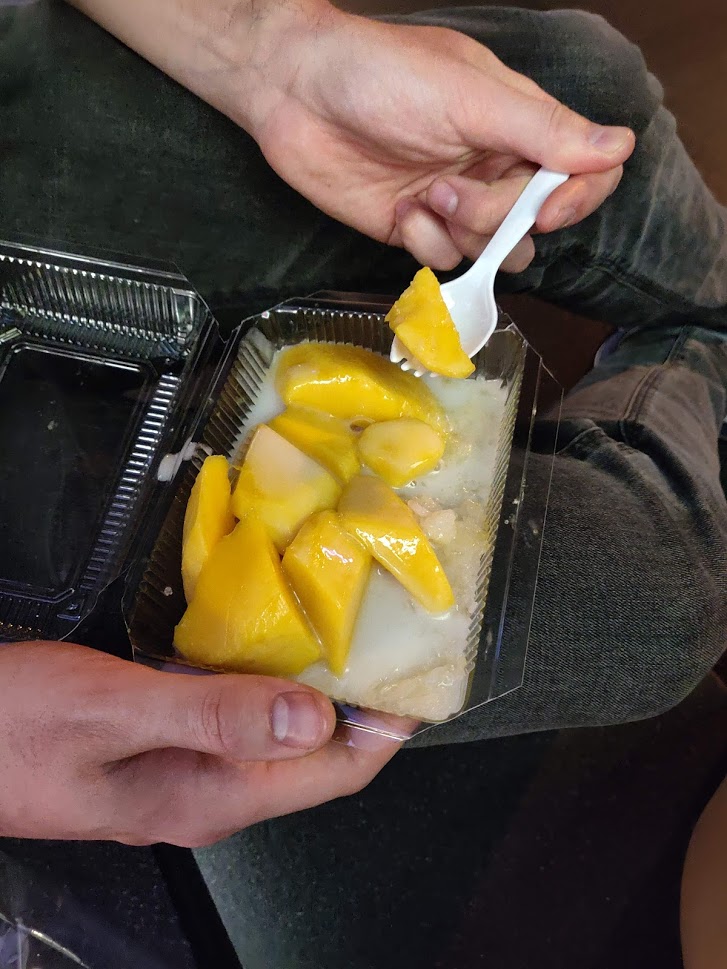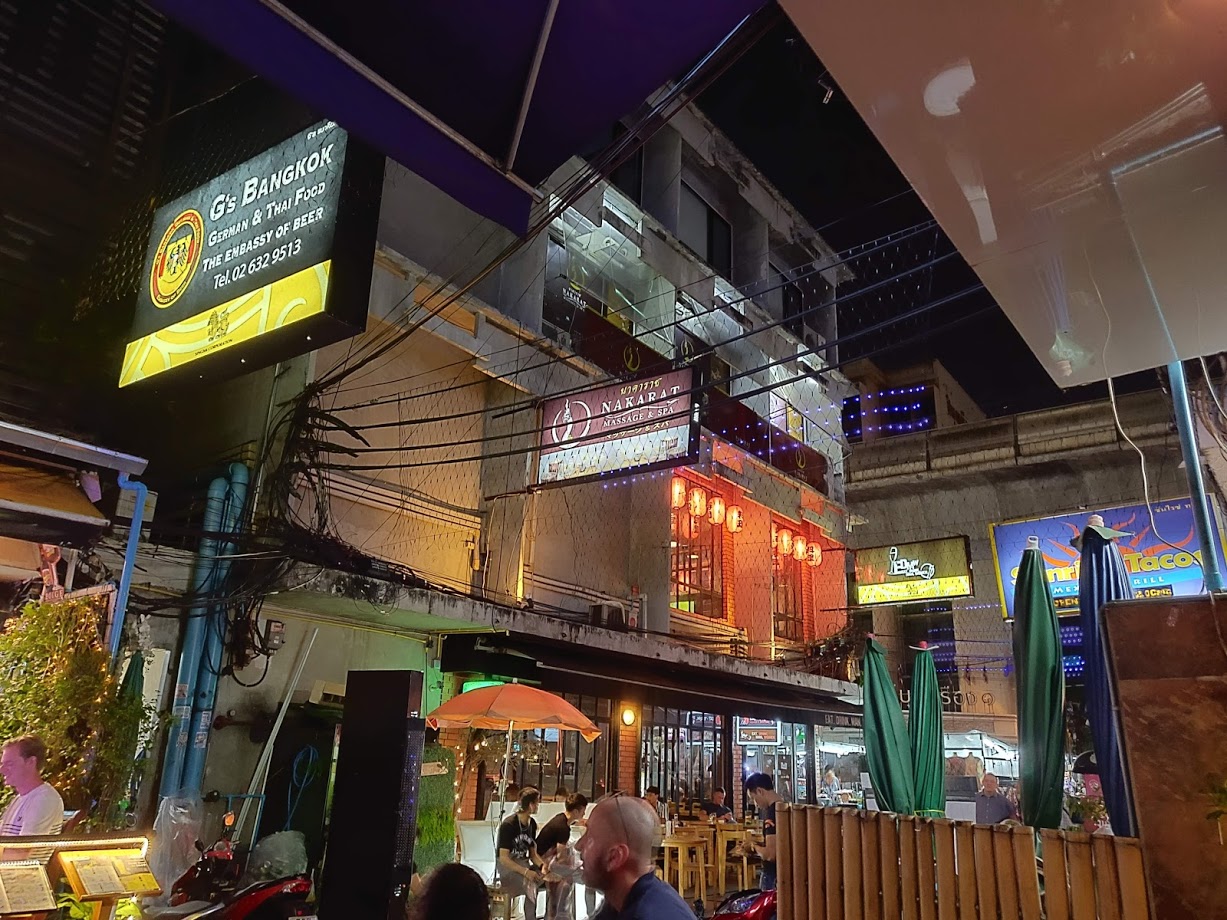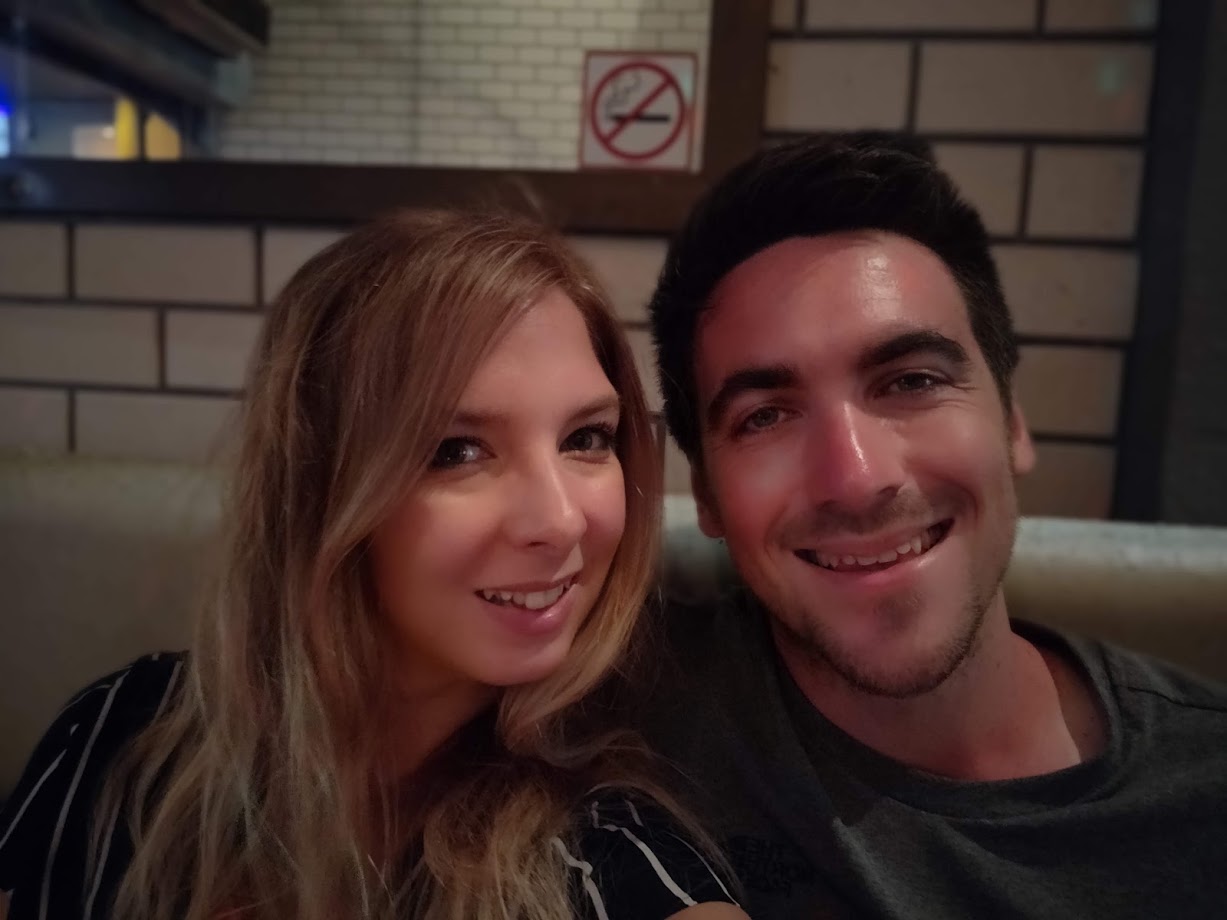 We loved our three days in Bangkok. It is unlike anywhere we have ever been before, but it's such a fantastic place! Definitely somewhere that has to be experienced. We'd started our honeymoon on an absolute high and were buzzing to visit Krabi. Trip report of our five days in Krabi coming soon!