Imagine a bustling and captivating Medieval town square, filled with twinkling lights and quaint wooden stalls selling unique handcrafted gifts and souvenirs, and a warm, welcoming smell of roasted Swiss treats and mulled wine filling the air. Welcome to Basel Christmas Market – one of Switzerland's largest, and prettiest, Christmas Markets!
We recently spent the day visiting Basel and it's festive market, whilst spending Christmas just across the border in Germany. While it rained the entire time we were there (tbh, everytime we have visited Switzerland it has rained), it certainly didn't dampen our spirits or our experience of Basel's Christmas Market. Regardless of the weather, there is something for everyone, and makes for a fabulously-festive day out. 
Everything you need to know about visiting Basel's Christmas Market
To me, there is no better, more magical, more festive place at Christmas-time than Germany. But I have to say, Basel certainly gives Germany a good run for its money. The city of Basel itself is beautiful – situated picturesquely along the Rhine River, and lined with a combination of historic medieval and Swiss-designed buildings, which are made even more eye-catching set against the city's Christmas decorations and trees.
Unlike some Christmas Markets (such as Ravennaschlucht Weihnachtsmarkt in Germany) there is no fee to enter Basel's Christmas Market, nor do you need any tickets to attend. This also means there is no time restriction, and you can spend as long as you like visiting the various stalls and sampling all the delightful treats on offer!
The currency in Switzerland is the Swiss Franc (CHF) not Euro's as many believe, or assume. Should you be travelling from a bordering country, such as Germany or France (who do use Euros) make sure to have some Swiss Francs with you.
Some stands accept card, but we found that most would only accept cash. However, there are plenty of ATM's around the city / within the area of the Christmas Markets (if you need to withdraw cash, it's worth checking in advance that you won't be charged by your bank).
Basel borders Germany and France, so you will find that people speak either of these languages (although German tends to be the more dominant language in this part of Switzerland). That said, most people also speak English if you get stuck!
When to visit Basel Christmas Market?
There are two main areas that the market takes place – one in Münsterplatz and one in Barfüsserplatz.
The market will take place everyday from Thursday 23 November 2023 – Saturday 23 December 2023, from 11am-8:30pm. Apart from 23 December 2023, when the market on Münsterplatz will close at 6pm, and the market on Barfüsserplatz will close at 8pm.
It's worth noting that the market can get really busy on the weekends, especially as the approach to Christmas gets closer. If you'd like a slightly quieter experience, I'd recommend going during the week. We visited during the day, on the very last day before Christmas, and the market was pretty quiet. It still felt super festive, but just meant the stalls weren't rammed and we didn't have to queue for food and drink, which was handy in the rain!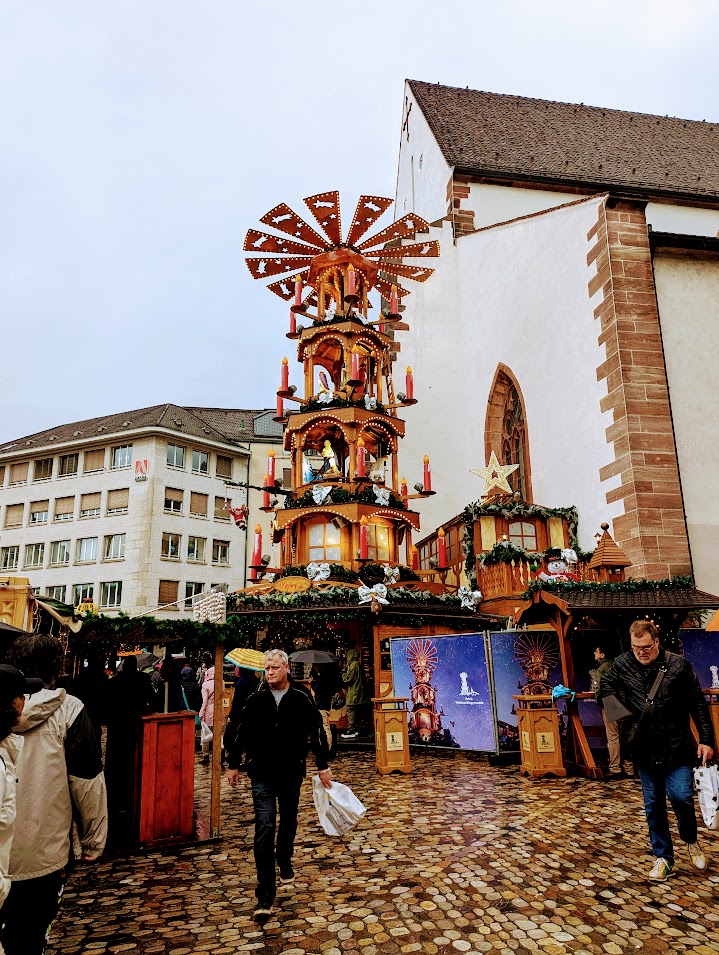 What you can expect
Basel Christmas Market takes place in the heart of the city's old town, on Münsterplatz and also Barfüsserplatz – doubling your chances of festive cheer and atmosphere! The entire market is beautifully decorated, with festive lights, ornaments and Christmas trees, and is the perfect way to start your Christmas countdown! 
Due to its close proximity to the German border, the market offers a unique blend of Swiss-German traditions and culinary delights (the best of both worlds!) from Swiss chocolates, raclette and melted cheese galore(!) to gingerbread cookies and warm cups of Glühwein (of course). There's also hot chocolate and non-alcoholic cider on offer too!
Barfüsserplatz 
The busiest and most popular part of the Christmas Market takes place on Barfüsserplatz , next to the city's Historical Museum and located at the city's main transport hub, making it super easy to get to.
Perhaps more iconic to the market on Barfüsserplatz is its towering festive pyramid – 13 meters in height and designed to look like a traditional 'Erzgebirge Christmas Pyramid'. When we visited, our first order of business was to buy a nice hot mug of Glühwein from the bar here. Oli was driving, so he indulged in some delicious kinderpunsch (the non-alcoholic cider). From here you can then sip away to your hearts content and explore the many stalls selling gifts, wares and hot food.
It's worth noting, if you haven't been to something like this before, that you will need to pay a small deposit for the mug when ordering any Glühwein. When you've finished, just return the mug to get your deposit back, or (like us, and I'm sure many other people) you can forfeit getting your deposit back and instead keep the mug as a souvenir! We often nose around all the various Glühwein stalls first and decide which mugs we like best that we want to bring back with us.
We also found Barfüsserplatz to have more snacks and hot food options available, compared to the market on Münsterplatz. So if you're planning to experience all the goodies that Basel Christmas Market has to offer, this is the place to be!
Münsterplatz
The market in Münsterplatz is just a couple of minutes walk from Barfüsserplatz, and takes place right next to the city's cathedral, probably Basel's most famous landmark, with its distinctive red brick and two towering spires. Nestled amongst the city's trees, all dressed for Christmas, this is the perfect setting for this smaller, but equally festive and merry market.
While Barfüsserplatz features more food & drink stalls (although there are still gifts and souvenir stalls), Münsterplatz is the place to go for Christmas Market shopping, featuring stall upon stall of unique or handmade wares, from clothing, scarfs and gloves, to candles, ceramics, and Christmas decorations.

What else to do at Basel Christmas Market?
Basel offers more than only the Christmas Market in the run-up to the holidays, why not try St Martin's Tower, or make a wish in the Basel Wish Book?
Festive views from Basel Cathedral
During the advent period (beginning on the Sunday closest to November 30 and ending on December 24, Christmas Eve), St Martin's Tower stairwell is illuminated from 4pm-6pm, Monday to Friday. You can climb up the stairwell to the top of the Cathedral for a beautiful view across Basel's old town, and for a unique view of the twinkling Christmas Market below you. Admission to the tower is about CHF 6 and last entry is 30 minutes before closing time.
Basel Wish Book
Located in Basel City Hall and a staple in Basel's annual Christmas traditions, the Basel Wish Book is a place for locals and tourists (adults and kids) to write down their advent wishes, wish lists for Santa, or their hopes and dreams for the year to come. It's a simple, but fun way to get involved in the local traditions, and focus on what you're thankful for and what you want from the year ahead.
If you have any questions about visiting Basel Christmas Market, or if you'd like to share your own experience, feel free to drop something in the comments below – thanks!