We have just returned from a fabulous weekend in Rhineland, Germany. We had a weekend packed with vineyards, fairytale German castles and the Nurburgring!
Having enjoyed an incredible three-week road trip around Germany three years ago, we were both so excited to come back this amazing country:
1) because it is our favourite country and we find more and more that we love about it each time we visit
2) because we got engaged here three years ago, and
3) because the whole purpose of this trip was a 30th birthday present to Oli from me, which included having a spin around the Nurburgring in a Ring Taxi. This was something we desperately tried to do during our road trip, but our dates never aligned when we were in the area. We always said we still wanted to do it, so we were excited this was finally a reality.
Day one
We love a road trip and following on from the amazing trip we had before, we decided we would drive to Germany again for our weekend in Rhineland. One thing to note if you are driving to Germany is that it is a legal requirement for cars to show an emissions sticker, which is needed for many of Germany's cities and towns. They're super easy to get though, we use TUV. It only costs about £25 and all you need to do is complete the form and email it with a copy of your V5. Assuming your car meets the emissions requirements, you'll have your emissions sticker sent through the post in about one week.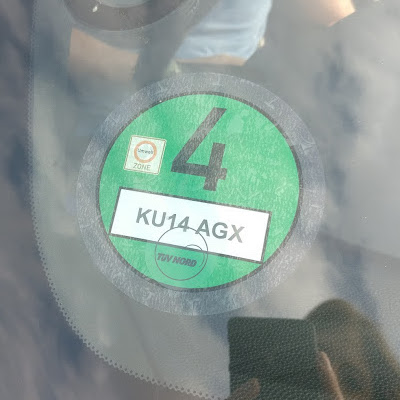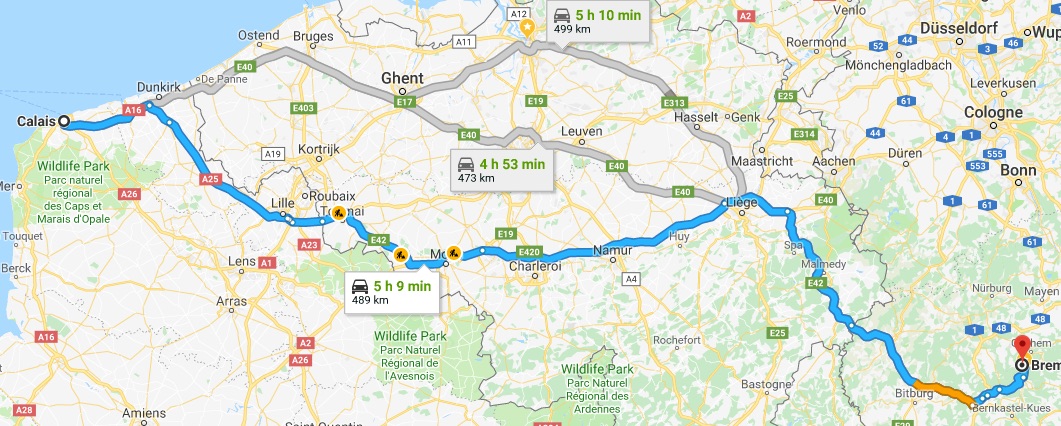 We had arrived in France and on our way to Germany by 7am. We had a good 5 hour drive ahead of us, so we were keen to make good time so we could get to Germany as quickly as possible.
This was my first time driving outside of the UK and surprisingly it was a breeze! It is strange how quickly you adapt to driving on the other side of the road and also how much nicer the roads seem compared to the UK? Maybe it's just the holiday-placebo effect, but the driving experience definitely seemed nicer. Particularly in Germany.
I drove the first half of the journey, when we found some services somewhere near Liege and swapped. This was also because Oli was excited to get back on the autobahn once we were in Germany. Clear (more or less) motorways, with no speed limit and also good lane-disciplined drivers (compared to us in the UK).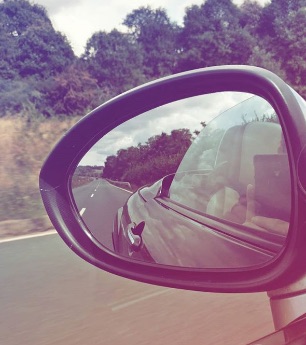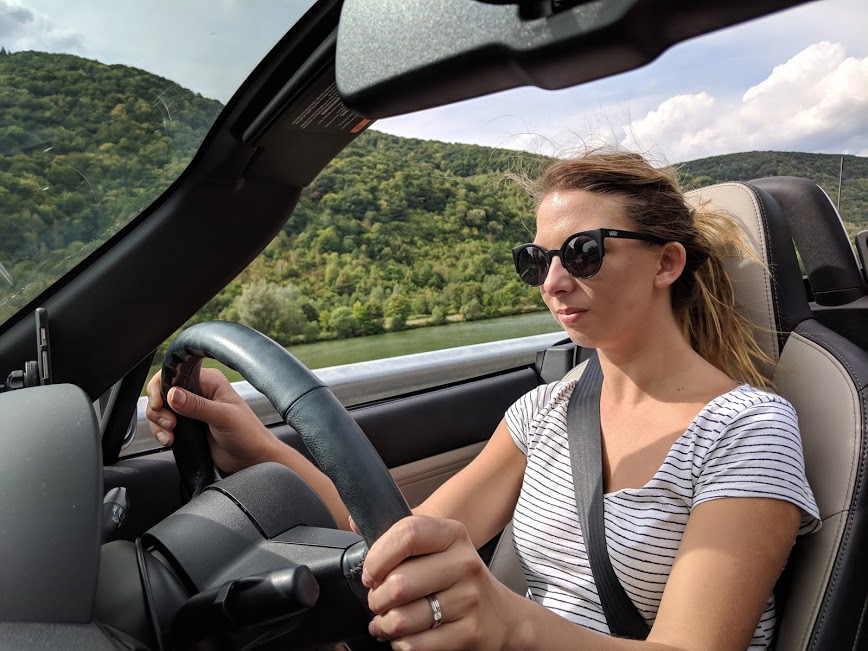 We had a lush drive and arrived at our destination in Germany by 1pm. We were staying in a sleepy little town called Bullay, along the beautiful River Moselle in Rhineland. The whole weekend we were here, we didn't hear another English accent and apart from seeing one other GB number plate in town, were pretty much with the locals all weekend which was perfect.
We stayed in this gorgeous apartment, just a short walk away from the river. Once we checked in and dumped our bags, we were excited to see what life along the river had to offer.
We drove five minutes up to the road to Bremm, which was the next biggest town up the river. We'd heard about the stunning views from Calmont Klettersteig, so we decided on a hot day in August, that we would go hiking to the top. It's a steep ole walk, and we were absolutely exhausted when we got to the top… But the views were so worth it! We parked up in the town, and walked up along the main road towards the vineyards, and then made our way higher and higher along a thin, twisty little track which went all amongst the vineyards. Bremm is just beautiful also, and this was the perfect start to our weekend in Rhineland.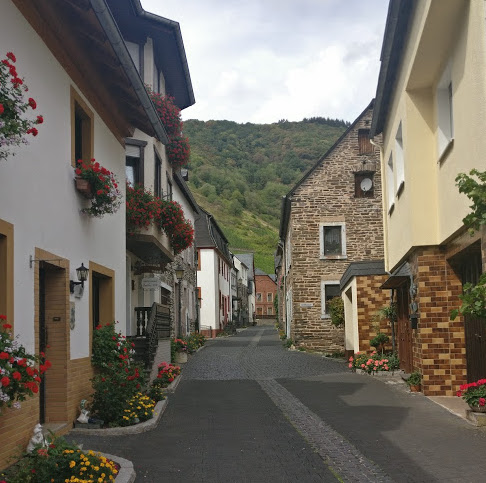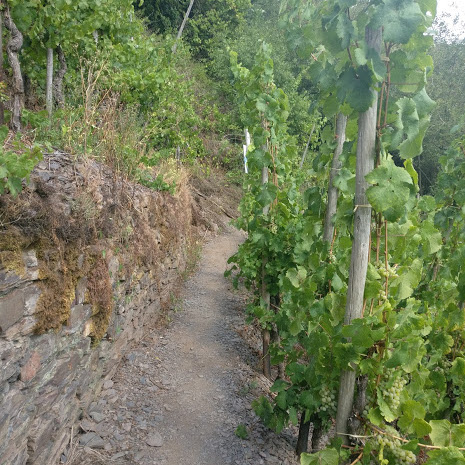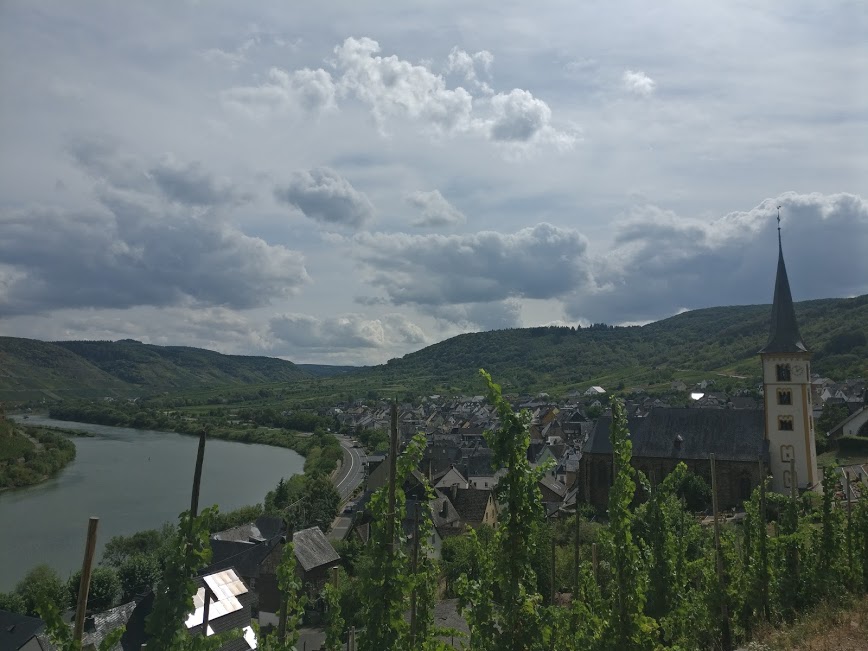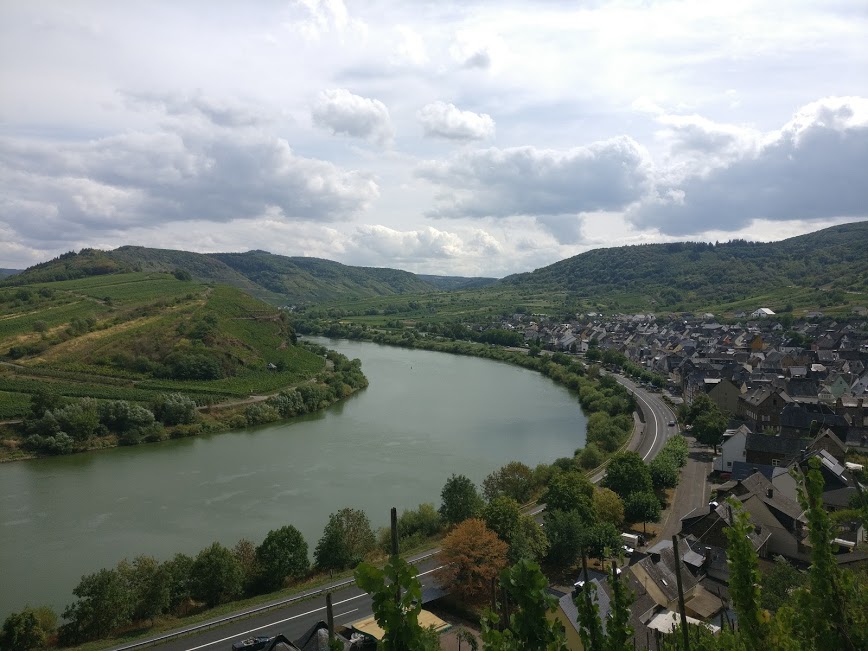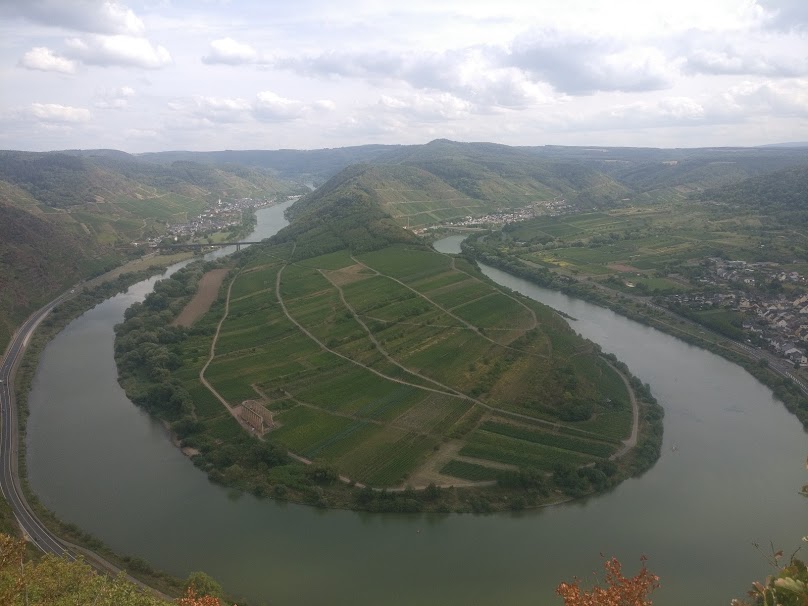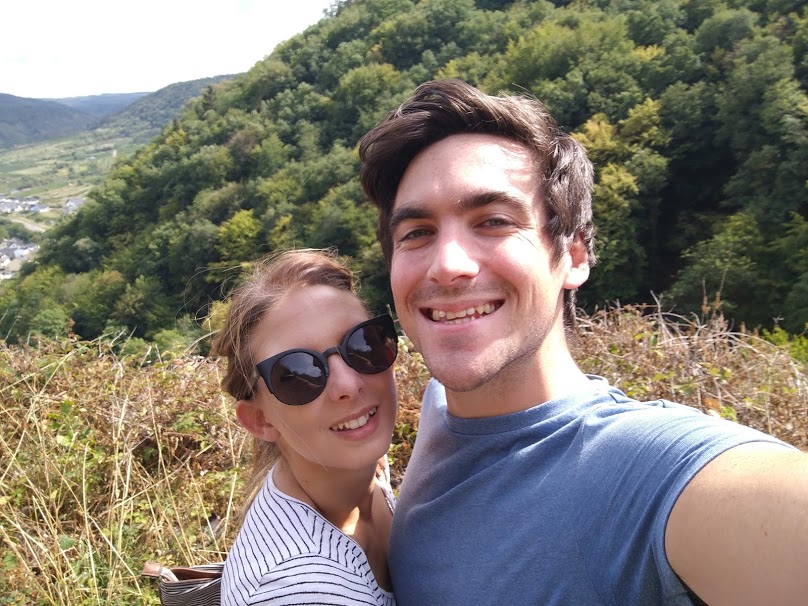 We spent pretty much all afternoon exploring Bremm and its lovely vineyards. It also took us about 50 minutes to get to the top of the hill (and then the same back down) so that was a big portion of our time.
We decided to head back to our apartment and freshen up for dinner – although the 1am start, combined with 7 hours of driving (plus a hike thrown in for good measure) caught up with us and a 30 minute nap turned into 2 hours! Feeling suitably refreshed, we were excited to see what Bullay offered for dinner. We were happy driving elsewhere for dinner, but as we were staying in the wine region, we wanted to be in walking distance so we could try the local delicacies.
We found a lush little restaurant down the road called Rudolf Pargen. We sat outside and had one of the most delicious meals we'd had in ages. They also had an impressive wine list, full of local wines. I'm no wine connoisseur, but I can't say I'd ever had German wine before, or even thought of the German's as being known for their wine, but every wine we tried we loved! The restaurant also sold the bottles, so we ended the night walking away with four bottles.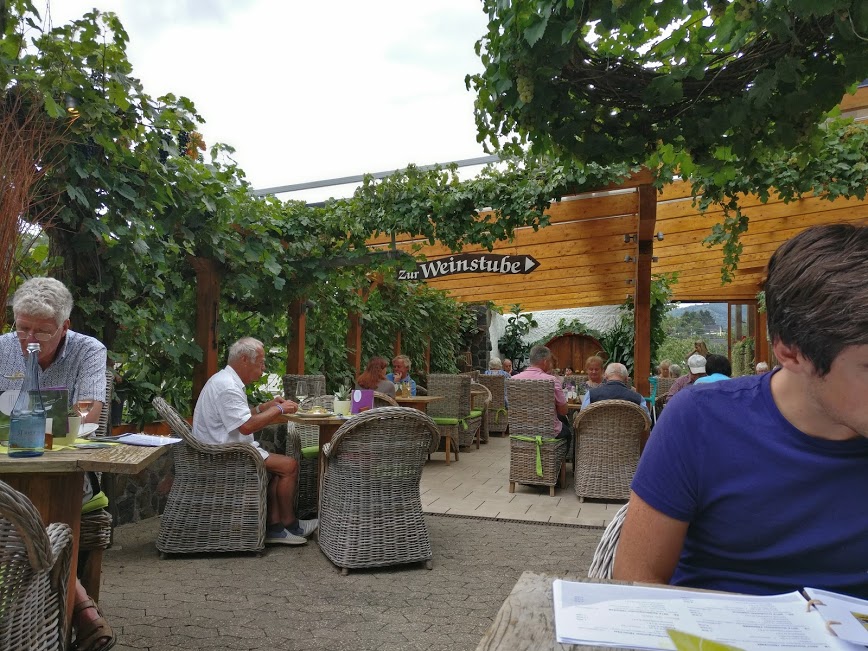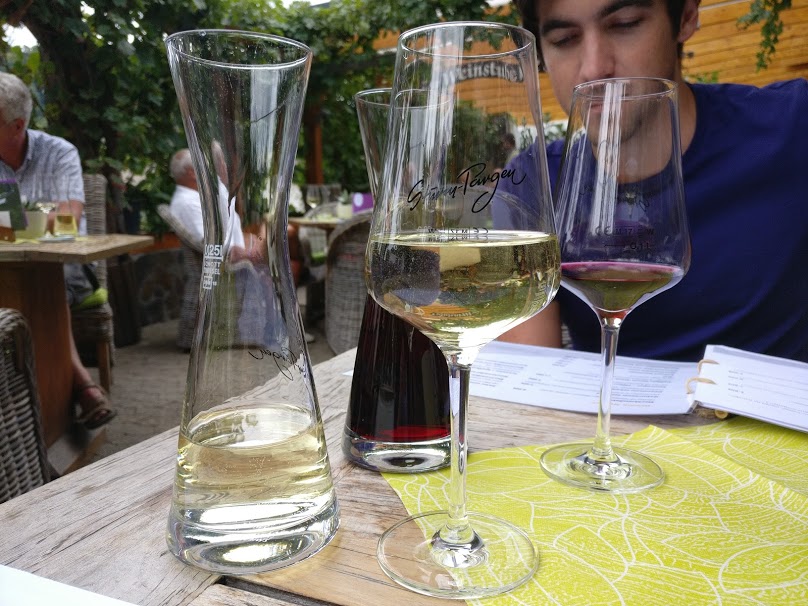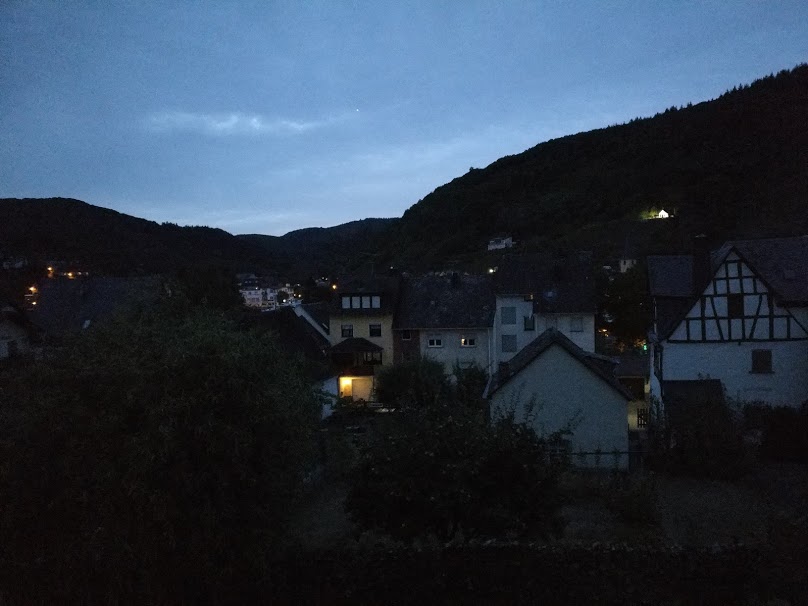 Our apartment host had also bought us a welcome bottle of German fizz (Mosecco), so Oli and I ended the night sitting out on our terrace, watching the night draw in and enjoying a few glasses of bubbles.
Day two
This was the day! What it was all about – time for the Nurburgring! We had a 11:30am booking and we were staying about one hour's drive away, so we had plenty of time to have a nice leisurely morning before heading up.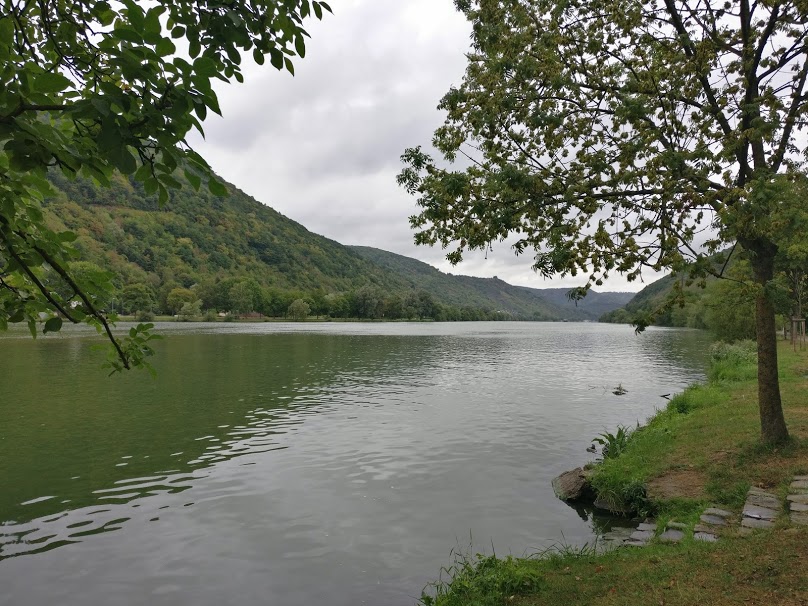 We grabbed some breakfast from the local bakery and enjoyed a nice walk around the river. It was a pretty drizzly morning so we ended up heading off early for the track in the hope of some nicer, drier weather. (We were not disappointed).
Once we were on our way, the sun came out and we had lovely sunshine all day, which dried the track up in no time. Once we arrived at the track, we were greeted by this HUGE building.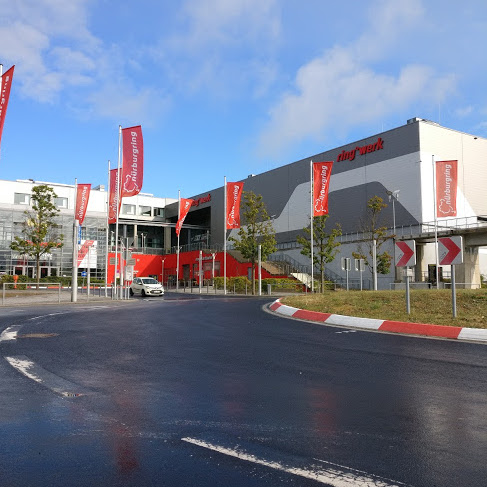 We parked up, before shortly realising we were in the wrong place and saw signs for Nordschleife. A short five minute drive later and we'd arrived at the tourist track entry. We were one of the first there (we arrived by about 10am, so still had one hour until the track opened and 1.5h until our booking). There's a cafe on-site (Devil's Diner), so we grabbed (more) breakfast and sat outside, watching everyone else arrive in their cars.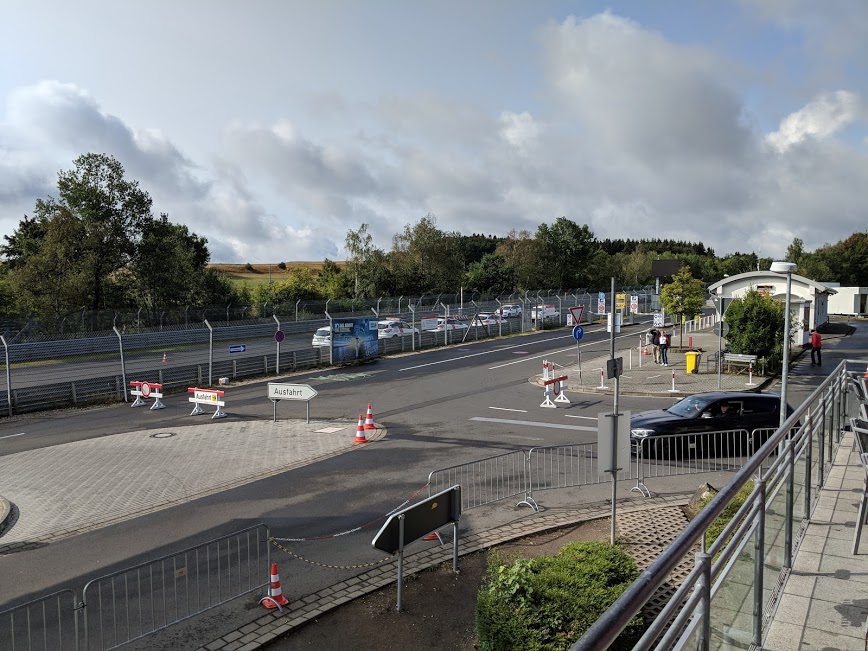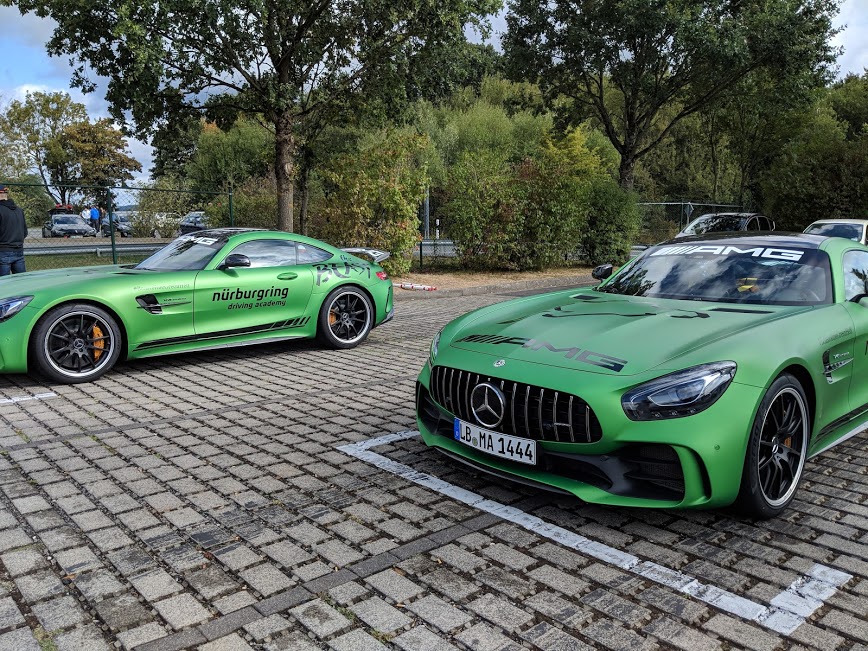 This really was part of the fun of it all. Sitting track-side, surrounded by all the other excitable drivers, eager to get out on the track. As we sat and watched everyone, drivers were arriving elsewhere from Germany, from Austria, the UK, Belgium and Switzerland (and more). It was such a nice feeling that everyone had made this pilgrimage to the Nurburgring.
As soon as the track opened, we headed straight for the barrier to watch some of the first eager drivers set off on the track. This was lots of fun and 20 minutes easily disappeared, before we needed to go check-in for our Ring Taxi!
I booked the trip with Ringtaxi.de – we checked in, signed the necessary paperwork and 20 minutes later our car was pulling up having just taken one of the first groups around the track. The car we had booked was a BMW M5 XDrive, so there was space for Oli in the front and me in the back! We also paid an extra €30 to get a recording of our lap.
The ring taxi experience was incredible! And it was so nice that it was something we could do together. We had a professional racing driver take us round so all we had to do was enjoy the ride. Our driver massively put the car through its paces and I don't think I've ever experienced anything like that lap before. We had so much fun and the power of the car meant that when we arrived back at the car park, we were both absolutely buzzing and (if possible) would have been itching to book another lap! I can't even put into words what it felt like to be in the car and what we experienced. The video really does not do the lap justice at all. We had the best time and I urge anyone who's into cars / adrenaline activities to give this a go!
We stayed in the area a little longer after our lap – we drove out of the tourist track area and along the main road a bit, where we found a pathway leading down to the track itself. We decided to check it out and having parked up and a short walk later, found an area inbetween the track fencing, right by the crash barriers where we could stand and watch the cars flying round on the track.
We stayed here easily for about half an hour, just watching driver after driver and lap after lap. It was so much fun to spectate and re-live what we'd just experienced. We wanted to make the most of our day though, and our short weekend in Rhineland, so feeling more than satisfied by our Nurburgring experience, we decided to get back in the car and get exploring. Our next stop was Geierlay: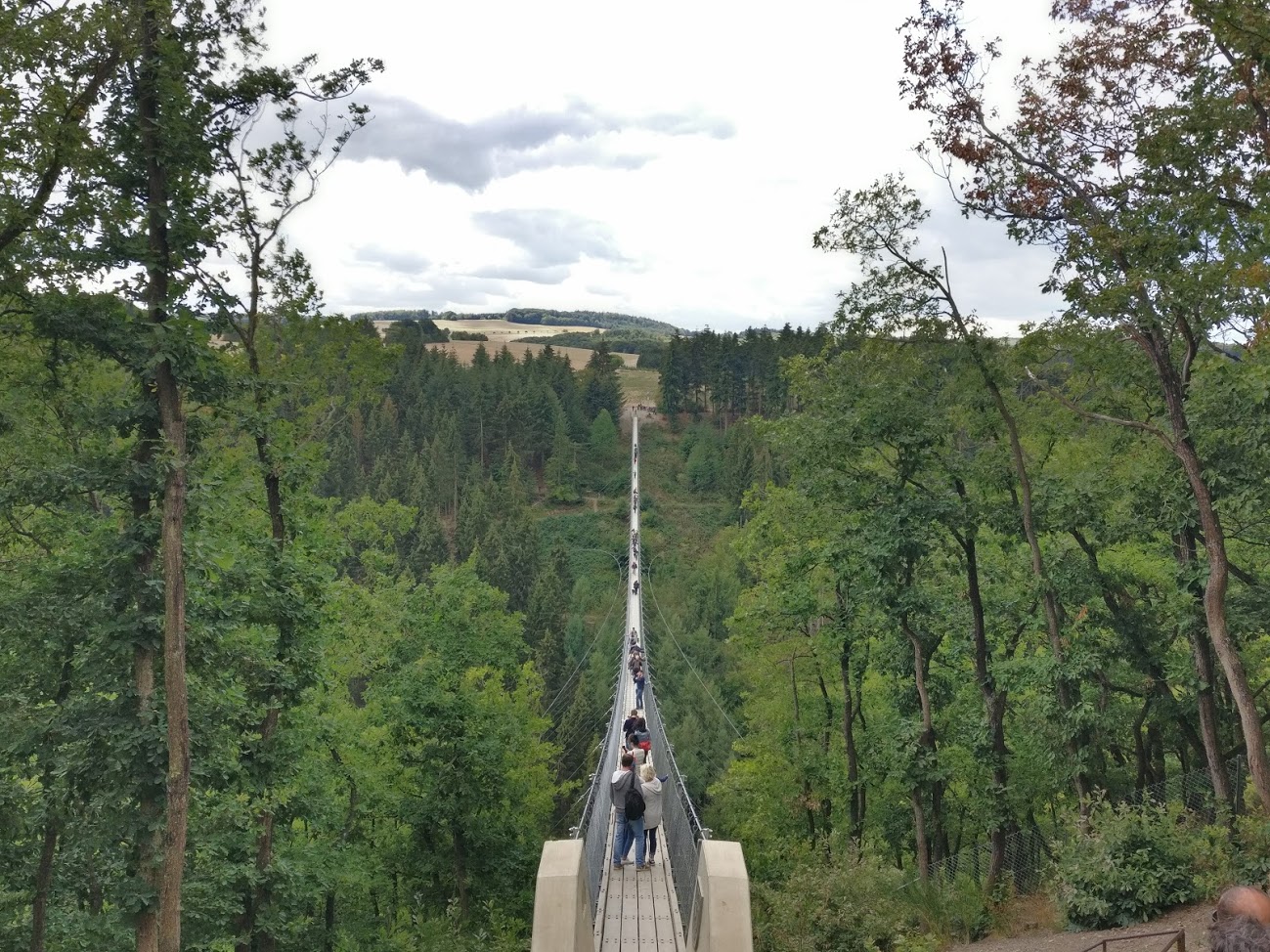 Opened in 2015, Geierlay is (an almost) 1,200ft long suspension bridge – the longest in Germany in fact – and 300ft above a canyon. I'm pretty fearless when it comes to these things, I don't mind heights or anything like that, so I happily marched out, whilst Oli behind me looked absolutely terrified! If you do have a fear of heights, this bridge probably isn't for the faint hearted. However, Oli was determined and set himself the challenge of crossing the bridge. As you approach the middle, it can feel a little uneasy. There is less tension in the bridge, so you sway about a lot more than at either end. But you are rewarded with the most beautiful views – surrounded by hills and trees. If it weren't for the others on the bridge with you, you wouldn't be able to hear a thing.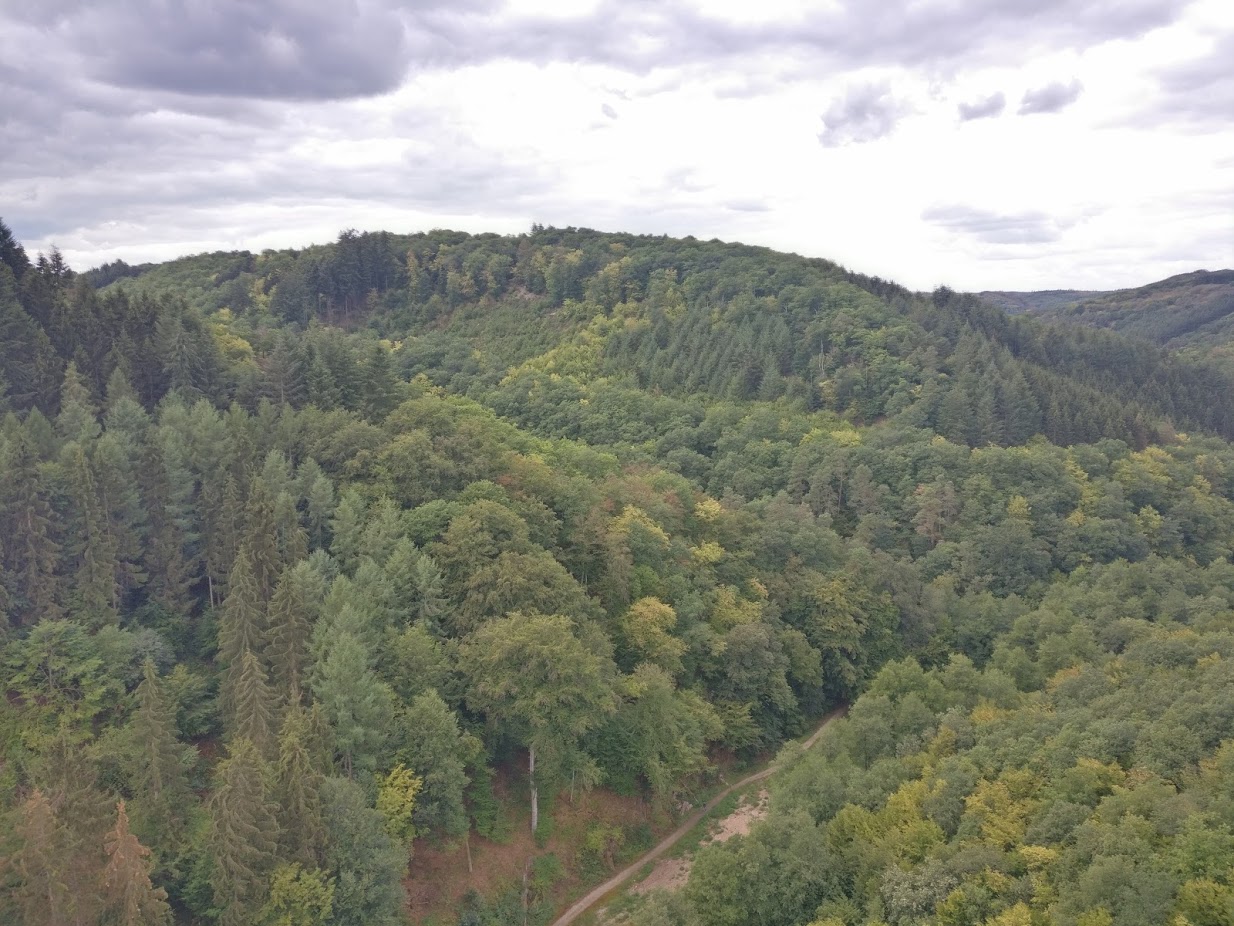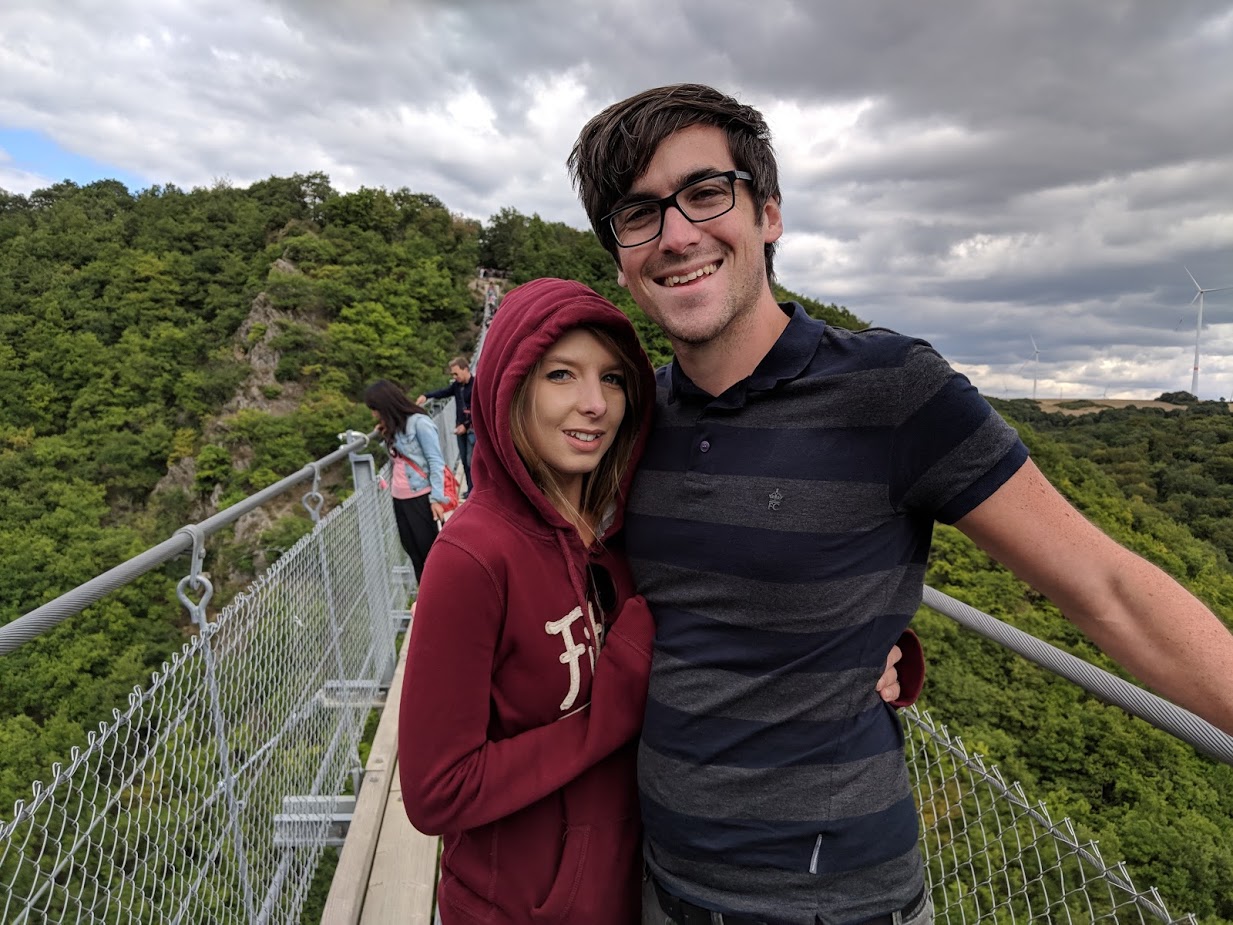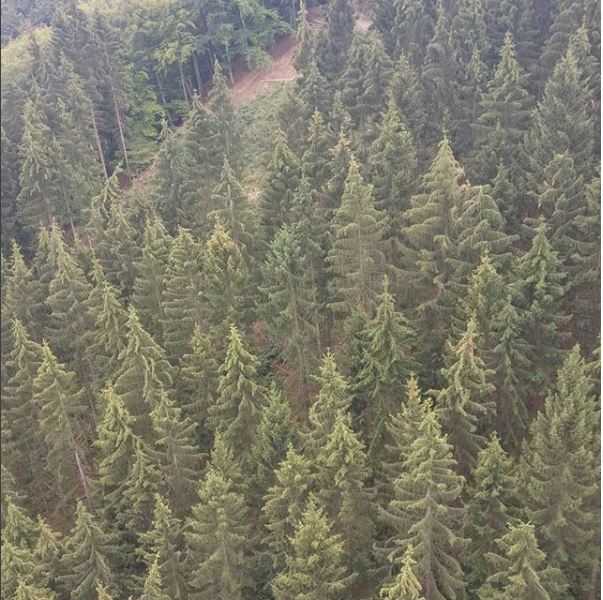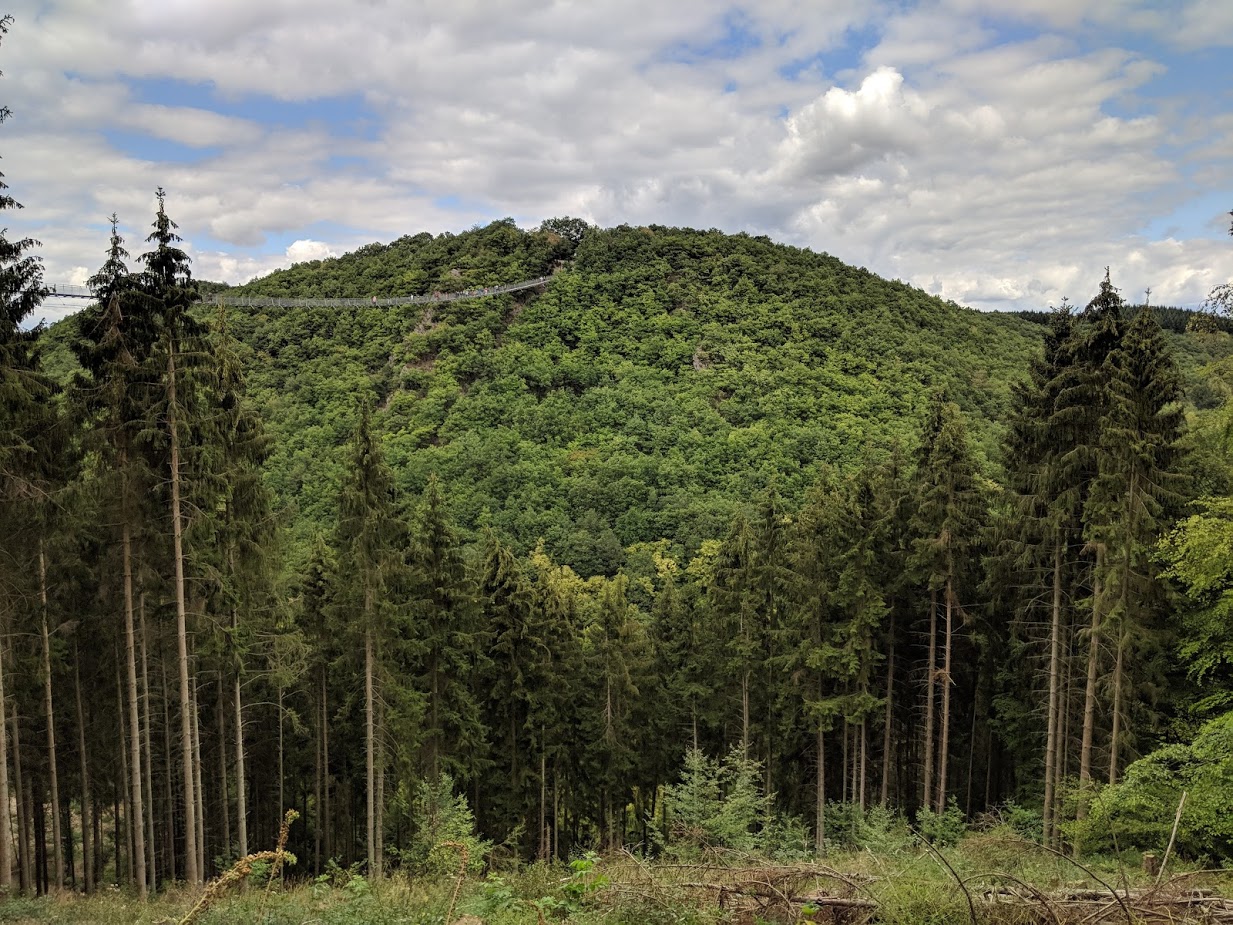 The trip itself was probably a good couple of hours all in. We'd been on our feet all day and breakfast was a good few hours ago, so we made the walk back across the bridge (Oli nailed it) and headed back to the car, where we had parked in a near-by local car park. We were getting hungry so we drove to Cochem, which is one of the biggest towns along the river as we were near-by and we knew there would be lots of choice for restaurants. The other main draw for wanting to visit Cochem was to see the great Cochem Castle!
The drive down to Cochem was beautiful! The roads were completely clear and empty and we had sweeping bends and hairpin turns up climbing roads the whole way. It was such a fun, scenic experience. As we got closer to the river, we were greeted again by those well manicured steep hills with perfectly textured vineyards trailing down them. Even better was the arrival into Cochem, when we had the castle towering above us as we drove into the town.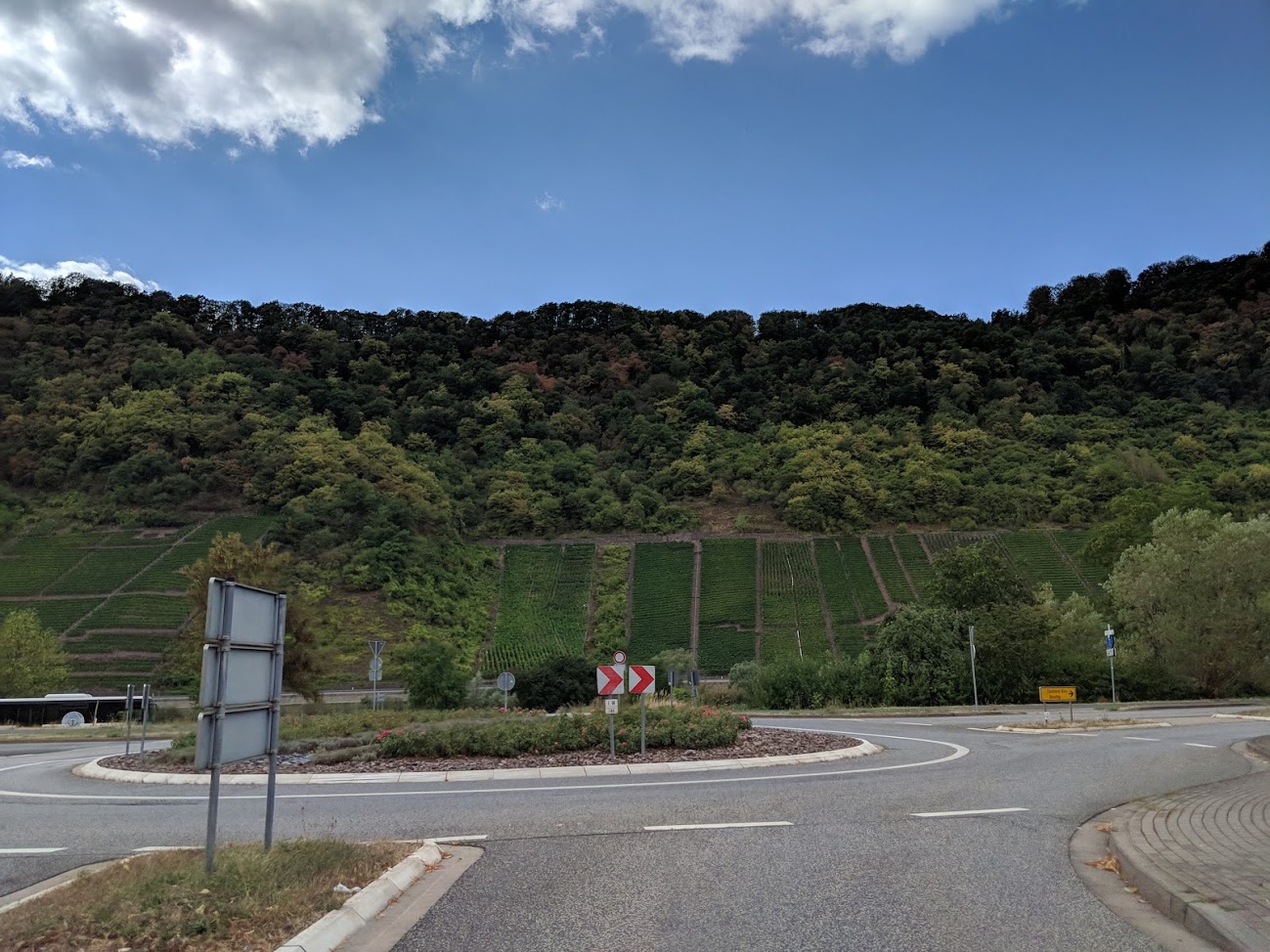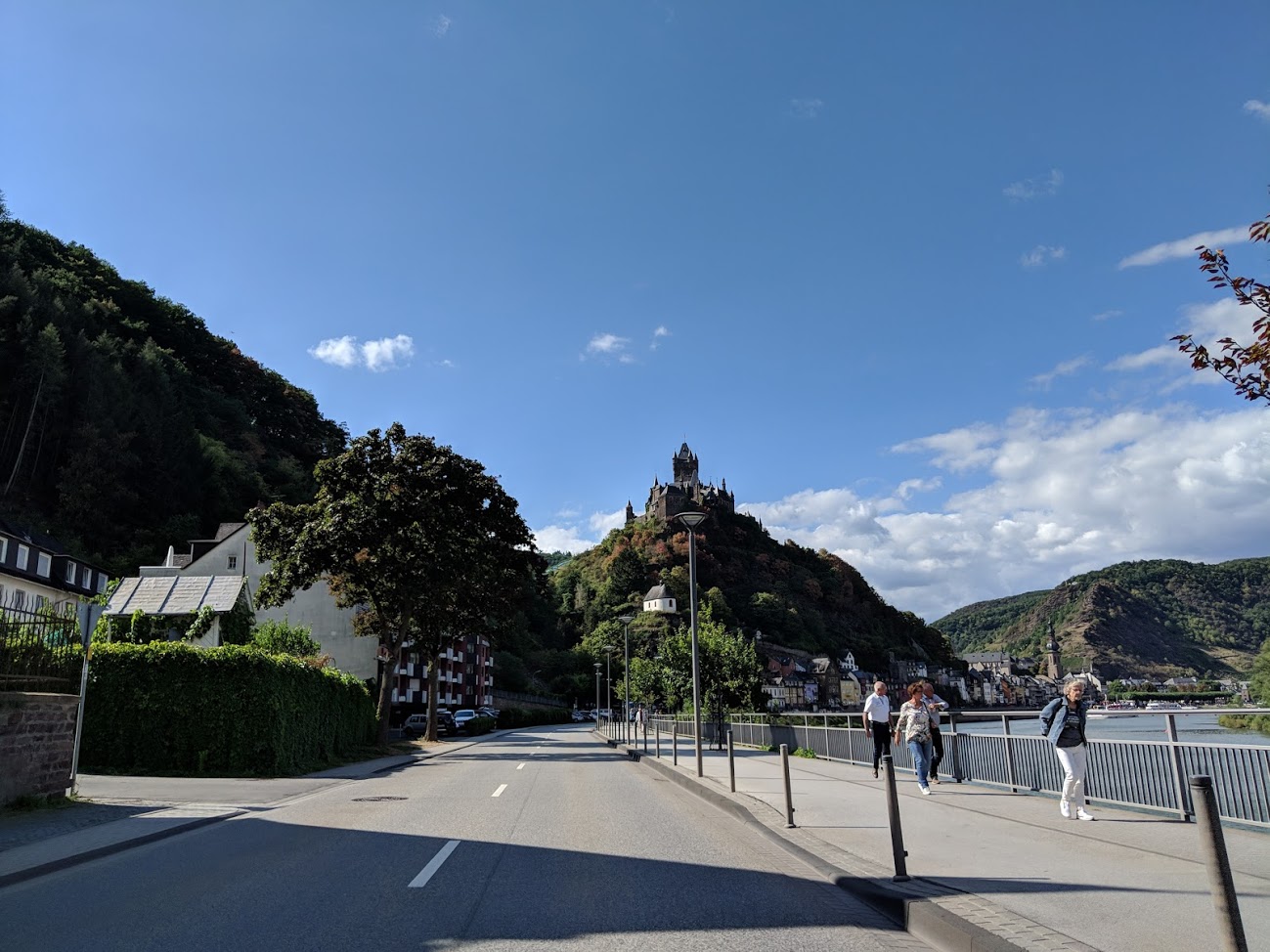 We found a car park in the heart of the town, and made our way up towards Cochem Castle. There was a also a wine festival going on that weekend, so the town was jam packed with people, music filtering out and wine flowing freely. The atmosphere was a lot of fun and we knew we'd come to the right place. The time must have been getting on for about 4pm and although the castle shuts at 5pm I personally am not that interested in seeing inside. I love learning about them and their history, but I would rather read up about them in my own time, online. For me, the impressiveness and the part I like to stare at most is the building itself. For me that is what's impressive and what I like to see. We made the steep incline walk to the top and stood in awe at actually what a surprisingly pretty castle it is. The views from the top of the hill, inside the castle walls was also very impressive.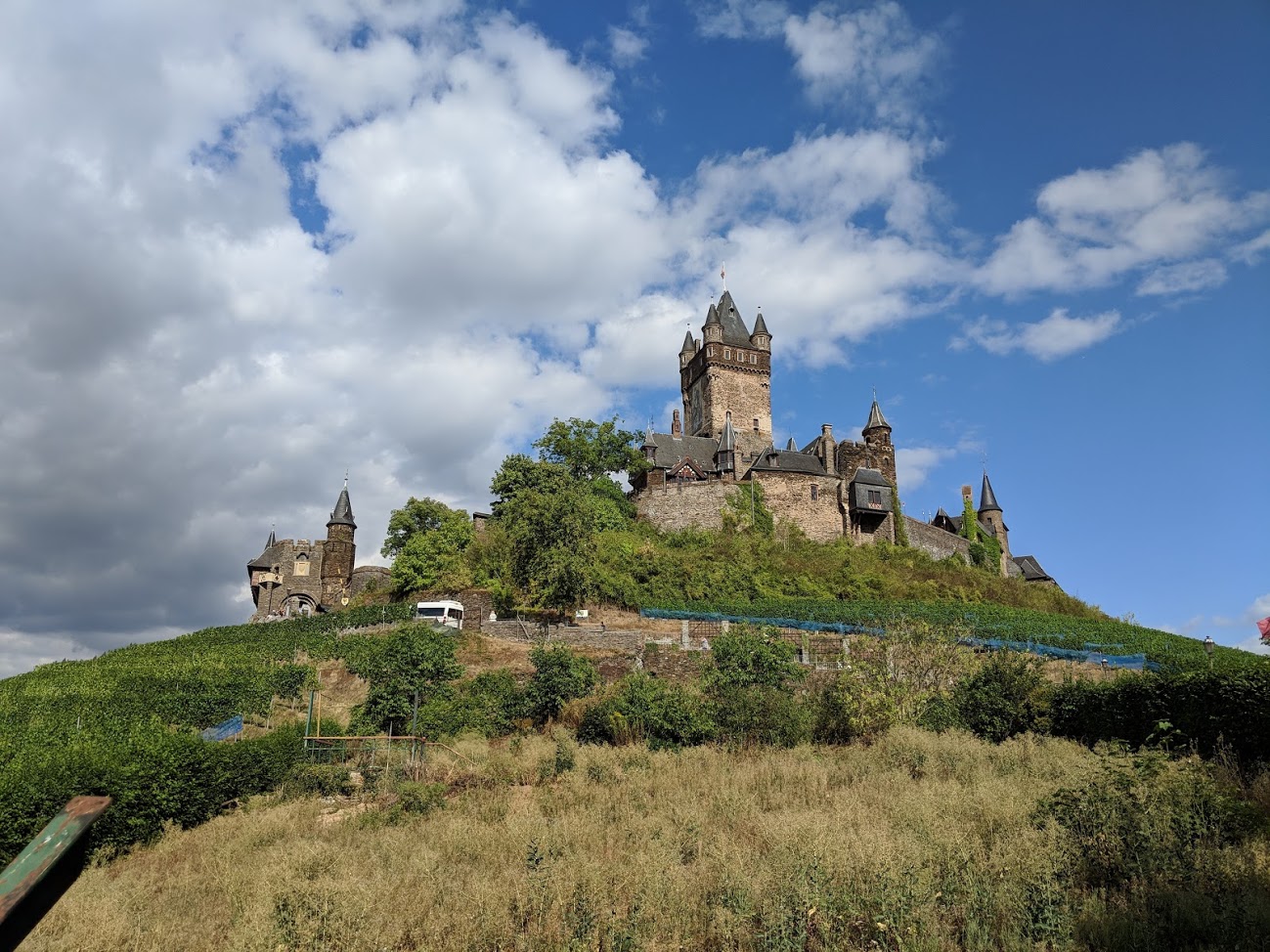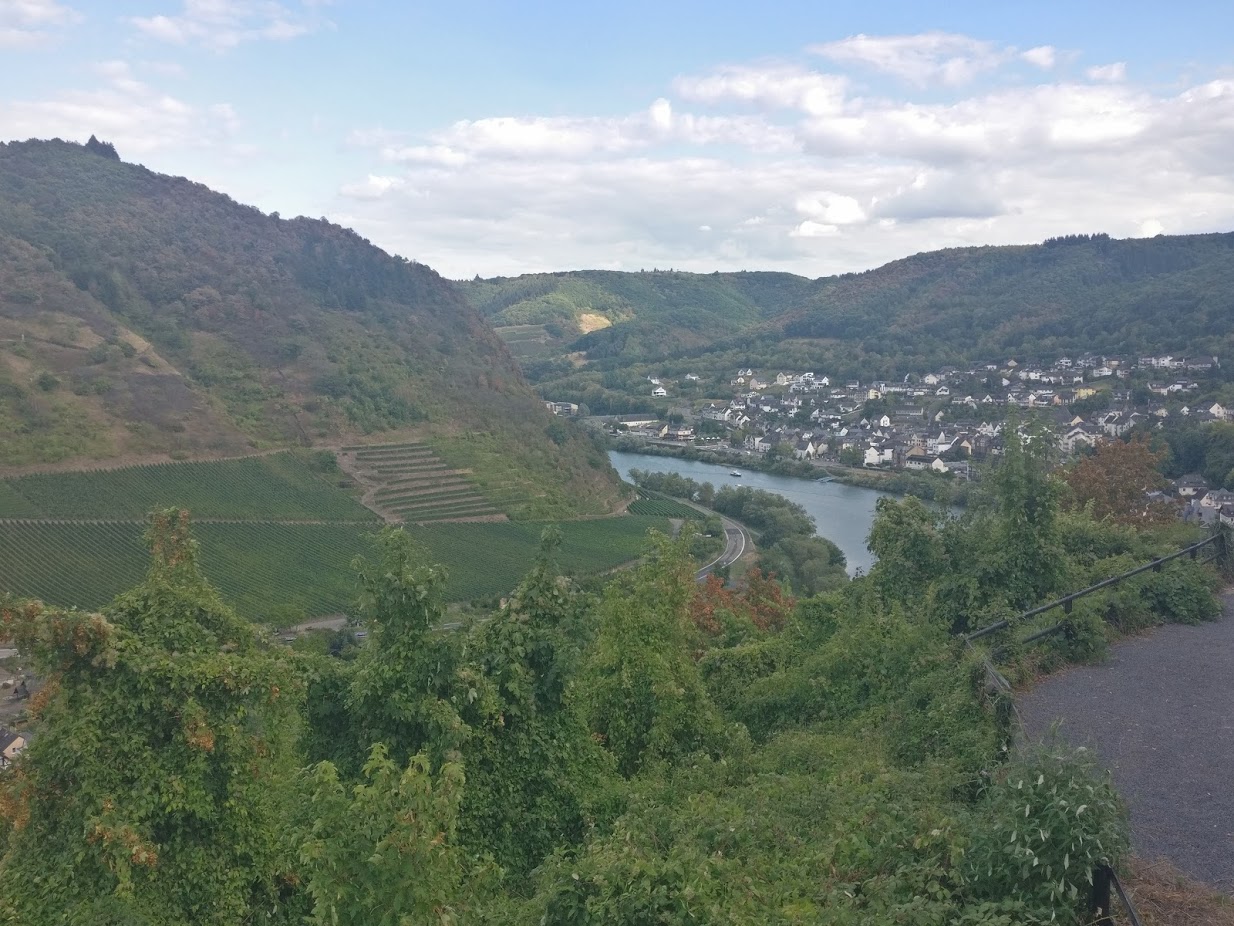 Approaching 5pm, we decided to explore the town a little more, grab a drink and plan where to go for dinner. There are pubs and eateries galore in Cochem, with lots of nice little shops to wander around in and explore. Of course all the pubs were pretty packed due to the wine festival taking place, but we managed to find a little place down a side alley which wasn't too busy and enjoyed some more local wine. For dinner we chose a fab Italian on the other side of the river called Ristorante Da Vinci. We hadn't reserved a table (big mistake as practically every table had a reservation), but the restaurant very kindly managed to fit us in. We had an incredible meal here and stuffed ourselves silly with food. I definitely recommend this place! The views over the bridge, out across the river and towards Cochem Castle were lovely too.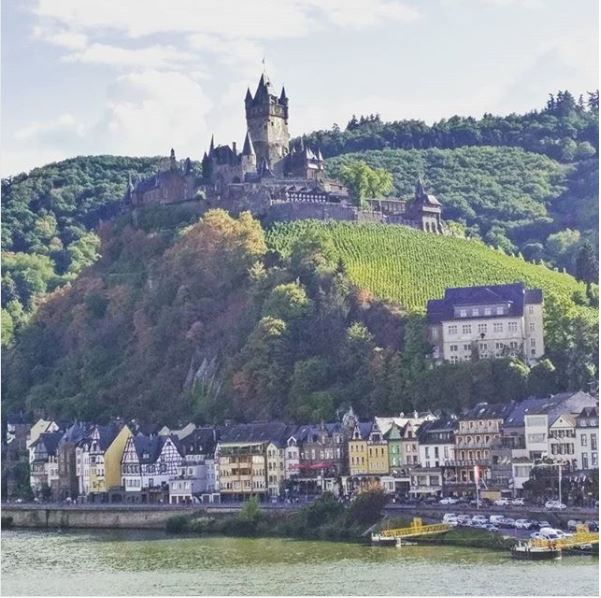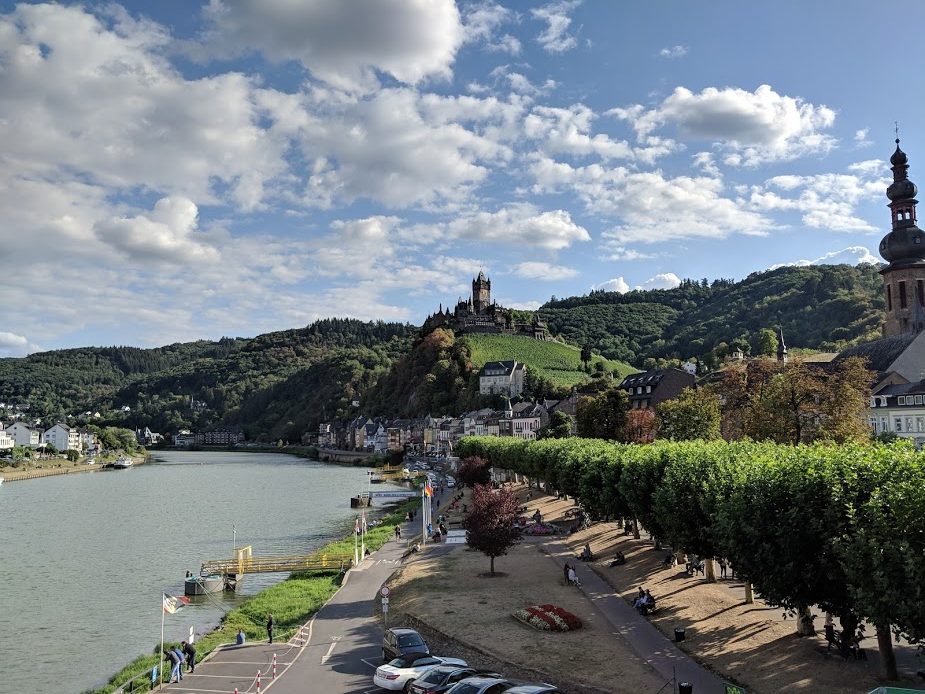 Day three
Having not had our fill of castles the day before, we were up bright and early to visit another – one which I was very excited about: Eltz Castle!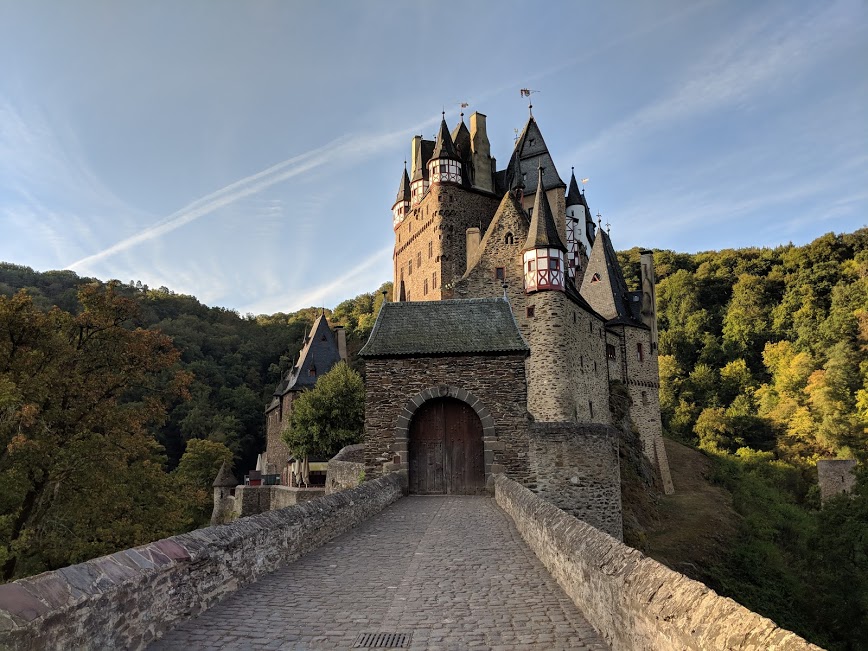 LOOK AT IT!
This is the castle of fairytales. I was very excited to see it but wanted to avoid all the crowds and just take it all in in some peace and quiet, so we got up super early, leaving our AirBnb by 7am and arriving at the castle car park for 8am. We were lucky with the weather and had the most beautiful views driving all along the river Moselle towards the castle.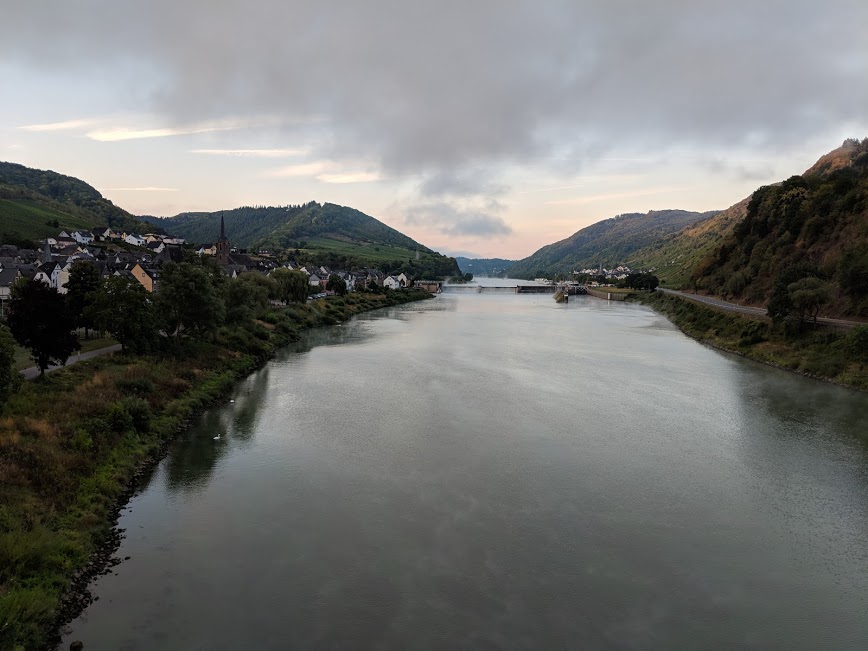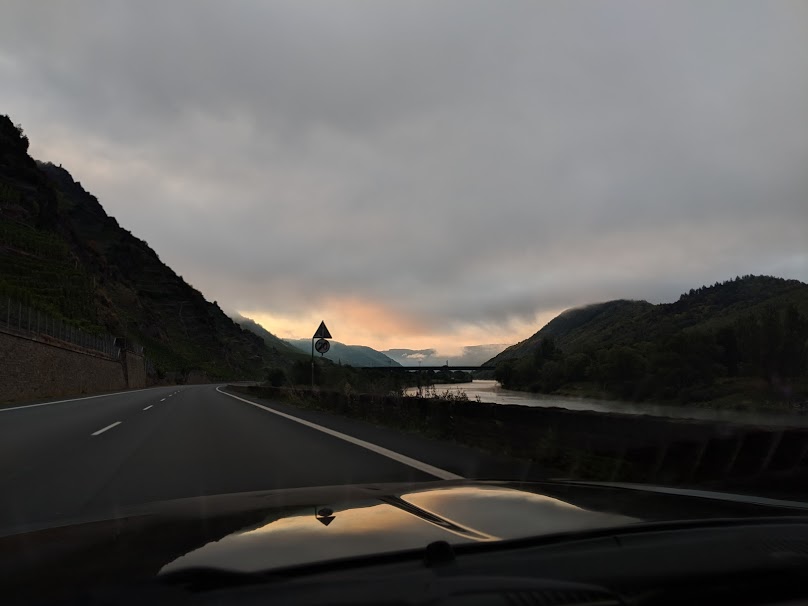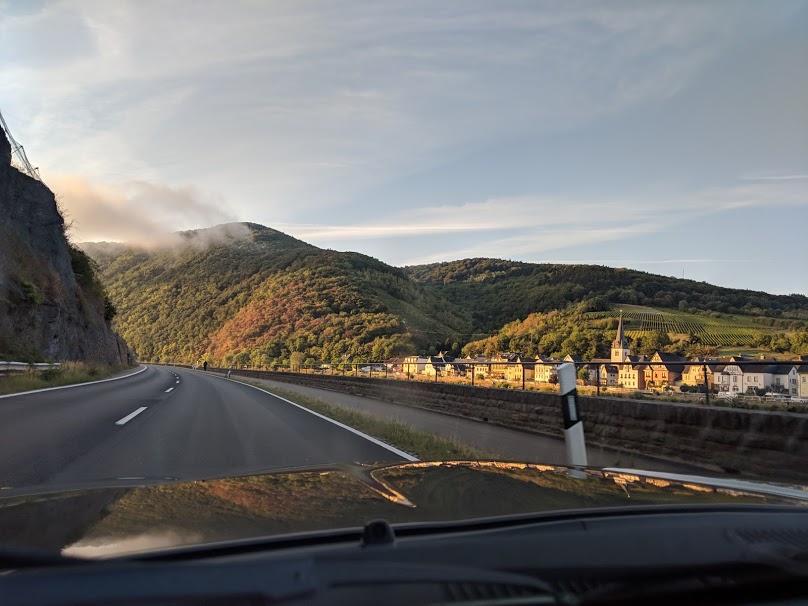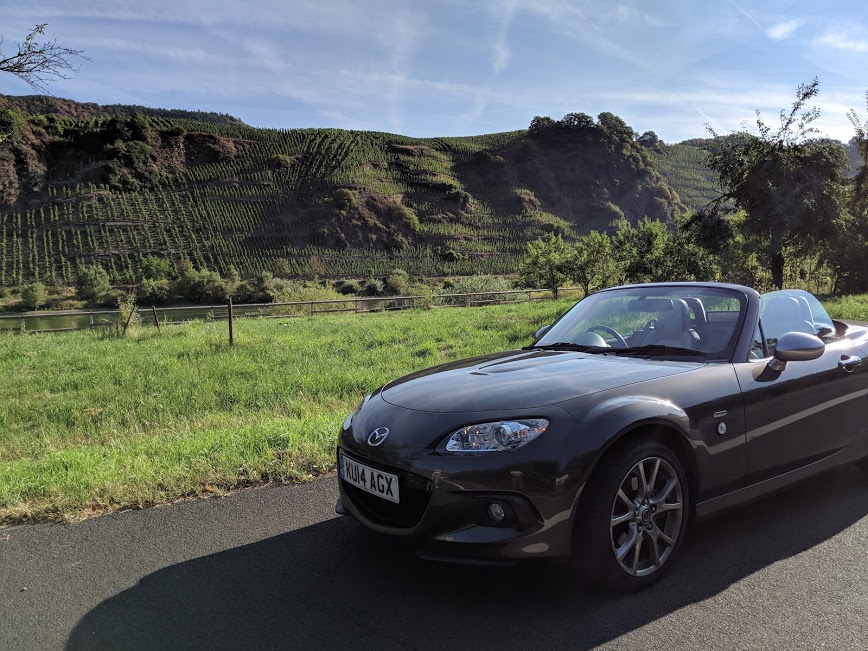 The roads in Germany are quiet anyway, but getting up at this time of the morning (on a Sunday!) meant the roads were deserted. Due to the early start there was also this mystic, eerie low hanging cloud sitting on top of the river and the hills, which made for some very pretty views and scenic driving indeed. We were off to a good start and once we got to Eltz Castle the views just got better and better.
We parked up at the castle car park no problem. There are two ways to get to the castle: one, via the not so scenic, but short tarmac'd road which the shuttle bus takes when the castle is open. Or two, a windy, scenic forest walk (which I believe takes about 1 hour). We were a little strapped for time (despite the early start) so we opted for the tarmac walk. The walk takes about 15 – 20 minutes and before you know it you're greeted with this view. Nestled in the middle of a valley, on top of rock is the beautiful Eltz Castle.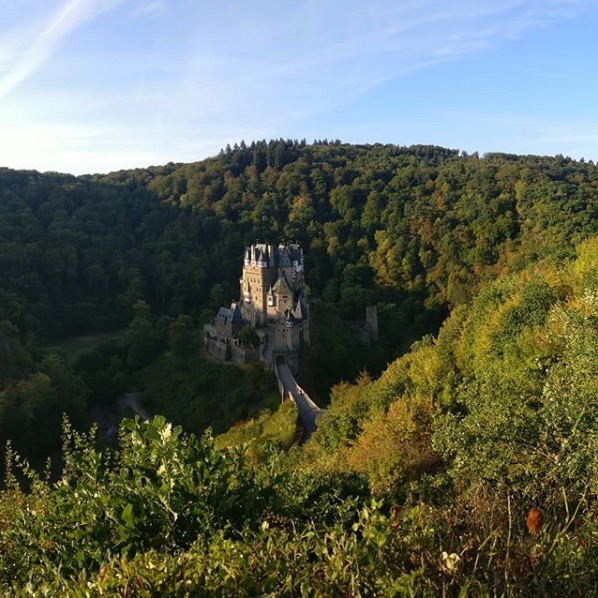 We continued down the path until we reached the castle entrance. I could have stared at this castle all day. It is just the prettiest castle I think I've ever seen – we have seen more magnificent, impressive castles, such as Neuschwanstein, but this had to be the prettiest.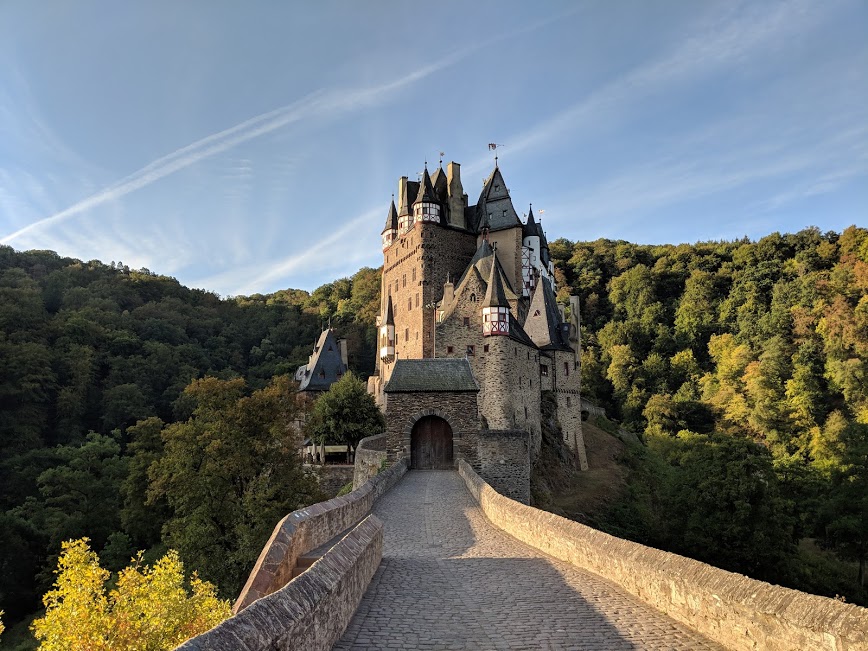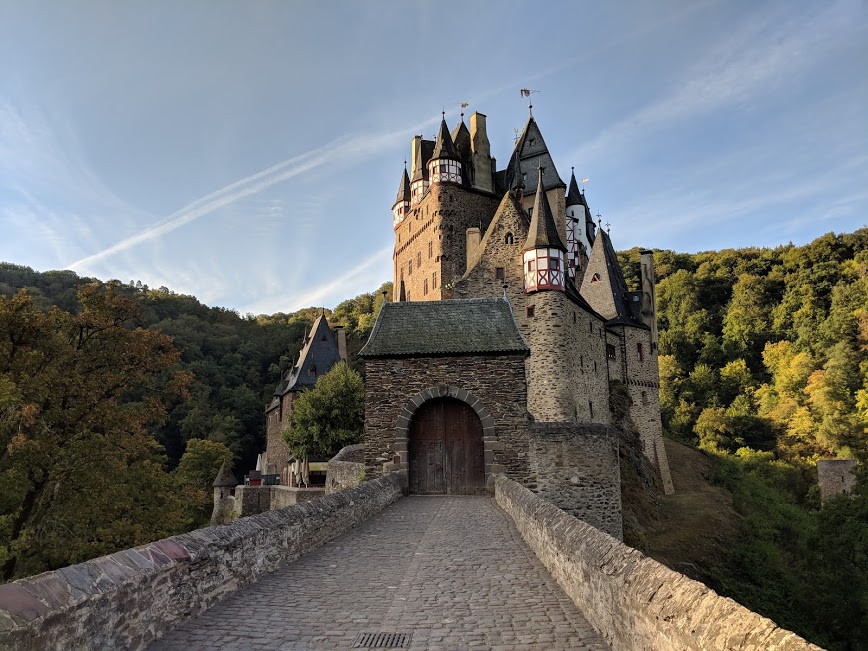 The castle doesn't open until 9:30am, so getting there at 8am was perfect as we had it all to ourselves. We spent some time taking it all in and enjoying the view. To the left of the entrance, at the start of the bridge, are a set of steps which head down into the valley. Down there is quiet little stream, more forest and some nice views looking up to the castle. We probably spent about one hour at the castle in total, (which was more than enough considering it wasn't open), but other people soon started arriving and disturbed our day-dreamy wander. It was our last day in Germany and we had to check-out of our Airbnb by 11am, so with one hour's drive back to go, we decided it was time to leave.
If you want to visit Eltz Castle and like me, would rather just stare at the building itself than see what's inside, I highly recommend you go before it opens to beat all the crowds – and if you do want to see inside, I still recommend you get there early before it opens! Take in all it's beauty before others arrive and then when it opens you're one of the first there, as the castle does get incredibly busy in the nicer seasons.
Antwerp
As already mentioned this was a Sunday and the following day was Bank Holiday Monday at home, so rather than cut our trip short or have a long drive back to Calais again, we decided to halve our journey and stay somewhere en-route. Belgium seemed to tick those boxes, but having already done Brussels, Ghent and Bruges (as much as we would love to go back) we fancied trying somewhere new, so we picked Antwerp.
The drive was nice and easy and we arrived in the city in no time at all (about 3.5h). We booked an Airbnb online, right in the heart of the old city which was fab. It didn't have parking, but there were numerous car parks (at decent rates) to choose from. We parked up no problem, checked in and began exploring!
Our first stop (which was about 10 minutes from our Airbnb) was St Anna's Tunnel. Opened in 1933, the underpass takes you from one side of the river bank to the other. It just one loooonnnggg tunnel, as far as the eye can see, which is kinda cool and also still features to original wooden escalators.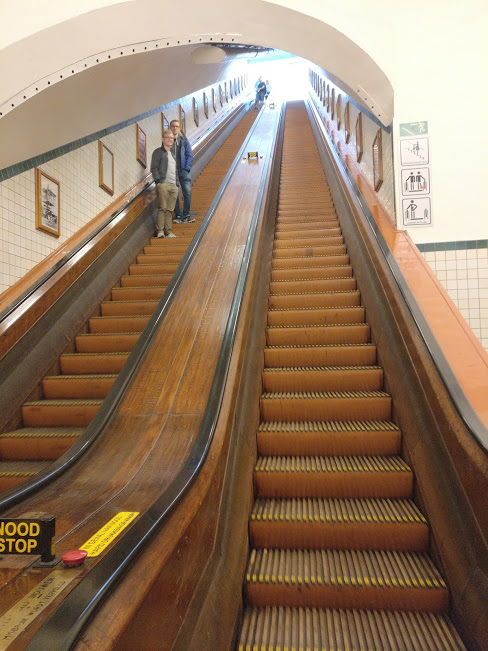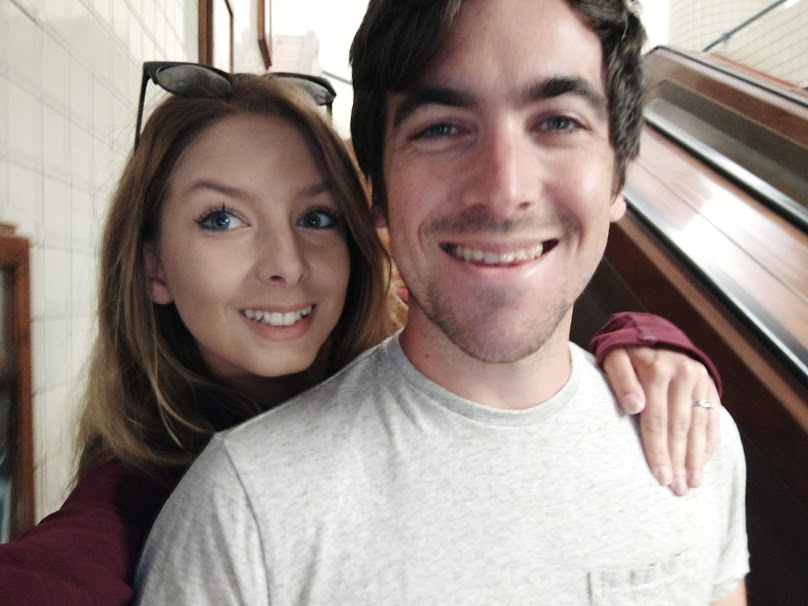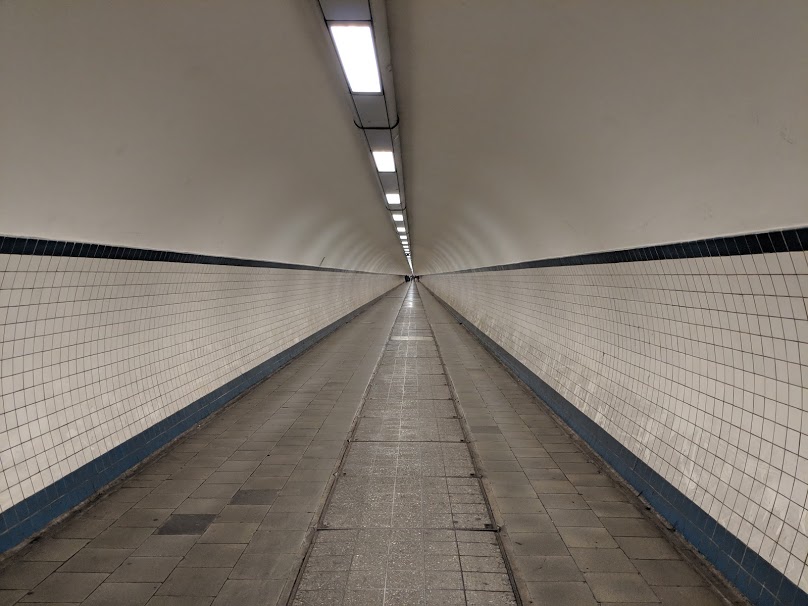 The tunnel is free to use and makes for an interesting walk when out and about exploring Antwerp. Once on the other side, there are some cool views along the river, looking out towards Antwerp City Centre.
After a little explore, we chose to head to check out the next thing on our list – Hetsteen (Steen Castle). The castle is very cool looking, but unfortunately was wrapped in scaffolding when we went to see it. However with a good angle, I managed to avoid most of the construction work for a photo of the castle.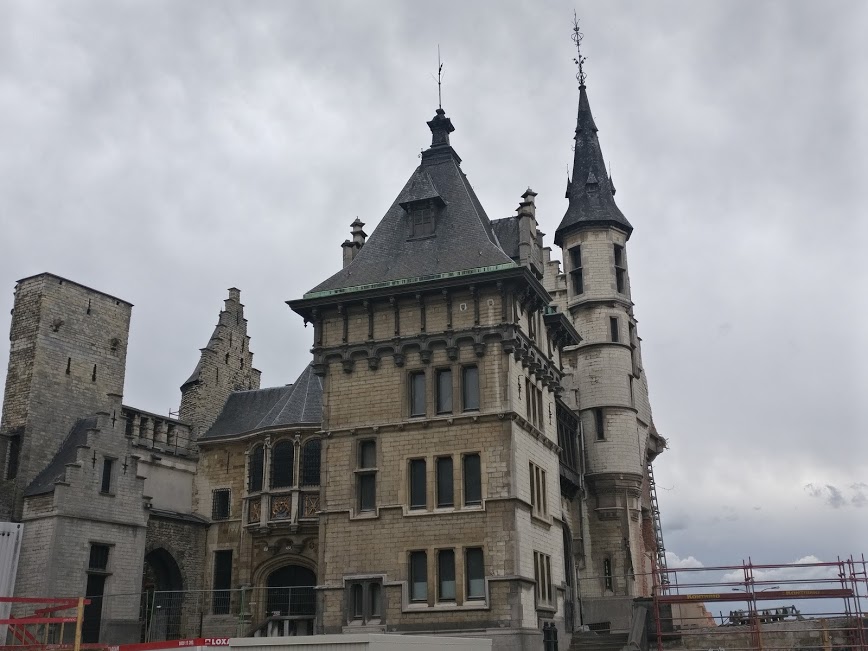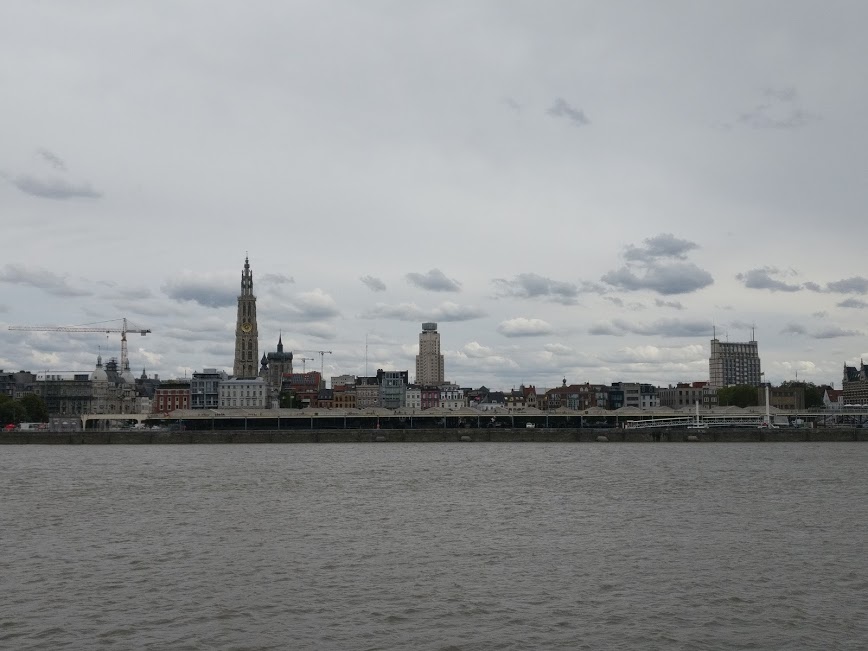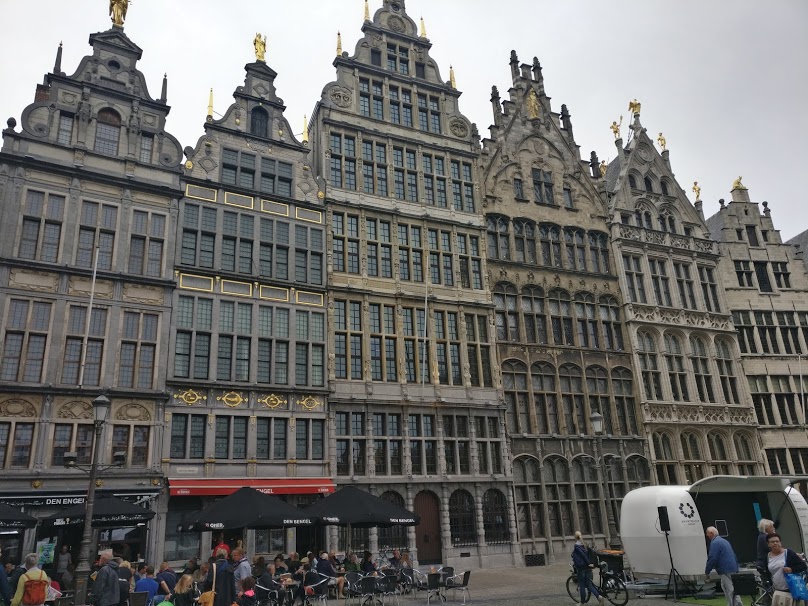 The rest of the afternoon consisted of us just generally exploring the city itself. There are so many roads, streets and side alleys to choose from that we enjoyed just exploring and seeing where our feet took us. Towards late evening, we found a couple of places for drinks and decided where to go for dinner. We found a great looking Thai restaurant round the corner from where we were drinking called Mai Thai, the place was fully booked and they were queuing out the door! Too hungry (and stubborn?) to go elsewhere we waited it out, but it was well worth the wait.
Within about 20 minutes or so we were seen to and a member of staff sorted us out with a table upstairs. Oli and I are both lovers huge of Thai food and this place did not disappoint and was definitely worth the wait! The also served up some fab cocktails which went down a treat with our spicy Thai curries.
After dinner, wanting to make the most of our last and only night in Antwerp we were on the hunt for somewhere good for drinks. Being a Sunday though, not that many places were open – and some places that Google / Tripadvisor said would be open, actually weren't open at all!
We have both had fab experiences of Belgium nightlife in Brussels and Bruges, and were surprised actually by how much we were struggling to find somewhere decent for drinks in Antwerp. After trying a few various bars (which were OK), we decided to have one last drink as a night cap. We read great things about Cocktails at Nine and set about tracking it down… could we find this place though? No! I had Google repeating "you have reached your destination" over and over to no avail. We walked up and down the same stretch of road so many times I lost count and we still never found it. It was about 9pm and bucketing it down with rain, so we darted into the nearest pub, which was right opposite the Cathedral and honestly THE creepiest pub I think we've ever been to…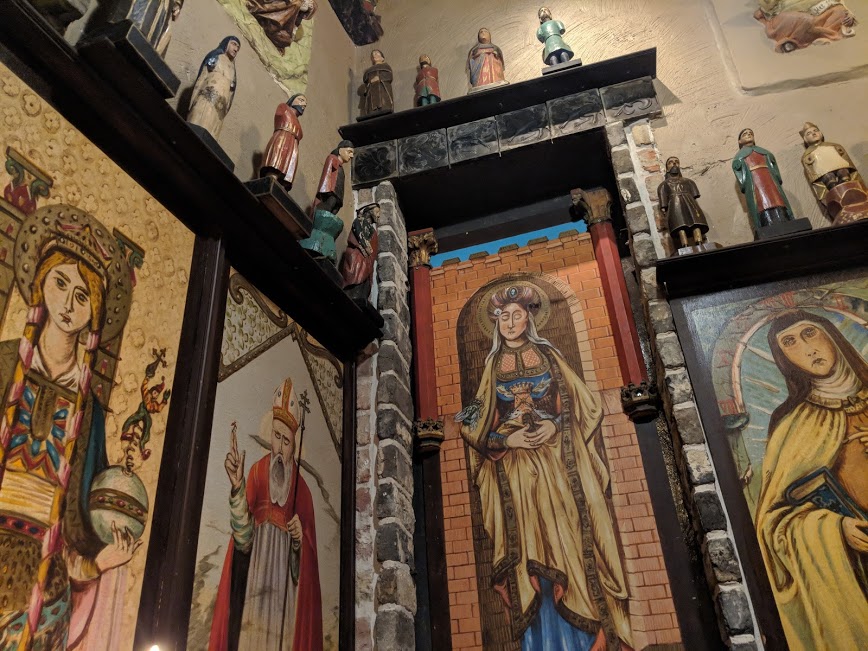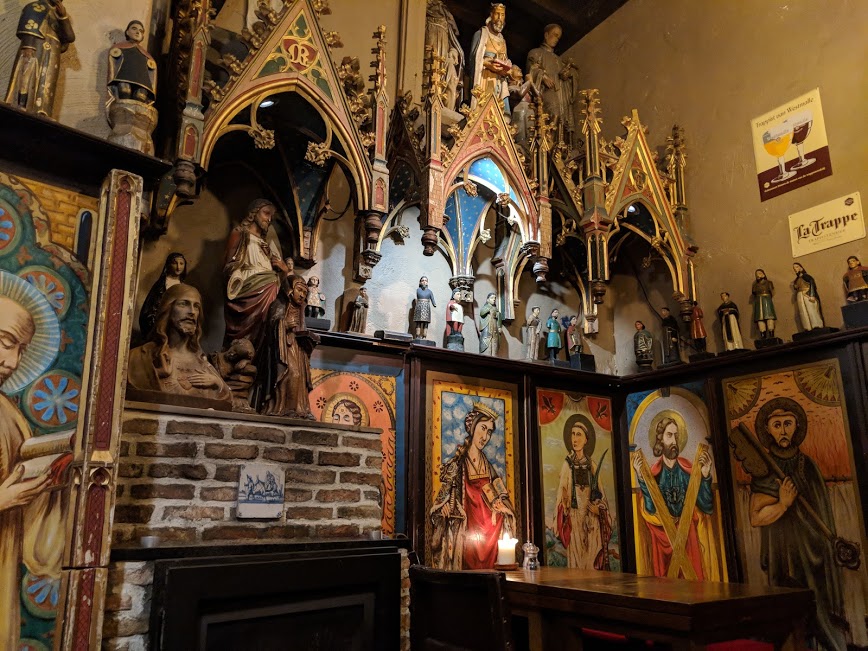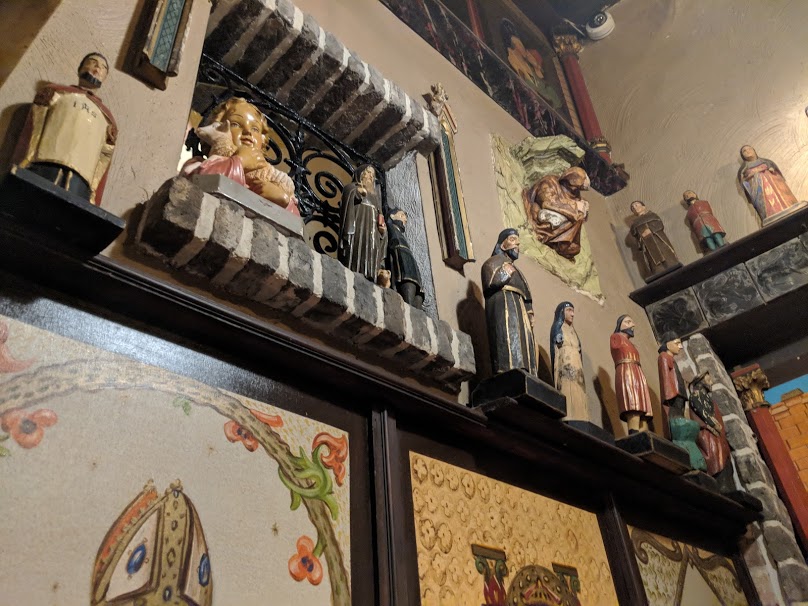 I mean…what is this place?? Yes we did pick somewhere opposite the Cathedral, but we didn't know it would be so intense inside. We ordered our drinks anyway and had a bit of a giggle inside. By 1opm or so, we were exhausted and legged back to our Airbnb through the pouring rain.
Last day
It was time for our amazing weekend in Rhineland (and Antwerp) to come to an end. We got up early, checked out of our Airbnb and set about enjoying our last few hours in the city. I forget Europe is a lot more relaxed than us high-maintenanced individuals from the UK, and actually most places don't open until gone 10am. Oli found a perfect little waffle house for breakfast, but that didn't open until 11am!
We decided to checkout the Central Station instead and enjoy the morning walk. The station is very cool, with massive windows and intricate detailing throughout the station.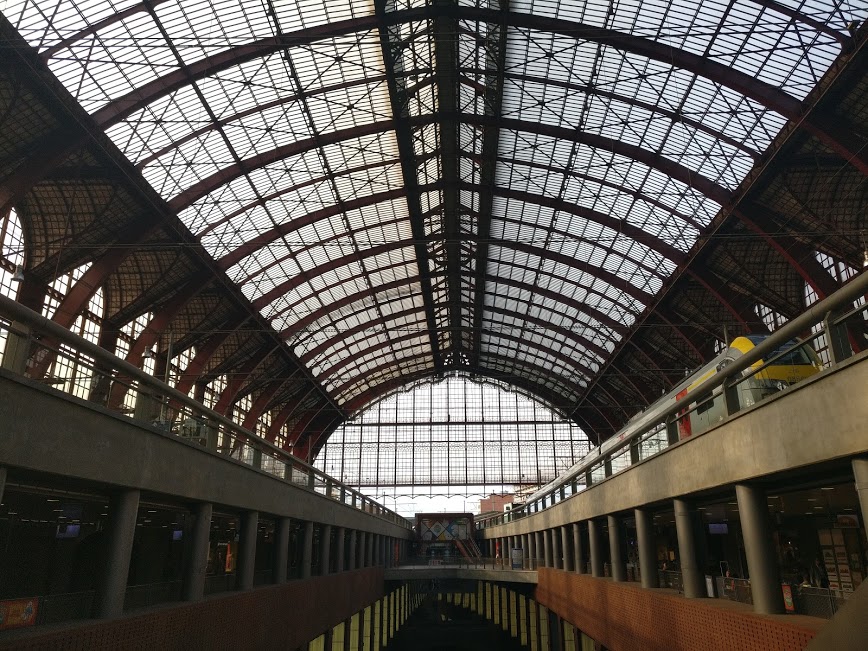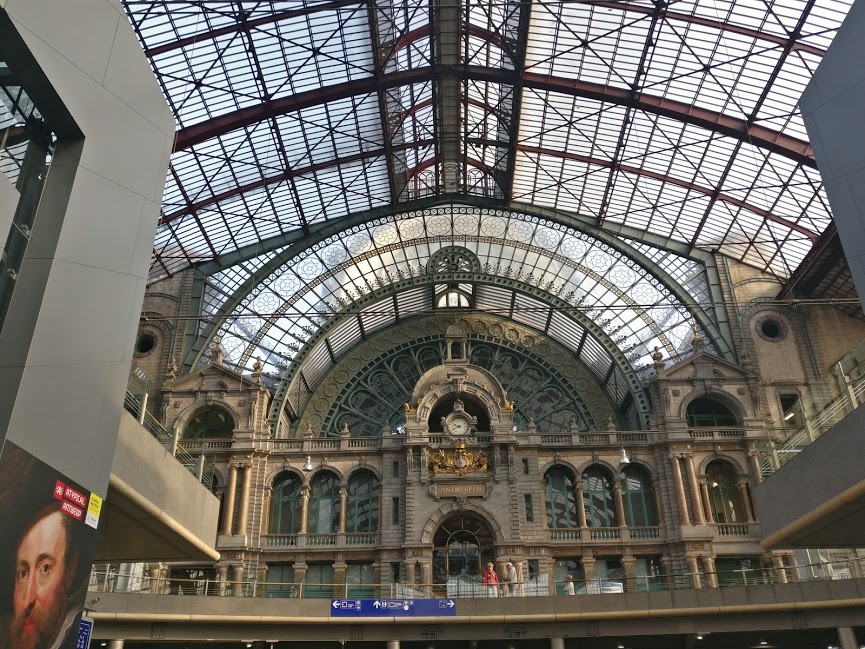 All in all, our last day in Antwerp wasn't that successful. We wanted to check out the Plantin-Moretus Museum, which is a printing press museum which holds two of the oldest printing presses made. However the museum is closed on Monday's! Annoyingly we had considered going to it on the Sunday when we arrived but we thought we'd be rushing (and never thought to check it would be closed on a Monday).
We decided instead to visit the Cathedral of our Lady. However neither of us are religious and we thought it was quite expensive to access inside. So we didn't get to do that either!
We were still holding out for breakfast though, so we grabbed a cup of tea in a local cafe and whiled away some time. Before we knew it it was 11am and we were sitting to enjoy the best waffles I've had in a very long time (probably since the last time we were in Belgium three years ago).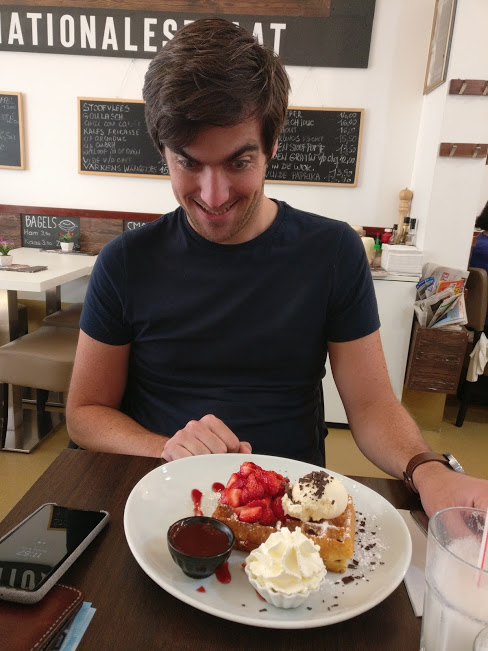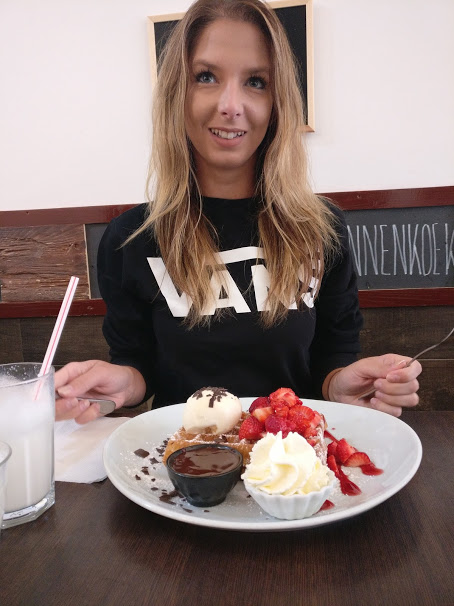 After brekkie, we decided it was time to say goodbye to Antwerp and head on home. We had the most amazing bank holiday weekend in Rhineland. Germany will always have a special place for Oli and I, and every time we go it just gets better and better and we find more and more that we love about Germany. I would love to go back and am already wishing for another weekend in Rhineland (or longer).
If you've had an amazing time in Germany too, or you have any questions about my post (or perhaps you just want to share that you enjoyed it) please leave a comment below. I'd love to hear from you!