Visiting Bangkok is an exhilarating experience. It's a slap in the face. A culture shock. It's a captivating blend of ancient traditions and modern dynamism. It's both stunning and chaotic. It's a sensory overload from the moment you step outside. It is a juxtaposition by definition, and on first experience you will either love it or hate it.
Amidst the urban buzz of dazzling skyscrapers, day-long traffic jams, tuk-tuks zipping back and forth and packed out pavements, you'll also find bustling markets, brimming with colourful, exotic fruits, and the tantalising aroma of street food filling the air. Grand, ornate templates glisten in the hot sun throughout the city, reflecting the country's spiritual side, and you'll see first-hand (even in a city like Bangkok) why Thailand is known as the land of smiles. Bangkok promises an electrifying experience for all. Below are top 10 bucket list activities to make the most of your time in Bangkok.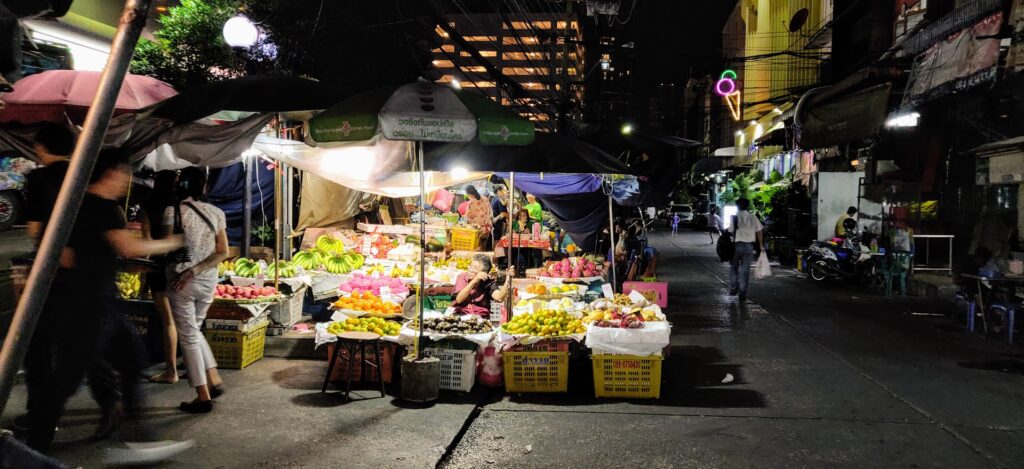 1. Eat your weight in street food, or go on a street food tour
Thailand is renowned for its street food. Think about sizzling chicken satays, steaming pots of curry, sweet, sour and spicy noodles, soups & broths, fresh banana pancakes and the taste sensation that is mango sticky rice. Street food is an integral part of Thailand's cultural fabric and is a way of life throughout the country. Street food vendors often become community hubs, where neighbours, friends and family come together over a good meal. It is incredibly cheap and affordable, attracting everyone from across the city, locals and tourists alike. It is also the epitome of authenticity, supporting local trade and watching dishes be prepared right in front of you.
One of your very first experiences in Bangkok must be sampling the delights of local street food vendors. That said, knowing where to start, what to order, the range of options available, and where to go can be overwhelming. I'd highly recommend you pair your street food experience with a street food tour. This is the best way to get acquainted with the city, try new foods and start to get your bearings of Bangkok as you navigate your way across the city.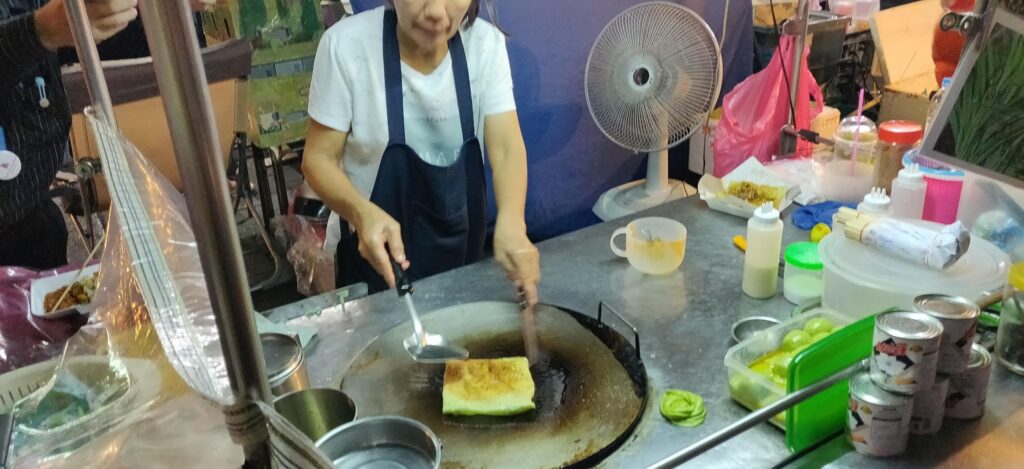 There are of course some hygiene factors to consider, and a tour will help give you some considerations. For example, satay's will often be cooked in bulk and left on the side for customers – ask for yours to be cooked fresh. Alternatively, if it looks like the food may have been sitting on the side for a while, just move on to the next vendor, you'll be spoilt for choice, so you won't be missing out by moving on elsewhere.
As a side note, it's also common practice to drink bottled water with a straw in Thailand. While the bottled water will be sanitary to drink, it's not always possible to guarantee sanitation of the lid or the bottle itself, using a straw helps minimise direct contact between your bottle and mouth. It may come in handy to carry a straw with you at all times in case a bottle doesn't come with one.
2. See the skyline from above
A view of Bangkok's skyline is like nothing else. The clash of traditional and modern skyscrapers is like a scene from a future-dystopian city in a film. There are various rooftop bars dotted across the city where you can quench your thirst and drink in the chaos of the city below you, but (in my opinion) none that offer a view that quite compares to the Moon Bar, up on the 61st floor of the Banyan Tree Hotel. Split over 3 levels, the rooftop offers stunning 360 degree views of the city around you. Cocktails are reasonably priced and taste damn good too! Come here especially for sunset, where you'll have unobstructed views of the sunset behind the city's scrapers.
Another hot spot worth trying close to the Moon Bar is the Zoom Sky Bar, located on the 40th floor at the JC Kevin Sathorn Bangkok Hotel. Come here at night to be sat amongst the glittering skyline lights.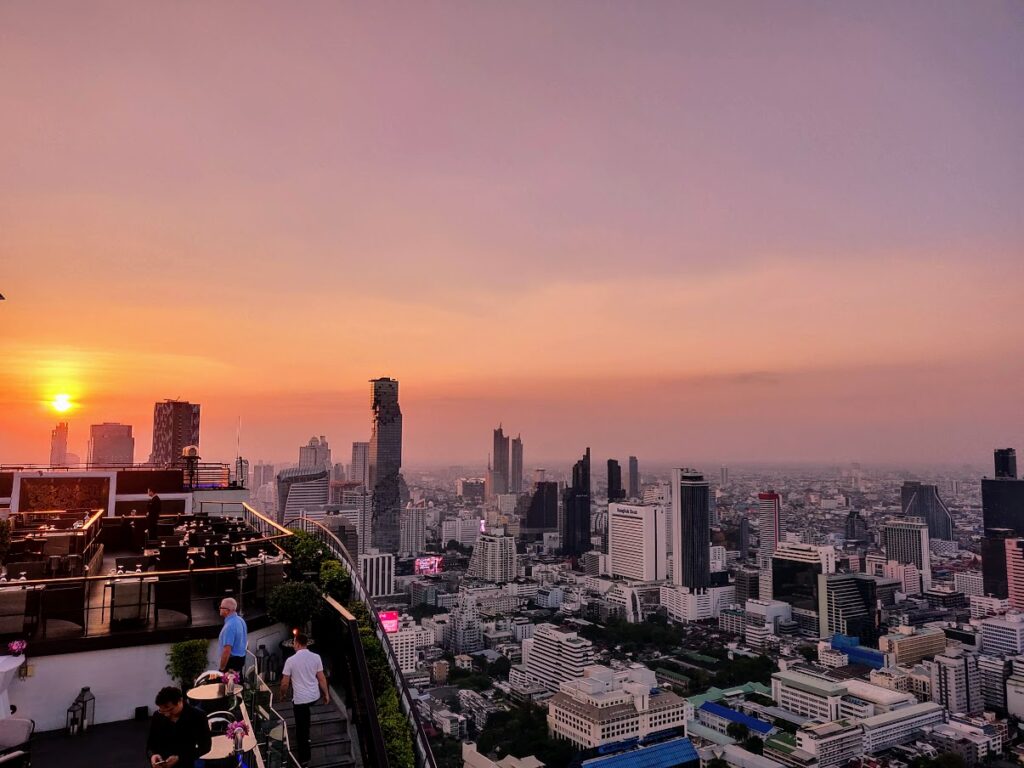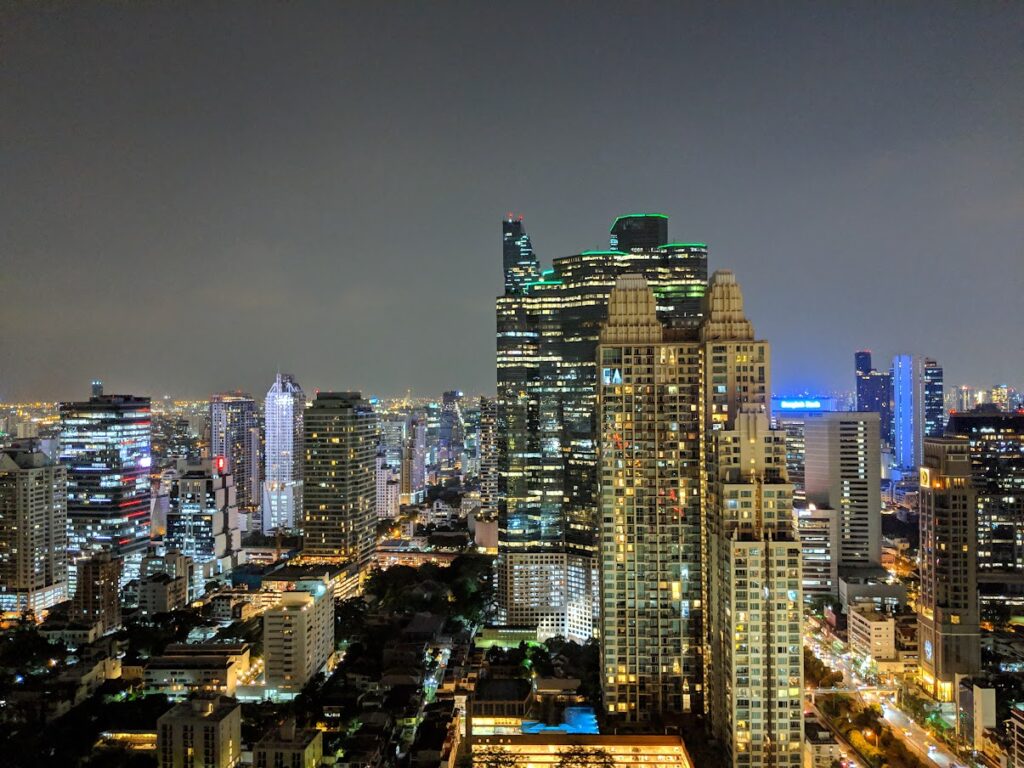 3. See the old capital, Thonburi
Once the capital before Bangkok, and known then as the Thornburi Kingdom, Thonburi is a rural residential area within the larger metropolitan area of Bangkok. Consisting of small villages and twisting canals, Thonburi offers a unique blend of historical charm, cultural heritage (with plenty of temples to visit) and a more laid-back vibe and atmosphere, compared to the chaos of the city centre. It is a completely different side to Bangkok and well worth spending a day here.
Thonburi offers a glimpse into local life; a quiet life along the river, with close-knit communities, family restaurants, and vibrant local markets. One of the most well-known is Khlong Lat Mayom Floating Market, where you can explore stalls selling fresh produce, local dishes, handicrafts, and more along the canals.
Wat Hong Rattanaram and Wat Kalayanamit are two must-see temples in the area also, known for their serene ambiance and beautiful temple detailing.
A trip here will definitely not disappoint, you will be completely immersed in Thonburi life. If you fancy a visit, I really recommend booking a day trip with Small Teak Boat Canal Adventure, who will show you all the sights, amazing temples and the best local eateries in the area. This trip was our Bangkok highlight!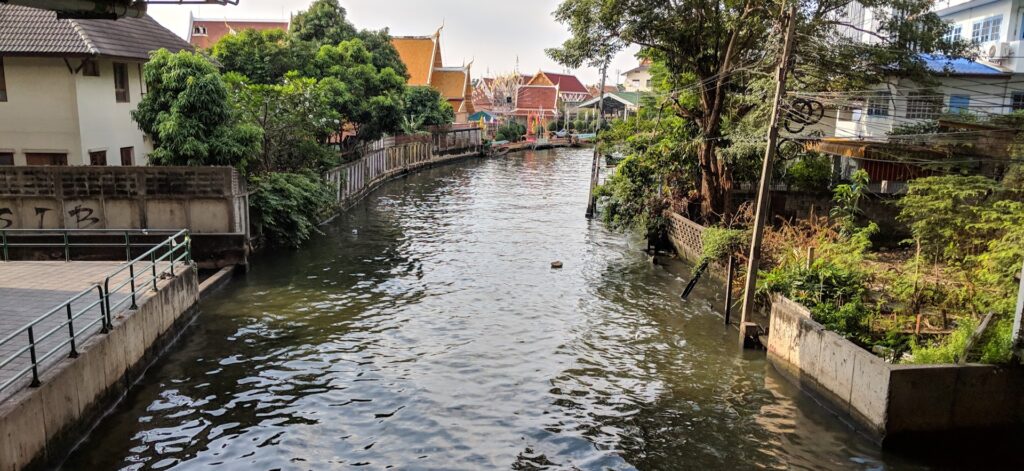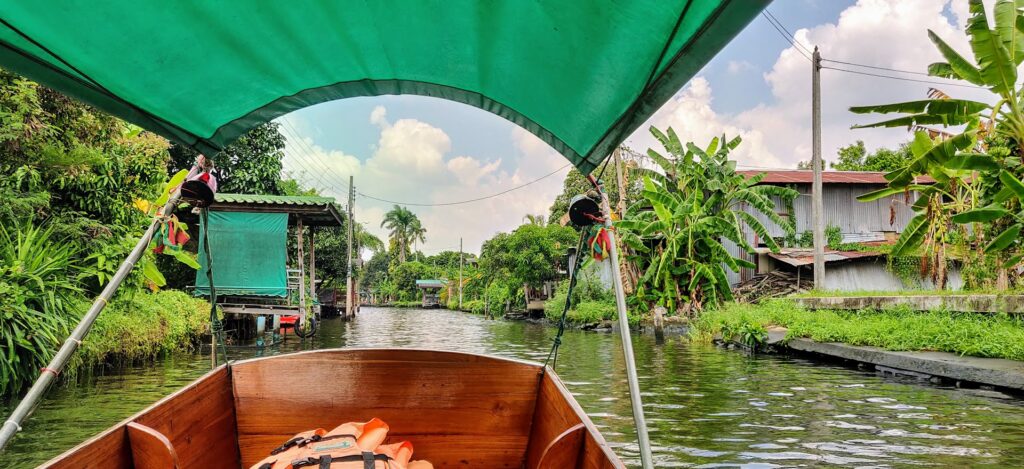 4. Visit a market
Visiting a market in Bangkok promises a vibrant and sensory-filled experience, immersing you in the heart of Thai culture and daily life, from street markets, floating markets or traditional bazaars, Bangkok has it all!
Markets in Bangkok are known for their lively atmosphere and bustling crowds, with vibrant stalls and kaleidoscope of products, from fresh produce and street food, to handicrafts, clothing, trinkets and souvenirs. The markets are truly a treasure trove to explore and provide a window into local customs, traditions and everyday life, where you can observe how locals interact and you can chat to sellers to learn more about their products.
You can spend as much time or as little time at the markets as you like, so they're easy to fit into your plans. Some of the best markets in Bangkok include Damnoen Saduak Floating Market and the Chatuchak Weekend Market, with over 15,000 stalls!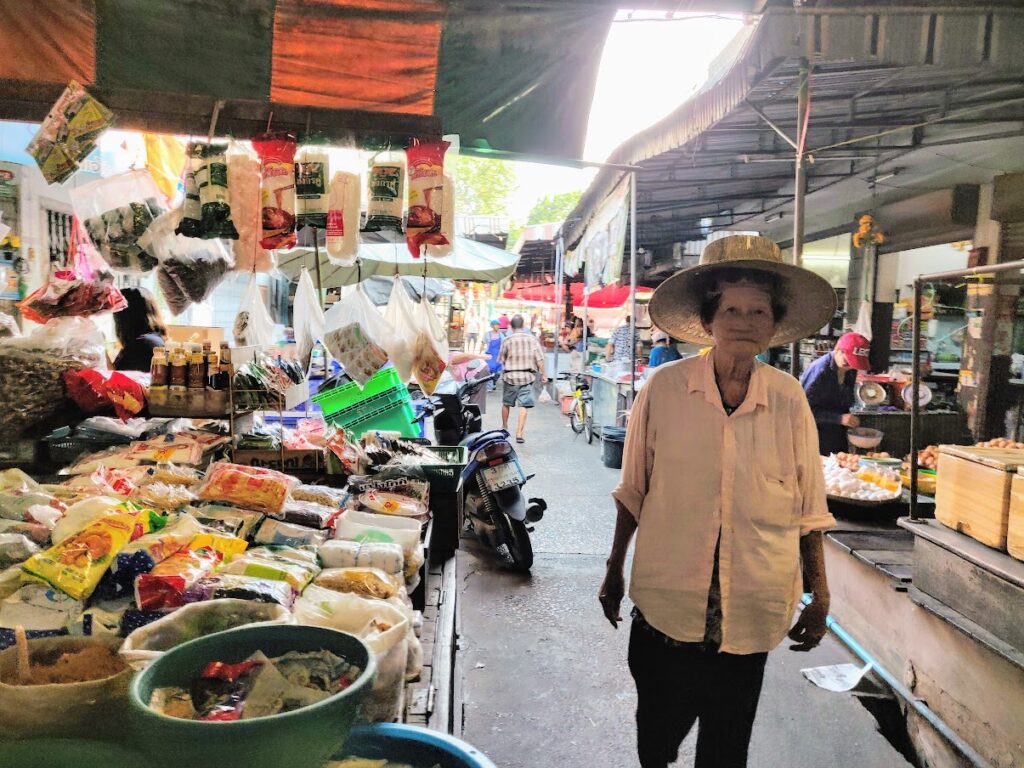 5. Take a stroll in Lumpini Park
At over 500,000sqm, (142 aces) Lumpini Park is a lush green paradise smack bang in the heart of the city centre, often referred to as "the green lung" of Bangkok, it is what Central Park is to New York.
Situated in the Sathorn District, Lumpini Park is easily accessible from all areas of Bangkok, and is a tranquil retreat for locals and tourists alike. In the mornings you'll often see locals from all over the city jogging or completing a morning Tai Chi ritual. The park is also home to a diverse range of flora and fauna, including various species of birds, monitor lizards and bats which zip across the lake in the evenings.
You should particularly come to the park during the Loy Krathong Festival, which sees people gather around the city's lakes, rivers and canals to pay respects to the goddess of water by releasing beautiful lotus rafts, decorated with candles, incense and flowers onto the water. The lake in the centre of the park is usually a popular spot – you could even buy or make your own float to take part in the festivities!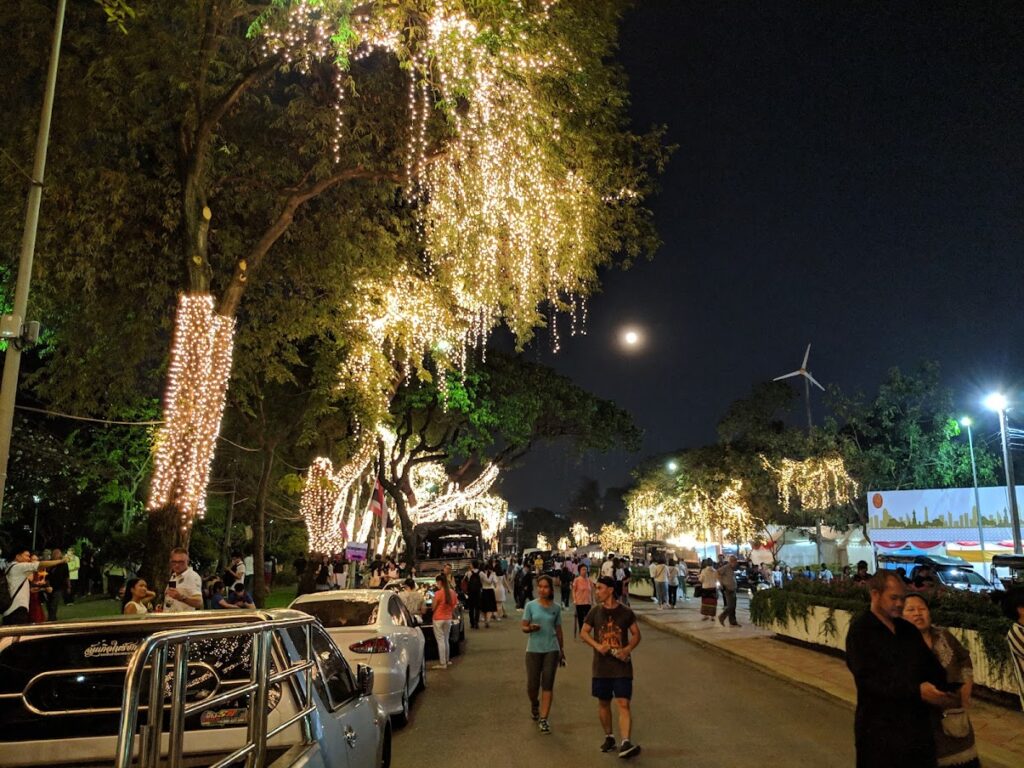 6. Explore Chinatown
Bangkok's Chinatown is a microcosm of cultural diversity and fusion. It's a vibrant neighborhood where Thai and Chinese cultures intertwine, creating a lively and dynamic atmosphere that's unlike any other. If you thought Bangkok city centre was a sensory overload, just wait until you come to Chinatown.
The area has a rich history dating back over a century, and is dotted with historic buildings, temples, and narrow alleys that throw-back to its early days as a trading hub and immigrant enclave. The main street in Chinatown, Yaowarat Road, comes alive in the evening with colorful signs, bustling markets, and a lively street food scene. In fact, you'll find an incredible array of street food stalls condensed here, plus traditional eateries all serving up delectable dishes, from savory noodles to dumplings and curries.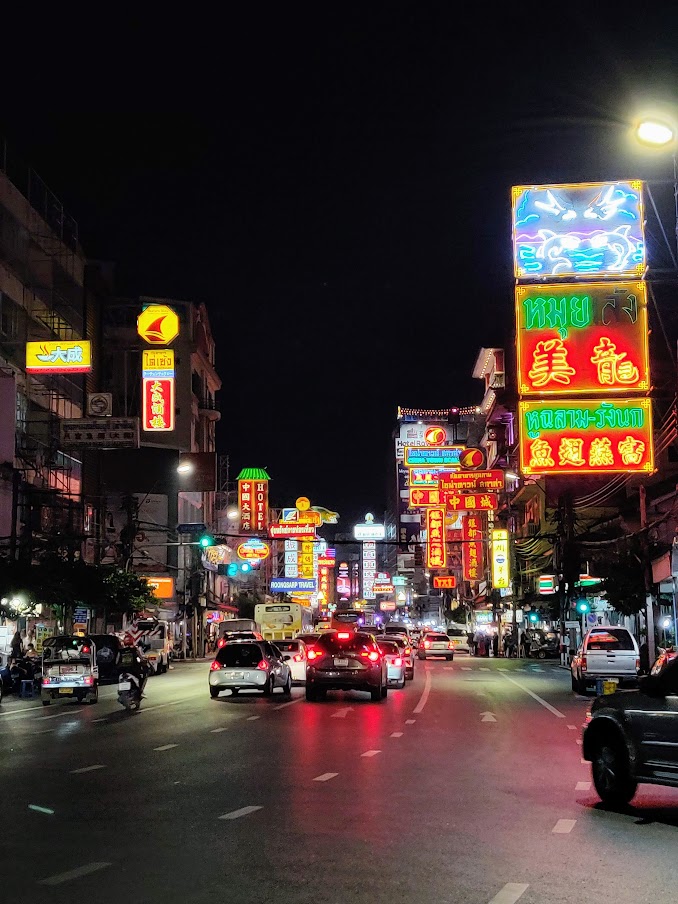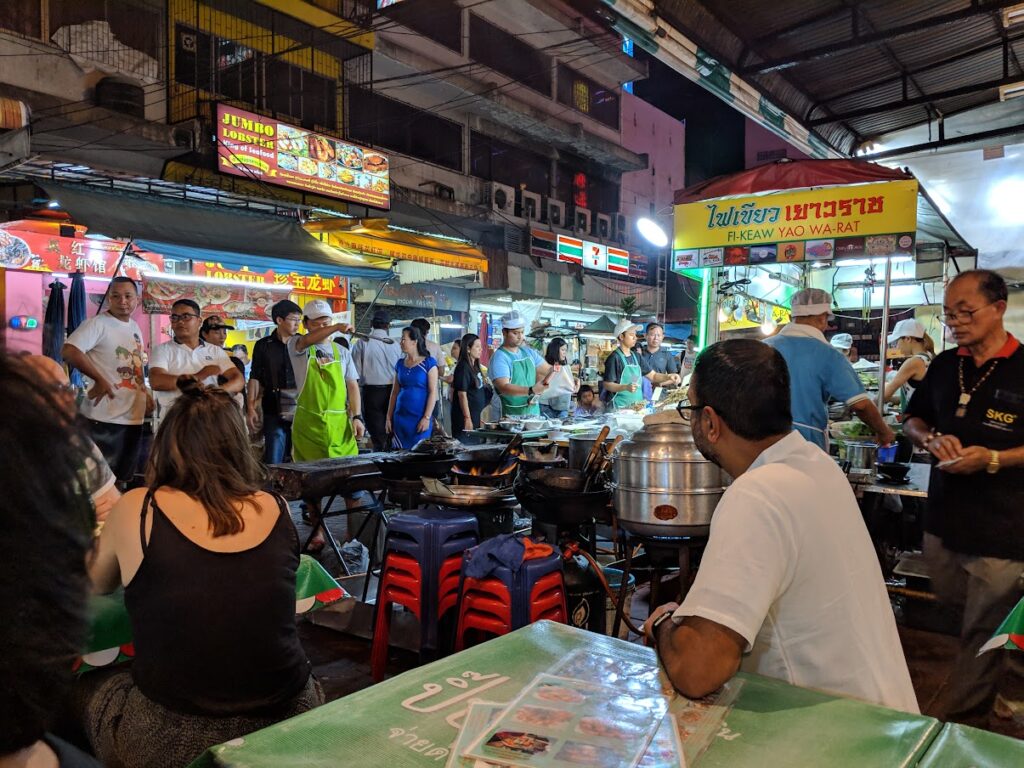 It can get very busy, and finding an available table can be difficult, but you can either wait and move on to one of the other many, many, many stalls you have at your disposal. It's probably worth getting here early evening though to ensure you can definitely secure a table somewhere.
But Chinatown is not just known for its food, but for its gold shops also, where you can find intricate jewelry and gold artifacts. You can also find everything here, from textiles and clothing to electronics and household goods.
7. Temple hopping
With over 400 temples, you could easily spend your time in Bangkok visiting its magnificent temples, each with its own unique charm, history and significance.
First and foremost, Bangkok's temples, also known as "wats," are living testaments to the country's deep-rooted Buddhism. They are not only places of worship but also architectural marvels adorned with intricate details, glistening gold, and vibrant colors. By exploring these temples, you'll gain insights into Thai spirituality, history, and artistry. Visitors are expected to show respect by dressing modestly, removing shoes before entering sacred areas, and maintaining a hushed and contemplative demeanor.
You'll encounter countless Buddha statues and images of various sizes and poses. Be mindful not to touch them, and never climb on or point your feet at Buddha statues.
Three of the most popular temples worth visiting (and easily doable in one day) include Wat Phra Kaew (Temple of the Emerald Buddha), Wat Pho (Temple of the Reclining Buddha) and Wat Arun (the Temple of Dawn).
We have a separate write-up about visiting these temples on a DIY-temple hopping tour here, including an overview of appropriate temple etiquette and what to wear.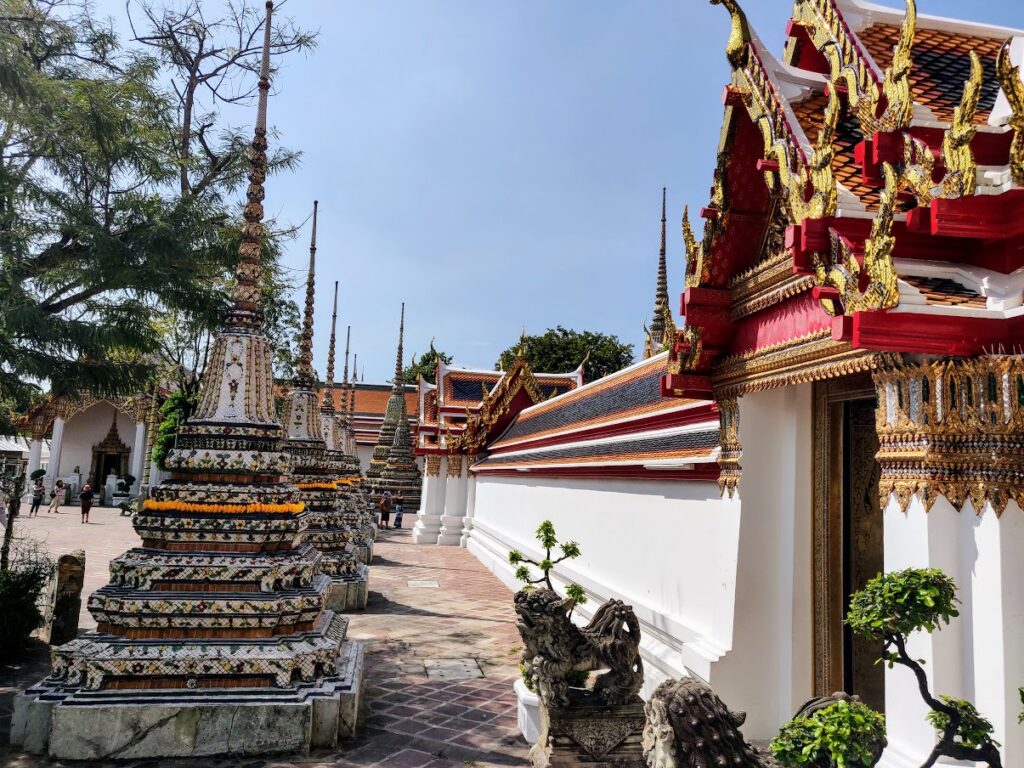 8. Ride a Tuk-Tuk
Tuk-tuk's offer a quick and easy way to get around the city and no trip to Bangkok is complete without experiencing the exhilarating ride of a Tuk-Tuk. You can find them everywhere in Bangkok – you can either hail a Tuk-Tuk but sticking your hand out (same as you would any other taxi) or alternatively, you'll tend to see the drivers waiting around on the streets, near busy markers or near major tourist areas.
Beware the fares can be inflated – however Tuk-Tuk fares are typically negotiable. Make sure you ask the driver for the fare to your destination first and then negotiate to a price that works. Fares are usually cash-only so make sure you have some change on you. Whilst bargaining is part of the fun, please be respectful and fair when negotiating, and above all, make sure you savour the experience as your Tuk-Tuk driver zig-zags its way through the lively Bangkok scenery.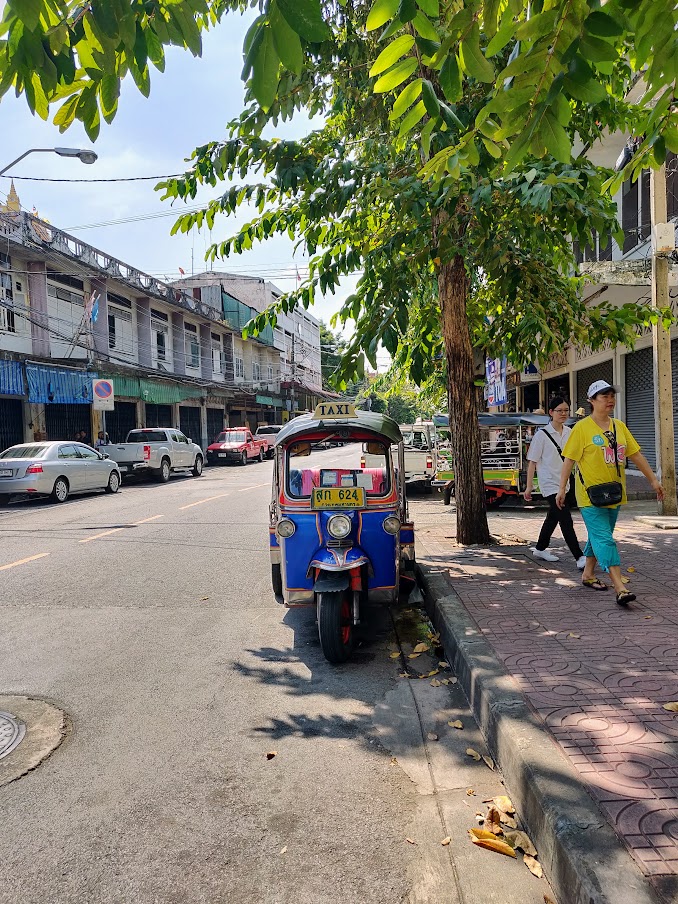 9. Explore Thailand by river
To truly appreciate this dynamic metropolis, consider exploring it by one of its most iconic features—the Chao Phraya River. This flowing central river, earning Bangkok the nickname "Venice of the East", is the lifeblood of the city, with many commuters, tourists and freight transporters accessing the river all-day long.
The Chao Phraya River offers picturesque views of the city and its iconic landmarks, from temples and palaces, to vibrant neighborhoods. Navigating Bangkok's notorious traffic can be challenging, and the river provides a quick, but serene and efficient way to travel the city, particularly if you're short on time in Bangkok. You can hop on one of the various ferries which sail up and down the river, to visit some of Bangkok's most popular attractions, such as The Grand Palace, Wat Pho and Wat Arun, all of which can be found alongside the Chao Phraya River.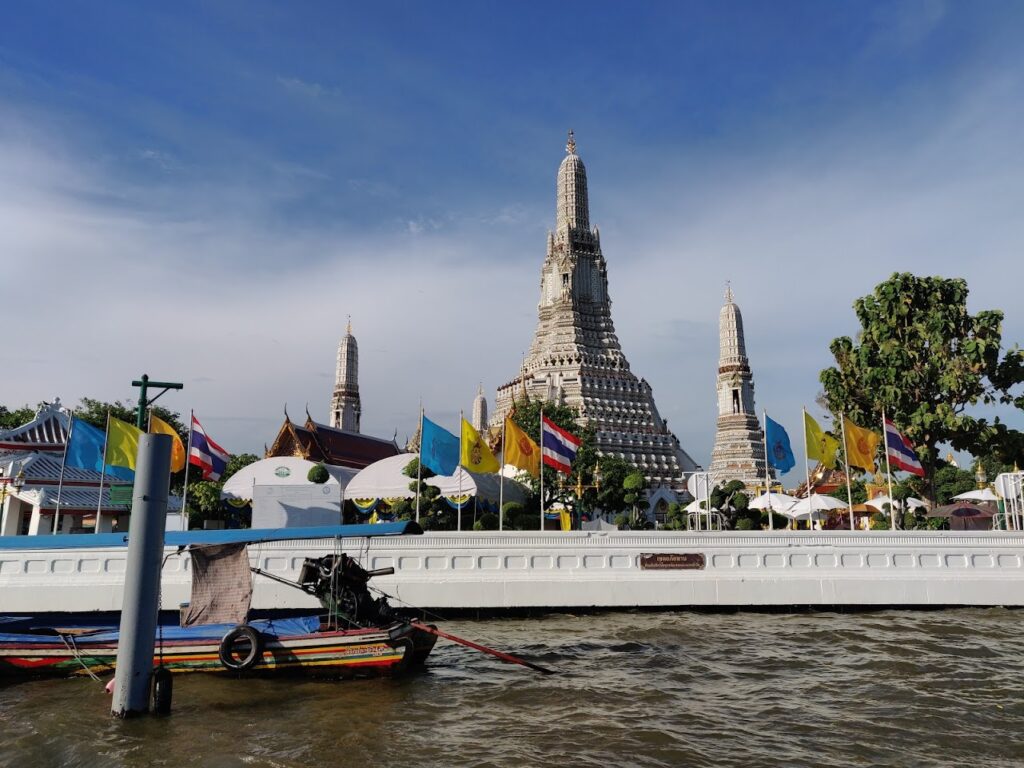 10. Visit the Grand Palace
Built in 1782, the Grand Palace is a vast complex of over 100 buildings, palaces, courtyards and pavilions, which served as the official residence of the Thai monarchs for over 150 years. The Grand Palace is a stunning masterpiece of Thai architecture and design, shimmering in gold leaf, each building is beautifully impressive, characterised by intricate details, ornate decorations and colourful mosaics, and wrapped by a tall 1.9km long wall. This is one of Bangkok's top attractions, so if you're visiting the Palace make sure you get here early. 

The palace is well worth a visit, not just for its royal heritage and history, but because within the grounds of the Grand Palace complex is one of the most important and sacred temples in Thailand, Wat Phra Kaew, housing the highly regarded Emerald Buddha, a small, ancient statue carved from a single block of jade. It is considered the most sacred and holist Buddha image in Thailand.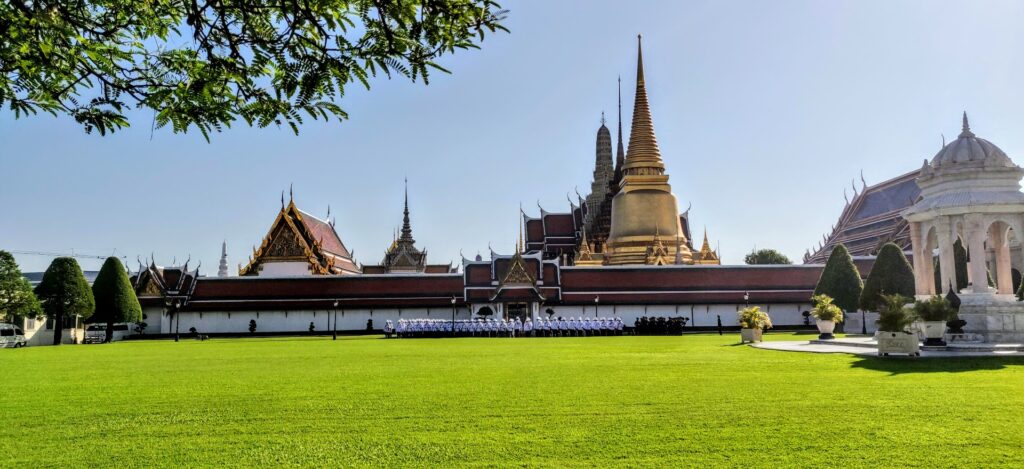 I hope you found this bucket list of things to see and do in Bangkok helpful and hopefully you've got some ideas for when you visit this incredible city. If you've visited any of these sights, please share your experiences below, or if there's something missing that you'd recommend feel free to share below – we'd love to hear them! Thanks 🙂