Bangkok is home to a vast number of temples, each with its own unique charm, history and significance. Temple hopping in such a bustling city like Bangkok can feel overwhelming. With over 400 templates to choose from, how do you know which temples to visit? In what order? How easy is it to travel between them? Where do you start?
This guide plans to cover everything you need to know for a day of temple hopping in Bangkok, from which temples to visit, how to visit each, and what etiquette you need to be aware of when visiting temples in Thailand, all based on my own experience doing this exact route during our 3 days in Bangkok.
Etiquette when visiting Thailand's temples
Appropriate etiquette must be followed when visiting temples in Thailand, not only as a matter of cultural sensitivity, but it's also a way to show respect for the religious and spiritual traditions of the country. Below are some key points you need to abide by:
Dress modestly – wear respectful clothing that covers your shoulders, arms, knees and ankles. More detail on what to wear when visiting temples is outlined below
Cover tattoos – if you have tattoos, especially ones that depict religious or cultural symbols, consider covering them as a sign of respect
Remove your shoes – before entering any temple, remove your shoes. Most temples provide designated areas for your shoes to go
Know how to sit (and don't show your feet) – when sitting, tuck your feet beneath you in a kneeling position. Never point your feet towards Buddha images, which is considered impolite
Never stand on the threshold, always step over it – this is so as not to awaken sleeping spirits
Be respectful – maintain silence and serenity. Temples are places of worship, meaning and reflection. Keep your voice low and maintain a calm demeanor. Do not shout, laugh loudly or engage in any disruptive behaviour. Do not take any phone calls inside the temple or the temple grounds – it is also worth putting your phone on silent
Photography etiquette – ask for permissions before taking photos inside temple buildings. In some temples, photography might be restricted or allowed only in specific areas. This will be sign-posted so you're aware
PDA – avoid any public displays of affection, such as hugging or kissing within temples or temple grounds, as this can be considered inappropriate in a sacred setting
What to wear when visiting Thailand's temples
When visiting temples in Thailand, it's important to dress modestly and respectfully to show your reverence for the sacredness of the sites and the local culture. While these are tourist attractions, they are also culturally significant sites and active places of worship, so there is a strict dress code which must be followed. Ultimately, temple hopping is a long day spent on your feet, in the hot, hot temperatures of Bangkok; wear comfortable, loose-fitting clothing that allows your skin to breathe and will avoid you over-heating.
Tops: wear something respectful that covers your shoulders and arms. There must be no mid-rift on show (so no crop tops) and no low-cut tops which may be deemed inappropriate or disrespectful. Do not wear anything see-through or made from a sheer material
Bottoms: choose long maxi skirts or trousers which extend below the knees, ideally past your ankles as some temples are stricter than others. Avoid wearing shorts, miniskirts / minidresses or tight-fitting trousers
If your top is sleeveless or has thin straps, bring a scarf or shawl with you to drape over your shoulders. You can also tie it around your waist as a sarong if you're wearing a skirt. Many stores outside the temples sell shawls if you need one last minute.
Footwear: Wear something you're comfortable walking around all-day in. Make sure they're well and truly broken in – this is not the day to be wearing brand-new shoes. You will also need to take your shoes off each time you enter a temple, so wear something that's easy for you to slip on and off. It's also worth highlighting that some temples won't allow bare feet, so bring a pair of socks with you, just in case.
Your temple hopping guide and itinerary
Usually when we travel, we try to strike a balance between seeing the main sights of the location we're in, whilst also favouring something a bit more "off the beaten track" away from the main tourist hustle and bustle. With over 400 temples to choose from, we had this exact problem when planning which temples to visit in Bangkok. Ultimately, we settled on the below 4 temples which felt doable in one day, and although some of the most popular, we felt they were the most popular for good reason!
The Grand Palace + Wat Phra Kaew (Temple of the Emerald Buddha)
Temples ("wats" in Thai) don't get any grander – or busier – than Wat Phra Kaew and The Grand Palace, which is why we'd recommend that you start your temple hopping day here. Fully expect the Grand Palace to be busy the moment the doors open, but from then onwards it's only going to get busier – best to get this done sooner (in our opinion). We arrived at 8:30am as soon as the doors opened, and this was our view trying to enter: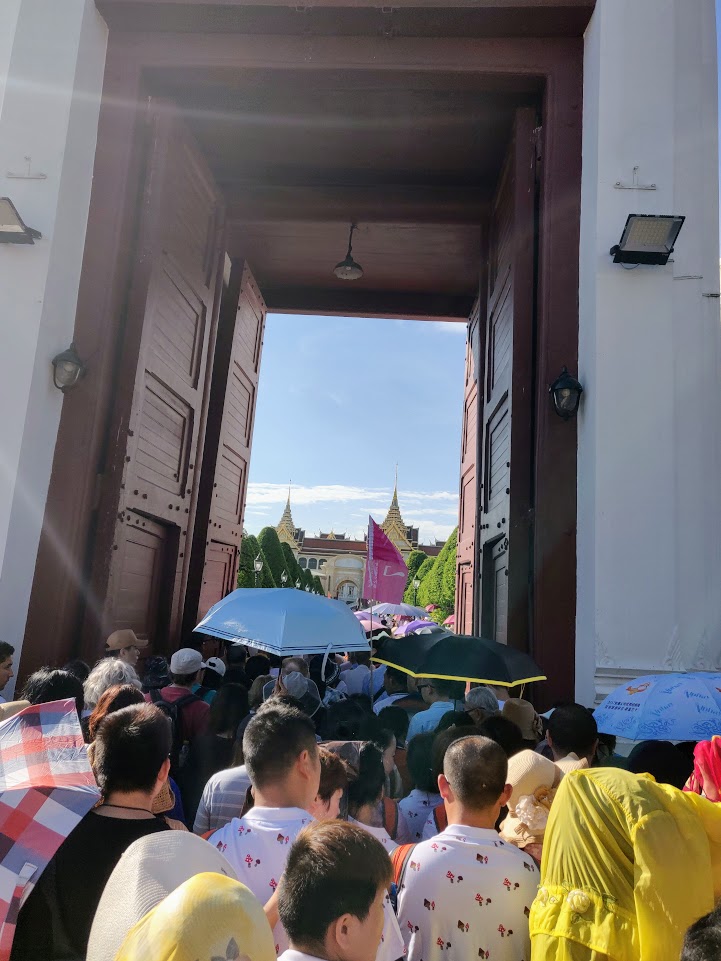 But don't let the crowds put you off! Built in 1782, the Grand Palace is a vast complex of over 100 buildings, palaces, courtyards and pavilions, which served as the official residence of the Thai monarchs for over 150 years. Some of the buildings are restricted, and while it is no longer the royal residence, some buildings are used as Government offices and the Grand Palace remains an important centre for royal ceremonies and events.
The Grand Palace is a stunning masterpiece of Thai architecture and design, shimmering in gold leaf, each building is beautifully impressive, characterised by intricate details, ornate decorations and colourful mosaics, and wrapped by a tall 1.9km long wall. You can easily spend your time here just marvelling at the ornate structures and vivid murals.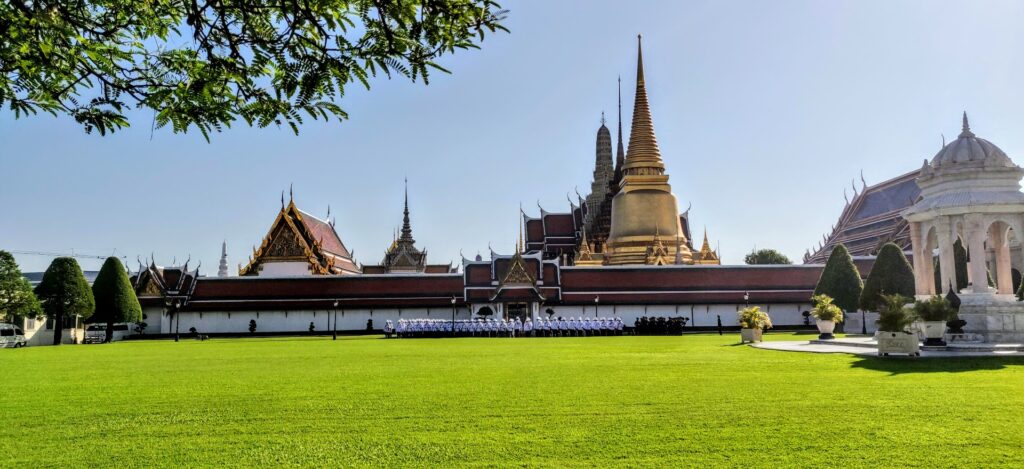 The complex is split into two main areas: the royal residential areas, and Wat Phra Kaew.
Within the grounds of the Grand Palace complex is one of the most important and sacred temples in Thailand, Wat Phra Kaew, housing the highly regarded Emerald Buddha, a small, ancient statue carved from a single block of jade. It is considered the most sacred and holist Buddha image in Thailand. You cannot take photos inside this temple, but it is well worth a visit.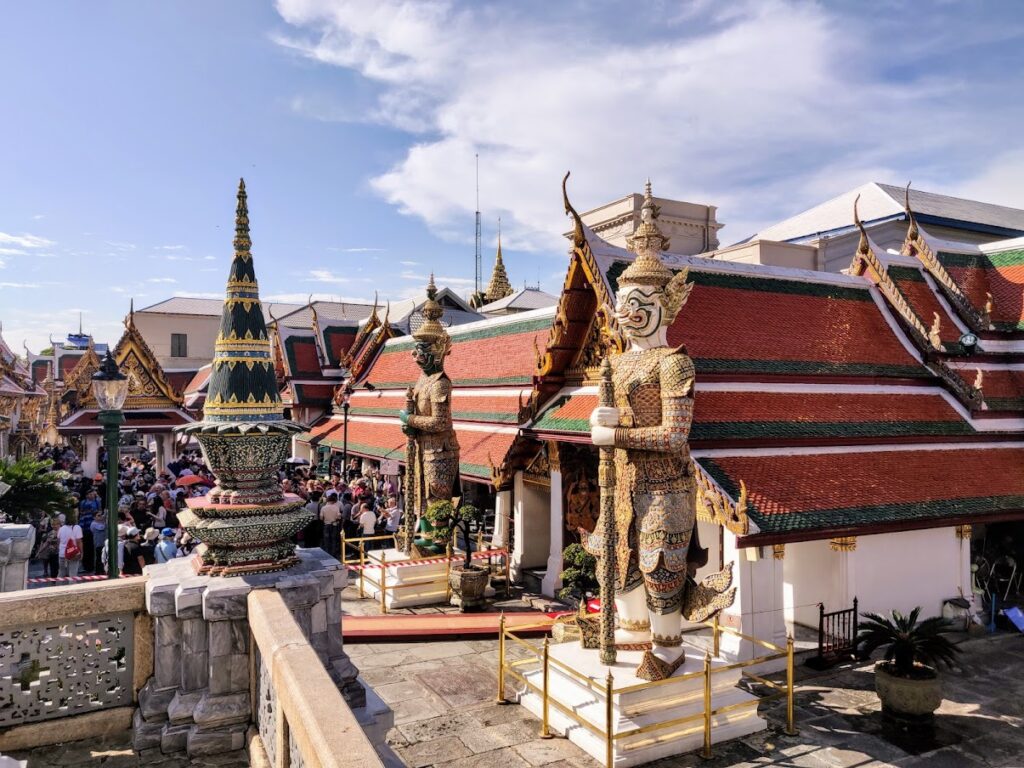 How to get there: The Grand Palace is located in the heart of the city, near the Chao Phraya River, making it easily accessible. Depending where you're travelling from, you can take the scenic Chao Phraya River Ferry to Tha Chang (N9), which is the nearest pier to the temple, a short 5-minute walk away. The nearest Metro station is Sanam Chai and less than a ten-minute walk north. Or alternatively, you can get a Tuk-Tuk (faster than a taxi).
Opening times: The Palace is open 8:30am – 3.30pm, 7 days a week, with the exception of closures for key religious events.
Things to note: We found that The Grand Palace had the strictest rules when it came to dress code. I wore a jumpsuit which sat just above my ankles, and I was made by security at the gate to buy a pair of trousers which covered them. I later saw others walking around the grounds of the palace wearing midi-dresses or ankle grazer trousers. I'm not sure why I got singled out, or whether it was part of a tourist scam, but it's something to keep in mind when visiting.
Also just down the road from the Grand Palace is Amulet Market, a bustling handicrafts bazaar, selling Buddhist amulets, totems, coins & good-luck charms. This is definitely worth a detour, and then grab an early lunch from a street food vendor or café on your way to the next temple.
Wat Saket (The Golden Mountain)
Next on the itinerary we have Wat Saket, also known as the Golden Mountain Temple. This was our favourite temple we visited, and is a stunning and captivating temple, nestled on top of a man-made hill, overlooking all of Bangkok.
Wat Saket's origins trace back to the Ayutthaya period (14th-18th Century – although it underwent major renovations in the late 18th Century). It sits on top of a 79m high white mount, known as Phu Khao Thong, with a sweeping spiral staircase of 318 stairs around the outside of the mount, presenting you with stunning views over the city as you ascend. At the entrance before the staircase is the biggest set of leafy trees and vines draping above you, and you easily feel like you could be anywhere else other than in the heart of Bangkok.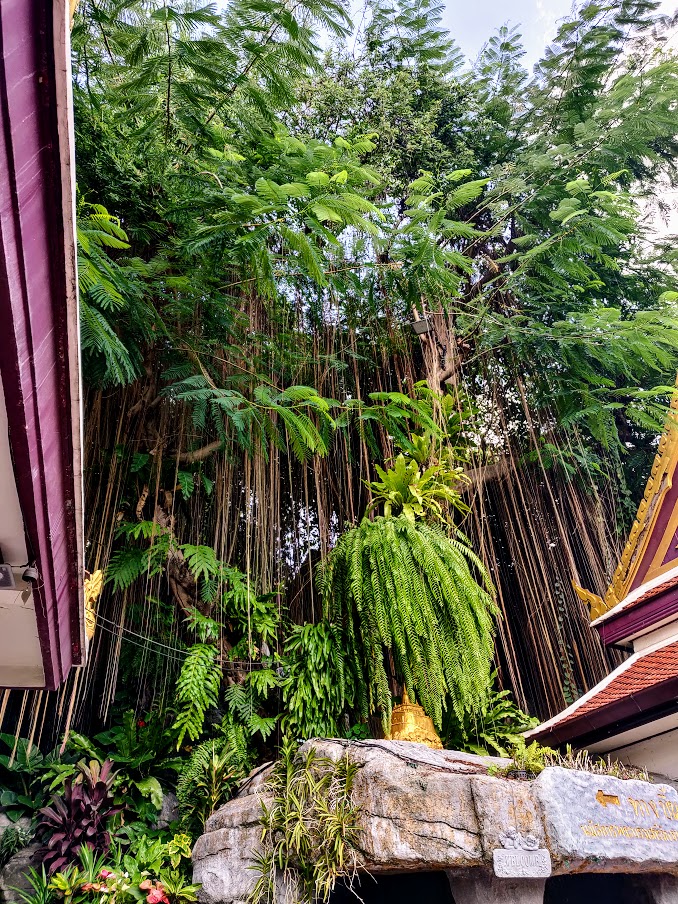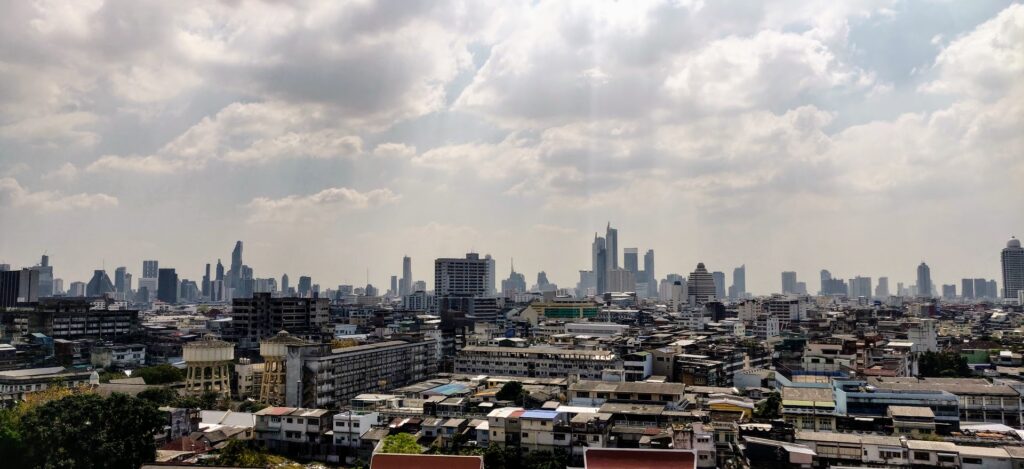 One of the temple's most distinctive features is its gleaming gold chedi (stupa) that crowns the top of the temple complex, where from the roof you have yet more panoramic views across the city. This will likely be a very different experience to the Grand Palace, and we felt that Wat Saket embodied everything we thought a temple should be, it was serene and peaceful, with nothing but the sound of birdsong and windchimes from the roof. A true oasis within the city.
Inside the temple you will most likely see locals giving their respects and prayers, so ensure you're quiet and respectful as you wander around the building.
How to get there: From the Grand Palace, there is no metro or River Taxi. You can choose to walk to the temple, which will take you roughly 30 minutes, maybe more depending how hot it is, or if you choose to stop for some food. Alternatively, you can grab a Tuk-Tuk, which shouldn't take you more than 10 minutes.
Opening times: Wat Saket is open 7:00am – 7.30pm, 7 days a week.
Things to note: The Golden Mountain feels much more relaxed than the Grand Palace, but remember to keep your shoulders and anything above your knees covered. If you're catching a Tuk-Tuk to the temple from the Grand Palace, make sure you agree a fare with the driver first – fares are usually negotiable. They are also usually all cash payments only, so make sure you have some change on you.
Wat Pho (The Temple of the Reclining Buddha)
Wat Pho is one of the oldest and largest temples in Bangkok, dating back to the 16th Century. The temple is expansive and consists of multiple courtyards with beautifully landscaped gardens and serene ponds, chapels, and intricately adorned buildings with ornate decorations or colourful ceramics.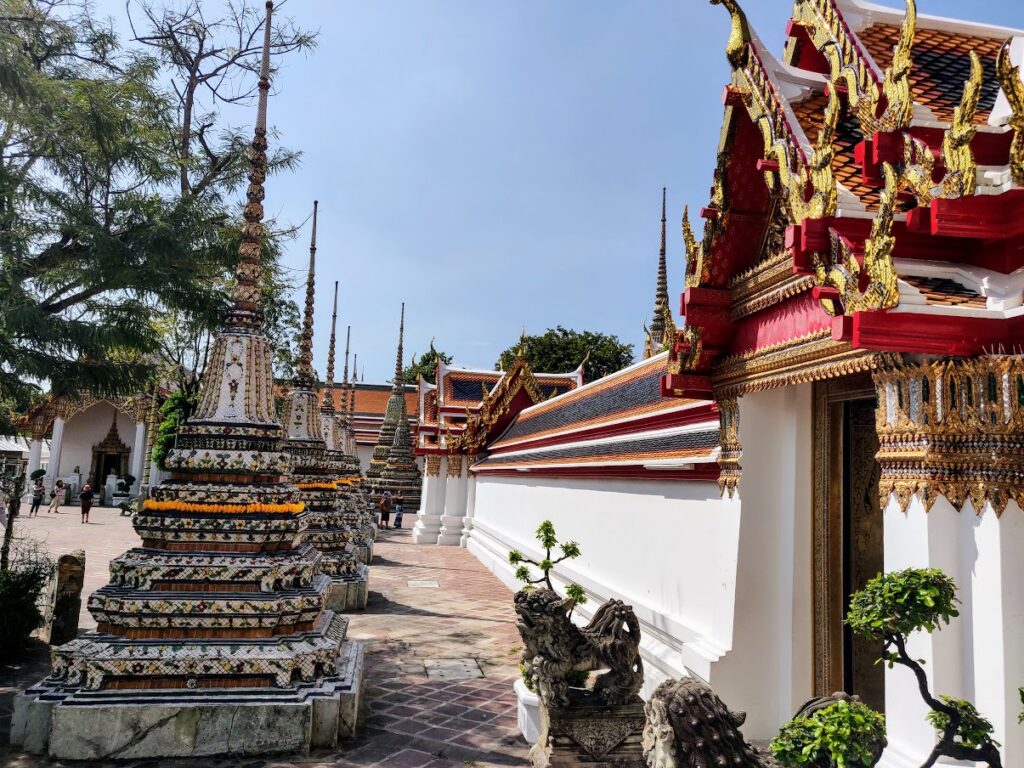 The temple is famous however for is colossal reclining Buddha, covered in gold leaf and measuring an impressive 46m in length and 15m in height. It is an important symbol of Buddha's entry into Nirvana. The Buddha's feet (measuring 4m long) also consist of beautiful mother-of-pearl decorations. The Reclining Buddha really is a sight to behold – as such you can expect it to be very busy! When we visited there wasn't a sole to be seen in the complex, only to find everyone crammed inside the temple to see the Reclining Buddha.
But Wat Pho is not just known for this, it has the country's largest collection of Buddha images, and is also recognised as an important centre of traditional Thai massage, and houses a renowned school teaching Thai massage techniques.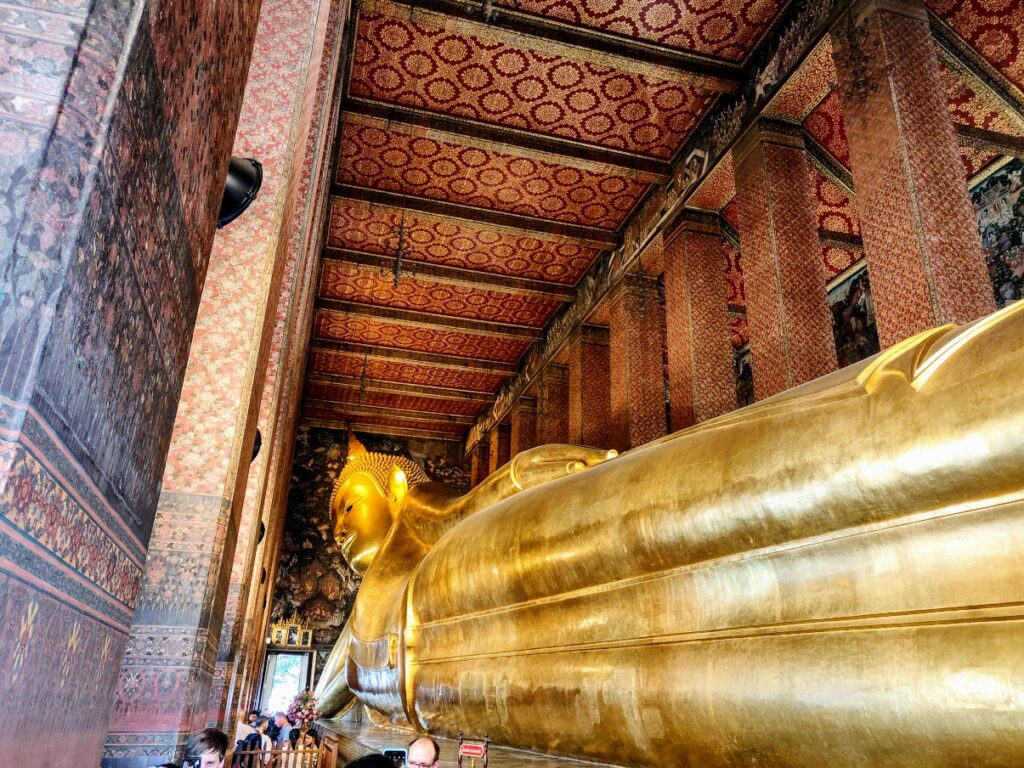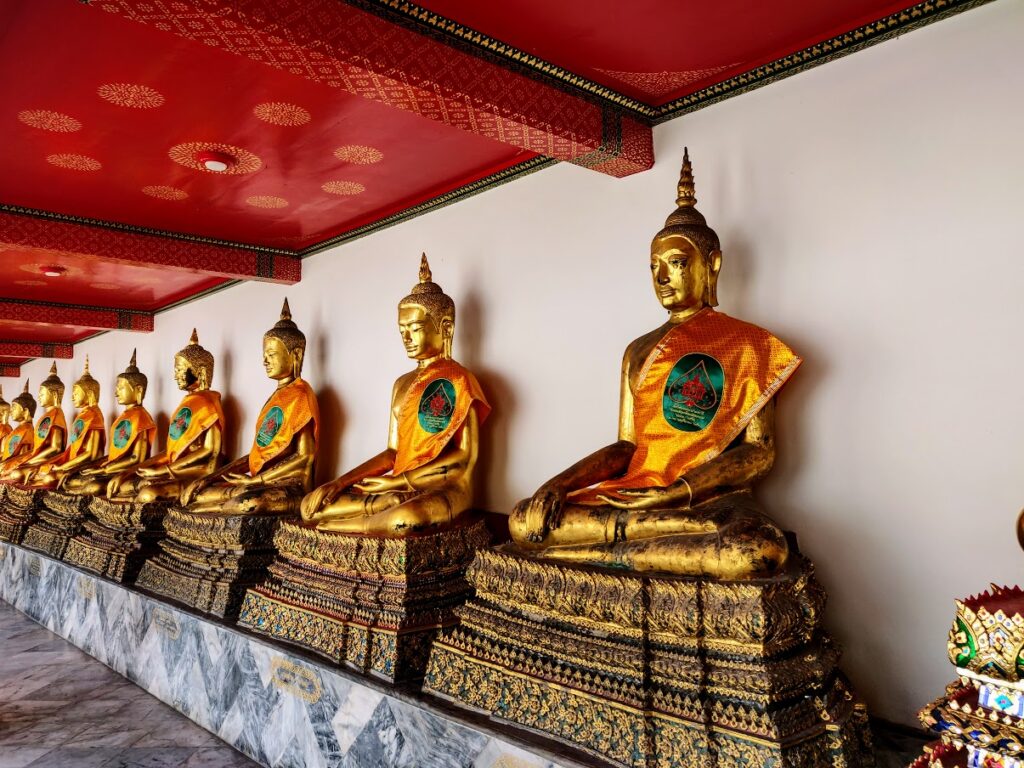 A visit to Wat Pho offers an engaging journey into Thai history, art and spirituality, where visitors can marvel at the ornate architecture, pay respects to the Reclining Buddha and immerse themselves in Thailand's rich history and heritage.
How to get there: The temple is more or less next door to the Grand Palace. From Wat Saket, retrace your steps back towards to the Grand Palace or grab a Tuk-Tuk. Time-wise this again should take you about 40 minutes to 1hour, depending on whether you make any stops, or a 10-15 minute ride in a Tuk-Tuk.
Opening times: Wat Pho is open 8:00am – 6.30pm, 7 days a week.
Things to note: You can take photos of the Reclining Buddha, and although this is a major tourist attraction and does get very busy, please remember this is a sacred site and to continue to be respectful, as per previous temples.
Wat Arun (Temple of Dawn)
For your final temple stop of the day, you'll visit the unrivalled Wat Arun, or Temple of Dawn. Set on a stunning riverside location, it is one of Bangkok's most iconic landmarks and rounds off your day of temple hopping perfectly.
Located on the other side of the river, almost dead-opposite the Grand Palace and Wat Pho, you'll get to see one of the prettiest temples in Bangkok, comprising of its renowned central 70m tall 'prang' (tower), and surrounded by four smaller towers. While the other temples are large and grand in appearance, Wat Arun almost appears delicate, with its central prang adorned with intricate floral patterns and colourful porcelain tiles.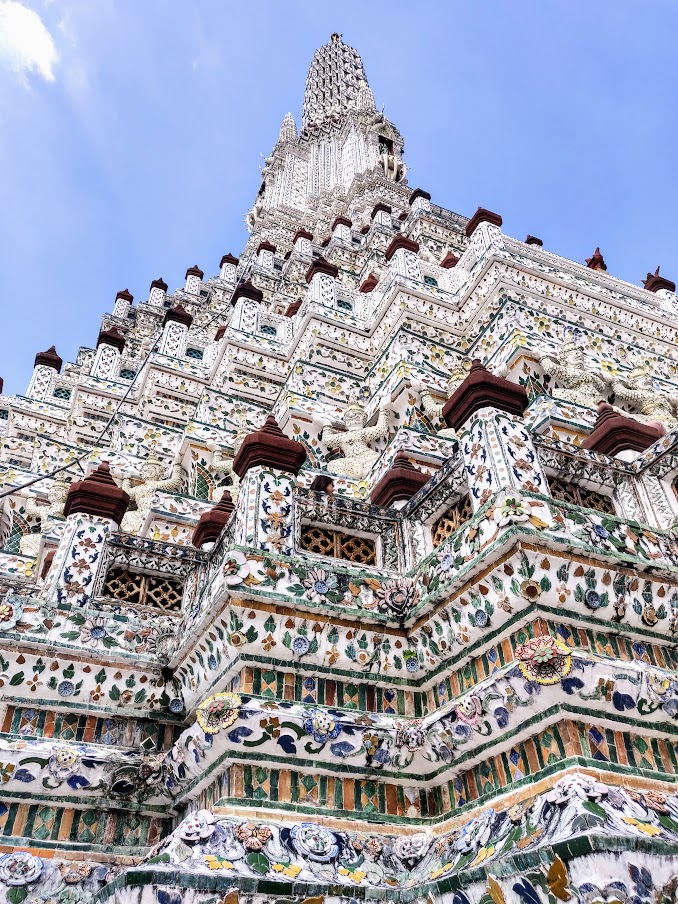 You may be able to climb the staircase up Wat Arun's central prang, offering incredible views over the heart of Bangkok city. However, it has been known to be closed to visitors unexpectedly (this was the case when we visited), so if your heart is set on seeing those views you may have to consider coming back another day if your time allows.
Forget the views though, your attention really should be turned to the beautiful design and architecture of this sacred site. The location means this is a popular site in Bangkok, so expect it to be busy! It's one of Bangkok's most iconic – if not the most iconic – temple, meaning it's also incredibly Instagrammable, so be alert to lots of swaying selfie sticks.
Don't let the crowds put you off though. This temple is well worth a visit, and after the Golden Mountain, was my second favourite temple we visited. It has undergone significant restoration during its lifetime to preserve its architectural beauty, fusing both Buddhist and Hindu design elements. The central tower is said to represent Mount Meru in Hindu cosmology, symbolising the temples role as a bridge between the earthly and divine realms.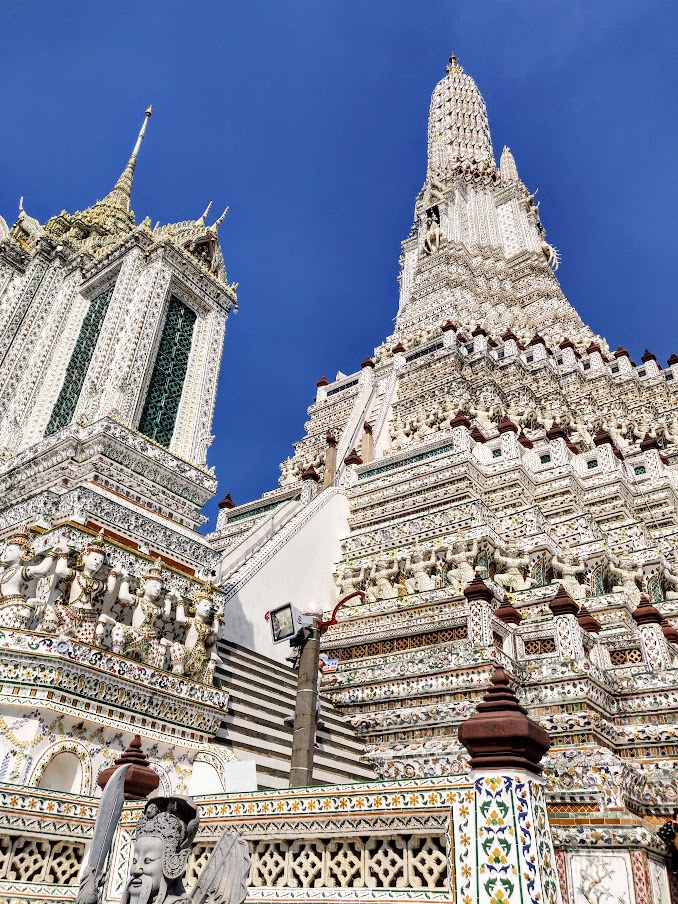 How to get there: The temple is more or less opposite the Grand Palace and Wat Pho. Walk from Wat Pho to Tha Tien Pier (N8 Pier), which is just a short walk away. From there, catch the cross-river ferry, taking you directly to Wat Arun Pier.
Opening times: Wat Arun is open 8:00am – 6.00pm, 7 days a week.
Things to note: There are a number of bars, terraces and vantage points back on the other side of the river where you can capture stunning views of Wat Arun against the sun set. After you've spent your time at Wat Arun, catch the ferry back over and settle in for the night with a few drinks and dinner, with the stunning views of Wat Arun at sun set and illuminated at night as your backdrop.
These four temples are some of the most prominent temples you can visit, but are just a drop in ocean of the temples available to visit in Bangkok. But being that most people are often in Bangkok as a city break or stopover, it's just not possible to see them all! However, if you want to add some extras into your itinerary, Hotels.com have a fantastic guide of must see temples in the city.
I hope you found this guide to temple hopping in Bangkok helpful and hope that it inspired to add a couple, if not all of these temples to your list during your time in Bangkok. If you have any questions, or if you'd like to add anything to this post, please feel free to add a comment below – thanks!