I am now a married lady!! After getting engaged three years ago, during our road trip around Germany, Oli and I got married this month and spent 1 week in Santorini for our mini-moon.
Day one
Having stayed the night at the Gatwick Sofitel, we woke up nice and early and wandered over to the terminal for our 7am flight. We flew with Easyjet and as always, had a wonderful flight experience with them and the flight from London to Greece offered some spectacular views below us as passed over Germany, Croatia and mainland Greece.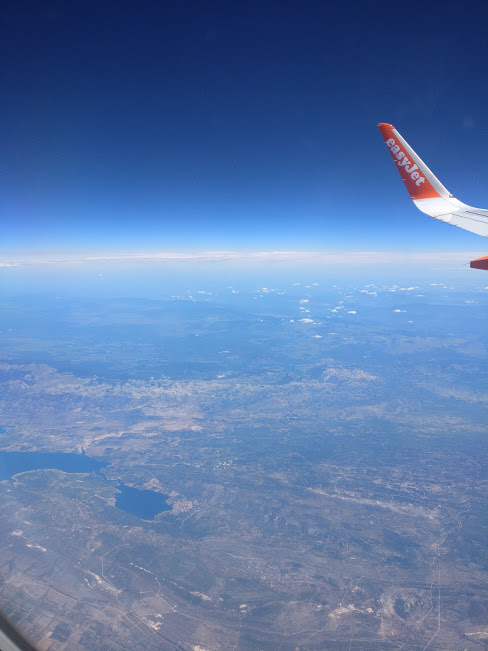 We had also pre-hired a little hire car for the week, to get us around the island, with EuropeCar. We were greeted at 'arrivals' and had sorted the paperwork, shown our car (a little white Fiat Panda we named Feta) and on our way to our accommodation before we knew it. Nice and easy!
Oli did all the driving but the roads are pretty well maintained (a exceptions here and there) and the roads are also pretty quiet, so driving is super simple.
We stayed in an area called Finikia, about a 20 minute walk from Oia. Driving here was only about 30 minutes from the airport so it doesn't take long to get around the island.
Accommodation
Before I dive into our 1 week in Santorini, I have to say our accommodation was perfect! Our honeymoon isn't until November when we go to Thailand, so our 1 week in Santorini was meant to be a cheapy little break where we could chill out and enjoy some sun.
If you want the iconic, luxury Santorini experience then yes there are higher end places in Oia you can stay, but if you're on a bit of a budget and don't want to be too far out of the way (but still out of the hustle and bustle) then place is perfect!
We stayed at the Fava Eco residences, which we found on AirBnb. We stayed in the Aloni Suite, which was a studio room and en-suite, with private terrace and a hot tub, with lovely views out to sea, and it was honestly perfect.
We were advised to park at Finika Car Park, about 5 minutes walk away. Just a note: the car park is quite cosy and a little chaotic, we managed to grab a space on our first day but were unlucky for the rest of our trip. But there are spaces on the main road and the road is big enough that the cars are out of the way of passing traffic. All parking's free also, so don't need to worry about that and we were greeted at the car park by a member of staff who kindly took our bags.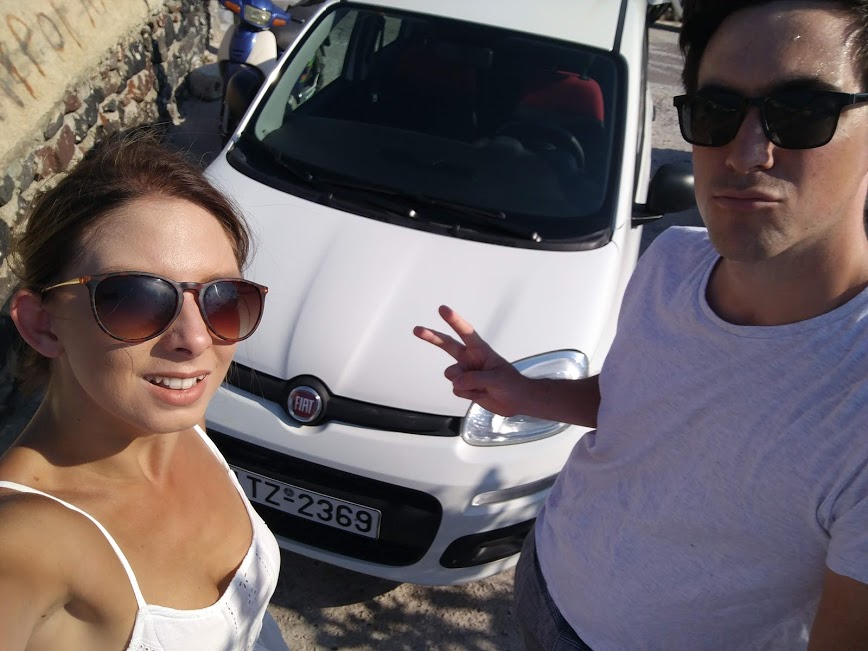 During our stay, we also had breakfast delivered to our door every morning, consisting of a basket filled with preserves, tea, coffee, orange juice, fruit and bread rolls, along with a tray of scrambled eggs and bacon, or an omelette with little sausages (alternating between days), greek yoghurt and feta cheese. We kept full all day!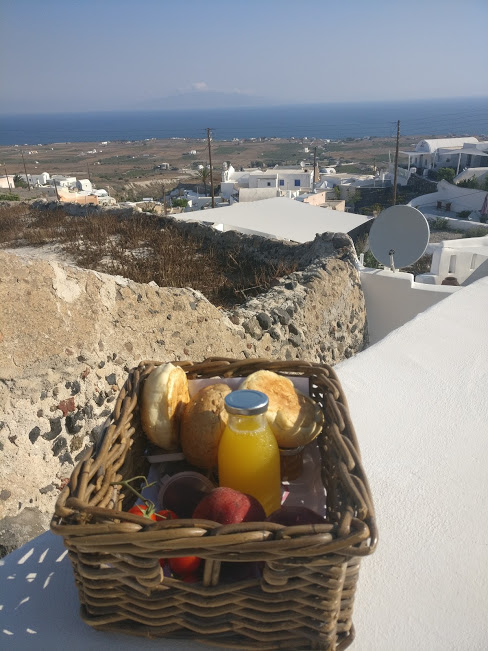 If we ever come back to Santorini again we would definitely stay here again, we can't recommend this place enough!
Following a trip to the local supermarket (about 15 minutes walk away) and once we were all settled and sorted, we got ready and headed straight out for dinner in Oia, which was about a 20 minute or so walk away. The views on the way into Oia are stunning, and from there the views just get better and better! We couldn't wait to have a little explore and eventually found a cute little bar overlooking the caldera and did some restaurant scouting for dinner.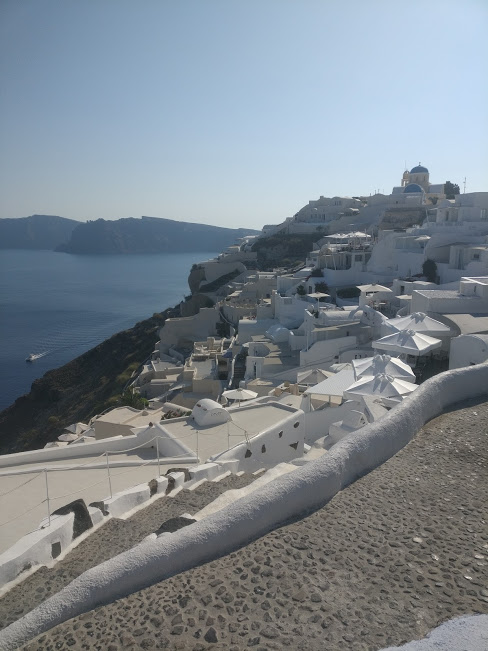 For dinner, we came across a place called Strogili, and had an amazing first evening in Oia. Obviously we hadn't reserved a table, but they managed to secure us a little table for 2 on the roof terrace, which one hour into dinner, gave us the most beautiful sunset view we could have wished for on our first day.
We had two courses each (the most delicious baked feta parcels for starter!) I had a spaghetti feta dish for main, Oli had chicken and we shared baklava for dessert, along with two rounds of cocktails. Yummy!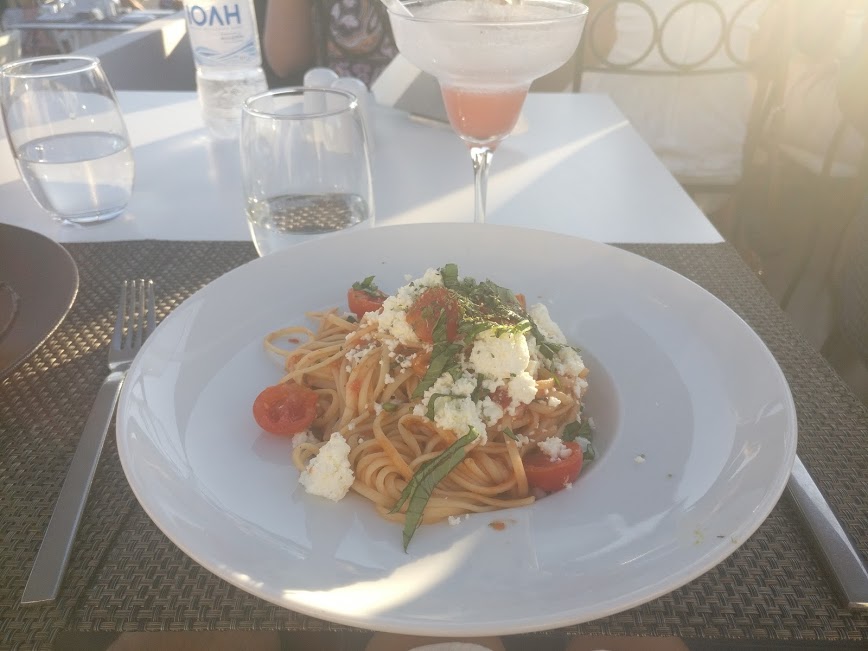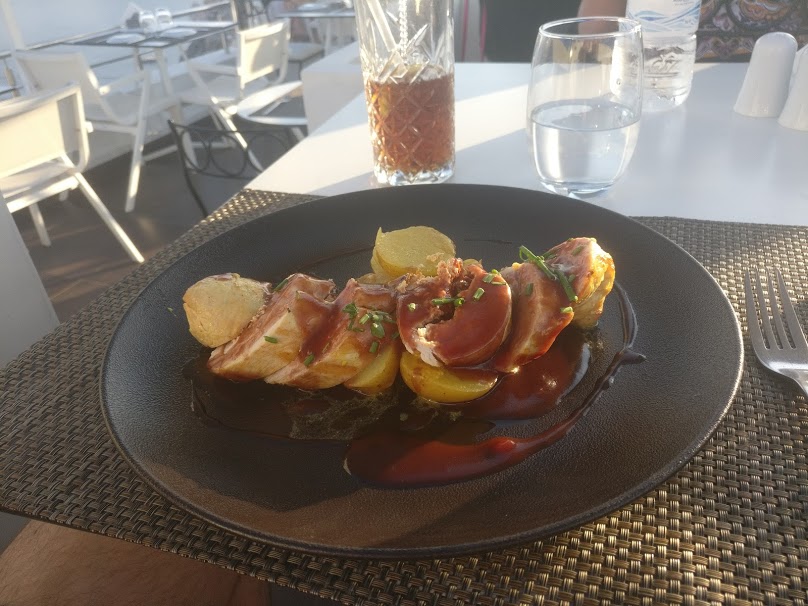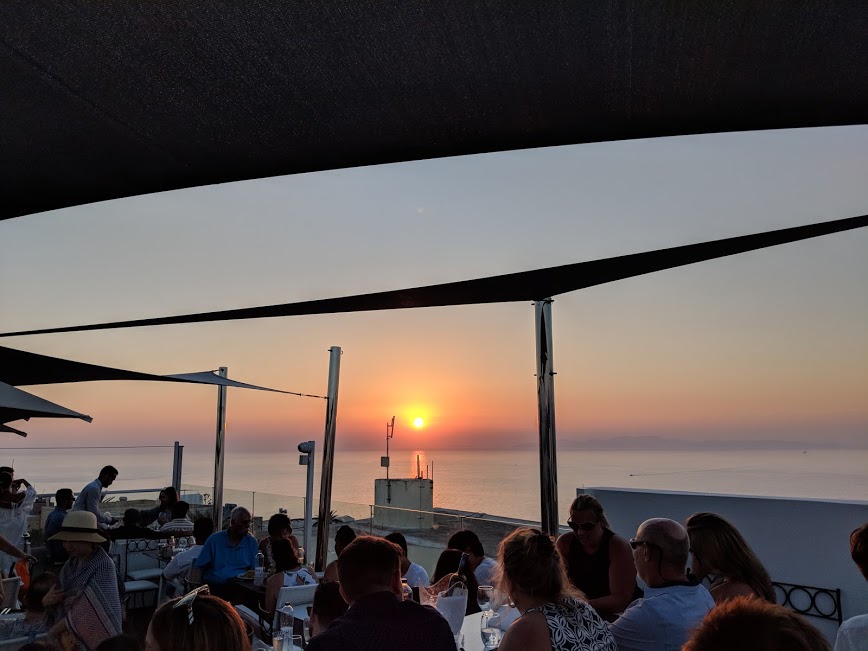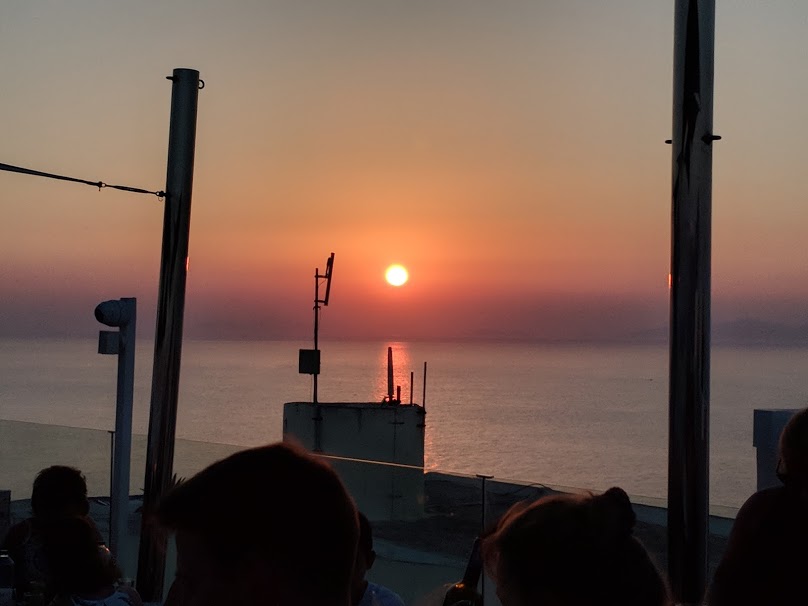 After dinner we had a little explore around Oia, which just after sunset is when Oia really seems to come to life and we were awestruck by just how beautiful everything was. Photos really don't do it justice.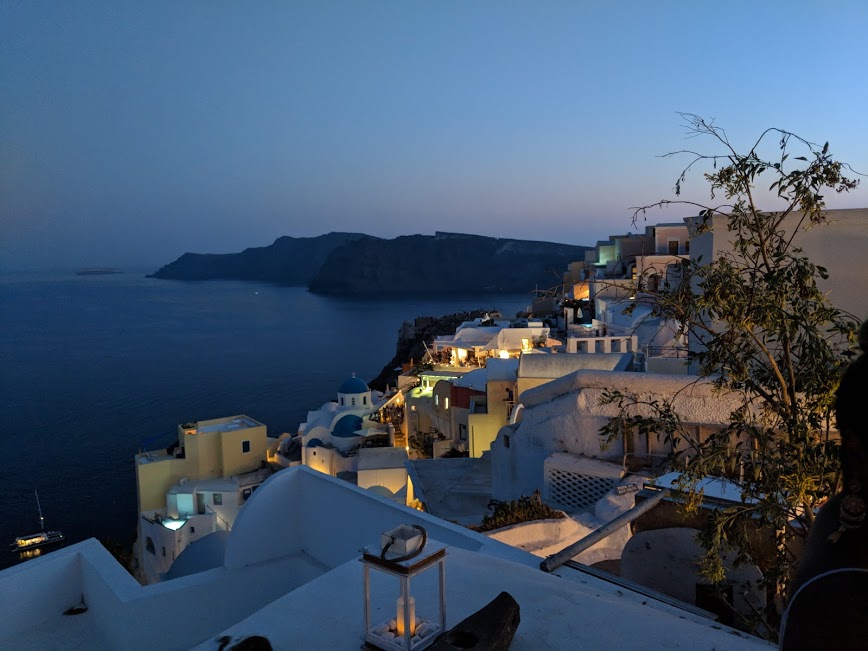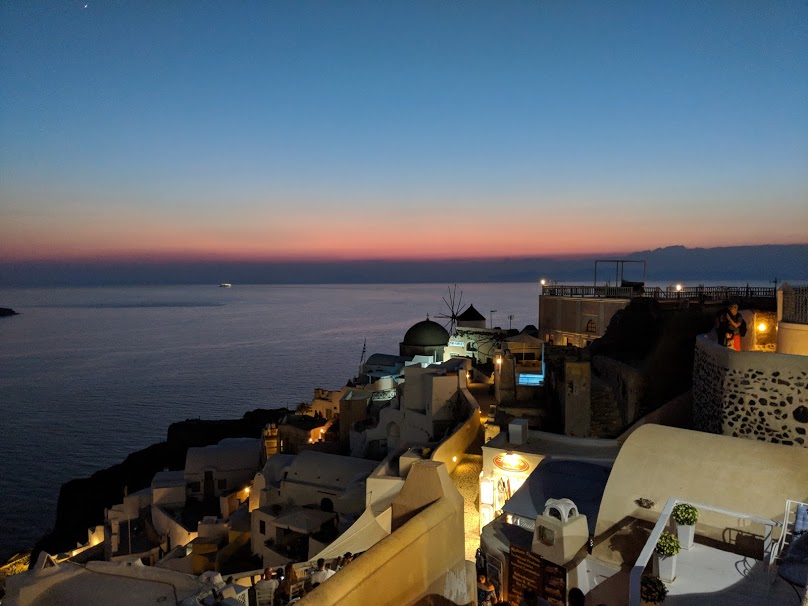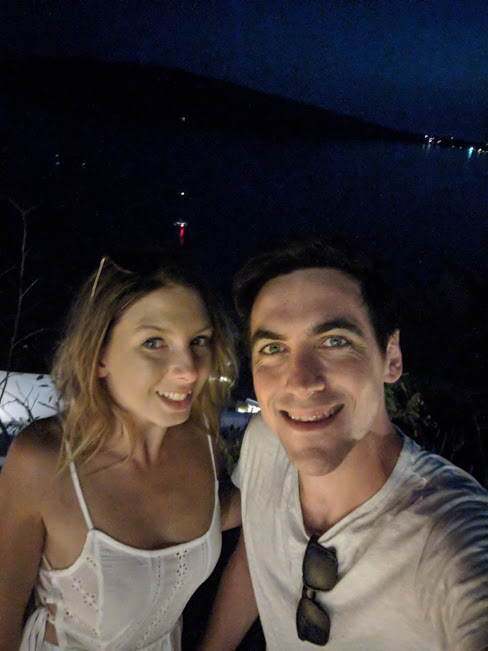 Day two
POOL DAY!
We had a super chilled first full day, lounging in the sun and sitting in the hot tub – which we got up to about 33C so it was like stepping into a luke warm bath! The hot tub was under a canopy too, so if we'd had too much sun, it was lovely to escape for a bit and enjoy the tub! We purchased some gin and beers from the supermarket and decided what to do with our evening.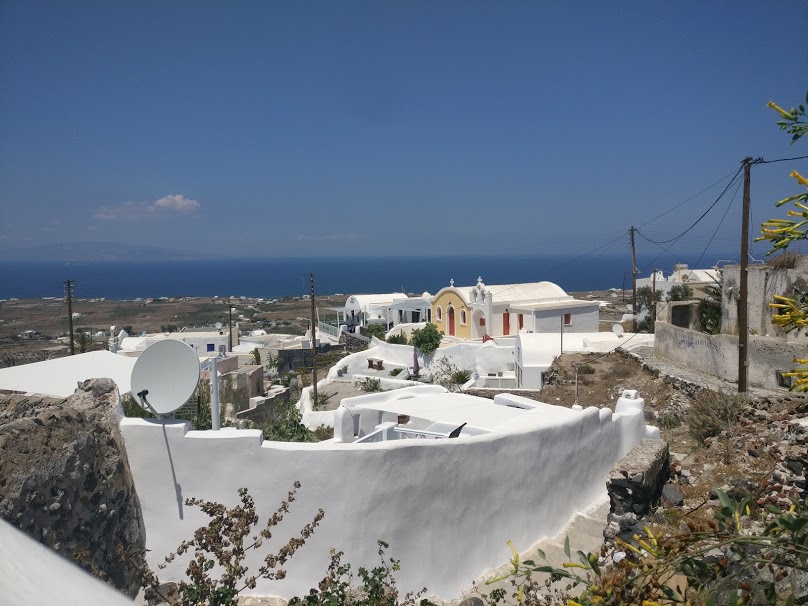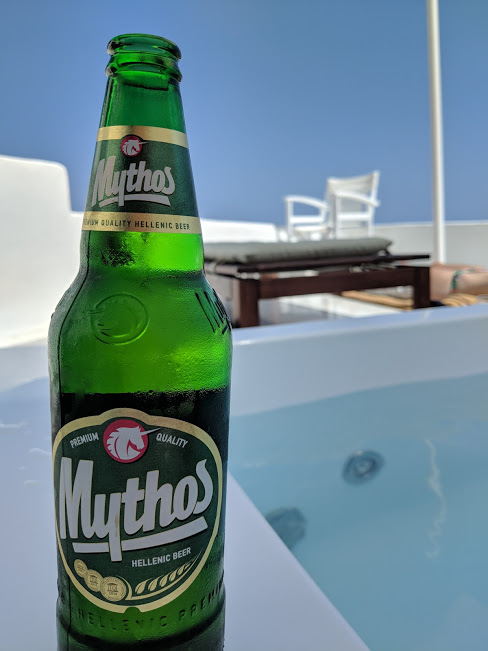 On our first night, we looked over the town and saw a cute, bustling little restaurant. Having scouted it out during the day, we decided we'd eat local and popped into Lefkes. No table booked, but staff managed to sort something nice and quickly and 20 minutes later, we had a lovely little table on their top terrace. The place got busy quickly and had a lovely atmosphere, with everyone drinking and chatting and waiting for that famous sunset!
Once again I had the baked feta & sesame seed parcels and Oli had the traditional meatballs. For mains, we had pork shanks with gnocchi, and Oli had a pork dish. Usually we're not big lovers of pork, but those mains were something else! We then headed to another local restaurant for drinks before calling it night for some shut eye.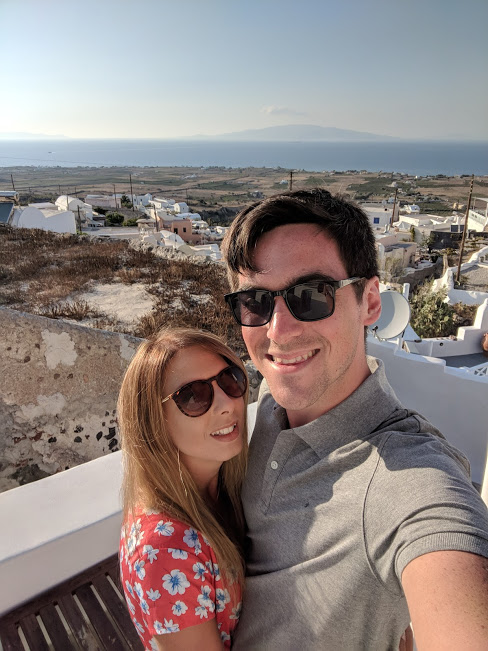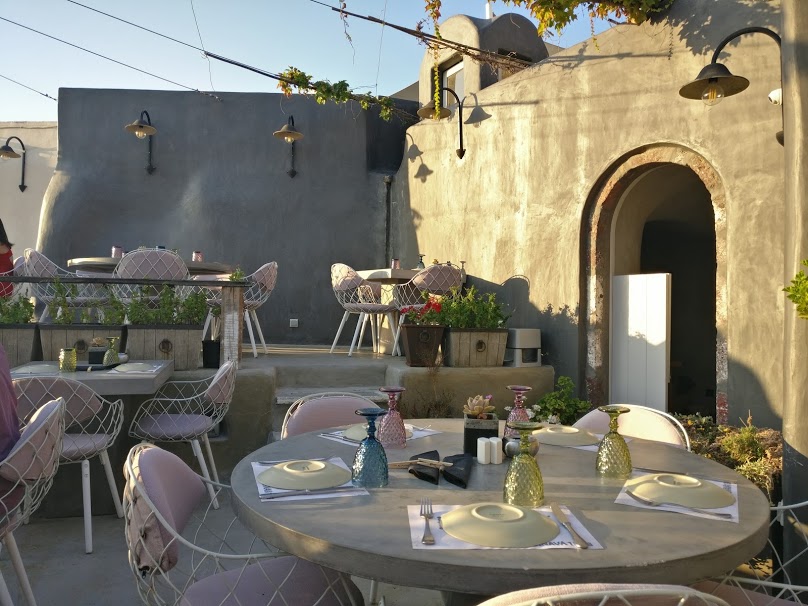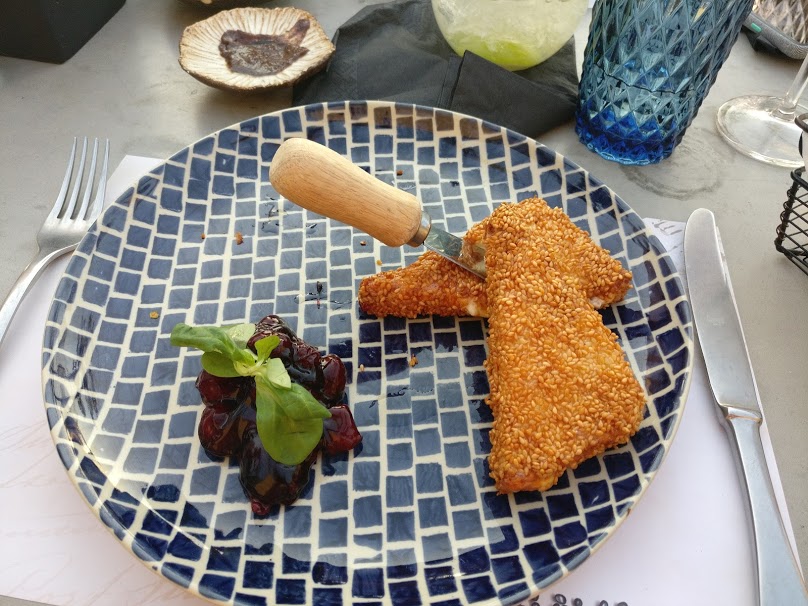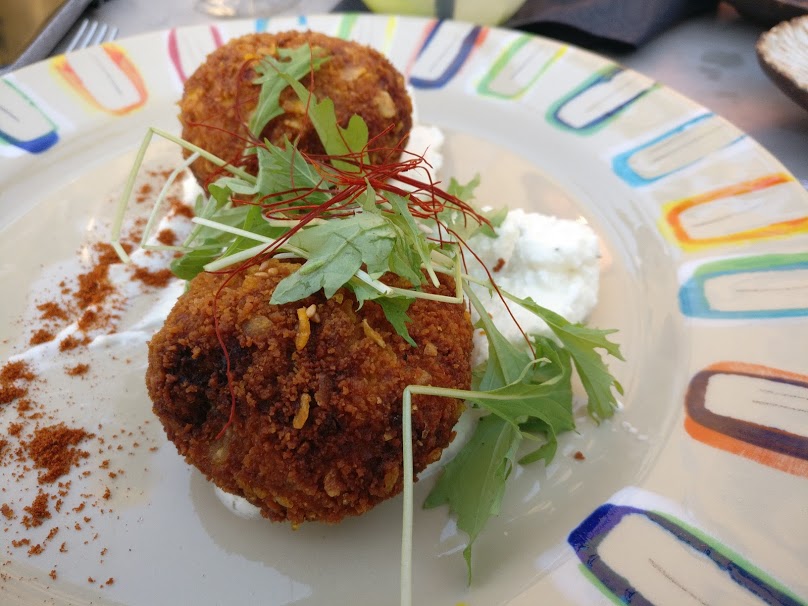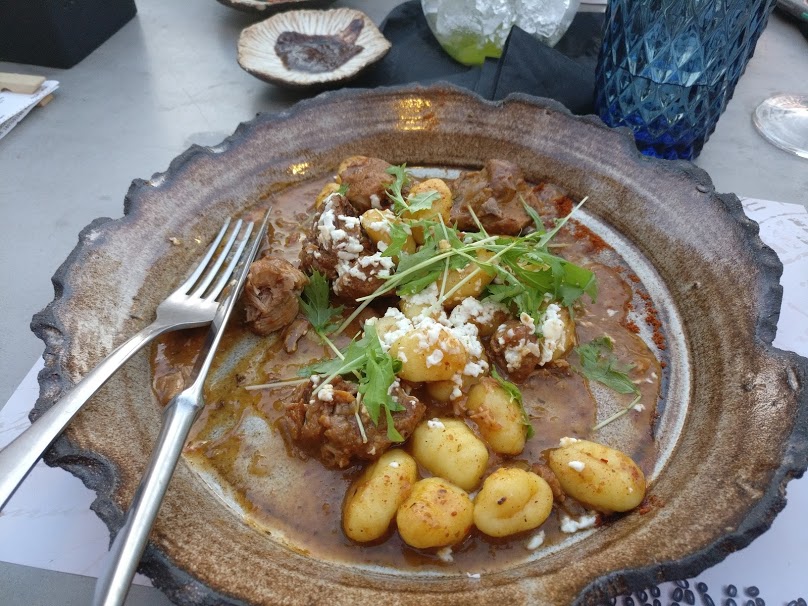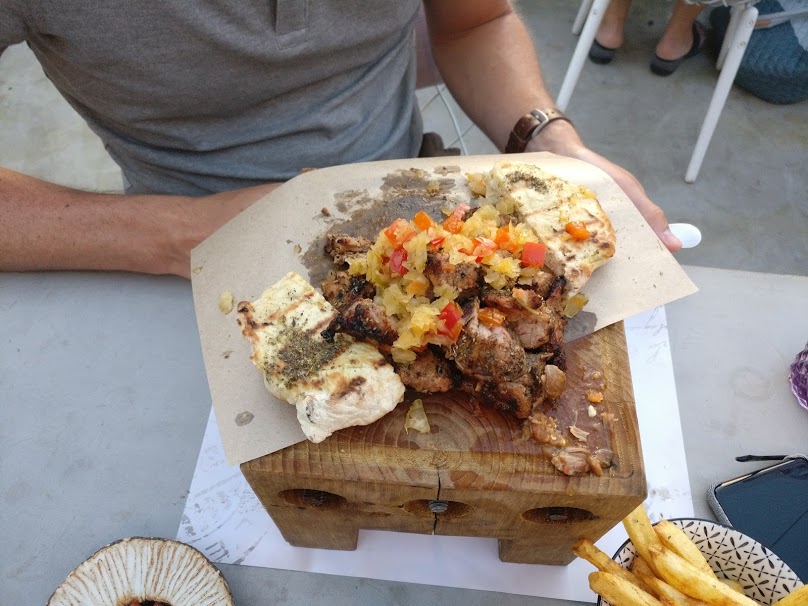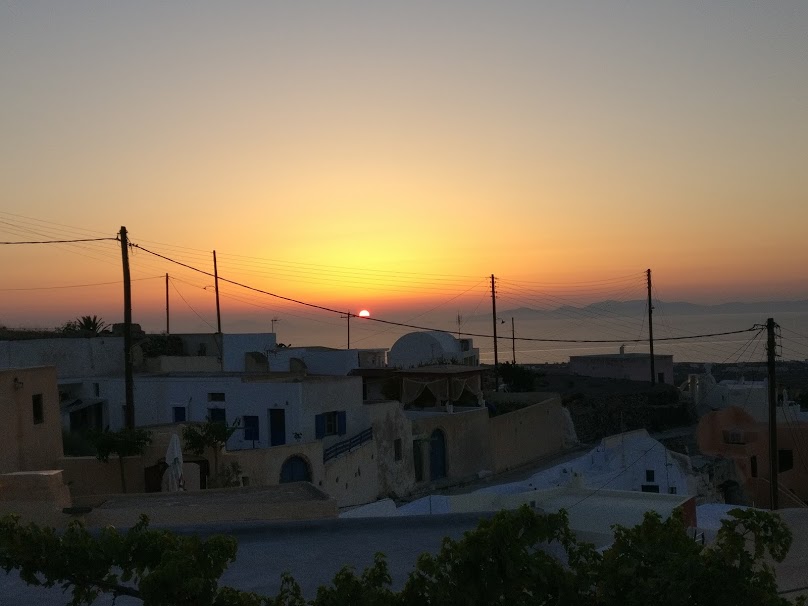 Day three
Feeling well and truly refreshed, we woke up early and decided to take Feta out for a little spin, so headed south for a trip to Ancient Thera, enjoying the views and the various sleepy little towns and villages on the way.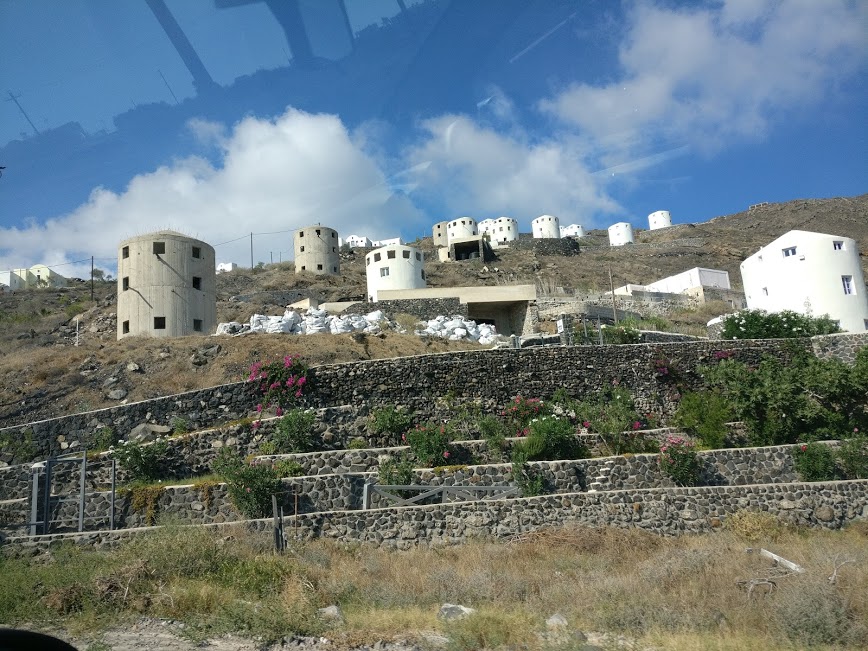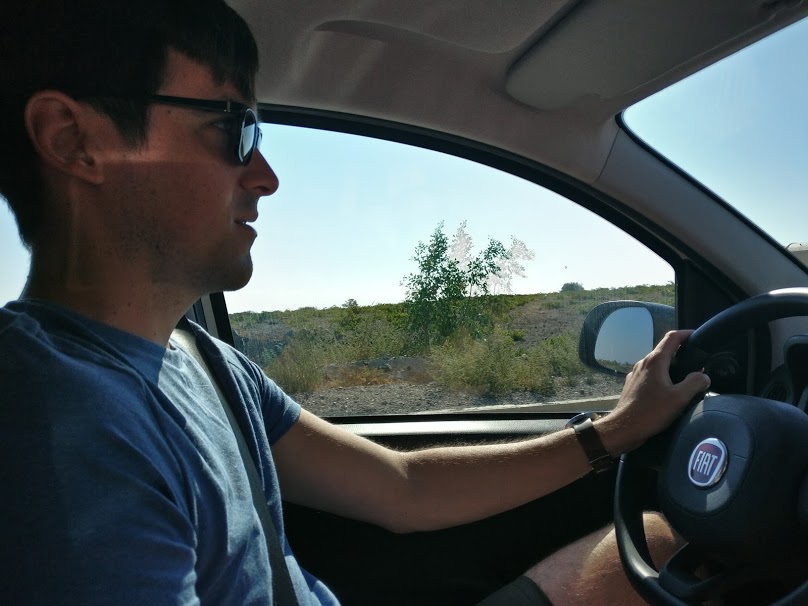 From our AirBnB, the trip must have taken about 40 minutes and was a nice easy drive. We then got to the bottom of a very big hill, with our sat nav telling us Ancient Thera was at the top. A quick Google of others' experiences soon told us it was a windy, steep incline to the top and could be a little hairy at times, with the road wide enough only for single traffic. The other option was to walk, and looking at the incline in 30C heat was a definite no for us, so decided to give the drive a go!
Actually having done it, it wasn't that bad. We took it slow and although the hairpin bends are super blind, as long as you're careful the drive up is fine and there is plenty of space to pull over on the bands themselves for passing traffic. Coming down was also much easier as you could see the bends below you and see if there was oncoming traffic.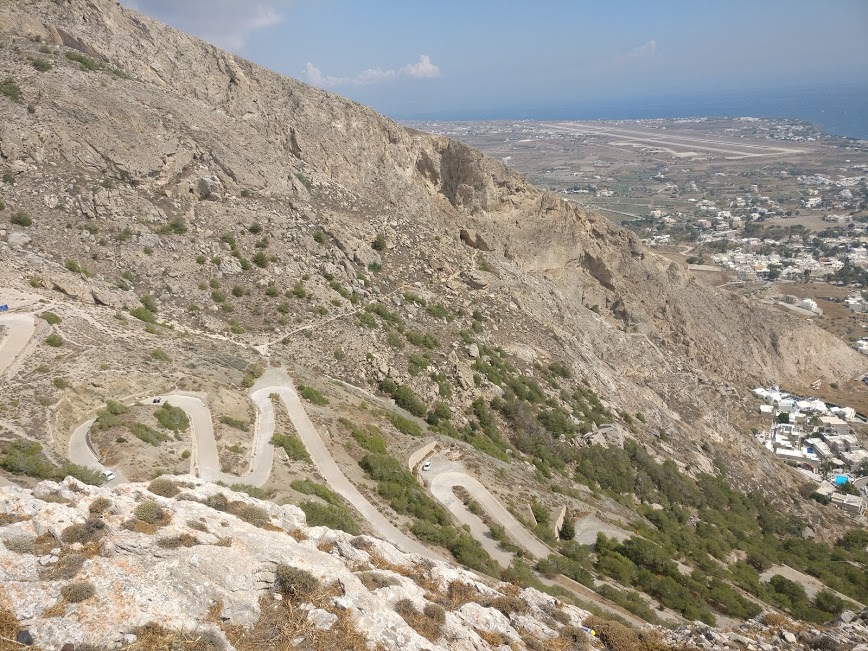 There is a car park at the top (again, not massive) and by the time we got there at 10am it was already full, so we ended up parking on the road (by which point it was wider, so enough room for everyone). Entrance into Thera was just a few euros and from there you are free to explore at your own pace, as you climb up steps even higher.
From the top, you are rewarded with (almost) 360 degree views across the whole island and the views are spectacular! Including a clear view over to the airport, where you end being the same height as incoming planes and can watch them land, which was great to watch!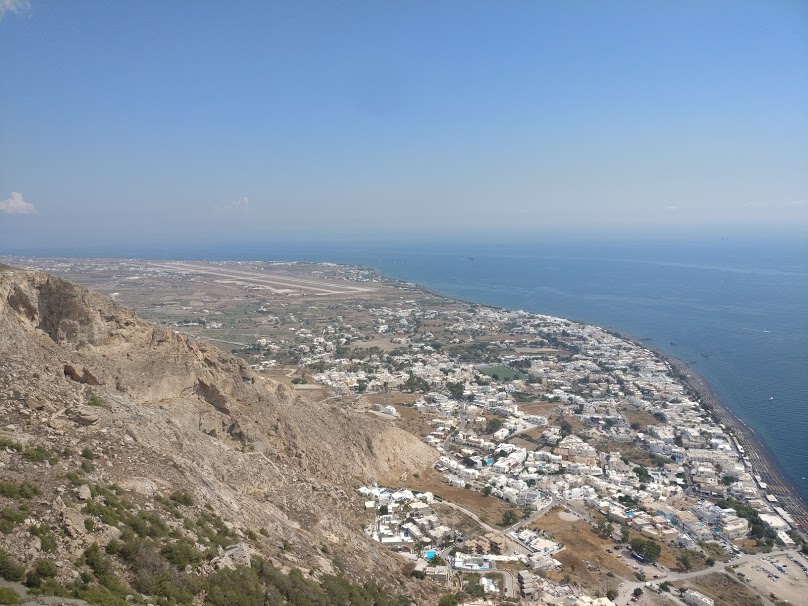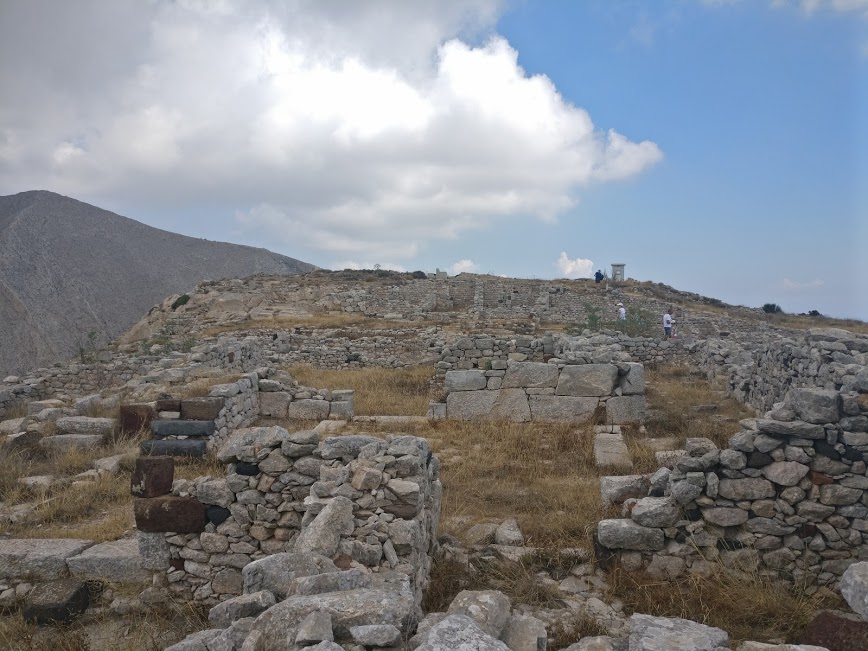 From the top, you also have views across to the highest point on the island, which also has a monastery on top, which you can visit if you're feeling up to it! This massive hill (I was informed by a local it is a hill, not a mountain) seemed to have it's own weather system going on! The rest of the island on the way down was beautiful, sunny and clear skies, whereas big thick clouds seemed to loom over this hill.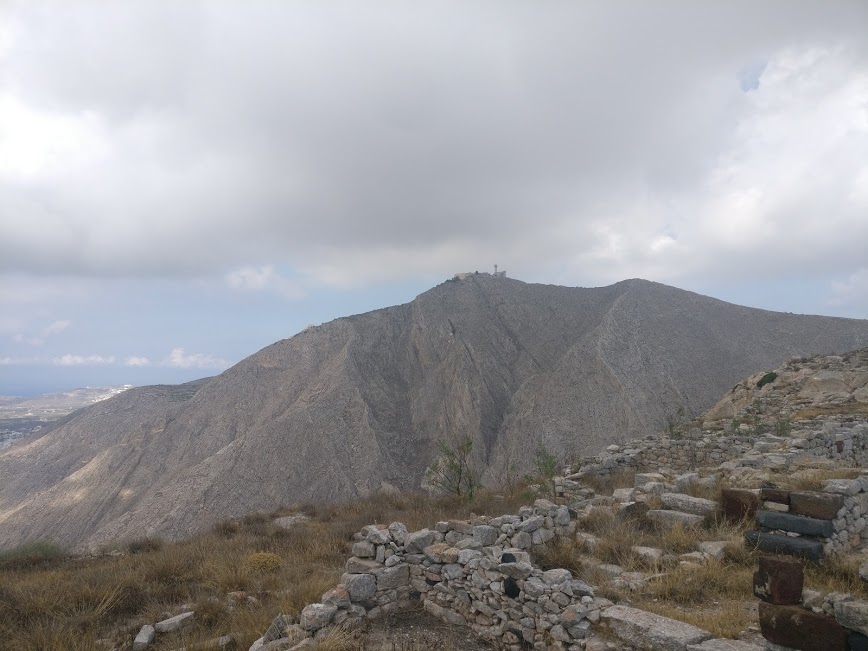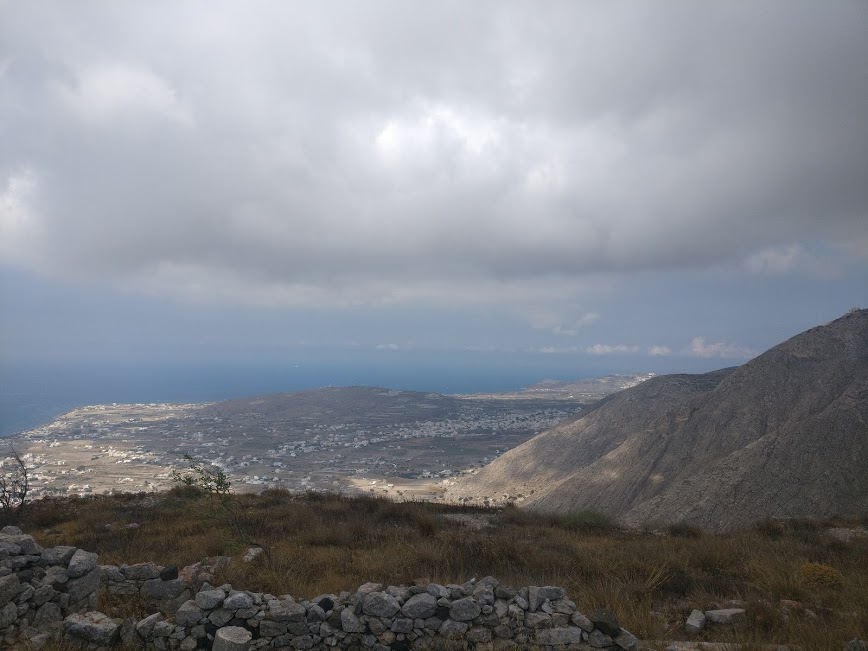 It made for a welcome break from the heat though, and made walking round the ruins a bit easier. The ruins themselves were really interesting to see, and there are information boards dotted around telling you about their history, how they found and possible theories. You can spend as much time as you want walking around the ruins, but I'd say we were probably done in about 45 minutes – 1 hour.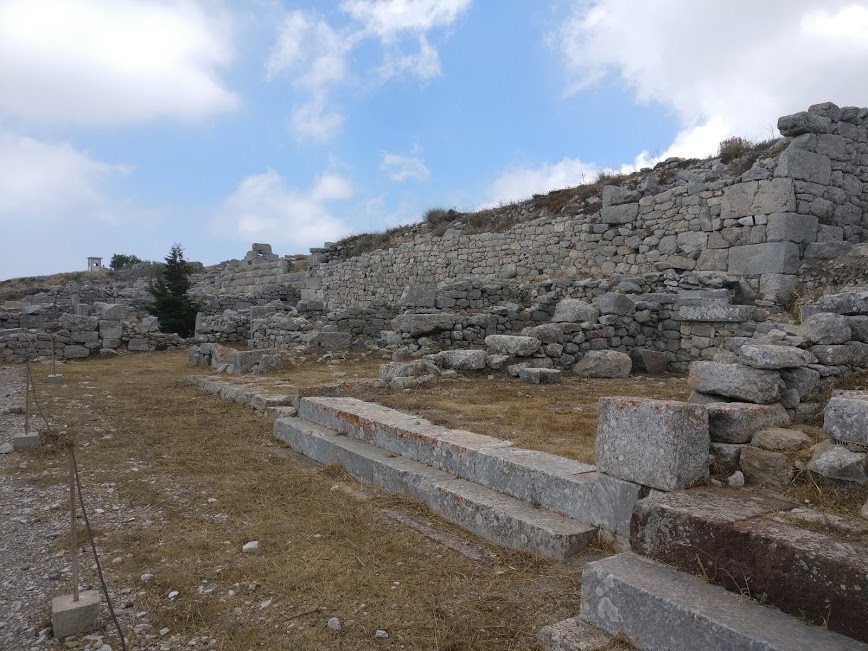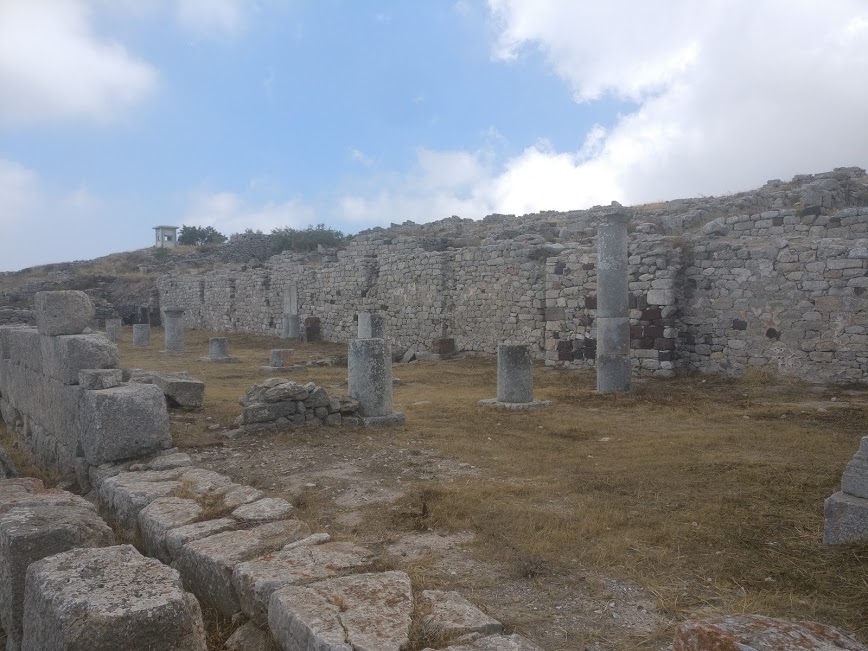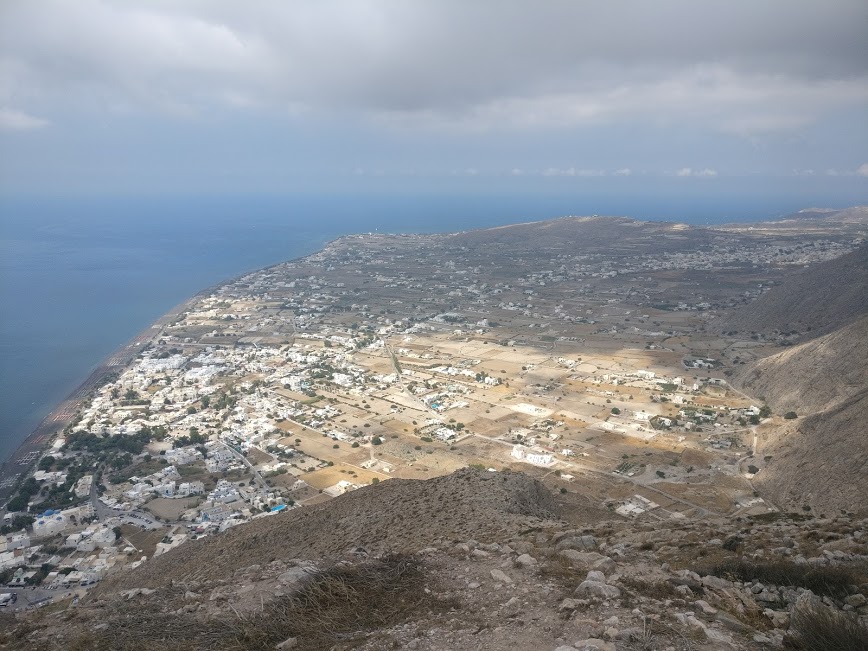 After that we made the fun descent down the hill and made our way to a local traditional village we had read about called Megalochori.
This place was absolutely gorgeous and aside from one small walking tour, we didn't come across anyone else, other than a few locals. We parked up Feta nice easily (free parking) and loved having a little wander and explore.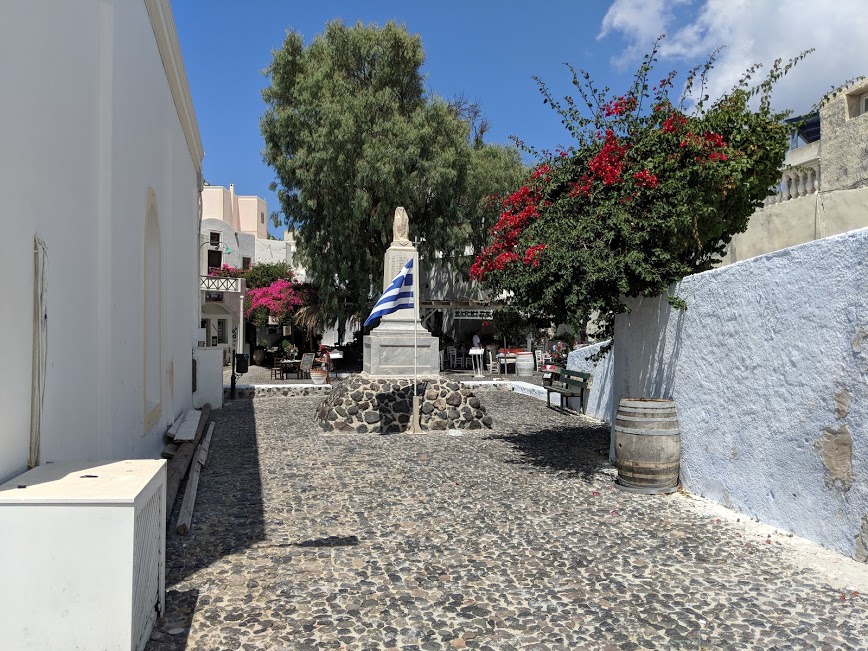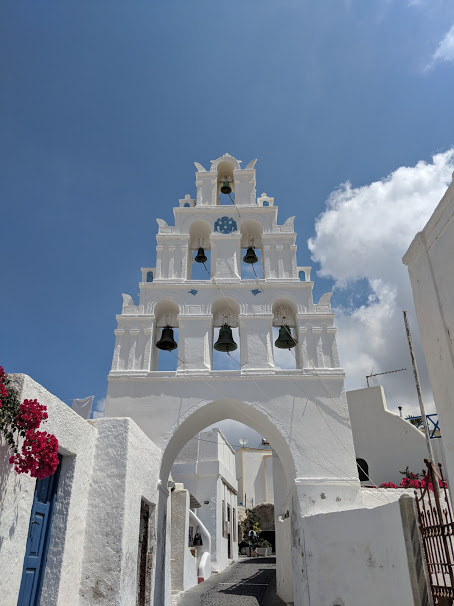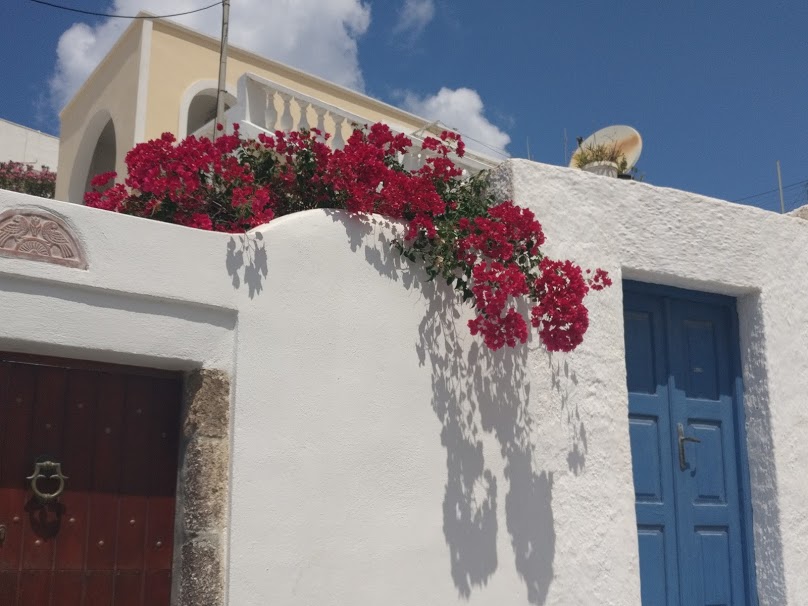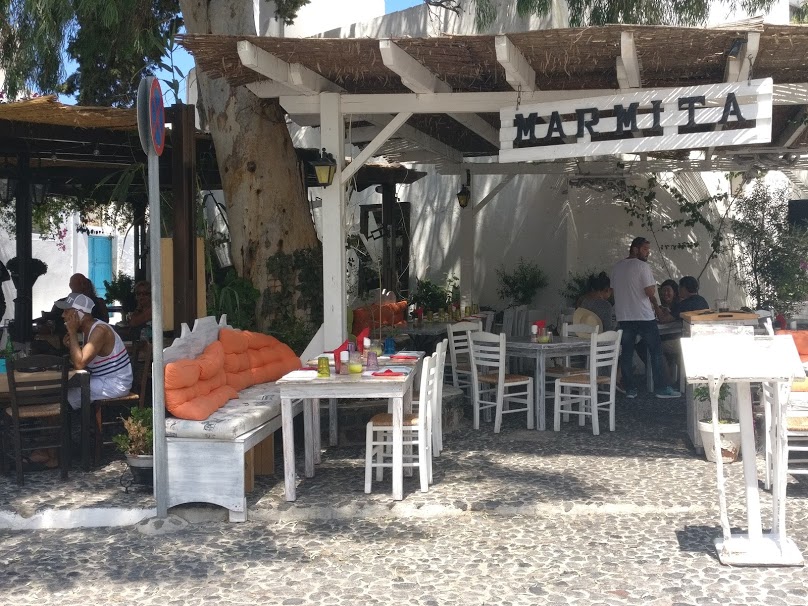 We popped into a local bar for a break from the sun and for a drink and some ice cream, and got chatting to the waiter and chilled out for a bit, before hopping back in Feta for our final stop-off at Fira, the capital of Santorini.
We parked up easily enough, finding another free car park, but it didn't take us long to work out we really didn't like Fira. It was SO busy and just filled with crowds, which despite the heat, we didn't mind too much, but the longer we stayed the worse our time in Fira became.
What Fira does offer however, are your standard cutesy side streets, that Greece always offer, plus incredible views down the island and out to the volcano, which is a fantastic view.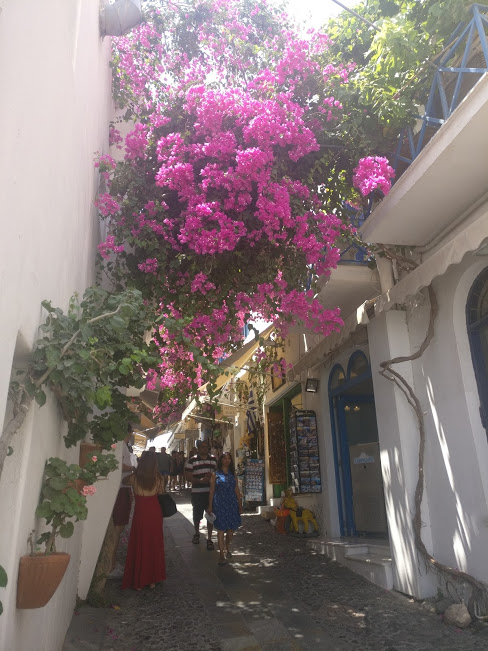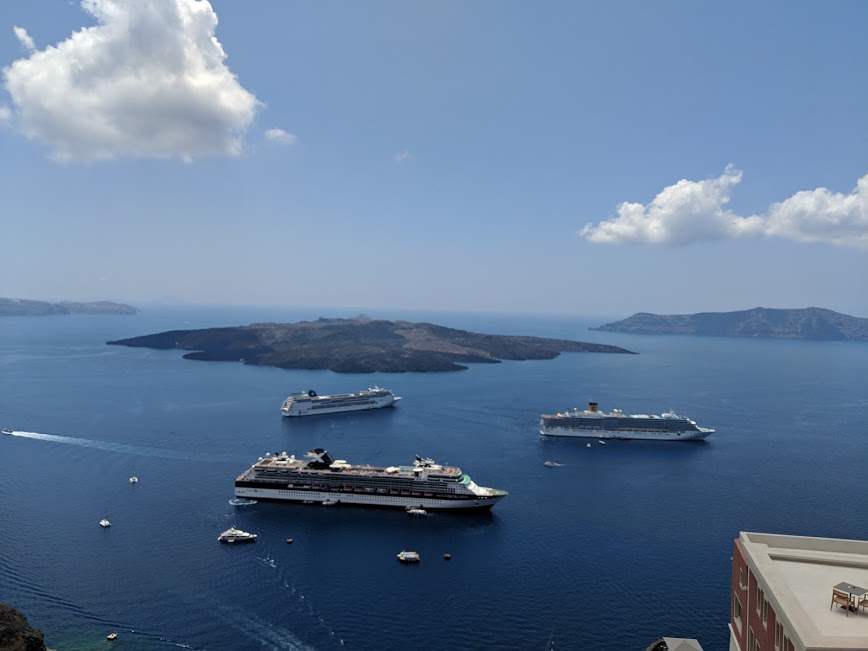 We decided to walk down to the old port and see what that had to offer. It's a long way down to the bottom, and you can either get down there via cable car, walking down the steps, or donkey ride. We opted to walk down, which wasn't too bad and it's easy enough on your legs. It was gone midday, but a nice strong breeze and we enjoyed the views out to sea.
Once at the old port, there's not really a lot to see or do. There's some restaurants along the port front, but mostly lots of cruise and tour companies and the main arrival point for all the cruise liners, who were offering little passenger boat trips to the port from the ship itself. But it was nice to wander and we stopped off a drink and to refresh ourselves, when we realised how long the queue was for the cable cars! The waiter advised it would have been well over an hour long, as the cable cars can only take a max of 1200 people per hour. We decided to bite the bullet and walk all the way back up to the top (about 540+ steps), which we were dreading! But we weren't prepared to wait in the queue and there was no way we were going to get a donkey up to the top…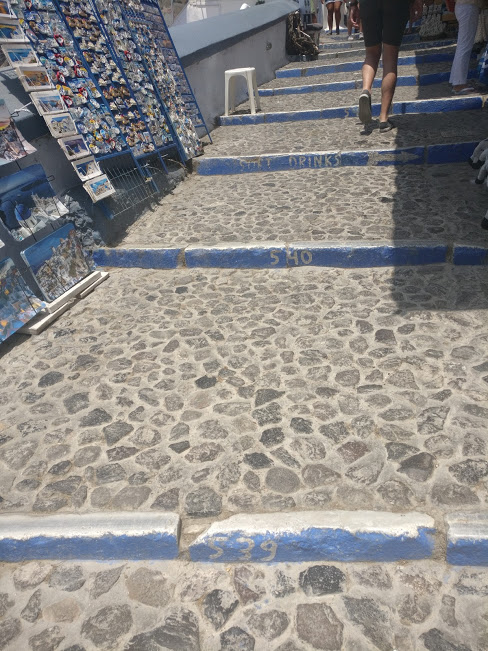 Please don't ride the Donkeys
This was really the main reason why we didn't enjoy Fira. On reflection, we must have just picked a bad day to arrive (we came back to Fira later in the week and it was so much quieter, so it must have been a busy cruise liner day), but all the passengers wanting to get to the top were either in the cable car queue, or riding the donkeys to the top and the sight of those poor donkeys was so distressing.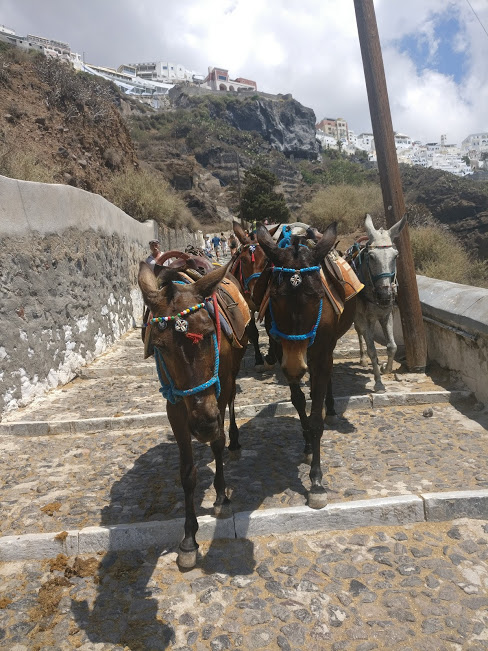 On our way down, we saw the men that run the donkey rides shouting at them, hitting them and one point, one man was running all the way down the steps, with a donkey on lead and making him run behind him. Many of the donkeys also seemed to slip on the steps as they made their way down towards the port and it made me nervous about them slipping or falling over.
By the time we were walking up it was about 2/3pm and these donkeys had already done several hours work. We didn't notice them being given a well deserved break, but were on rotation, so once at the bottom, were tied up until it was time to take people up to the top, and then same again on the way back down. Some of these donkeys looked physically exhausted, they were dripping with sweat and at one point a group stopped next to us while they waited for others and the sound of their heavy breathing broke my heart. They were clearly out of breath (me and Oli were out of breath and also dripping with sweat – it was boiling hot, well over 30C and we weren't even carrying anything, or anyone!) but they were forced to move forwards still. I couldn't help but cry because I just felt so sorry for them. Meanwhile travellers happily filmed themselves sat on the donkeys and taking selfies like nothing was going on.
This has been going on for years and campaigns have been set up to improve the welfare of the donkeys, but they're just not being enforced by the local groups. This will continue to happen all the time tourists are paying for this! If you're travelling to Santorini soon, please think about what those poor donkeys are being put through. Get the cable car, or walk. Yes, you will sweat your entire body weight and your legs will resort to jelly (but just think about how the donkeys must be feeling) and you can take comfort from the fact you did not support animal abuse.
Here's some articles for further reading if you're interested:
Once home, we got ready and headed back out to Oia for dinner. We were a little later than usual and the streets were of people making their way towards the best sunset spots. Having had our fill of crowds for the day, we forgot about the sunset and dove into a little bar we were passing for some re-dinner cocktails. I can't for the life of me now remember the name of the place, but it's along one of the main paths in Oia. We nabbed a table next to the window, which had beautiful views over the ocean and along the Santorini coastline.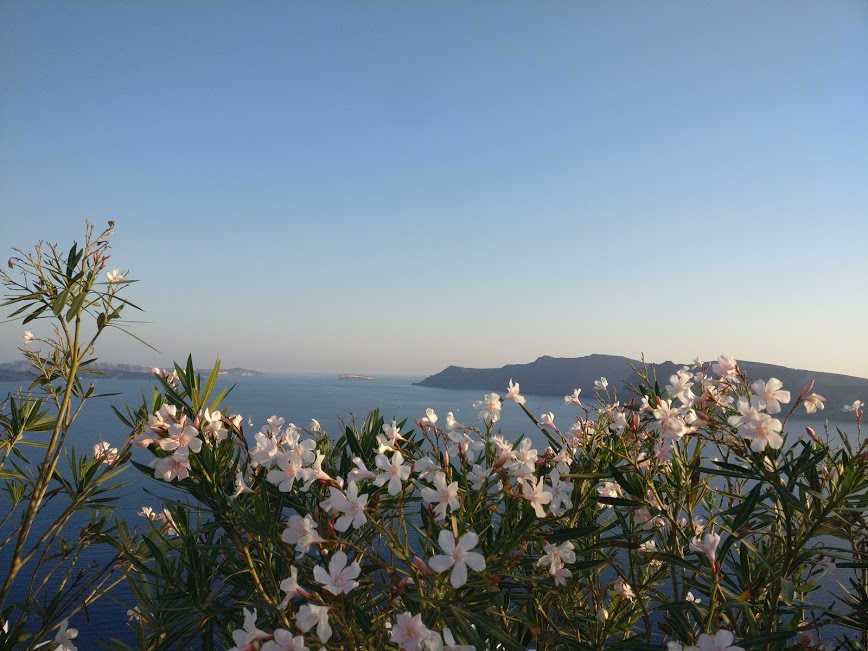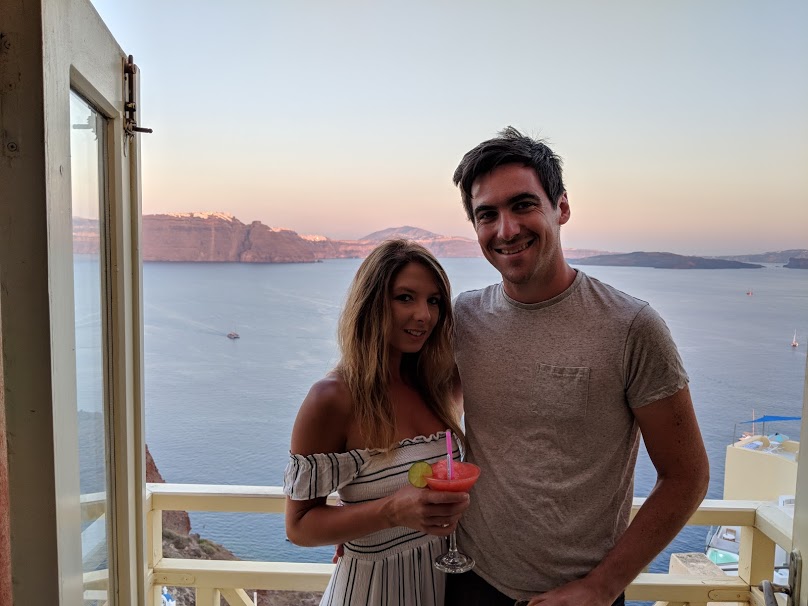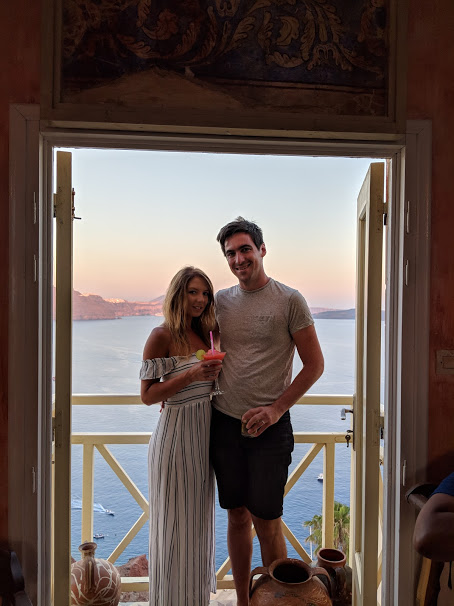 For dinner, we came across a Greek tapas place called Melitini and we had the best meal here (Greek tapas is just the best idea)
We were too ravenous to remember to take photos, from memory I think we ordered: cheese pies, grilled sausage and a lush pasta dish, plus a baked cheese on bread with peppers. Really simple dishes, but they were absolutely delicious! There was also a lot of selection on the menu, so definitely something for everyone.
Day four
POOL DAY!
Having crammed a lot in on the previous day, we decided to have a chill out day and lounge by the pool with our books, gin/beer and soak up the sun.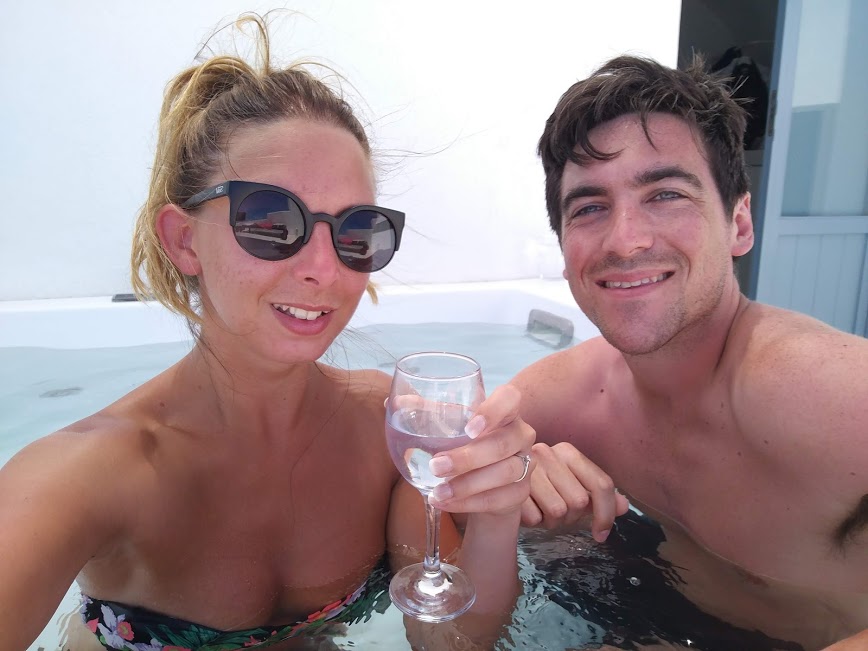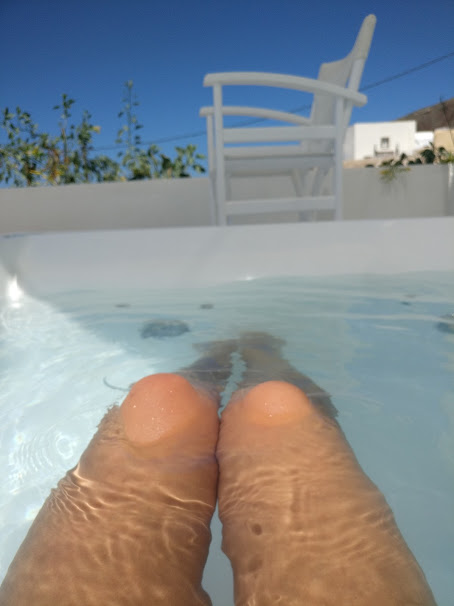 After a perfect, chilled day, it was our favourite time of day again – DINNER!
It was easily not only the hottest day of our 1 week in Santorini, but also the hottest evening! We got ready early, so we could have some pre-dinner cocktails whilst watching the sunset. We headed straight for Vitrin, which we had passed earlier in the week, and saw it had undisrupted sunset views so made a mental note to check it out.
We must have arrived about 6pm (so 2.5h before sunset) and we were lucky to get a table right at the front of their terrace. The setting and position of Vitrin is perfect, but the service was hella slow!! My advice would be to double up on your cocktails (they were at least good cocktails). We enjoyed our front row seat, drinking and chatting away. The atmosphere was lovely, as the area got busier and busier and people lined the walls ready for the 'show'.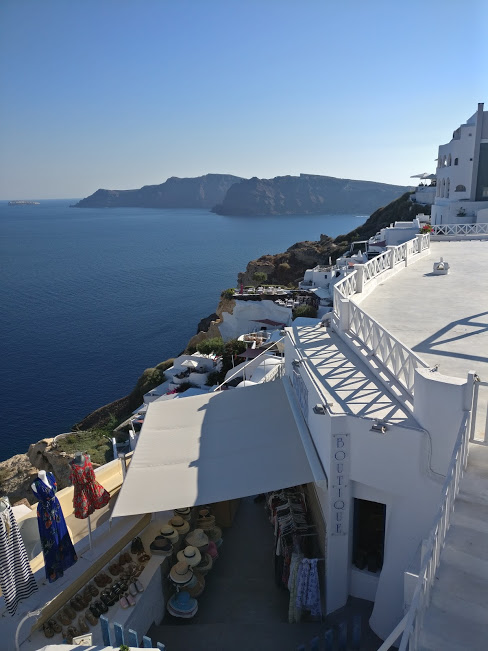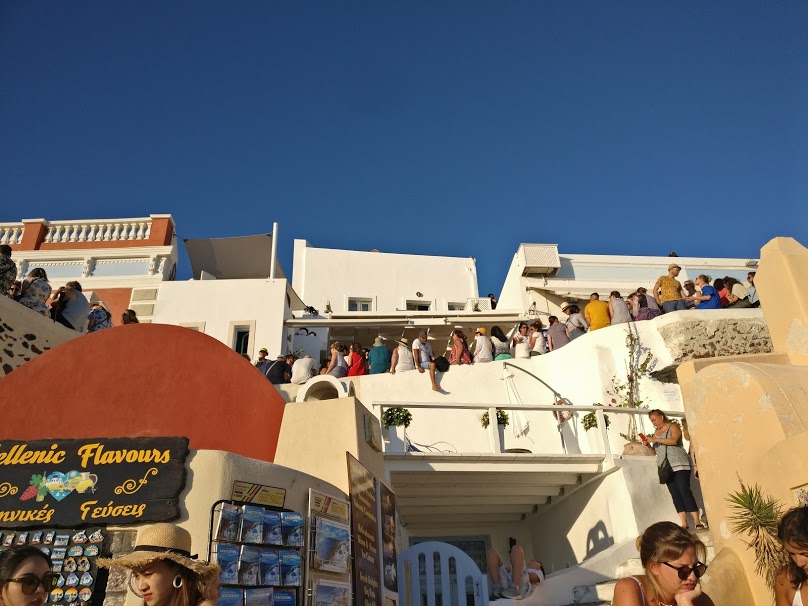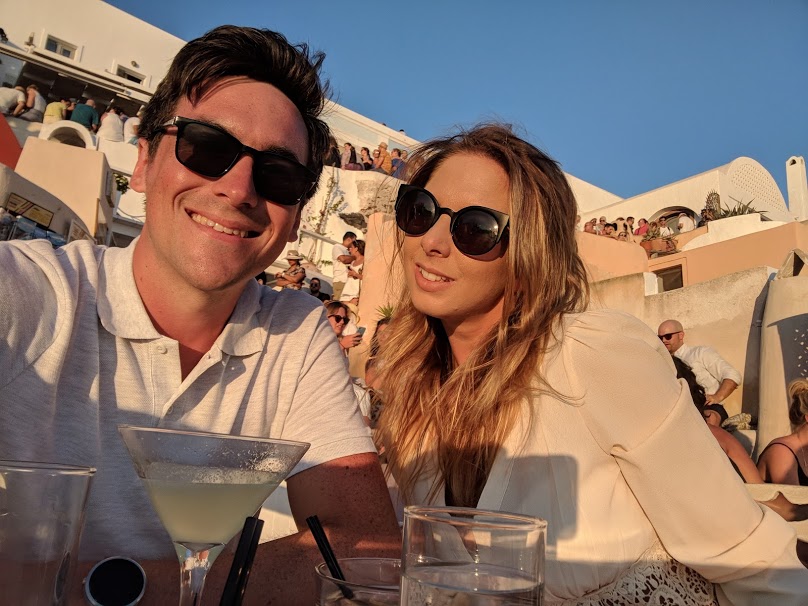 The sunset was beautiful, and as the sun went down everyone around us clapped… which was a bit funny at the time, but a nice atmosphere. From the bar, you can also walk down a few steps towards the old castle. Although the sun had set, the sky was still a beautiful sunset colour, so we decided to head down and check out the views (honestly, probably the best view point we found!!)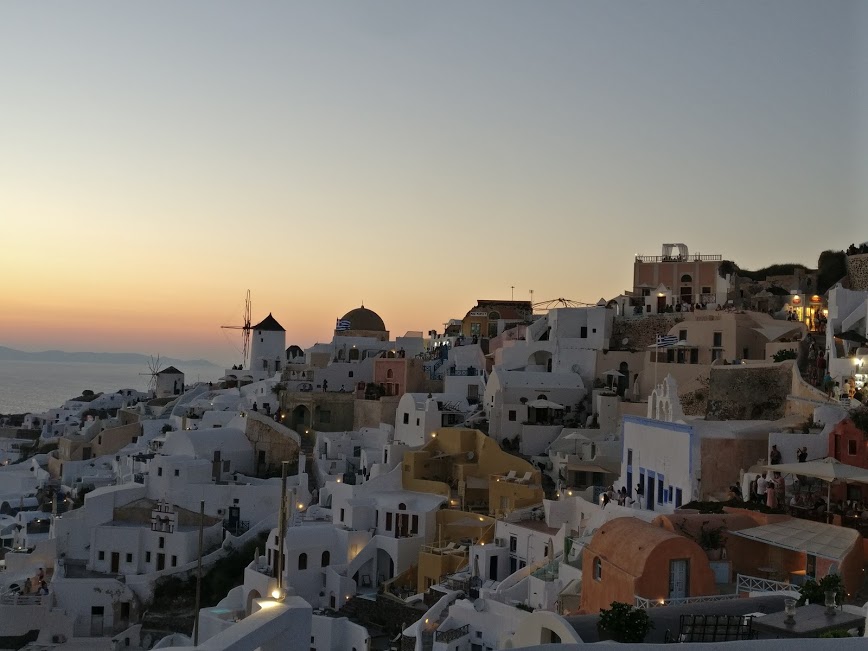 For dinner, we headed to Karma, which is nicely tucked away off the beaten track, and aside from Melitini was easily our favourite meal during the trip!
Day five
Next day, having booked a day trip to the volcano online with Dakoutros, we headed back to Fira (and this time caught the cable car down to the old port). We checked in for our trip and were boarding by 11am. We headed for the hot springs first, which Oli and I didn't swim to as we had another trip lined up which included the hot springs (more on this later!) So we stayed on the boat and chilled out in the sun.
The trip itself was a lot of fun and delivered exactly what we wanted, but the only downside was that we were quite a big group and usually Oli and I prefer something smaller.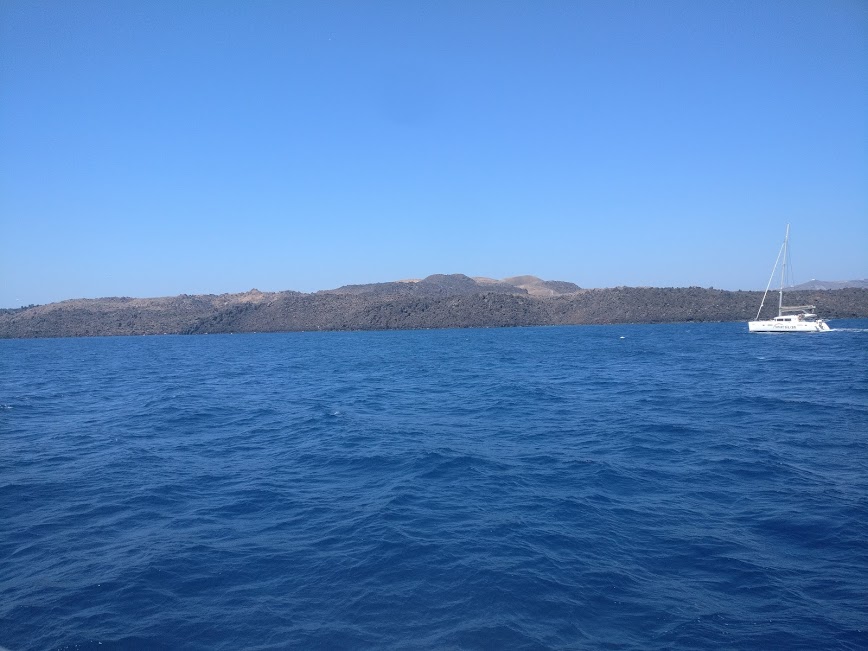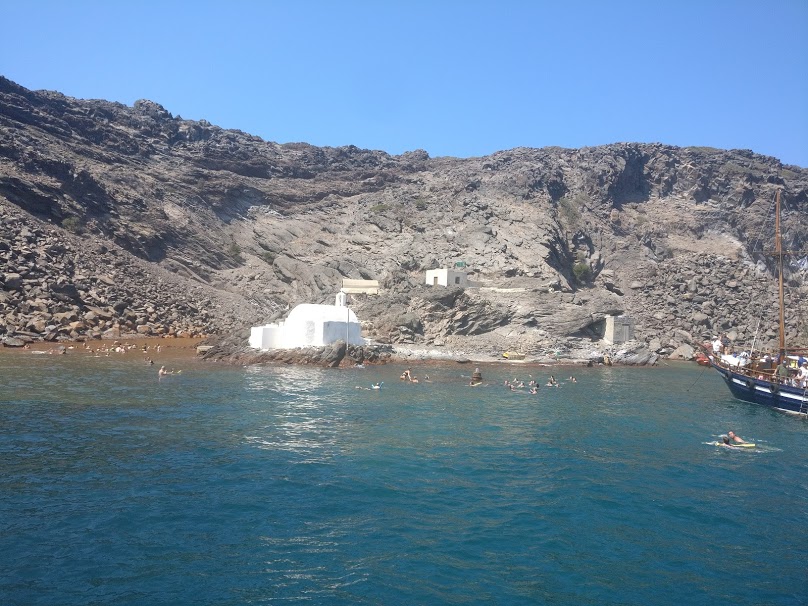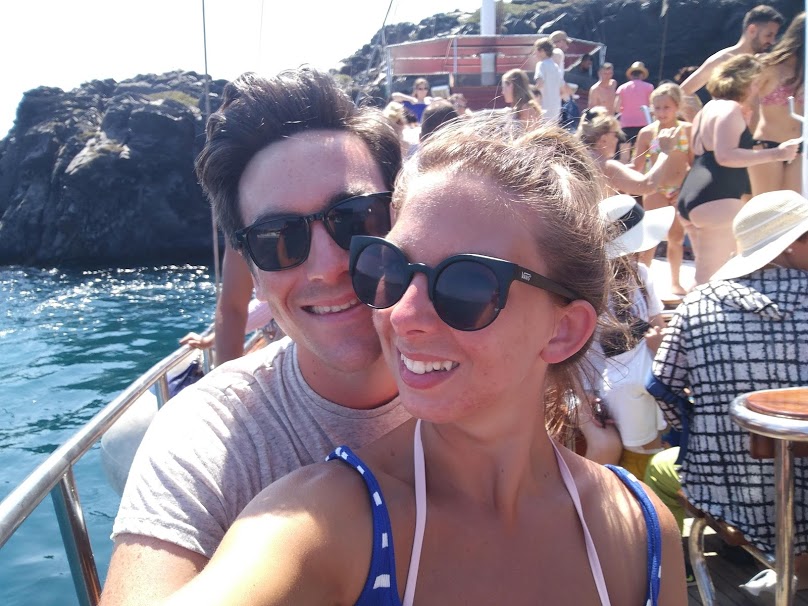 After the springs, we made our way to the volcano. Entry was a few euros and we had a guide with us (as part of the boat trip) who took us up to the first crater, and told us all about the history of Santorini and the volcano itself.
From there we were allowed to do what we wanted, with about 1 hour on land, we could stay there if we wanted or walk up to the top of the volcano where the 2 main craters were. Oli and I decided to head up to the top – it was boiling hot, but a bit of a breeze which helped, but feeling victorious we were greeted with incredible 360 degree views from the top.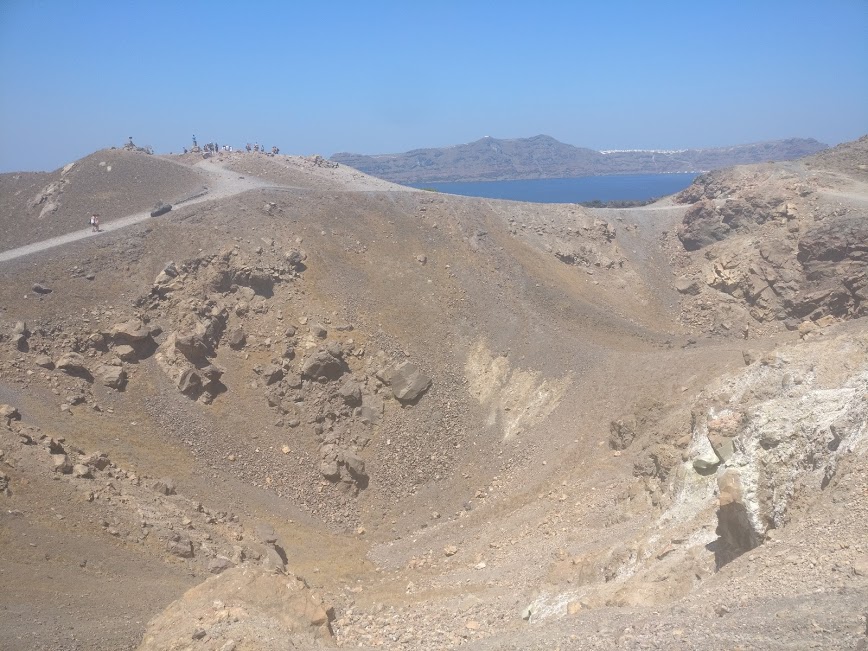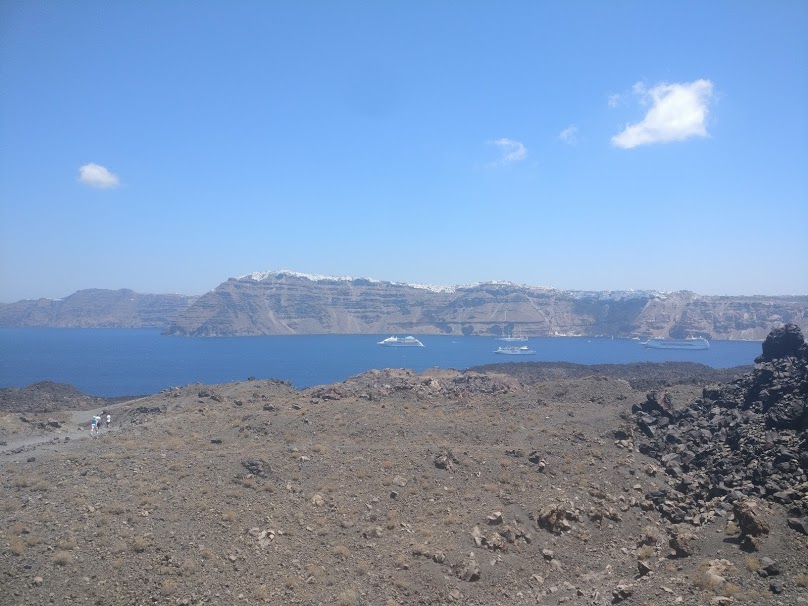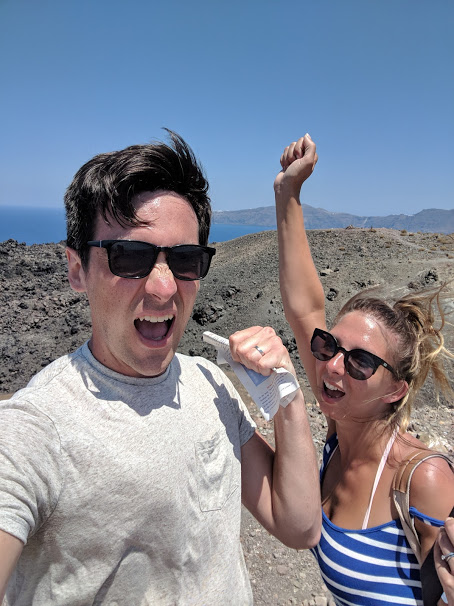 After 1 hour, we were back onboard and heading back to Fira, docking about 2pm. As we came into port, we had views of Fira above us and visibility over the winding path we'd taken a few days before to the top (and therefore the path those poor donkeys have to take). Thankfully Fira was quieter on this day and we managed to get a cable car back to the top!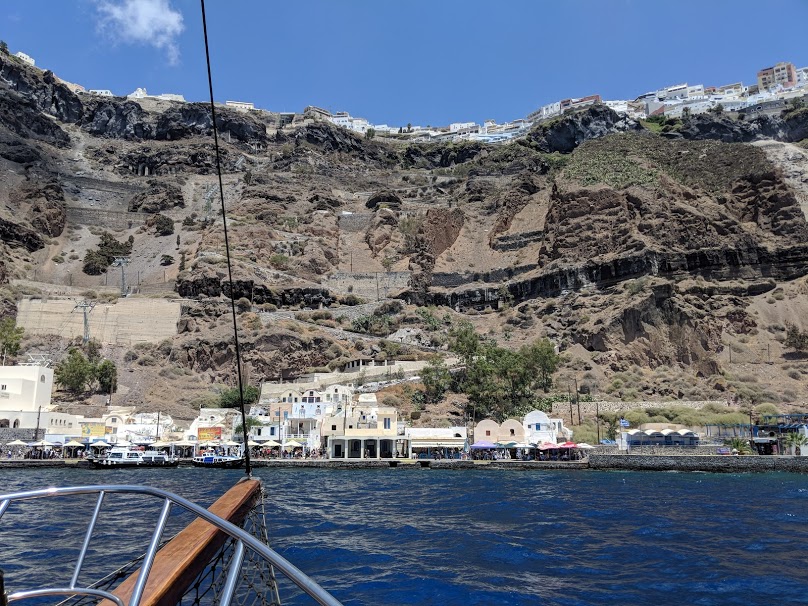 A little slack on the photos this evening, but we enjoyed some pre-dinner drinks in Oia at Passaggio, which quickly become our favourite pre-dinner drinks spot. We had a couple of rounds here and then headed to Kyprida for dinner.
Again, a lovely little place in Oia, but off the beaten track a little, we had a fantastic meal. We hadn't booked, but the waiter managed to grab us a table for 2 (despite most tables having reserved signs). From memory I can't even remember what we had! But I know we loved it!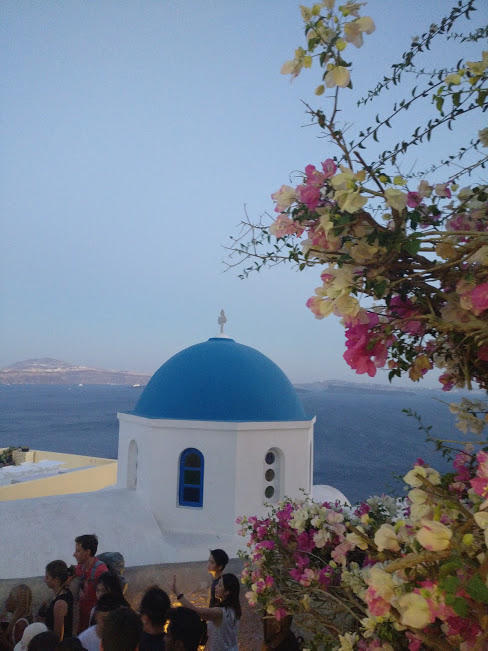 After dinner we enjoyed another explore around Oia, before finishing the evening back at Passaggio.
Day six
The highlight of our trip!
We booked a sunset cruise online during the week via TripAdvisor, so spent the morning chilling by the pool, reading our Kindles and were picked up from the Finikia Car Park at 2pm.
We had a fab driver (Jimmy) who picked us and a few others going on the trip up from their hotels. He gave us a tour of the island and told us lots about it, as we headed south to the local marina where we would be departing for our trip.
At over £100pp, we did spend more than we normally would on a trip like this. But it was well worth the money!! As already mentioned, it was the highlight of our trip, and the max number of guests is only 16, which was perfect!
On the way to the marina Jimmy informed us that our catamaran was brand new, at only 40 days old and what a beauty it was!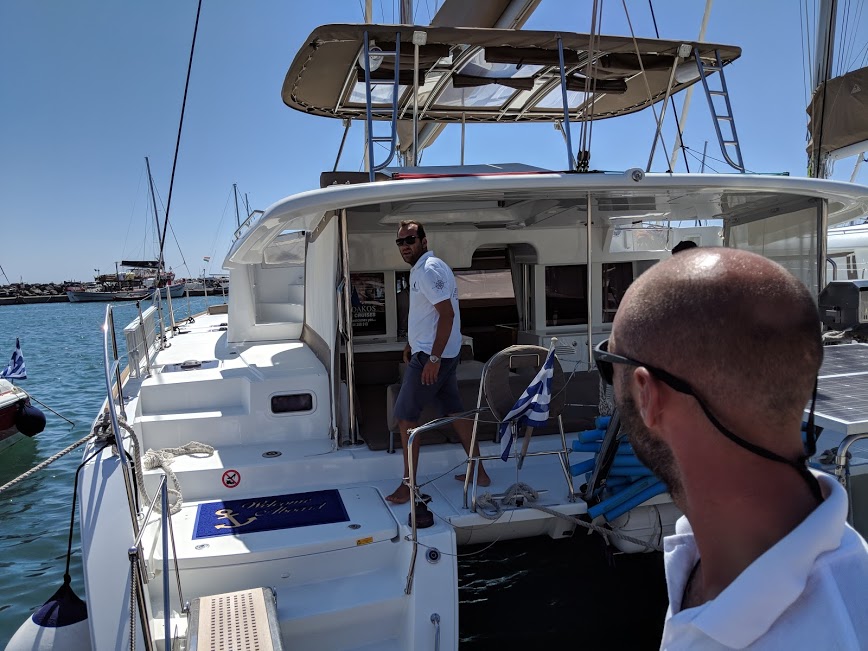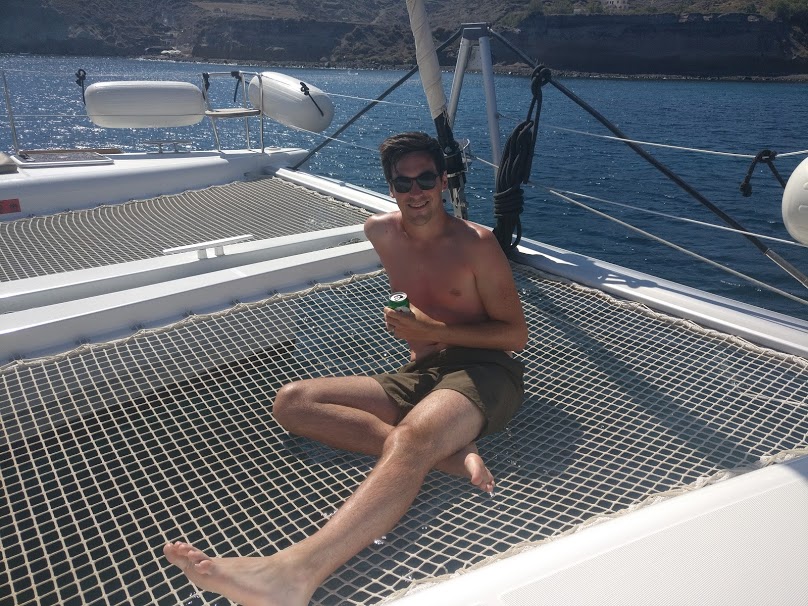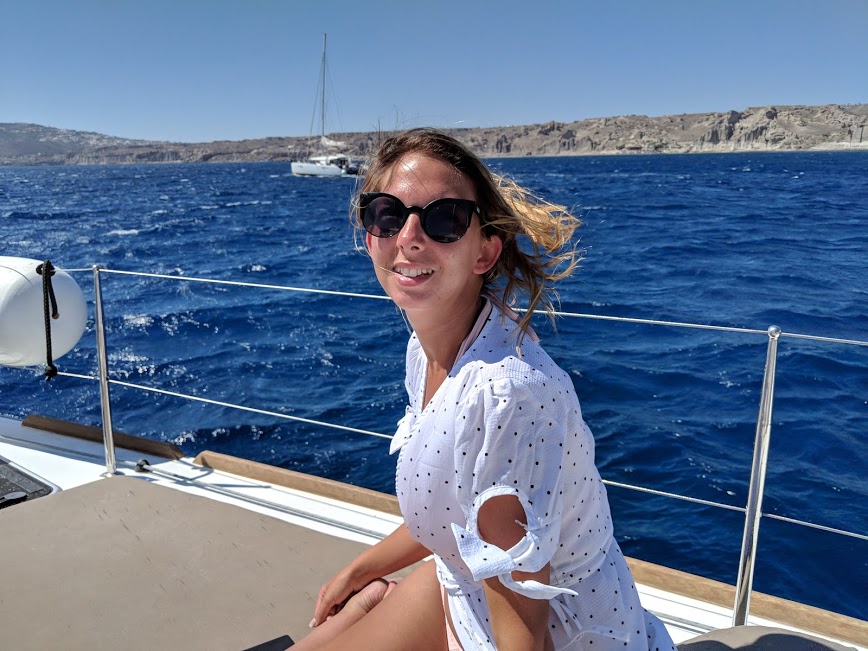 On our way to the hot springs, we stopped off at a few beaches, including the red beach, which you can only reach by boat and looked incredible against the backdrop of red rock – it looked like we'd arrived on mars.
As we stopped off at the beaches, we were offered the opportunity to go swimming if we fancied it and the crew also started getting the drinks lined up (our booking included unlimited beer and wine!) and the local Santorini wine was very nice!!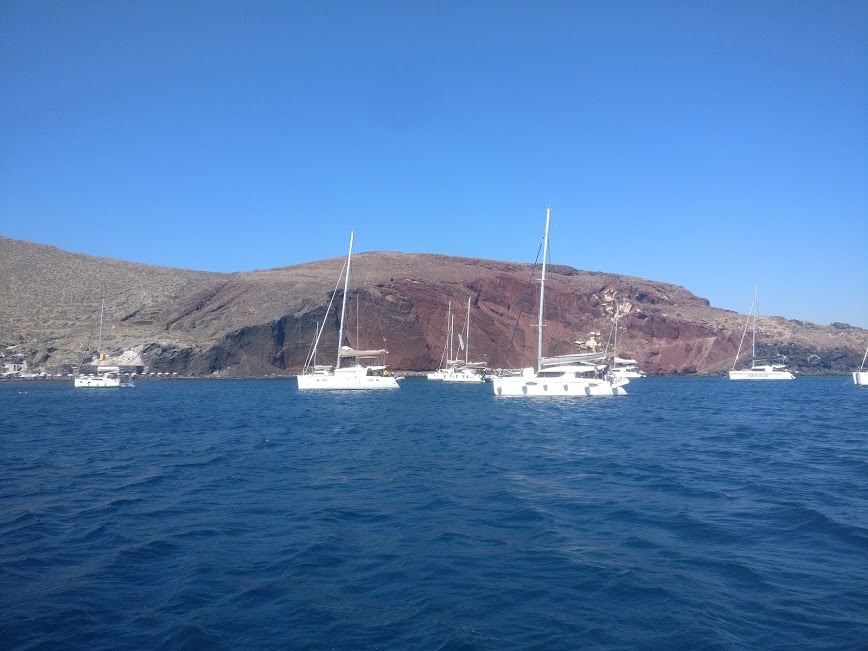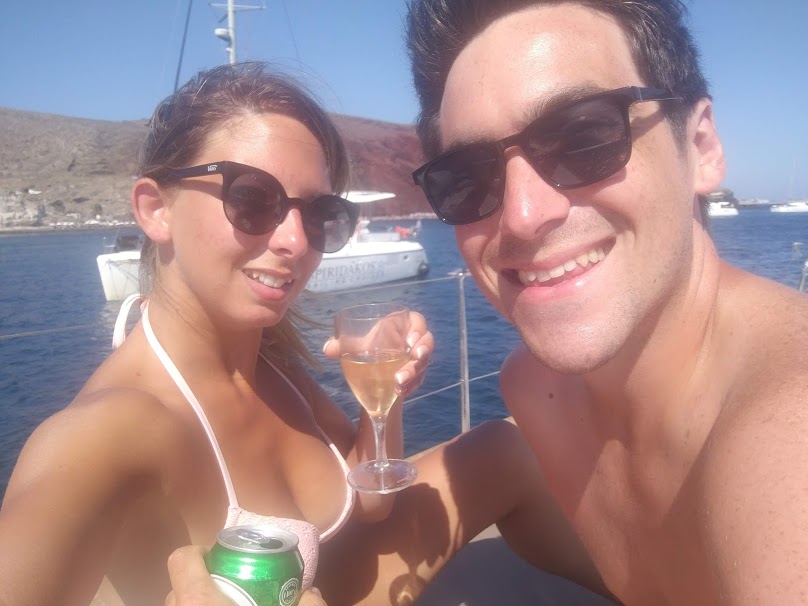 At our last beach stop, the crew also served up the most amazing lunch! Which consisted of a white fish (a bit like cod – neither of us are seafood lovers so this suited us fine), prawns (no thank you) and pasta, plus massive doorstop bread which was lovely!
We then set sail for the springs, where things got a little interesting! Having left the peaceful waters of the beaches, we were now out in the open ocean and sitting next to the netting meant we got full force of the choppy waters, spraying up onto the deck. You'd have this with any catamaran I'm sure. None of us chose to move and stayed at the back getting absolutely drenched! We all thought it was hilarious and we were all screaming with laughter.
We arrived at the hot springs, and had lots of fun swimming out to them (only a short swim away). The water is a horrible rusty colour from all the sulphur and you're advised to wear swimwear you don't mind (possibly) getting ruined / discoloured from the sulphur. But it was a lot of fun and you could definitely feel the temperature change as you swam into the springs.
By the time we'd finished here, the sun was slowly beginning to set. Drinks still flowing and music still blaring from the speakers, we started to head back out to sea and then opened the sails allowing us to just bob and float about for a bit whilst we watched the sunset.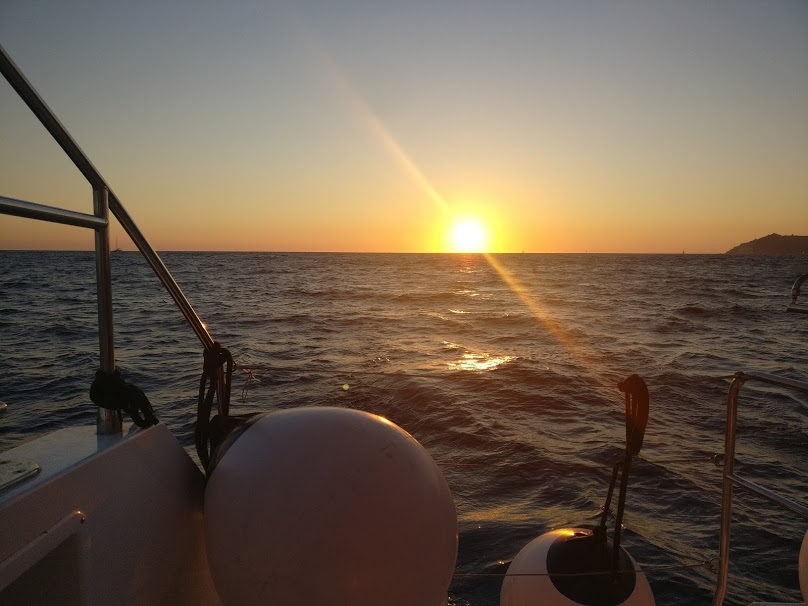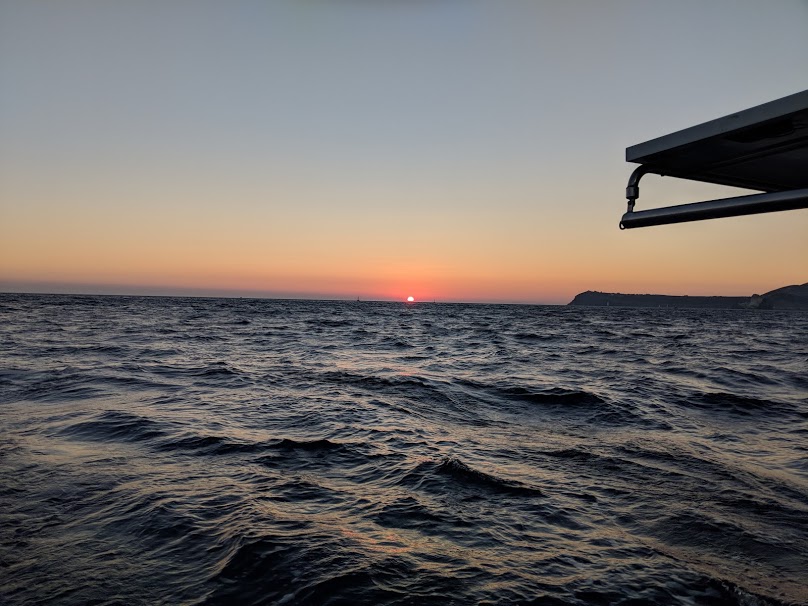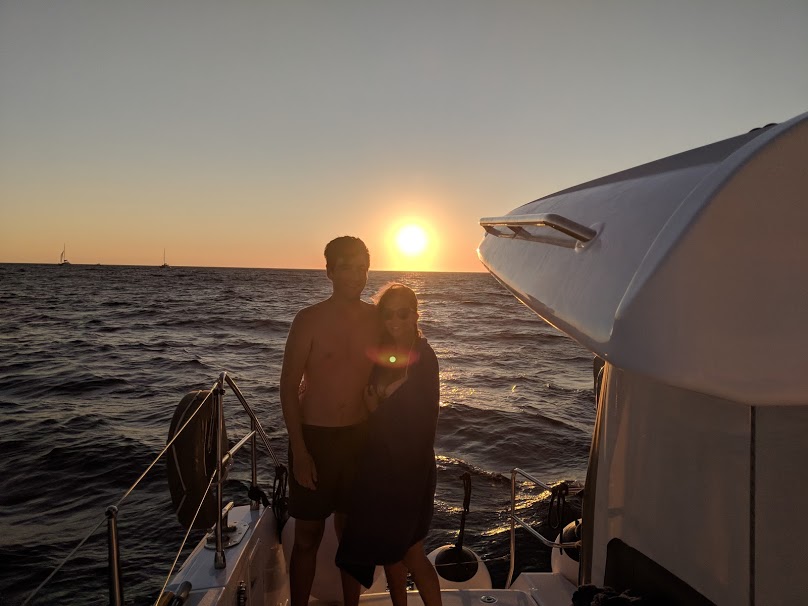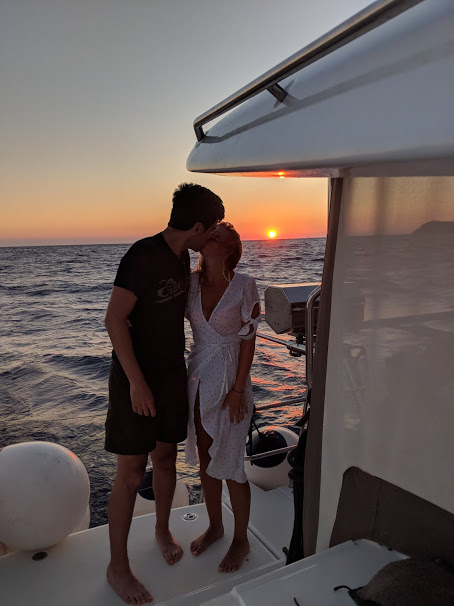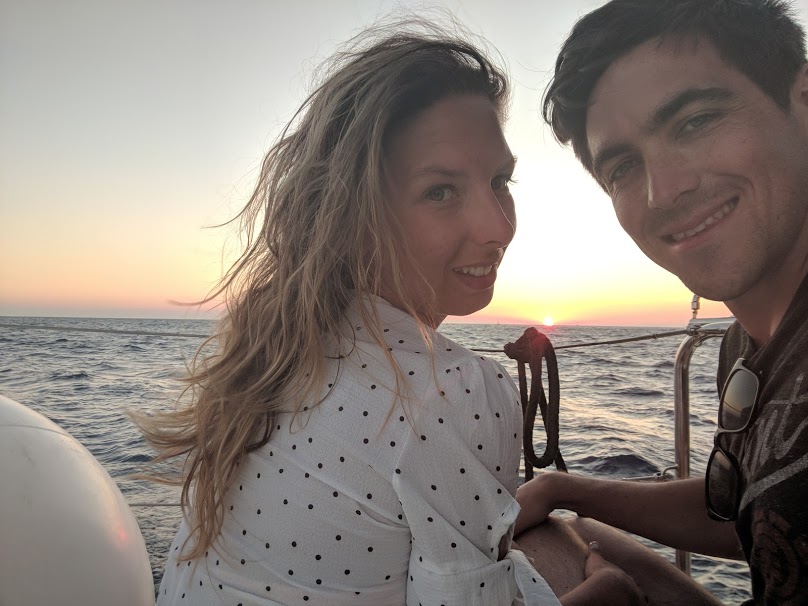 This was honestly the most fun! I highly recommend this trip if you're after a sunset cruise. Unlimited wine and beer (we definitely took advantage), lunch supplied, a nice small group, lots of stop offs, hot springs, the most beautiful sunset view and the crew were all hilarious and so much fun. They made us feel so welcome and had us laughing all day.
Day seven
Sadly our 1 week in Santorini was drawing to a close. We decided to spend our last full day chilling by the pool and zoning out for one last day. Two books down I was excited to start something new on my Kindle.
We chilled all day and then got ready for dinner, which became a 'best of' from our 1 week in Santorini. We headed to Passaggio for drinks, before dinner back at Melitini, and once again we were greeted with the most beautiful sky at sunset.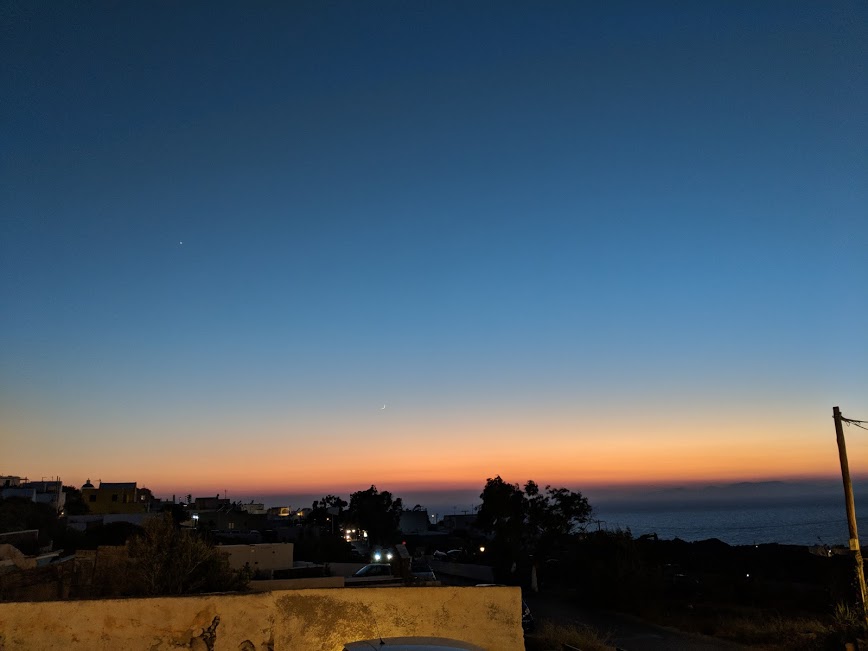 A perfect last day to round off our trip.
Day eight
Sadly nothing exciting to write home about on our last day. We didn't need to be at the airport until 12pm, so we packed our bags and took a last wander into Oia. We'd seen a few bits in some of the nice stores that we wanted to buy and take home some nice gifts for some people and some souvenirs for ourselves. We spent about an hour shopping in Oia, before checking out and enjoying our last drive in little Feta.
We had an incredible time in Santorini. I can see why it has the reputation it does. There is so much to do if you want lots to do, but equally it is such a beautiful island you could chill and zone out for days. Not to mention being spoilt with all the amazing bars and restaurants (and we only ate in Oia!) Jimmy said all the best restaurants are south in Kamari, so that's still on our list if we ever go back.
I hope our 1 week in Santorini overview has helped if you're planning a trip there soon. It's a beautiful place and I will remember our time there very fondly. We had the best minimoon – now time to start planning the honeymoon!!
Hope you enjoyed this, feel free to add comments or questions below 🙂