We have been back in the UK 1 month now and Iceland feels like a distant memory already! We spent 1 week in Iceland and it was by far one of the best, most amazing places we have ever been to. I don't think we've ever been anywhere, or seen anywhere like it before and we're already talking about when we can go out there again! Here's my trip report of our 1 week in Iceland and what we got up to.
A bit of a ramble below before we get stuck into some photos! 🙂
Day 1
Our flight was at 12:30pm flying from Gatwick, getting us to Iceland for 3:30pm. We flew with Icelandair and they are by far one of the best flight operators we've flown with. We had ample leg room (normal seats), which is always an issue for my 6'2″ boyfriend who gets fidgety very quickly when he's squished / uncomfortable. They also one of the best inflight entertainment systems I've seen – the downside was I didn't pack headphones because I usually don't like what's on the planes, but they had a host of films and well known UK / US TV shows. They also had a documentary on Iceland which looked really interesting! You can buy headphones on the flight, but I thought for a 3 hour flight I'm sure I could get by with just my book.
You can also buy sim cards and book tours and excursions during your flight too – I don't know with which companies or if they're any good, but if you're interested it might be something worth looking into?
Phones & data
We arrived on time at Keflavik airport and collected our luggage no problem! As you feed out into the arrivals lounge (where everyone meets and greets you) there's a 10-11 shop (like a 7-11) who sell Vodafone sim cards. This was ideal for us as we're both with Three and they don't offer a 'feel at home' package in Iceland, so we didn't want to incur £5 a day roaming charges. Instead we picked up a starter kit, topped it up with a few ISK and we had enough data to last us the whole week and it worked out cheaper than Three's charges. I'm not too sure exactly what package we bought and how much we topped it up as Oli did all this for us, but I can always find out if you have any questions.
The benefit of having an Icelandic sim for us too, was that we have friends who live out in Iceland, so it was great being able to call them on a local rate number.
Car hire – Blue Car Rental
Next, before we could get going into the city we needed to pick up our hire car. We ordered our car online a few months in advance from Blue Car Rental. We did our research and looked into lots of different companies and they seemed really reputable. They met us at the airport, took us to their shop (just a few minutes from Keflavik) and we were in our car and on our way in minutes. We had a Kia Cee'd, with snow tyres and it was something like £200 for the whole week I think? Overall I would really recommend Blue Car Rental if you're thinking of hiring a car. All the main insurances were already included (some places were adding these on as extra costs) and the staff were super helpful and friendly.
Hotel
We stayed at Hotel Oinsve in Reykjavik. The location is spot on, throughout our week we found we were minutes from some great shops and restaurants, and literally around the corner from Hallgrímskirkja Church. The hotel generally was fab – our room was on the ground floor and we were worried about neighbours and street noise, but actually we never heard a thing and had great nights sleep every night. Breakfast was included in our room rate, served in the attached bar 'Snaps'. Staff were always more than helpful and very polite. The only issue we thought we might come across was parking, but there was more than enough street parking directly outside the hotel and a small car park right outside too. It was about 125ISK per hour (like 50p), free after 6pm till 9am and free all day Sundays. The machines also accepted our UK cards no problem!
Northern Lights tour
One of the many, many, many great things about visiting Iceland in November? Good chances of seeing the Northern Lights. And we couldn't wait! Before I rave about how good the company was I will point out we didn't see the lights on this night (that comes later!).
We booked a tour with Time Tours, way back in the summer, after we had read the amazing reviews on Trip Advisor about them and their Northern Lights tour. We compared to other companies and decided this was the company for us!
They picked us up from our hotel about 8:30pm/9:00pm and drove about 1 hour outside of Reykjavik. On the way, Runi, our guide, spoke to us about the lights, why they happen, what the strongest rating he's ever seen was (a 6/9), what rating the lights were that night (3/9) and what typically a '3' looks like (a good way to manage expectations I thought and paint a picture). We arrived in a beautiful spot, down some track road. The sky was lovely and clear and we all waited in silence for a sighting of the lights. While we waited, Runi used the opportunity to help everyone set up their cameras and get some test shots. This was the first time we had done anything like this with the GoPro and we were quite happy with our results: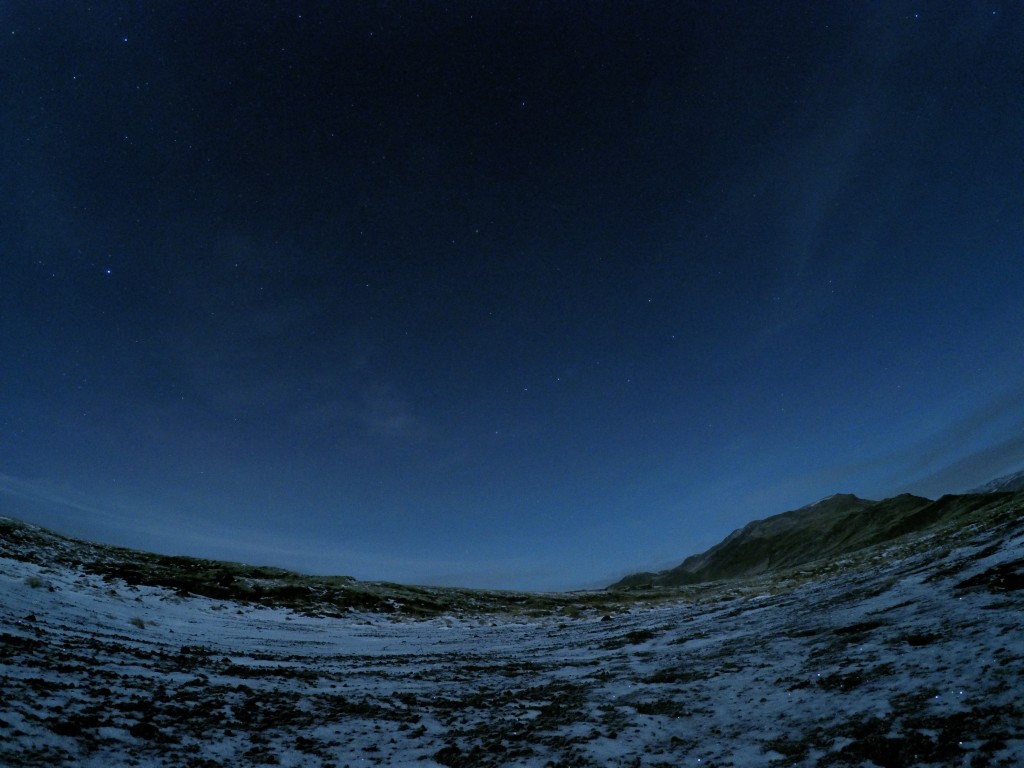 We waited around about 30/45 minutes, before Runi loaded us back on the coach and we were off in search again. This is where I really really rate Runi and Time Tours for the Northern Lights. Runi did not stop chasing them – calling friends, checking whether reports, loading his aurora apps and pulling over to take long exposure shots of the sky to see what direction the clouds were heading in, in order to decide what direction we should go in for clear skies. He definitely stayed out longer and went out further than any of the other companies.
We stayed out until 1 am, and somewhere around Thingvellir National Park we saw them…but behind clouds. It was the closest we had come to them and it was gutting that the weather intervened. Runi dropped us back off at our hotel at 2am and we organised another trip with him Tuesday night free of charge.
Day 2
Bed at 2:30am. Alarm at 6:30am! But it was worth it, as this was the day we were seeing our friends! They moved out to Iceland in February this year and we couldn't wait to catch up. Our friend, Adam, picked us up from the hotel at 7am, we hopped in his Rav4 named Ralph, and headed off on an adventure to Vik.
One of the weirdest things to get used to in the winter is the time being 9:00am and the sun still hasn't risen! I was trying to imagine leaving the house and driving to work, only for it to still be pitch black when I arrived. Weird haha.
However, we made great time and arrived in Vik around 9:30am. It was super foggy and the sea looked rough, so we headed straight down to the beach for an explore.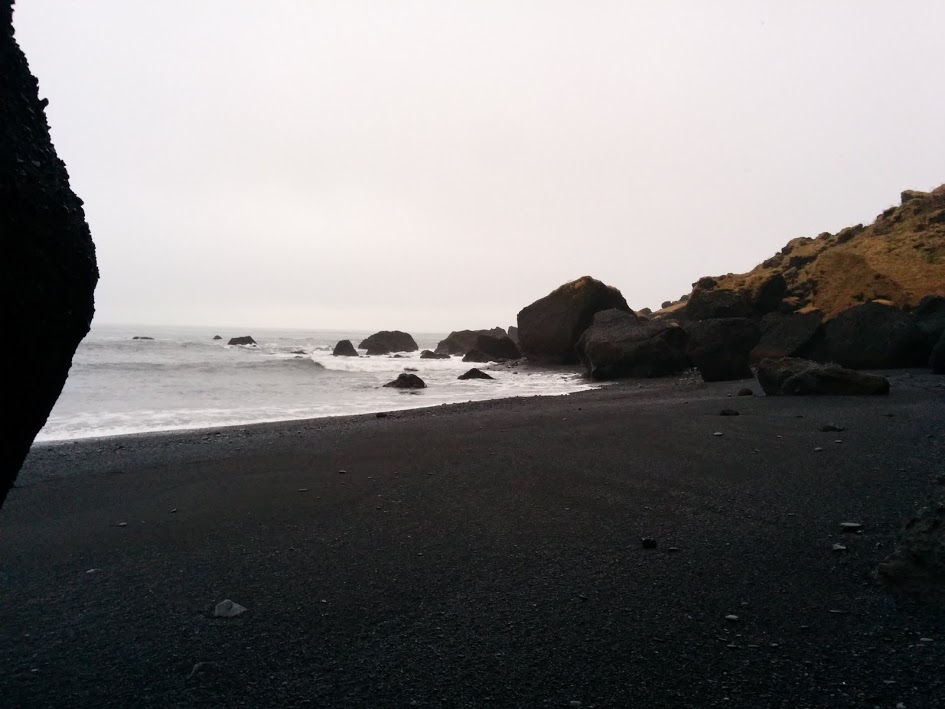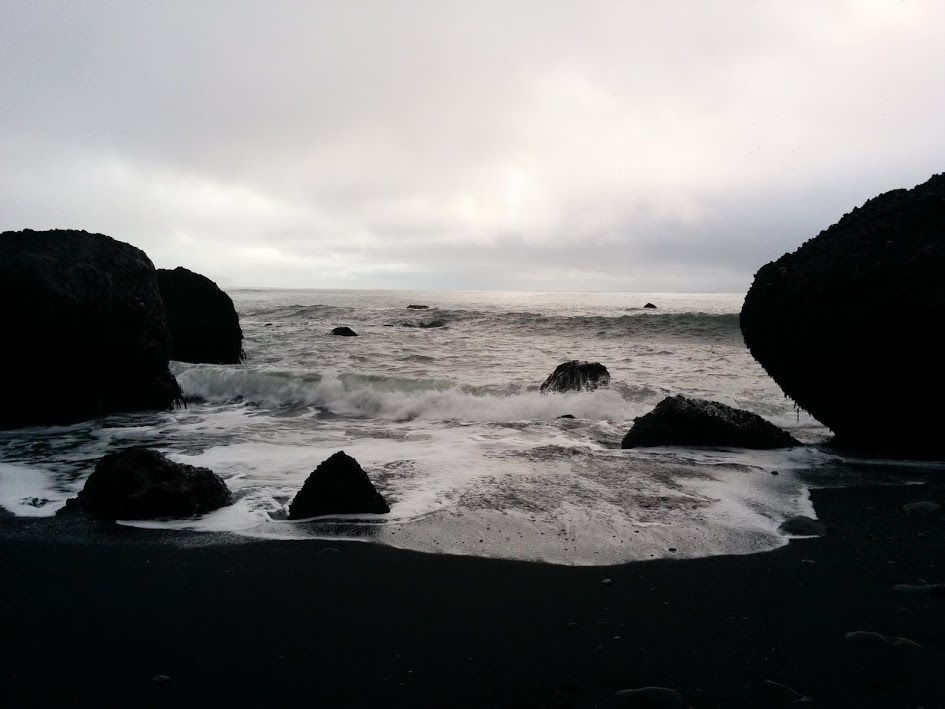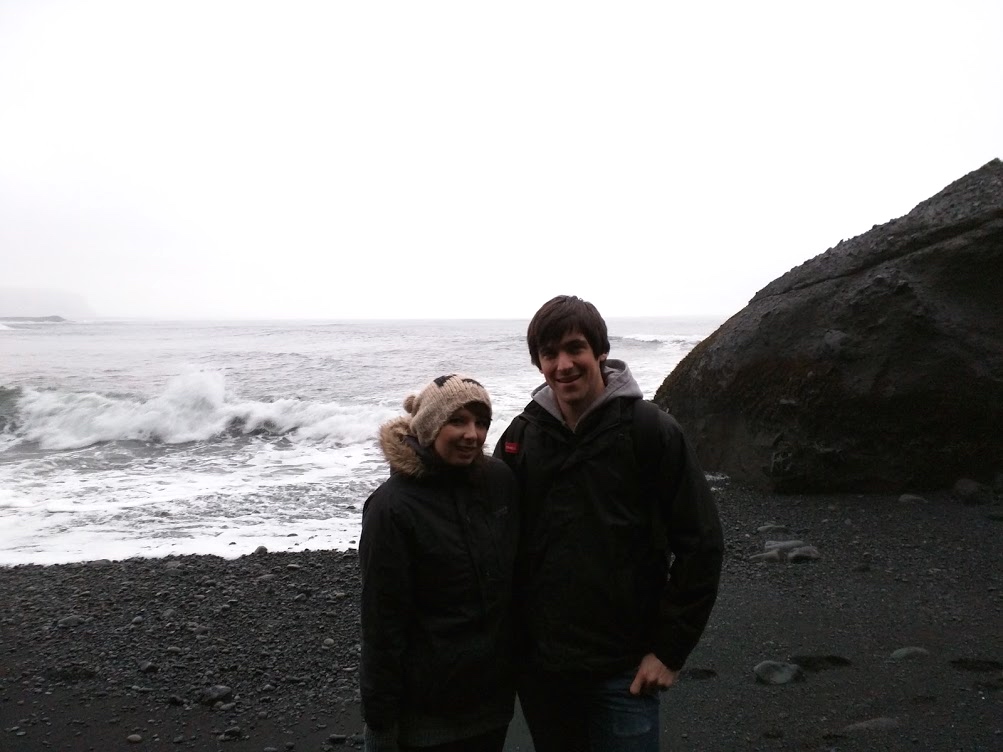 We spent about 1 hour exploring the beach and it's hidden caves, while Adam explained to us what the beach looks like in the summer as a contrast. More often than not, I genuinely felt like I was in a black and white film. The beach and volcanic rocks are so dark and black, the only contrast is that of the white sea and white sky. There was something very mesmerising about seeing life in black and white.
After our time on the beach, we had a quick explore around Vik itself, before moving on to Reynisfjara beach. From here we also had a great view of Reynisdrangar. The story is that these are actually trolls, who at night were trying to lure ships into shore to crash on the rocks. However, the trolls forgot about daybreak and turned to stone when the light touched them.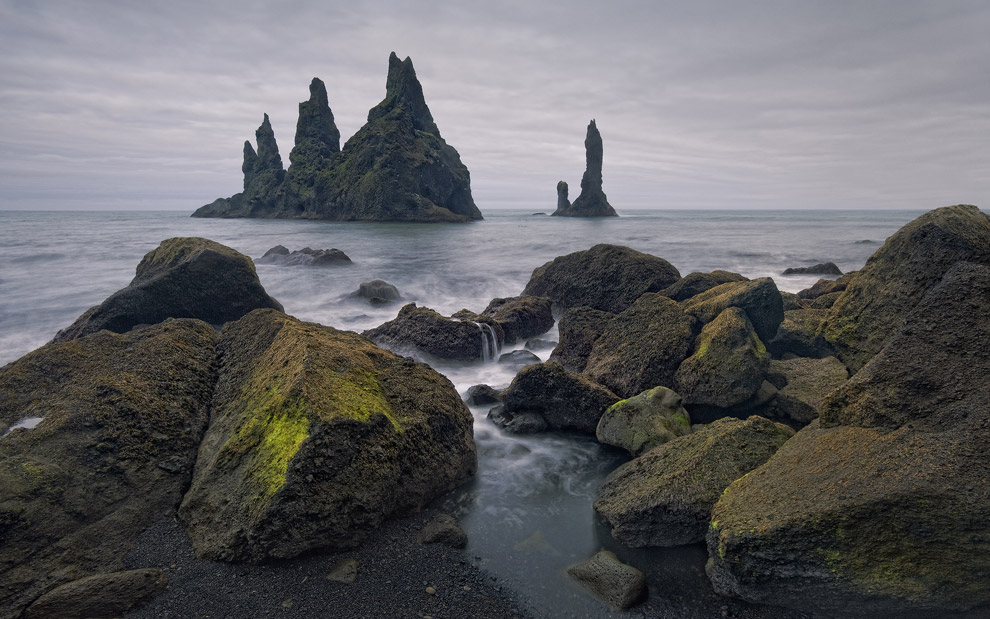 After that though we didn't stay on the beach too long because we were much more unprotected than we were on Vik beach and the wind was icy cold and battling hard against us. We scurried back off into the car for some warmth. From here, we headed a little further back up the way we came to Dyrhólaey, the Southern most point in Iceland. Here we were like big kids, scrambling over the rocks, exploring and watching the mammoth waves crash up on the rocks. Some of them were huge! And despite being 25 year olds, the novelty of huge waves obviously hasn't worn off.
We incrementally made our way back on ourselves, stopping off at different things. Our next stop was the DC3 plane crash. This was a real highlight for me – I had read about the plane crash last year when researching things to do on our 1 week in Iceland, but instantly discounted it from the list after reading about the condition of the track and whether we'd get away with it in our hire car. So for Adam to take us in his own car (and he'd already done it 3 times) was a bonus!
The plane crash was really cool and really eerie – crazy how after all these years they've just left it there. You could also walk inside the plane which was pretty cool too. As if that didn't hold your attention enough, when we turned around we also had the most beautiful view of the snowy capped glaciers. Not very clear in the photo below, our cameras couldn't really pick it up, but it was stunning.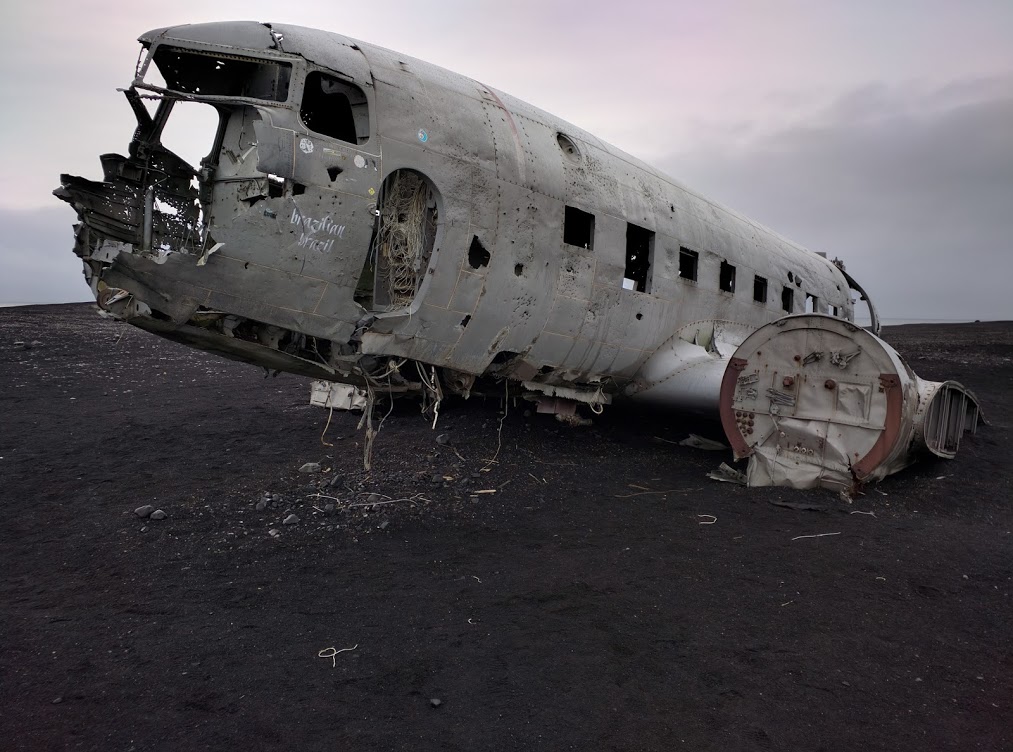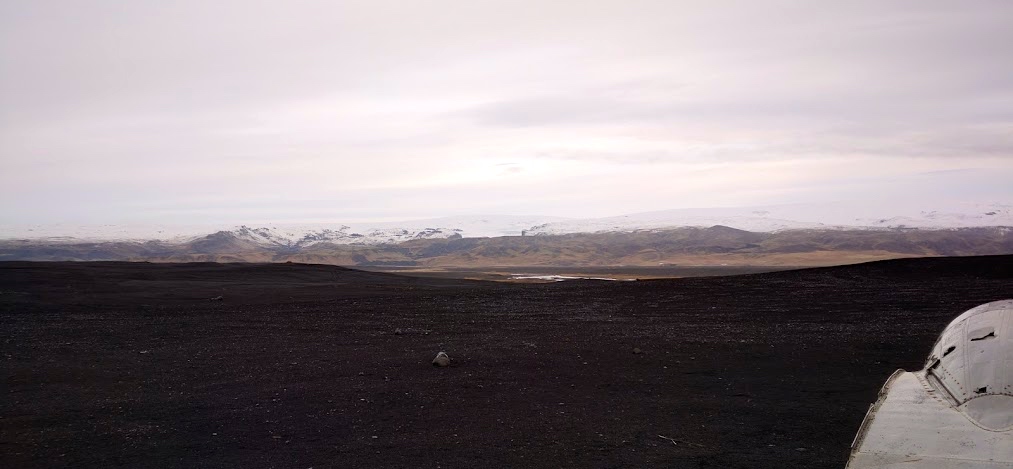 From here we were off again, stopping off at Skogafoss waterfall; views by the foot of Eyjafjallajokull volcano and Seljalandsfoss waterfall. We couldn't get too close to Skogafoss because the ground was just too icy. It was literally like an ice rink. We had some great views though from as close as could get, and then marched up all the many steps to the top of the waterfall with some great views below us. From the top you could also just make out the top of the glacier sticking it's head above the hill in front. Some people were continuing on, probably to get a better view over the hill, but it was already coming up to 2pm and time was not on our side.
When en-route we also passed the visitor centre for Eyjafjallajokull, which had some brilliant views across the farm below the volcano and the glacier above it. Our last stop after this was Seljalandsfoss. Again, the ground was just too icy it was impossible to get behind or too close to the waterfall, but great views nonetheless!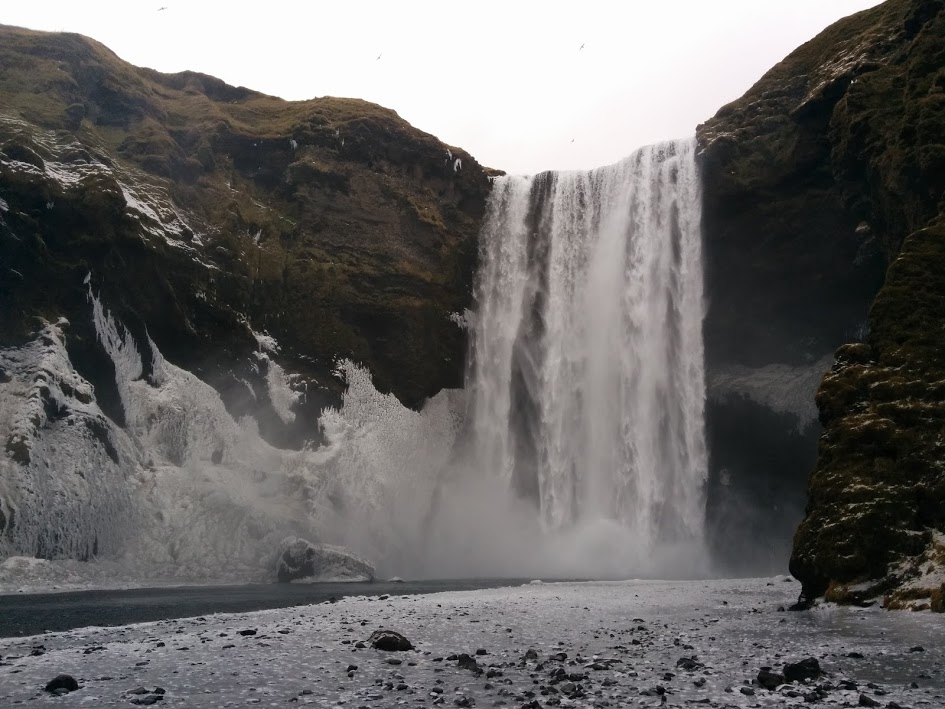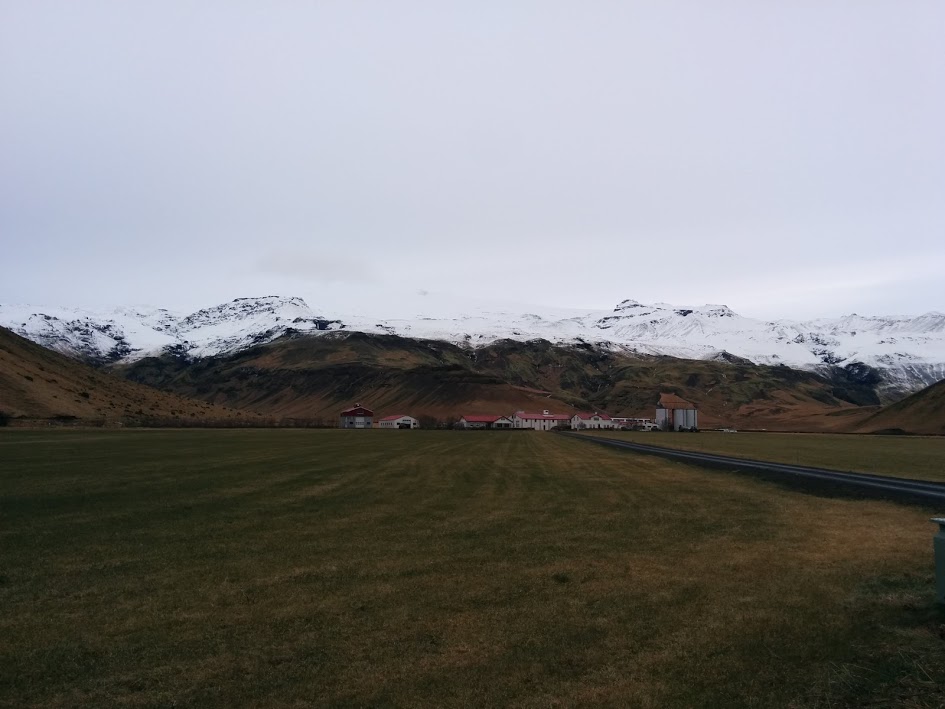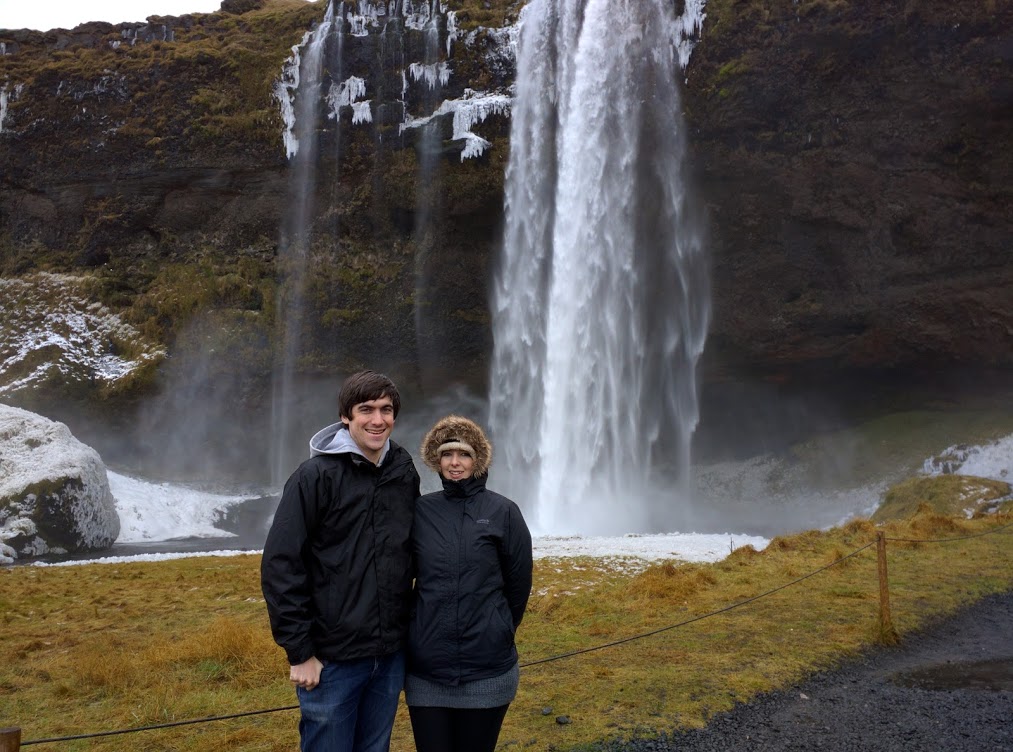 This was our last stop before we headed out to Reykholt, where Adam and his girlfriend, Oxana, live. They both work at Friðheimar, a tomato green house and restaurant in the Golden Circle. Ox was still working her shift, so Adam took us to the restaurant for lunch and show us where they both work. On arrival, Ox greeted us with homemade Bloody Mary's and Adam showed us around the greenhouse and explained what they do. The three of us then sat at a table in the corner and looking at all the many tomato plants! Our view from the table is below: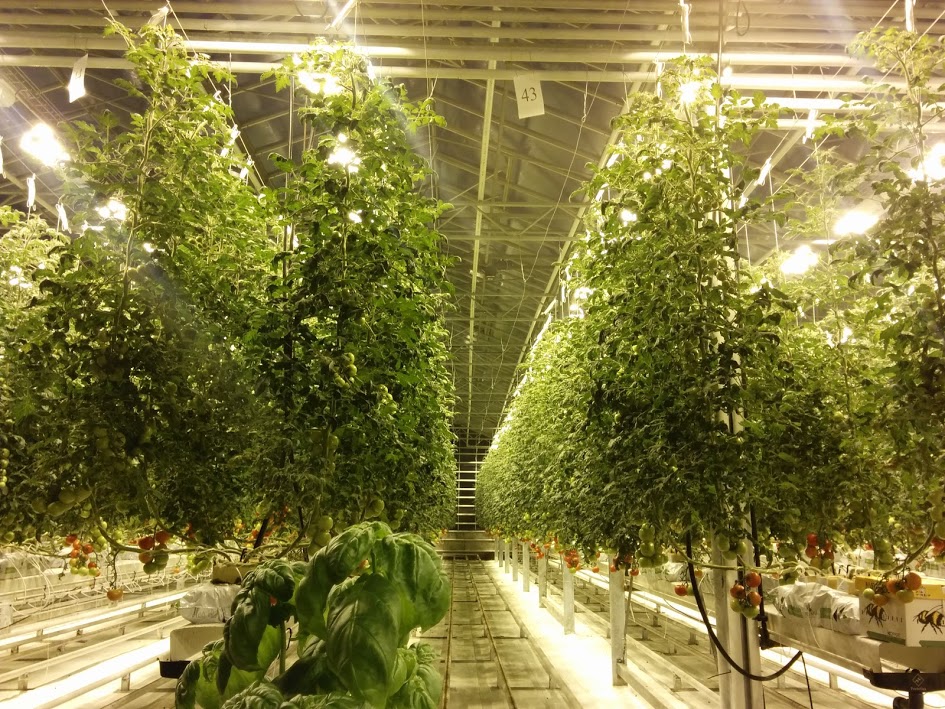 Oxana then gave us another concoction, which was sweeter and slightly fizzy with gin mixed in it. I can't remember all the ingredients, but it was like a fizzy, refreshing cocktail. We had homemade soup and bread for starter which was amazing and Heinz is now definitely ruined for me! Followed by pasta for main, with a homemade tomato puree kind of sauce. It was all absolutely delicious and if you're doing the Golden Circle, I all strongly advise you to come here. The food is great and it's also a really interesting place to be (say hi to Adam and Oxana for me if you see them!)
Ox finished her shift, we stopped by their house and made our way to our last and final stop for the day, The Secret Lagoon. We arrived about 6/7pm, so I don't have any photos myself but a quick Google image shows this: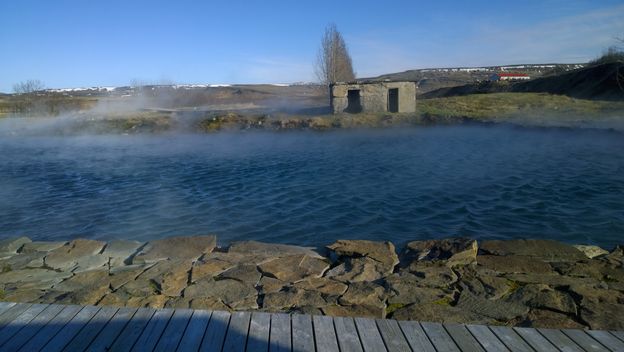 Entry is dead cheap to get in and we had the whole hot spring to ourselves. I'll come on to this much later in the blog, but I much preferred this place to the Blue Lagoon! In case you're not aware, you have to shower naked before entering the spring. This is a little odd to us UK folk, but the honest truth is everyone does it, so everyone else is used to it and no one else really cares that you're doing it or what you look like? Just shower, put your bikini or whatever on and get going. No biggie.
We made the freezing cold dash down the walk way into the water, and bath water temperature greeted us. It never gets cold and never gets too hot, every now and then the ground behind the rocks rumbles and steam pours out, only to find the water around you subtly warming up. It was also sleeting, so it was strangely refreshing to have a cold head and shoulders only to dip back under in the steamy water. It was perfect and if we had more time on our trip we definitely would have come back out here. We must have stayed here an hour or so, before we were too prawny and decided it was time for home. Adam drove us back to Reykjavik and when we got back to our hotel room we were asleep in seconds! A jam packed, but amazing first day in the city.
Day 3
We woke up feeling relatively refreshed and grabbed some breakfast downstairs. Adam and Ox were working in the morning, but were going to spend a couple of hours in Reykjavik with us. Until then we had some time to kill and our priority for shopping was to treat ourselves to a Lopapeysa (traditional Icelandic jumper). We'd seen a few in the tourist shops and chain shops such as Ice Wear, but knew we wanted to get our jumpers from the Handknitting Association; supporting the local knitters and it was at the bottom of our hotel's road! We arrived only to be greeted by a wall of jumpers – "where do we start first??"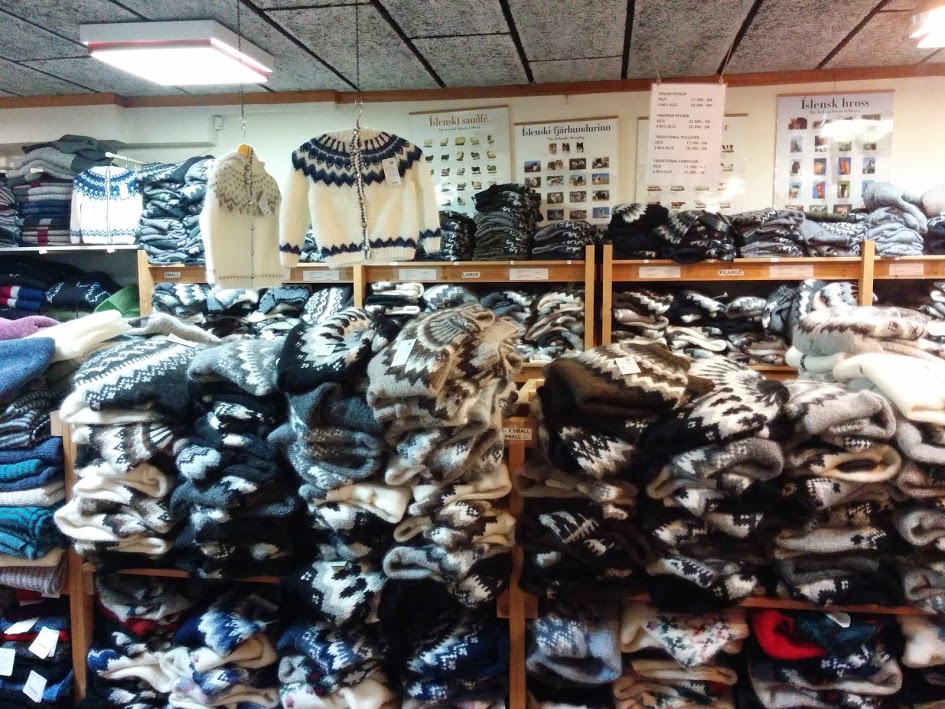 The jumpers are organised by size, so it's easy to filter. Then it's just a case of deciding what colours, patters and style you like best. Every single jumper is slightly different in it's own way and we were both in this shop about 45 minutes trying on different jumpers and comparing. We ended up with 2 beautiful jumpers which we love and a puffin patterned blanket / throw to snuggle up under on our sofa at home.
We then headed down towards the harbour and popped inside the Harpa Conference Centre. It's a very cool building to look at both inside and outside and as you make your way higher up within the building there are some very cool views looking over the Sun Voyager and the sea. We'd been looking for this sculpture and the rain had finally stopped, so we decided to head over and take in some of the views.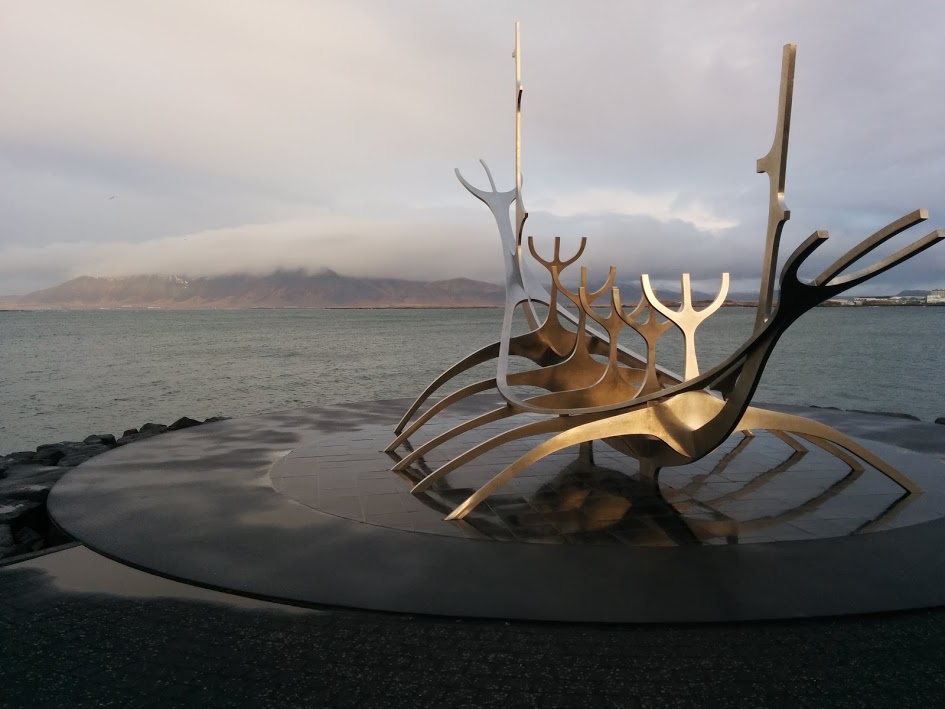 This then timed it right to meet up with Adam and Ox. We grabbed a couple of hot chocolates before decided to explore the city a little. Aside from job hunting originally in the city, and living out in Reykholt, Adam and Oxana hadn't seen much more of Reykjavik than we had. We spent a couple of hours together just wandering the streets and taking it all in, when they needed to be on their way. It was about 3pm and the sun had come out at last, so after they left, Oli and I headed up to the top of Hallgrímskirkja for some views across the city – and the views did not disappoint.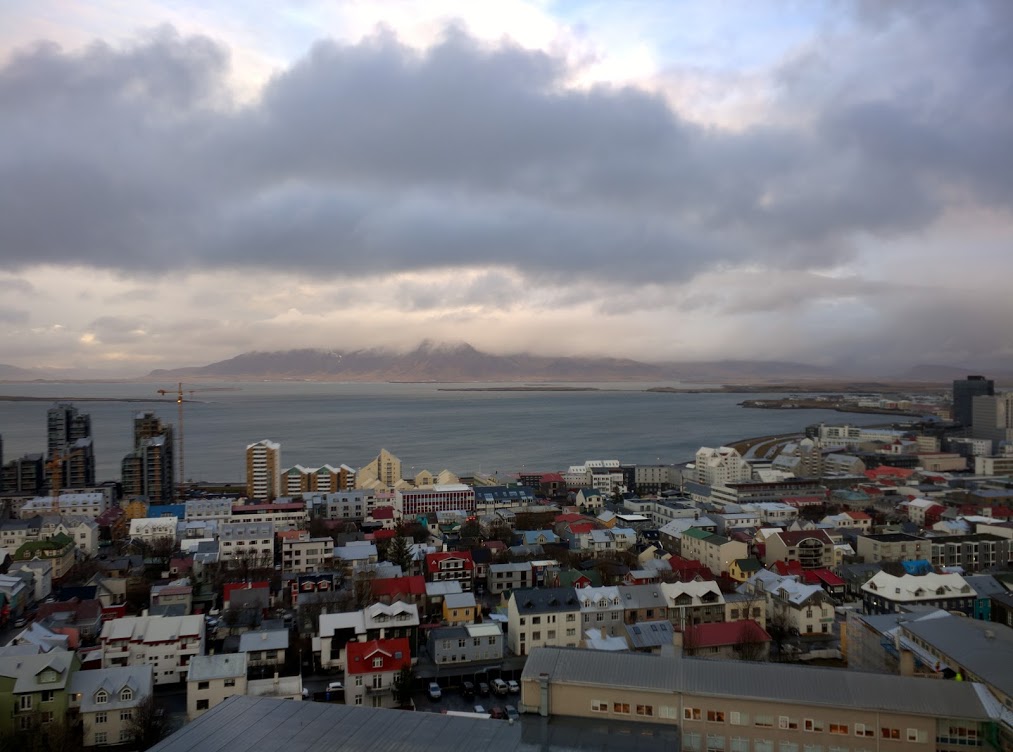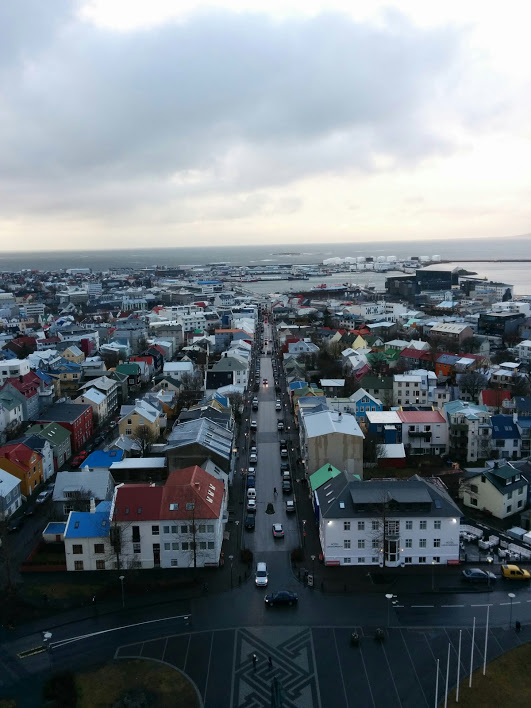 What we did with the rest of our afternoon is a bit of an exploring blur. I remember we bought some Christmas decorations for our tree at home as a little souvenir and we popped into Fotografi; a great photography shop around the corner from our hotel. A huge range of photographs are sold, from individual prints and canvas shots, to printed books and framed photos. We bought 3 prints to bring back home, which we're going to frame and put up in our lounge. There were some striking and beautiful photographs from around Iceland and we could have spent ages in there admiring all the photos. The shop is definitely worth a visit and is a great place to bring a little memento back from.
In the evening we enjoyed our first meal in the city by eating at the Icelandic Bar. We both ordered a Reindeer Burger, which came with sweet potato fries and it was delicious! If we'd had more time in the city we definitely would have eaten here again.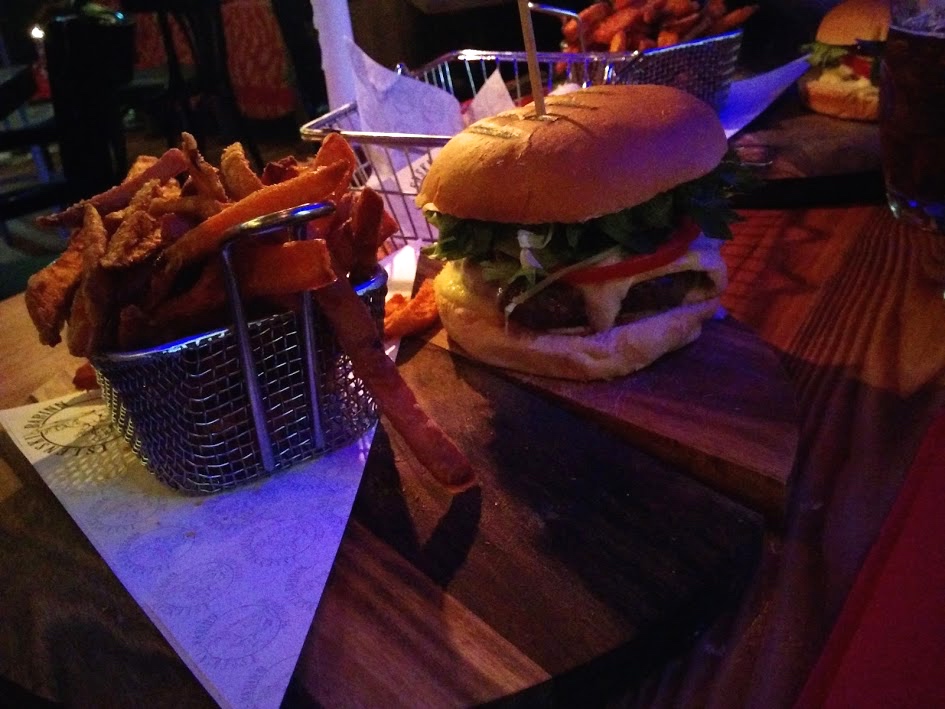 Day 4
We had another big day planned today (making the most of our 1 week in Iceland). Usual morning routine, breakfast at the hotel and then in the car and out on the road early, en-route to Gunnuhver and Krýsuvík, a couple of geothermal locations. This drive was probably the first time when we started to get what people meant when they said felt like they were on another planet in Iceland. The earth around us red (stuck of eggs of course from the sulphur) and was steaming and bubbling all around us. There was signs everywhere informing the ground was at least 100C and it was all just a little bit surreal and mental to be around. It led to some very in-depth discussions between us both about how mental the power of the earth is and that we actually felt like one day the earth could kill us! But it was only because we were so impressed by what we were seeing.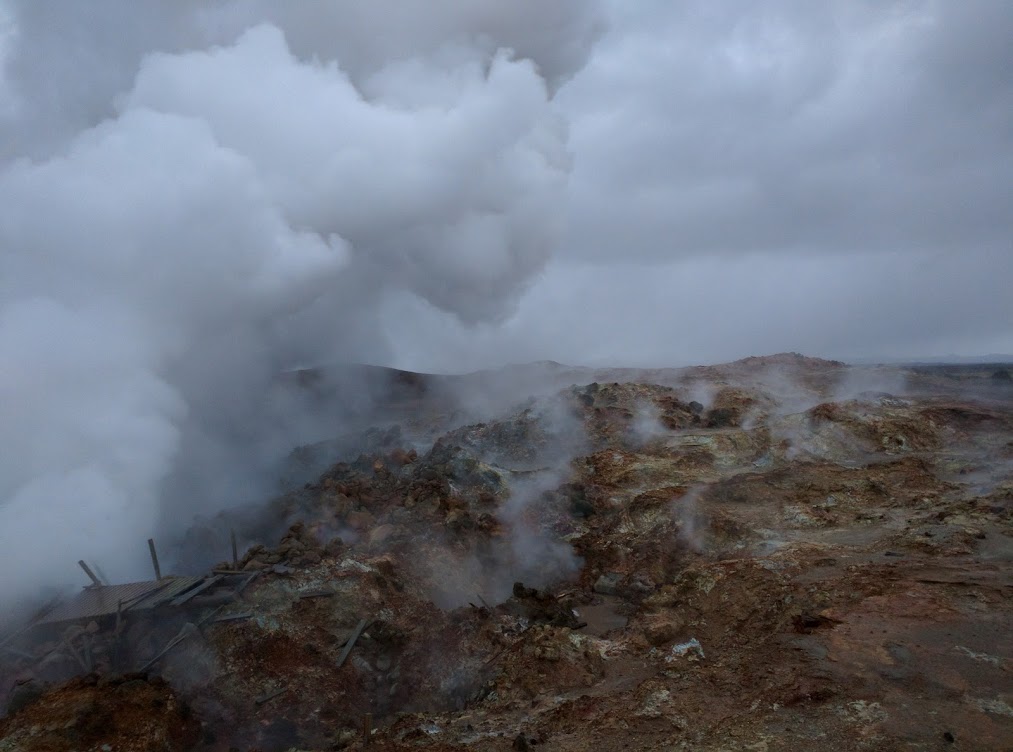 We drove to Krýsuvík, about an hour up the road and this was pretty cool because there are lots of walkways in between the areas, so you can walk amongst everything. As we arrived it also started to snow pretty heavily and the drive around the whole area looked so dramatic yet picturesque.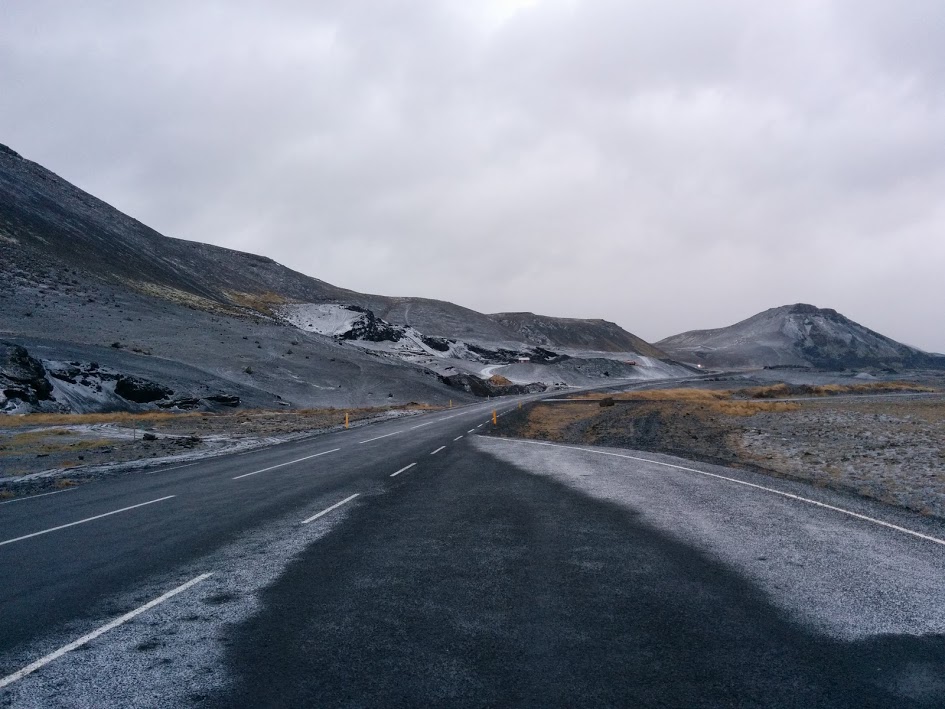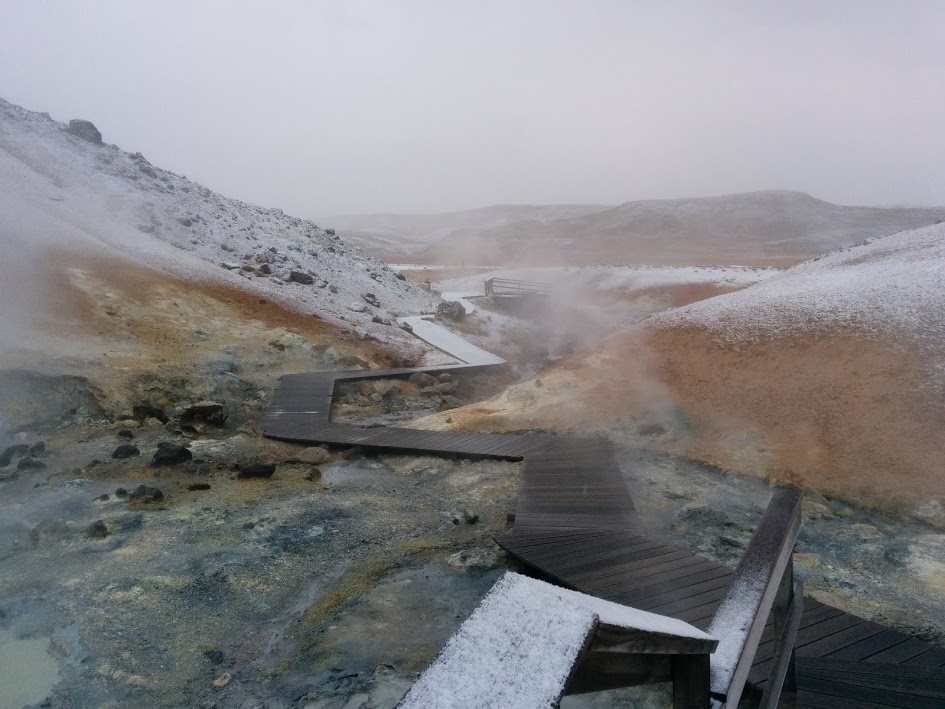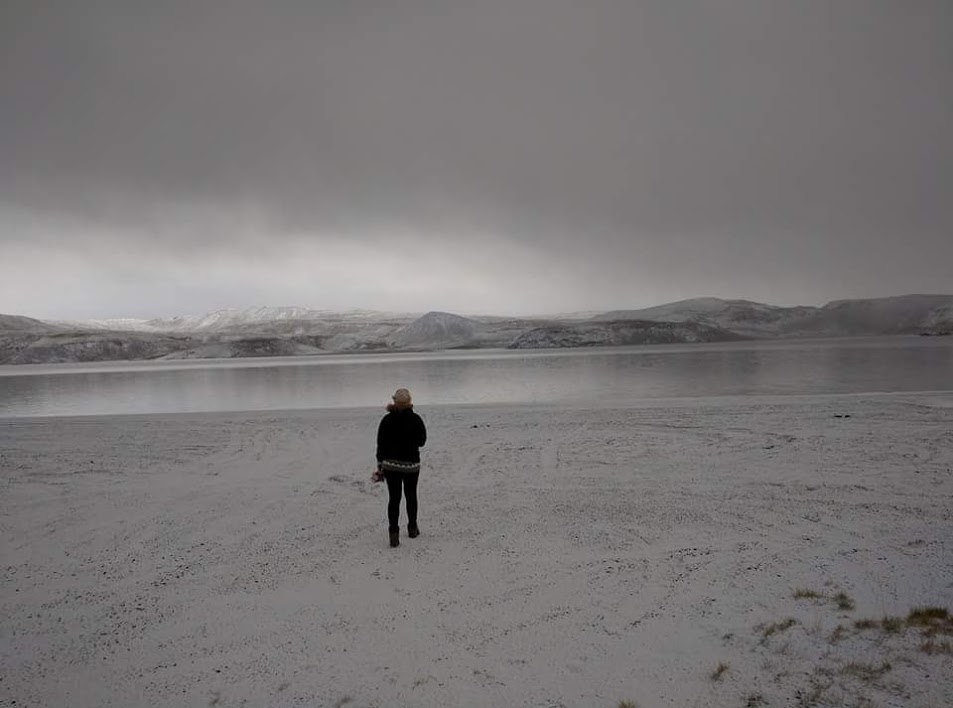 We spent a good amount of time exploring and playing in the snow until we needed to be at our next stop; a place called Hólmasel to go dog sledding!
Again, we booked this on line way in advance and it was something we toyyed with for ages. We knew they weren't going to have a great deal of snow at the end of November (as it happens they've apparently had the deepest snow at this time of year for ages!) and that we wouldn't be on proper sleds as it would be taking place on dry land. So we kept thinking is this the experience we want? Would sleds be better than on a trolley? In the end we decided we're only going to be here once, let's do it! And I'm so glad we did – what a fun afternoon!
On arrival we got to meet some of their 6 month old huskey puppies who were all adorable and loved being the centre of attention. We made of fuss of them and got to know them for about 15 minutes or so, all the staff know the dogs really well and told us about their characters and what they're like. We then got put into our groups and got comfortable inside the trolley. We met our host / driver and suddenly we were off!! The dogs went charging off at a crazy speed and we all had to hold on for dear life over all the bumps and hills…until the dogs realised they were in the for the long haul and slowed their pace down. Much better! It was brilliant fun and our guide told us about each of the dogs in our pack and about huskies in general. Half way through we got to spend some time with the dogs, have cuddles and stop for photos: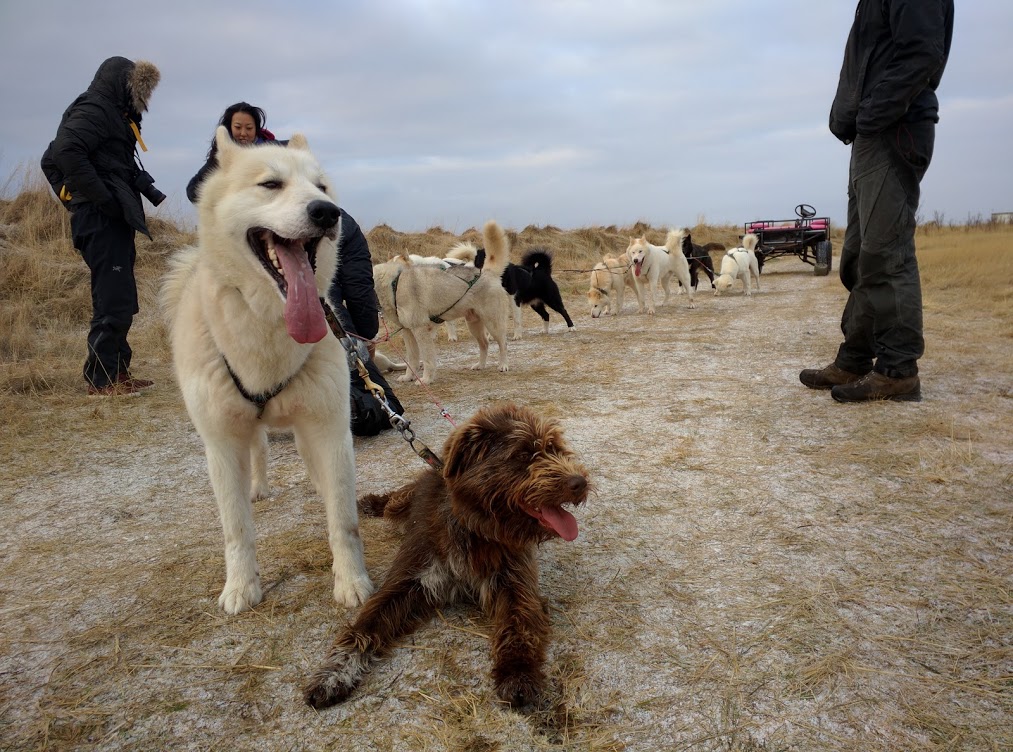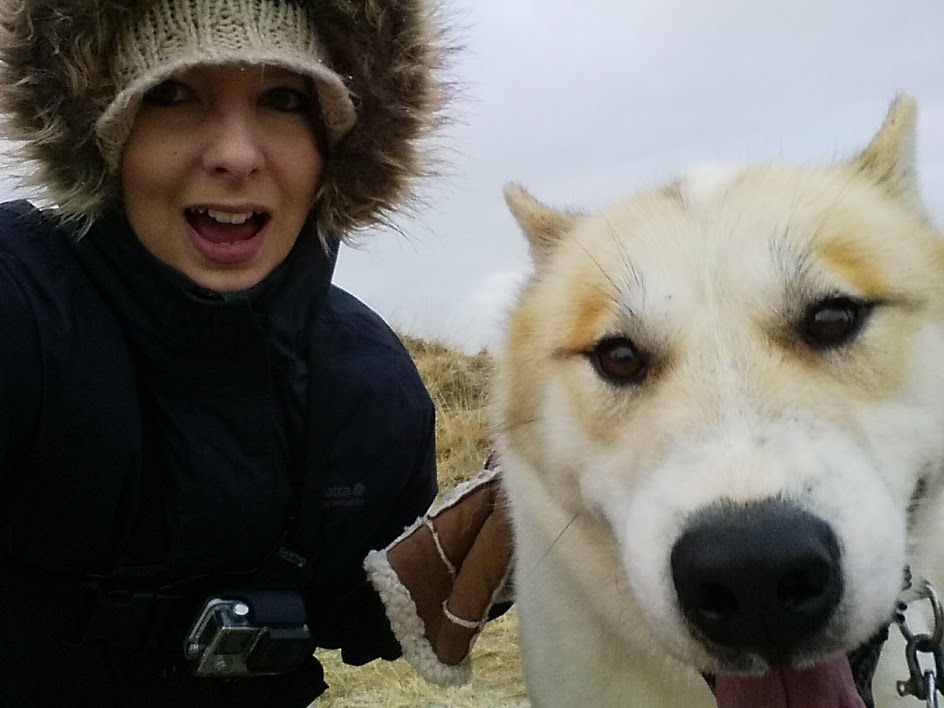 The trip lasted about 2 hours I think and it was an experience we'll never forget. All the dogs are such softies and all have such big characters, it was great fun! Once back in Reykjavik it was dinner time so we headed out to Restaurant 73 after reading some great reviews on Tripadvisor. We had a burger each and they were delicious! I had found my love for Reyka & Coke by this point in the holiday, while Oli had found a number of craft beers at this place. So after a very hectic few days it was great to enjoy dinner and sink a few drinks, catching up on our trip so far.
Day 5
Time to rack up more miles on our little hire car, today we were doing the Golden Circle! Our first stop was Thingvellir and on the way we couldn't stop staring at the beautiful scenery around us, everywhere we went. The drive was spectacular, but Thingvellir National Park was even better.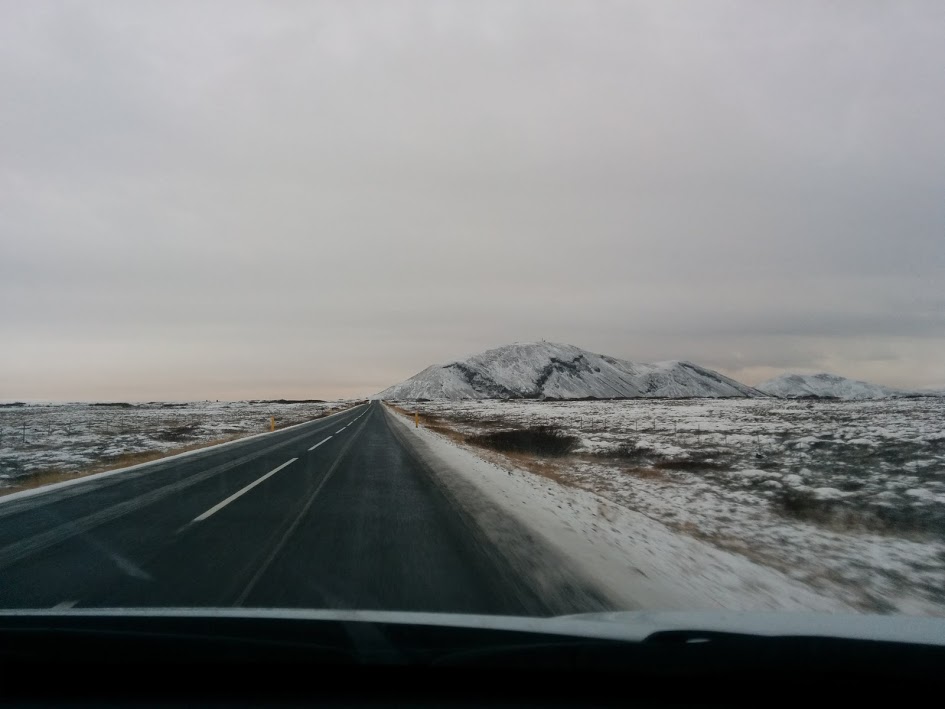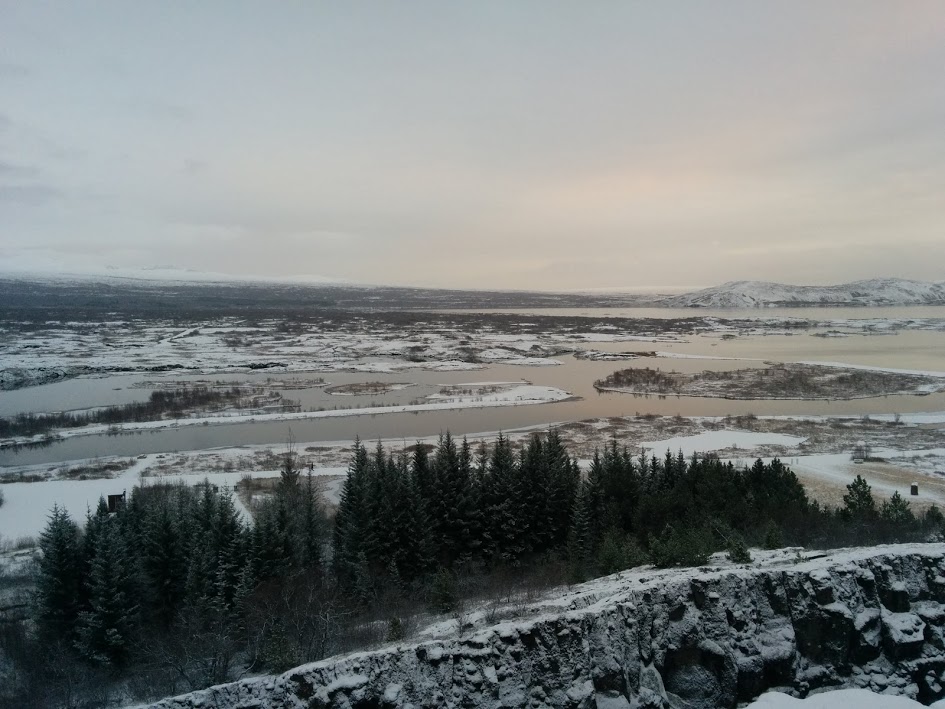 The park looked so pristine and peaceful in the snow. We were also lucky that we arrived early (about 10am), because shortly after we arrived loads of massive tour buses turned up (Grayline in particular, who we seemed to see everywhere!) Getting there early meant we also stayed ahead of them at every other stop on the Golden Circle. It's busy all the time of course, but it was one bus at least behind us.
We spent a good hour+ exploring the park and playing in the snow like the big kids we are. We also passed Silfra, which is a fissure in between the North American and Eurasian tectonic plates you can go scuba diving in – the water is crystal clear. It was honestly something we considered before we flew out to Iceland, but the thought of the icy cold water in those temperatures definitely put us off. However there were others setting up for their session when we walked past.
After a while exploring we hopped back in the car and made our way to our second stop, Geysir. I was far more impressed with Strokkur, which erupted about every 5 minutes, than I thought I would be. The novelty definitely didn't wear off after the 2nd, 3rd and 4th time we watched it. I managed to get some good GoPro footage of it going off but I haven't yet done anything with it, until then here's an attempted photo of Oli and I mid-eruption.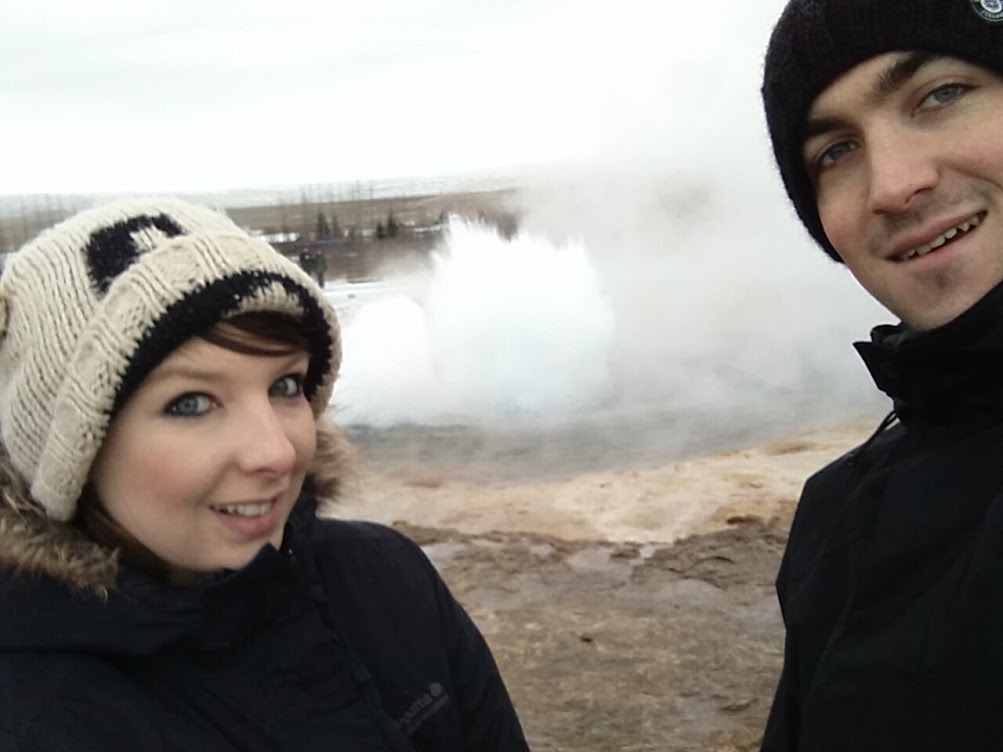 Just behind Strokkur is a large hill, which we noticed a few people were coming back down from. We decided to explore the area and see what was at the top of the hill. The walk to the top was tricky, as everything had iced over, so getting to the top was a bit of a balancing act. However, when we got to the top, we had the most beautiful views of a snowy topped mountain, the valley and a few homes below it. The photo just doesn't do it justice, but it was stunning.
After this, we hopped back in the car and headed for the last stop on the Golden Circle Tour – Gullfoss. The waterfalls was really impressive, the only downside to going in the winter is that most of the walkways were closed off because of the ice, however we still got some really great views from a birds eye point of view.
This is usually the last official stop on the Golden Circle, however as mentioned previously, you can stop off along the way at Friðheimar for some tomato soup. There's also a working dairy farm en-route which you can visit and have some ice cream – you also get to see the cows while you enjoy your ice cream. We wanted to do this, but thought it was later in the route than it was, and we had actually passed it some time ago.
However two other stops you can also include in your self-drive Golden Circle tour are Faxi waterfall and Kerið Crater. The waterfalls are at the bottom of restaurant drive, and also because they're not a main stop on the Golden Circle, they're also pretty quiet. When Oli and I went, we were literally the only people there. We then drove a little further up the road to visit Kerið Crater. Unlike the other sights, you need to pay to enter (only €2), however, because of all the snow and ice, we couldn't walk the full perimeter of the crater and we couldn't walk down to the lake (we probably could…but didn't fancy our chances). However, it was still good to visit it. The crater has some really unusual colours.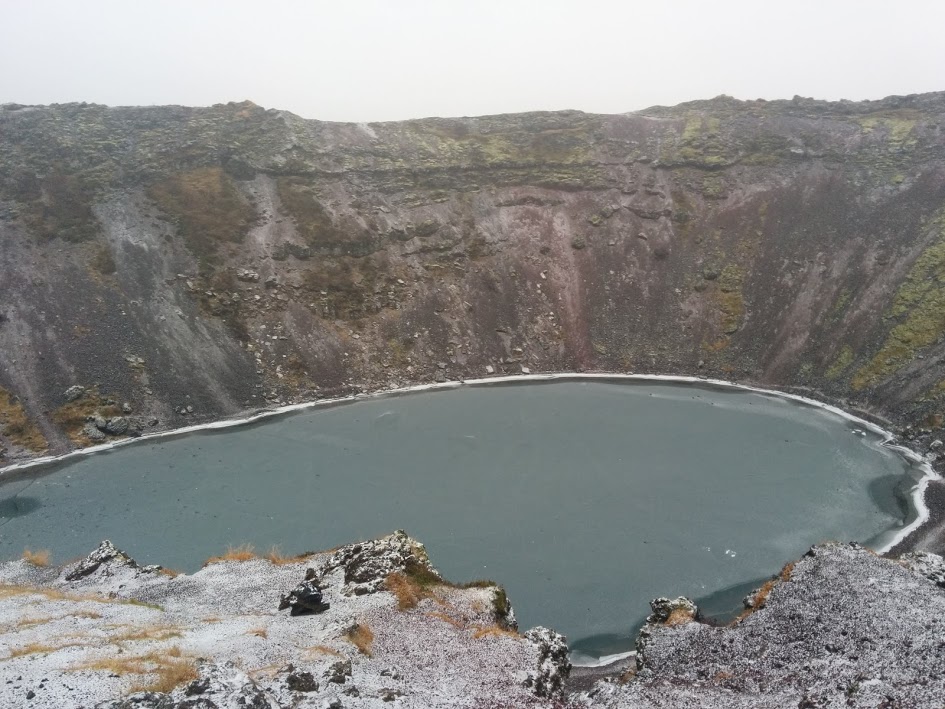 After the drive back to Reykjavik, it was dinner time and we headed over to Mikkeller & Friends after hearing good things about them on TripAdvisor. We both ordered a pizza each, which tasted amazing. The service was a little off and lacked a bit of personality (in our opinion) but the food was still damn good!
After this, we stopped off at Dillon's (a whiskey bar) as they were still serving happy hour and had a few tipples, discussing our 1 week in Iceland so far and what we had planned next 🙂 Also, on the subject of Dillon's, I really recommend this place! Great atmosphere and good, friendly people. We got to talking to some locals who were lovely. Drinks are reasonably priced and they had a good selection on the happy hour menu too which was a bonus. Definitely a good drinking spot!
Day 6
Our last full day in Iceland… boo! But we had another busy one planned – and an EPIC journey up our sleeves, which we had been discussing on and off for the best part of the week.
Before that though – a trip to the Blue Lagoon. My Manager at work had been a number of years ago and told me about the in water massages they do there. We booked online a few weeks before we went and I have to say it was the best thing ever!
We arrived about 10am(ish) so it was still relatively quiet, which was good. We checked in, got our tickets, robes and things then headed straight for the pool. I'm sorry to say this lead to instant disappointment. As I mentioned earlier on in my post, I much preferred the Secret Lagoon. The water wasn't anywhere near as deep in the Blue Lagoon and it was luke warm (at best). Meaning we spent most of our time in the water feeling cold. The wind was icy and it was snowing pretty heavily and while the cold was welcome in the Secret Lagoon…not so much here. My recommendation would definitely be to go to the Secret Lagoon for the hot spring experience, but go to the Blue Lagoon was the in water massage! It was amazing!
I didn't get any photos, as I put the GoPro away by this point, but this is basically what it looks like: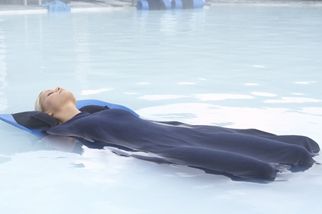 They place you on effectively a floating yoga mat and place a hot wet towel over you to keep you warm. The massages also seemed to be in a warmer part of the pool, so that helped, and they then began a lovely full body massage, starting on my feet, working up my legs, arms, shoulders and head – it was glorious! Every few minutes they grab the side of the mat and dip you back under the water, which is honestly the best sensation. You never get cold, but it's a welcome sensation. The massage lasted an hour (you can also get 30 minute massages) and then they leave you to just float around for a bit afterwards and relax. It was honestly so so lovely and I can't recommend this enough. It's not cheap though, but I'd say it's worth it.
After this, we headed back to the hotel for about 2pm feeling well and truly relaxed and grabbed an afternoon nap to refresh ourselves for our planned journey. We got up about 3:30pm and headed down towards the harbour to eat at Icelandic Fish & Chips. I'm not very adventurous when it comes to fish, so I ordered Cod and Oli ordered Tusk, which was on the specials menu. I have to say, it was probably the best piece of Cod I've ever had. It was so fresh and tasty and the butter was perfect, not too thick or thin. They also don't serve caffeinated drinks (or so was his response when I ordered a Coke), so I had a refreshing lemonade and it was lush! Definitely recommend this place.
Northern lights hunting
By 5pm we were back at the hotel and wrapping up in our many, many layers, and out the hotel by 5:30pm. We had been paying close attention to the weather forecast all week, and ever since Saturday when we went out on our first night, the evenings had always been cloudy. However all week we had basically been seeing this (though the clear patch was much further in-land. This is the best screen shot I could find).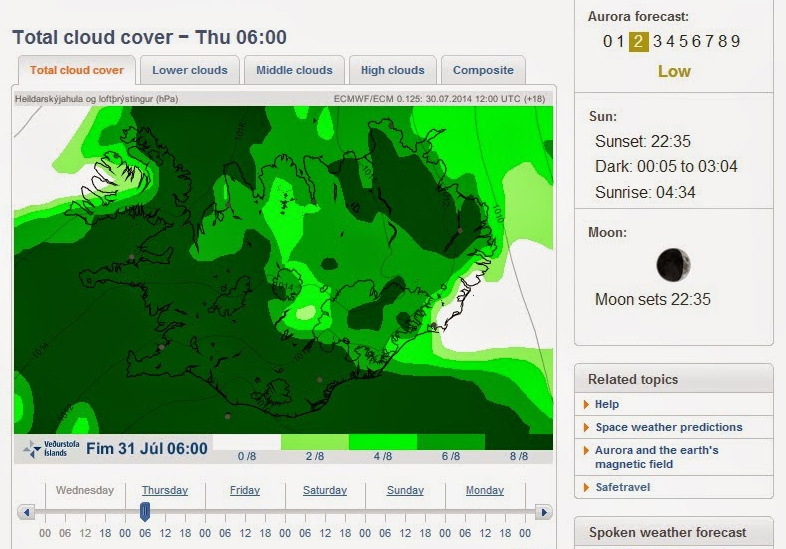 So it was our last night from our 1 week in Iceland. We had a hire car and a massive clear patch on the other side of Iceland. Looking at the clear area, we estimated our best viewing point was the glacier lagoon (Jökulsárlón). 4hours 30minutes away! We knew it would be exhausting, but we also knew it would be worth it. So off we went!
The second we left Reykjavik, we were in the worst snow storm I think I have ever seen. It was laying so quickly it was covering up tyre tracks in front of us, barriers and signs were also covered, which made junctions and turn off's hard to spot. However we powered through and by the time we got to Selfoss (about 1 hour away?) we'd made it out. The roads were snowy, but we were no longer in the storm. By the time we got to Vik, I knew we were half way and everything passed this point was new territory, as we didn't go past Vik on our adventures with Adam earlier in the week.
I instantly felt like I was in a completely different part of time. Massive bulging volcanos, rocks and mountains, with massive glaciers on top. It was about 8/9pm by this point, but we couldn't still see quite clearly. I felt like I was in a prehistoric time zone. Perhaps it was because it was new scenery, but it felt so different to anything else we'd seen in Iceland. It has definitely whet our thirst for coming back and driving the ring road.
So, we arrived about 10:30pm and we parked up near the lagoon. It was a beautiful clear evening, despite all the weather we battled through, and after a few minutes (and straining my eyes) I was sure I could see a faint arc in the sky. I fiddled with some settings on the GoPro and sure enough there was something there.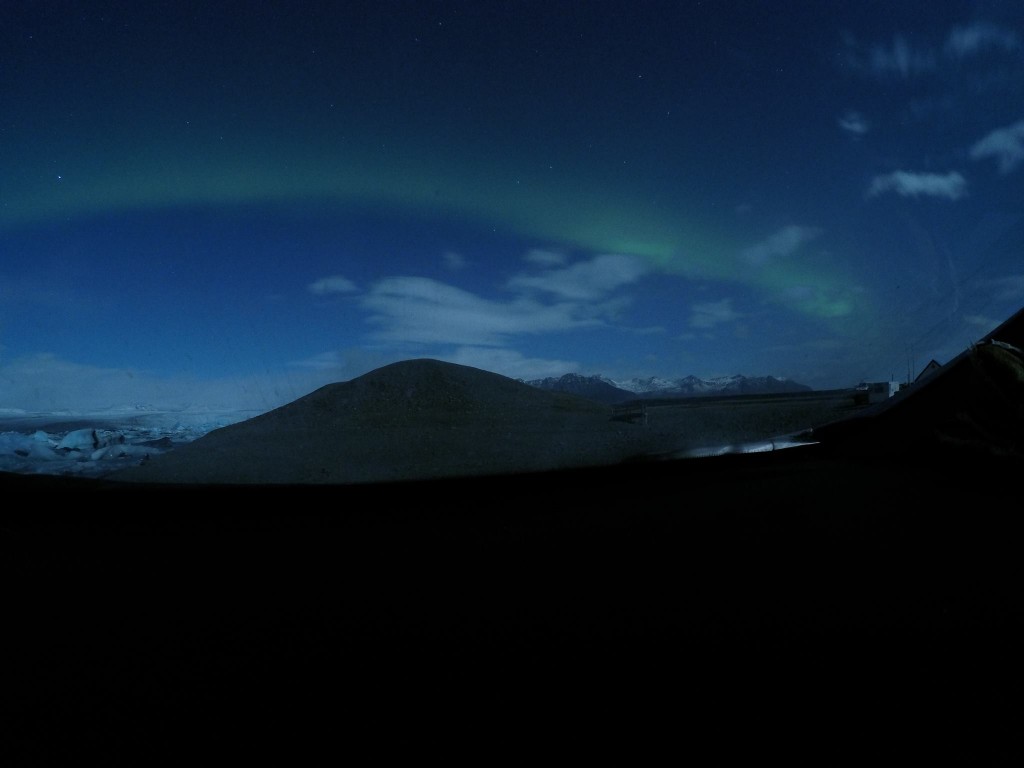 We got out the car straight away and waited with baited breath. After about 30 minutes of waiting something suddenly changed and they appeared before us, dancing, shimmering and moving across the sky. It was indescribable. Even more so because we had waited all week and made this mammouth drive out just to see them. We were treated to (what we worked out as) a 1hour 30minute show of the lights, before the clouds came over. We made one last final dash ahead of the clouds and caught a final glimpse of them again, but we didn't want to go too far out, already aware of the huge drive back we had.
Buzzing from our evening with the Lights, we made the long journey back home. We pulled over a few times for quick 30 minute naps, until eventually these naps started getting interrupted with snow hitting the car so hard it sounded like hail. We left the glacier lagoon at 1:30am and made it back to the hotel for 6am. We collapsed into bed, had a 3 hour nap and were back up, packed, had breakfast and checked out the hotel by 10am.
We were greeted to a beautiful winter wonderland, transformed by all the snow; Reykjavik looked beautiful. We grabbed lunch from Apotek, whos lunch menu was a steal! We had a starter each and rack of lamb each to the equivalent of £20 which was ridiculous! The food was delicious – a great way to end our last day.
We hopped back in the car and headed for the airport ready for our 4pm flight home; missing Reykjavik the second we hopped back in the car.
After visiting have both agreed Iceland is the best place we ever visited and this was the best holiday we have ever been on! Forget New York, Berlin, Germany – all amazing for their own reasons yes, but Iceland was something special. We honestly cannot wait to come back. We're itching to experience summer in Iceland and drive the ring road. Everything about our 1 week in Iceland was fantastic and writing this blog has made me miss it all over again.
See you soon Iceland – but not soon enough!