We've just returned from a whirlwind 4 days in Amsterdam, celebrating our (almost) 10 years together. Here's a trip report of what we got up to during our 4 days in Amsterdam and I hope it provides you some inspiration if you're planning a trip soon.
Flight
Our flight was around 8am from Gatwick, so we got up super early, had some breakfast and a couple of drinks at the airport and were in the air in no time. At roughly one hour long I was surprised at how short the flight was, and we arrived safely in Amsterdam by 10:30am.
Getting from the airport to Amsterdam Centraal
I read lots of confusing things online before we left about how difficult it was to buy train tickets at Schiphol train station. We were really close to buying our train tickets online (at a premium price it turned out) before we thought "we've managed to sort all our tickets before in Germany / Paris / Belgium etc… what could be so complicated once we're there?" And it turned out nothing.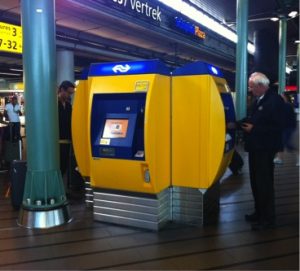 They have an English menu, from there you just pick Amsterdam Centraal on the main menu, select your ticket class and you can pay by cash or card. A second class one-way ticket was about €4 (in 2017).
There are screens all over the station to tell you which platform to board. Alternatively if you're using your phone, Google Maps was really handy, telling me what platform I needed and what time my train was.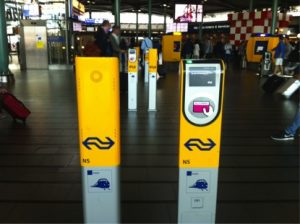 Once you have your train tickets, the only thing to remember is that you need to validate your ticket before travel. I think this is why there were so many confusing things online about train travel in Amsterdam, but actually it's really simple. As you make your way to the platform, you'll see lots of machines like the above dotted about. Just hold your train ticket up to the screen and it will flash green to show your ticket is now valid for travel.
Where we stayed
Before I get into what we did during our 4 days in Amsterdam, here's a quick overview on where we stayed.
Booking only two months in advance, we were lucky to find a room available in the very lovely Houseboat Little Amstel. Located South of the canal district it is a little walk to and from the city centre (about 30 minutes) but the Little Amstel was totally worth it in my opinion.
We booked a standard room which was simple, but everything we needed. We had a super comfy bed and pillows. TV, fridge, tea & coffee facilities, hair dryer and private bathroom. The houseboat is located on the corner of a road and bridge, so it's pretty isolated and out of the way. I was worried being right on the River Amstel and next to a main road we'd hear a lot of noise and traffic, but actually the room was surprisingly quiet and our sleep was never once disturbed during our stay, even with the window left open ajar.
Day 1 in Amsterdam
We caught the 11am train and had arrived by 11:30am. We had a free walking tour booked at 1pm, so first priority was to find a bar and get some bearings! I had a few places in mind, but having arrived on a Sunday they were either closed or opened later that afternoon. We had an explore around the general area before picking Café Oporto completely at random – and turned out to be a pretty good choice! Drinks were cheap and the service was good. Then shortly before 1pm we headed towards the Old Church (Oude Kerk) to meet our tour guide.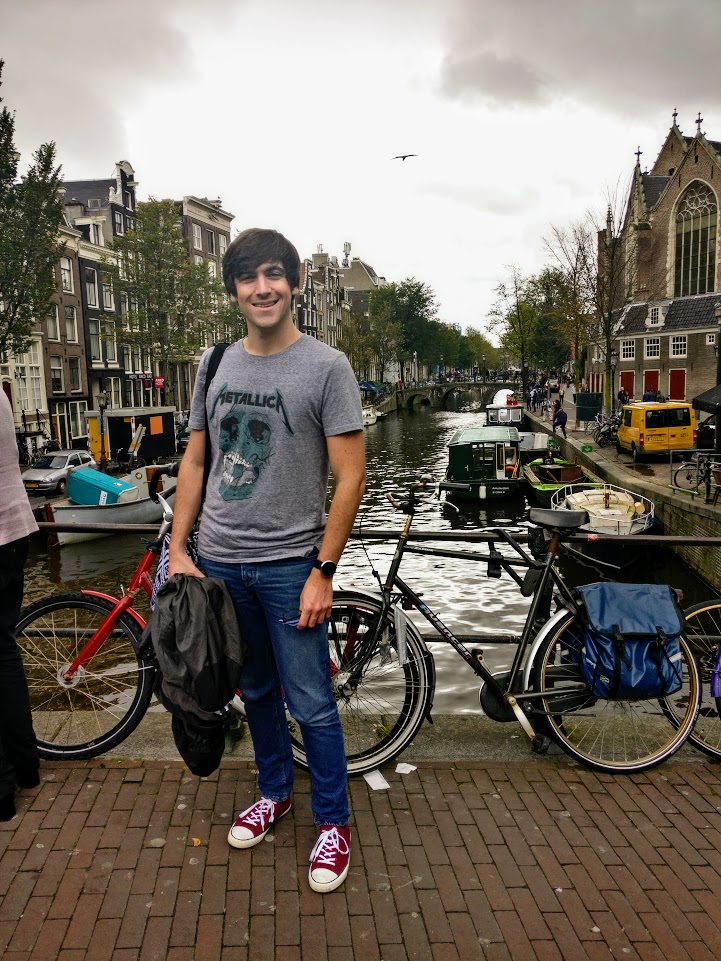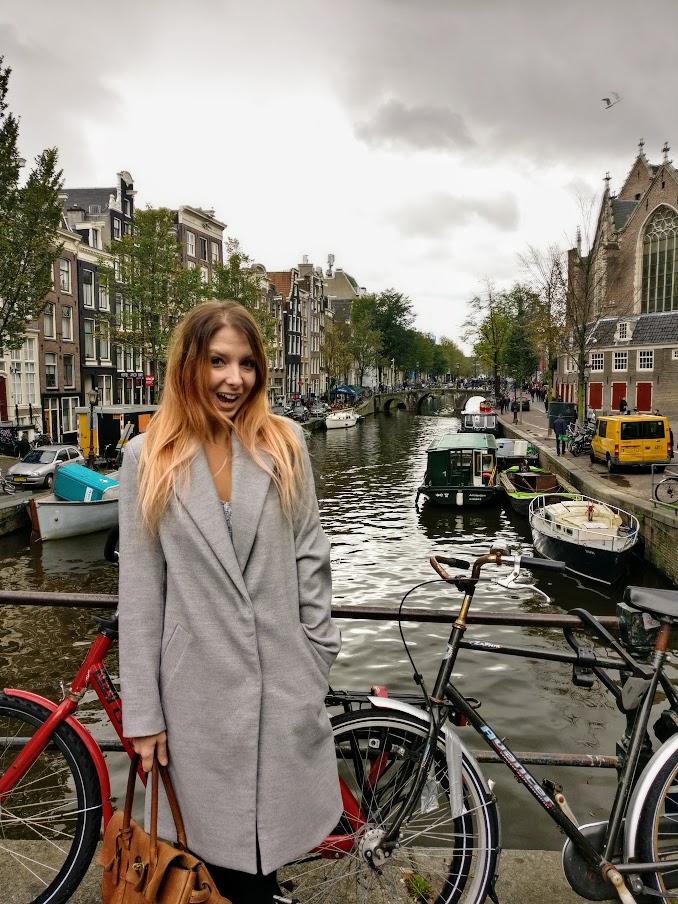 We booked with Freedam Tours after reading the great reviews on TripAdvisor. This was our first ever free walking tour and we were really impressed. Our guide, Coos, was really fun, engaging and knowledgeable. We learnt all about the history of Amsterdam; how it was built and developed; religion; architecture; laws and tolerances; and how a lot of what Amsterdam is known for today (coffeeshops / light drug usage and sex) is founded from deep history. There were also a lot of fun facts, like how many bicycles end up in the canals each year.
The tour lasted about 2.5 hours and covered miles of the city centre. We started in De Wallen (the Red Light District), moving through China Town, towards the South of the city centre, Begijnhof, and north up the Singel Canal, ending in Dam Square. Coos also grabbed a lovely group shot of us all!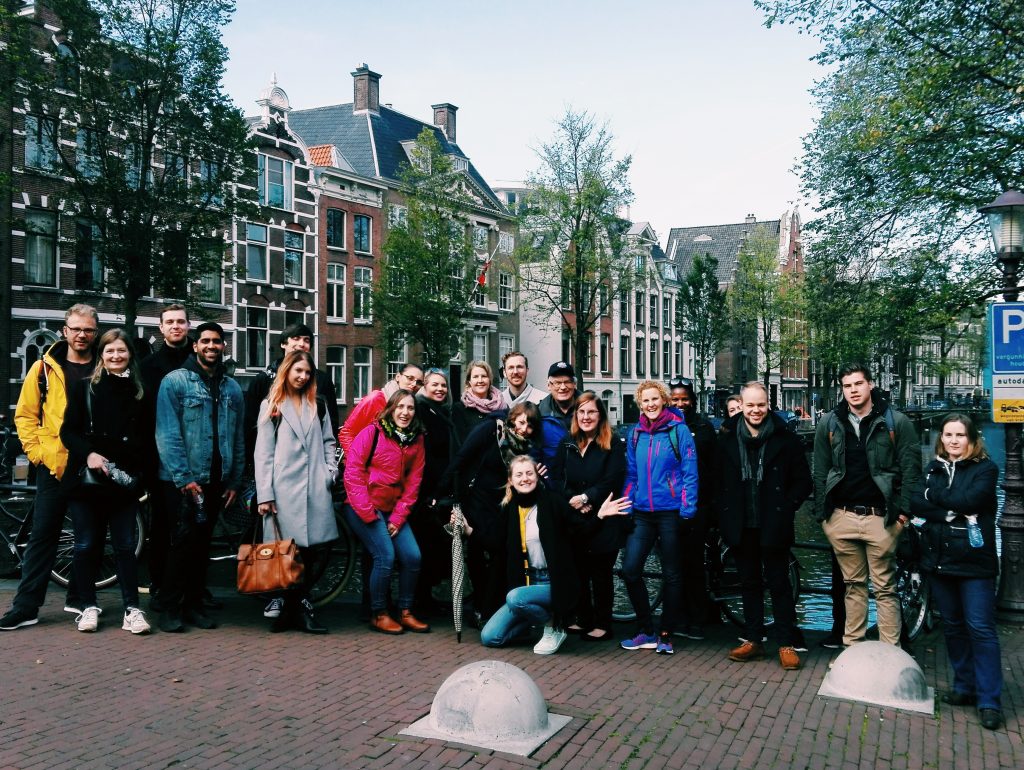 Check-in was at 2:30pm, so we decided to head to our houseboat, check out where we were staying and dump our bags. We arrived at 4pm; enough time to make friends with our neighbours (the swans and ducks), a strategic power-nap, shower and freshen up for the evening!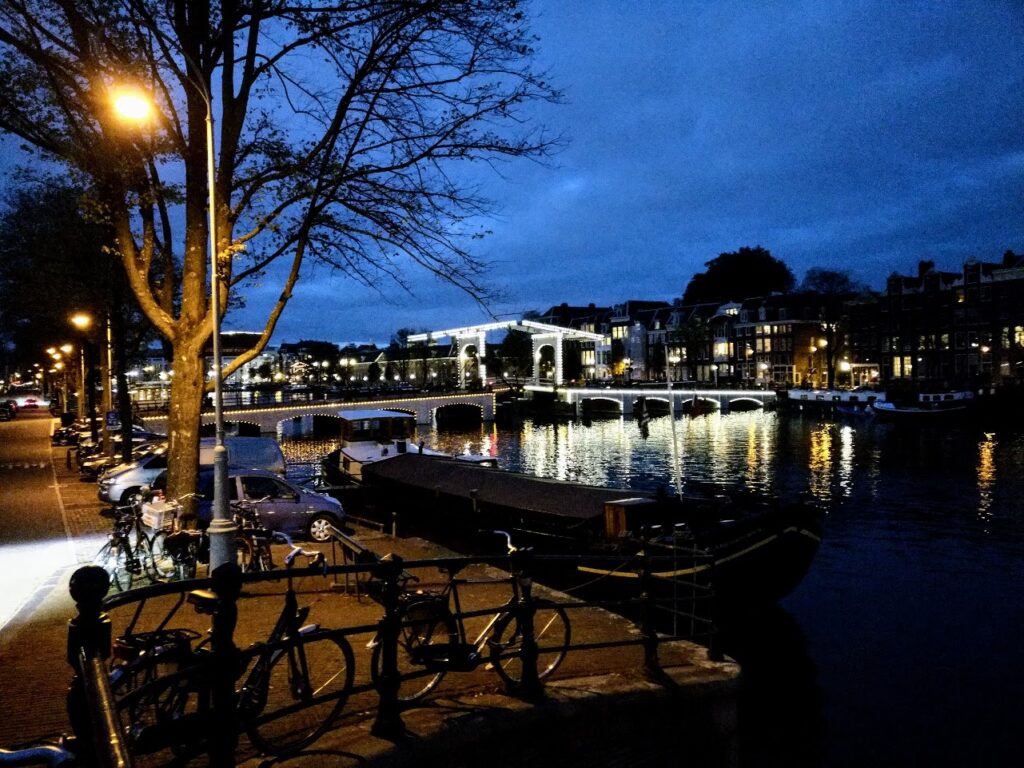 We got ready for dinner and drinks and popped across to the otherside of the canal for a drink at the A Bar within the InterContinental Amstel Hotel after reading good things about the bar. Initially we hadn't realised it was in a hotel, advertised online as 'A Bar' but it was a good base close by so we could make our evening plans. As it happened it turned out to be lovely bar, with great cocktails.
We also stopped off at a street art bar for cocktails. The place was super cool and we'd planned to pop in again during our trip, but unfortunately our 4 days in Amsterdam raced away. Craving Italian for dinner, we came across the Ristorante Italia Oggi. Oli had lush pizza and I ordered the pasta, which was flambéd in a parmesan wheel and I swear was the best thing I have ever eaten in my life. The staff were lovely and attentive; we had a fantastic first meal in Amsterdam.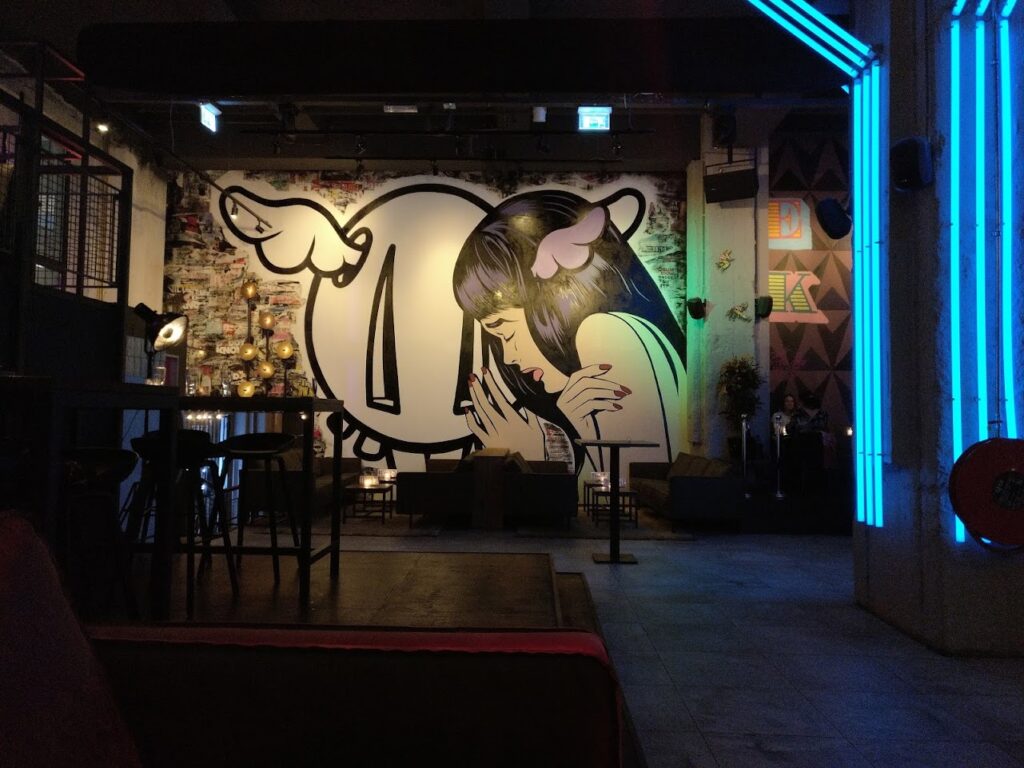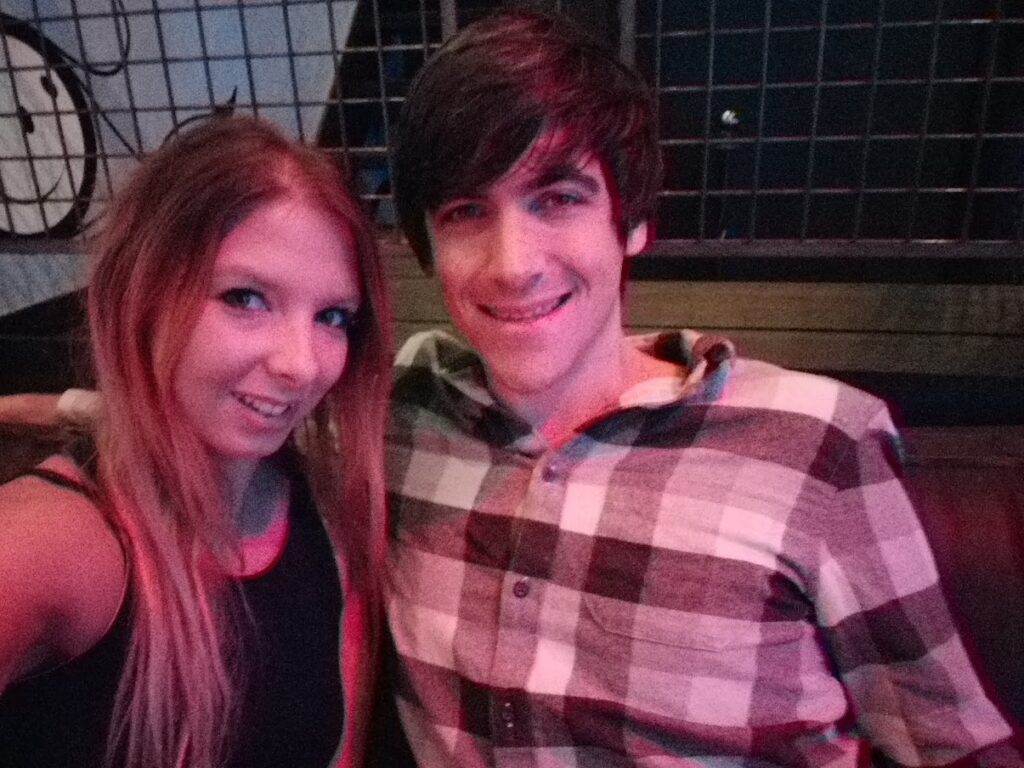 Recapping on our first day in the city, Amsterdam's night life had peaked our curiosity and we found ourselves outside Casa Rosso purchasing tickets for their sex show. Tickets were €55 each (a bit steep – we did get 2 drinks included each though, otherwise €45 each I believe) and we figured it was worth it just for the experience. Having never been to something like this before, an experience it was!
We must have got there about 10pm and the show lasts for 90 minutes. You can arrive at any point in time, as the same acts are repeated throughout the night, so once you start to see repetition you can get up and leave (you can leave at any point at all if you like). It wasn't at all what I expected (then again I didn't know what to expect). It's quite small inside, with theatre seating, so you feel very close to the stage.
Upon arrival our very first act was a girl riding a guy cowgirl style, so pretty much instantly the bar was set for what the rest of the show would be like! The couples perform on a small rotating stage and after a few minutes the curtains draw and a few moments later the stage is reset with a new couple. And repeat. Personally me and Oli had a great time; we didn't take it seriously (I don't know if you're meant to?) but we had a laugh throughout the entire show and found it quite good fun. The performers didn't really seem to be having a great time up there, most of the guys looked quite moody, but this just added to mine and Oli's entertainment as we thought it was funny. We were also a little bit tipsy by this point, so just generally amused anyway. I get it wouldn't be everyone's cup of tea, but we were intrigued and thought it was good fun, so I'm glad we went and got to experience it.
We stayed for the whole 90 minutes (it actually went really quickly) and then decided it was time to grab some much needed sleep back at our houseboat. I don't think we got back until about 1am, so all in all a pretty jam packed first day and we couldn't wait to catch up on some sleep.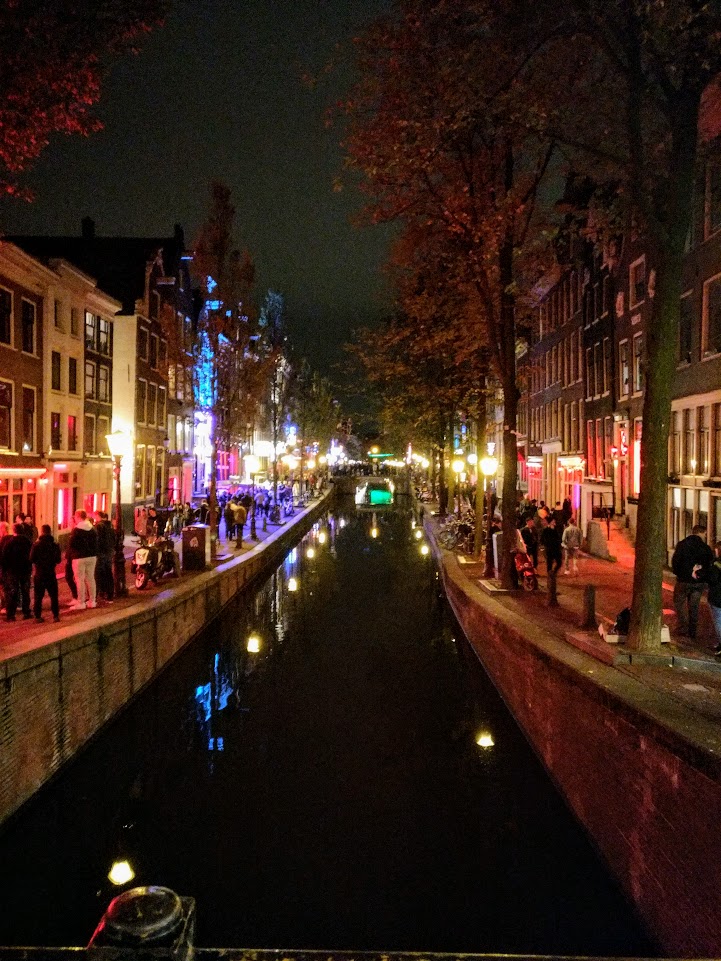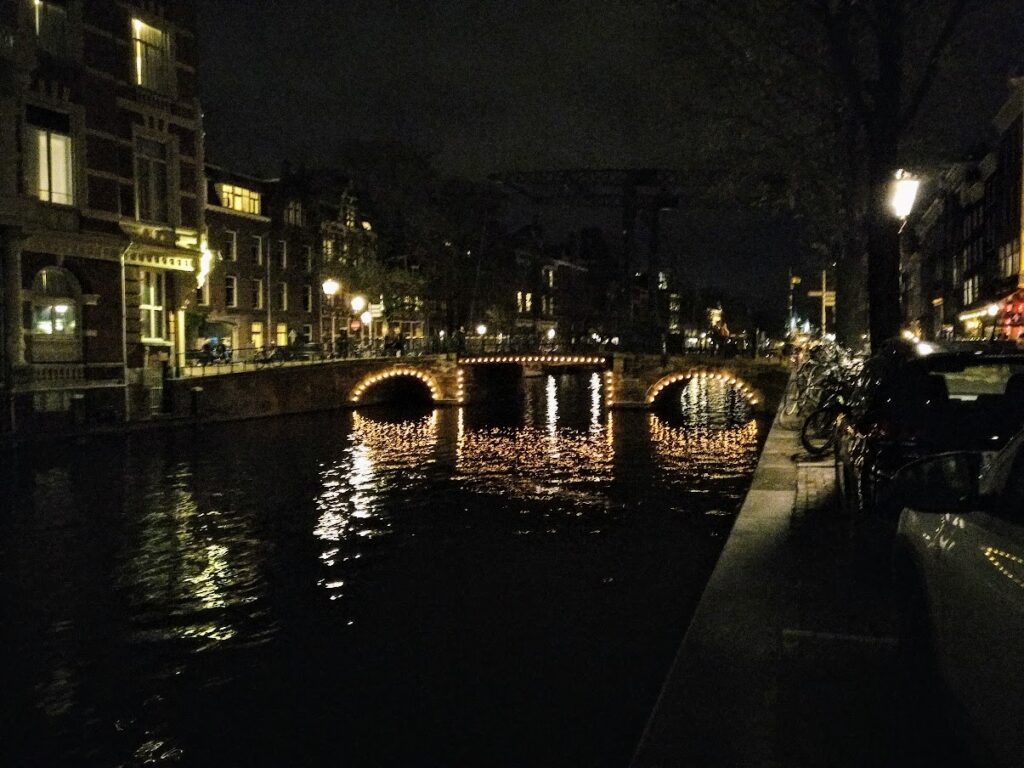 Day 2 in Amsterdam
Another early start and we had our morning planned for the Jordaan area. We grabbed breakfast at The Pancake Bakery which was delicious and the pancakes were huge! The menu is full of different options, from sweet to savoury, so there is something for everyone there.
At 10am we had tickets to Anne Frank's House, it was pretty quiet at that time of day so we were glad we went early and could look around at our leisure. I strongly recommend that you buy your tickets in advance online, which you can do on the official website. I know so many people who said they didn't go to the Anne Frank Museum because they didn't get their tickets in advance and then they don't offer non-prebooked admission until 3:30pm, which by then huge queues have formed.
Whether you're into WW2 history or not, I really recommend a visit here. There is so much information and history, and this was just the Frank's story. It's hard to understand the magnitude of what happened and how many hundreds of thousands of people were affected; it is important we never forget. There are audio guides to listen to as you take yourself around the building, slowly working your way up higher until you arrive at the attic. Everyone was silent as they read about the items on display and it was incredibly moving to be in the space where they lived. Anne Frank's House was definitely a highlight for us.
After the museum we decided to take some time and explore the Jordaan area, which is a really beautiful neighborhood and part of Amsterdam. As we were in the area on a Monday we also happened to come across the Monday morning textiles market – we enjoyed people watching and seeing everyone buy their fabrics and patterns.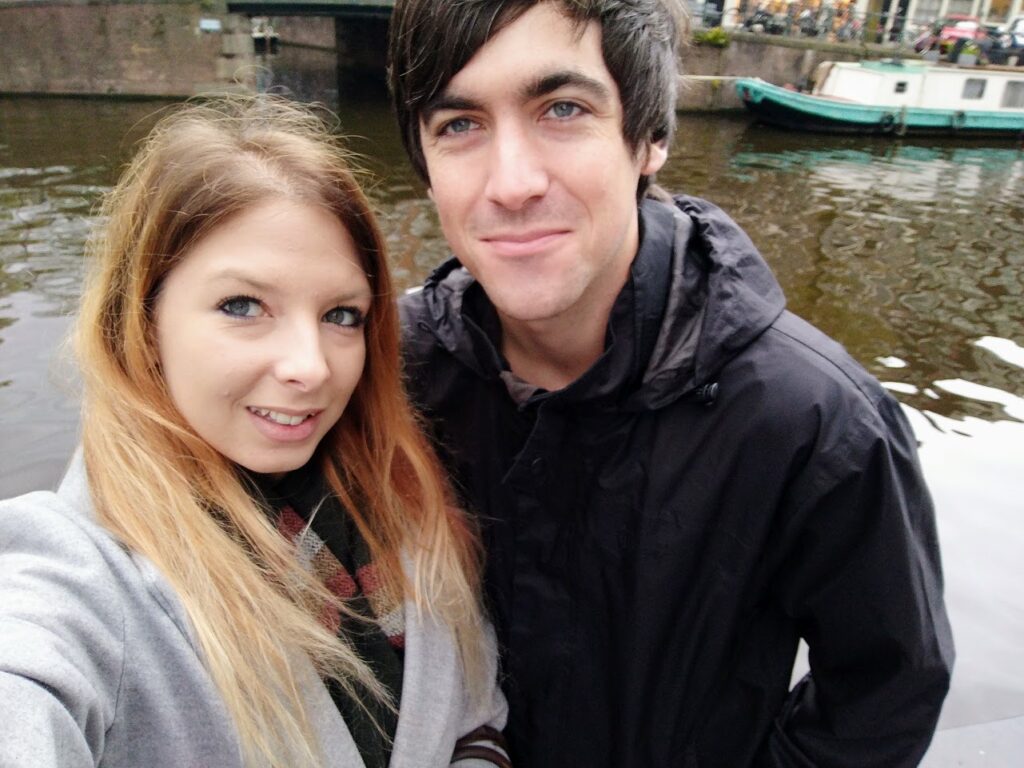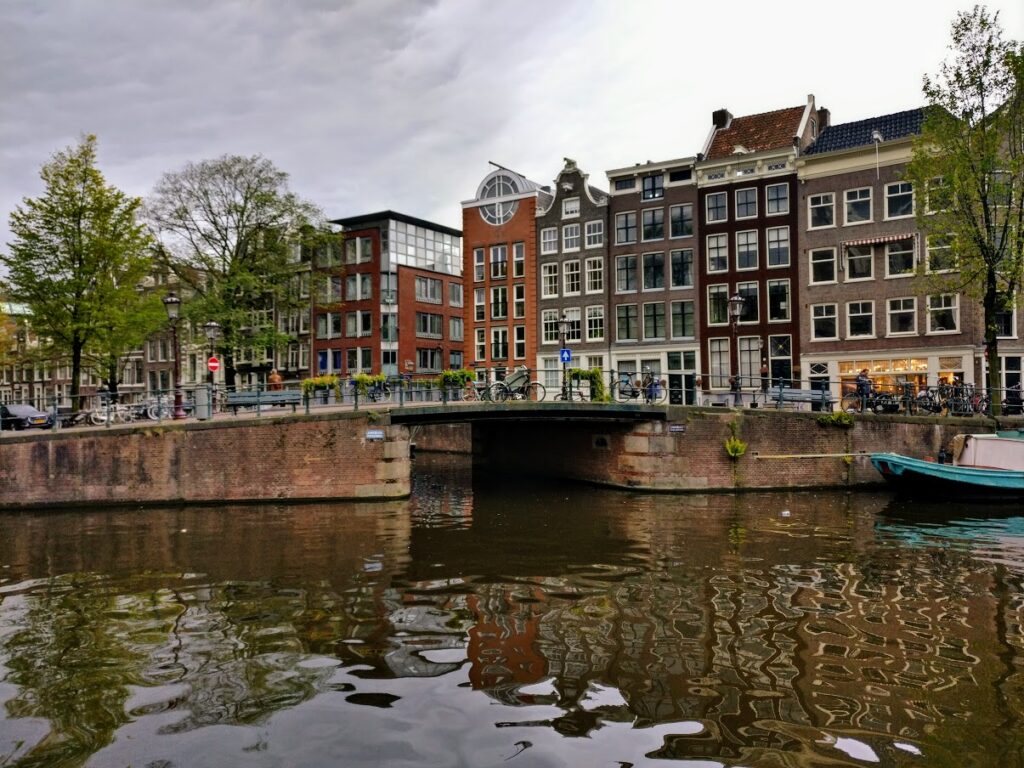 We must have spent over an hour wandering the area, and with achey feet decided to find somewhere we could grab a drink. We went a place I'd read about in my Lonely Planet book called t'Smalle. It was really chilly outside and the warmth of t'Smalle when we stepped inside was incredibly welcoming. It is also super cute inside! Lit by subtle lighting and candles, with huge beautiful sash windows, we sat at the bar to order our drinks and felt very cosy. The staff were lovely and advised Oli on a local beer, while I warmed up with a cup of tea.
Having quenched our thirst we took a stroll back towards the city centre. Now…anyone who knows me knows I am a bit of a Christmas freak. So I was excited to learn that there was a Christmas shop – The Christmas Palace – in the city centre! We have started a bit of an accidental tradition of buying tree decorations when we go on our travels, so we picked up a cute red windmill to go on our tree.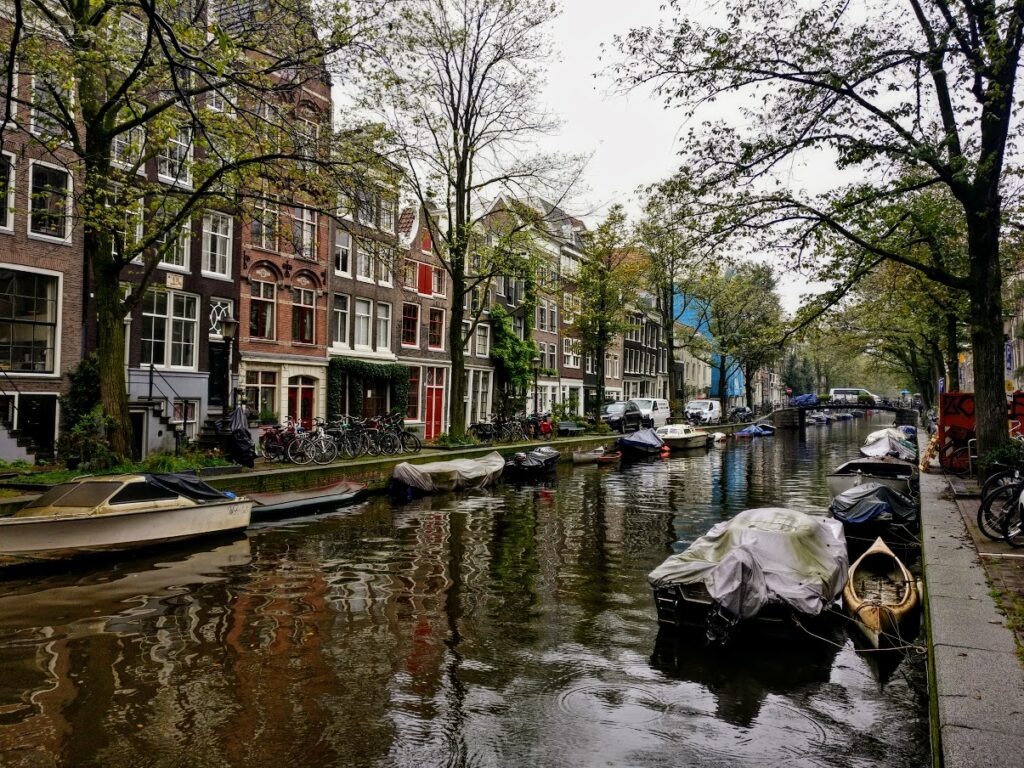 The rest of the afternoon was ours, and we fancied experiencing one of Amsterdam's coffeeshops. I've always been pretty straight laced all my life (I haven't even tried a cigarette!) so I decided that if I was ever going to try something new, now was the time. I did a lot of research before the trip and heard good things about 420 Cafe and Dampkring. Although having now been and wandered past quite a few, I don't think you can really go too far wrong and think you can pick-up a vibe just from looking at it as to whether it's the place for you or not. The décor and vibes vary greatly between them all and it's more about picking the one that is right for you. We went to Dampkring as we were closer and the above sentiment towards coffeeshops is more of a hindsight feeling; I definitely saw other coffeeshops during our 4 days in Amsterdam that looked more appealing and in-tune with our personality but still…
We went up to the counter and asked the guy what he would recommend. He asked whether we wanted it with or without tobacco (I have no idea what is better). I'd read the staff were really helpful at advising and offering options, but this guy just gave us 2 pre-rolled joints, we paid him €15 and that was it. We sat down, ordered a tea and coffee and enjoyed the experience there.
I personally think I underestimated how long it would take for the effect to take hold and after finishing our drinks we decided to find a bar. A learning curve mistake for me; I don't know if it was coincidental timing or if the fresh air accelerated the effect, but by the time we walked 2 streets to the bar I was definitely feeling different and highly aware that we'd left the comfort of the coffeeshop and were now sat in a quiet bar, full of sober people whilst I was high. Oli didn't seem to have been affected at all, so we sat in a corner tucked out the way until I felt more like myself. Sadly I don't think I enjoyed my experience as much as I would have done had we stayed in the coffeeshop perhaps, but we weren't to know. It hasn't put me off going again though if ever we go back to Amsterdam.
Unfortunately Oli had on and off been feeling pretty poorly since our flight and by early evening was feeling awful. We decided to go back to the houseboat, warm up, and order a pizza instead and spend a night indoors.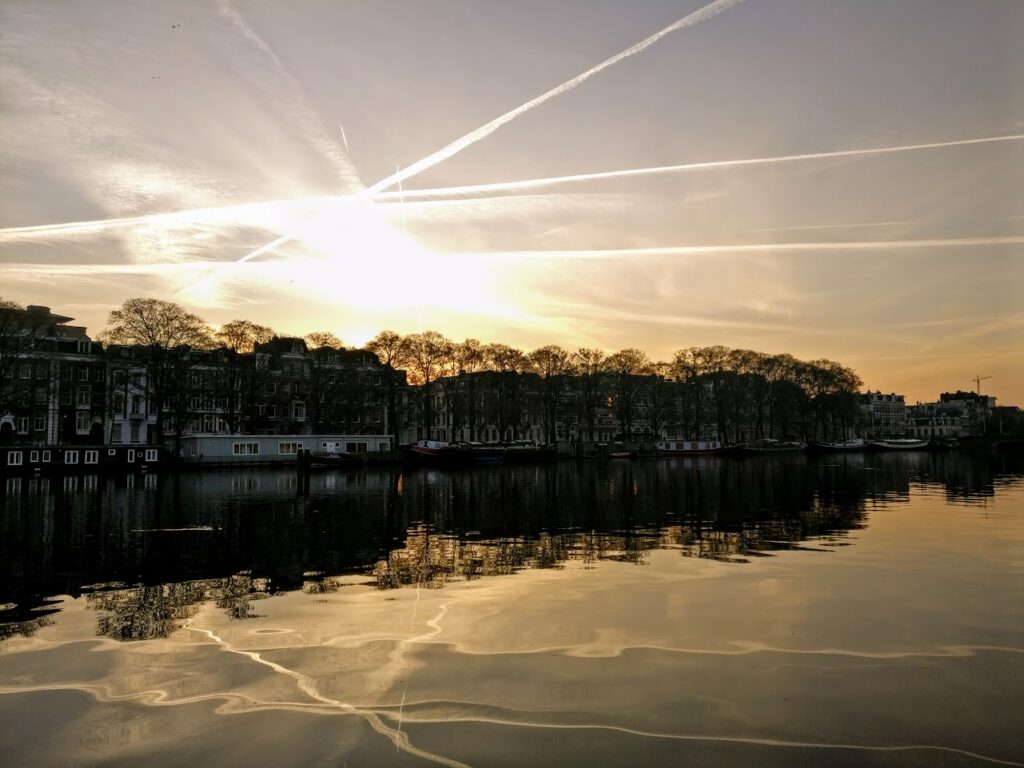 Day 3 in Amsterdam
We woke up reasonably early to a beautiful, crisp, sunny morning and enjoyed some breakfast with the locals (the ducks of course). We had a few activities planned for the morning and our first stop was the Van Gogh Museum, so we took a nice slow walk along the canal. We'd pre-booked our tickets online so sailed through the entrance with ease. The museum was really quiet at this time of the morning, so it was great being able to wander around at our own leisure and not have to navigate around various groups of people.
Neither Oli or I are really massive art lovers, but we enjoyed our time there all the same and enjoyed reading about Van Gogh's life and how his work changed, as we made our way through the various floors.
After the museum we took a walk through Vondel Park and explored the grounds. It's a beautiful part of Amsterdam, we enjoyed exploring and people watching, before grabbing a late breakfast at a cafe in the park.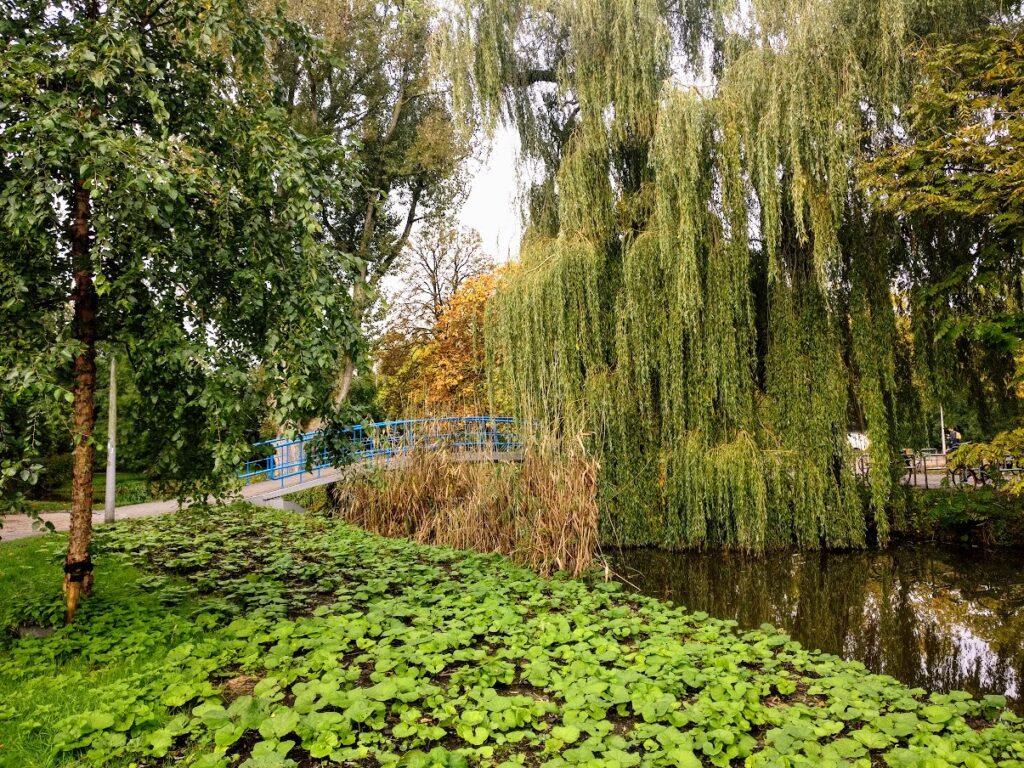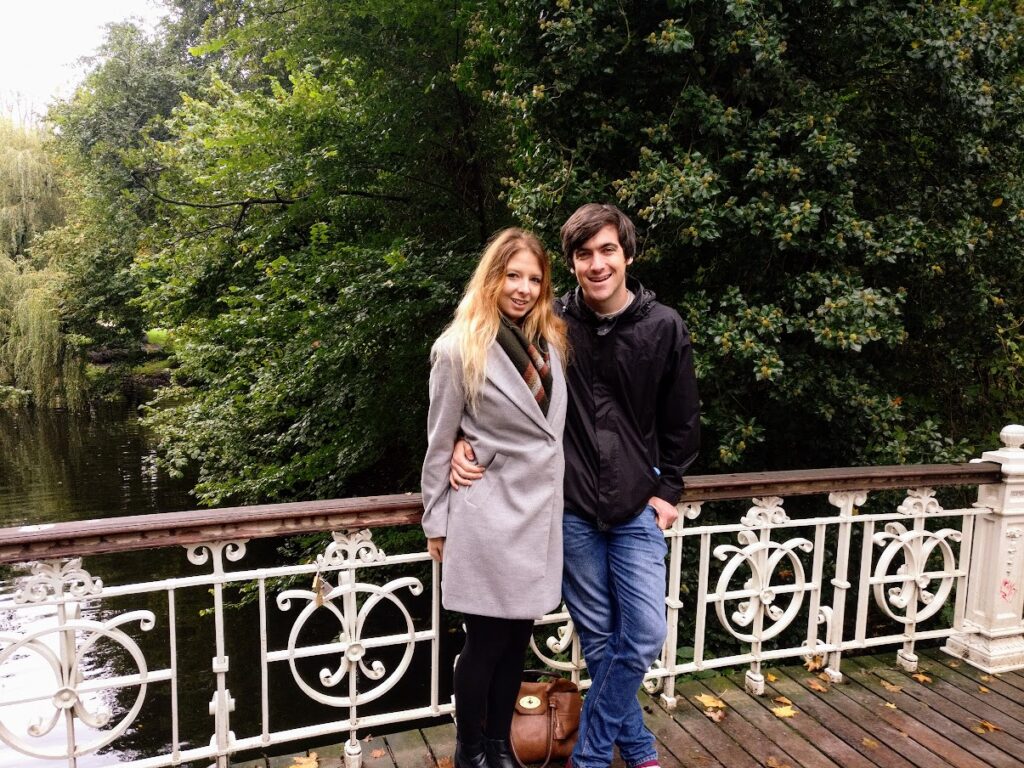 At 1pm, just as the place opened, we went to House of Bols, which was so much fun! We had the whole place to ourselves, which was great. We made our way round via a self-guided tour, with audio guides. The tour tells you about the history of Bols, creating their Geneva drink and about the flavours and distillation process. At reception, you are also given a small vial of (what I think was) a Bols liqueur and advised not to drink them until you come to "the doors" – it became apparent as we walked through what "doors" she meant. You step inside your cabin and experience a show for the senses.
At the end of the tour, you get to pick your own Genever cocktail by selecting the kinds of flavours you like. You then take it to the bar, who will whip up your cocktail of choice (these are also included in your ticket price). There is also a private room and booth with a screen in where you can practice your cocktail making flair, which was a lot of fun.
We stayed there for about 1 hour, then made our way back into the city centre as we had a very exciting tour booked later that afternoon!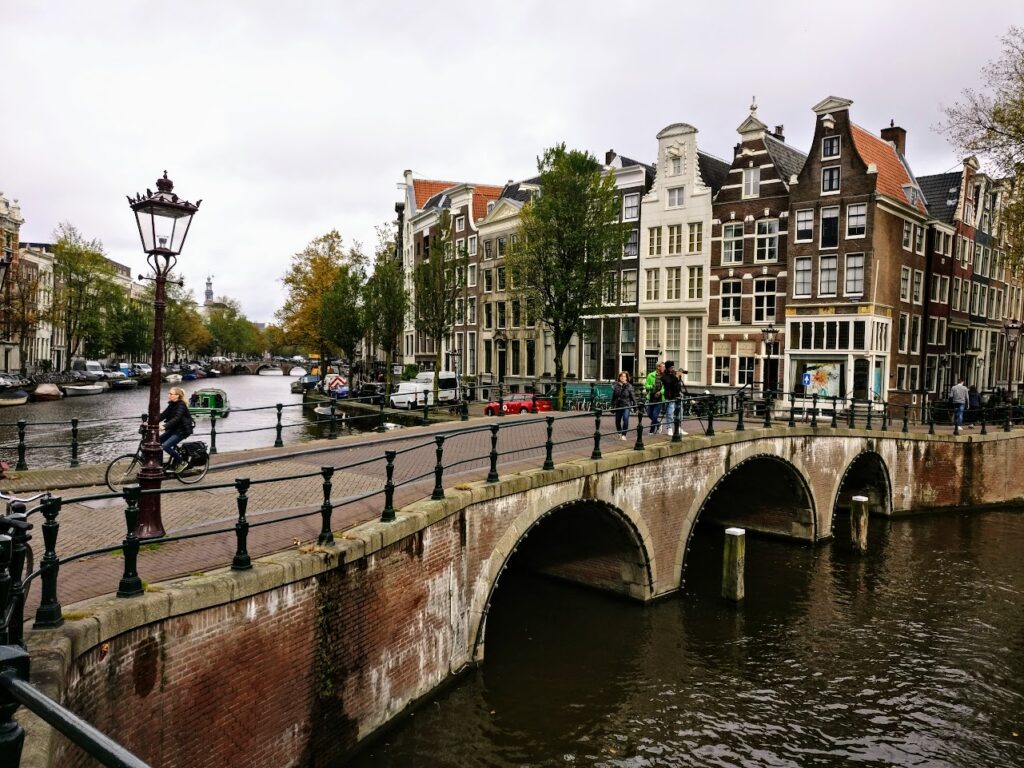 We'd been intrigued by the Red Light District and it's history in Amsterdam, but weren't sure how to learn more about it. Should we book a group tour? But how knowledgeable would they be on the industry? Would it be too touristy and would we be paying attention to an industry that perhaps has more negativity going on beneath the surface than people realise? We really were a bit clueless about it, but wanted to know more.
Before our trip I came across the PIC (Prostitute Information Centre) and saw they offered private tours. The PIC was set up by Mariska Majoor, who used to be a sex worker in one of De Wallen's windows, but soon found others judged her for her work and didn't view the sex industry to be "as normal" as she viewed it. She set up the PIC to proactively support the industry and to help people learn about sex work and to help change their perceptions.
This sounded exactly like what we were after, and what an opportunity to learn about the industry from a sex worker's perspective. The PIC offer small group tours during the week. Unfortunately due to our Sunday – Wednesday dates it meant we couldn't participate in these, however the PIC do also offer private tours. The cost was €100 total, for mine and Oli's own private tour guide, and we also had the opportunity to view a working sex-room (basically what it's like behind the windows.) The tour lasted 2.5 to 3 hours and we were able to ask our guide literally anything we wanted.
We met her at the PIC, and we had a quick chat to tell her a bit more about ourselves, before we headed straight for the working room. We went through the door, where the ladies would usually be stood or sat, and through a door behind their stool. I don't know what I expected the rooms to look like, but the reality of how it looked took me by surprise all the same. I won't give anything away in case you decide to book a private tour with the PIC (and you should!) but we both really enjoyed ourselves looking round the room.
All the rooms within the building block are interconnected by internal doors, so we were able to walk amongst the other rooms and see the set up. We then sat down in a communal area within the building and asked our guide question after question for about 2 hours. The conversation flowed freely and our guide was so incredibly informative and knowledgeable. She was also very open and transparent and we were able to ask her anything at all and ask as many questions as we liked. One of my concerns was about sex trafficking and how many girls do the job not by their own choice. I may have been naïve or maybe everyone wonders the same things as me, but she explained the set up, processes and regulations that are in place and the difference between sex trafficking and illegal sex work. The whole tour was incredibly insightful and was a huge highlight for us, we learnt so much and it was great to hear it from a different perspective.
Our guide ended the tour at a local tasting house where they made their own Genever, which was amazing and the perfect way to end our tour. I seriously cannot recommend a tour with the PIC enough – especially a private tour as she doesn't allow groups into the working room. We learnt so much and it will definitely be an experience that will stay with us for a very long time.
After a drink in the tasting house, we decided to head back to the houseboat, and after another power-nap and shower, we got ready for our last night in Amsterdam.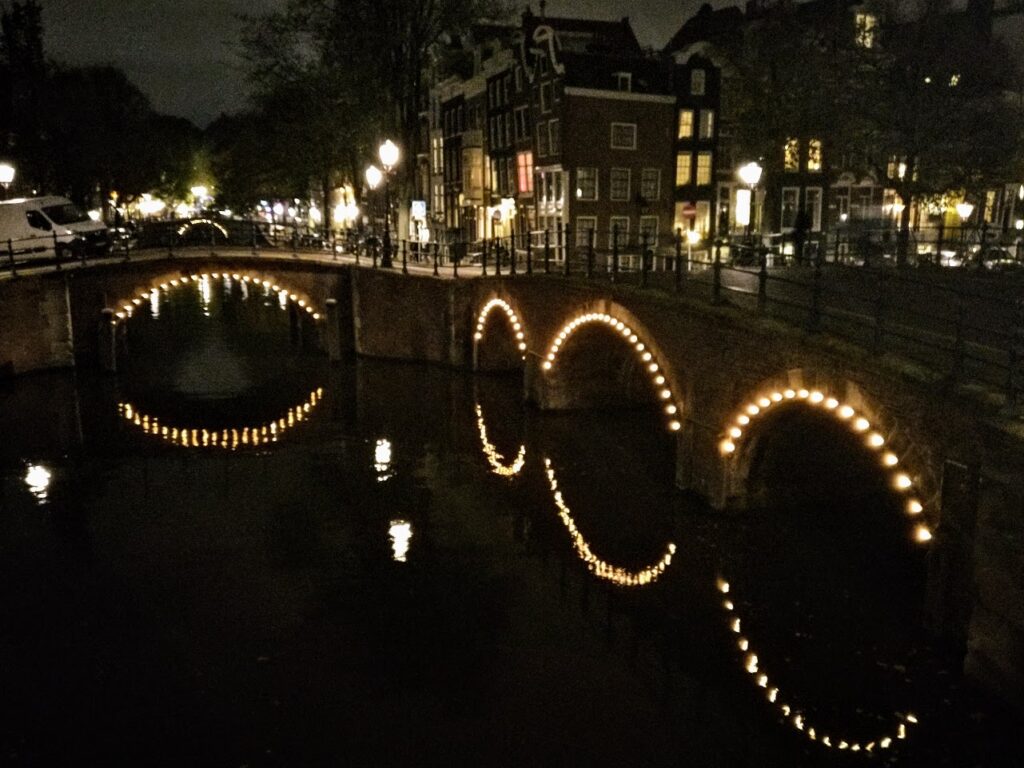 We had dinner at the amazing Bird Thai Restaurant, which did not disappoint. The staff were lovely and very attentive, and the food was even better!
After dinner we started to hunt for drinking spots. Oli and I both love a view and a rooftop bar, no matter where we are, so after hearing that the Hilton hotel had a rooftop bar, Skylounge, we couldn't resist and headed straight there. The place was packed for a Tuesday night, but the atmosphere was great inside! There were one or two rare tables free alongside the windows offering beautiful views of the city lit up at night, but we saw the rooftop terrace was practically deserted. We sat outside and ordered our cocktails instead, enjoying having the place practically to ourselves and the beautiful views of the city below us.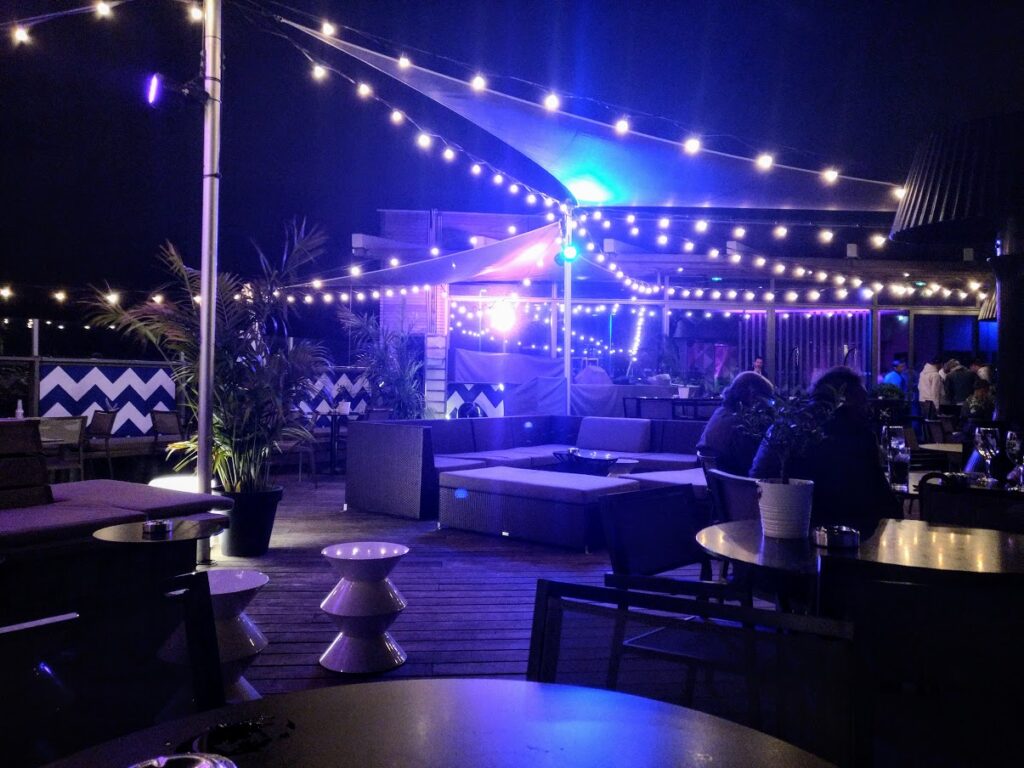 Day 4 in Amsterdam
Our last day in the city and a bit more of a relaxed affair. We'd hoped to rent a private boat and poodle along the canals, but it turned out to be more expensive than we thought, and so we decided we'd prefer to do more self-exploration instead.
We wandered up and down the canals, working our way back towards the city centre, stopping at a cafe or two to people watch and theorise about what Amsterdam must be like to live in. We had certainly fallen in love with the city, with it's relaxed vibe and atmosphere, well-dressed locals and beautiful architecture. It was the perfect way to spend the last day and dream away a couple of hours.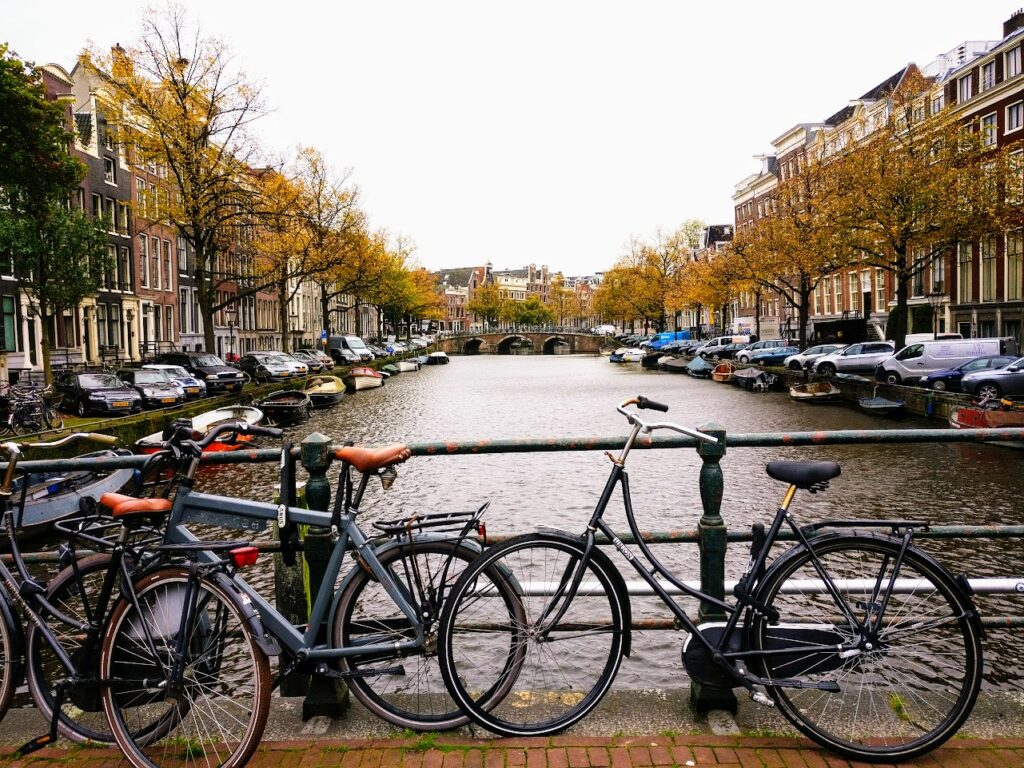 We grabbed lunch at Greenwoods Keizersgracht who served a couple of amazing burgers, before catching an Uber over to Brouwerij 't IJ, a brewery at the bottom of a windmill which was great (all you kraft beer lovers, this is the place for you) and spent a couple of hours enjoying the relaxed atmosphere and recapping on our amazing trip.
Coming up to 4pm and getting closer to us having to leave for the airport, we caught another Uber over to the A'Dam Lookout, which was so much fun! Again we pre-booked our tickets online but we really didn't need to, the place was so quiet! We headed straight for the roof – which was SO windy (silly photos to ensue) but we had a hilarious time and enjoyed the views over Amsterdam. They were also running the swing that goes out over the edge of the building and looking out over the city below – no way we were getting on that! But we enjoyed watching the others who were crazy enough!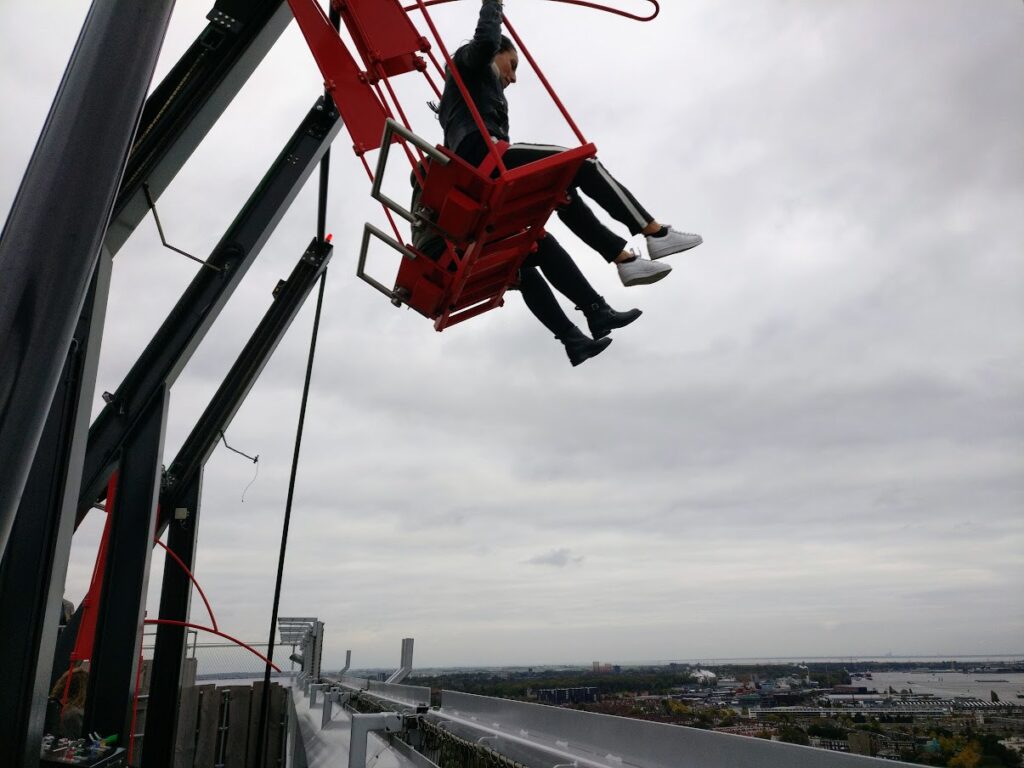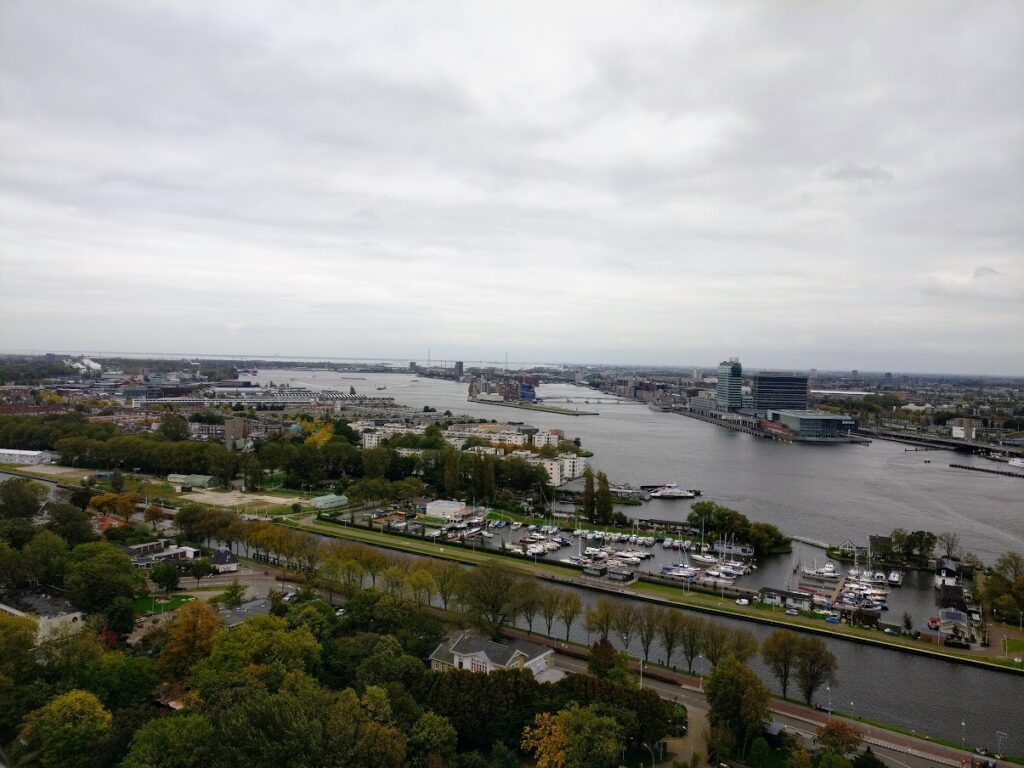 We then caught the free ferry back over to the train station and caught our train to the airport, ready for our 8pm flight home.
Amsterdam is an incredible city, filled with lovely people, beautiful scenery, history and culture; there is so much to see and do! I am so glad we spent 4 days in Amsterdam to celebrate our 10 year anniversary, it was the perfect mix of romance, culture and new experiences and there is still so much we didn't get to see and do!
I'd recommend a trip to Amsterdam to anyone, there is definitely something for everyone. We had a fantastic 4 days in Amsterdam and it's crazy to think my next post will likely be recapping on mine and Oli's honeymoon next year! Roll on 2018 – watch this space 🙂
We'd love to know what you thought of this blog post, so please feel free to leave any comments or any questions you might have in the box below. Hope you enjoyed reading, thank you!