With its white towers and turrets, nestled amongst lush green mountains, it's more than fair to say that Neuschwanstein Castle is best known for its stunning architecture and breathtaking views. Perched high on a rugged hilltop, overlooking the Pöllat Gorge and set against the backdrop of the Bavarian Alps, Neuschwanstein Castle is truly a one-of-a-kind masterpiece, plucked straight from the pages of a fairy tale that would instill the thrill of travel and adventure in even the biggest of homebodies. It was this very castle that inspired our Southern Germany road trip!
About Neuschwanstein Castle
This incredible castle was the imaginative creation of "Mad King Ludwig" who was King of Bavaria from 1864 until his mysterious death in 1886. A reclusive narcissist, the castle was designed to be the King's extravagant refuge from a world that often failed to meet his grandiose ideals. Construction of the castle began in 1868 and was originally designed to have more than 200 rooms! Unfortunately, King Ludwig never lived to see the castle's completion, and to this day the castle is still incomplete, with only 15 finished rooms.
It is said that Neuschwanstein Castle is behind the inspiration for Walt Disney's Sleeping Beauty Castle. Today, Neuschwanstein Castle is one of Germany's most popular tourist attractions, with people travelling far and wide to see this magnificent castle for themselves – including you if you're on this page! So what do you need to know about visiting Neuschwanstein Castle?
How to travel to Neuschwanstein Castle
The castle is located in the small town of Hohenschwangau, close to the German / Austrian border, just under 2 hours from Innsbruck or Munich – these are also your nearest international airports should you be flying into the area. From there, you can get a train to Füssen, but you will need to take a taxi or bus from Füssen to Hohenschwangau (about an 8 – 10 minute drive).
Your best, and most flexible option, is likely to be driving, where you can park up in Hohenschwangau itself, or the small town of Schwangau, also a short 7 minute drive away from Hohenschwangau.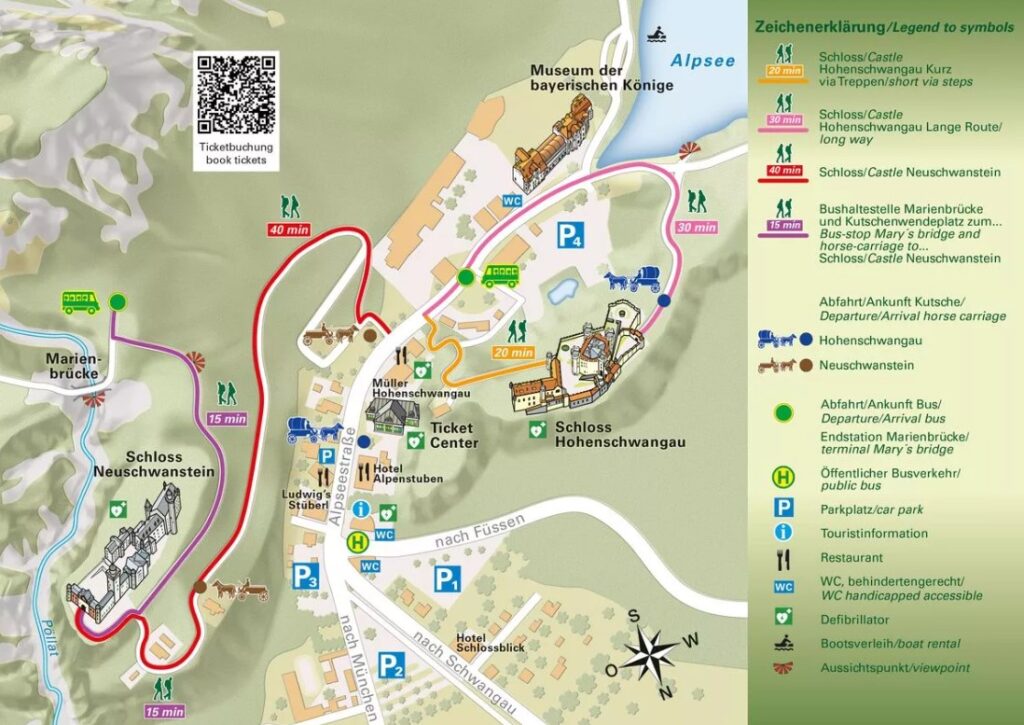 How to visit Neuschwanstein Castle
By car
There are 4 car parks available in Hohenschwangau – check the map above, or you can find it directly on the Hohenschwangau website. Parking costs anywhere from €3 for motorbikes, €10 for cars, up to €13 for campers.
Spaces cannot be reserved, and this is understandably a very popular and busy attraction in the area so it's worth arriving early to ensure you can definitely get a parking space.
By foot
Whether you've used one of the car parks highlighted above, travelled from Füssen or Schwangau, or if you're staying in Hohenschwangau itself, you will still have to walk up a somewhat short but steep hill to reach the castle, as there is no public access for cars up to the castle (this is only for the shuttlebuses or horse carriages), or any parking at the castle directly.
The route to the castle is well sign-posted and should take you about 30-40 minutes to complete, and there are also stunning views over Hohenschwangau and the surrounding mountains, out to Hohenschwangau Castle and Alpsee. 
By shuttlebus
If you don't fancy walking the scenic route up to the castle, then you can always hop on the shuttlebus. These run every 20 minutes from Hohenschwangau (close to the P4 parking area), up towards the castle. That said, due to space even the shuttlebus cannot take you directly to the gates of Neuschwanstein, and will actually park up by Marienbrücke (Mary's Bridge) about 15 minutes walk from the castle.
The shuttlebus is fairly priced charging €3 uphill, €2 downhill, or €3,50 for a return-trip. Cards however aren't accepted, and you'll need to either pay the driver directly, or at the bus station.
The bus runs all year round (except if there is snow or ice on the roads). You can't reserve a seat, but with services every 20 minutes that shouldn't be a problem.
By horse-drawn carriage
The other alternative is to ride a horse-drawn carriage up towards the castle. Much like the buses, the carriages also can't take you directly to the castle gates and will drop you off further downhill, about 15 minutes walk away.
Personally, I don't like to support animal "attractions" or tourism like this, and politely request you consider whether going up by carriage is also something you want to support.
When should I visit Neuschwanstein?
It sounds cliché, but there is never a bad time to visit Neuschwanstein Castle, which looks magnificent regardless of the time of year you're there. In the spring / summer it is surrounded by lush green landscapes and flowers in full bloom. While in the autumn / winter, the trees transition to red and orange glows, or you may even be lucky enough to witness the castle blanketed in snow. Even in rain or fog, the castle appears more dramatic and eerie, sat amongst the surrounding mountains.
A side note should you wish to travel during winter: if the weather has been particularly bad, not only do the shuttlebuses not run, but many of the hiking trails are likely to be closed too, making the castle particularly difficult to reach.
When is the castle open?
Tours for the castle take place all year round, with the exception of Christmas Eve, Christmas Day, New Year's Eve or New Year's Day. That said, you can explore the grounds and surrounding area of Neuschwanstein at any day or time of the year.
 Guided tours take place 9am – 6pm in the summer and 10am – 4pm during the winter.
What time of day should I visit?
Neuschwanstein Castle is one of Southern Germany's most popular sites – maybe even arguably the most popular in the area, and can be visited by up to 6,000 tourists in one day! (A huge number for a town which has an estimated population of 1,000). With that in mind it's worth planning your time at the castle, because it gets busy. Very busy!
Weekdays, first-thing in the morning (like, pre-8am) are your best times for getting to Hohenschwangau. Although it will likely still be busy on weekdays (particularly if you're there during the summer months) it will be much quieter compared to visiting on the weekend.
Whichever day you visit, generally speaking, visiting the castle around late-morning to midday is the worst time to visit. This is the peak time of day when most visitors will be in the area and is also the time when Munich day-trippers will start arriving, either having travelled down themselves or on large tour buses. That said, if you're not an early riser and arriving pre-8am isn't for you, then waiting to visit the castle until after 3:30pm/4pm might be worth while, when the majority of the hoards of tourists have left and the tour buses pack up and start making their way back to Munich.
We visited at the end of June and stayed at Hotel Alpenstuben in Hohenschwangau. We sat outside late-afternoon with some drinks and noticed how deserted the place felt after 4pm.
How to get tickets to Neuschwanstein Castle?
The inside of Neuschwanstein Castle can only be visited with a booked guided tour, which lasts for about 30 minutes. You can buy your tickets in advance online, or from the Hohenschwangau Ticket Centre on the day – however this is on a first-come-first-served basis and the queue can be insanely long, with tickets regularly selling-out by midday, especially during the peak season. If you're planning to buy your tickets on the day, your best bet is to get there (you guessed it) before 8am, when the Ticket Centre opens and you'll be given a time slot for your tour, depending on availability.
If you'd rather skip the queues and get your tickets online, then you can order them from the Hohenschwangau website directly (definitely recommended if you're visiting during peak season). Tickets cost about €17,50 per adult and €2,50 for children.
Where are the best photo spots of Neuschwanstein Castle?
For iconic views of Neuschwanstein, looming over Schwangau below it, head to Marienbrücke (Mary's Bridge), a short 15 minute walk uphill from the castle. This is the pick-up / drop-off point for the shuttlebuses, and is well sign-posted so you can't miss it. The view from the bridge really is stunning, with an uninterrupted face-on view of the castle. Depending on the time of day however, expect the bridge to be busy with lots of other visitors all looking to capture the photo of the castle.
The bridge overhangs a waterfall, plunging into the gorge below it. It's worth noting that after a period of bad weather, such as ice or heavy snowfall the bridge can be closed, so plan your visit carefully.
There are also lots of other "off-the-beaten-path" options for capturing even more stunning photos of the castle.
Most tourists visit Mary's Bridge, snap a photo and then head back the way they came. If you continue over the bridge and onto the hiking trails on the other side, you'll find some of the most stunning views overlooking the castle, and you'll likely have the views mostly all to yourself, with maybe just a few other stray tourists who have also wandered over the bridge.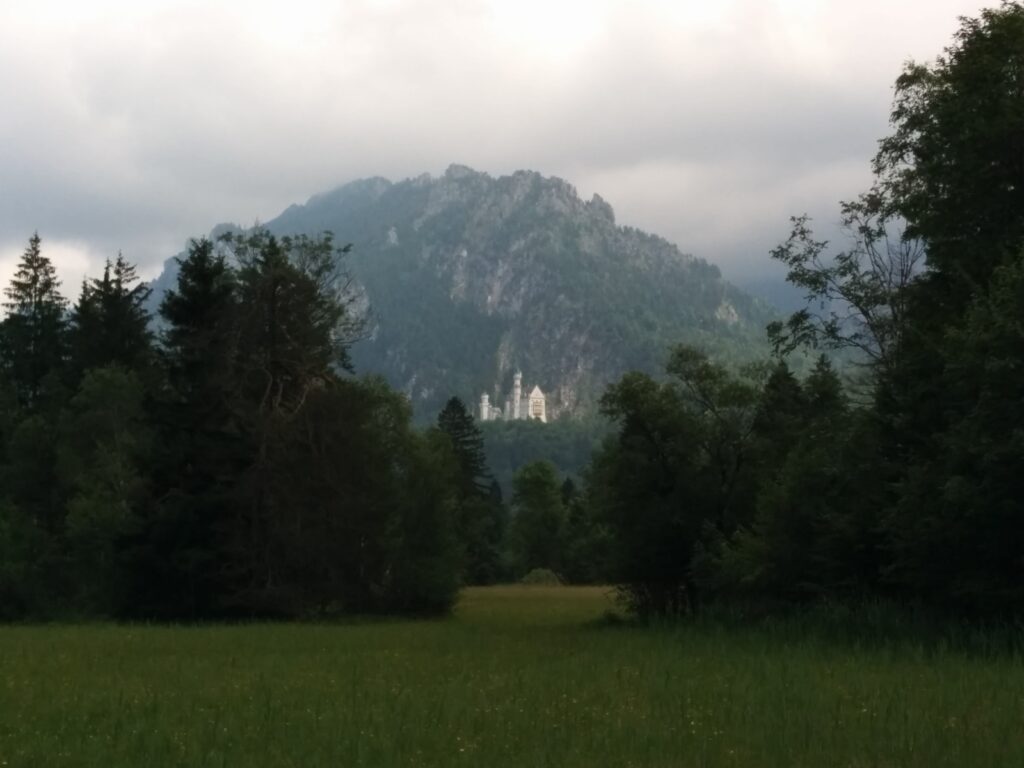 Wherever you are in Hohenschwangau, you can be sure to see stunning views of the white castle, glistening above you, including from Alpsee, the large lake in Hohenshwangau. For quieter, more private views however, we loved the views from Schwansee. After visiting the castle and exploring Alpsee, we accidentally came across Schwansee and had the most beautiful views of the castle looking down on us from across the lake. There are also a couple of small pontoons, where you can see and enjoy the peaceful surroundings. We spent the afternoon here and didn't see another person the whole time we were there – bliss!
For another opportunity for some iconic shots of the castle, ride the Tegelberg Cable Car up into the mountains. The cable car is roughly a 30 minute walk from Hohenschwangau, but you get some stunning views of the castle as you travel up into the mountains. From here, you also then get the added benefit of exploring the hiking trails in the gorgeous Bavarian Alps.
Hopefully you found this guide to visiting Neuschwanstein Castle helpful – or maybe you've been before and it helped relive some memories of your time at there? Please feel free to pop a comment in below or share your experiences. We'd love to hear them!