We have just returned back from a 17 day Germany road trip, which we spent the past 18 months organising and saving for! Here is our trip report of our Germany road trip, what we got up to and where we went in beautiful southern Germany.
Living in Portsmouth, we're lucky we're not too far away from a lot of European connections. With the Channel Tunnel 2 hours away, it was great to take advantage and take Oli's car on our road trip with us. We left home about 3am and arrived at the Channel Tunnel by 5:30am. Check-in and security was uber smooth and we had boarded the carriage and arrived in Calais all within 1 hour.
Sat Nav
Actually, before I dive into the road trip itself let's talk navigation! We planned our route, including places to visit, way points, specific roads etc all in Google Maps. The plan had been to download this route to our phones and use Google Maps navigation on our phones…however this functionality no longer exists. The reason this was an issue was because of the way points and specific roads and routes we had selected. It wasn't a case of hopping on the motorway and getting from A to B in the quickest time, we picked well known scenic routes, which we wanted pre-loaded in the sat nav.
After a lot of research we came across this great app for Oli's phone – Sygic. We could create very specific roads, routes and include way points or places we wanted to stop off at with no problems; as tailored as we liked! The maps were also all offline which was great, so we didn't have to incur lots of roaming charges. We used this basically everyday for the 17 days we were away and it didn't let us down once. I definitely recommend!
Ghent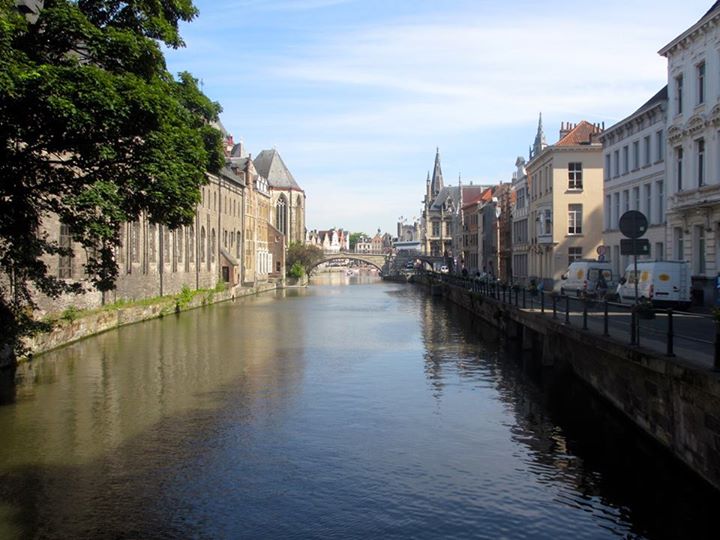 After a couple of hours driving, we arrived in Belgium to our first stopover, Ghent. Our hotel was called Hotel Onderbergen, about 10 minutes walk from the city centre and I highly recommend this place! We parked at a nearby multi-storey, as the hotel car park was full (and the multi-storey was about the same price) and headed straight for the city centre to grab some breakfast and explore.
We found a great breakfast place near the centre called Brasserie Agrea. It was nice and quiet when we arrived (about 10am) and the staff were lovely. We both ordered waffles for breakfast and they were delicious! We sat by the window and people watched everyone outside, while we planned what we were going to do with our day in Ghent.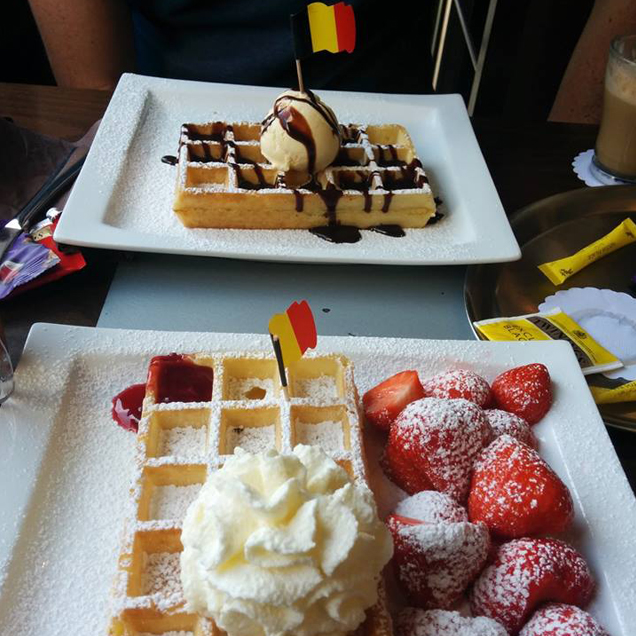 The Agrea is well positioned between Saint Bavo's Cathedral and the Belfort. It was a beautiful sunny day, so we decided to go up the Belfort, which was so quiet! There must have been a total of 10 other people up the tower. I think it cost something like 5euros each to go up the tower and that also allowed us to stop off at each of the floors as we worked our way higher, read a bit about the tower and see the massive bells. The viewing area at the top is a lot smaller than I imagined, just a skinny corridor which goes almost the full way around the tower and the steps to the top were even skinner, but the views were worth the climb!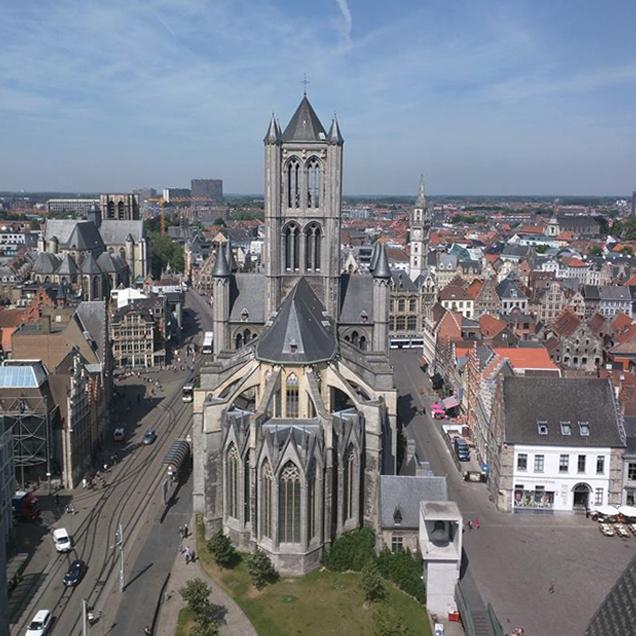 We spent some time exploring the city centre on foot, wandering around the streets and side streets. We had on our list that we wanted to do the 'Boat in Ghent' canal boat ride, which we thought we'd do mid-afternoon, but we accidently walked across them whilst exploring so decided to do it then. I definitely recommend this! Our guide was equally informative and hilarious, making sarcastic comments and jokes about other people on the canal (in a nice way though). We must have been on the canals for about 50 minutes and it was a brilliant way to see and take in the city and all it's prettiness.
During the tour, our guide mentioned a good restaurant spot a little further out the city centre, so we thought we'd explore up that way and view a few menus. Unfortunately nothing appealed to us and the one restaurant we did like the look of had terrible reviews on TripAdvisor. Back to the drawing board. En-route back we came across t'Gouden Mandeke, it was a busy pub with everyone sat outside in the sun enjoying their drinks. The atmosphere was good and there was a spare seat in a sunny spot, so we grabbed a couple of drinks while we looked up places to eat on Tripadvisor.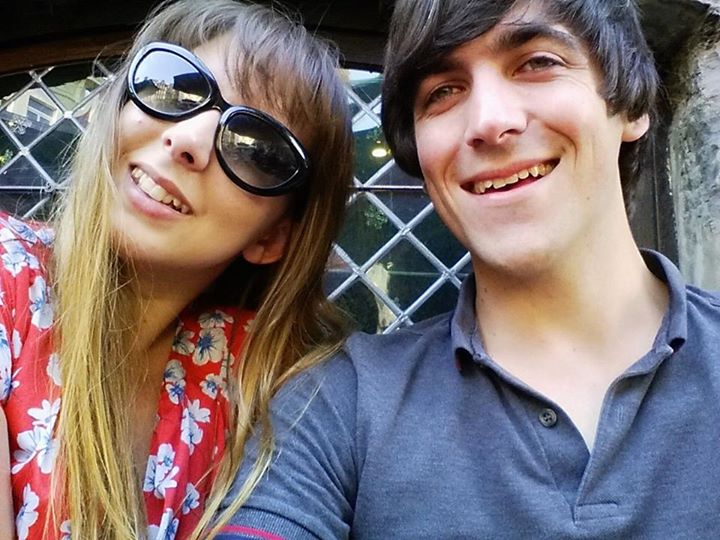 We were a little disappointed to find a lot of places we liked the look of on Tripadvisor were closed on Thursdays (typical!) However, we found a place we loved at the opposite end of the city called Eat-aly. Originally the name did put me off, but actually the menu was great and so was the food! We ended our night with a few more drinks, before a (somewhat) early night, still feeling exhausted from our 3am start and ready to drive early next morning.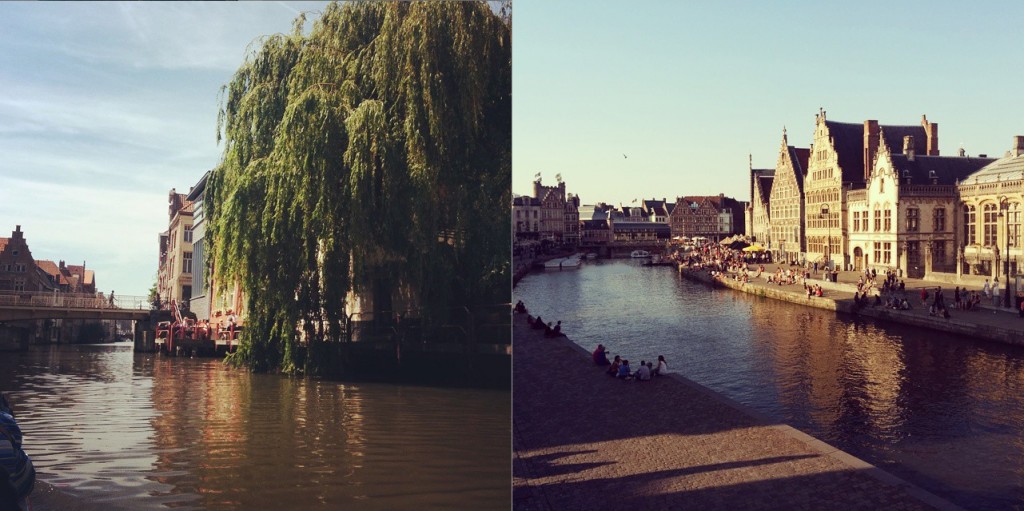 Heidelberg
Next day we woke up early, ready to head into Germany for our road trip. It was a mammoth 5 hour drive to Heidelberg, however some traffic around the Brussels ring road actually made this a 7 hour drive!! (Glad we left early).
As soon as we crossed the boarder into Germany though the roads were so much quieter and it was smooth sailing to Heidelberg. We made a pit stop at Aldi to buy their 'Aldi Talk' sim card, this allowed us to use data and get access to the internet on our phones for a matter of euros for 30 days.
My carrier is Three, who offer 'feel at home' in a lot of European countries, where you can use your phone plan for no extra cost abroad, but they don't offer it in Germany. Oli is with Vodafone who offer a European add-on for £3 per day – which over 17 days worked out very expensive. So Aldi Talk was a great option – cheap and really reliable, we were rarely out of signal. The downside however is the instructions to activate the sim card are all in German (and our German isn't that good). Thankfully once we got to our hotel in Heidelberg, the hotel manager very kindly went through the instructions with us. The sim card that came with the Aldi Talk package was also a micro sim, not a nano sim, so we had to cut the sim to size, avoiding cutting the chip itself – phew!
Before I dive too much into our time in Heidelberg, I'll start on the hotel. We stayed at the Ibis, near the train station. They offered free car parking, directly outside the front of the hotel which was great and as mentioned above, the staff were really lovely and very helpful. We had a rear facing room, over looking the train station (uh oh!) but actually we never heard a thing, the sound proofing is spot on.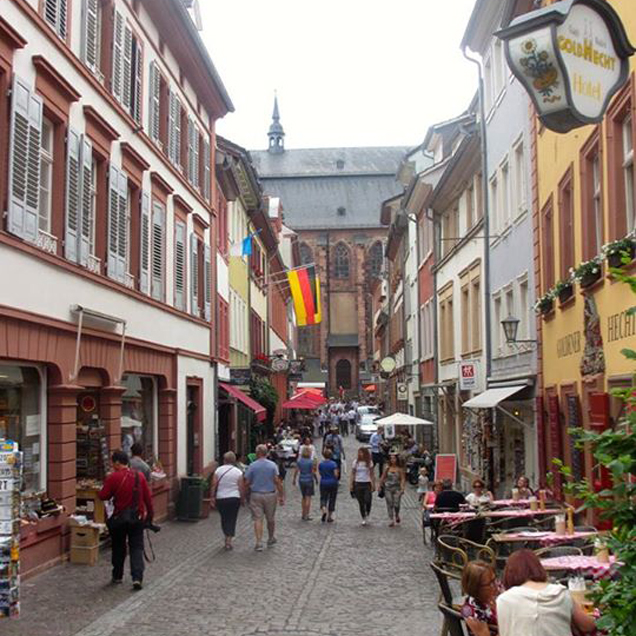 It was probably a good 20 – 30 minutes walk into Heidelberg's old town and if I'm honest I was a little disappointed with Heidelberg. I didn't expect there to be a large modern city surrounding the centre of Heidelberg… I guess I hadn't thought about it really, I just thought it was all going to be like the 'old town'. The old town was also incredibly touristy, which I can't complain about too much (I am a tourist myself) but the place was packed! It didn't seem large enough for the amount of people there. However, once I got over that initial surprise Heidelberg was really enjoyable and the cute side streets were a lot quieter than the main route through the old town.
We explored the streets and buildings of the old town and made our way to the funicular to head up to Heidelberg Castle, which is definitely worth doing. When we arrived at the top of the hill for the castle, we saw the most amazing views over Heidelberg and the river. Exploring the castle and it's grounds was also cool, but the view does make it.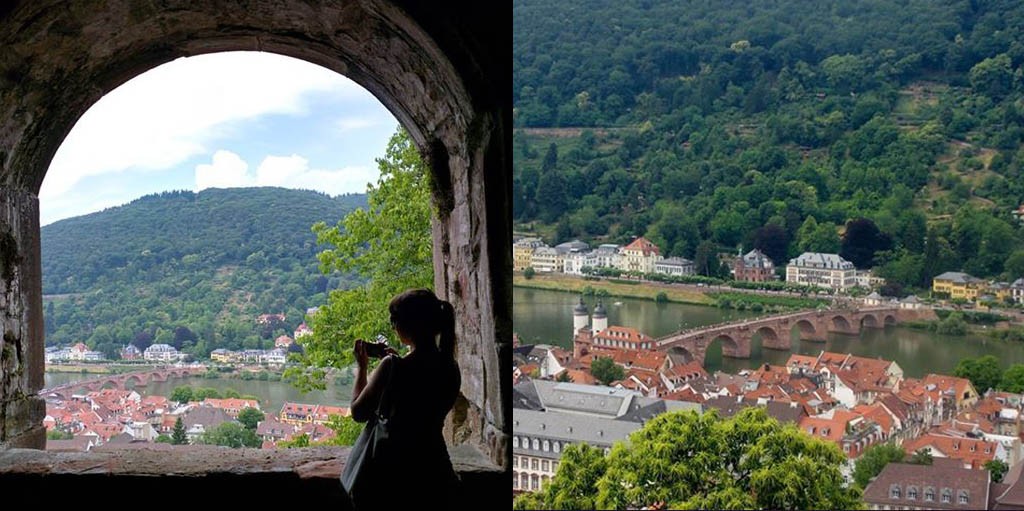 After the castle we took a walk along the river and over the bridge, before heading back over in search of a pub. We came across a great little place down a side street called Destille. It was a hot and muggy day so we sat outside drinking and people watching. Our bar guy was really nice, recommending different beers to Oli and chatting away – great service! We also found a place we liked the look of on TripAdvisor called Billy Blues, outside the old town and a bit nearer the hotel. It was soo quiet when we turned up, but every table was reserved. Staff were lovely and the burgers were even lovelier!
The Black Forest
Next day we got up early and made the drive to The Black Forest. This was the first of our specific routes as we wanted to pick up the B500, also know as the 'Schwarzwaldhochstrasse', which is a particularly scenic drive through the forest. We drove via this route to Triberg and then stopped off for some lunch and to stretch our legs for a bit. After lunch we headed to the Triberg waterfalls which was very pretty.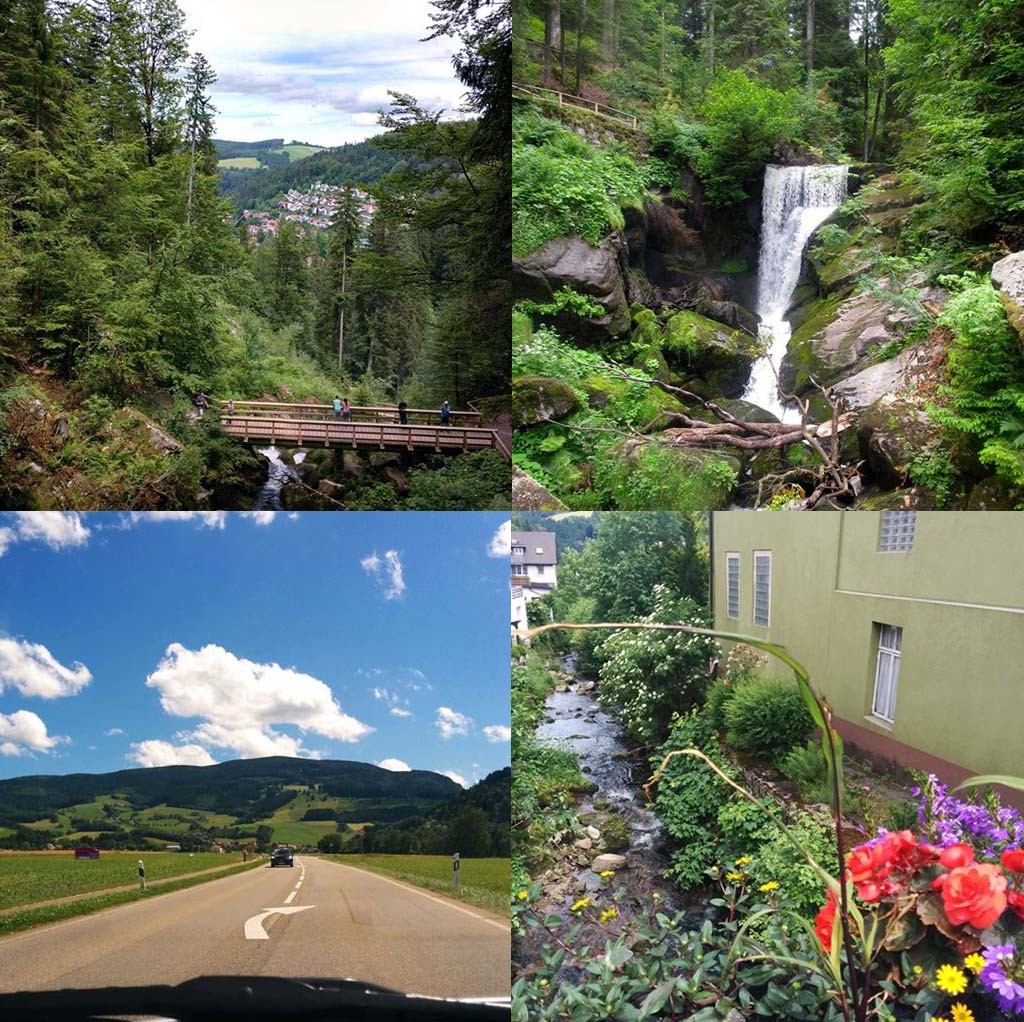 We then continued our drive to Todtnauberg where we were staying for a couple of days, finishing the B500 up some very twisty, mountainous roads – lots of steep inclines and hairpin bends.
We stayed at a place called the Herrihof Landhotel, which was situated half way up a hill with beautiful views of the trees, rolling hills and mini-village below. We arrived mid-afternoon and the hotel offered free private car parking, so after checking in we were itching to get out and explore the beautiful scenery.
After an hour or so exploring the village and local area, we stopped off at a pub / restaurant called the Waldblick and grabbed a couple of drinks in the sunshine. We were deciding where to have dinner and actually ended up eating at the Waldblick, which was one of the best meals we had during the entire trip! I had a goulash which was amazing, while Oli had a game dish with a rosti which was also delicious! Our waitress was lovely and very chatty, she mentioned to us how pretty the views were from the top of the hill (on the other side to the hotel), so we decided that's what we would do the next morning.
We had things planned for the day, so we got up early in the morning and out the door around 6:30am/7:00am. We walked up this very steep hill, but the views from the top were worth it. Everything was so silent and still where it was so early in the morning still. Before I knew it though Oli was on one knee and I'm very happy to say that a little place called Todtnauberg in the Black Forest is where we got engaged!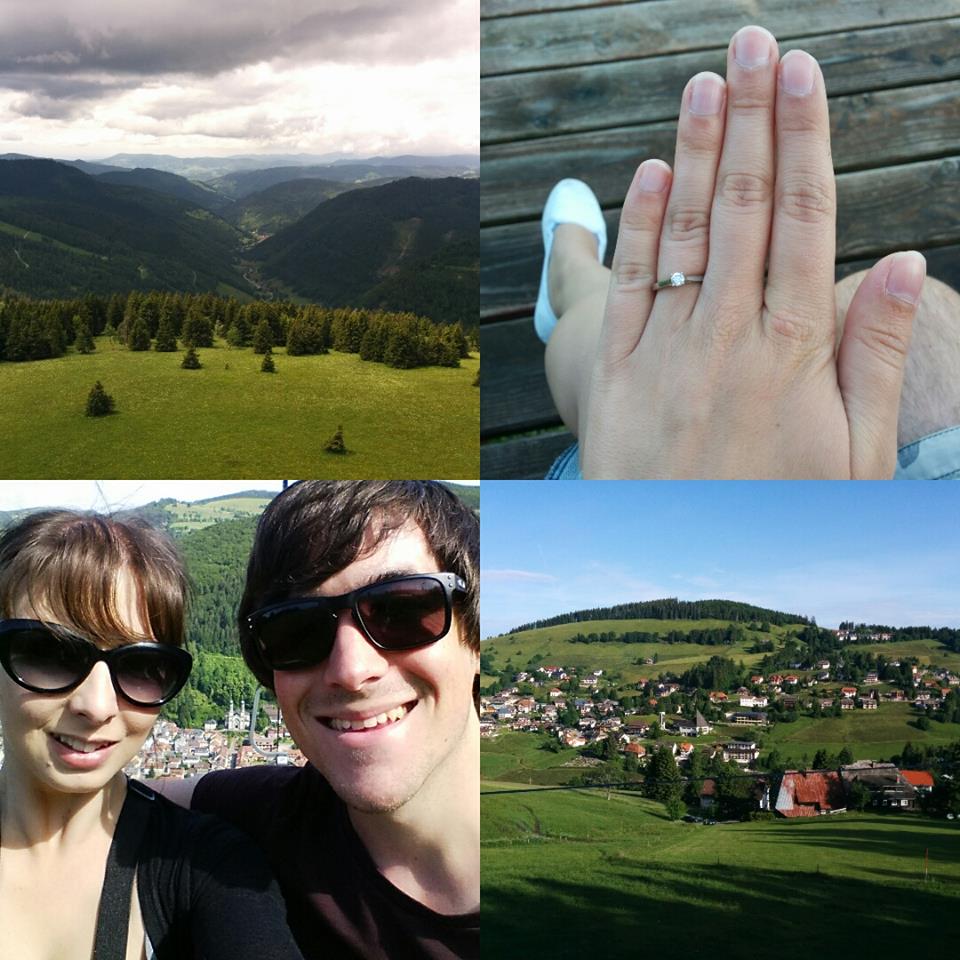 We continued exploring and slowly made our way back to the hotel for breakfast, before heading into the main town of Todtnau to go on the Hasenhorn coaster – basically a toboggan style 'self-drive' coaster which was SO much fun and definitely not the first thing I imagined we'd do after we got engaged.
There was free parking at the foot of the hill, signposted Hasenhorn and then we took the ski lift up to the top and sat in the toboggan-carriage…thing and rode it all the way down. You pick up crazy amounts of speed – you can brake when you feel like it – we were also one of the first to go on it that day so it meant the track was nice and clear.
We then explored the town a bit and found a cute little square in the centre of Todtnau; grabbed a water from a local cafe and made a few phone calls home to tell them the news. After this we drove to Feldberg mountain (it was a toss up between Feldberg or Belchen, so I hope you think we made the right choice). We caught the gondola to the top and took in the amazing views from Feldberg tower. It was beautiful sunshine when we arrived, but as we stood up the top, we literally watching some horrendous looking weather roll in. It was great to watch the clouds coming in and stroking the tops of the trees – very atmospheric.
We decided to head back down and beat the weather before it got too bad, so we headed back to the square in Todtnau and ordered some drinks to continue our celebrations. It was boiling hot and muggy, although dark and cloudy, so we sat under the restaurants umbrella when the heavens opened up and the most amazing thunder storm surrounded us.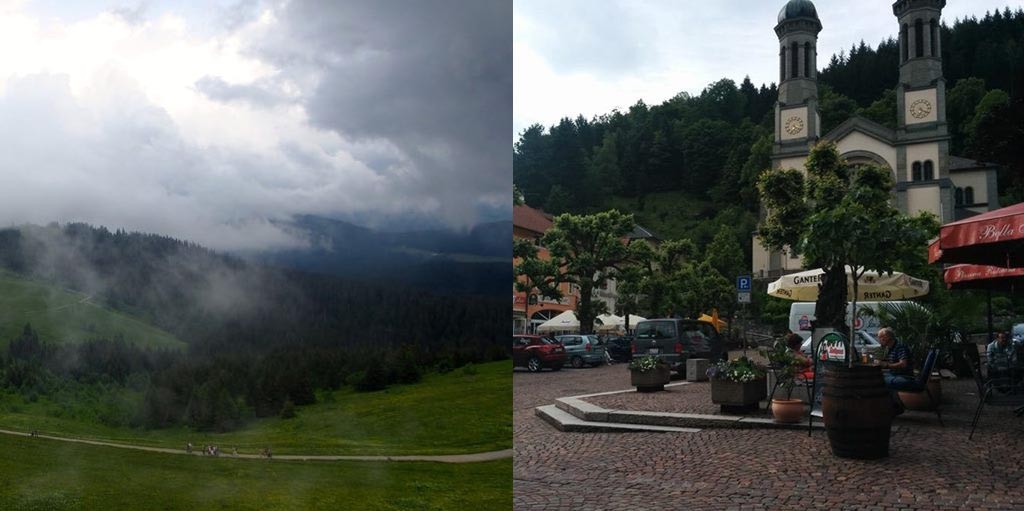 I may be slightly biased, due to this being my engagement location, but I absolutely loved everything about the Black Forest, it's such a beautiful place. We cared more about the scenery than the towns and villages – I would love to go back and take in even more of that beautiful scenery. We tried to drink it all in, some of the views just didn't look real – definitely recommend anyone to go!
Zurich / Oberstdorf
After our couple of days in the forest it was time to move on again. We were 1 hour from the Swiss border, so we decided to take advantage and drive into Zurich, which sadly we were really disappointed with. A few people had mentioned previously that Zurich wasn't all that, but I guess it was one of those things we had to experience ourselves. It was pouring down with rain, so I'm sure the weather didn't help, we probably would have had a very different experience if we were in the city in the sun. We grabbed some breakfast from a place called Confiserie Sprungli which we'd read good things about on TripAdvisor. However we were really disappointed, everyone was rude and the breakfast didn't taste particularly fresh (we just had croissants).
We continued exploring a little more, but after 3 hours in Zurich, we decided to call it a day and left around lunchtime. We hopped in the car and made our way to our next overnight destination; Oberstdorf. This was by far one of the best places we visited, definitely a highlight! It was unfortunately still raining and there was still a lot of low cloud around, restricting the views of the top of the mountain peaks, however that only seemed to make the place look more atmospheric.
We stayed at a fantastic hotel, in the middle of nowhere, down a little dirt track called Hotel Birgsauer Hof. The hotel was lovely and the staff were brilliant, very attentive, polite and chatty. We decided to eat at the hotel that night and it was actually one of the best meals we had. They serve traditional Bavarian dishes and they were delicious, I can't rate the hotel highly enough.
Prior to dinner though, despite the rain, we were so taken by how pretty Oberstdorf was, we headed straight out after checking in to go for a walk and explore. We were gone somewhere between 1 – 2 hours and just enjoyed a chilled out walk exploring the area and taking in the scenery. There was nothing around us apart from mountains, rows of alpine trees and the odd farm, it was beautiful. The scenery itself made us wish we were staying in Oberstdorf one more day, we loved it there!
Hohenschwangau
Next day we got up early and left the hotel about 7:30am ready to drive to Hohenschwangau, about an hour away. This was the first opportunity we had to also pick up the German Alpine Road, a 280 mile winding road along the Bavarian Alps – the scenery was beautiful!
We got to Hohenschwangau in a little over an hour and found the hotel we were staying at (Hotel Alpenstuben) so we could park up and dump our bags. We then ventured out and headed for the main attraction that lured us to Hohenschwangau – and which actually inspired this entire road trip: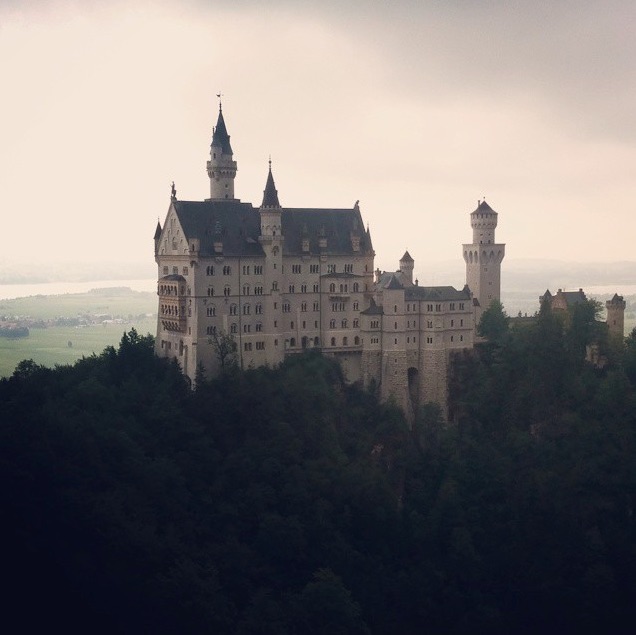 Neuschwanstein Castle. The town was already SO busy. People had mentioned how busy and touristy Hohenschwangau and the castle could be, but I definitely underestimated just how busy it could be. We both decided not to go inside the castle as it's not finished inside (some people said it was still worth it, others said it wasn't) and we decided the most impressive thing is the castle itself. It really is like something out of a fairytale (it's said to have inspired Disney's Sleeping Beauty castle), it's breathtaking in real life. So we opted for not going inside, so we could spend more time admiring the exterior. I'm so glad we made this decision because the line at the ticket office was crazy busy already!
The road to the castle itself is actually closed for private transport – you need to either walk or take the horse carriage. It was warm day so we opted for the walk, plus they loaded up the horse carriages like cattle, everyone seemed to be so squashed in there, it wasn't for us. I'm not sure how much they charged but I'm sure it wasn't particularly cheap. Anyway, we decided to walk up the hill… I'd like to think I'm relatively fit and healthy but ohmygod, that hill walk is exhausting!! My calves were screaming at me, the road to the castle is basically one long, winding, steep incline. We arrived at the castle and it was pretty touristy up there. Lots of souvenir shops selling typical tat you find, but the up-close view of the castle was amazing.
We then continued further up the hill, heading towards Mary's Bridge (we knew of the bridge beforehand anyway, but it is also sign posted during the walk). More steep inclines, but this part of the road was a lot quieter, so we were determined to power through the pain and get to the bridge before it got too busy (I guess a lot of people stop off at the castle first). The bridge was about a 20 minute walk from the castle but the view from the bridge (see picture above) is spectacular. I have honestly never seen such an impressive building before, I love the look of Neuschwanstein Castle so much. We first came across the castle on Reddit once upon a time, about 3 years ago I think. We instantly fell in love with it and had to know where it was, the location then spawned the idea of a road trip and the rest is history. So it was great to finally see the thing that inspired our trip.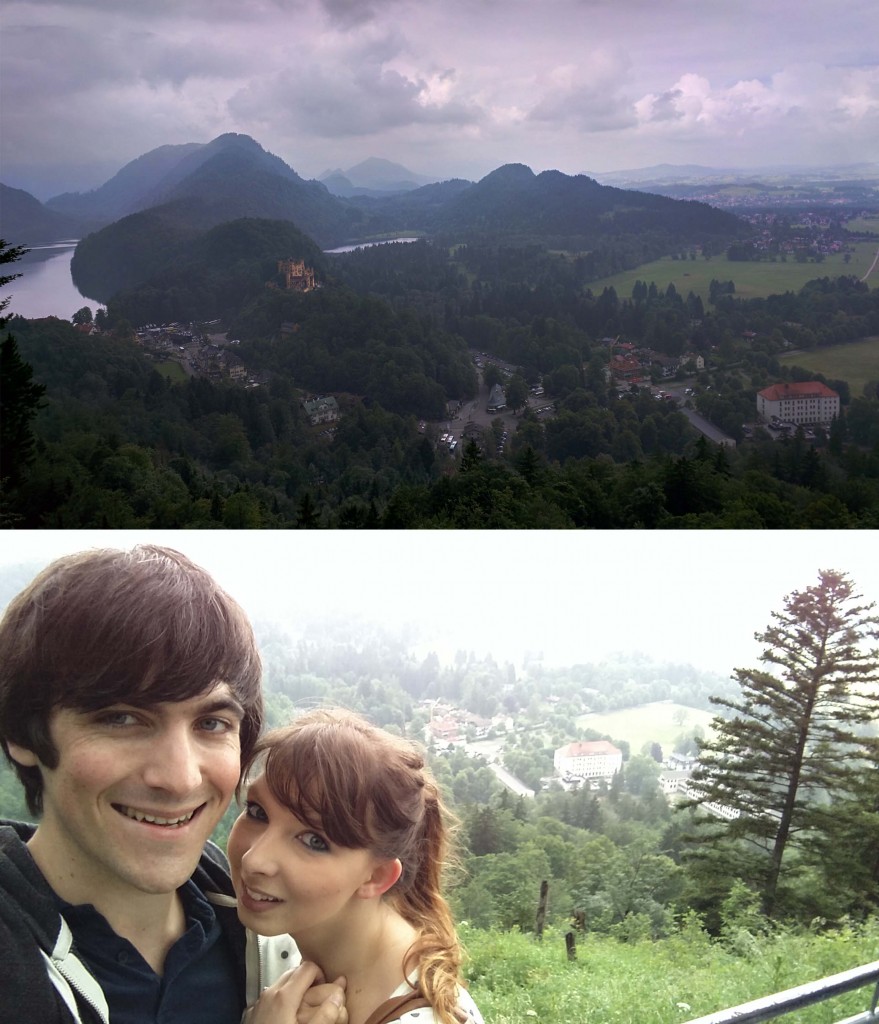 We stayed on the bridge for about 15 minutes before it started to get really busy, so we took a slow walk back down and admired the views en-route. Once at the bottom, we took a walk around Alpsee Lake which was really pretty, but there were lots of other people around, not really the quiet stroll we were hoping for. After an hour or so, we were back in the main town and looking for somewhere to have a drink (which was actually pretty difficult) and rest our feet. We came across a beer hall in the end – turned out it was a pretty generic tourist trap, but it sorted us for the time being.
The place was heaving by this point, it was so much touristy than I expected, it wasn't enjoyable. Cars couldn't even drive down the road, because everyone was spilling out into the road, there were so many people and it was so noisy! We desperately wanted to escape the noise so we took a walk outside the town (it was instantly quiet) and went for an explore in the woods nearby. When we came out of the woods, we came across a large patch of green, which had the most peaceful and beautiful views we had the entire trip. We also had a perfect view of the castle against the mountains. It was such a perfect spot, there wasn't another soul around, it was so quiet, we could just sit and drink it all in. We came across a little jetty area by the lake there (Schwansee) and sat in the sun, soaking our feet in the lake and enjoying the mountains around us. I can't put into words how perfect this spot was and how much we enjoyed our little quiet hideaway.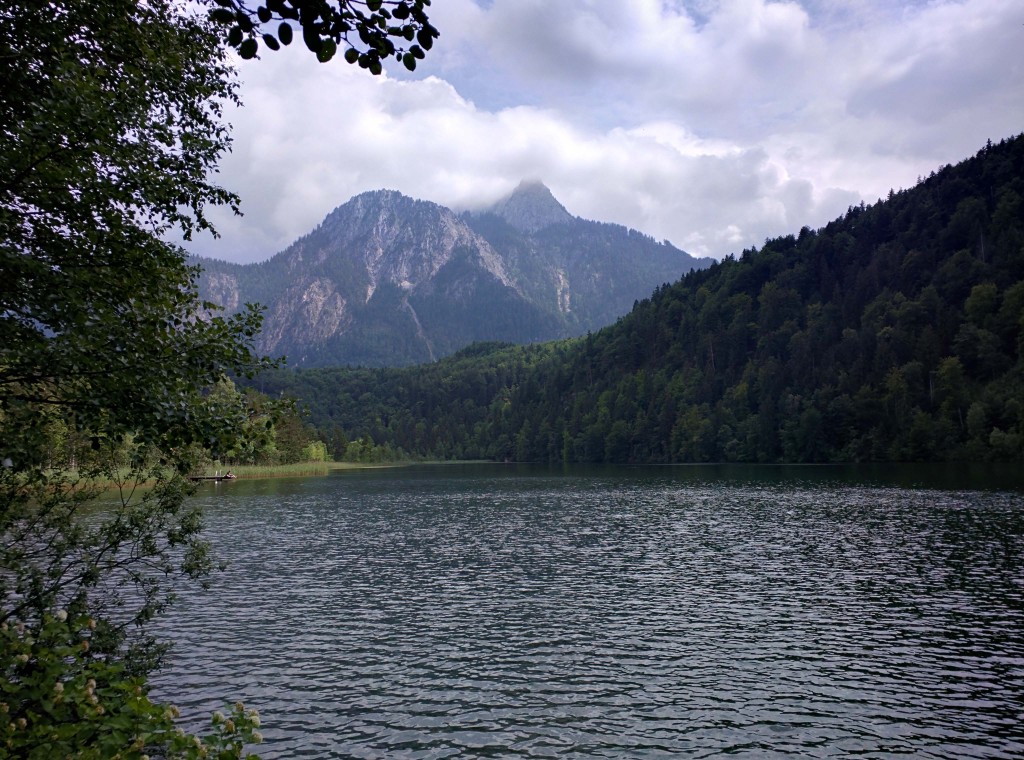 Our afternoon pretty much consisted of this view, we stayed here till pretty late (when we started getting attacked by mozzies) and made our way back to the hotel to shower and freshen up. We had dinner at the hotel, as there wasn't a lot else around and we didn't really want to drive into Fussen or Schwangau. As it was the hotel had great restaurant reviews on Tripadvisor and we had a great meal there and really nice service. We had a few rum & coke's to end our night on and grabbed an early night.
Our stay at the hotel was really nice, the rooms were small and basic, but pretty much everything you need them to be. We also had a cute little balcony overlooking the street outside, which was noisy during the day, but by the time all the coaches and tour groups left we couldn't hear a thing. The beds were nice and comfy and everything spotlessly clean. I definitely recommend.
Berchtesgaden
Other than the Black Forest, Berchtesgaden was the main place I was most excited about. I love WW2 history and I couldn't wait for an opportunity to go up to the Eagle's Nest, so Berchtesgaden was a massive highlight for me.
We stayed at the Explorer Hotel near Königssee Lake. The hotel (despite the garish green and purple colour scheme) was lush! We reserved private parking at their car park under the hotel and had a lovely room at the back of the hotel overlooking the mountains. Breakfast in the morning was amazing, lots of choice (hot and cold) and the first proper cup of tea I'd had in almost 2 weeks (I am a tea addict, so I had missed my morning cuppa to start my days with).
Anyway…once we'd checked in and dumped our bags we took a walk down to Königssee Lake and caught the boat service to visit St Bartholoma Church. The boat service was great, we had a brilliant guide who told us about the area and some facts about the lake and also had a witty sense of humour. I believe every guide does this, but he also told us about this flat mountain face, which if you play music to, reflects a perfect echo note for note. So he whipped out a trumpet (like you do) and played a tune to the mountain face which you could hear echoing all around you, note for note.
We sat around by the church for a bit and explored the area, but the temperate cooled off really quickly. The plan had been to catch another boat up to Salet and explore around there, but it got so cold so quickly we decided all we wanted to do was get back on land and warm up. We drove into Berchtesgaden that evening for dinner and ate at Ristorante Il Calabrese Pizzeria, which I wouldn't really recommend… the service was so slow, our waiter forgot to get our drinks we ordered and dinner took forever to come out. I ordered a pesto pasta dish, which sadly was ridiculously watery, it was like they'd forgotten to drain the pasta?? And Oli's pizza was overwhelmingly garlicy (and that's coming from 2 people who love garlic). Both our meals were really disappointing and the poor service didn't help, which was a shame. We ended the evening at the hotel bar, sinking a couple of vodka & cokes (Oli) and rum & cokes (me).
We had the luxury of lie-in in the morning, got ready slowly and grabbed some breakfast downstairs. We had our Eagle's Nest tour booked for 2pm, so we thought to kill some time we'd explore the local area. We went for a drive and came across some really remote and pretty places in the general Berchtesgaden area.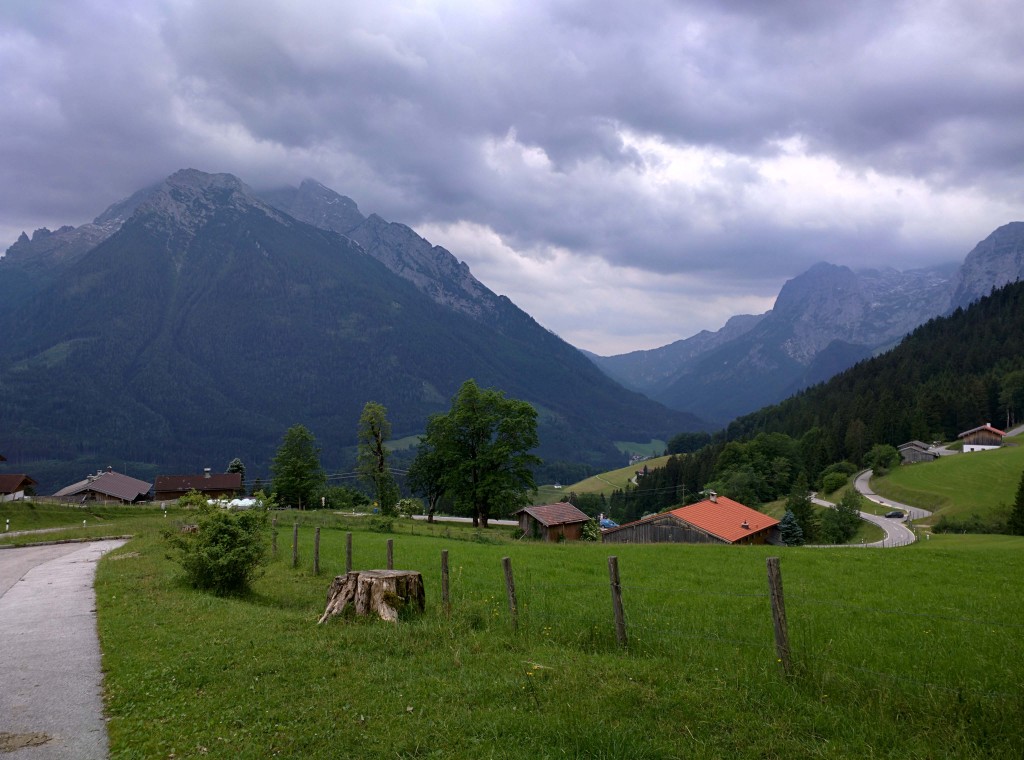 After an hour of exploring, we headed into Berchtesgaden and explored the town. According to a few waiters and waitresses we were still out of season, so the town was really quiet and sleepy, but 2-3 weeks later and it would be packed, so I'm glad we went early-mid June. We enjoyed a chilled out morning wandering around the town until about 2pm, when we grabbed our Eagle's Nest tickets and waited for our coach.
We booked with Eagle's Nest Tours, who had amazing reviews on Tripadvisor and they didn't disappoint – what a tour! Our guide was incredibly informative and spoke perfect English. We took the scenic route up the mountain to the documentation centre, on the way our guide pointed out some of the nazi built buildings (such as the train station) and told us a bit about their history, as well as Hitler's background and life growing up.
When we got to the documentation centre, our guide showed us some original photos, to show us what the buildings around us originally looked like and what they were used for at the time, before becoming repurposed into hotels / the documentation centre itself. She ran through a few key highlights in the documentation centre and really created a picture in your mind of what nazi Germany was like in that time for people. She was so informative I can't recommend her enough! After that, we headed down into the bunkers and learnt about the huge network of connecting tunnels that had been built in the mountain (some half way through completion when the war ended). So it was great being able to view the completed and final tunnels, as well as the ones which had been a work in progress.
After this, we all headed back up to the bus area and all hopped on one of the special Eagle's Nest buses. Whilst our guide was equipped with a coach, to get to the Eagle's Nest you have to use their specially designed buses, which are able to get up those ridiculous inclines and tight bends. We passed the Turken Hotel and she told us of the history of the hotel and its bunkers. There are also a lot of buildings still standing, which had been purpose built for the SS, admin purposes or for local workers who built the roads etc… It was interesting to seem them standing perfectly intact and learn that people were happily living in them now.
We arrived at the Eagle's Nest and walked along the tunnel to Hitler's famous 'gold' elevator. Once inside, we walked through to Eva Braun's room and learned all about the history of the Eagle's Nest, Hilter's other buildings on the mountain, such as tea house etc… and what happened when the American's got there at the end of the war. I am a massive Band of Brothers fan, so it was great to see a copy of a photo Dick Winters had taken when they first arrived at the Eagle's Nest. We then had free roam to explore or grab a cup of tea from the restaurant (which is what the Eagle's Nest now is). Myself and Oli headed straight outside so we could admire not only the views and surroundings, but also the fact that we had finally been able to visit the Eagle's Nest – a massive bucket list tick for me and something I never thought I'd be able to visit.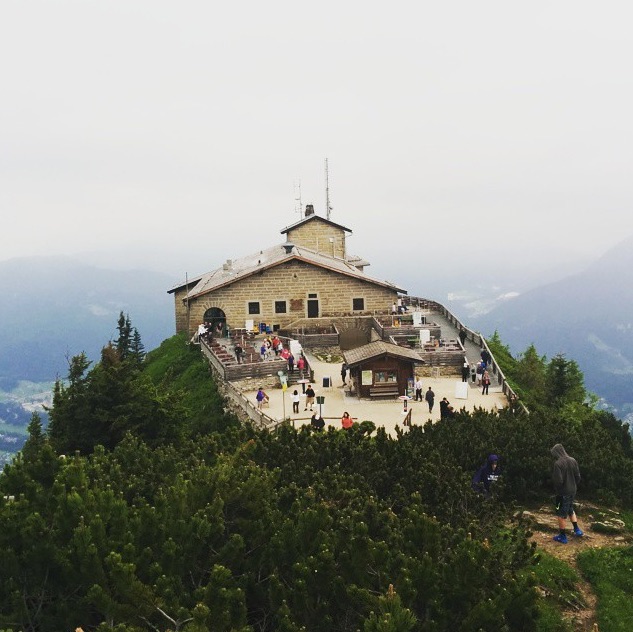 We arrived back in town about 5/6pm and were feeling hungry. We had dinner at Gasthof Neuhaus, in the centre of town and it.was.amazing! I can't remember what Oli ordered, but I had Austrian gnocchi with fried onions on top and it was by far one of my favourite meals. The staff were lovely and decor was great – nice and traditional. A lot of tables were reserved, but they managed to seat us on one of their benches. A little while later a German family, all dressed up in lederhosen sat on the bench too and it was brilliant! We loved sharing a table with them and (somewhat) interacting with them – our German is very limited and so was their English – but it was great to sit altogether and enjoy their company.
Salzburg / Munich
In the morning we checked out early and decided to spend a half day in Slazburg – we were 30 minutes away and decided how can we not take advantage of the location? We found a great car park on Hildmannplatz and wandered into the heart of Salzburg. It was raining – just like our half day in Zurich – but Salzburg was (in our opinion) a much prettier city.
Our first port of call was the Fortress, which was great! We got the funicular to the top and enjoyed our morning wandering around the fortress and exploring. The views from the top are also pretty special too.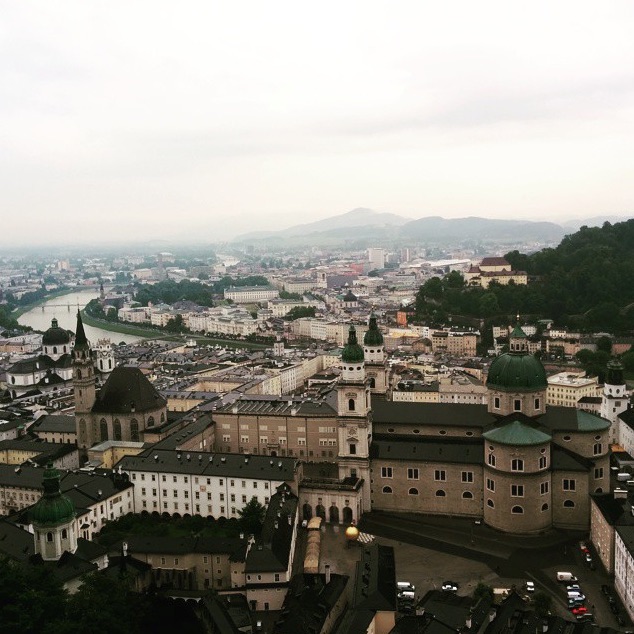 We enjoyed the rest of our morning exploring the streets and the old town. There's a lot of character in Salzburg and despite the weather we really enjoyed our time in the city. Before leaving for Munich, we took a de-tour via the Red Bull Hangar by Salzburg airport which was so cool! Entrance is completely free and we had free time to wander around all the Red Bull race cars, kit cars, planes and all their other kit. It was brilliant to look at and all for free! Definitely recommend a stop off here.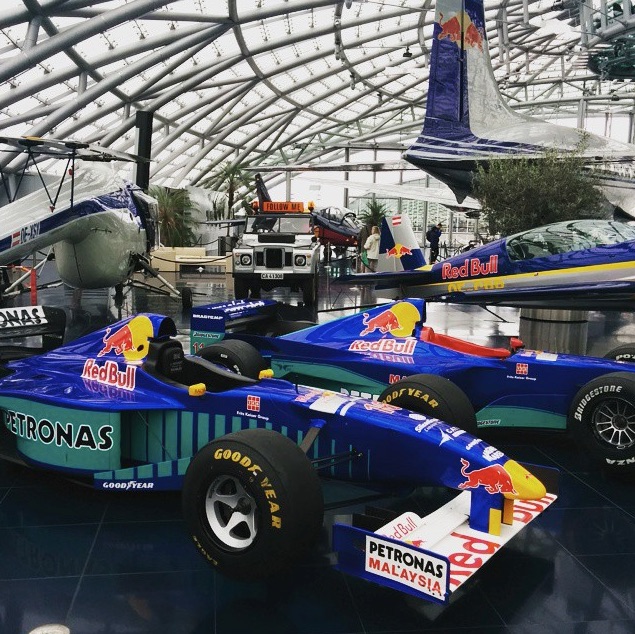 The place isn't particularly big though, so we left after about 30minutes and made our way to Munich. The journey wasn't too bad, despite hitting a few roadworks, there wasn't a lot of traffic and we made good time to Munich. We stayed in the Motel One Sendlinger Tor and really enjoyed our stay there. Unfortunately the hotel car park was full (reservations not accepted) but there was a multi-storey 10 minutes down the road and prices were on-par with the hotel.
We caught the underground up to the Englischer Garten and enjoyed a chilled out afternoon exploring the park. We came across Seehaus beer garden and grabbed a couple of drinks by the lake, although it did mean we were terrorised by the geese there (they're scary!) As we made our way back down through the park, we came across the Chinese Turm, which we had been looking for anyway, but it also turned out they had an oompa band playing there. The atmosphere was brilliant, so we stuck around for a bit to people watch and watch the oompa band.
In the evening, we found an amazing Italian called Vi Vadi Rustico. We gorged ourselves on food and after a long day of driving and being on our feet all day, we crashed pretty early and couldn't wait to go back to the hotel to catch up on some sleep.
Next day we had a nice lay in and had a full day planned. It was also Oli's birthday. We read great things about Baader Cafe, so we headed there for breakfast and had by far one of the best breakfasts on our trip.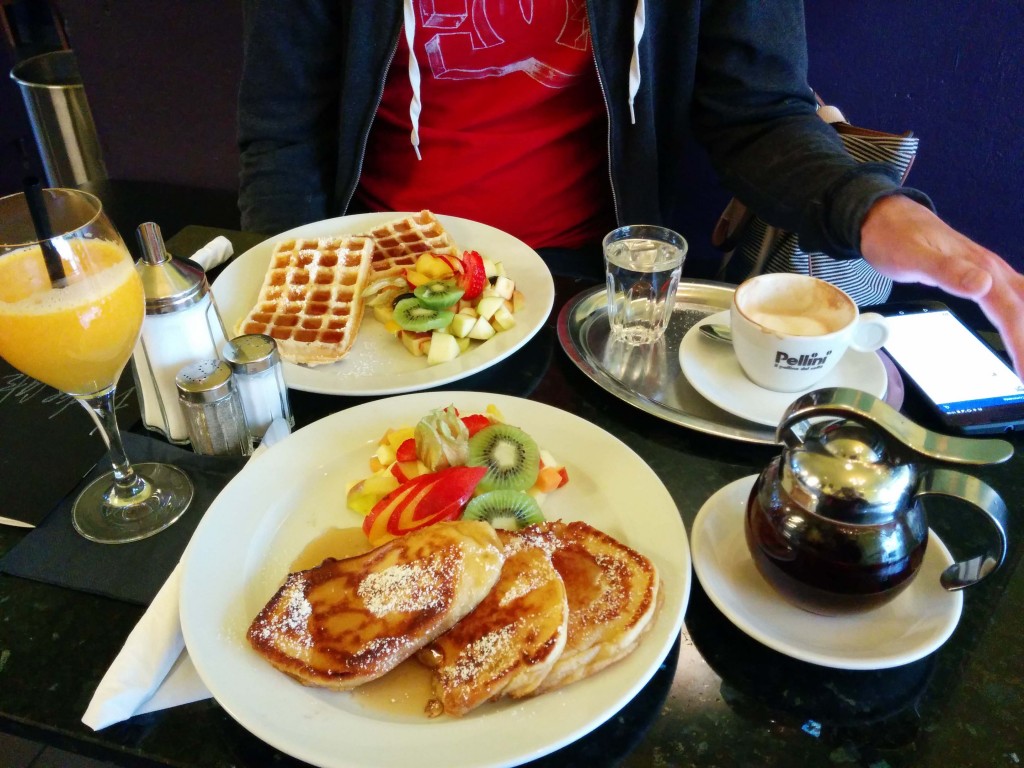 Our day was spent enjoying the city centre, we went up the town hall and St Peters Church. We unfortunately couldn't go up Frauenkirche, due to work being carried out on the tower. Although this didn't matter too much – I love the style of church and think it makes up a great part of Munich's skyline so we got a great view of this from the top of the town hall. St Peter's Church then offers some amazing views of the town hall, as well as the church too. We took in as much of the city as we could, but kept it nice and chilled out so we weren't too exhausted.
In the evening, as it was Oli's birthday, we headed to Hofbrauhaus. We arrived about 6pm and from I can remember didn't leave til 11/11:30pm. Beer is served by the litre, which Oli was very happy about, so he was sorted for the evening, sinking a few litres of beer. However I'm not a beer lover, but thankfully they did serve wine, so throughout the night I had 2 bottles of wine. To myself. The atmosphere in the beer hall was great, everyone was drinking and laughing. We ended up making some friends with a few people during the course of the night and have since kept in touch with them which was lovely. An oompa band also came on during the night which just added to the whole night and atmosphere. Overall a very successful birthday for Oli!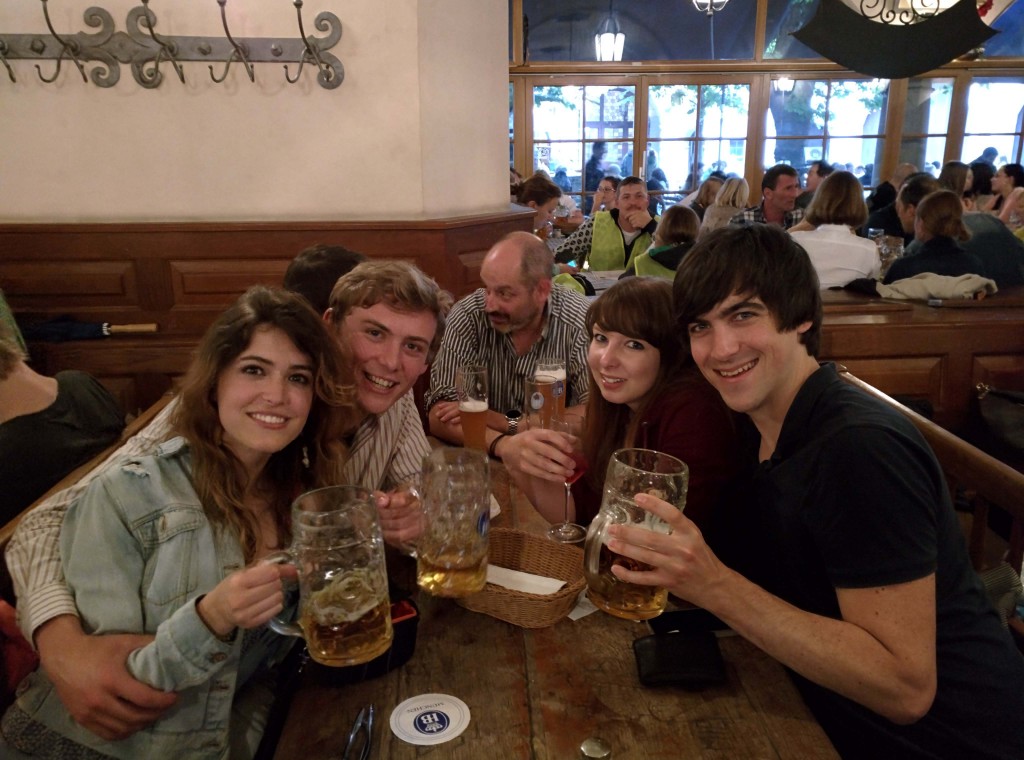 Rothenburg
Next day we woke up reasonably early and felt a lot better than we deserved to, considering the alcohol intake the night before. We packed our stuff and headed into the city for breakfast. It was Sunday so most places were closed, even at 10am, but we found a small corner cafe and grabbed a hot chocolate, coffee and a few croissants. After this we hopped in the car and made our way to Rothenburg.
The drive was relatively short and was nice and smooth, so we made good time. We stayed at the Hotel Am Siebersturm in the centre of the town. We were given a key to a garage round the corner so we could park the car securely and then enjoyed wandering around Rothenburg. We explored the castle, the old town walls as well as the towers, turrets and walkways around the area. It was nice to have a relaxing day just exploring on foot and admiring just what a pretty place Rothenburg is – probably the most photogenic town we visited; pastel coloured buildings with exposed beams, cobblestone roads and medieval city walls.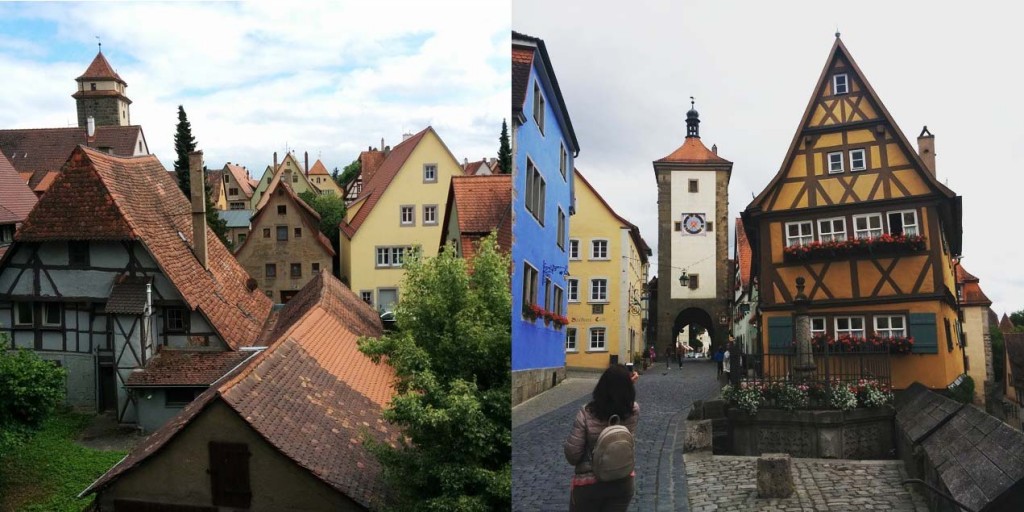 We grabbed some dinner from a small Italian place (I can't remember what it was called now) but it was pretty disappointing and they seemed to have an obsession with serving everything with peas mixed in it? Oli ordered schnitzel in a tomato sauce which had peas all mixed in with it and I ordered gnocchi in a cheese and tomato sauce, which also had peas mixed in it…really weird combination, it definitely didn't go. We also walked past a shop and bought our first schneeballen and I have to say…I don't get what the fuss is about with them? And that's coming from someone who has a massive sweet tooth! They look amazing, but the taste is pretty heavy.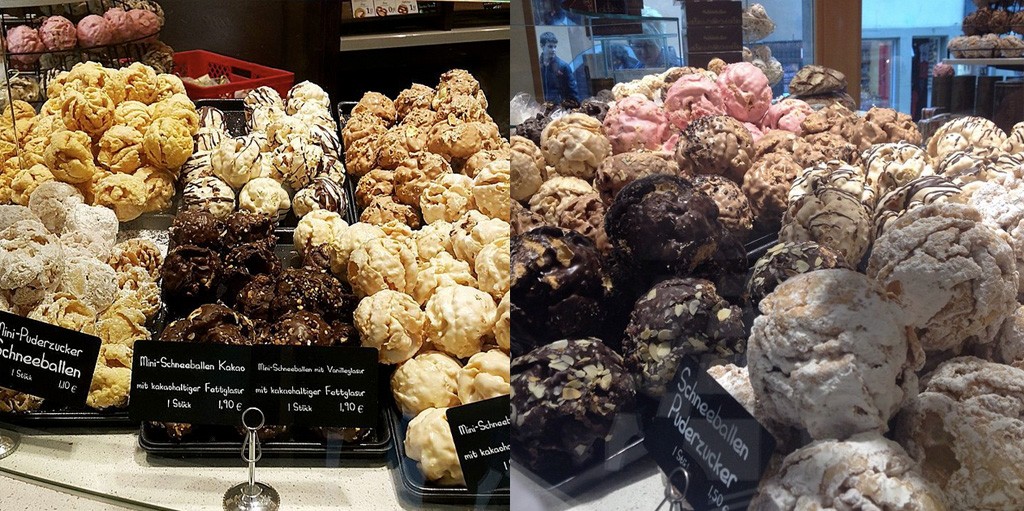 After a long day on our feet, we headed to the hotel for an early night. The hotel was lovely and so were the staff…unfortunately the sleep wasn't. It was boiling hot, so we had to sleep with the window open, which was fine until about 12/1am when Rothenburg suddenly become a massive through-route for lots of massive trucks. They were so loud, especially where they were driving on the uneven cobblestone road. That was pretty much where our sleep ended because there was so many trucks coming through. We got a few hours later feeling very sleepy and groggy and made our way to our next destination.
Frankfurt
We arrived in Frankfurt in good time, parked up at the hotel (which I'll talk more about in a second) and dumped our bags, then headed straight for the city centre to explore. We walked along the river towards the old town where we had a quick explore before making our way up towards the Hauptwache. The weather looked pretty threatening so we made our way into the shopping centre for cover & good timing too because it chucked it down after then! We stayed inside the shopping centre for most of the day and grabbed a couple of hot chocolates to wait the rain out.
By late afternoon we were getting peckish and the rain had eased up. Our hotel wasn't too far away so we headed there to freshen up before heading to an Australian bar next door for a couple of pre-dinner drinks. We ended up heading back in the direction of the shopping centre to eat at Koh Samui – what a restaurant! Dinner was amazing and the staff were great. We both had starters (fish cakes to share) followed by a massaman curry each which was absolutely delicious. Highly recommend this place! We stayed there most of the evening and ended up night by going up Main Tower.
It was deadly quiet when we arrived – though I'm sure that was because of the weather (yep it was pouring!) We got to the top in no time and enjoyed the views from the dry and sheltered top floor. However in our infinite wisdom we decided this was obviously not enough and wanted to go up on the observation deck. The views were incredible from the top, despite the weather is was a really clear night. However the rain was 10 times harder and the wind was even more powerful up there, so each rain drop felt like little pellets hitting you. However we thought it was hilarious and enjoyed the views for about 10 minutes before realising we're idiots and should go back down into the dry.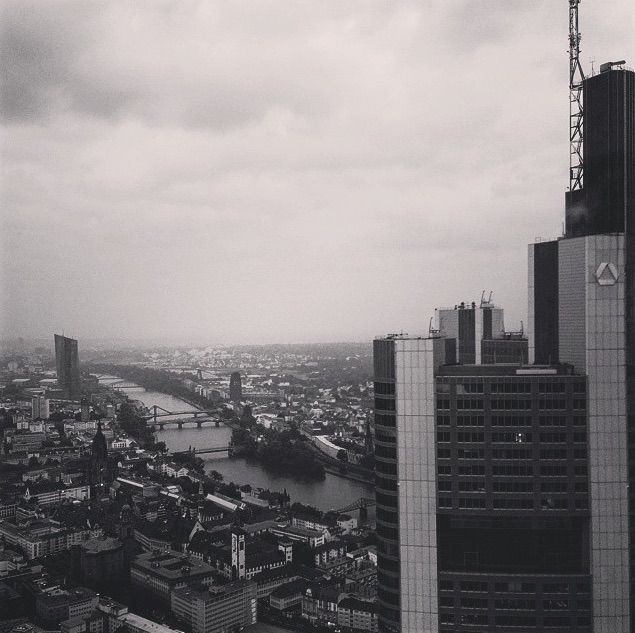 Next day the weather was on our side, with beautiful blue skies and sunny weather. We popped to a corner cafe for some breakfast before heading back down to the river for a boat ride up the river to take in the sights. The views of the skyscrapers were great from the river and it was a nice way to spend an hour on a sunny day in the city.
The rest of the day consisted of exploring on foot and enjoying the dry weather. We headed over to Sachsenhausen for a wander and enjoyed the views from the otherside of the river. Overall the day was pretty relaxed and we enjoyed the opportunity to take in Frankfurt at a slower pace than we normally do with cities.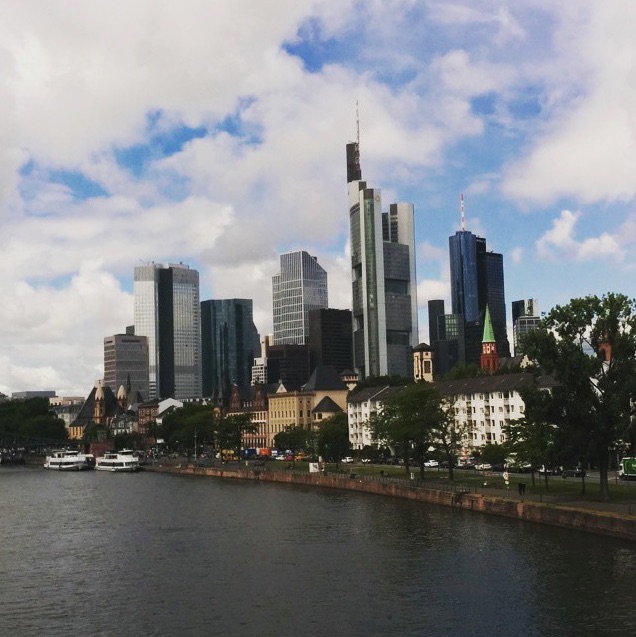 We ended the night yet again with several drinks at the Australian bar next to our hotel, before grabbing dinner back at Koh Samui (again) – yes we enjoyed it that much, our last night in Frankfurt had to be there again! Our last stop was Sullivan's for cocktails. The bar looked lush when we arrived, low lighting and a great atmosphere, however the cocktails were just too strong and it wasn't really enjoyable in the end which was a shame…
And speaking of things which weren't enjoyable, it brings me on to our hotel. We stayed at MK Hotel Frankfurt. It's a budget hotel, but then everywhere we stayed was budget (about £50 – £90 per night) and we stayed in some fantastic hotels for that cost. However not this one. We arrived early on day 1 and the guy on reception seemed a bit put out by this and by us asking if we could leave our bags til check-in time (already not a good first impression). When we did get into our room it stunk of cigarettes. We doubted ourselves that it was a non-smoking room, til we saw the sign saying "thank you for not smoking". I then noticed fag ash on my bedside table and then noticed 3 used cigarettes stubbed out on the outside windowsill. At this point we really should have complained, but for some reason we thought as we were only staying 2 nights we'd leave it.
There was no air con and the room was boiling hot on our second night so we slept with the window open. We were street side so we heard everyone pouring out of the kebab house across the road at 11pm followed by what seemed to be a 24hour tram line right outside our window running every 5 minutes. The hotel was below budget and definitely not worth the money we paid for it, compared to the other places we stayed for the same money. I don't recommend this place at all.
Dusseldorf
We woke up in the morning feeling exhausted and a little bit grumpy haha. In hindsight we really should have complained…and normally we are the first to complain about something when we're paying customers, for some reason or other though we just didn't with that hotel…
Anyway, we left that morning for Dusseldorf and arrived with no problems at all. It was a pretty quiet city to drive round in (we arrived midweek 12pm), compared to Munich or Frankfurt. We stayed at Hotel Batavia which was great. The staff were really nice and polite and had a garage across the road which we used for the car. The rooms were clean and comfy and we were at the back of the hotel, where there was no public transport, busy roads, or late night fast food restaurants / bars etc… perfect!
It was a nice sunny day, so we headed towards the river and took a walk along the promenade, towards Rhine Tower. There was a great atmosphere along the river with lots of people eating and drinking and lots of bars and eateries busying themselves away. Rhine Tower was like a ghost town which I was surprised about; we practically had the place to ourselves. We sat at a table and enjoyed the views over Dusseldorf, with a couple of vodka and cokes.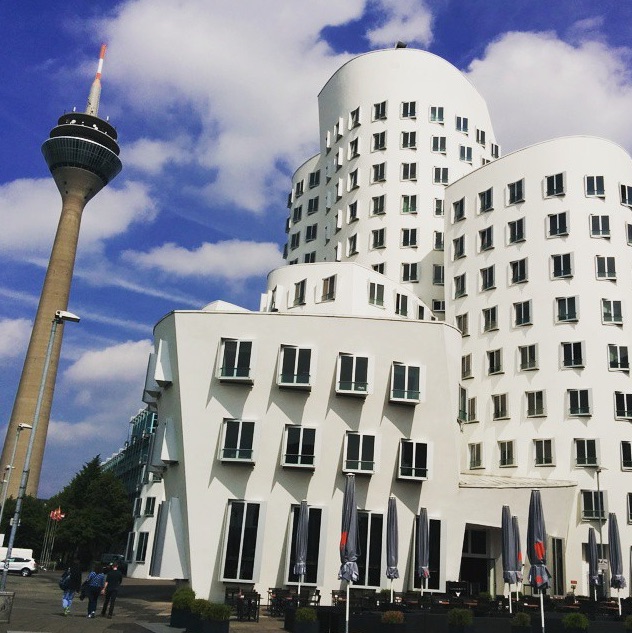 We continued exploring Dusseldorf on foot, wandering along the streets and down side alleys. We grabbed some dinner in the sun and reflected on our amazing time in Germany, sad we'd be leaving the country the following day.
Cologne / Bruges
After a good nights sleep and finally feeling refreshed. We left early and made our way to Cologne where we had planned to spend our morning. It was only 30 minutes away and we thought how could we not go when we're so close? We were leaving Germany that day and had a 4 hour drive to Bruges later, so thought a morning on our feet exploring would do us some good.
It was nice to have the opportunity to have another lazy city explore too. We parked up in a multi-storey not far from Koln Triangle. We cut across Hohenzollernbrücke and admired Cologne Cathedral during the whole walk. We enjoyed our time in the city centre, exploring all the side streets and people watching. The city was packed with other tourists, but there was a really good vibe and atmosphere in Cologne which didn't make the crowds feel claustrophobic, but actually enjoyable.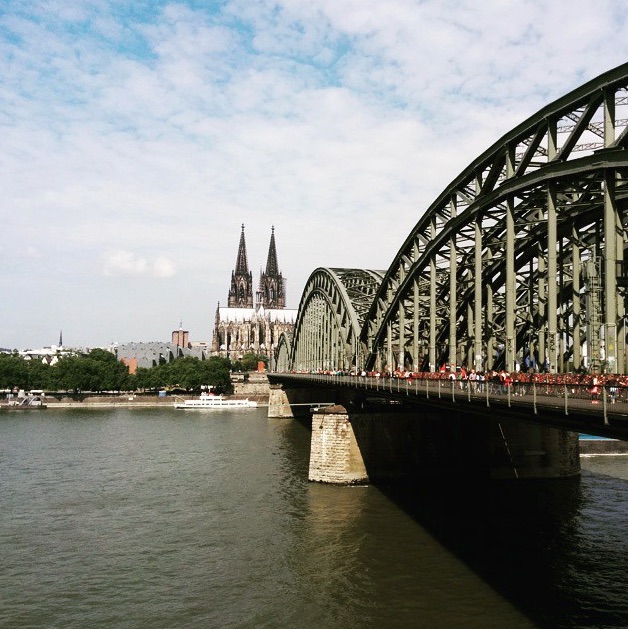 We got a (early) light lunch to go and headed back to Koln Triangle about 11:30am – which was crazy busy! We were in the queue for about 30 minutes waiting for the lift and it was easily the busiest attraction we went to during our entire trip (in terms of queue time) but the views from the top were worth it!
We left Cologne shortly after midday, sad that was our last stop in Germany but very excited to arrive in Bruges. Here are our sad faces: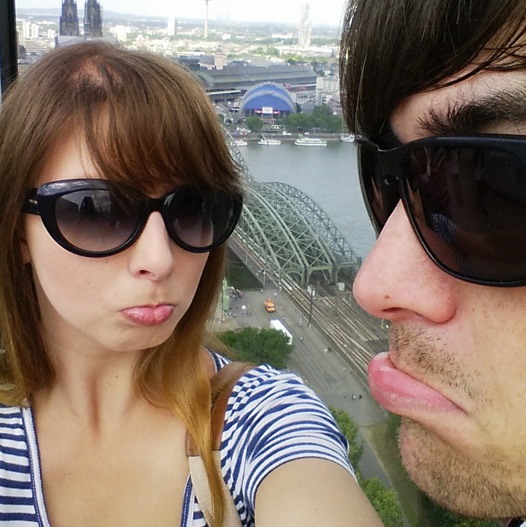 After a 4 hour drive, which felt like forever, we arrived in Bruges! We found our hotel (which was amazing) parked up in the garage they offered us and had enough time in Bruges to grab a drink at pub and decide where to go for dinner.
Dinner: funny story… So we're sat in the pub researching restaurants on Tripadvisor and wondering where we should go. Oli comes across a place called 'Ribs'n'beer' the reviews are amazing, one after the other, and after reading a few figured it's a no brainer, that's where we're going! Just as we decided that, we overheard an english women who was walking back to her table "nope they're fully booked no ribs for us tonight". We panicked and asked them "sorry did you say something about ribs??" The couple informed us they'd tried to book a table that night (Thursday) but told they were fully booked that night, Friday night and Saturday night. We're doomed we thought! However, the restaurant was towards our hotel so we thought we'd stop by on the off chance they had a table for 2 and if not, we'd stop at the hotel, hop on the wifi and have a rethink.
We arrived at 6:30pm and spoke to the manage if they had a table for 2. He informed us a table was infact 20 minutes late and if they didn't arrive in the next 5 minutes the table was ours! 5 minutes came and went and still so no sign of them, the table was ours!!! We'd never been so happy I don't think. We ordered starters (big mistake) followed by the smokey BBQ ribs (all you can eat for 18 euros). However the rack of ribs was massive and we were stuffed after 1 round! I think had we not had starters we could have gone a second round. However the ribs were amazing regardless, the meat was soft and tender and literally fell off the bone. No fat and fighting tearing it off the bone. The BBQ sauce was incredible. We enjoyed every last bite!
We ended the evening at Cafe Rose Red, but were nursing some major food babies and crashed after 1 drink. We headed back to the hotel where we were asleep in minutes!
Bruges
The original plan on this day was to make the most of a full day and do the flanders field tour. However it was a lovely sunny day in the city and as interesting as the tour would have been we decided a full day in the city would be time better spent. We grabbed breakfast at the hotel and explored beautiful Bruges on foot.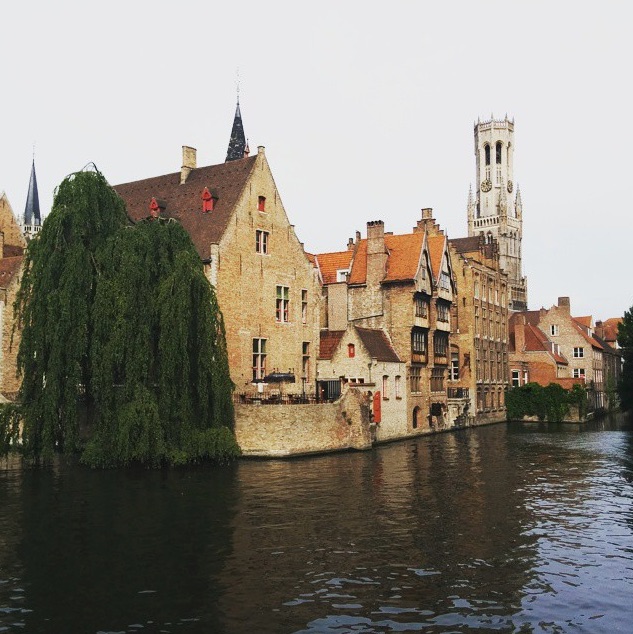 We explored as much as we possibly could. Bruges is actually a lot smaller than we realised and we walked from our hotel to the windmills on the edge of the city in about 20 minutes. We walked all over the place; Koningin Park; Begijnhof; churches and followed the canal back towards the centre. It was the best way to see the city, just exploring on foot with no set itinerary, just seeing where we ended up. We raided a few chocolate shops, grabbed an early dinner and hit the pubs to make the most of our last night in Bruges.
We ended the night in the amazing De Garre. The place was packed but we found a cute table for 2 upstairs. I ordered a vodka coke, Oli got himself the house beer which he fell in love with. At about 10% though (and after being in a few pubs previous to this) it's safe to say Oli was pretty tipsy after 2 pints. We trundled back to the hotel and fell asleep instantly. De Garre howver was amazing, definitely the best drinking spot in Bruges we went to. It's down a side alley, which you wouldn't even know was there; we only spotted it because we were looking out for it after reading up on directions for the pub. It's a really narrow pub, so seats fill up quickly but the atmosphere is brilliant. Great little pub with lots of character. They also serve your drinks with cheese which was a nice touch.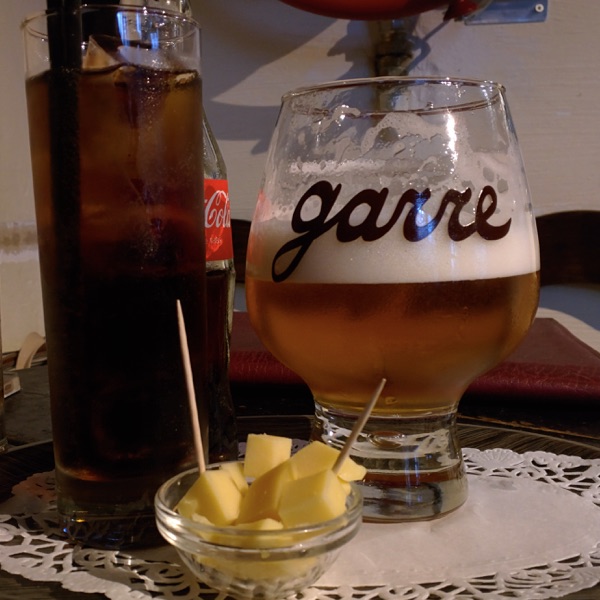 Our last day
We had a 6pm Chanel Tunnel booked, so the plan was to spend most of our last day Bruges again. However we got a call from Oli's Mum in the morning to say she'd heard on the news there were issues at the crossing with lots of possible disruption and delays. After being stranded in Paris overnight last year due to cancelations, we decided not to risk it and cut our last day short.
We had enough time to spend the morning in Bruges and grab some breakfast. We left around midday and arrived in Calais for 2pm. Typically (although we were thankful I guess) there were no service disruptions and no sign of any issues, cancelations or strikes. We grabbed a cheap and easy lunch onsite (McDonalds) and after that had roughly 1 hour to kill before we could get on the Channel Tunnel home (if availability allows we can hop on an earlier carriage within a 2 hour window of our original booking, so we just had to wait till 4pm.
We were in a good signal area, so we parked up in a shady spot, logged into our Netflix account and watched Black Books for an hour until it was time for us to check in.
It was a shame to cut our day short, but actually it was nice to be home earlier than planned and chill out on the sofa for a bit. We had the most amazing trip together; we've both agreed our best holiday yet. We drove somewhere in the region of 2500-2800 miles in 17 days, visited our biggest bucket list locations in Germany, got engaged and now have some of the best memories together.
Germany was amazing and there are so many beautiful parts of Germany. It's hard to compare the first leg of our trip, which was all scenery and mountains, to the second leg of our trip (city after city) because they're so different and we loved them for different reasons, but I think if we were ever to go back, it would definitely be all scenery 100%. The route along the alps and Bavaria are some of the most beautiful places I've ever been to, The Black Forest, Oberstdorf and Berchtesgaden in particular. I'm also thankful we had the opportunity to the Germany road trip, as having Oli's car there gave us so much more freedom and flexibility. This blog post makes me sad because I miss it all so much, but if anything it just makes me more excited for the day we get to go back again. See you soon Germany (I hope!) ♥