We fell in love with the small town of Todtnau during our road trip across Southern Germany. What started as a random stopover so we could spend a few days in The Black Forest, ended up becoming one of our favourite destinations. We have explored Todtnau in both the summer and winter seasons and what the area has to offer. Below is a run-down of our top things to do in Todtnau.
Town is a small town, surrounded by lush green forests, picturesque hills, and the beautiful scenery of the Black Forest. It's located 40 minutes from Freiburg and 2 hours from Stuttgart and offers endless possibilities for beautiful walks, scenic views, hiking and mountain biking. During the winter season, it converts to a ski resort where you can enjoy skiing and cross-country skiing across some of the highest peaks in The Black Forest.
1. Hasenhorn coaster
Hasenhorn Coaster is a 2.9km mountain coaster, which runs from the top of Hasenhorn down to the centre of Todtnau. You can reach the coaster either by a (very steep) walk to the top, or by catching the chairlift which is by far the easiest and most popular route. The trip takes about 15 minutes to make the ascent.
Hasenhorn Coaster is a popular activity, particularly during the peak summer season, so get there early to avoid long queues! There's parking at the foot of Hasenhorn – details can be found on the official website, including prices and opening hours.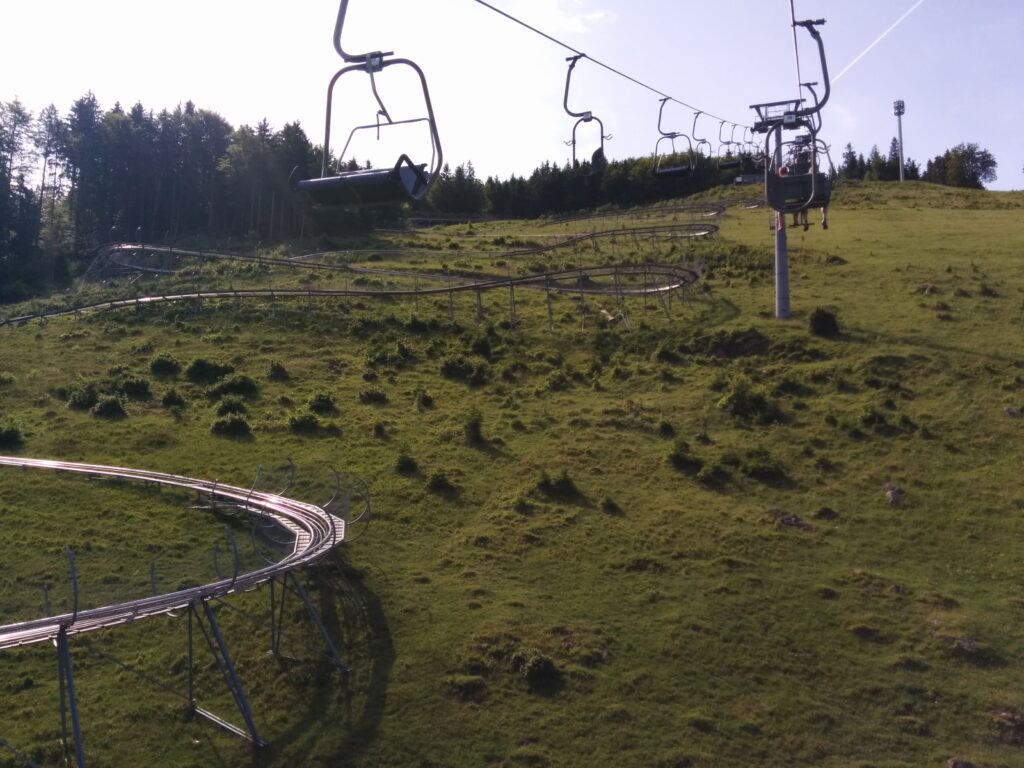 The beauty of mountain coasters is that they are not like your ordinary rollercoaster. You sit in a toboggan seat (either in pairs or by yourself) and let gravity do the rest! Your toboggan will have a handbrake, so you decide how fast you want to go and what you're comfortable with. It's a lot of fun, and if you're not a rollercoaster lover it honestly isn't as scary as you think! There are also 'brake' signs throughout the course to help guide you a little also if needed. All in all, the whole ride down lasts about 5 minutes and you'll no doubt want to do it all over again!
The coaster operates in summer and winter seasons. In winter it turns into a toboggan run if the snow conditions are right, and you can hire a sled or bring your own!
At the top of Hasenhorn, you will be greeted by beautiful views of Todtnau, Todtnauberg and the surrounding valleys. From the summit, before you hop on the Coaster, you can take a short 15/20 minute walk to Hasenhorn Tower. At 21m tall, you can see breathtaking views for miles, all the way to Belchen and Feldberg, and on a really clear day even to the Alps in the distance.
2. Todtnau Waterfall
Somehow it took us until our second visit to Todtnau to visit the waterfalls ("Todtnauer Wasserfalle") and we loved it so much that we came back twice! The waterfall itself is not only beautiful, but the views over the hills and valley behind you are stunning.
At 97m, it may not be the highest waterfall in the Black Forest but it is one of the best you can visit. The waterfall cascades over several levels, into the river and valley below. You can walk to the waterfall from Todtnau town centre, or there is a small car park nearby.
The walk is straight-forward and is easily accessible. Whether you walk from Todtnau or the car park you should reach the waterfalls in 20 – 30 minutes. There are plenty of routes on AllTrails or Komoot, so it's worth finding a route that suits your abilities and the type of walk or hike you're looking for.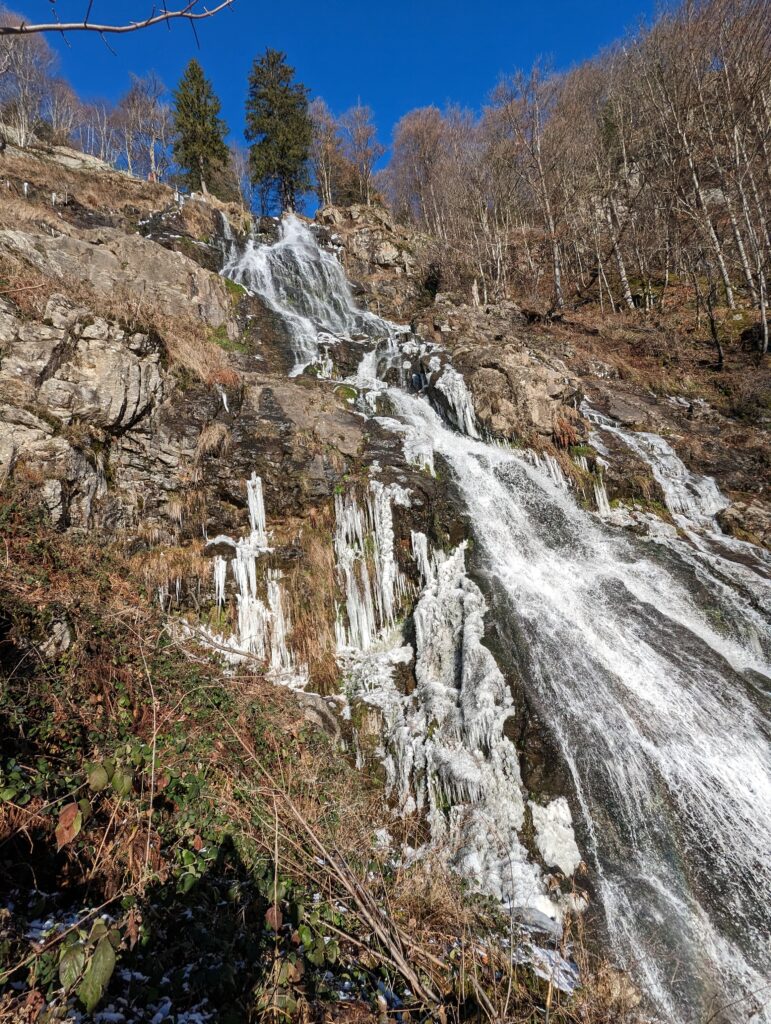 Once you reach the waterfalls there are multiple levels where you can relax and enjoy the views surrounding you. There's a small wooden shelter should the weather not be on your side, and there are also some wooden loungers where you can sit back and stare up at the waterfall towering above you.
This is a popular landmark and walk in the area, so if you want to enjoy the waterfall at your own leisure, I suggest you get there early.
From here, there are steps which lead you to the very top of the waterfall. If you continue upwards, they will also take you to the village of Todtnauberg – a quiet, rural village, with views from the top of its rolling hills. The Waldblick restaurant is also particularly good for food and drink (we have been twice)!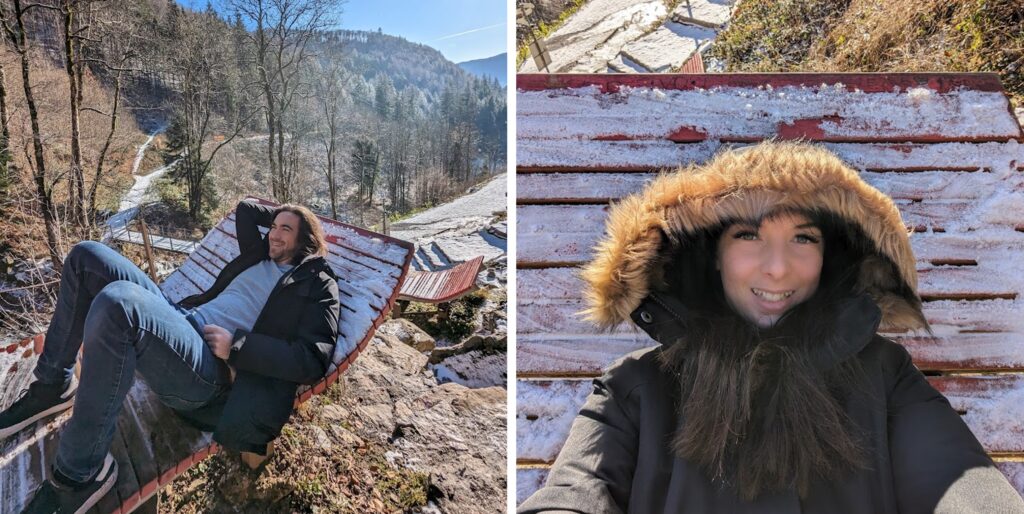 3. Explore Todtnau town
 Todtnau is a quiet town with tonnes of charm and character. The main square has a few shops, cafes and restaurants, with St Johanne's Church at the centre.
My particular recommendations are La Piazzetta which can be found in the main square. They do a very cheap breakfast deal – plus delicious hot chocolates! My other favourite is Bella Italia, also found in the main square. They do the best pizza's and if you're staying nearby and fancy a chilled evening in, they also do takeaway!
The side streets are also filled with small shops, cafes and independent businesses. It's well worth a nose down these streets and having an explore.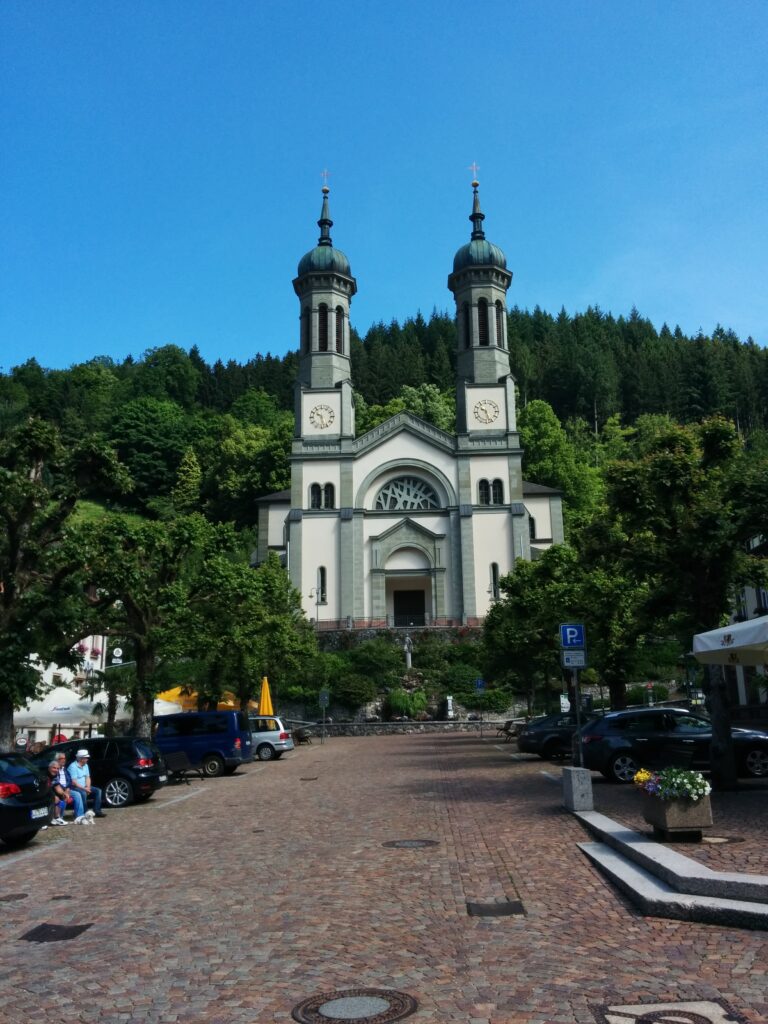 4. Explore your way around Belchen / Feldberg
At 1,414m and 1,493m Belchen and Feldberg respectively are two of the highest mountains in the area. In fact, Feldberg is the highest in Germany outside of the Alps and Bavaria. An explore around Feldberg should be on everyone's "things to do in Todtnau" list. We have been during the summer and winter, and there is so much to do regardless of when you visit.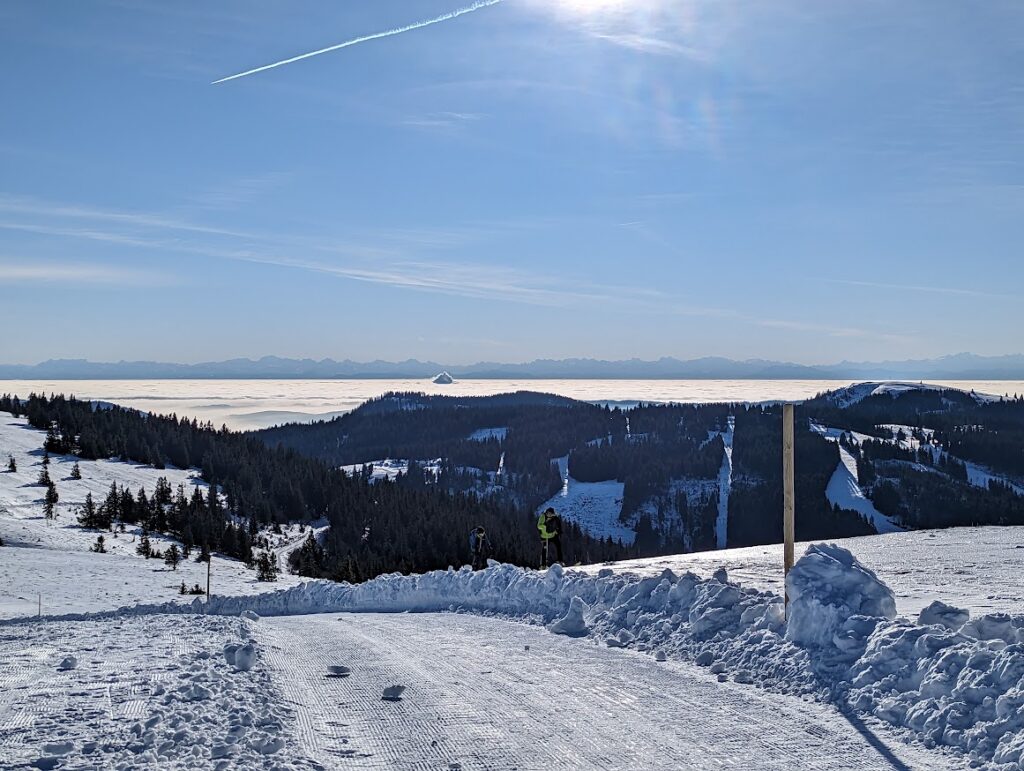 Year-round there are endless hikes, trails and walking routes to explore, all offering beautiful views across the Black Forest. On a clear day you can even see out to the Alps in the distance. Winter is also a time when Feldberg really comes to life and the mountain becomes a popular ski destination. There is an activity centre at the foot of Feldberg, which hires equipment for all your outdoor needs, including snow shoes and skis.
You can also grab a bite to eat and something to drink at Rothaus Chalet, who serve delicious hot meals. An added benefit for me and Oli (who are both vegetarians), is that they also serve vegan Bratwurst and it was delicious!
At any time of the year, you can catch the ski lift to the summit of Feldberg, or take a scenic walk to the top – which is not too strenuous. There are lots of routes mapped on AllTrails or Komoot. Before making your trip to the summit, it is worth checking the local webcams first. The summit and surrounding hills can form their own microclimate and the weather can roll in very quickly, potentially obstructing your views from the top.
5. Walk around Feldsee
An explore around Feldsee cannot go a miss during your time in Todtnau.
At the foot of Feldberg mountain (15/20 minute drive from Todtnau) is Feldsee, a peaceful lake which is part of the Southern Black Forest Nature Park. It is best reached from the main multi-story car park at Feldberg; there are no roads to Feldsee, and it can only be accessed on foot or by bicycle. There are plenty of hikes on AllTrails or Komoot so you can pick a route that suits you.
The main walk from Feldberg (past the ski lifts) is fairly easy and is well sign posted. The path winds down the hillside through the forest, and is a peaceful walk with nothing but birdsong and the distant sounds of a nearby waterfall. Although an easy walk, the ground can be uneven, so watch your footing and make sure you have suitable footwear.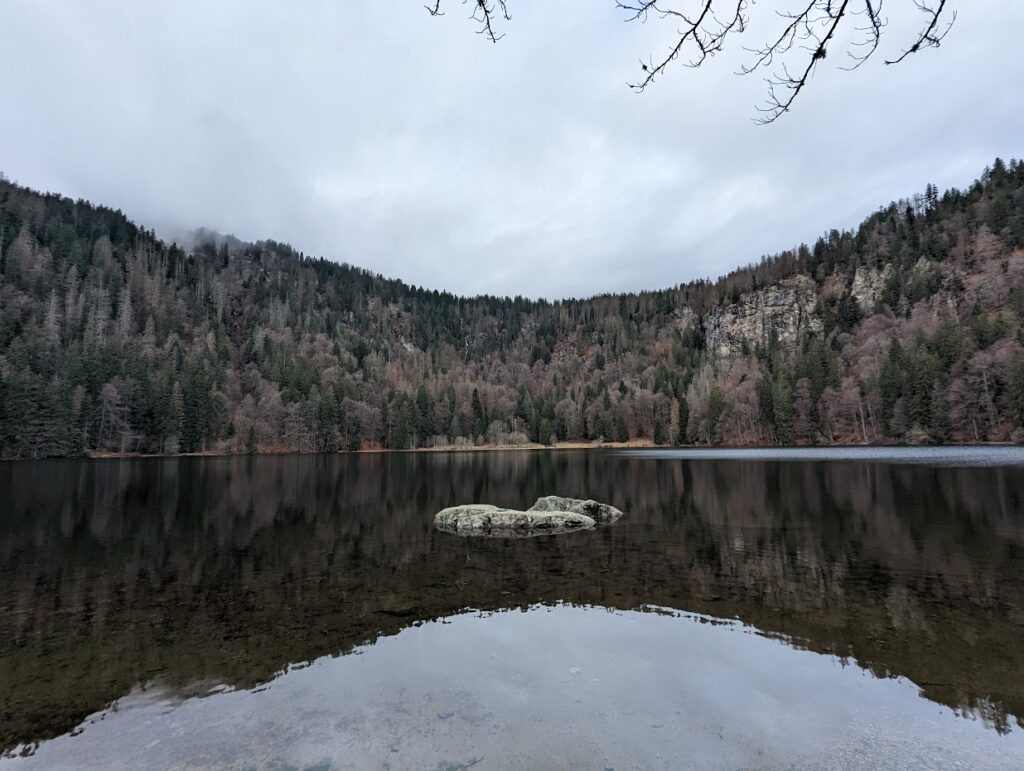 At the bottom of the walk, the path leads you to a clearing where you have stunning views across Feldsee. The lake and surrounding forest is a nature preservation paradise and is the oldest nature reserve in the region. There is strictly no swimming allowed in the lake in order to protect a very rare underwater fern (called Quillwort). The fern thrives in water 1-2 meters deep and has only been found in Germany in Feldsee and Lake Titisee.
The lake is also surrounded by protected forest, home to all types of birds, bats and rare plant life. You can follow the path all the way around the lake, taking in the surrounding views, including the craggy rockface which rises above the forest, and a couple of small waterfalls.
6. Explore Titisee or Hinterzarten
 There are two local towns a short drive from Todtnau, both about 30 minutes away, and accessed from the main B500 road.
Titisee-Neustadt is a busy spa town, with lots of health & wellness facilities, and also famous for its outdoor sports and activities. At the heart of the town is Titisee, a glacial lake, which during the summer invites tourists and locals to swim, sail or pedaloe their way around the lake. During the winter – when conditions are just right – the lake has been known to freeze over and opened for public use.
There are several walking routes around Titisee – including a couple of routes which lead you to Hinterzarten. Depending which route you take, the walk should take 45 – 60 minutes and is a gentle stroll into the heart of Hinterzarten village.
Hinterzarten is a small resort village, predominantly famous for its ski jumping. Much like Titisee and other surrounding areas in the Black Forest, Hinterzarten has miles and miles of hiking and bicycle trails, plus over 100km of cross-country ski routes during the winter. The town itself is also very quaint, with nice restaurants to grab a bite and something to drink, plus a few shops to have a nose in. During the winter, Hinterzarten is a great base for visiting the Ravenna Gorge Christmas Market (details further below).
7. Take a day trip
Just a 45-minute drive away from Todtnau is the bustling city of Freiburg im Breisgau (or simply just called, Freiburg). It's a vibrant university city, rich in atmosphere and medieval architecture. Being one of the nearest cities to Todtnau, there is something for everyone at Freiburg. It is well worth a day trip if you're looking for some shopping, a bit more hustle and bustle from Black Forest life, and some good restaurant choices!
Freiburg is also a very pretty city, filled with surviving medieval architecture, including the old city gates which you can see in the photo above. There is also Freiburg Münster, the city's Gothic Church, which survived the bombings during World War II.
Other cities well worth a visit from Todtnau would be Stuttgart – about 2 hours away. Or why not hop the border into Switzerland and visit Basel, about 1 hour away.
8. Skiing
Whether you come in the summer or winter there is always something to do in Todtnau. But if you come during the winter months, then some winter sports have to find your way on your "things to do in Todtnau" list.
Todtnau and the village of Todtnauberg become bustling ski resorts in the winter. Plus Feldberg and the surrounding hills are incredibly popular with skiers of all abilities, including families. There are activity centres nearby where you can hire equipment or even book some lessons. Some centres also hire snow shoes or offer cross-country ski tours, so there is something for everyone!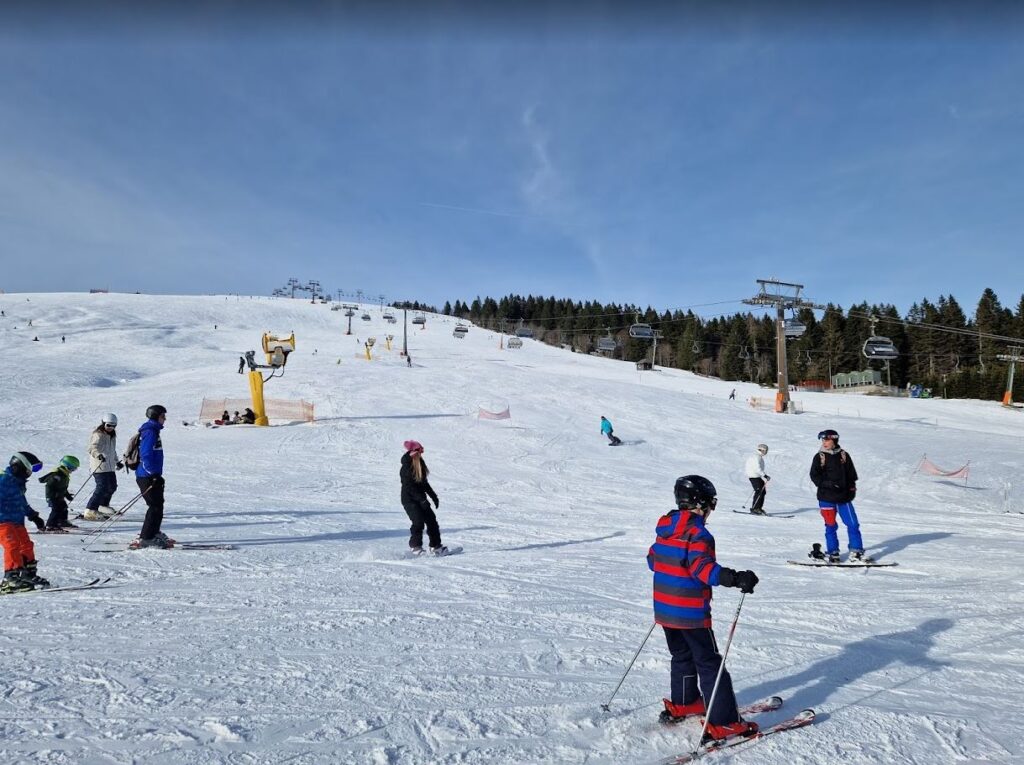 9. NEW: Forest Line "Hangebrucke"
New for 2023 is the new "Black Forest Line" situated above Todtnau Waterfalls. When we last visited Todtnau in December 2022, they were in the middle of constructing the large suspension bridge, but the build is now complete and the bridge is open!
While I therefore haven't (yet) had a chance to visit the bridge, it is now one of the main attractions in the area and should definitely be on your list of things to do in Todtnau. The views from the top of the waterfall are stunning, and I can only imagine the sights and views you can see from bridge, plus the views over the waterfall below you.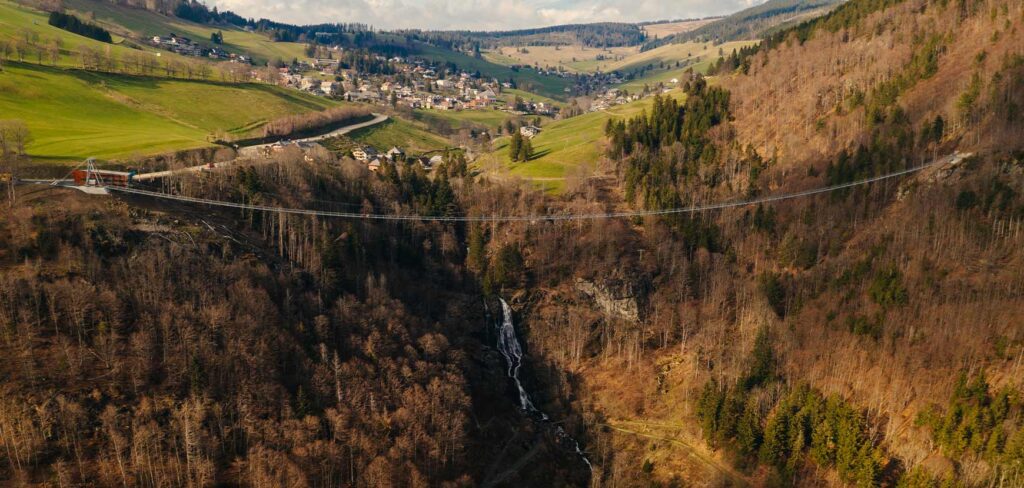 10. BONUS: Christmas Markets
Whilst Germany is my favourite country I've visited and means many things to me, I also can't think of Christmas without thinking about Germany. A visit to any Christmas Market in Germany is always special, but visiting one of the many Christmas Markets in The Black Forest is even more magical!
Some of the most popular Christmas Markets you can visit from Todtnau include Freiburg, the pretty French Christmas Market of Colmar, Basel's Christmas Market in Switzerland, or the stunning Ravenna Gorge Christmas Market, located just outside of Hinterzarten.
I have visited Ravenna, Freiburg and Basel's Christmas Markets and can tell you they are all well worth a visit! Each offers something unique, with different market stalls, gifts and souvenirs, plus workshops that you can get involved in at Freiburg, and completely different atmospheres at each.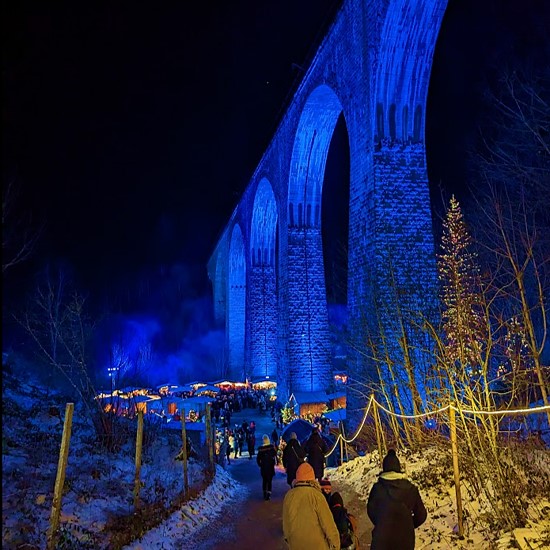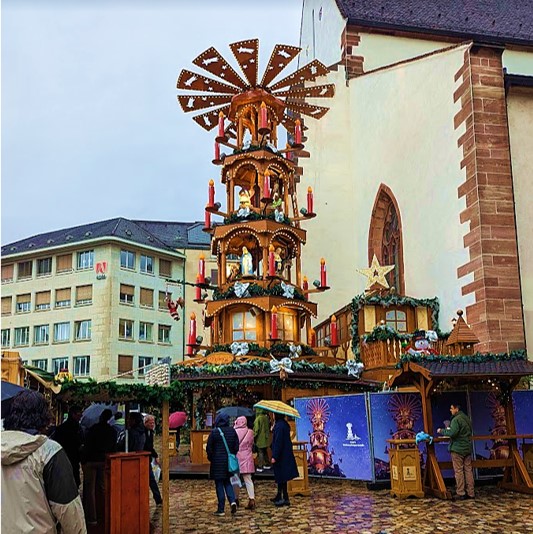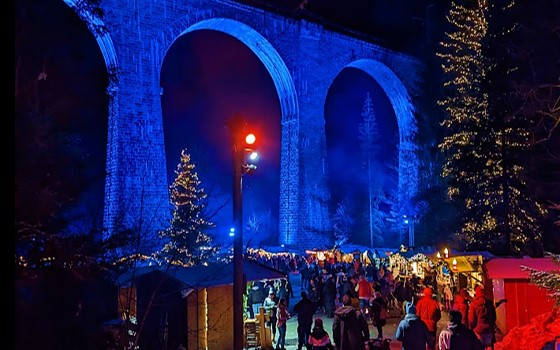 You can view our previous post on visiting Ravenna Gorge Christmas Market here. It includes all the details of how to get there and how to get tickets.
I hope this round up of things to do in Todtnau inspired you to take a visit to this beautiful part of the Black Forest. If you try anything on this list or if you've been before and have something to recommend, please add your comments below, it would be great to hear other recommendations and experiences!