Snowdonia's landscape is truly unique. From jagged mountain ranges said to span 52% of the National Park and dramantic river gorges, to beautiful waterfalls, peaceful forests, stunning beaches and rolling green valleys. Every year, Snowdonia attracts millions of visitors and with scenery like that on offer, it's easy to see why.
We had a little slice of that ourselves recently, spending 4 beautiful days in Snowdonia. I've now visited Snowdonia twice and I'm hungry for so much more of it.
Trip Report: 4 Days in Snowdonia
We made the 5 hour drive from home, and stayed in a beautiful Airbnb – "The Hayloft", a cute converted barn (well, hayloft funnily enough) on an old sheep farm in Llanfairfechan. We had an absolute suntrap of a patio area, and an open field with deckchairs and views out to the ocean. Absolute heaven.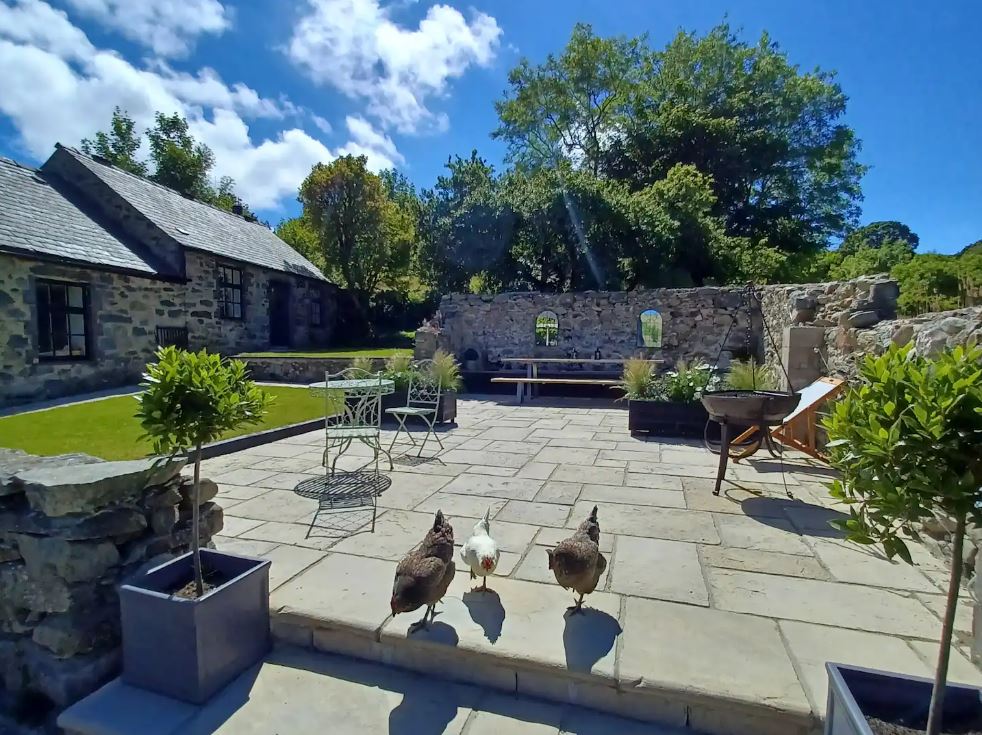 Of course we don't travel anywhere without bringing Lady, and while the Airbnb was pet friendly we were (perhaps unsurprisingly) the first guests to request bringing a cat with them! We always understand that going away with a cat can be a bit of a worry for some Airbnb owners. Cats are disobedient. You can't tell them to not jump on the sofa, or not to claw at the rug. Thankfully, being a slightly older gal, Lady just spends her days lounging around, sleeping, watching the world go by from a window and eating (her favourite pastime), and Lara who owned the Airbnb kindly obliged to let Lady stay.
When we arrived there was the cutest welcome package waiting for Lady – a jar of treats and a little pet blanket for her too, which we thought was incredibly thoughtful. Lara had also left us our own goodies, including some eggs fresh from the farm's chickens, homemade bread, butter and some homemade Bara Brith – a traditional Welsh tea bread, flavoured with tea, dried fruits and spices. We had it with a big ole slab of butter on top and it was delicious!
Our first priority was making sure Lady was happy and settled – which true to form, she completed her standard perimeter check around the Airbnb, sussed the place out, and then settled on the sofa like she had always been there. By this time it was getting late and the sun was beginning to set, so of course there was only one thing for it. Go out to catch the last of the sun rays, and enjoy a glass of wine and those stunning ocean views from the Airbnb's deckchairs.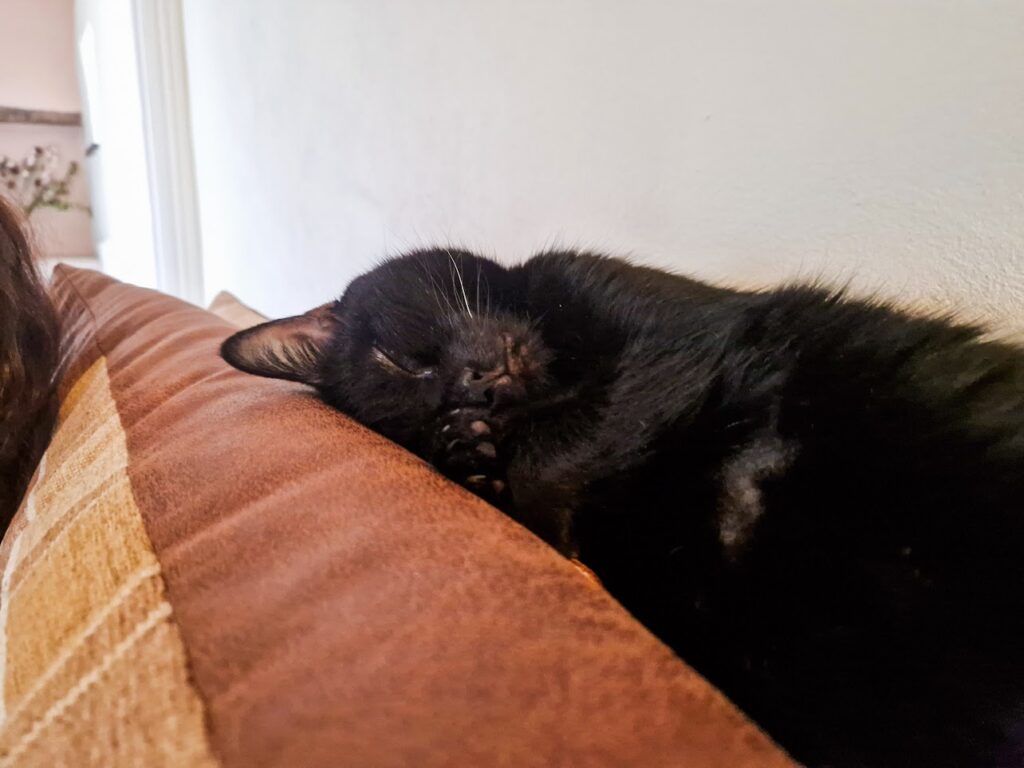 Day 1 – local exploration
The weather was on our side and we decided to take a leaf out of Lady's book and suss out our surroundings. We took a walk from the Airbnb down into the local town – only a 2 minute drive but a 1 hour walk by the time we snaked our way down the hill which the Airbnb sits on. The area has a cute small-town vibe, with a few cafes, pubs and eateries to choose from, and we continued down through the town to the beachfront for an explore.
Close to our Airbnb we saw what looked like a very large quarry-formed mountain. A bit of local research told us it was in fact natural and not man-made. We got back to our Airbnb and thought "I wonder if you can climb it?" as is the common thought for most things in Snowdonia I would imagine. We checked for routes on Komoot, a trail & walking app we use, and set about exploring the area and how to get to the top of said large mound.
The route was a lot of fun, taking us through the local Nant y Coed Local Nature Reserve, past busy farms and eventually out into huge open fields with views for miles and miles across the rolling hills surrounding us. It was incredibly peaceful, with only the sound of birds and many, many bleeting sheep around us.
After about 1 hour's walk all in, we were within sight of the summit and after a very short but quite steep incline we made it to the top and were greeted by some of the most stunning coastline views I think I've ever seen.
After taking in all the views, we hiked back the way we came, enjoyed some more Bara Brith and spent the afternoon chilling at the Airbnb with Lady. We're a bit late to the party, but we suddenly became obsessed with Netflix's Unsolved Mysteries, which became our latest binge watch during this trip.
In the evening we drove into Bangor, which is the closest city to where we were staying and grabbed some tapas plates at Clio Lounge. It was a bit of a punt, because most places were closed for the evening, but we stumbled across Clio looking for somewhere to have a drink first. We eyed up the menus while we were there and decided to stay put for the evening.
Day 2 – Aber Falls
After a fairly chilled day, our batteries felt fully charged and we were ready to get exploring! I am a sucker for a good waterfall and we decided we'd take a walk to the beautiful Aber Falls – about 30 minutes from Conwy or Bangor, and an easy 20 minute drive for us from Llanfairfechan along the A55.
Aber Falls – also known as Rhaeadr Fawr ("the big waterfall") is one of the most impressive and picturesque waterfalls in Snowdonia. Nestled amidst the foothills of the Carneddau range within the Snowdonia National Park, the waterfall plunges 120ft (37m) from the clifftop above into a rocky pool below, before continuing down the river towards the village of Abergwyngregyn.
The waterfall truly is a sight to behold, surrounded by lush green woods and rolling views of the valley which are both dramatic yet beautiful.
We did a short write-up of the trail we followed to the waterfall, which you can find here.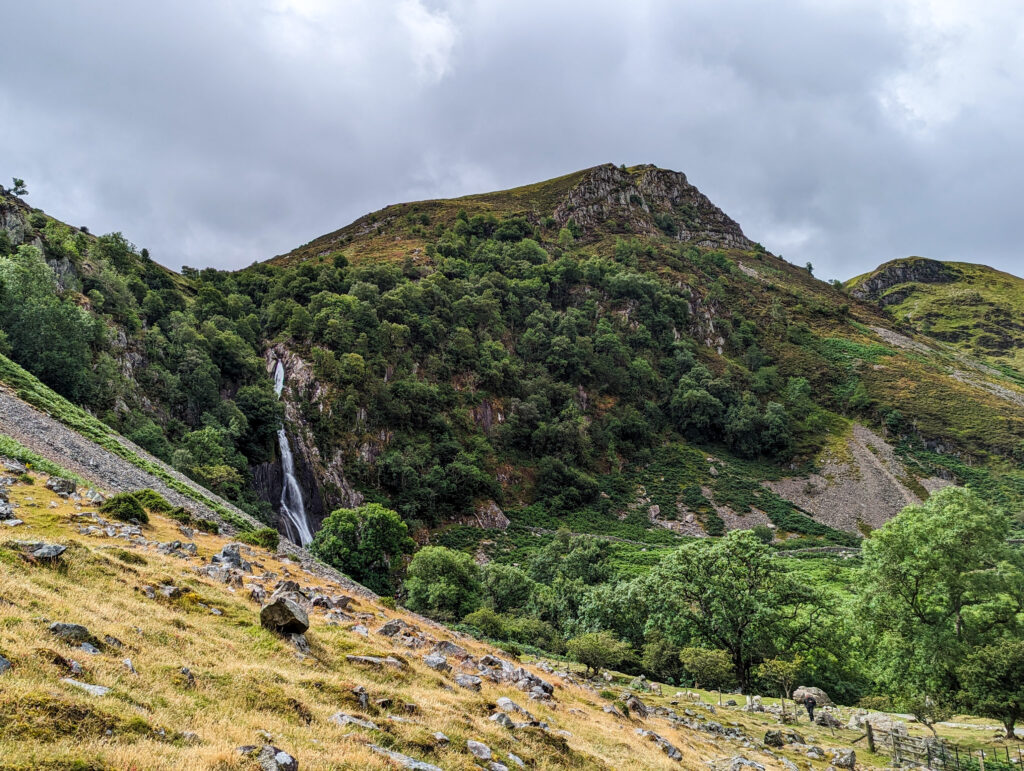 Generally it is worth mentioning some key tips though so you get the most from your visit to the area:
Arrive early, particularly on weekends on during peak season
Bring change for the car park
Wear sensible shoes
Dogs are welcome, but keep on a lead due to roaming sheep and other wildlife in the area
Bring waterproofs if you do fancy exploring the rocks at the rocks at the bottom of the waterfall
Whilst driving into Bangor the previous night, we drove past the Aber Falls Distillery – it's right on the A55 and you can't miss it thanks to the local farmer offering some free advertising on his silos. The Distillery is just 5 minutes down the road from the waterfalls, so we thought it would be rude not to pop in!
The Distillery has a visitor centre and on-site restaurant, so you're more than catered for a couple of hours here and they offer hourly tours pretty much every day (a part from during cleaning or maintenance of the site I believe). We arrived just before 12pm and thankfully they had spaces available for us to hop on last minute. The tours are great value at £12.50 per person and include a tour around the facility, learning about how Aber Falls Distillery began, and a tasting at the end of some of their fabulous whiskey and gins (I highly recommend trying the Orange Marmalade Gin!) After the tour, we popped into their restaurant for some lunch and decided which bottles of whiskey and gin that we'd sampled we'd be taking home.
We were home by mid-afternoon and it was an absolutely gorgeous sunny afternoon, so we decided to put our feet up for the afternoon and enjoy the Airbnb's suntrap patio.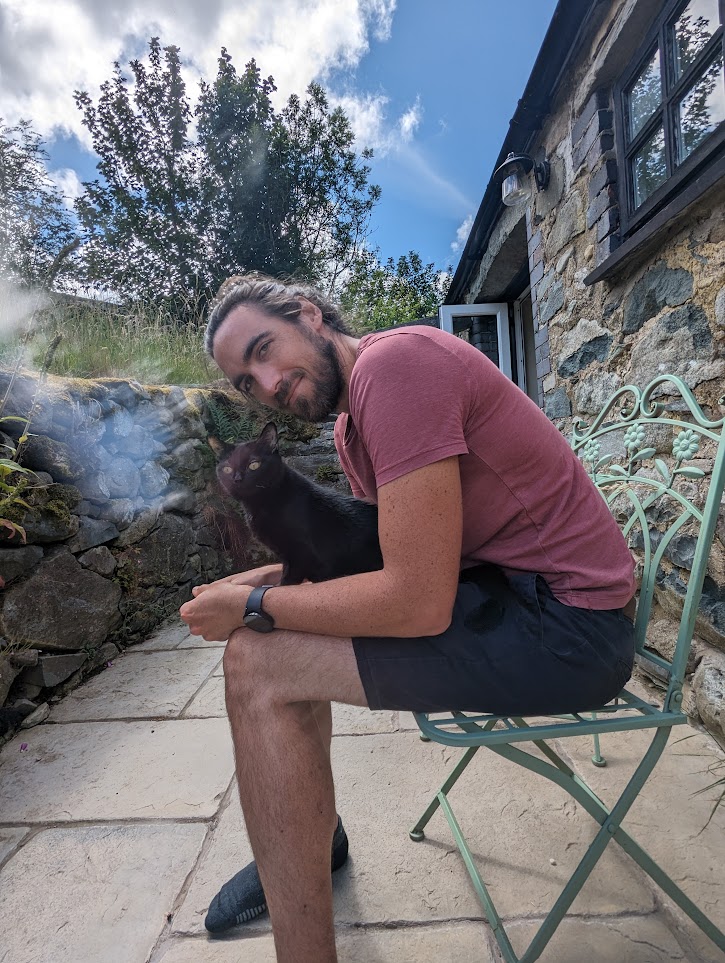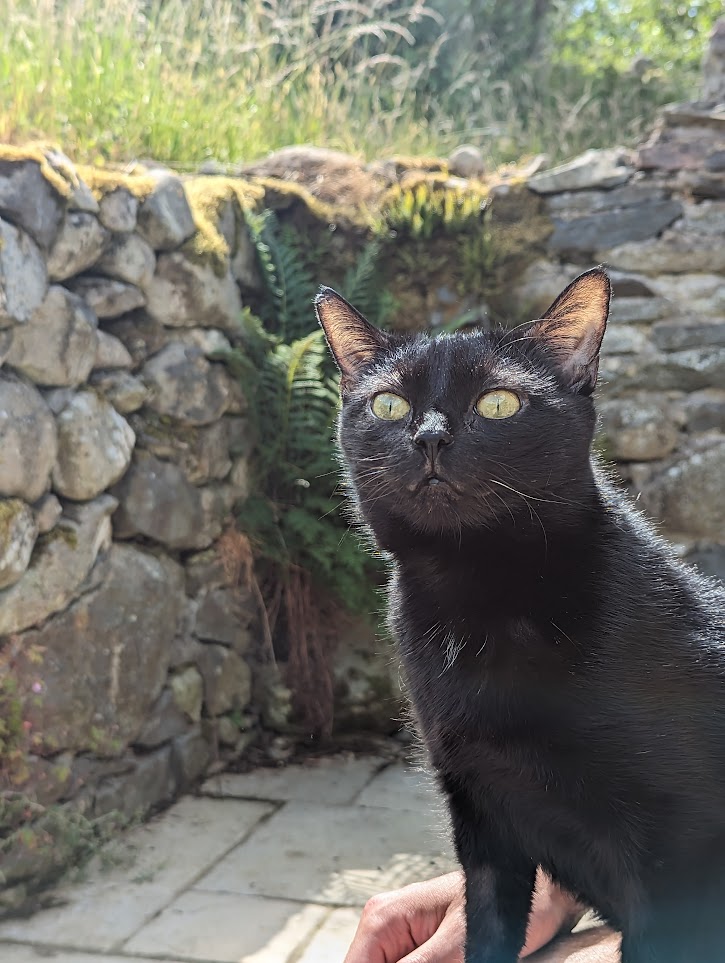 In the evening, we drove down to Conwy Marina and grabbed some dinner at Mulberry which had been highly recommended. We're both big foodies, and being vegetarian's get excited when there are some good veggie options on the menu (which this place had). I'll be honest though, the food was nice, but it had been sold to us as more of a gastro-pub, but the reality felt more like a Harvester (in our opinion).
Day 3 – Spa day chills
We were in Snowdonia for our 5th wedding anniversary. We came across the Wave Garden Spa about 30 minutes from the Airbnb, and thought a day of being pampered was just what we needed! Situated right next door to the Snowdonia Adventure Parc, this place is definitely worth a visit, whether you're up for being pampered or not. The spa itself is within the Hilton Hotel that has recently been built, while the Adventure Parc next door caters to all your family activity or adrenaline needs, from indoor high ropes and climbing, to ziplines and freefalls. The focal point of Adventure Parc is the inland surf lagoon where you can go paddle boarding or take surf lessons. They also have a cafe & restaurant on-site, where you can sit back and watch the lagoon activities. 
The Wave Spa has a small but nice indoor heated pool (more like an oversized hot tub), with windows looking out to the Surf Lagoon. We bought ourselves a couple of treatments each, including a heated full body massage which was incredible and was a great way to celebrate our anniversary. After our treatments we had a complimentary glass of bubbles each and chilled out in their relaxation room, which is a large glass fronted room on their outdoor terrace, overlooking the Surf Lagoon. In the summer you can sit in their outdoor hot tub and watch the surfers, but on the day that we went no activities seemed to be happening. We would definitely have taken up the opportunity to do some surf lessons otherwise, but gives us a reason to come back!
Day 4 – Tryfan
It was our last full day in Wales, and feeling well and truly refreshed, we fancied something a little more challenging to get our teeth stuck into, so we headed off for a short drive through the heart of Snowdonia National Park to Tryfan.
Between me and Oli, we have completed the Yorkshire Three Peaks of Whernside, Ingleborough and Pen-y-ghent, plus the UK Three Peaks of Ben Nevis, Scarfell Pike and Snowdon, and even with the latter just being a short drive up the road, we had never encountered scenery like this. The weather was not really on our side, but that just made the surroundings look even more dramatic and spectacular, as low clouds draped themselves over the mountaintops, and we were surrounded by wild and rugged scenery.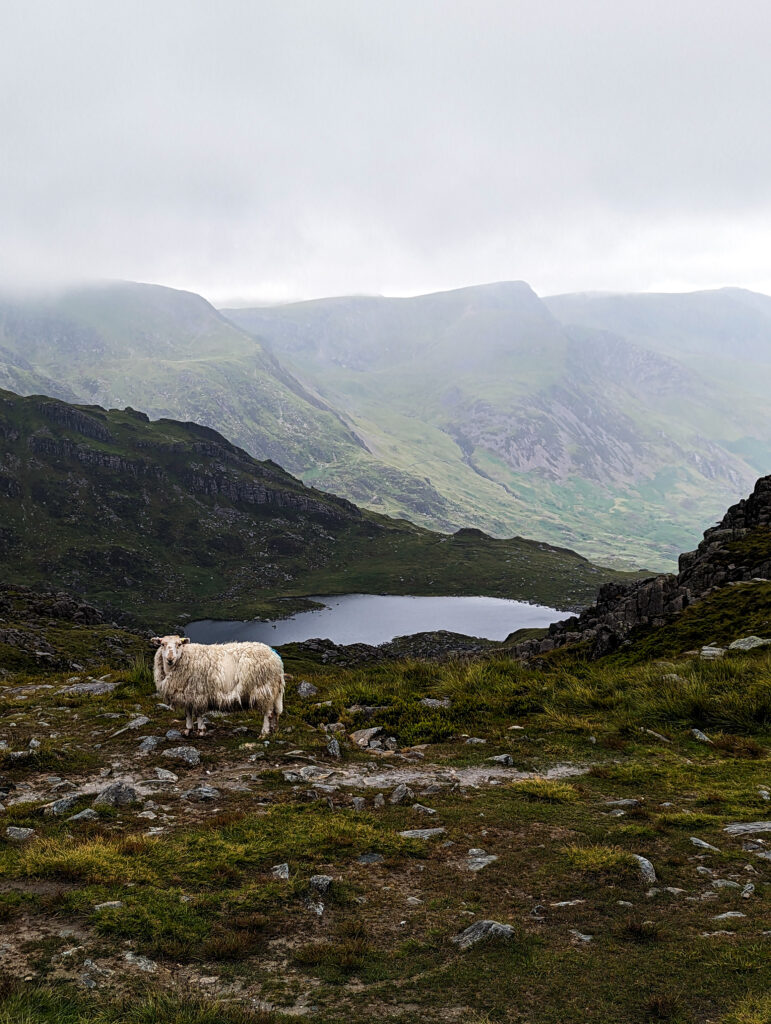 We climbed up Tryfan's South Ridge and made our way towards the summit, battling the elements as the weather rolled in. Tryfan is not a climb for the faint hearted, regardless of which direction you approach it, and we were within reaching distance of the summit, about 100m away, when we made the decision to bail out because the conditions were too rough and unpredictable.
Despite not making it to the summit, I loved every single minute, and Tryfan has a very special place in my heart, purely for the dramatic yet stunning scenery, unlike anything else we have come across during a UK hike. It has certainly given us a taste for more, and we will be back to conquer Tryfan another time!
We have posted a full write-up of our Tryfan attempt, along with photos, which you can find here.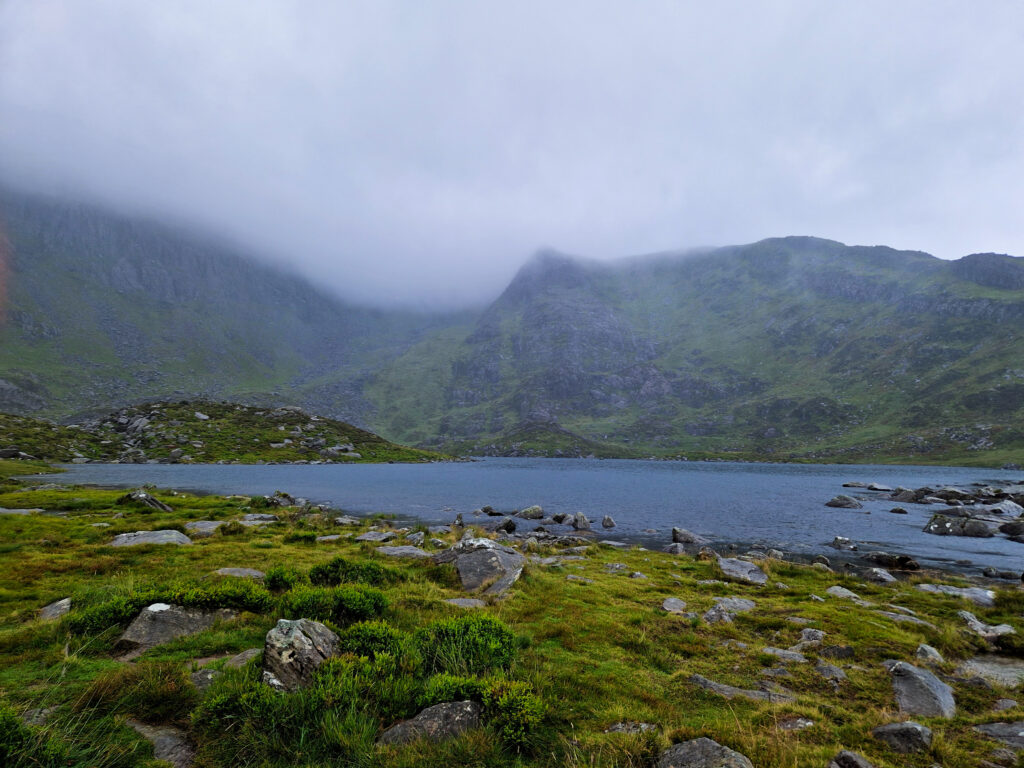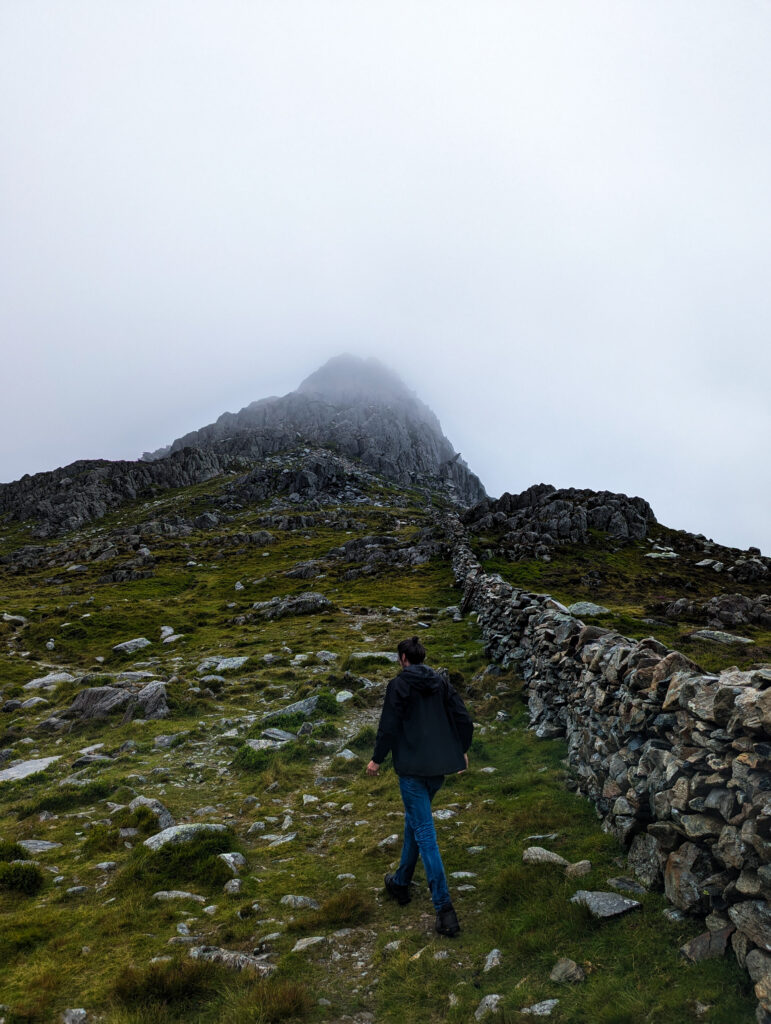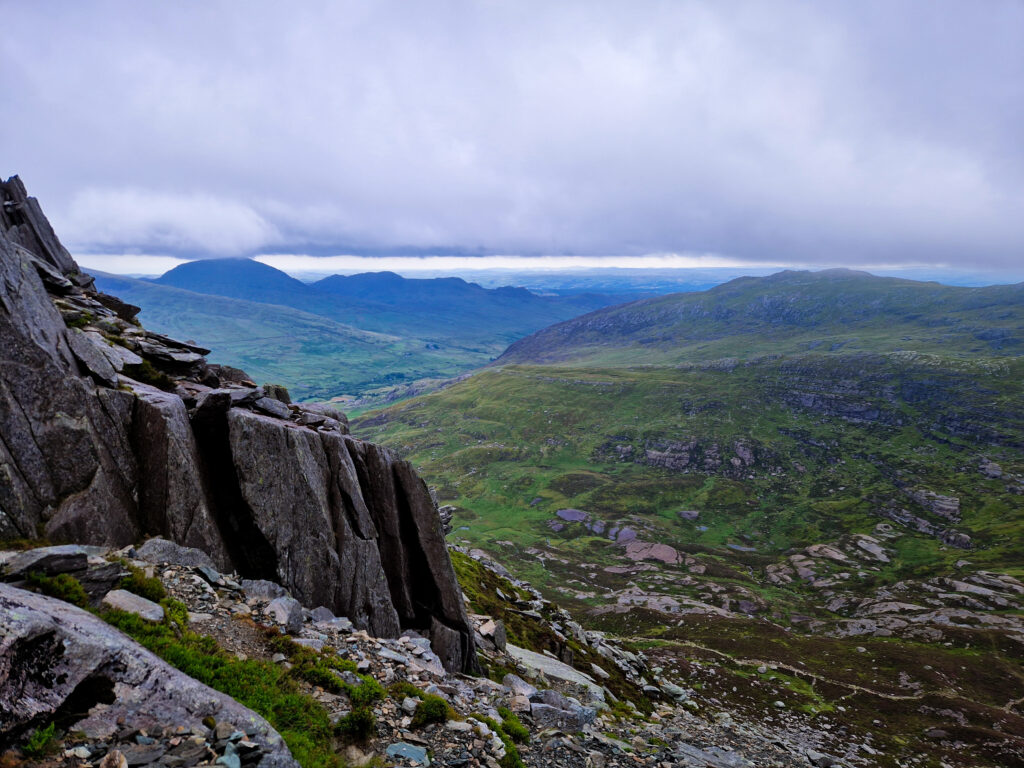 Feeling that we hadn't had enough adventure for one day, after our hike around Tryfan we drove a little further up the road to Zipworld!
Oli has previously been on the Zipworld across the quarry before and I have always wanted to try it. It does come at quite a cost of about £100per person(!) and we felt that £200 all in was a bit pricey for something we were planning to do on a whim just because we had the time free (we will come back for it though!)
However, we knew there was the Zipworld Forest Coaster nearby so we headed there instead. We had previously ridden the Hasenhorn Mountain Coaster in Todtnau in the Black Forest during our German road trip, so we were super excited to hear there was a UK version, and the videos we'd seen online looked just as fun!
For those not sure what this is, it is not like your ordinary rollercoaster. You sit in a toboggan seat (either in pairs or by yourself), travel up to the top of a track and let gravity do the rest, as you twist and turn your way down the track! Your toboggan will have a handbrake, so you decide how fast you want to go and what you're comfortable with. It's a lot of fun, and if you're not a rollercoaster lover it honestly isn't as scary as you think! There are also 'brake' signs throughout the course to help guide you a little also if needed.
Your ticket gives you three rides which we thought was great value, and you can pay a little extra to have your ride recorded too, which you access via a code from your phone.
Sadly it was our last evening from our 4 days in Snowdonia, and we had been holding out all week for a trip to Johnny Dough's, a pizza place about 20 minutes drive away. We had heard nothing but good things about this place but had to wait patiently until Thursday for them to open. It was worth the wait! The starters / sides were a little light in choice for me – no cheesy garlic bread for example (which I know is not "traditional Italian", but there wasn't much you could have alongside your pizza is my point). The pizza's tasted great though! Oli had a classic margarita, while I ordered a caramalised red onion & goats cheese pizza. We will definitely be back if (when) we're in the area again!
I loved my time in Snowdonia. Visiting a second-time round, I have a much greater appreciation for what a stunningly beautiful part of the world it is, and how lucky we are that we have it here in the UK! There is still so much to explore, and my future hiking list is already growing with places to go and explore in Snowdonia, so watch this space for future updates!
Hopefully you found this trip report helpful and it maybe inspired you to try something new next time you're in the area? Maybe you've been before and there are other things you'd recommend instead of something I've mentioned above? I'd love to hear your experiences and recommendations in the comments below! Thanks ❤