We recently came back from a day trip to Ghent, as part of our German road trip. Ghent surprised me in terms of how much I loved and enjoyed and would recommend it as a Belgium 'must visit' to anyone. Here's what we got up to during our day trip to Ghent. We left home bright dark and early at 3am, to arrive at Dover for 5am, ready for our 5:45am Channel Tunnel. We blitzed through security and were loaded into the carriage within 30 minutes and had arrived in France just as quickly (7:20am France time). We were shattered after our early start so grabbed a quick 30 minute nap during the crossing to France. We arrived in Ghent at 9:00am and were ready and excited to start exploring.
The hotel
We stayed at Hotel Onderbergen, minutes from the city centre. The receptionist was lovely; we had reserved a car parking space at the hotel for 10euros, but she informed us due to our early arrival, no one had checked out so there were no free spaces. She advised us of a secure multi-storey down the road, which was only 2euros more.
Day trip to Ghent
We dumped our bags and went out exploring! Our first instant realisation was just how pretty Ghent is. I'm sure it helped that we had a beautiful sunny day, but the canals, buildings and cobbled streets looked so characterful and picturesque.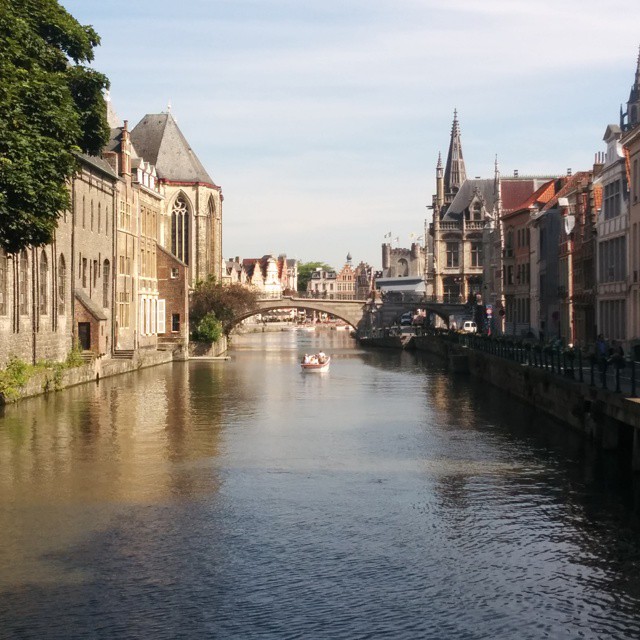 We were hungry from our travels and the driving, so we hunted down a great breakfast spot in the city centre, between the Belfort and cathedral. The place is called Brasserie Agrea. We were greeted by a very friendly waitress who spoke good English (our French / Dutch is a bit rusty) and we ordered an amazing and delicious breakfast, consisting of waffles, chocolate and ice cream for Oli, waffles, strawberries and cream for me. It was so yummy and reasonably priced. I definitely recommend this as a breakfast spot.
After breakfast we decided to head up The Belfort, for some views over the city. Despite it being such a sunny day, the tower was practically empty, only a handful of other people were up the top with us. You need to make your way up the slim winding staircase to the top, but you can stop off at other floors on your way up to view the bells and other information points. The stairs to the top can be a little precarious but the views are worth it. Entry fee is dead cheap too – I think we paid about €5 each?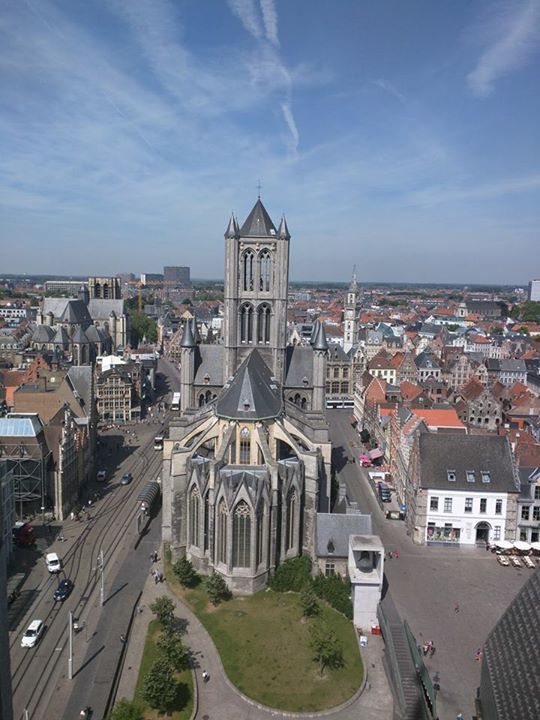 We didn't spend too long up the tower, probably around 30 – 45 minutes and that was perfectly sufficient. We spent the rest of the morning exploring the city and its cobbled streets. Ghent is one of those places where there may not be anything in particular to see (big landmarks for example) but there is still plenty to see and do. Just wandering down the streets and people watching is perfect. The culture and atmosphere of the city is lovely.
By around midday we stumbled across the 'Boat in Ghent' canal boat ride, which we had read about on Tripadvisor. The reviews were great and the price was reasonable. We 10 minutes till the next departure, so it seemed like a good opportunity to take in the city sights from the river. Our guide was brilliant, very informative about the city and its history and equally hilarious, making jokes and polite conversation during the tour.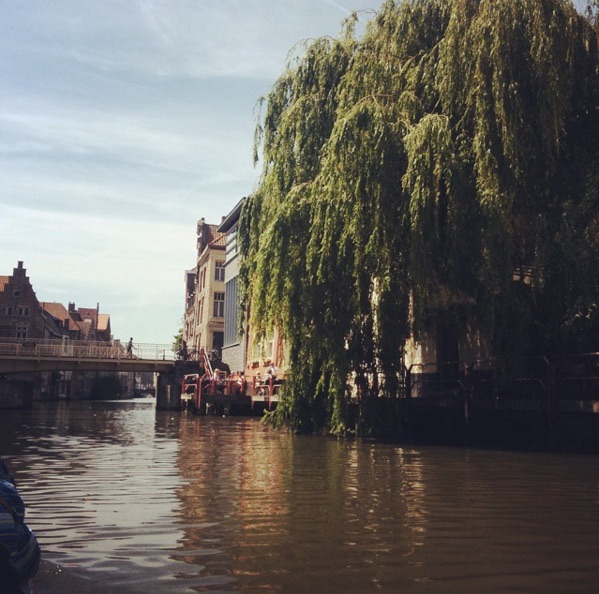 Our afternoon was lovely and chilled, popping into a pub by the canal for a drink in the sun and further exploring on foot. We passed Ghent Castle, Gravensteen, which is a castle from the Middle Ages and is very interesting.
Whilst on our canal tour, our guide had mentioned an area not far from the castle that was known for its restaurants and eateries – away from the tourist scene. We took a stroll through the streets to find somewhere to go for dinner, but unfortunately nothing really seemed to excite our tastebuds.
It was a boiling hot day and we were still feeling tired from our early start that morning. We headed back to the hotel for a afternoon nap and to refresh ourselves. En-route, we came across t'Gouden Mandeke, it was a busy pub not far from the canal, with everyone sat outside in the sun enjoying their drinks. The atmosphere was good and there was a spare seat in a sunny spot, so we grabbed a couple of drinks while we looked up places to eat on Tripadvisor.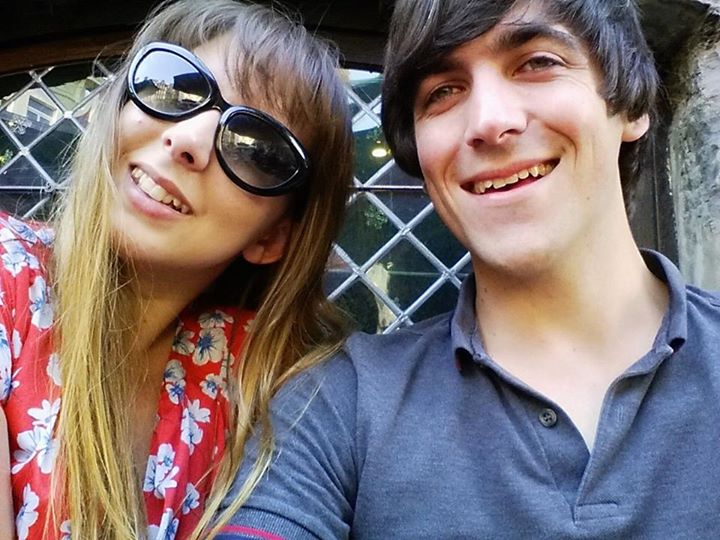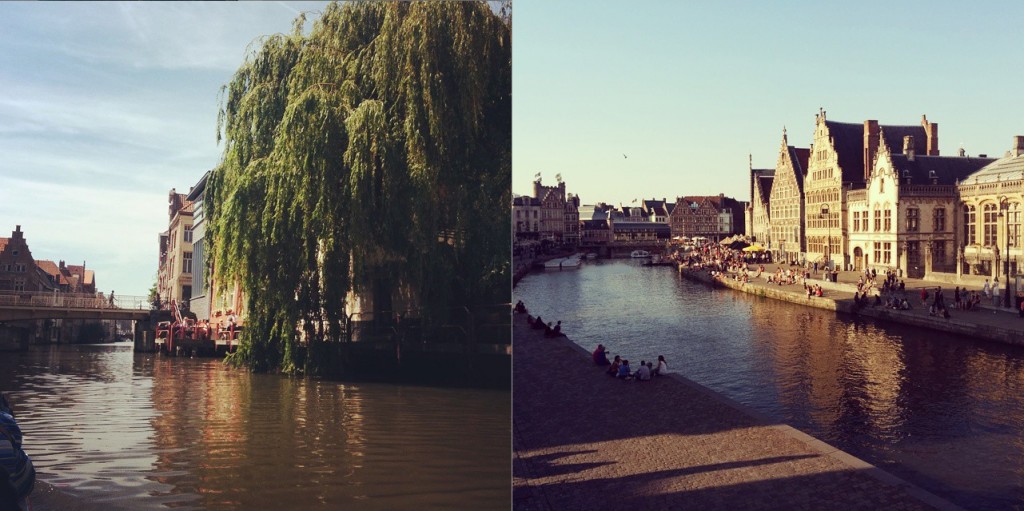 We were a little disappointed to find a lot of places we liked the look of onto eat at were closed on Thursdays (typical!) However, we found a place we loved at the opposite end of the city called Eat-aly. Originally the name did put us off, but actually the menu was great and so was the food! We ended our night with a few more drinks, before a (somewhat) early night, still feeling exhausted from our 3am start and ready to drive early next morning.
We had an amazing day trip to Ghent. It's a beautiful city, with a brilliant buzz and atmosphere. If you're looking for a Belgium city to explore, I highly recommend Ghent. I'd definitely come back here!