On Thursday 15th August – Friday 16th, my boyfriend and I headed off to Bath, making the short 2 hour journey from our home in Portsmouth. Neither of us had been to Bath before so we tried fit in everything we wanted to do in and around the area. This is what we got up to:
Our first stop, because it was en-route into the city and because it was furthest out of the way, was Alexandra Park. We only spent about 10 – 15 minutes in the park, the weather was threatening and there wasn't a lot of cover, but we'd heard (and seen photos) that the views over Bath are fantastic, so we decided even a 10 minute visit was worthwhile – and it was.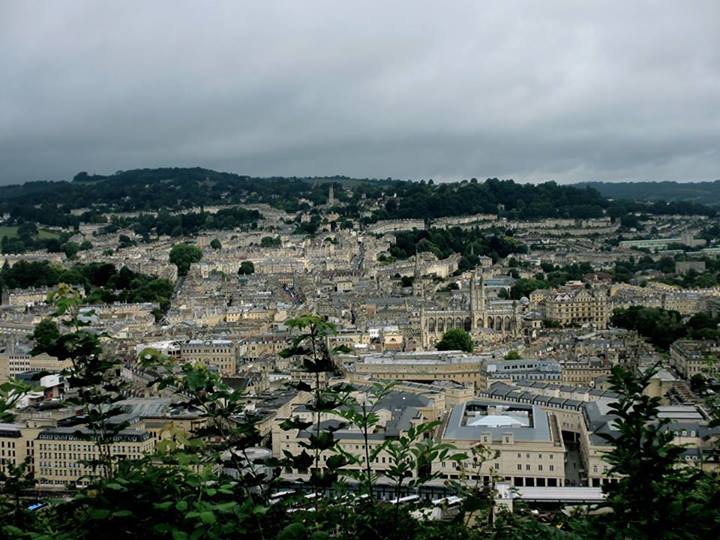 It was lovely to just sit in the park and watch the world go by below.
We then hopped back in the car and headed into the city centre. Initial thoughts was that parking in Bath was expensive, but in hindsight it's not really different to any other city centre parking. We enjoyed a good explore when it started to rain, so figured that would be a good time to visit the Roman Baths – now we can talk expensive.
Tickets were £13.00 odd each, which I thought was extortionate! £26 for two people to look around the baths! When we left I had half a mind to ask for a refund because we didn't enjoy it as much as we thought we would. We were jam packed inside, it felt like a cattle market. We had to shuffle our way around to get anywhere, all amongst the maze of exhibits and information points. Some people learn best from these and that's fine, but I personally learn best from being amongst things, so was disappointed to see that when I did eventually get outside to lower level of the baths, there weren't really that many information points, not compared to inside anyway.
We enjoyed a good explore and short-listed a few places for dinner. By about midday we decided to pop into the Pig and Fiddle for a drink and couldn't believe the prices; £4 for a pint of San Miguel and £4.30 for a pint of Cider. With very light wallets after 2 rounds, we decided we'd hunt out our hotel and check in over at Limpley Stoke.
Admittedly I can't complain too much; the hotel was free from my car insurance company, as a reward for renewing with them. The free hotel was the whole reason for our 2 days in Bath trip. On the whole the hotel was nice, I loved the building and the surrounding area was beautiful. Inside though the hotel was very quirky and oldy-worldy. The decor was aged and looked like the original from when the place was first built. I get that this is only a criticism from a taste point of view and to some people it's probably lovely, that's fine.
Our room was clean, there was however a cm wide gap all around between the door and the doorframe, so you could hear every word spoken out in the hallway. The floor creaked a lot so much so, that my phone was on the table charging, someone walked past our door and the creaking floorboards must have created a vibration because it knocked my phone on the floor believe it or not! But again, I can't complain really. The hotel was free and the staff were lovely. I know the building is very old too, so quirks are expected. But I thought they'd have taken the time to make doors better fitted or sort out uneven / squeaky floorboards.
But anyway, we decided to explore the local area before heading back into Bath for dinner, which was lovely. We crossed a bridge over the River Avon and carried on walking towards a canal, where there was a small public footpath and lots of canal boats to view (a novelty for us Portsmouth folk).
In the evening, we had planned to eat at Sotto Sotto, but due to exploring we forgot to book a table. We went along anyway just incase there happened to be a table free, which unfortunately there was not. The waiter asked if we were in Bath long, we told him one more day, where he then went out of his way to see if there was a table for two available the next day – there was hurruh!
We then headed off to our second choice, Joya, where we had a lovely meal! For starters we both ordered the pizza dough parcels, filled with tomato and mozzarella, which was golden fried. It tasted lovely, though it was very salty! Thankfully I had a full glass of wine to hand. For the main, I can't remember what my boyfriend had, though I did have a bite and it was delicious! I ordered the spinach and ricotta cheese cannelloni which I could not get enough of, loved it. Finally for dessert, Oli ordered chocolate fudge cake, while I had something from the specials board; white chocolate profiteroles and they were lush! I'd happily recommend Joya. The food was lovely, as were the staff and it was very reasonably priced. Overall we were 2 very happy customers.
After the shock our wallets took from drinks earlier, we decided we'd head to a Slug & Lettuce, thinking drinks would be cheaper there than anywhere else in Bath, much like Slug & Lettuce drinks are back home. Unfortunately not. £4 again for a Peroni and unfortunately can't remember how much my Southern Comfort was, but it was more than we normally pay at a Slug & Lettuce. However the place was very nice and we enjoyed a nice chat, sat by the window watching rainy Bath outside. After our drinks we called it a night and headed back to our hotel ready for day 2.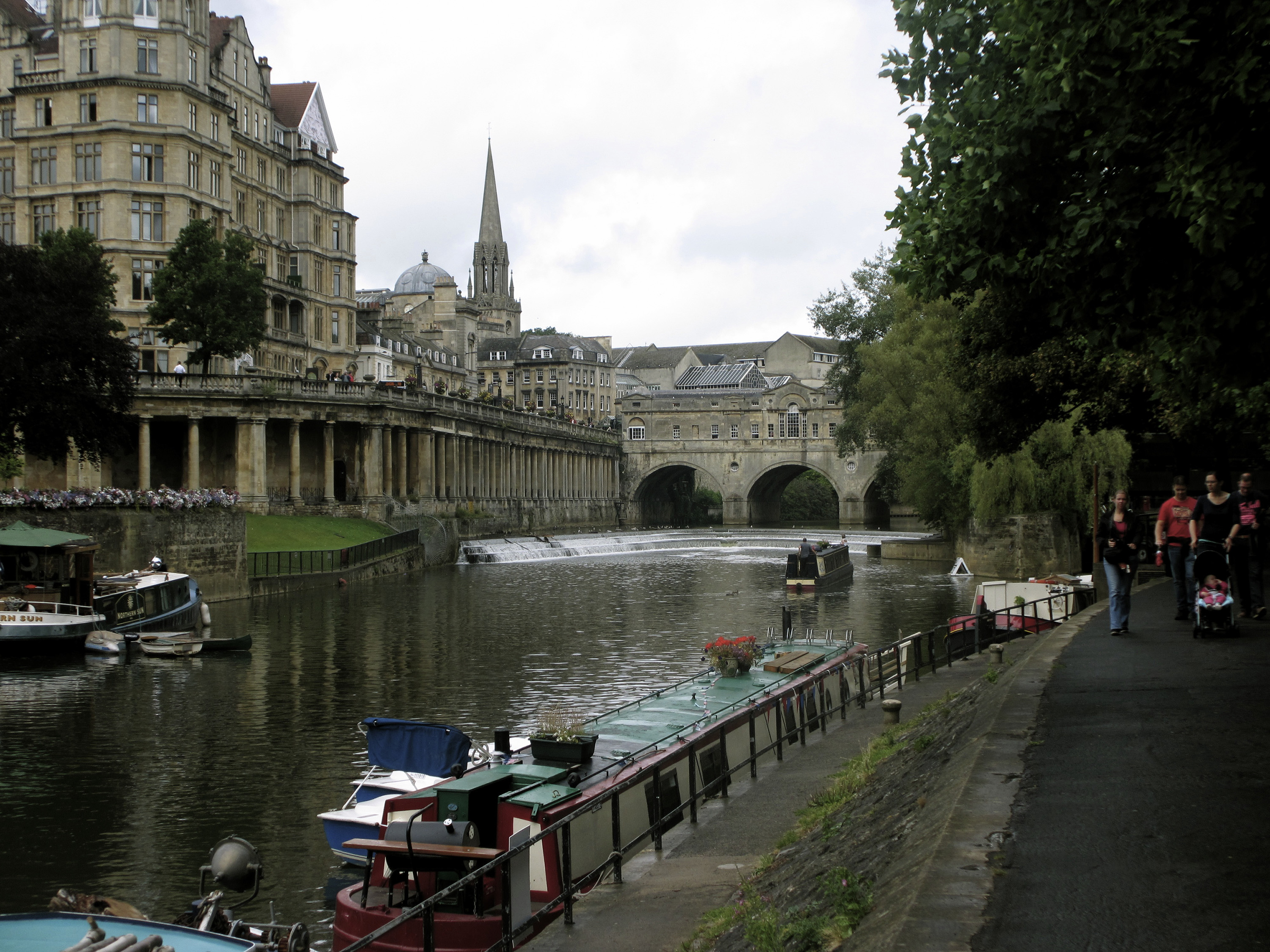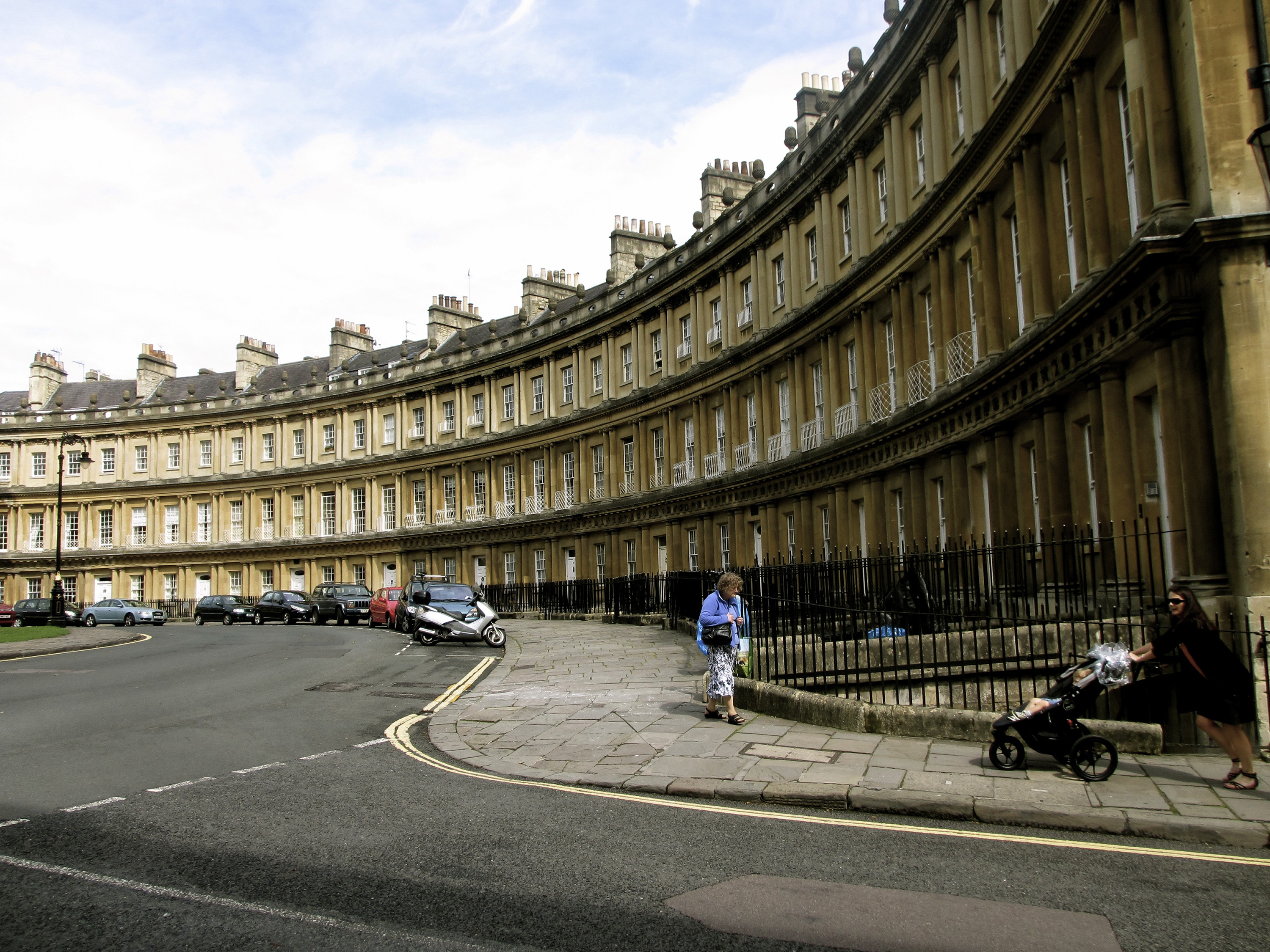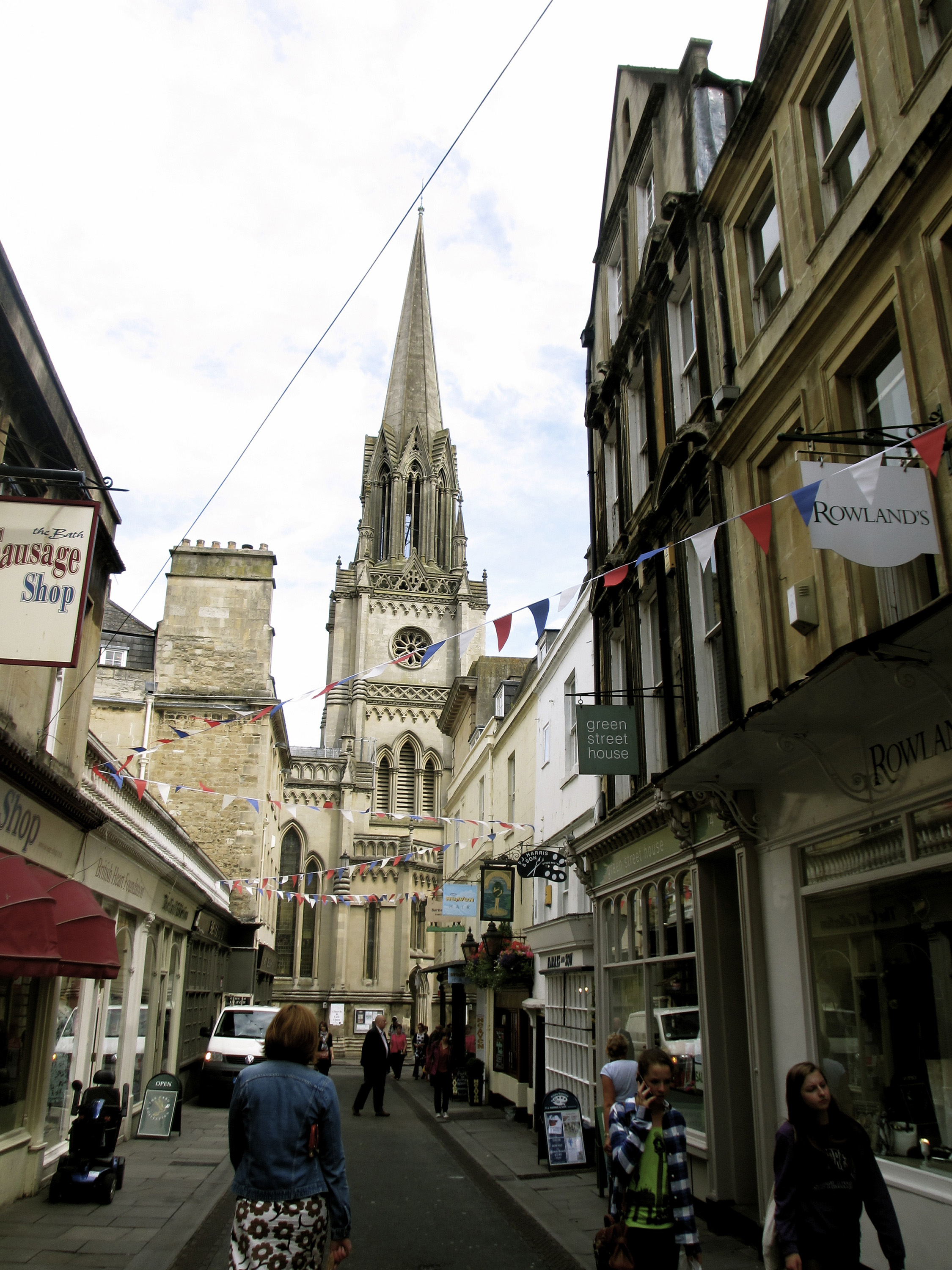 We explored what there was left of Bath to explore, before our 12:30 table at Sotto Sotto. The weather was a little off and on again, so we popped into a small tea place for a cuppa and thankfully it had cleared up by the time we made our way to the restaurant.
I am so pleased we got a table at this place in the end because both Oli and I thought our dining experience at Sotto Sotto was perfect! We always had a favourite restaurant at home called Villa Romana, but unfortunately they recently changed their menu and it's not really our taste. If we had a Sotto Sotto at home however, it would instantly become our new favourite, no doubt about it.

The interior alone is fantastic, intimately lit, with beautiful bare brickwork. The restaurant is underground and (I'm assuming) housed in what used to be an old bunker. I assume this 1) because there appeared to be some original steel body work, which they have used as a decorational features and 2) because the word 'bunker' was etched into some concrete at the top of the stairs.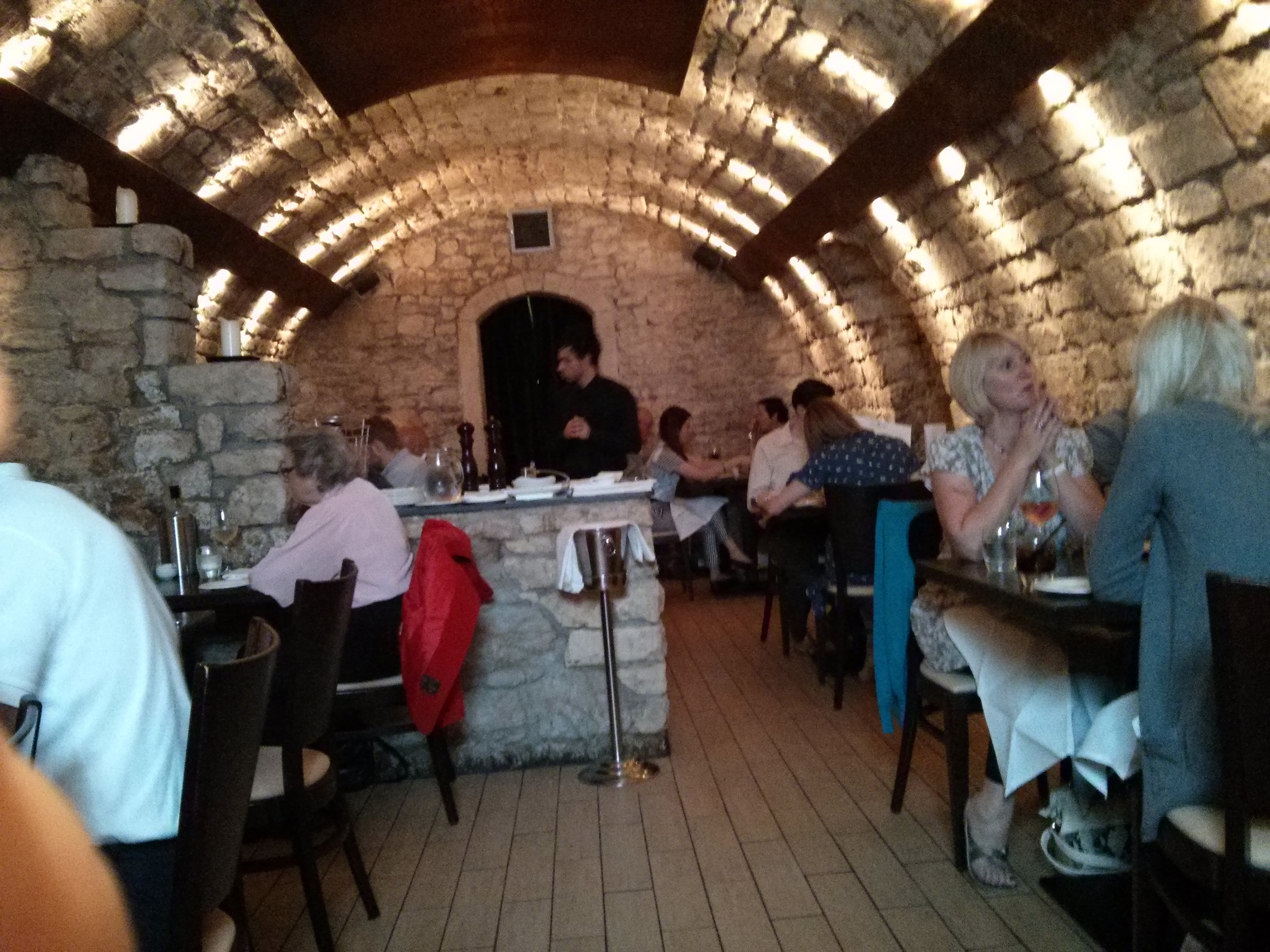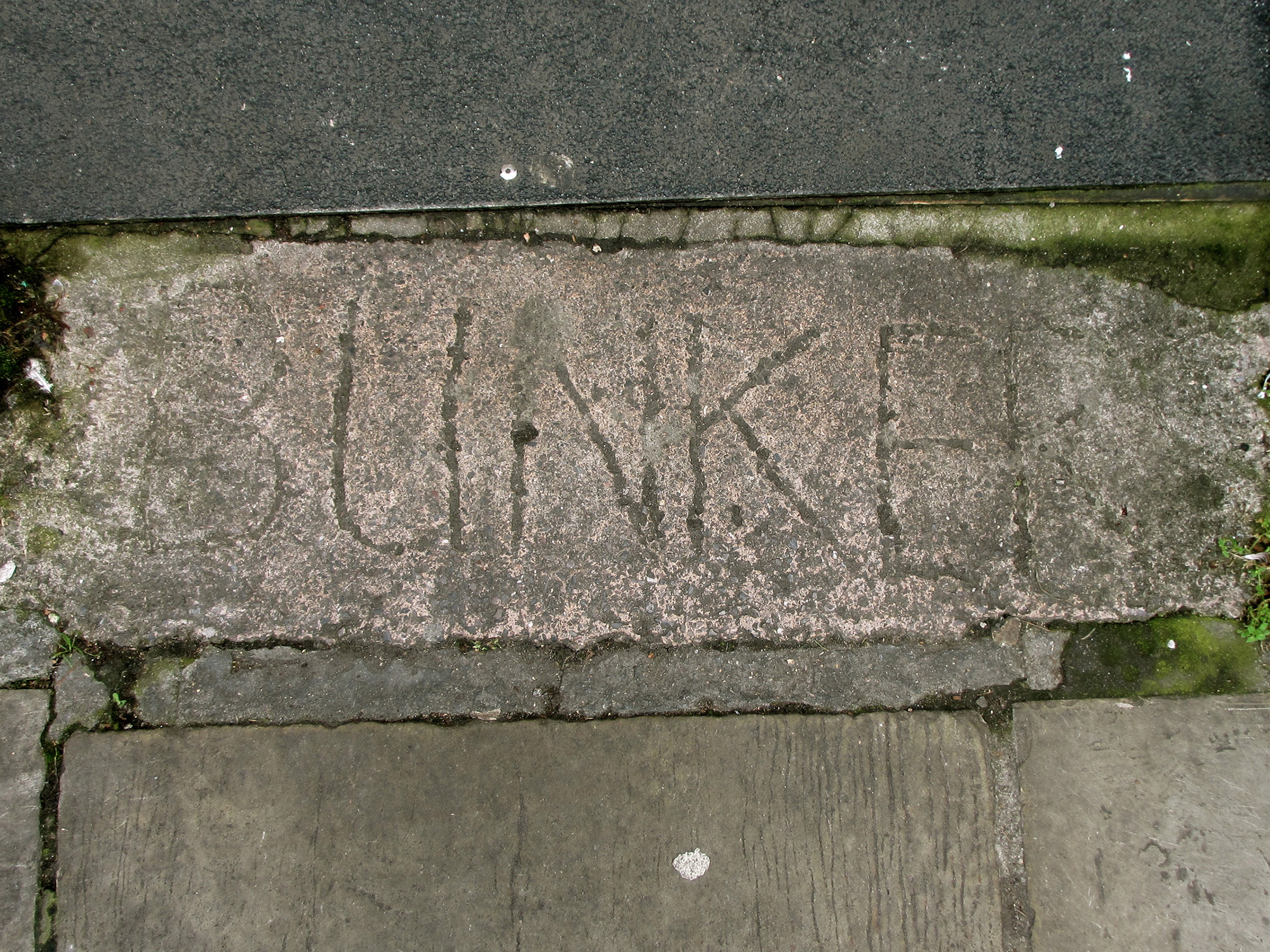 The staff were lovely; very attentive and polite. Both Oli and I ordered a glass of wine each and the homemade pizza garlic bread, with pesto and mozzarella. It was the size of a medium pizza, so more than enough for the two of us, but it was delicious!
For my main, I ordered pasta with baby spinach, Italian sausage and chili and it was probably the best Italian meal I had eaten in a very long time. I had a mouthful of Oli's, which was breaded chicken breast with parma ham, mozzarella and fresh veg and that was also incredibly yummy. We couldn't fault the meals, or the service. Absolutely spot on. Oli was too full for dessert, but after taking a look at the menu my sweet tooth had kicked in and I couldn't resist so I ordered the panna cotta with caramel sauce and it was bloody yummy!
We were interested in Sotto Sotto for our 2 days in Bath, due to the reviews we read on Trip Advisor. After eating there I can see why it's the top restaurant in Bath, I would highly recommend it.
Once we left the restaurant, we felt we had done all there was to do in Bath and had planned to climb Cheddar Gorge, about an hours drive away. It was about 1:30 by this time so we decided to stick to our plan and made the journey to Cheddar.
Before I really start on Cheddar Gorge, I'll mention that the views are beautiful from the top of the gorge and I felt like I had accomplished something by going up there – a little bucket list box ticked for me. But what I was surprised at (and hated) was how much of a tourist attraction they had turned it into. I understand that maintenance of the gorge isn't free, but Oli and I did the Yorkshire Three Peaks last year and I saw no sign of tourist-ness and that is a beautiful part of the UK up there.
I really wanted it to be a lovely, tucked away secret of the UK's. I had never heard of Cheddar Gorge until I started looking for things to do in Bath, so this is where my assumption came from and I was really disappointed by what we found. I felt it had spoiled the area. As we drove through the gorge for a parking spot, we were surrounded by high, aggressive looking, rocky terrain. It looked incredible. The roads were very narrow and windy, which only added to the excitement of being somewhere new to explore. We then turned a corner into this: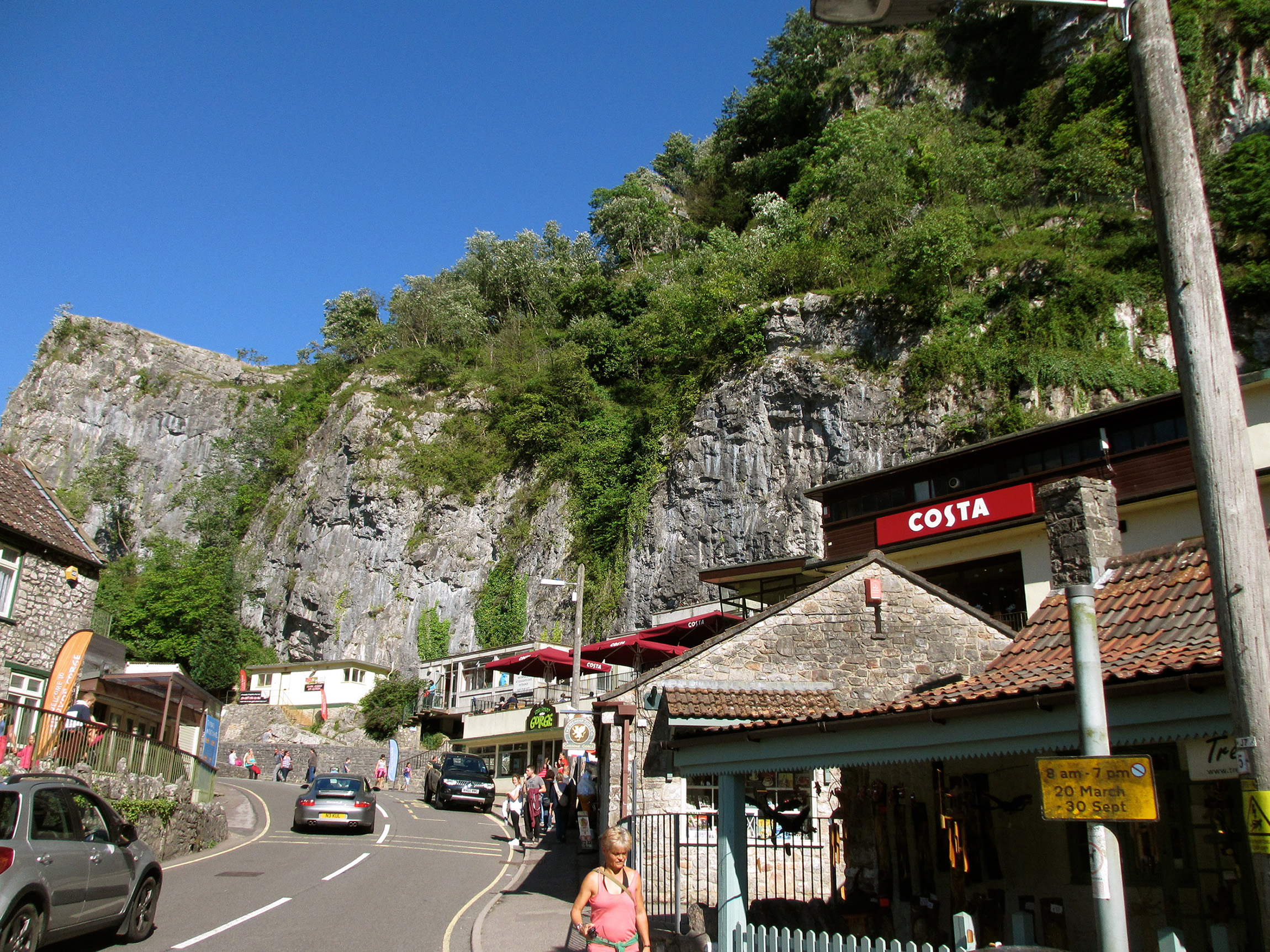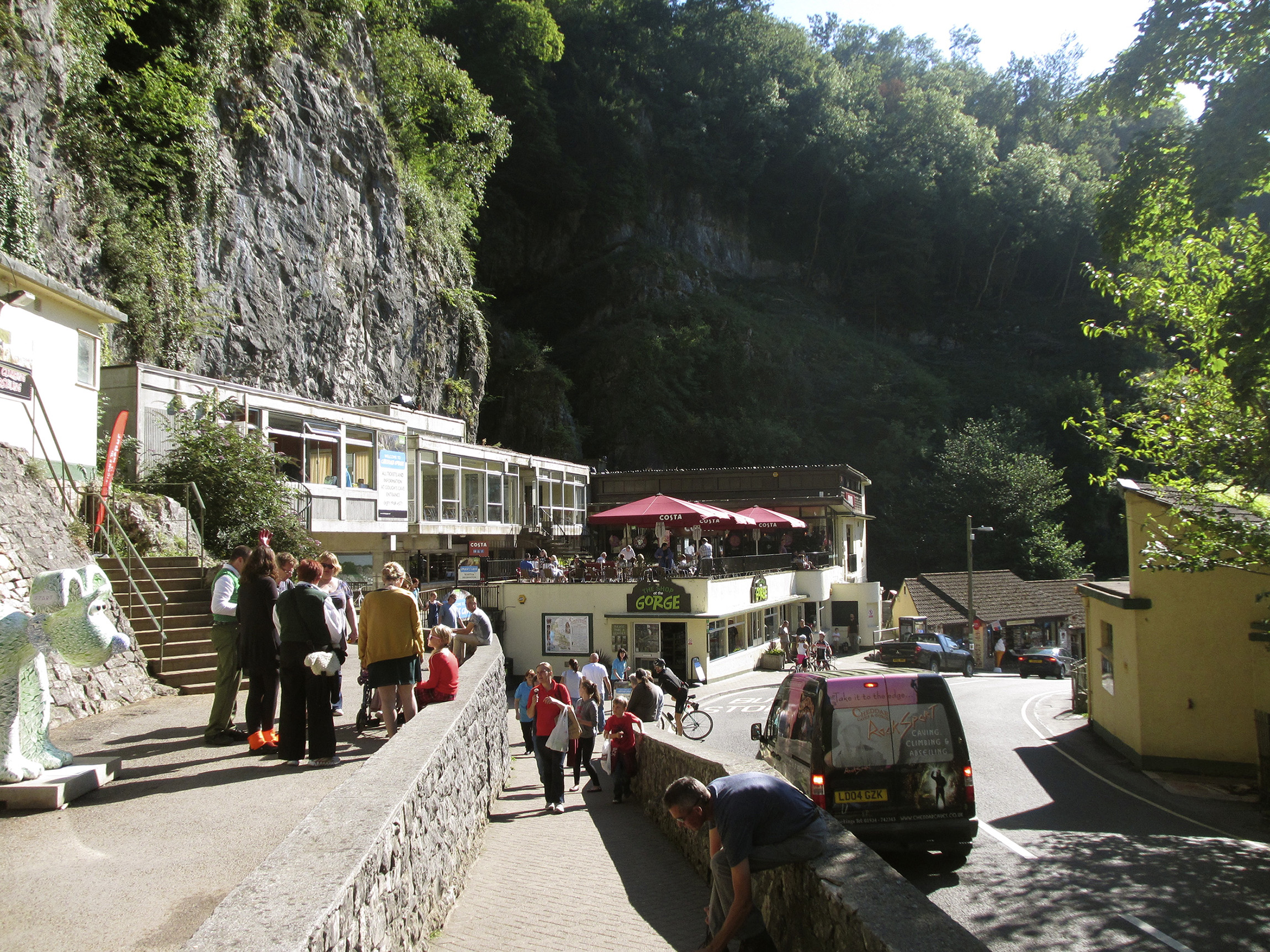 Hoards of people, information points, coffee shops and "family attractions". It was completely unexpected and really dampened the whole experience if I'm honest. Parking was £5, then it was a further £10 for us to walk up the gorge! £15 in total. I thought it was a complete rip off.
Again, I go back to the Yorkshire Dales. It's a beautiful National Park, we only explored around the Three Peaks but loved what we saw. Parking was free, as was admittance onto the peaks. I don't see why it couldn't have been like that too? Or at least car park only. The amount of people we saw there, they'd have made thousands from car parking just in that day alone.
But anyway, moaning over. The walk up the gorge was tiring and steep but worth it, with beautiful views over the rest of the gorge, cheddar and the reservoir.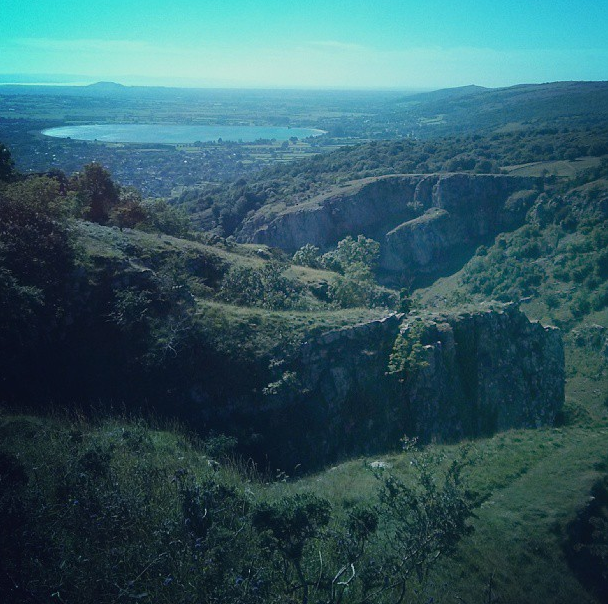 Overall though I don't think I'd recommend Cheddar Gorge. The whole OTT focus on tourism really ruined the experience for me and if it's breath-taking views you're after I'd say there's a million other places in the UK that offer better.
On the whole though we loved our time in Bath. It's a beautiful city and a place I'm pleased to have ticked off on my bucket list. I had a fab 2 days in Bath, now I want to start planning our next adventure.