At the start of this month, my friends, boyfriend and I made a 4 hour+ car journey to the lovely coastal village of Tresaith, for a weekend in Wales. We arrived late morning on a Friday and left late Monday afternoon. Have a read to see what we got up to and all the lovely things Wales has to offer.
Day one – April 5th 2013
We stayed at B&B called 'The Ship Inn' which sat right on the beach. The B&B only has four rooms, though they're all front facing, meaning whatever room you have, you get to benefit from the beautiful beach views.
Originally we were very sceptical about eating, because there had been some terrible reviews left on Tripadvisor. However, what we found out on our first day, was that since the start of the year the B&B has been taken over by new owners and they have certainly turned the place around, the food was delicious (but more on that later).
It's only a small B&B, so parking can be very competitive. We arrived about midday, when all the locals came for lunch, so unfortunately there weren't any spaces. However, at the top of the hill there's a field for parking, which only charges £2.50 all day. So we stuck the car there and walked back down.
We arrived a little before our rooms were ready, so we sat in there and had a few drinks. The place isn't too badly priced… for two pints of Peroni, one Archers & Lemonade and a Southern Comfort & Lemonade came to about £14.
We sat there for about an hour, chatting and looking out the window when we were told our rooms were ready (there was also a space in the car park by then, so we quickly grabbed the car – parking is also free by the way). The rooms are lovely, great size, clean and all with en-suite bathrooms. We had fantastic weather and the views from our room to boot (see image above).
Although sunny, the sea was rough as you like and it was very windy, so we all ran down to the beach to have an explore. At either end of the sandy beach is a lot of rock face, perfect for exploring and climbing. We were all enjoying ourselves until a huge wave came along and soaked us. However, it was so windy we were dry within a matter of minutes.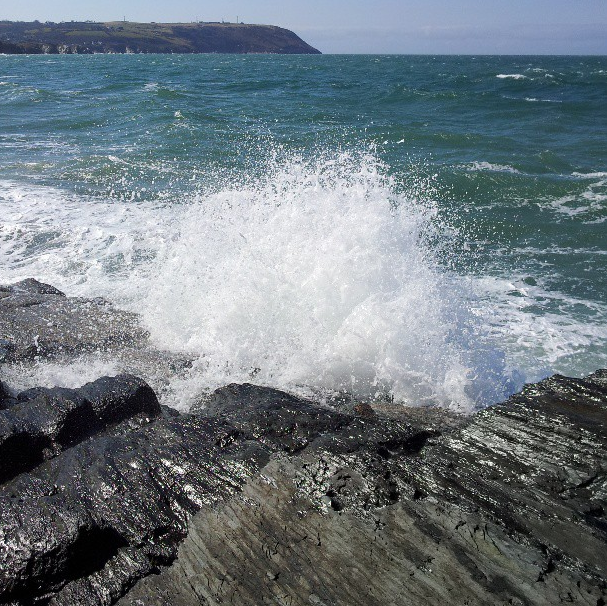 On the other side of the beach to where we were was a huge steep hill, which we walked up and is the perfect viewing point for some spectacular views of the village and the beach.
Well and truly feeling the cold from the wind at this point (it was about 5pm), we headed back to the B&B for some dinner.
We'd booked our table before heading out (just as well too because the place was packed with diners). For me there wasn't much on the menu I liked (lots of fish!) But was there that I liked was delicious!
Day Two – April 6th 2013
On our second day we got up nice and early for our breakfast (all cooked to order) and then headed back down the beach for more exploring.
The tide was way, way out and we noticed back on the other side of the beach, there was clear access to a waterfall, that had been blocked off by waves and rock face the previous day.
We spent a good 2 – 3 hours clambering over rocks, attempting to skim stones and wandering around all the hidden coves we had access to thanks to the low tide. By around midday, we decided to get out in the car and see what else the local area had to offer.
About 20 minutes down the road, we came across Cilgerran castle (ruins). It cost us £3.50 each to get in and the guy at the entrance even offered us a deal, so we got in for £10 total instead. We had a brilliant wander around the ruins, it was a beautiful sunny day and we took part in an easter egg hunt (you're never too old right?)
It was easily 3 / 4pm by the time we left the castle, so we headed down to Cardigan High Street for a nose around and came across an amazing vintage sweet shop. We stocked up on all things sugar, then sat in the sun by the canal chatting. The rest of our evening was spent back at the B&B, eating and drinking (and some more drinking) the night away.
DAY 3 – APRIL 7TH
Sunday morning we woke up nice and early again and grabbed our yummy free homemade breakfast. We had a nose on tripadvisor and decided to take a drive to Cenarth to see the rapids there. The rapids are pretty cool to see and there's lot of rock which you can climb on so you're pretty much in the rapids. It's a lot of fun there. We spent about 2 hours (maybe more) exploring before we got back to the car.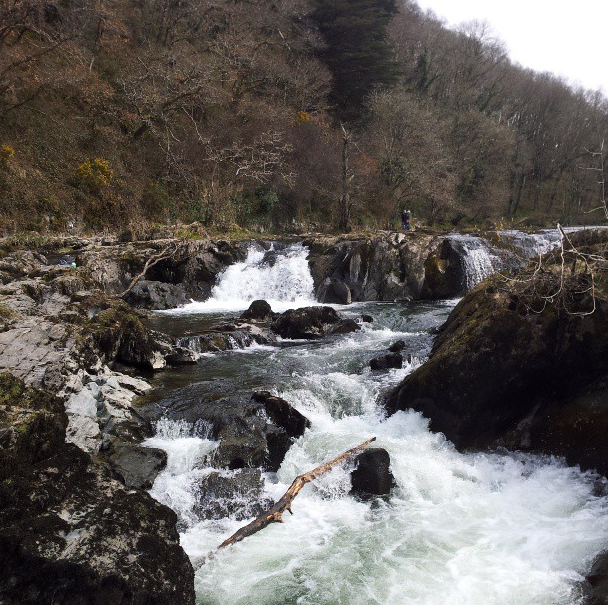 On the way back to Tresaith, we came across another little beach, a little further up from the beach by the B&B. We parked up and rather than follow the flat, tarmac road down to the beach, we decided to follow the wooded, winding track down to the beach (which was lovely) and as was the beach once we got to it.
At the bottom end of the beach there were some huge caves. Unfortunately they didn't go back very far, but the opening to them was impressive indeed.
Day 4 – April 8th
Monday had come round and with it, unfortunately, our last day of our weekend in Wales. We had happily seen and done everything we wanted to and we fancied going somewhere different. My boyfriend and I had visited the Brecon Beacons about three years ago when we went to Cardiff, whereas my friends hadn't been before, so we figured a trip there was definitely on the cards!
We ended up visiting an area called the "Four Falls Walk". The walk is roughly 4 miles long and a long the way, passes four individual waterfalls. The journey to the fourth one was a bit of a maze, we managed to guess our way to it, but it was SO worthwhile because the last waterfall has a walkway behind it and you can literally walk right behind the curtain.
The walk itself was incredibly beautiful and scenic. At the start of the walk are two caves, which are apparently the biggest cave openings in the UK. There were a few people going "caving", but it definitely wasn't for us haha!
We spent about 3 – 4 hours wandering around the Brecon Beacons, before we decided to make the four hour drive home before it got to late.
We all had an amazing weekend in Wales. The B&B was great (as was the food), lots of stunning scenery and lots to explore and do. Brilliant weekend, I'd recommend a trip to Tresaith to anyone!
If you have any questions (or perhaps you've been to Tresaith before too), then please leave a comment below, or you can give me a shout on
Twitter
, thanks.