My boyfriend and I came back last weekend from doing the Yorkshire Three Peaks, raising money for Cystic Fibrosis. We spent huge amounts of time during the weeks before our challenge, researching our route and asking people for advice and tips. With this in mind, we have written our own Yorkshire Three Peaks guide, to help anyone else who is planning their route and looking for information.
Yorkshire Three Peaks Route
Your starting point will be a little village in the Yorkshire Dales called Horton-in-Ribbersdale. The official starting point is outside the Pen-y-Ghent Cafe in the center of the village. Some people choose to sign in at the Cafe, where their times are official, but this isn't compulsory (we chose not to). There is also free parking in the village, in the form of a lay by, opposite the church, or there's a car park which is £2 all day. The car park's do fill up quickly though, so I'd advise getting there early.
Peak #1 Pen-y-Ghent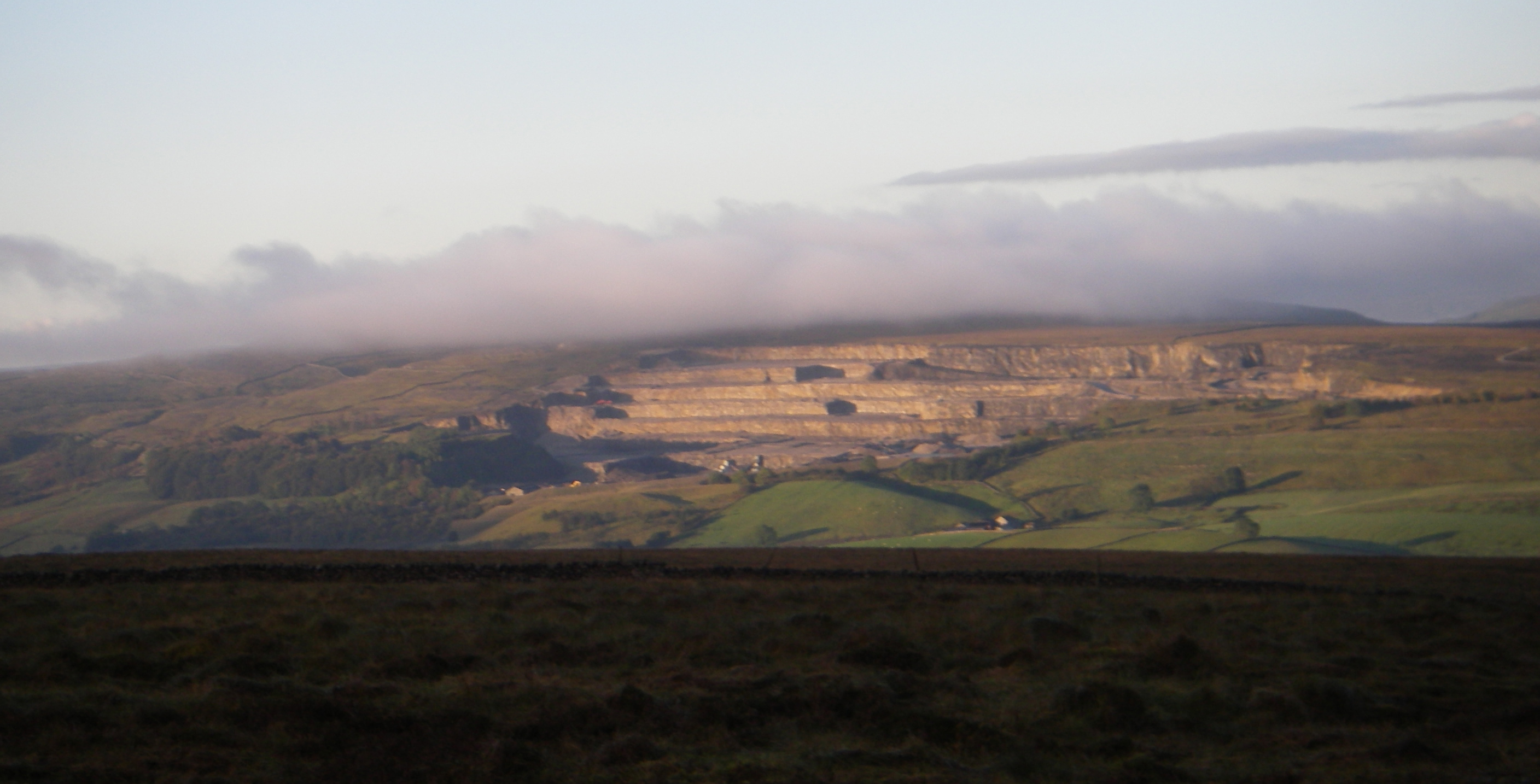 Pen-y-Ghent is good peak to start off with. You're feeling fresh, it's easy to get to and at 694 meters, it is the smallest of the three.
From Pen-y-Ghent Cafe, make your way South towards the Golden Lion Pub (there is a small church and a graveyard opposite it). Follow the road along as it bares left and take the second road on your left. It's a single track lane, which leads you straight to a place called Brackenbottom.
Eventually you'll come across a barn (it's the first building you'll come across since going down the lane, so it's hard to miss.) Outside the barn is a wooden post with "Pen-y-Ghent" and it's distance written on it, pointing towards the fields. Walk through the gate and head through the fields. We started at 5:45am, so it was still dark and difficult to see the path. Don't worry if this is the case, just head towards Pen-y-Ghent and you can't go too far wrong. Soon after, you'll come across a hard rock path, which leads to Pennine Way. Stay on this until you join onto Pennine Way, where it'll then take you up the path to the summit of Pen-y-Ghent.
The official route takes you up the South side of Pen-y-Ghent, which is the easiest and quickest route, but be aware that as you near the summit there is some rock face you'll need to climb. It's nothing too difficult, or scary. The best way to explain it would be a "rock staircase". You may need to get on your hands and feet to hoist yourself up to the next level, but it's easy enough.
Coming back down is a quick and easy descent and really puts your hike into perspective, as on a clear day you can see the path you'll take once you hit flat ground and your next two peaks in the distance. From Pen-y-Ghent to Whernside you've got a 12 mile walk.
When mapping your route, ensure you follow the trail all the way along and go South of Hull Pot. Most routes take you North West, but the bog in that area is treacherous, with some people saying they've been as far as waist deep in it. The South route of Hull Pot has a few boggy areas, but nothing compared to the old route. Eventually, this will become the official route, so new shingle has literally just been laid down making it nice and easy to follow.
Depending on your pace, after about 1 – 2 hours of traipsing across fields, you'll come out onto Ingleborough Road. The route to it is difficult to explain as it's field after field, but I'll include a map of the route I used so you can see where to go yourself. From Ingleborough Road (changing to Gauber Road further down), you can start to see the Ribblehead Viaduct. You can stop for a quick bite to eat or a cup of something hot at the tea van that parks in the lay-by there. Cross the road and follow the track towards the Viaduct.
Peak #2 Whernside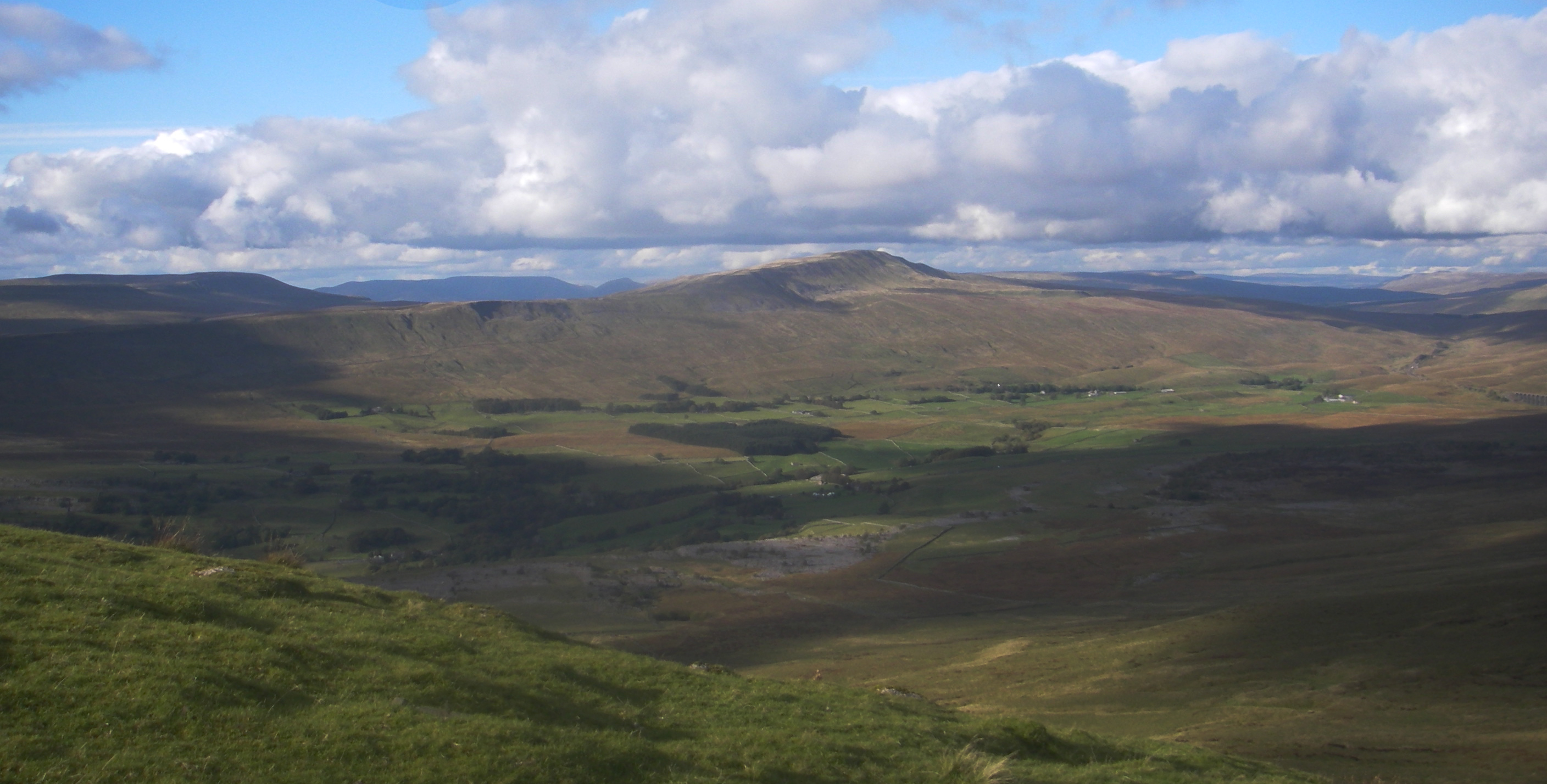 The walk to Whernside's summit is a long tough trek, it feels like it goes on a lot longer than it really does and is probably your first big challenge of the day. But at 736 meters high, it is your highest peak of the three and a good milestone to tick off.
Follow the Viaduct and the railway line all the way along, until a bridge appears for you to cross, just before the railway line disappears into a tunnel. Upon crossing the bridge, you begin the very long and tiring incline to the summit of Whernside.
It's an easy track to follow, although it's rocky and uneven in places, meaning it can be quite hard going on your feet. However, explaining the route is easy because it's one, single track that leads you to the summit, so follow it all the way up. You'll notice eventually you're starting to come back on yourself, as you can see the Viaduct again in the distance.
This is your longest ascent of the three, but it's very much worth it once you get to the top. On a clear day you can literally see for miles. You can see exactly where you've come from and where you've got to go next, as you can see Pen-y-Ghent in the distance and you get the most amazing views of Ingleborough from the top of Whernside.
The descent down Whernside is probably the most difficult, as it's as steep going down as it is going up. However, it feels even more difficult because the whole descent is made up of very steep, narrow and uneven rocks forming "steps". It's tough and really hard going on your legs. Take it slow and don't rush. Because your pace needs to slow down and it's such a tough descent, it does feel like you're making your way down for what feels like an eternity. Eventually you'll come across a few houses which are on flat, even ground so it's a nice, easy going walk for your legs and feet.
Keep following this path where you'll soon end up by the main road, Low Sleights Road. Walk up until you come across The Old Hill Inn, on your right hand side. A little further up from the pub, in the stone wall, is a small wooden gate. Climb through that and walk through the fields towards Ingleborough.
Peak #3 Ingleborough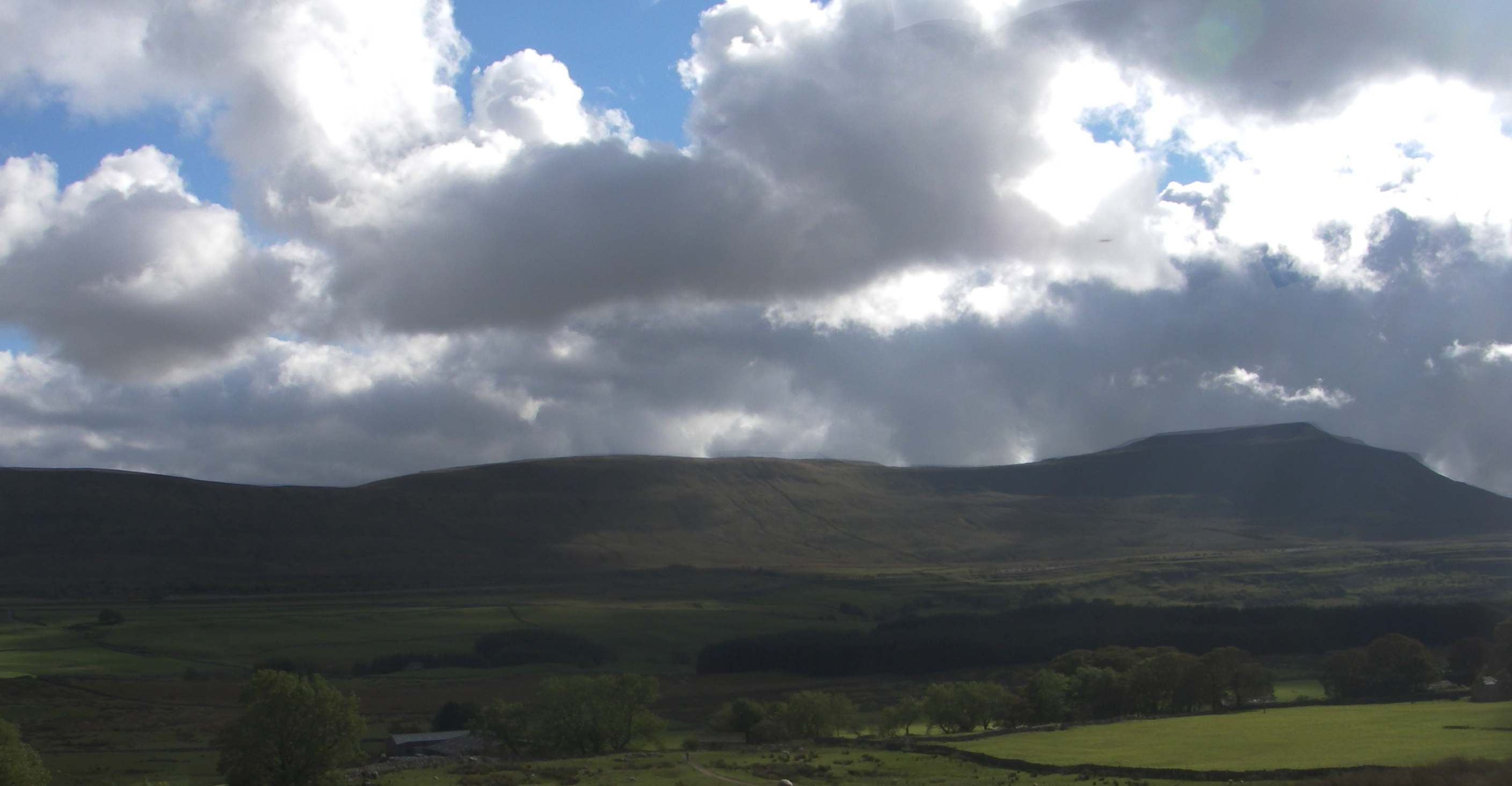 By this point we were starting to dread Ingleborough, despite only being 724 meters high (your middle height peak), it looked so much higher and steeper than the other two, looming over us as we walked towards it. It's a gradual, but steep walk, but I think you'll be surprised by how much distance you can cover when walking towards it.
Keep following the track through the fields, some areas are boggier than others, but unfortunately this can't be avoided. As you get nearer to Ingleborough there are slab steps, which have been placed to avoid waterlogged areas, though sometimes these can be submerged too.
Much like Pen-y-Ghent, you may have be prepared to get back on your hands and feet and scramble your way to the top. It's really tough going, but keep focused and watch your footing. There's a small waterfall which runs down Ingleborough and can make the rocks slippery, so just be careful.
Once you get to the summit, you can see the whole circuit before you. From Pen-y-Ghent, across to Ribblehead and over to Whernside. You can see everywhere you've walked, allowing you to take it all in.
The last 5 miles or so back to Horton will be, without a doubt, the worst part of the challenge. Your legs and feet will probably be aching and exhaustion may be starting to set in. It seems further than the sign posts are telling you, but keep at it. Much like your previous two peaks, it's a single track back down, which takes you straight back to Horton.
I hope this has maybe helped some of you who are looking for information on your Yorkshire Three Peaks route. It's an incredible experience and an amazing challenge. Living down in the South of the UK, where it's pretty much flat, it was great to push ourselves up each of the peaks and learn how far we could push ourselves to. It really is an amazing challenge and I'd recommend it to anyone. It's definitely a box ticked off on my bucket list now and it wasn't even there to begin with! The Three Peaks Challenge definitely left an impression on me.
---
If you want to view the route we took, you can view it here.