So a bit of a delayed post here, but for my birthday (back in April), Oli booked me a surprise 2 days in London, and then more recently for his birthday in June, I booked us a weekend in London for him as a surprise. That either makes us really unimaginative as a couple, or obsessed with the city. I choose the latter. We both had amazing birthdays in London, so if you're looking for some weekend in London ideas, here's a wrap up of what we got up to.
Weekend 1
So the first weekend we spent in London this year was for my birthday. We drove up and found a car park just outside the congestion zone, so we could save on that and parking is also cheaper outside the zone, so double win.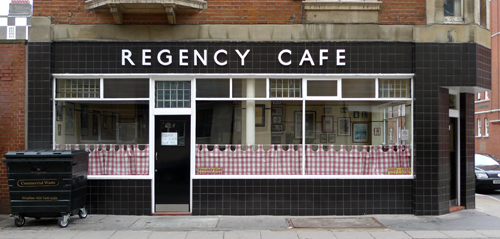 We walked to the Regency Cafe, near Victoria Station, which you may have seen me talk about before. It is our favourite breakfast place in London; a typical British greasy spoon and I love it. The breakfast's are delicious at non-inflated London prices.
Feeling happy and full we took a stroll from the cafe towards the general Piccadilly area, which is where our hotel was. We stayed at the beautiful 'Piccadilly West End Hotel'. The location was perfect for us and they also served a glass of champagne on arrival for us, which I thought was a nice touch.
The staff were super lovely and friendly. Oli had dropped the hotel a line a few days before and mentioned we were staying on my birthday, so they very kindly upgraded our room as surprise.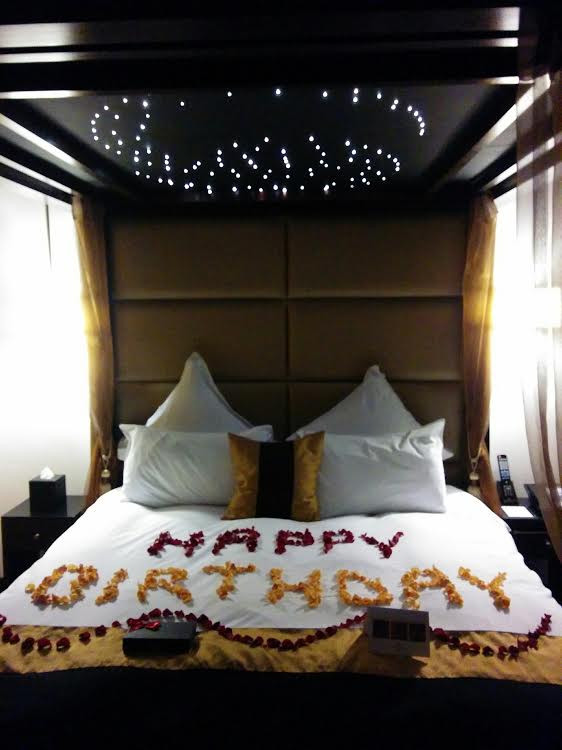 We had a super comfy four-poster bed, with LED starlights in the roof which twinkled and could change colour. They also gave us some chocolates and spelt out happy birthday for me. The hotel was generally fab all over and we had a fantastic stay there.
We were lucky with the weather, it was a beautiful, hot sunny day in London, so we headed on foot for a wander. We ended up in Camden for a change – somewhere neither of us had been since we were in college – and enjoyed the sun, nosing round the market and the lock. By the time we'd had breakfast that morning, checked into the hotel, walked to Camden and spent some time there, the day was quickly disappearing, and Oli had booked some bars for the early evening onwards, so we back to the hotel we went to freshen up.
Fast forward a good 1 – 2 hours, and we were back at the hotel, showered, washed and refreshed. Our first booking for the evening was a fab little rooftop bar in Shoreditch called Boundary. We got there around 5:30pm/6pm, but unfortunately you can't book a table unless you're eating (which we weren't). The girls at the desk informed us no tables were free, but to come back in about 40 minutes and advised us of a couple of some great pubs to try in the meantime.
We headed around the corner to The Crown and Shuttle which was a great find! It was mid-week and after work, so the place was full of local workers. It has the typical industrial look you expect in Shoreditch, beautiful bare brick walls, high ceilings, oozing atmosphere and character. It's also massive! And has a great back garden area – very hiccaldy piccaldy, and has a small terrace area, technically made out of scaffolding, and big enough to fit about 10 people. We managed to get a table and some seats up there, so sat there happily drinking and people watching. I definitely recommend this place!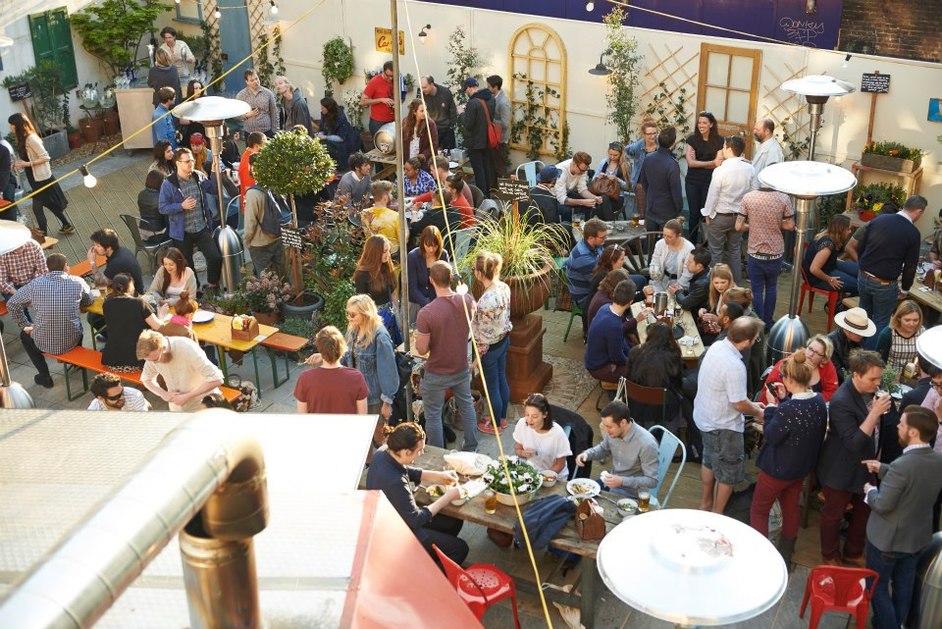 We had 2 rounds in this place, before deciding to head back to Boundary and try our luck again. Turned out luck was on our side and a table for 2 had freed up. We caught the lift up to the rooftop garden and had a table in a sunny spot. We happily enjoyed some cocktails while the sun was setting, taking in the atmosphere and the Shoreditch views. The waiting staff were pretty vacant and non-committal from what I remember… but you don't go to places like this for the service. It's all about the location and surroundings.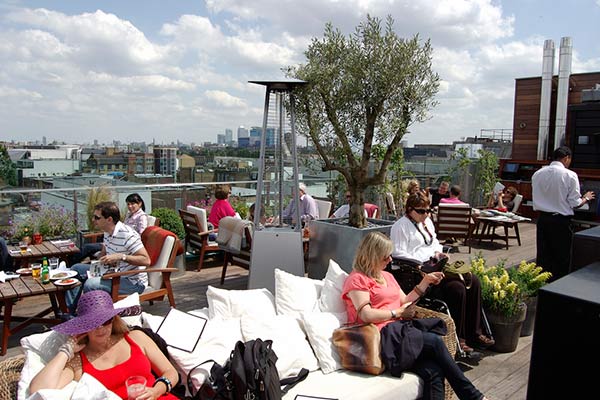 We're big fans of a rooftop bar, so this was right up our street. We had about 2 cocktails each, before leaving to go out for dinner which I was super excited about! For months and months, we had talked about going to The Blues Kitchen, but either it was fully booked, or we just had no reason to be in London. Fortunately Oli had booked us a table for my birthday and it was probably the best meal I've ever had in London.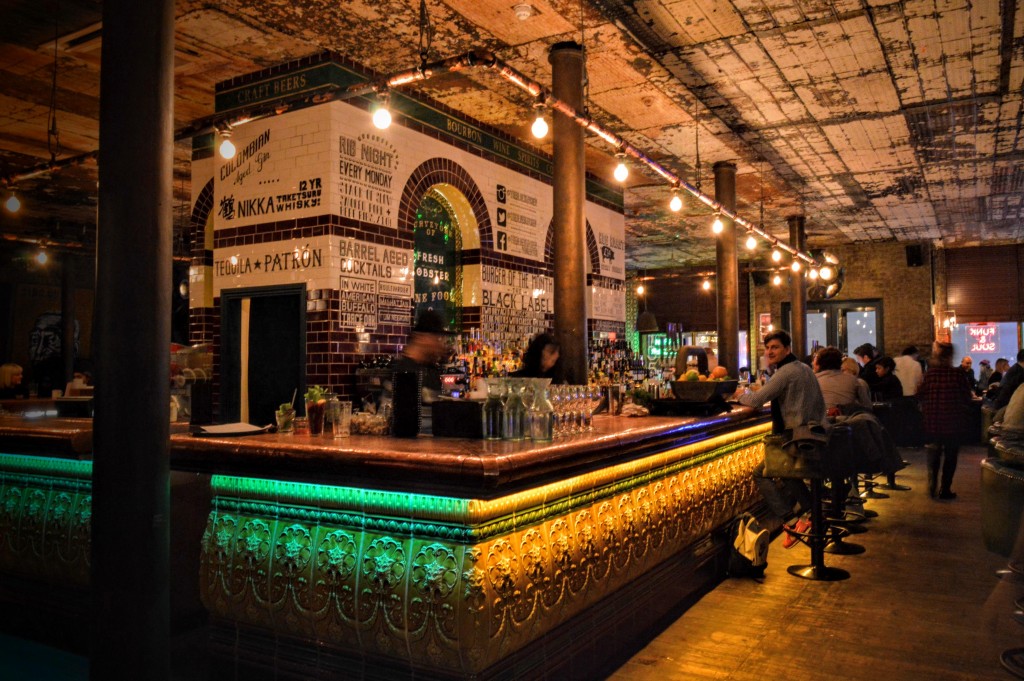 The decor is beautiful inside and they offer the most amazing three meats menu. You can order up to 3 different types from the menu, all come with fries / sweet potato fries and it is all so delicious! And huge portions. We both ordered the 3 meats, which between us ranged from ribs and pulled pork, to brisket. They also have a super well stocked bar and a 4 pages whiskey menu, which Oli was super excited about!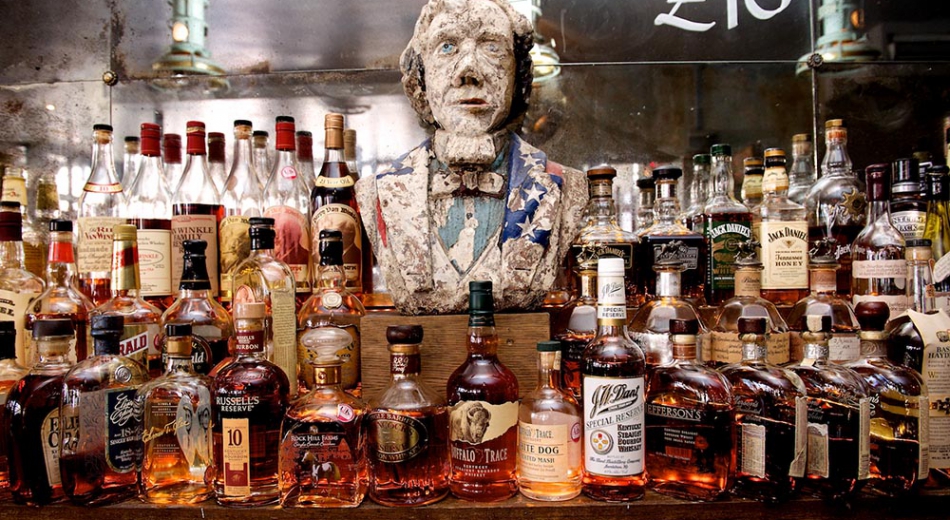 We were at The Blues Kitchen for a good couple of hours and then headed round the corner to a cocktail bar called Callooh Calley to (almost) finish off our night.
The bar was great, with different themed bars in different rooms. Our table was in their back bar, accessible only via a wardrobe door. The menu's are also a pretty cool concept; they're sticker books and when you order a drink you receive a corresponding sticker. The aim is to fill up the menu with all the stickers available for a prize at the end!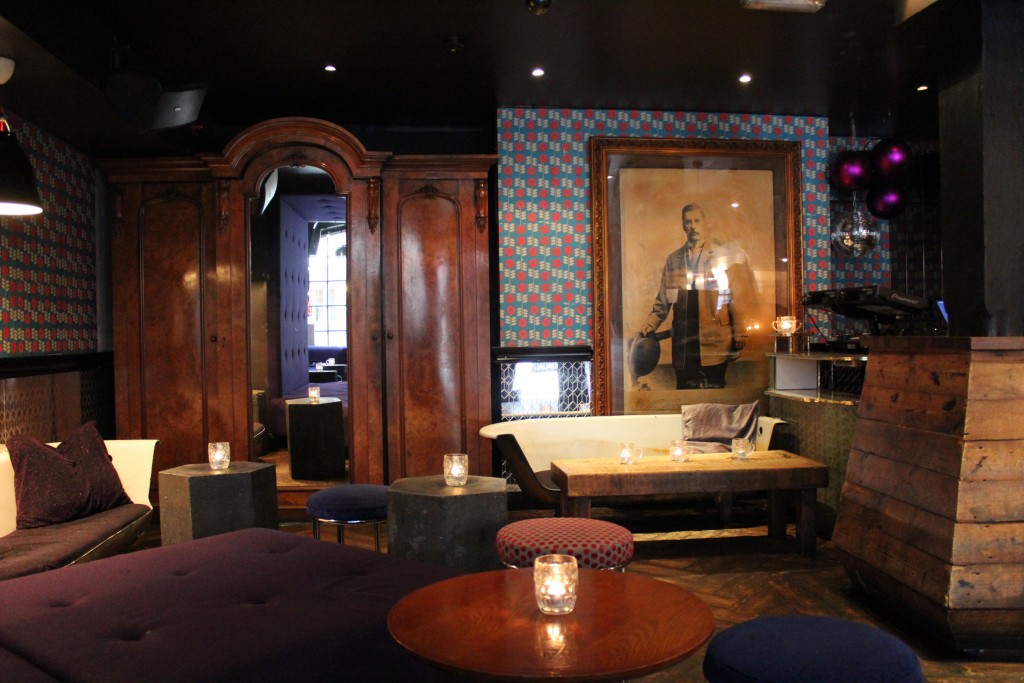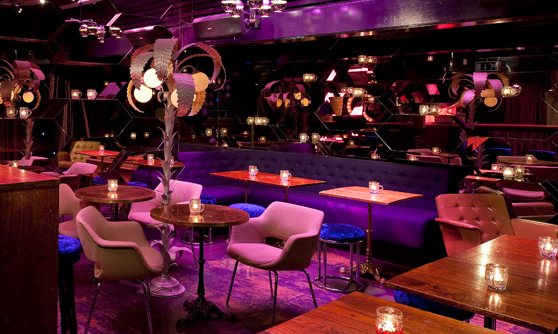 It was getting late and Oli still had one more thing up his sleeve… tickets to Ronnie Scott's Jazz Club. Something we had also been talking about for ages, but never got around to going.
We caught an Uber back to Piccadilly and arrived in time for the late late show, which Oli had booked. We arrived early enough we had our pick of seats, so we sat on the middle level, close to the front so we had a great view of the band. The interior was perfect and just how I imagined it would be, cute little table lamps are the only source of light and discrete waiting staff take your drinks orders. It's cosy, intimate and perfect. There was a jazz quartet playing that night and it was the perfect way to wrap up my birthday.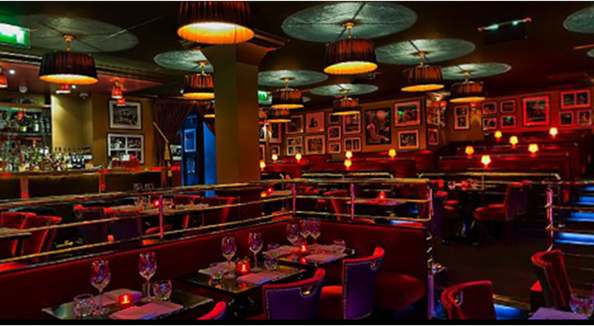 We stumbled back to the hotel and fell asleep in minutes in our super comfy bed. In the morning we only had time for breakfast, which was included at the hotel, before we had to leave and head back home. But I had the best birthday and can't wait to head back to Ronnie Scott's again for an evening.
Weekend 2
So back in July I booked Oli's birthday present, which was a weekend in London. As you may have seen in the post above, he's a big fan of whiskey, so the whole reason this weekend came about is because I wanted to take him whiskey tasting…and so a whole weekend evolved.
As per before, we parked outside congestion zone and walked / tubed everywhere we needed to go. It was a boiling hot July Saturday, so we walked to Little Venice for some breakfast. I had never been to Little Venice before, or really heard of it either, but it was worth the visit. It's such a lovely, quaint part of London. The atmosphere is totally different and we found a great little place for breakfast – Molly's. It's just a little high street cafe, but the food is great, as is the service. We had a table outside and sat in the sun.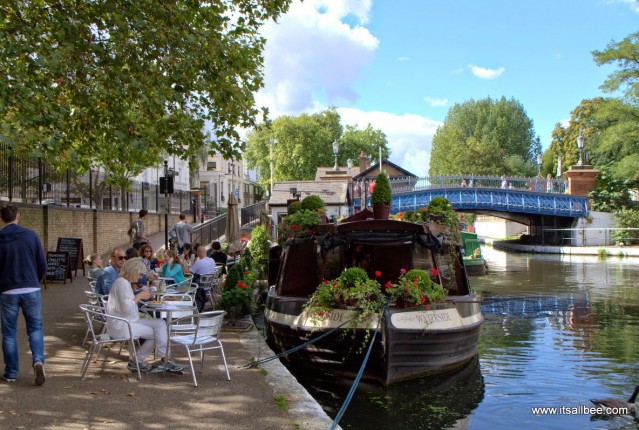 We spent a bit of time exploring the area and walking down breakfast, before catching the tube over to Tower Hill area where I'd booked us a room at the Apex City of London hotel. The staff were amazing during our stay, really friendly and helpful, and picking up a few tips from Oli, I emailed in advance to say we were staying for his birthday. They upgraded us to a lush room on the top floor, with a balcony overlooking Tower Bridge.
Our first activity for the weekend was booked just after lunch, so we caught an Uber over to the East London Liquor Company for some whiskey tasting!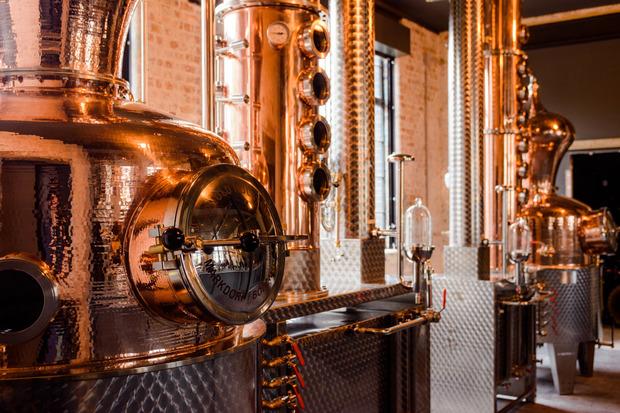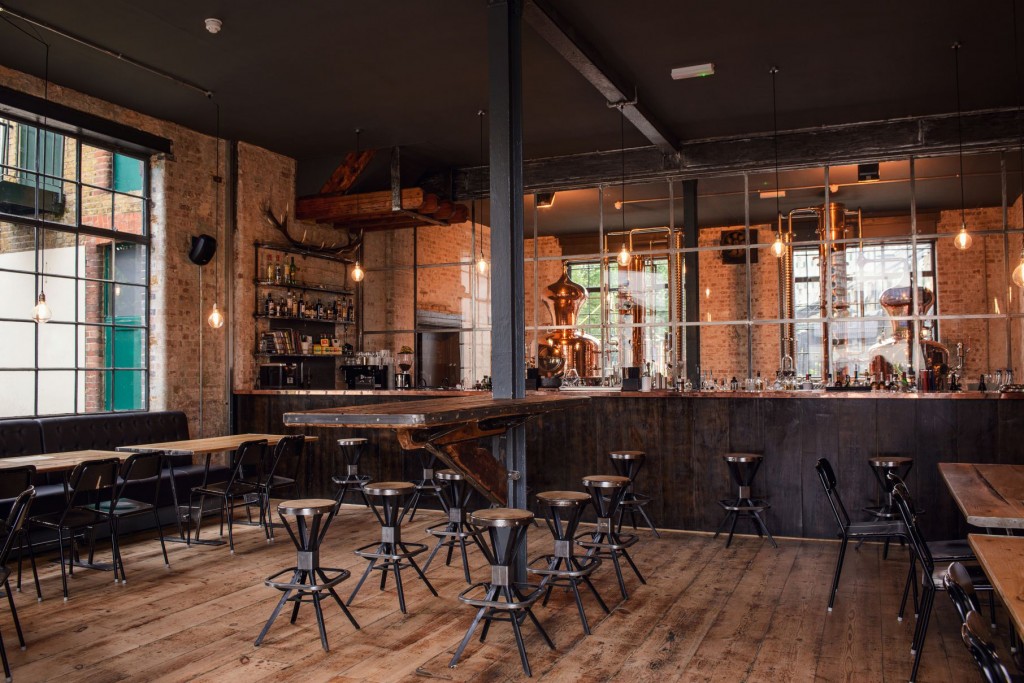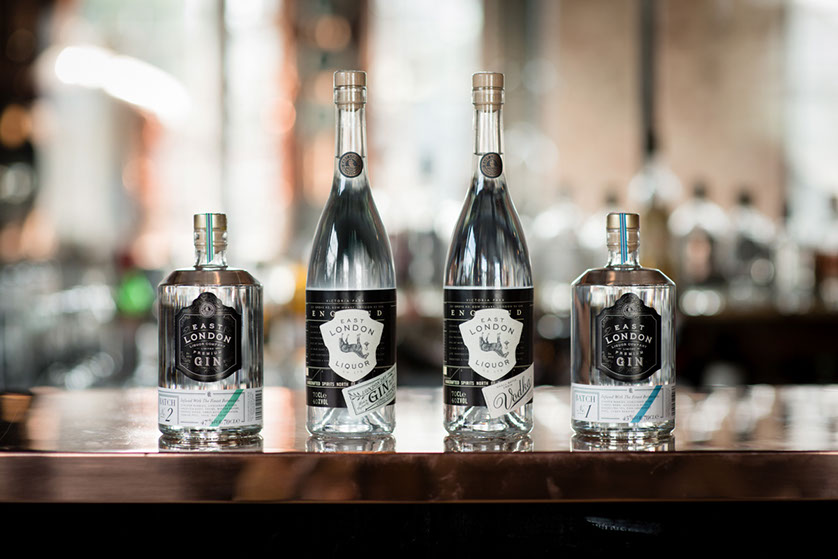 Set in an old warehouse / factory (I won't tell you what the place used to be used for in case you do the tour), it has the perfect industrial feel for a somewhat new start-up distillery. The place is only small, but it's enough for them. The tour consists of their main distillery room, where our guide covered off their 2 main stills, one for whiskey and 1 for gin and vodka. She explained their distilling process and how they have made their first ever whiskey batch, which is currently in barrels and will be until 2018!
We went through into the bottling room, where she explained the next part of their process and then we went down into the cellar where their barrels of whiskey are currently being kept.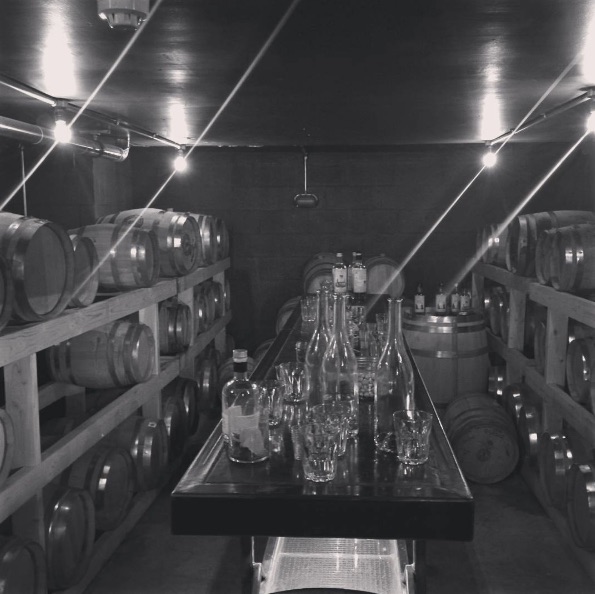 In total we got to try 3 American Whiskey's which they had imported from a recent 'business trip' out there, 2 of their rums and 3 of their gins – oh and we were also served a whiskey based cocktail of our choosing on arrival, which was a nice touch. So all in all we kept pretty well watered! The tasting was great fun though and we learnt a lot. The tour lasted about 2 hours, including the tasting, so it was a great way to spend a Saturday afternoon.
After a 'pre-evening out nap' back at the hotel, we got ourselves ready and refreshed and headed out to one of the first bars I had lined up for us. Our hotel was kind of on the border of Tower Hill and Shoreditch, so it was in perfect walking distance to everything I had lined up.
The first place was a rooftop bar called Sushi Samba. Within the Sales Force / Heron Tower (whatever one you want to call it), it doesn't have a massive terrace, so you have to get there early to ensure a comfortable space by the bar. But in a way the size made it more enjoyable; it's not at all obvious it's there – no signs on ground level and you certainly couldn't see it looking up from street level, so we felt completely tucked away and just enjoyed the samba music playing, drinking cocktails in the sun.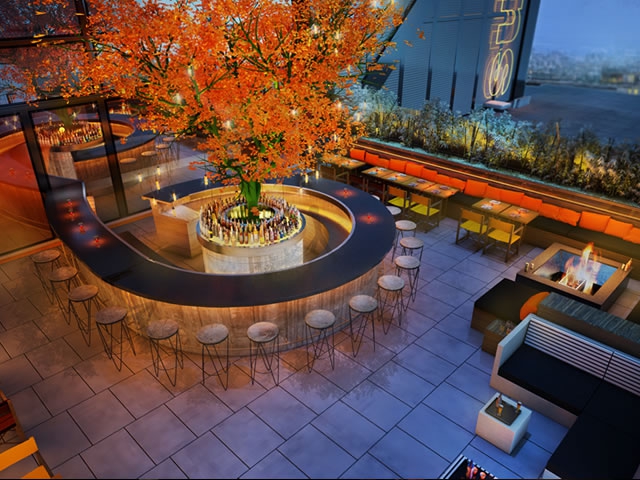 I wasn't expecting us to enjoy Sushi Samba as much as we did, it was a real surprise, so we stayed here for a lot longer than planned – about 3 or so rounds later. The drinks also weren't that expensive; about £10 or so for a cocktail, which we thought was reasonable for a central location, in a rooftop bar, in London. All things which usually equal premium prices.
By about early evening we were feeling peckish so we headed off to Dinerarma for some dinner – about a 10 minute walk away from the bar.
Dinerarma is a place I actually booked for my work's staff Christmas party this year. When I went to visit back in May for a showaround before booking, I fell in love with it so much I knew I had to take Oli and he would love it too!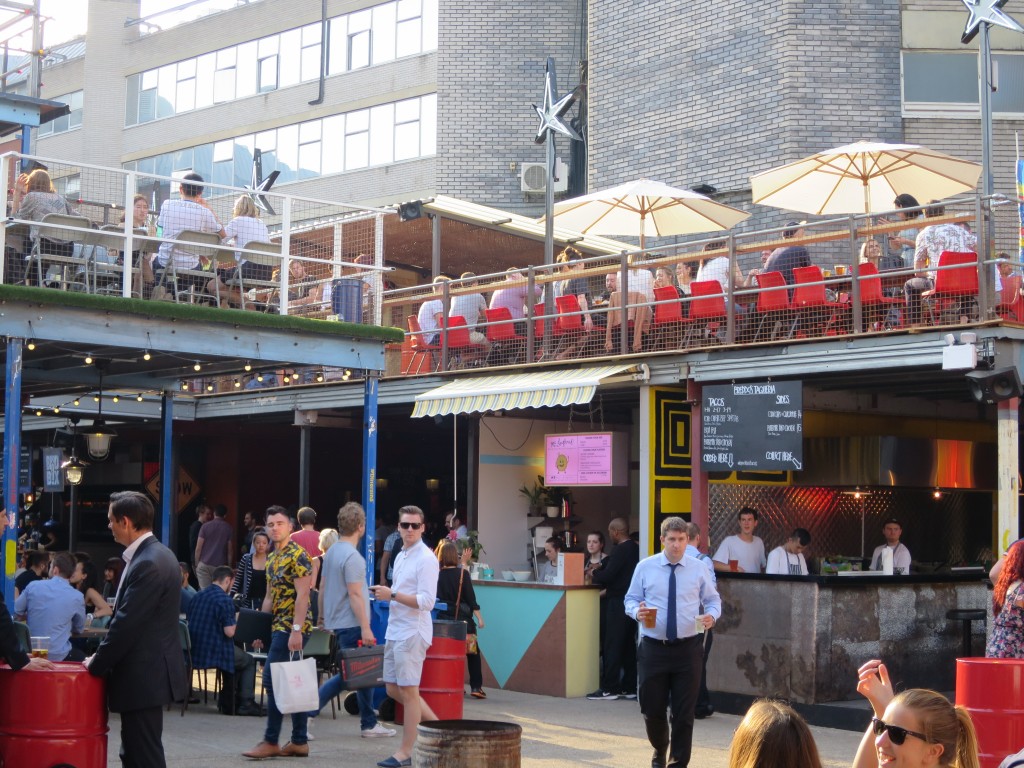 The place is basically made out of old steel frames and storage containers and is unlike anywhere I've been before. The upstairs has a couple of bars, while the downstairs is full of different street food vendors which line the sides of the space downstairs. You can have thai, pizza, burgers, donuts anything! There are also a couple more great bars downstairs too; one in particular was a kind of 80s themed bar – lots of loud colours, Wham! artwork on the walls and fantastic cocktails!
The food was fantastic too, we both had a couple of thai dishes, I then went for a brisket burger, while Oli went for homemade pizza. Dinerarma is honestly amazing, I can't wait to go back for Christmas! They also totally redo the place for seasons – so in the summer it's all open plan, but in the window they seal the windows again, put the roof back on, and transform the upstairs bars into something more wintery feeling (one is an alpine lodge theme, the other like a 1930s cocktail bar), while in the summer they're all open and a more summer-drinking / garden party kind of vibe.
You can get in for free before 8pm I believe, but then they charge on the door after this.
We left somewhere around 9pm, keen to continue with our bar crawl, no matter how much we loved Dinerarma. I'd booked us a spot at a local rooftop bar called Golden Bee. However we were more in the mood to continue chatting and drinking, whereas Golden Bee had turned into a mini nightclub. It was completely rammed, I felt suffocated in the hot London heat. I'd requested a space on the top terrace, and despite having my name on the list, it didn't actually get me onto the top terrace. Feeling hot, flustered and frustrated we left.
However I had one other place up my sleeve, which was nearer to the hotel, so made sense to start heading back that way.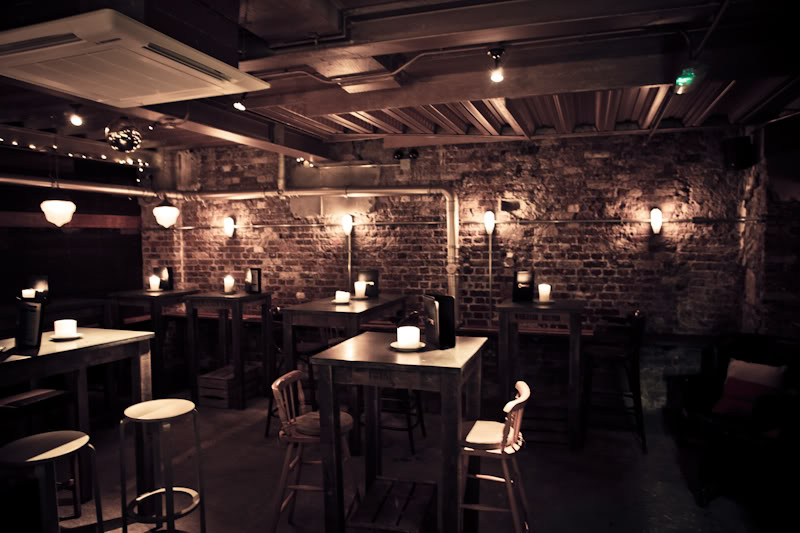 The place was 'The Mayor Scaredy Cat Town'. Random name right? But the place is amazing! Inside what appears to be a normal looking cafe, you tell the waiter "I'm here to see the Mayor". They seat you for a couple of minutes and then take you over to Smeg fridge, which you walk through into the downstairs bar. This has instantly become my favourite bar in London!
We had a quiet table in the corner of the room and ordered our drinks. The service was pretty slow, but every table was occupied and we were so busy talking we didn't really realise how long we'd been waiting. The atmosphere was great, as were the drinks and music. When we leave, we head up a separate staircase which takes us out through the toilet door on the main cafe floor, so people don't catch on to people walking out of a fridge. This was a brilliant find and I will definitely be heading back next time I'm in London!
In the morning we headed to the cutest place called 'My Tea Shop'. It's literally only big enough to hold about 6 people if you want to sit down and eat. It's built within the bridge arches, and they serve great food and really great prices! The place was also filled with weekend workers – buildings and underground drivers – a lot of who seemed to be regulars, chatting and catching up with the staff in the cafe. We had a delicious breakfast and were set up for the rest of the day!
We decided to walk our dinner off and headed to the next thing I had lined up for Oli's birthday. He had always mentioned wanting a cut-throat shave, especially when we were in Turkey, but never got round to it. I'd seen Ted Baker had set up 'Ted's Grooming Room', which is basically their take on a British barber, offering haircuts and shaves. I booked Oli in for a 'Tommy Turkish' which is traditional a cut-throat shave, followed by this weird thing where they set fire to a piece of cotton wool (?) and it burns the hairs off your ears (I believe?). The guy was great in there and making lots of jokes about how this was his first ever shave to someone (he had actually been doing it for 20 years). It was a great experience and Oli loved it!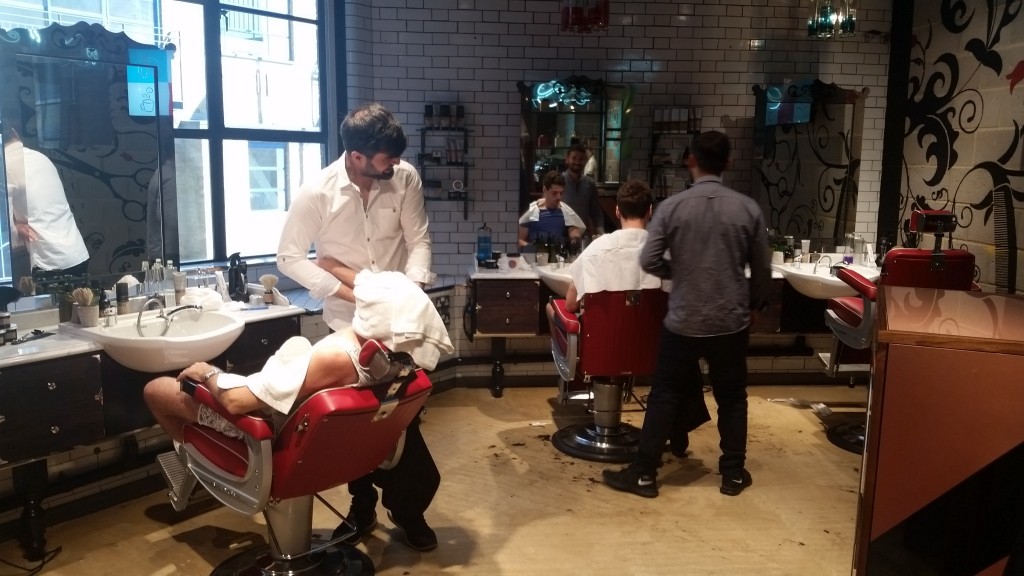 We spent the rest of the day exploring Shoreditch and Box Park, before getting an early dinner at Blues Kitchen, as it's Oli's favourite place.
We had the best couple of weekends in London, and I hope if you're planning a trip this has given you some weekend in London ideas. I have some new favourite places and I can't wait to go back!