Renowned for some of the most beautiful and exquisite beaches and islands in Thailand, Krabi boasts a selection of over 200 islands to visit, each offering its own unique character and natural beauty. Many of these islands feature pristine, untouched white sandy beaches, and crystal clear waters straight out of a magazine. While others are slightly more built-up and available for overnight stays. It seems obvious then that one of the most popular activities you can do in Krabi is hire a boat and go island hopping for the day.
Among the myriad of tropical paradises to choose from off the coast of Krabi (all accessible from Ao Nang Beach) are the stunning fab-four: Poda Island, Tup Island, Chicken Island and Phra Nang Beach – no more than a 30 minute boat ride away at max, making them an ideal choice of a day of exploring.
Island hopping the 'fab-four' islands from Krabi
You can visit any of these islands individually by paying for a longtail boat from Ao Nang Beach. A return trip will cost you an average of 300BHT – the boat isn't private, so you'll need to wait for others to turn up before you can head off. These islands are very popular with day trippers though and it won't take long before you're all boarded and on your way. The islands are in a protected National Park, and you will have to pay an additional fee once you arrive (roughly 200BHT). While booking a longtail boat directly gives you the flexibility to spend your day how you like and spend as much time on each island as you like, you won't be able to do all 4 in a day this way, unless you charter a longtail privately.
The best way to see all 4 of these stunning islands in combination, is via an organised island hopping tour. We booked with Thalassa Tours during our time at Krabi, and we could not recommend them enough for this day trip. There are plenty of other companies who offer this island hopping day, but I have added further details about Thalassa Tours at the bottom of this post.
Poda Island ("Ko Poda")
Whether you have booked a longtail boat to explore these islands yourself, or if you've booked with a company, the likelihood is that you will depart from Ao Nang, and your first visit will be to the tropical paradise of Poda Island ("Ko Poda", in Thai), a hidden oasis known for its powdery white sandy beaches and turquoise waters. From here you can look back to the dramatic limestone cliffs of Krabi, plus the smaller islands and karsts which dot the horizon.
After a short boat ride across the Andaman Sea, we arrived and were in awe of the stunning scenery surrounding us. This is usually a popular tourist hotspot, with lots of tours visiting the island, but Thalassa timed our visit to be after all the rush of the other tours so we got to enjoy the island all to ourselves and take in the beautiful natural scenes without any interruptions.
The beach is fringed with soft leafy trees, providing some much needed natural shade from the intense heat of the sun. The waters are also calm and shallow, ideal for swimming, paddling, or some snorkeling if you've brought some gear with you to watch all the beautiful, vibrant marine life.
We had ample time oh Poda Island, sitting on the beach taking in the views and playing in the beautiful blue ocean. While sitting on the beach, our guides cooked us an incredible Thai buffet, consisting of vegetable spring rolls and a light Thai curry. There was more than enough food for all of us, and they very kindly catered to everyone's dietary requests, whether veggie or meat eaters.
As part of a tour, you can comfortably spend an hour here, sunbathing or taking a stroll along the beach. But if you choose to come here independently you can of course make the most of the day sunbathing and relaxing in the beautiful surroundings before the longtails have to head back (usually about 3/4pm).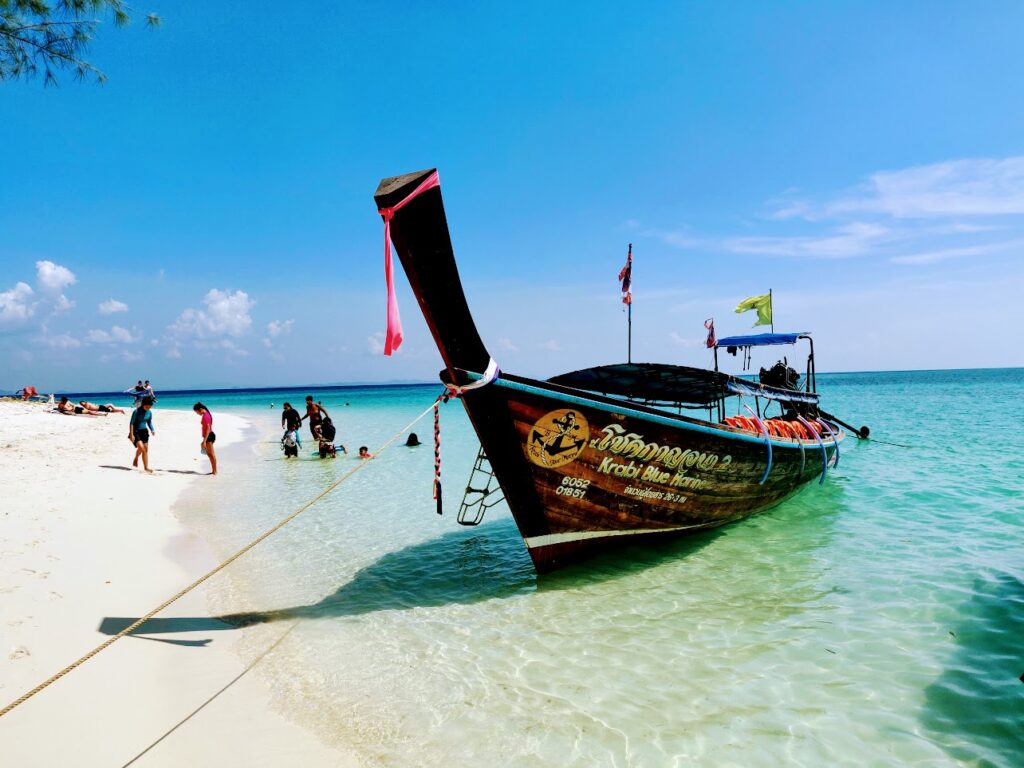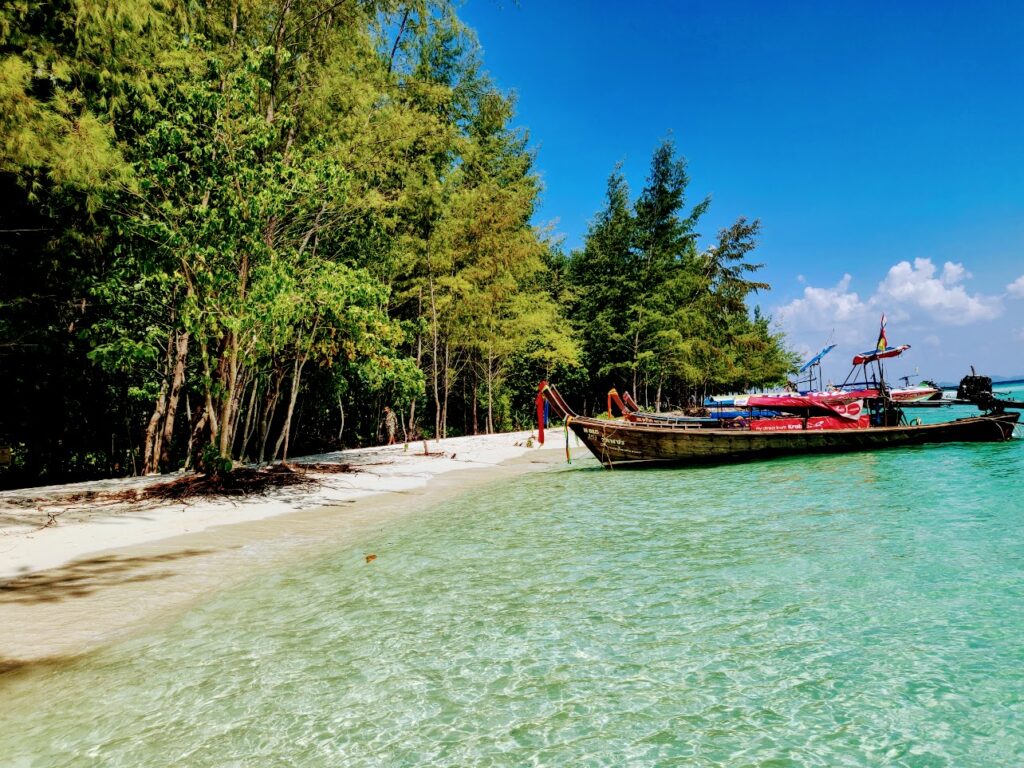 Chicken Island ("Koh Gai/Kai") & Tup Island ("Koh Tap / Koh Thap")
Next, we hopped back on the longtail to near-by Chicken Island, named as such due to the unusual rock formation at the end of the island that looks like a chicken's head (of course). If you are visiting here independently, on a different day to Ko Poda, then you will have to pay the entrance fee to the National Park again.
Once you've arrived, you can again take a swim in the beautiful clear water, or enjoy some time sunbathing along the island's soft sandy beach. Taking some much needed downtime on these islands allows you to truly take in and appreciate the dreamy scenery around you.
During low-tide, there is a sandbank, also known as "Tha-le Waek" (separated sea), which connects Chicken Island to Tup Island. It's not recommended you attempt to make the crossing during high-tide because the currents can be very strong, but National Park employees will stop people from trying to cross at high-tide anyway.
There are also some lovely leafy spots on the beach, so you can relax in the shade if the sun gets too much. It's not possible to walk to the chicken-shaped formation (this is only viewable by boat), but you can however walk up to a beautiful viewpoint which is well worth doing, looking over Tup Island, and back towards Ko Poda and Krabi.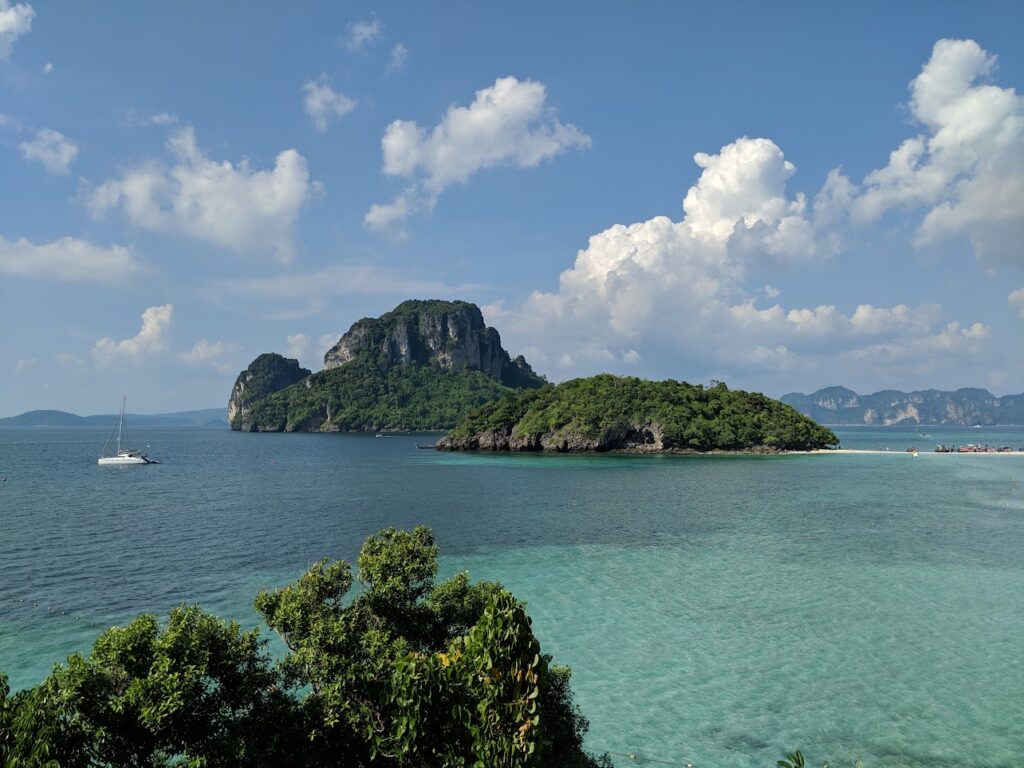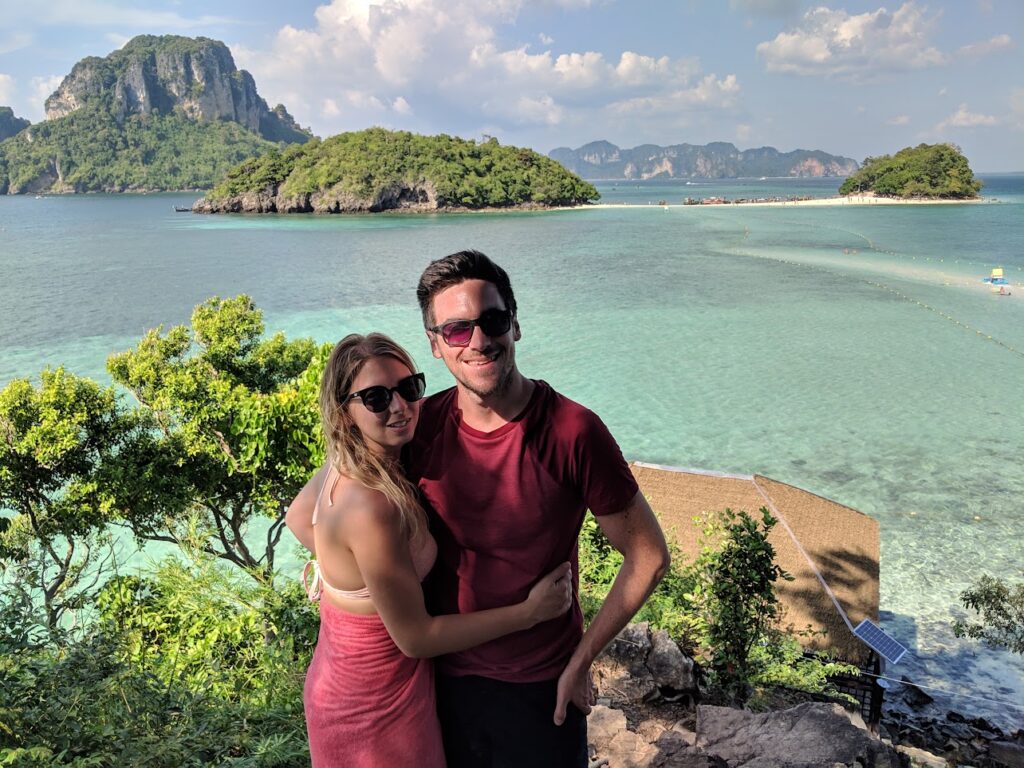 We loved our time on Koh Gai and spent about 45 minutes enjoying the views and surroundings of the island, before making the short crossing over to Tup Island. There is another small sandbank here which splits Tup Island in two, and if the tide is out you can spend the day sunbathing on this sandy strip or swimming in the turquoise waters. If you time it right, this can be another serene slice of paradise, but during the peak of the day, it is highly popular with tourists and you can expect this tiny slice of beach to be very busy. We had been lucky with Thalassa's timings and were behind the curve of tourist traffic for our previous island visits, but we caught up with the tail of tourist groups at Tup Island. That said, there was still plenty of space to relax and enjoy some peace and quiet, admiring the ocean view out to the horizon.
Keep an eye out for naughty monkeys here! A couple who were sat near us were enjoying a swim, when a monkey took a liking to their bag and riffled through their things! Keep your belongings secure and your wits even closer to you, as monkeys can bite and be dangerous. Someone made a false lunge at the monkey hoping to scare it away from the bag only for the monkey to lunge back at him! Not much more you can really do at that point but hope he gets distracted by something else and doesn't steal too much from the bag!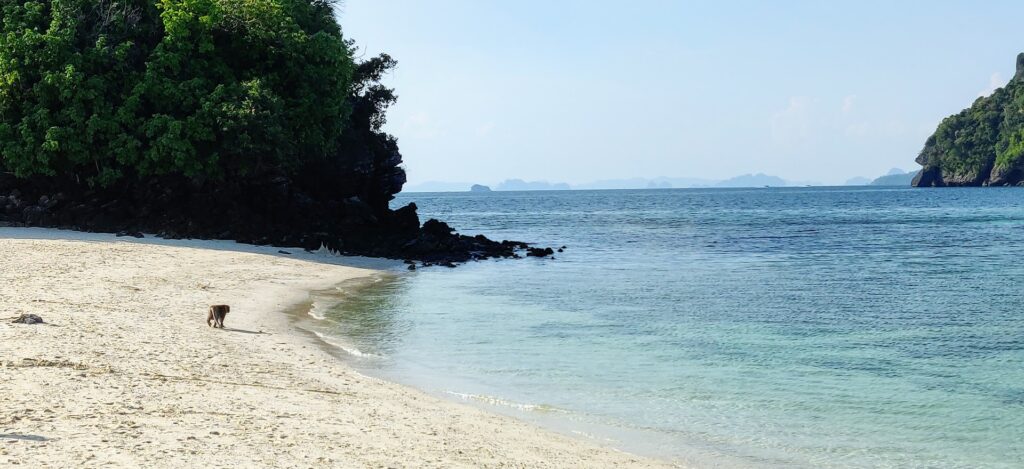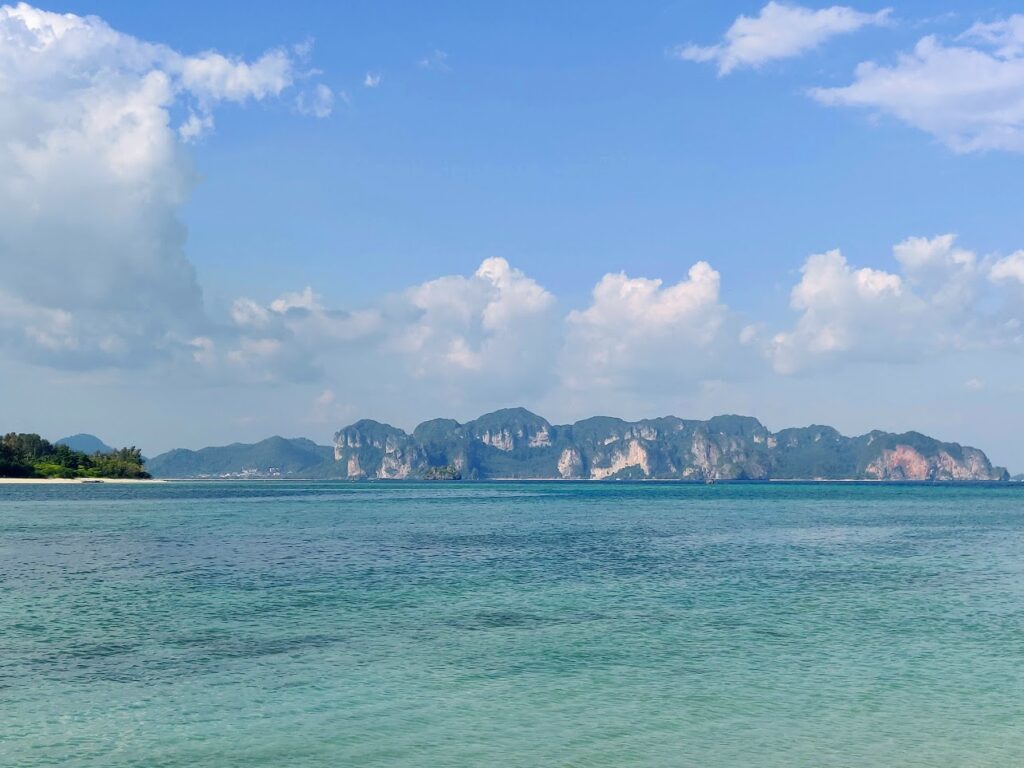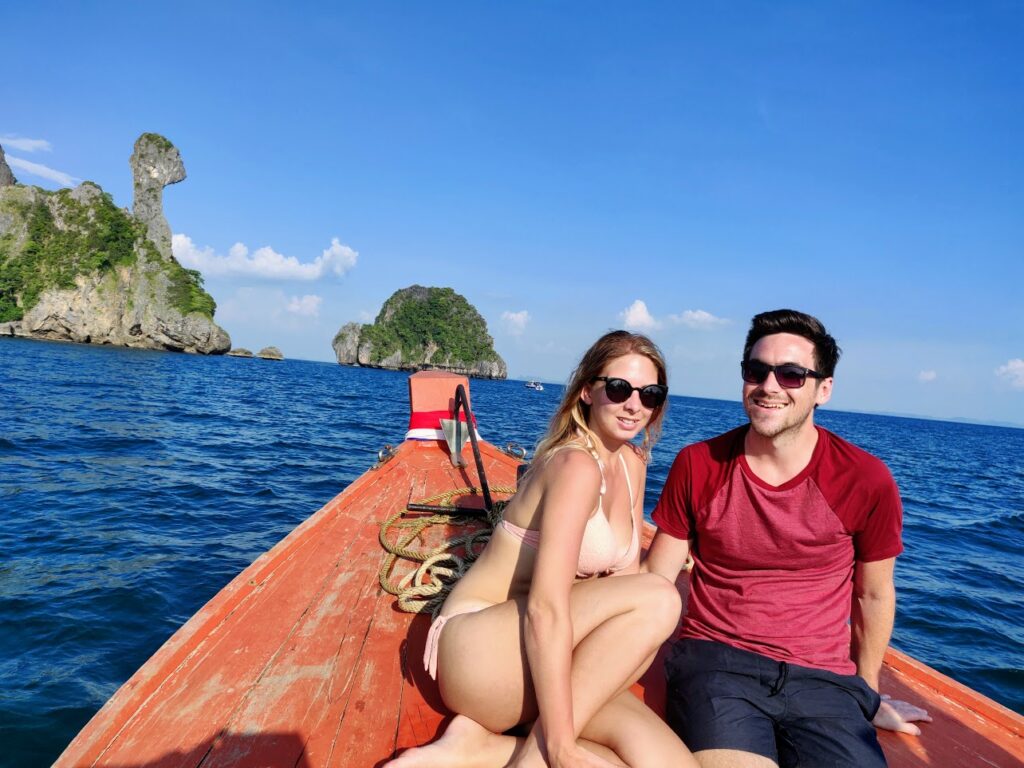 Snorkelling at Koh Sii
As a group we didn't spend loads of time at Tup Island. It is the smallest of the 4 islands and the busiest by this point. We were also coming up to mid-late afternoon and I think many of us had had our fill of baking hot sunshine for the day. We boarded our longtail again and headed back on ourselves, past Chicken Island, where we could see this famous formation.
We carried on past Chicken Island towards Koh Sii,  a renowned diving and snorkeling spot, with translucent water, excellent visibility and a variety of colourful fish and coral. Many organised tour companies include snorkeling as an extra activity when you book a 4 islands tour with them. Due to its distance away from Krabi, I'm not aware of any hired longtails that offer this as an option.
We arrived at Koh Sii and were handed our snorkeling gear each. We hadn't done any "proper" snorkeling before where you could see marine life and we were excited to get going. Koh Sii is 15-18 meters at its deepest and this clearly provides the optimum conditions for all manner of marine life, from hard & soft corals, to seahorses, starfish and clownfish. The water was teeming with activity below us and it was amazing to bob around and watch them all from above. The time flew by here, it was so much fun, and we must have spent about an hour snorkeling and admiring all the marine activity.
Our day was sadly drawing to a close, and we sat and admired the evening sun as we set sail back towards Krabi. However, we still have one more island to visit as part of the tour.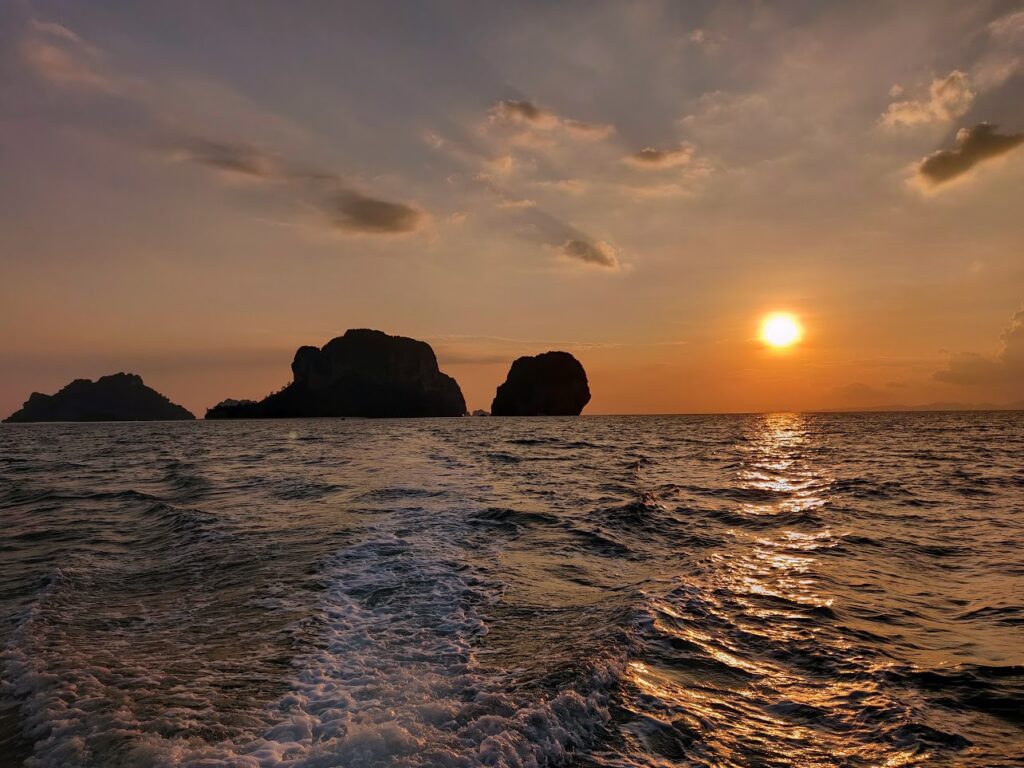 Phra Nang Beach
Although attached to mainland Krabi, it is called an island by locals because it is only accessible by boat, with the beach framed by dramatic limestone cliffs and caves, synonymous with Krabi.
This beach is famous for its striking natural beauty, enhanced by the incredible cliffs and caves that sit on the beach – particularly "Princess Cave", which houses a variety of phallic symbols, in honour of the goddess of fertility. We arrived just in time to catch the sunset, and we sat on the beach's golden sands and admired uninterrupted views of the sun setting in front of us.
Even if you don't come here as part of an organised tour, Phra Nang beach should definitely be on your visit list. With it's dramatic background, pristine beach, mysterious caves and aqua waters, Phra Nang is easily one of the most beautiful beaches in the area. It was our favourite out of all the islands and beaches we visited, and we're so glad we were able to end such a fantastic day here. Truly ending it on a high! If you're visiting independently you can grab a longtail from Ao Nang Beach for about 100BHT each way, and the trip should take no more than 15/20 minutes, as Phra Nang can be found just further up from Railay Beach.
Our guide cooked us all dinner on the beach as we sat and watched the sun set. If the sunset wasn't enough evening activity, if you're on the beach at this time you'll also be able to watch all the bats flying out of the limestone cliffs and fluttering amongst the jungle fauna. It's an incredible spectacle and although purely coincidental timing was a massive highlight of the day for me.
The final part of the day involved some night snorkeling to witness the natural phenomenon that is bioluminescent plankton! Until booking this trip I had no idea this was a thing, but what an amazing thing to witness! This type of plankton produce their own light from chemical reactions that happen when moving. As we bathed in the sea, moving our hands in front of us, the water would react and light up in front of us. We absolutely loved it!
This sadly concluded our relaxing but somewhat action-packed day. There is so much to see and do around Krabi, but booking an island hopping tour really does allow you to experience the diversity of landscapes and the underwater wonders that make Krabi such a paradise for nature and travel lovers.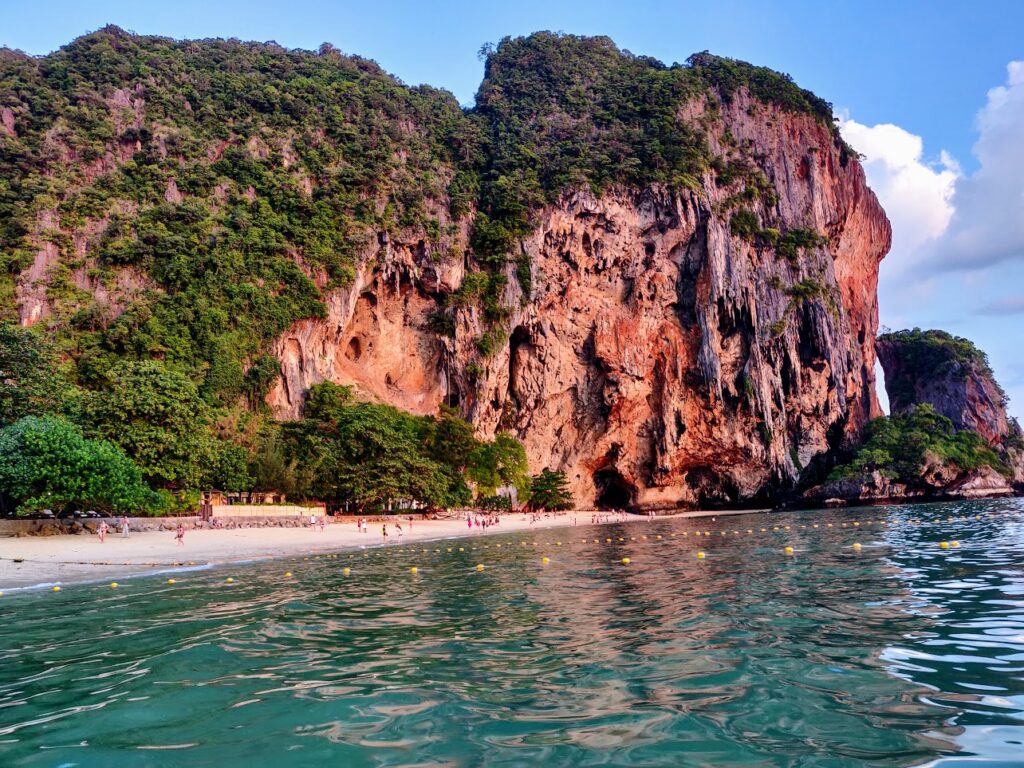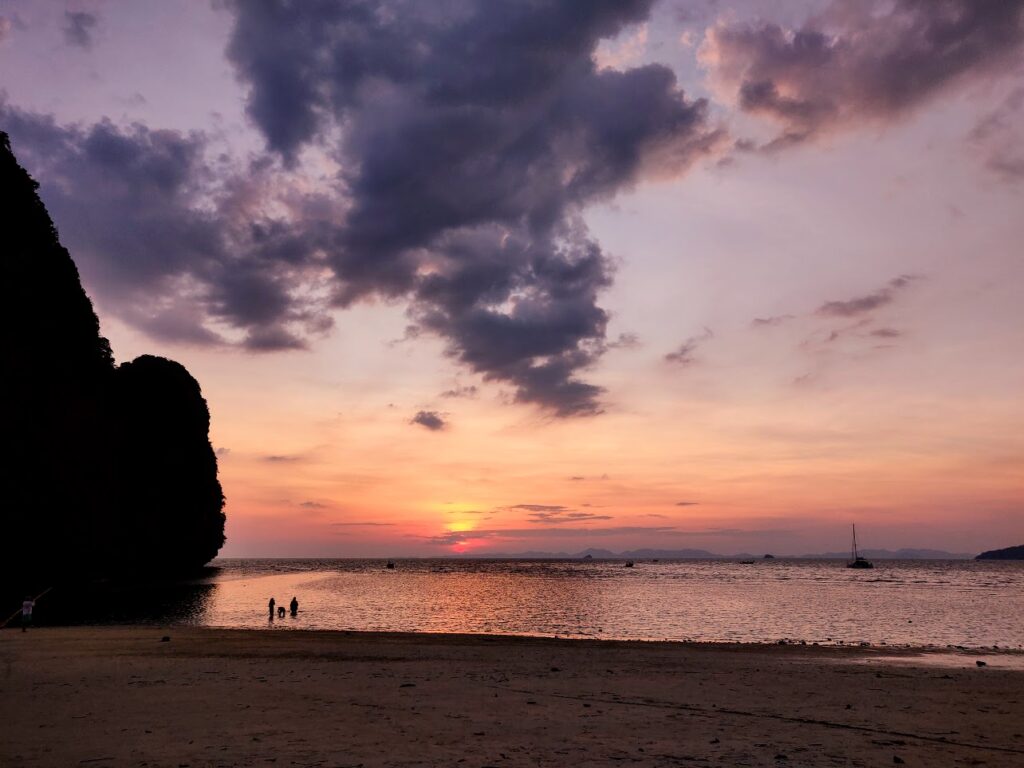 About Thalassa Tours
We came across Thalassa Tours on TripAdvisor when searching for tours in the area and booked this island hopping tour with them through Viator after reading all their fantastic reviews. We thought the cost was really reasonable (about £135 for us both in 2018) which included the full-day tour, our National Park entrance fees, plus water throughout the day, a lunch buffet, dinner, and use of their snorkeling gear.
The team onboard with us for the day were super fun and knowledgeable about the area, talking to us about the natural surroundings and some local history. They also offer lots of other private and small-group tours, such as a day trip to Phi Phi Islands or Hong Island, found between Krabi and the beautiful Koh Yao Yai. 
If you're looking to book an island hopping tour for the day, then I cannot recommend Thalassa enough! We had a fantastic time, thank you for having us.
We hope you enjoyed this island hopping overview! If you have any questions or anything you'd like to add, please feel free to share in the comments section below – we look forward to hearing from you!