This New Year's I decided we should do something different and get away for a bit, so I bought Oli a trip to Dublin for his Christmas present (a Christmas present to myself too I guess). We spent 4 days in Dublin, which included us spending New Years Eve in Dublin too which was amazing! Here's what we got up to…
Tuesday 30th December
We woke up bright and early ready for our lift at 5:00am and arrived at Southampton Airport about 5:30am. Having always flown from London, it was a shock how tiny Southampton Airport is. But it was quick and efficient and we were through security and enjoying a hot chocolate at Costa within about 10 minutes.
Our flight was scheduled for 6:50am with Flybe, flying straight into Dublin Airport. A slight issue with our plane meant we were delayed by 1 hour, while they prepped a new plane for us, but once we were on and boarded the flight was great and took a total of 50 minutes to arrive in Dublin!
We only took hand luggage (no checked luggage!) so we were out in minutes and looking for the 'aircoach'. This is a bus service, which travels from the airport to a few stops in the city centre. A return is about €6 per person and we arrived at O'Connell Street in about 30 minutes! I had already booked and paid for our tickets online, so just showed them the printed confirmation. I believe they run every 5 minutes or so which is great getting to and from the airport.
We then walked from O'Connell Street to the Ashling Hotel where we were staying. About a 30 minute walk through sunny Dublin, dumped our bags at the hotel and then walked another 30 minutes to Kilmainham Gaol. We made the prison our first port of call, as I'd heard you couldn't book tours in advance and it was first come first serve. It was about 10:30/11:00am, however we arrived just after a large tour group, which meant the next few tours were booked up until 2pm.
We were in a bit of a dilmma what to do as we had other things planned for the afternoon and felt a 2pm tour was too late. We popped to a pub for a drink just around the corner, so we could re-plan and waited till 12pm so we could grab some lunch from La Dolce Vita, a restaurant which sits above the pub.
The plan was instead to go to Dublin Zoo (as we were roughly out that way) and then go to the Guinness Storehouse for 3pm. However lunch took a bit longer than planned so we decided to just head straight to Guinness. We arrived at 2pm and the place was absolutely packed!! Thankfully I had already booked my tickets online, so we sailed straight through the queue to the ticket collection machines.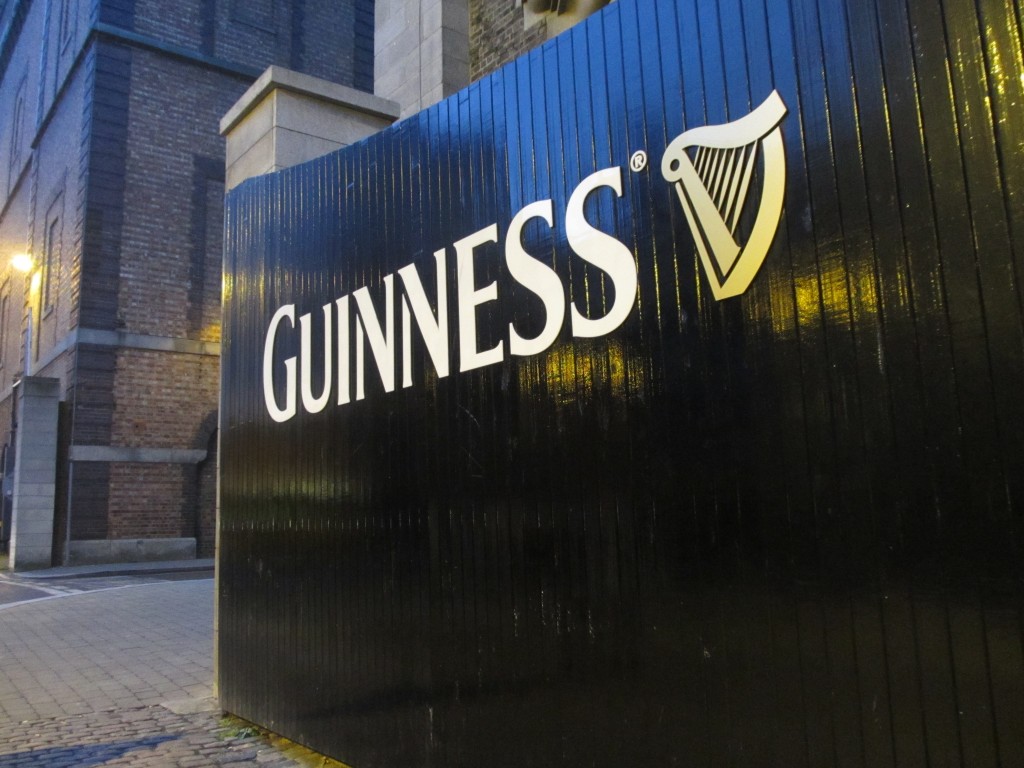 When booking online you don't need to select a time, just a date, and it's then a self-guided tour around the brewery. Overall I'm really glad we got there an hour earlier than planned and we were there a lot longer than I originally anticipated and it was definitely one of our trip highlights!
As you make your way around, you learn about the history of Guinness, how it's made and what makes Guinness so different. There are also exhibits of their famous advertising from over the years, along with the 'Guinness Academy' where you can learn how to pour a pint of Guinness properly. I'd had a swig of Oli's pint earlier in the day and sadly it wasn't for me! However, I enjoyed the Guinness Academy and watching Oli and everyone else pour their pints.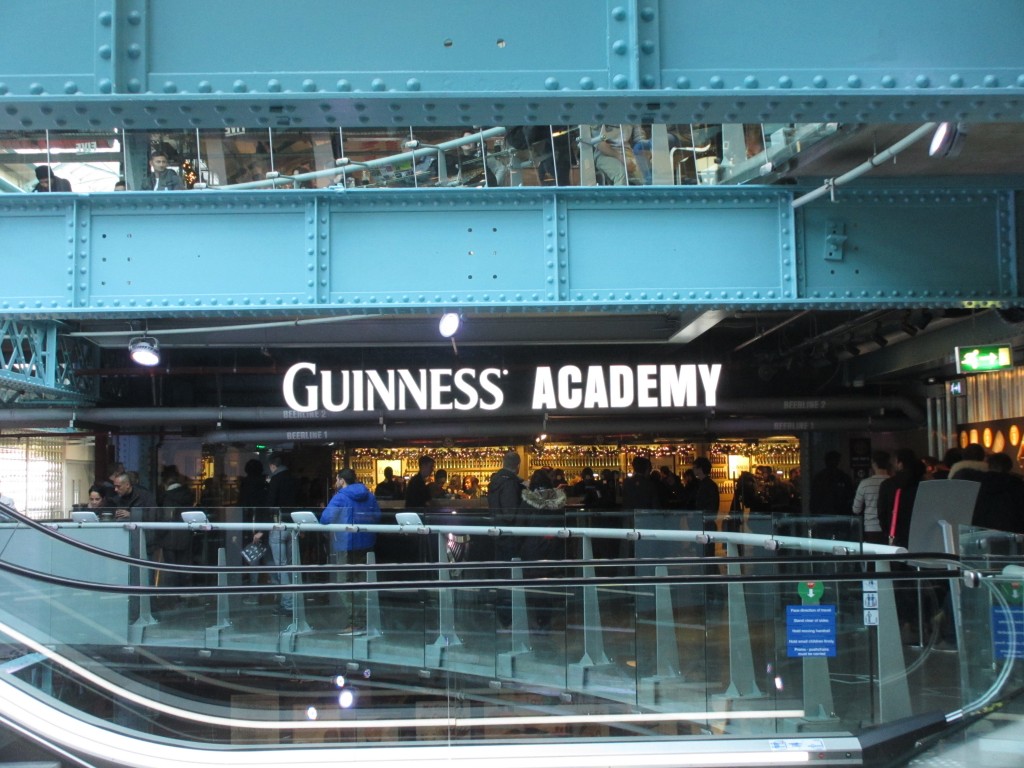 The tour cultimates in their 'Gravity Bar', a glass walled bar at the top of the building where you can cash in your complimentary Guinness (or soft drink) and take in the incredible views over Dublin city centre. The atmosphere was amazing up there and definitely ended the tour on high.
We left about 4:30 / 5:00pm and headed back to the hotel to officially check in. While on the subject here's a quick positive review of our hotel!
Overall I was really pleased with the hotel. The staff were lovely and the hotel was spotless. We were on the ground floor, so sadly not much of a view, but our room was a 'Superior King' so the room was nice and spacious and the bathroom was immaculate! Prices weren't horrendous either – I believe it was about £200(ish) for 2 people, 4 days stay, over the New Years period.
As mentioned, location was brilliant! We were a 10 minute walk from the Jameson Distillery (more on that later) and had a lush view of the Guinness brewery from across the river. Less than 5 minutes walk down the road was a tram stop which took us towards the city centre, Temple Bar or further. The Luas trams are so simple to navigate, I had a tram map on my phone and we bought 2 'flexible day returns' which were about €6 each I believe and this allowed us as hop on and off the tram as much as we liked.
The stop near our hotel was called Museum, so we caught the tram down to Jervis which is the nearest stop to Temple Bar. The journey took a total of 5 minutes, or you could walk it in about 20 minutes. Having been on our feet all day though, the tram seemed the best way to go!
Still feeling full up from lunch (almost 6 hours later) I took Oli to a bar I'd read about in my Dublin Lonely Planet book: "The Bar With No Name" (or 'Number 3'). The entrance is attached to the side of a restaurant, there's no sign of branding of the bar outside and you enter through a big door into a hallway (it feels like you're stepping into someone's house). You head upstairs and on the 1st floor you'll find the bar. Beautiful high ceilings, low lighting and exposed brickwork, along with a choice of some amazing cocktails! The place was already busy, so we found a corner table and enjoyed the atmosphere along with a number of cocktails.
By about 10pm, a full day on our feet had caught up with us, so we headed back to the hotel, ready for an early start the next day!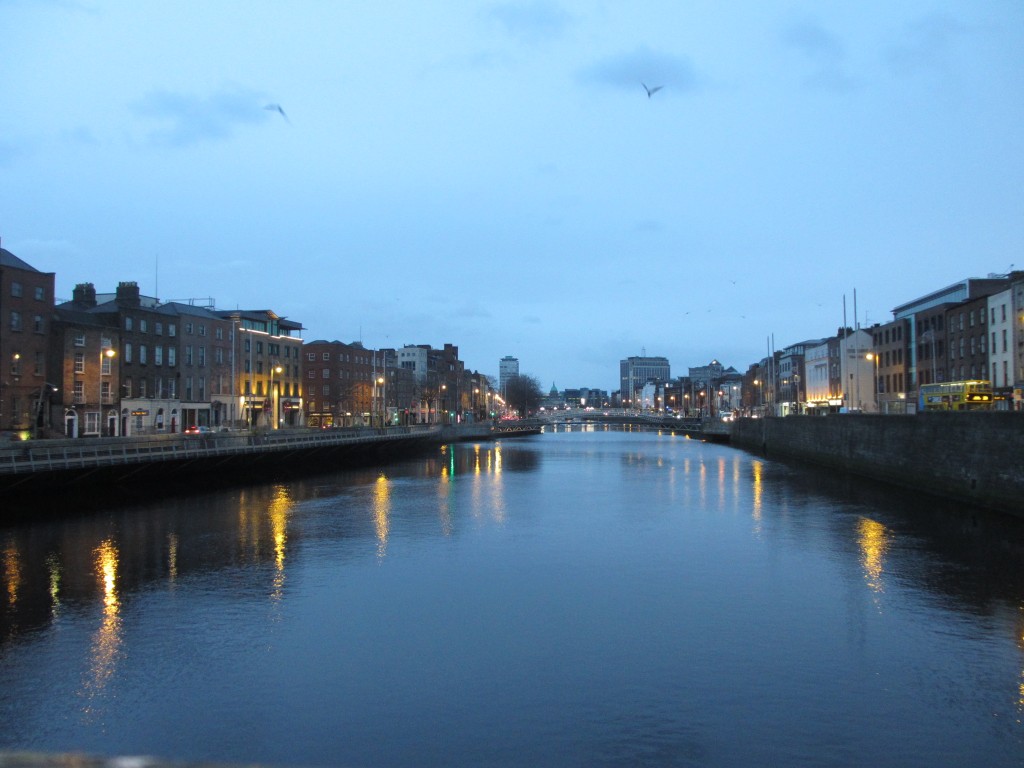 Wednesday 31st December
Today we woke up early, grabbed some breakfast from Mochaland (Queen of Tarts had been planned, but they were opening late) and headed straight for Kimmainham Gaol to catch one of the first tours of the day. I think we arrived at 9:30am and got ourselves on the 10:00am tour.
We had a bit of time to kill prior to the tour starting so looked around their museum, learning a bit about the history of the prison, some key 'inmates', how the prison fell into disrepair and how volunteers took on the task of bringing it back to life to preserve it's history and heritage.
Mandy was our tour guide – she was incredibly informative and knowledgable. We unfortunately had a big distraction during our tour in the form of a noisy toddler who acted up throughout the entire 45 minutes of the tour. However Mandy held our attention throughout, was engaging and handled the distractions very well.
We sadly couldn't go inside the main prison area as they are doing works to the roof. However we did receive a slight price discount on this and the tour was still enjoyable and informative none-the-less.
The only thing that let down the prison was the process of buying tickets. As I mentioned above, we arrived as early as possible on our first day, but all the tours were still booked out for the next few hours. You cannot buy your tickets online, only at the door, on the day.
After our enjoyable morning there, we decided to head to Dublin Zoo as we were roughly "out that way" and wouldn't be venturing that way out the city centre again during our 4 days. If I'm honest I wish we hadn't and saved ourselves €33!
Before I moan I'd like to point out I am a huge animal lover and previously have enjoyed visiting zoo's because I enjoy seeing the animals up close. I've been to London Zoo, Central Park Zoo and Berlin Zoo; so all busy city zoo's, but I enjoyed them and thought Dublin Zoo would be the same…
The first enclosure we visited was the lions. Upon first seeing this enclosure I thought it seemed rather small for 1 male lion, x2 lionesses and x2 lion cubs. I then noticed the male lion was continuously walking around the perimeter of his enclosure. This struck me as something a happy animal probably wouldn't do, but shook it off and went to visit the tigers next. There were 2 tigers, again in a pretty small enclosure, where one of them just paced back and forth continuously. In my opinion they seemed stressed and unhappy. The enclosures were small; not many places to hide under / things to climb / things dangling for them to play with… just a general lack of stimulation. We left straight after due to feeling so guilty.
We headed back towards the city centre via Phoenix Park which was nice and headed for the general 'Temple Bar' area to a pub called 'The Stags Head'. We were attending the 'Three New Years Festival' that evening, so it was good to scope out the area on Dame Street, get our barings and then popped into the Stags Head for a drink.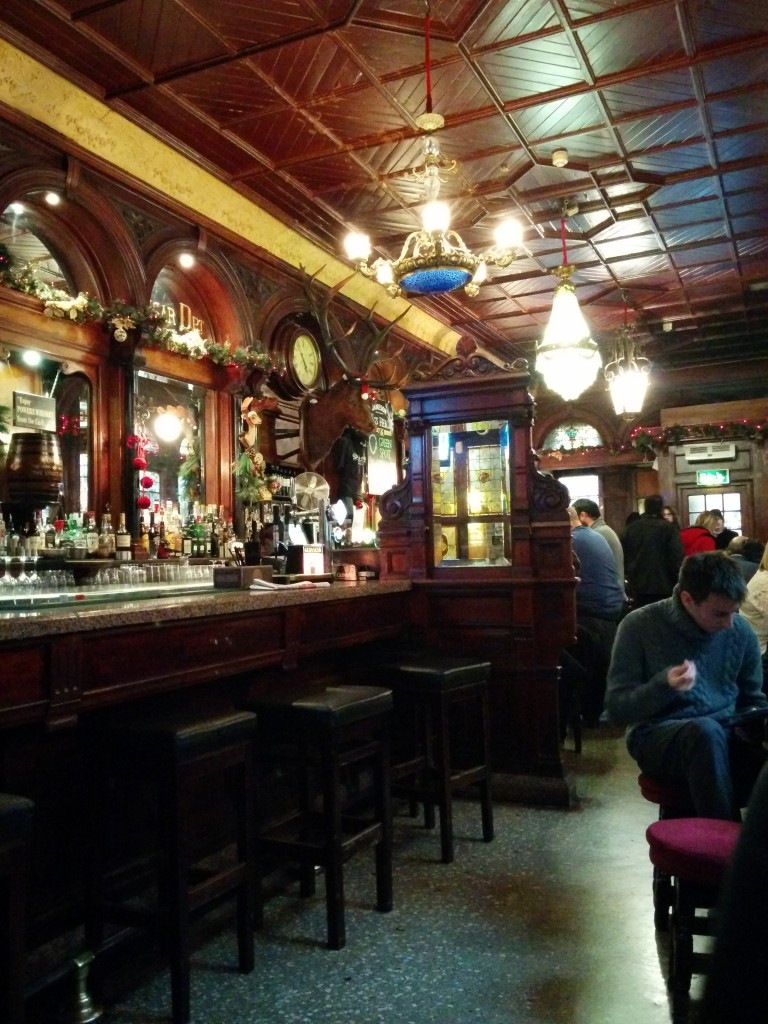 The pub was lovely! It was about 3pm by this time, so relatively busy, but quiet enough that we could get a table. There was a nice buzz and atmosphere as people revved themselves up for New Years Eve. We had 1 drink and rested our aching feet after being on them all day and ordered some bar snacks. The pub looks fantastic inside and the bar staff were lovely – a definite recommendation if ever you're visiting!
We headed back to the hotel for a cat nap (standard) preparing ourselves for NYE and then headed back out to Temple Bar for drinks. Our first port of call was the 'Vintage Cocktail Club' a place I had read about in my Dublin Lonely Planet book and was intrigued by.
The bar is completely black from the front; black paint job, blacked out windows and black door, with no handle only the initials 'VCC'. You need to ring the bell in order to get in. Someone comes down to greet you and lets you in, before taking you up to the bar. We hadn't reserved a 'sitting' in hindsight probably foolish on NYE, but they managed to seat us and we spent the following 2 hours there drinking cocktails.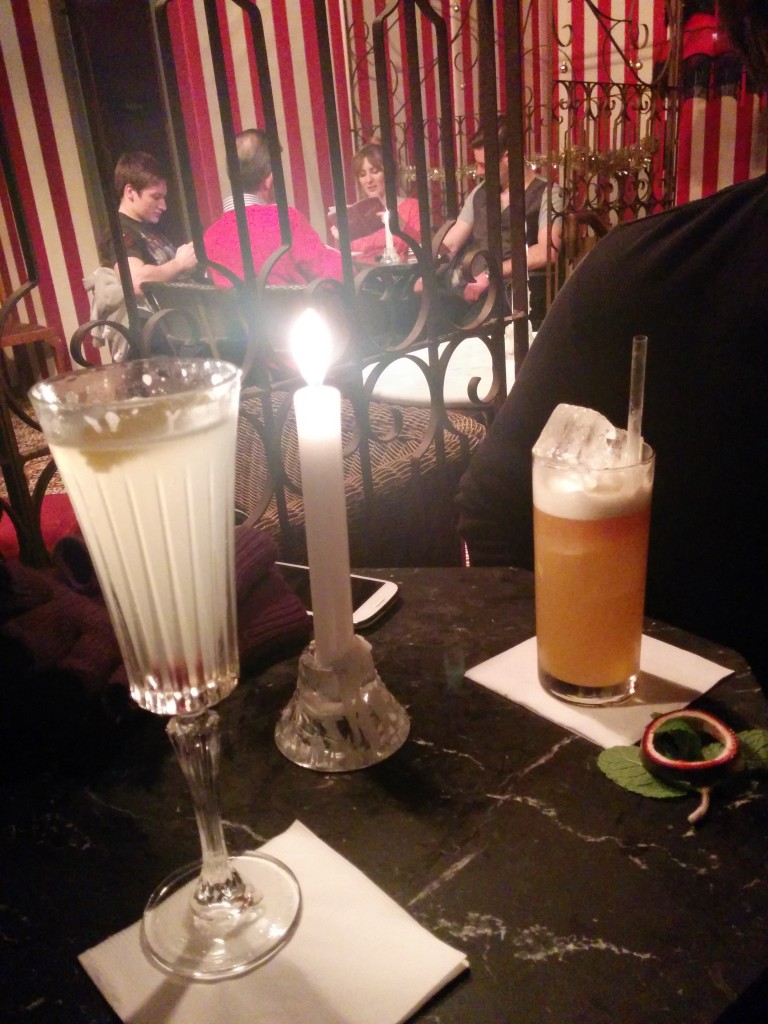 The decor is fab inside, candle sticks on tables, low intimate lighting, 1930s decor and music, which all helped build a great atmosphere and buzz. We were taken to the top floor bar, where interestingly you can smoke? However it didn't feel smokey, or smell of it (some good ventilation obviously!) So if you're a non-smoker like me, don't let this put you off.
At 7:30pm we left, ready to catch the 'festival of light' parade which was kicking off the NYE festivities. The parade was great and really got in the mood to celebrate New Years.
We then headed to La Caverna for dinner. I had booked in advance and booked a table for 8pm, we were a little early but the staff managed to seat us straight away. We sat downstairs in the celler which was brilliant! Bare brick walls, low lighting and music and lots of excited bustle from others eating which created a great atmosphere.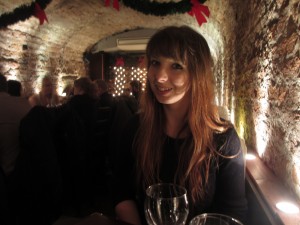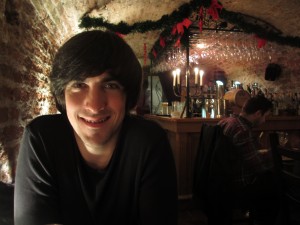 Dinner was delicious, we had garlic bread and cured meats to share for starters. Oli ordered the garlic chicken which was yummy and I had a pasta dish which was lovely! We thought we'd celebrate NY's and ordered a bottle of prosecco which was also lovely. In total I think our bill came to about €70 which I didn't think was too bad.
By the time we left it was about 10:00pm, so we headed straight to Dame Street for the New Years Festival. Admittedly I didn't know the bands at all… they were evidently massive in Ireland, but hadn't quite made it over here in the UK perhaps? So while everyone was singing around us, we just stood and watched a little awkwardly haha. That didn't stop us having an amazing evening though, everyone was in great spirits and the atmosphere was fantastic.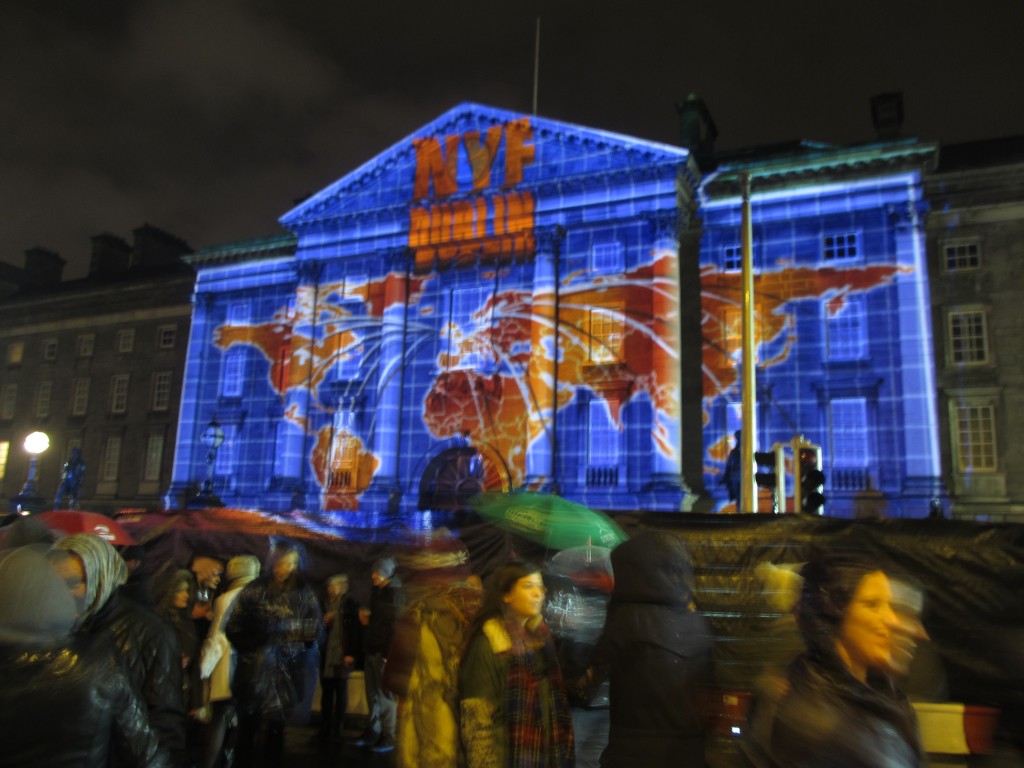 The bands were good and I really enjoyed the countdown at midnight, followed by a small firework display. Shortly after we called it a night and headed back to the hotel – unconscious within minutes!
Thursday 1st December
The luxury of a lie in, we woke up at 9(ish) and headed out in search of some breakfast. We had planned to go to Queen of Tarts again, but sadly they were closed. Instead we found a little French place at the top of the road which was open. Oli had a panini, while I had pancakes which were delicious!
As it was New Years Day we figured most things would be closed so we took advantage for an 'exploring' day. We headed up to Christchurch Cathedral first and viewed the other churches around that area. I'd seen online that the final part to the 'New Years Festival' was 'the big brunch' effectively a food festival in the city. We checked that out only to feel a bit disappointed because it was just a handful of stalls selling food and sweets…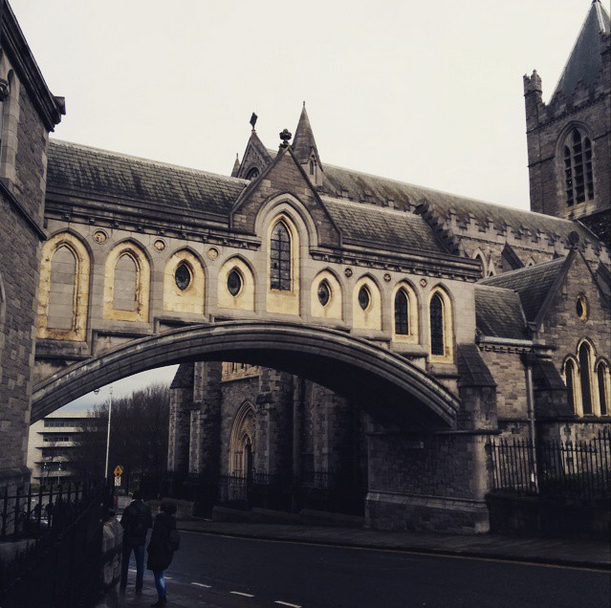 We then went to see Dublin Castle, except the main entrance was closed. I thought there was another round to see the castle, but I couldn't work out how…places that looked like roads on Google Maps on my phone turned out to be dead ends. We explored some of the cobble stone streets near by eventually working our way up to Grafton Street for an explore and a nose. The benefit of going New Years Day was that is was somewhat quiet and the street wasn't too hectic.
We found a pub around the corner from the Gaiety Theatre and rested our (still) achy feet from all the walking and had a drink. It was about 1:3opm at this point, so we stayed for a swift one and left around 2:00pm(ish) to get to the Jameson Distillery for our 3pm tour.
I loved the Guinness Storehouse but I also loved the Jameson Distillery! I cannot recommend this enough. Very interesting and what a great piece of heritage. I had booked our tickets online a few weeks in advance. I believe prices were about €11 per person(?) and I was so glad we had, as all the afternoon tours were booked up!
Our guide was Niall and he was amazing! He was very engaging, knowledgable and full of quick wit and a dry sense of humour. He took us around the distillery, teaching us about how Jameson Whiskey is made, it's history and what it is that makes it different from others. The tour lasted about 30 minutes and ended in a small whiskey tasting session.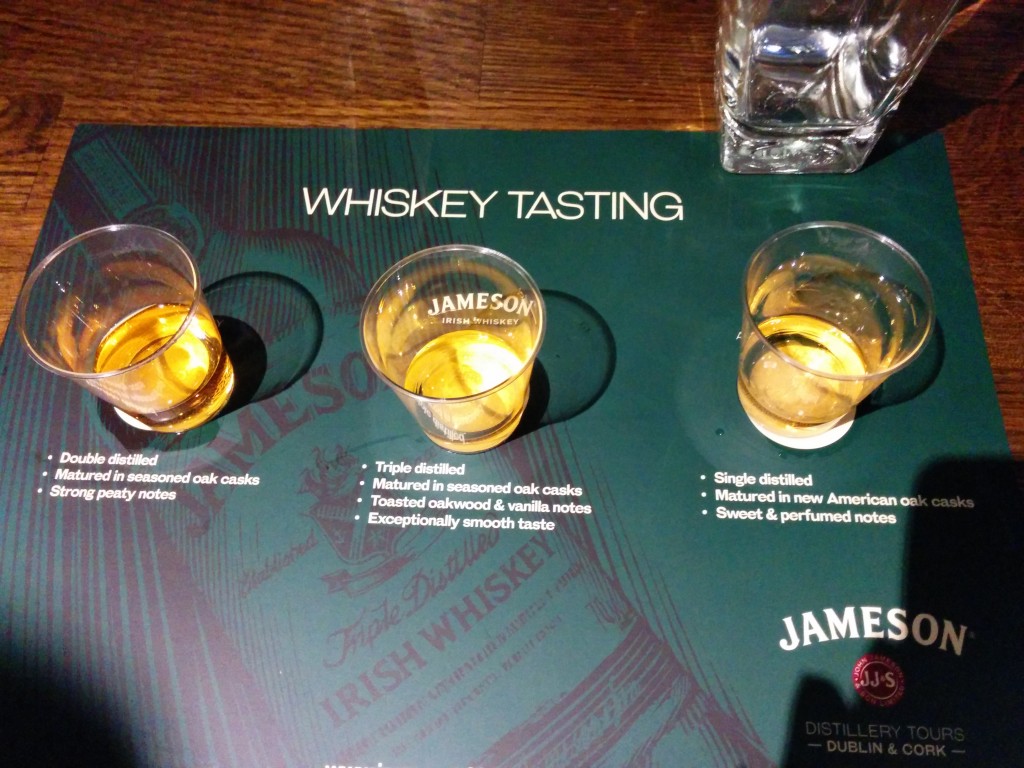 Johnny Walker (left) Jameson (middle) and JD (right) was our selection.Niall taught us about the differences and the different tastes. After this, we headed into the ajoining bar area for a complimentary Jameson either neat, or mixed with ginger ale and a slice of lime (sooo tasty and now my drink of choice). Niall informed us there were a number of different Jameson's in the shop, which you could only buy at the distillery. Unfortunately due to only bringing hand luggage with us we couldn't bring any back with us – but for any of you whiskey fans out there, this should be a must for you!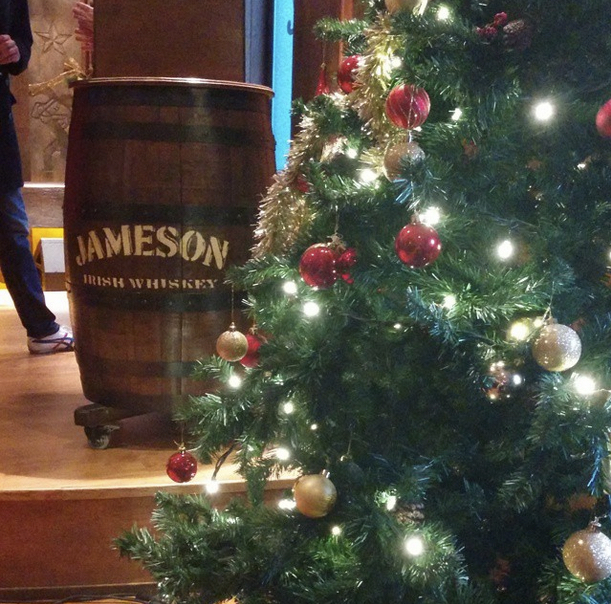 We enjoyed our time at Jameson and the atmosphere so much we decided to stay for one more drink in their downstairs bar where they serve a selection of Jameson based drinks. Oli stuck to the Jameson & ginger ale, while I had one of their warm cocktails – which was effectively liked mulled wine, but with Jameson (it was delicious!)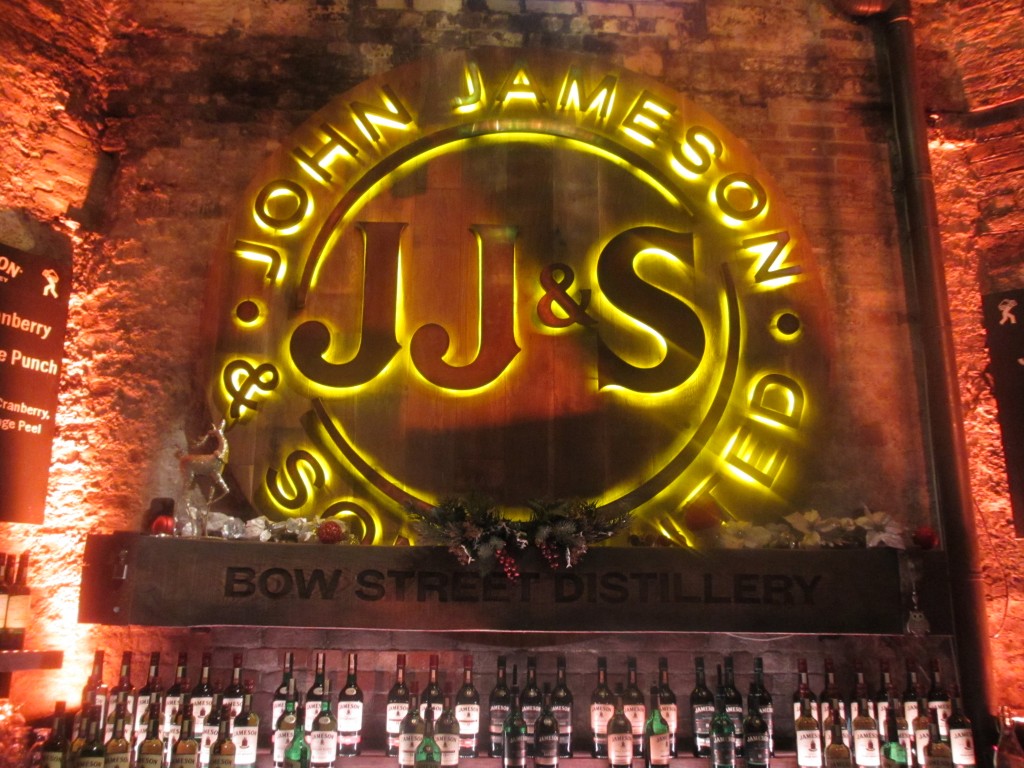 We went back to the hotel to dump our souvenirs (we're building a bar at our house at the moment so we bought some Jameson branded glasses – love them!) and freshened up for dinner.
We caught the tram back down to Jervis and had dinner at Koh, a thai restaurant which had caught our eye. We were seated straight away and the place felt like it was buzzing – great atmosphere. We had chicken satays to start, some crackers and then a curry each for main. Oli had the green thai curry, while I ordered a red thai curry. Both were SO hot! We both love spicy food, but we had to have a few breathers. They delicious though and by far the best meal we had in Dublin.
We finished the night off with a couple of drinks in Brogans down Dame Street, which was a nice, quiet but atmospheric pub.
Friday 2nd December
Our last day in the city – boo 🙁 We wanted some quick and easy for breakfast, so we stopped back off at Mochaland as we knew they were a good price and were near by. Nice and simple, no faffing.
We then spent our morning walking along the river down towards the docklands. It was a beautiful sunny day, though the wind was strong and it was pretty damn chilly (insert picture of windy faces!)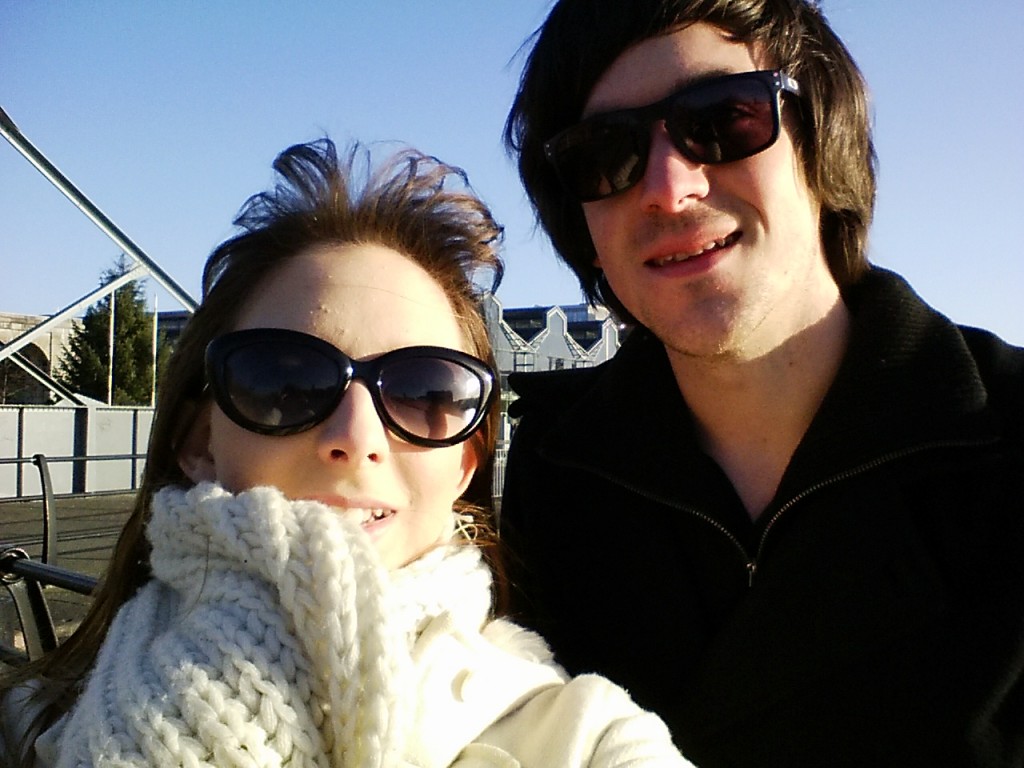 The walk was beautiful and although there's not much to see towards the docks, it's still a pleasant walk and there are lots of interesting looking buildings and pretty bridges looking back towards the city.
We also passed the famine sculpture (which I had wanted to see) but if I'm honest freaked me out – the sculptures are really scary (although poignant).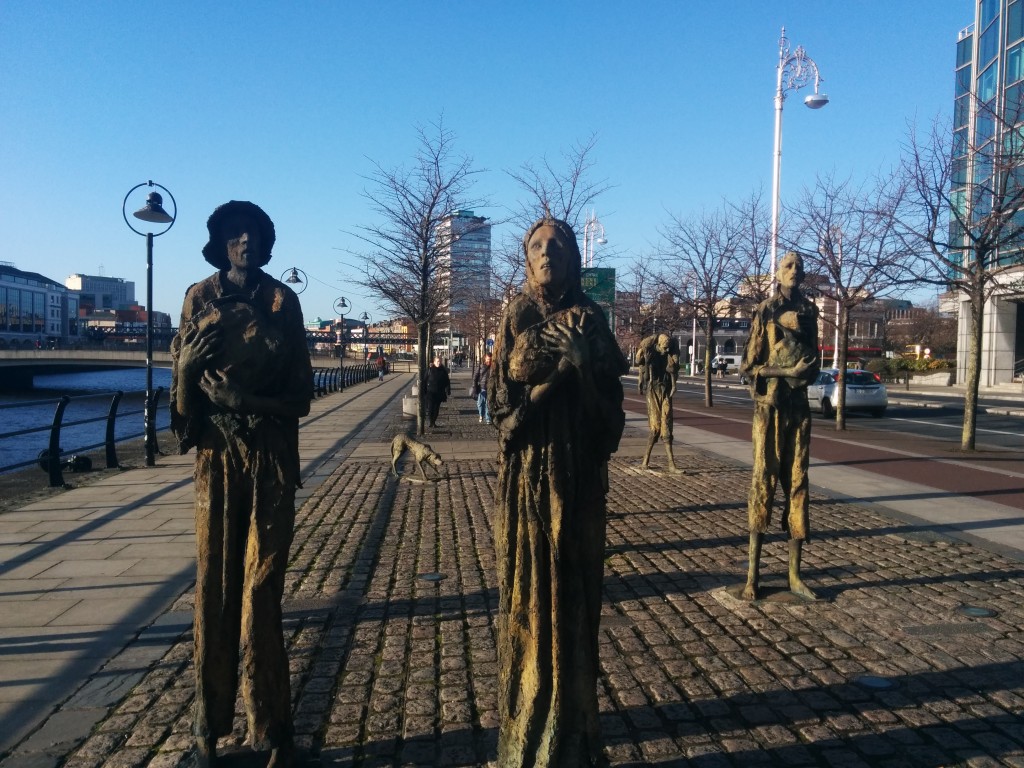 We walked as far down as we could go, crossed the bridge at the bottom of the docks and then came back on ourselves on the other side of the river.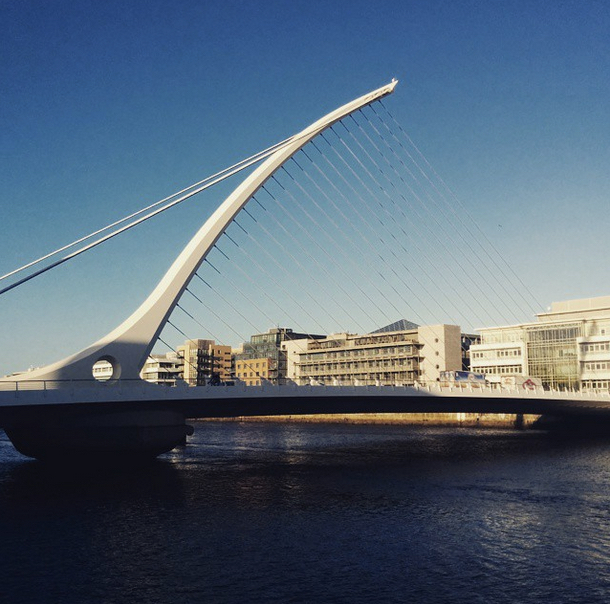 We walked back up towards Grafton Street where we stopped off at Kehoe's for a drink. This is a lovely quiet pub (least it was in the day time), so it was nice to have a quiet drink and reflect on our wonderful time in Dublin. The pub is full is little 'snugs' and cubby holes to sit in which was lovely.
We started to feel a bit peckish, so we headed up to St Stephens Green for a walk (beautiful park!) before heading back down to La Caverna for lunch as our final meal in Dublin. We were thinking of going somewhere new but couldn't decide where to go. In the end we figured La Caverna was tried and tested and definitely a winner, so we should end our last meal in Dublin on a high.
Unfortunately when we got there the manager said they wouldn't be opening for lunch that day (noooo!) She recommended some other places to eat nearby. We checked them out, but they weren't really exciting our taste buds. In the end we cheated and went to Milano (aka Pizza Express in the UK). The meal was lovely, but we really wanted to eat somewhere we'd only see in Dublin. However we felt we were wasting more time trying to find somewhere we liked, we'd rather eat and then enjoy what we had left of our afternoon.
After that, we finished exploring the general Temple Bar area and made our way back to The Bar With No Name for our last drinks in Dublin. We enjoyed the bar so much we figured we had to go back. We grabbed a window seat, sipping on Jameson's for an hour or so.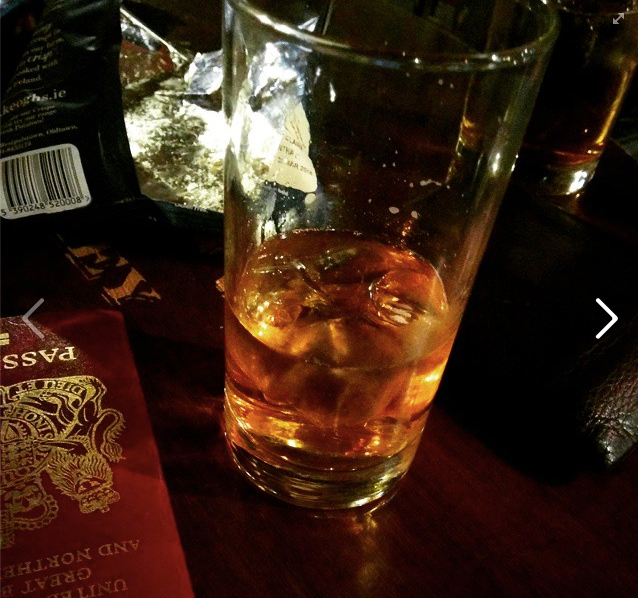 About 5pm, we headed back to our hotel, collected our bags and caught the tram to the city centre. From here we checked out the General Post Office and Dublin Spire, before catching the 'Aircoach' back to Dublin Airport. We arrived at the airport in about 20 minutes and were whizzed through security in about 5 minutes.
We boarded our Flybe plane at 8pm, ready for our 8:15pm departure and arrived in Southampton in 25 minutes!! Half our flight time!
Thank you Dublin – we had an amazing 4 days in Dublin. I hope to see you again soon! It's a great city, full of hustle and bustle and a great atmosphere. I would recommend to anyone.
Please feel free to share any comments below 🙂 Thanks! x