Living in Portsmouth, I am very fortunate that I not only live in lovely coastal city, but that I'm also a 1.5 hour drive away from London; straight up the motorway. However, the downside to this is that due to birthdays / shopping trips / weekends away and growing up so near by, myself and my boyfriend have pretty much done everything we ever wanted to do in London. This week, we booked two days in London as we were going to see a show. The question was, what do we do with the rest of our time, that we haven't already done?
As you'll probably think from the header image, the most obvious thing to do would be to go up the newly opened Shard. Unfortunately the weather was not on our side and with a fee of £25 per person, we figured we'd wait until we were there on a sunny day.
Day one / two days in london
Before I get on to our city activities, our first obstacle was getting up to London. Oli loves to drive, especially to London (I think he enjoys the challenge the traffic brings). However, having to pay for 48 hours worth of parking (with petrol and congestion charge on top), means things get expensive very quickly, even between us both.
Travel: Some words of advice
Our second – and at the time favoured – option was to get the train. However, getting an open return, arriving early Wednesday and leaving late Thursday resulted in a £66 per person train ticket (GUH!) Wondering what we were going to do, we looked at the National Express out of desperation. Oli being 6ft 2+, legroom is a huge issue for him and I'm not the biggest lover of public transport, so we were sceptical to say the least. However, our return journey came to a total of £24… not even £24 each, but £24 total! £12 each! With such amazing value we went ahead and booked it.
Despite our worries, we were very very pleased with our choice. Our coach arrived on time, we had plenty of legroom and we arrived at London Victoria bang on time, despite hitting a bit of traffic coming into Battersea. The reason why I'm banging on for so long about the coach is because I learnt not to be fussy when it comes to travel and saving some cash! I was really impressed with National Express and when it's £24 vs £66, I'll pick them any day (and you should too!)
7:30am time for breakfast
So we arrived at Victoria nice and early, ready to make the most of our day. First thing on our minds was breakfast! We did a bit of research the day before, looking for somewhere that did a good breakfast. The issue we found was that either places didn't open until 8/9am or you paid top dollar for just a bit of egg on toast.
After a little digging, we heard about this lovely little place: The Regency Cafe.
About 15 mins walk from Victoria Station (where we arrived), this is a brilliant little place, the food is delicious and it's great value too! The walls are littered with photos where the cafe has been used in photoshoots (mostly Vogue) and we found out a scene in Layercake was also filmed in this cafe. Despite it being so popular with the media, it's very much a hidden gem. Cheap, yummy food!
From here, we decided we'd head to our hotel so we could dump our bags. We headed towards Buckingham Palace and walked down The Mall and cut through St James's park down towards Trafalgar Square, where our hotel was.
The hotel: Thistle – Royal Trafalgar
I liked the hotel…but I'll be honest, I don't know if it was good value for money.
Pros:
The hotel is in a perfect location! On the doorstep to Trafalgar Square and about 5 minutes walk to Piccadilly Circus and 10 / 15 minutes walk to Westminster, Regent Street or Oxford Circus. Throughout the whole time we were in London, we never got the tube anywhere. We walked everywhere thanks to the hotels great location.
Hotel was very clean. Staff were lovely and polite.
Cons:
Small, boxy room.

Staff tried to up-sell us a bigger room and breakfast.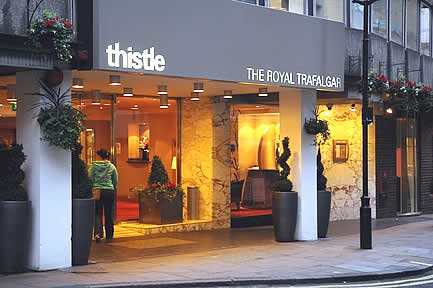 I know we were in Central London, so we pay a premium for our room. But compared to other hotels we've stayed in in London, it seemed like we didn't get a lot for our money. £164 for one night and we had a small, very boxy room and were tried to be up-sold things even though we were already paying guests. This wasn't really a big deal, but we've never stayed in hotels before where we've tried to be sold things whilst checking in. However, we couldn't have picked a hotel with a more perfect, convenient location. So small room vs location, I don't know if I was happy with the hotel or not?
Of course, we weren't there for the room. We spent 8 hours in our room and that was to sleep. We're there for the city, but I just expected the room to live up to the price. I don't know if I'd stay again, but I didn't hate it there.
Morning one:
Bags dumped, we took a slow walk down to Westminster, past Downing Street and then walked alongside Parliament and Big Ben, to cross Westminster Bridge. Little tip if anyone's interested: we only just found out you can actually go up Big Ben! To do so, you have to contact your local MP, who will arrange it for you. But if you ever fancied doing something different, then bare that in mind!
On the other side of the Thames, we walked past the London Eye towards the OXO Tower. By this time it was about 10:00am, so we carried on walking, towards the Tate Modern. I'd never been before and Oli hadn't been there in a very long time, so we thought we'd go in for something different to do.
Whether you love or "get" art, or not, I still think this place is very much worth a visit. We have no opinion on art, neither to we understand it or really "get" it, but it's great place to wander round. There's lots going on, from paintings and sculptures, to moving image and sounds. Some of the moving image pieces were really quite dark and creepy, but certainly engaged you and held your attention. So coming from a non-art lover, I really enjoyed my time at the Tate. I also think the building is absolutely beautiful! Go just to see the building if nothing else.
It is this huge, imposing, agressive building, which I absolutely love. Coming round the corner and finding that looking down on me; I couldn't take my eyes off it. There's no sleek angles, nor is it made of glass or any other fancy material. But it's bold and I love it. I think it's a stunning building.
We spent about an hour in the Tate Modern, before slowly making up way back to the OXO Tower shortly after 11:00am (when they open) for some cocktails (aka a liquid lunch).
Despite how often we end up going to London, I never knew until recently that there was a bar in the OXO Tower. Prices are about £13 for one cocktail, which may seem steep to some, but you do pay a premium for the location, but also for the view! The restaurant is all glass fronted, with views up and down the Thames, overlooking the Gherkin and St Pauls Cathedral. If you've never been before, don't let the prices put you off – you'll pay the same for anywhere else with a view, but it's the view that makes it worthwhile.
As it was about lunch time when we got there, there were lots of people having business meetings – ordering Champagne by the bottle! It was great just to sit back, take in the views and people watch if nothing else. We had one cocktail each and left and I'd suggest the same to anyone else.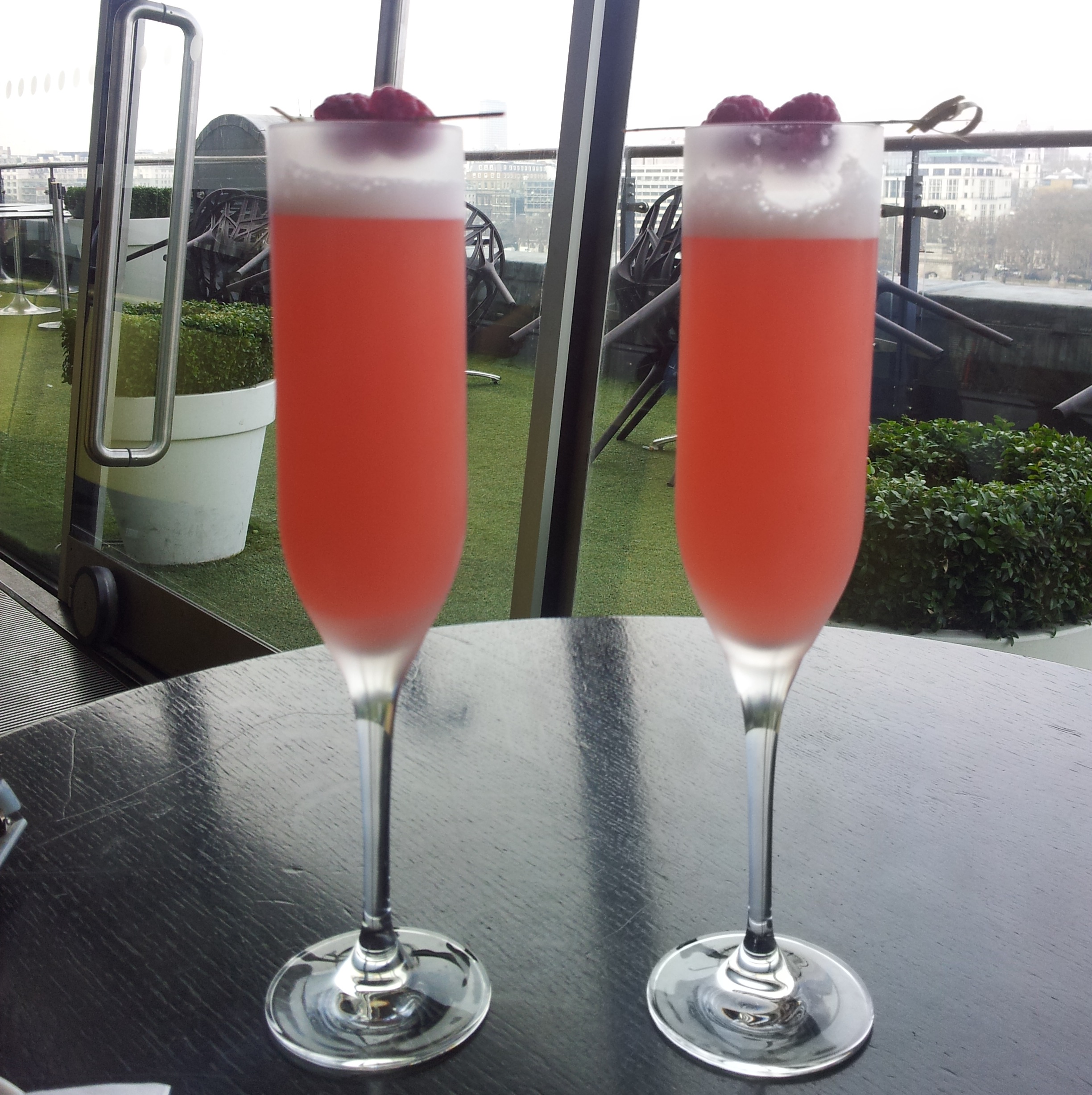 Cocktails consumed, we took a slow walk back to Piccadilly Circus and grabbed a quick lunch, before our matinee viewing of The Book of Mormon!
The book of mormon
Back in 2012 when we went to New York, we had been dying to get our hands on tickets for this show, however Broadway shows were completely sold out up till 2013 (and this was when we were looking in 2011). So when they announced they were bringing it over to London, we jumped at the chance to get tickets!
Second row from the front: £50 each for tickets – worth the year long wait and worth every penny! The show is absolutely fantastic, great cast, great acting, great singing, great humour! Hilarious!
For those of you who don't know much about the show, it's written by Matt Stone and Trey Parker (creators of South Park) and it's about two American Mormons who get sent to Uganda to teach them about Christ and to become believers. However, their lives are so consumed by illness and poverty, that believing in a higher power isn't a priority to them. It may sound highly religious, but trust me, it's not! (Don't forget the makers of South Park are at work here). There's lots of swearing and a few of the gags are quite close to the line, but it's done in good humour. Check out this article on The Guardian for more info. The show really is the work of geniuses. There were members of the audience literally crying with laughter when we went. It's fantastic – I can't speak highly enough of it.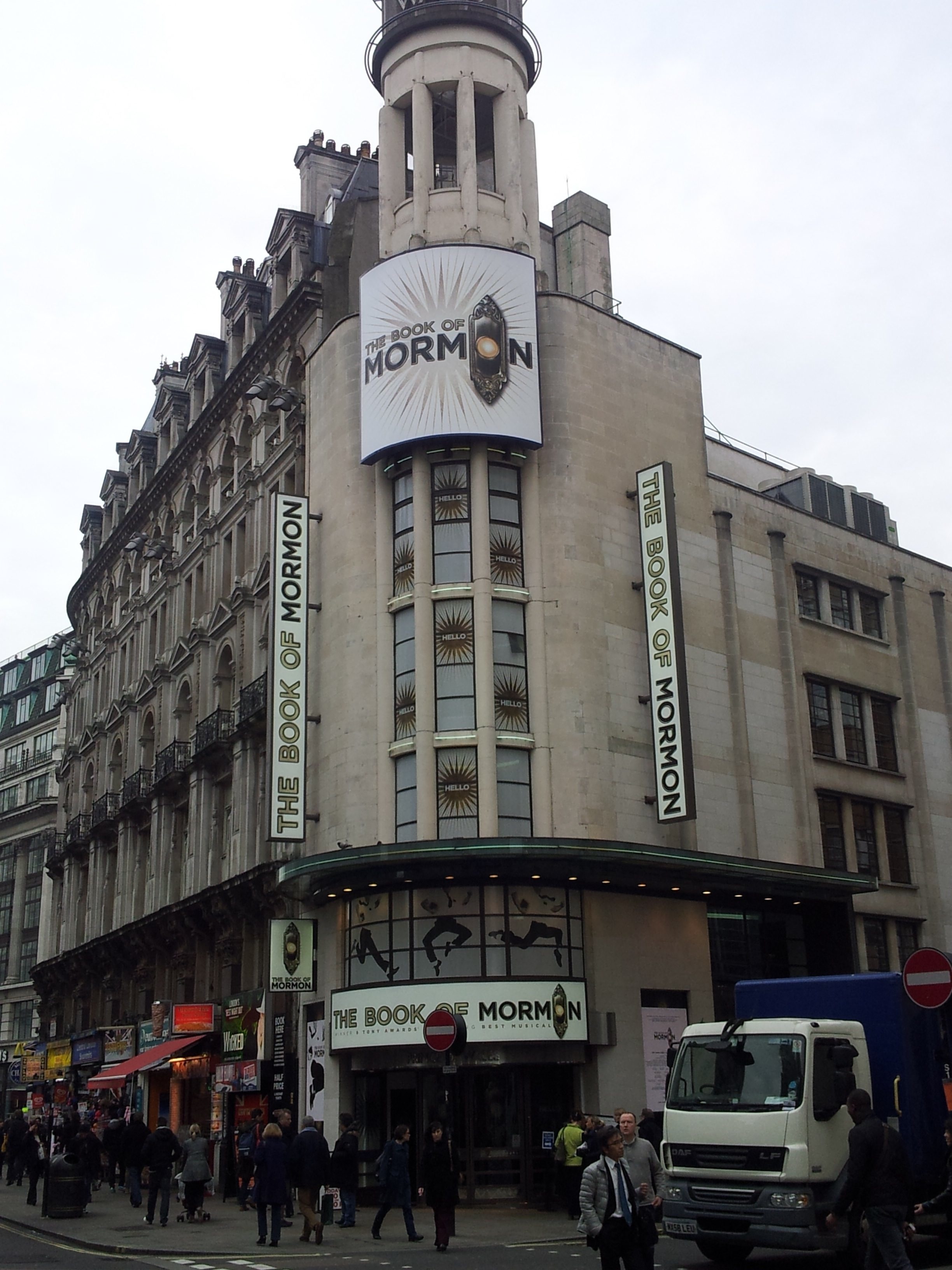 2:30 we were in and we were out by 5:00. Not yet feeling hungry, we took a walk to Embankment to have a drink in our favourite London wine bar – Gordon's Wine Bar.
Day one / two days in london: Our first evening
Gordon's Wine Bar: classed as the oldest wine bar in London (established in 1890), the place thrives on local Londoners kicking back with a few drinks, after office closing time. If you want to get a seat, get there no later than 5:30, because this place gets absolutely packed, however it is so worth it!
From the front it looks like nothing, you'd probably walk past it without battering an eyelid, but as we all know, looks can be deceiving.
Inside, it's bustling and full of life. Walls look untouched since it was first built and lighting is only really powered by candle light, for a real intimate feel. It doesn't matter how busy it gets, it always feels as though you and whoever you're going with, are the only people there.
There is a huge wine menu to choose from and they serve cold food and cheese boards if you feel peckish. Oli and I ordered a bottle of red (Malbec) and sat down, chatting about everything and anything until we polished the bottle off.
One bottle down, we left about 8:oopm and walked over to Regent Street, to a restaurant that had caught our eye; Bar Remo. This place serves delicious, hearty Italian dishes – very cheap too! We had no complaints coming here, food was amazing, staff were lovely – we'd definitely go here again.
We had a little something to drink with our dinner, but after a bottle of wine and cocktails earlier, we were feeling well and truly squiffy. So at about 11:00pm, we stumbled back to our hotel and crashed for the night.
Day two / two days in london
We woke up early, bright eyed and busy tailed and checked out of our hotel in a breeze. We didn't want to walk around with our bags all day, so the hotel kindly looked after them for us until we were ready – our coach home wasn't until 8:30pm.
We hadn't paid for breakfast at our hotel and having had a good experience previously, we thought we'd go to a lovely restaurant off Regent Street for some breakfast; Sketch. However after this experience, I don't think I'll go back again.
We were seated and given a menu. Eggs on toast was about £11.00 (ouch) so I thought I'd just order tea and a croissant (which was on the menu). I asked the waitress for it and she informed me they had no croissants. So I asked for a pain au chocolat – they didn't have that either!
Sketch had only just opened, so it wasn't a case of being sold out. I thought it was terrible that they could be so unprepared – don't put something on the menu if you can't offer it. So I stuck with my £4.50 pot of tea. Prior to this though, we had been waiting about 15 minutes for someone to take our order. When my tea did come, they give me any milk.
The table next to us, also had a long wait time and the woman asked for decaf coffee, which when it arrived wasn't decaf. She had to wait 10 minutes to have a new one. Another table ordered toast, except when it did come it looked more like plain bread than toast. The waitresses blamed it on the kitchen staff, except Oli and I saw two toasters behind the till. I can forgive long waits, as long as they apologise for it – which none of them did. Same again for getting peoples orders wrong, but when you're paying near on £10 just for two drinks, I expect the service to be worth it.
Leaving there thoroughly disappointed, we headed to Oxford Street for a nose around the shops, making our way to Selfridges for a good nose around. Personally I absolutely hate Harrods. It's jam packed and stressful and I find nothing enjoyable about being there – neither does my boyfriend. If you want to go to a huge London department store, I'd choose Selfridges any day!
This day was much more relaxing and was actually probably my favourite day out of the two days in London (not including the show obviously).
After a nose in Selfridges, we grabbed a cheap lunch from our favourite cheapy restaurant; Nando's. Heading back up Oxford Street, we made our way to Park Lane. Strolling down here, we admired all the huge apartments and hotels, the expensive car garages and estate agents and just enjoyed people watching and talking about anything and everything, from really important stuff to stupid things and making up our ideal, wealthier selves – where we'd live and what we'd drive etc.
We basically spent the whole day wandering around and chatting, until it was time to pick up our bags and walk back to Victoria. We never caught the tube once and although my feet were screaming at me, I absolutely loved it. Whenever I've gone, I've always relied so heavily on the tube to get anywhere, but I really loved just strolling around and exploring. Considering the amount of times we've been to London, we explored more on that day, than we have all the other times we've been. London by foot really is the best way to see the city.
We had no plans or agenda for our second day and although I didn't like the idea of that originally, for fear of wasting time, it was actually the best thing to do. We just walked and walked and waited to see where our feet would take us.
Two days in London header image