I have sadly just returned from a 2 week trip to Kalkan in Turkey; 2 weeks of solid sunshine, 35 – 40 degree heat, beautiful views and amazing food. Here's how I spent my 2 weeks in Kalkan and why you should go now. Immediately.
22nd June 2014
Before I begin – the one downside to going to Turkey? The flights are awful. We arrived at London Gatwick at about 4pm, ready for our 7pm flight. The flight time is 4 hours (all good), arriving at Turkey around 1am. We then had a 2 hour car transfer from Dalaman airport to Kalkan, meaning once we collected our bags, we arrived at our hotel at 3:30am.
The positive spin on this travel time is that as Kalkan isn't really a major resort, we were the only people going to Kalkan from our entire flight. No other annoying people. No other hotel stops. Just non-stop to Hotel Dionysia, Kalkan.
23rd june 2014
Nothing really exciting to report on this day – we woke up at 9am ready for the hotel breakfast and in the hope that if we didn't sleep in our body clocks could adjust accordingly come night time.
Still feeling somewhat jet lagged we decided our first day should be a pool day; I'll take an opportunity to talk to you about our hotel.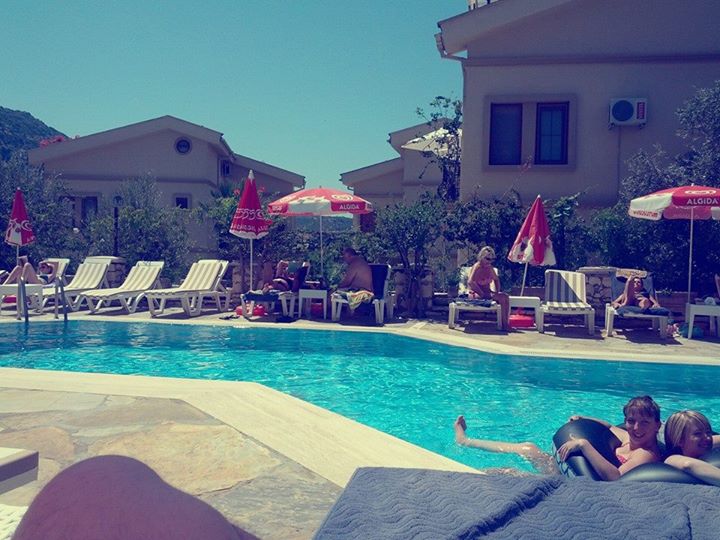 We stayed at the Hotel Dionysia, literally 5 minutes walk away from town. The hotel was clean and the staff were always lovely to us and on hand whenever we needed them. We spent day 1 lounging by the pool, ordering drinks and nibbles from the pool bar (the cup Denmark ice cream is incredible) and splashing about in the pool (yes that is me and my friend in the rubber ring in the corner of the photo).
In the evening we ventured out into town to get our bearings and find somewhere to eat. One of the main things I loved about Kalkan? The food! We ate somewhere different every night and didn't have a bad meal once.
We ended up eating at this lovely place called The Old Trading House and had a fantastic first meal, which definitely set the tone for the rest of the holiday. Ignore the negative reviews, we had a fantastic meal and would go again. The staff were amazing to us, we ended up friending 'Eric' who came and sat with us for a chat after our meal. I ordered rare filet steak at 41 lira (about £11!) and it was delicious.
We ended our night back at the hotel on top of their beautiful roof terrace bar, with views overlooking the whole of Kalkan bay. Beautiful!

25th july 2014
Our next full day we spent by the pool again, having not quite fully recovered from the flight. By this day though we were on form and ready to explore.
We had heard good things about a travel company in town called Mediteram. We stumbled across them the previous night and decided to book their 'sunken city boat cruise' for this day.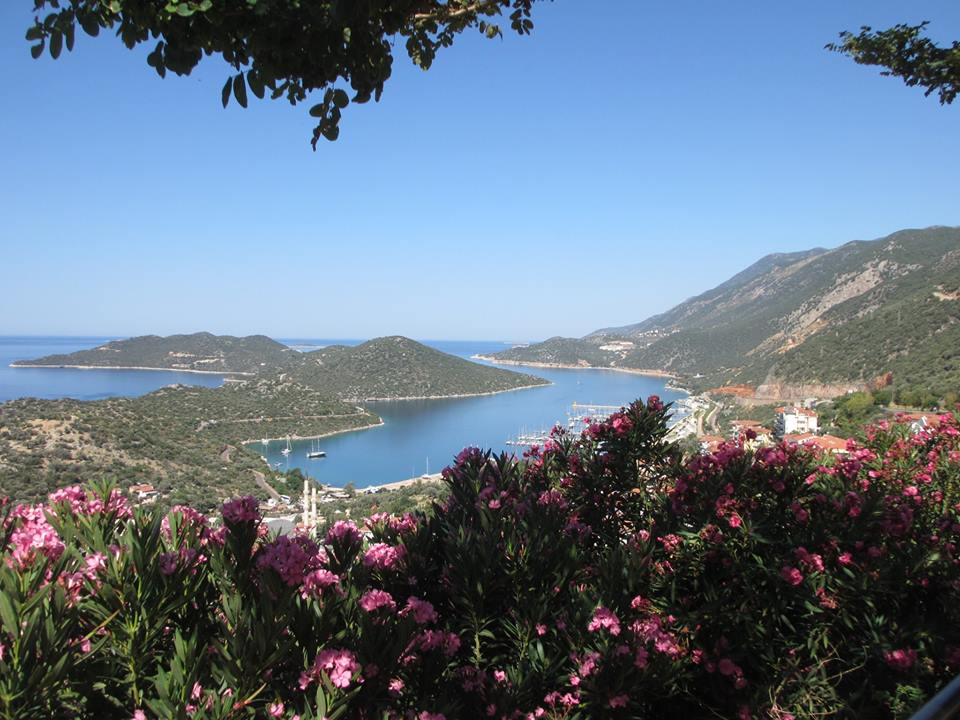 Mediteram picked us up from our hotel and drove us all the way to Kekova, where we would board the boat to begin our full day cruise. The sunken city cruise took us to a small island a stones throw from the mainland, where there was once a major earthquake, disturbing the city that had been there as it all slipped into the sea. As the boat sails past the site, you can still see some of the ruins below the surface; very interesting and very eerie.
We then spent the rest of the day being taken to lots of bays and coves, where we stopped off for an hour or so and we could have a dip in the sea (surprisingly warm). The water is beautiful and so clear. We brought goggles and snorkels with us too, so we could see all the fish swimming beneath us. A highlight which later came during the day was seeing about 5 – 8 turtles swim past us, it was incredible to watch and lovely to see them out in their habitat.
We ended our cruise back by the sunken city, where we stopped off for an hour, so we could explore the area and head up to the Pirate's Castle at the top of the hill – this was something we really wanted to do, but at 37 degrees, it was just too hot to make the climb. It was all we could do to find somewhere for ice cream (also a good option!)
We relaxed for an hour in the shade, taking in our beautiful surroundings and then headed back to the boat. Another thing I particularly liked about the boat trip was that 2 guys on a speed boat were going up to all the boats and offering sofa rides for 20 lira. It is a bit of a rip off, but it was still good fun none the less.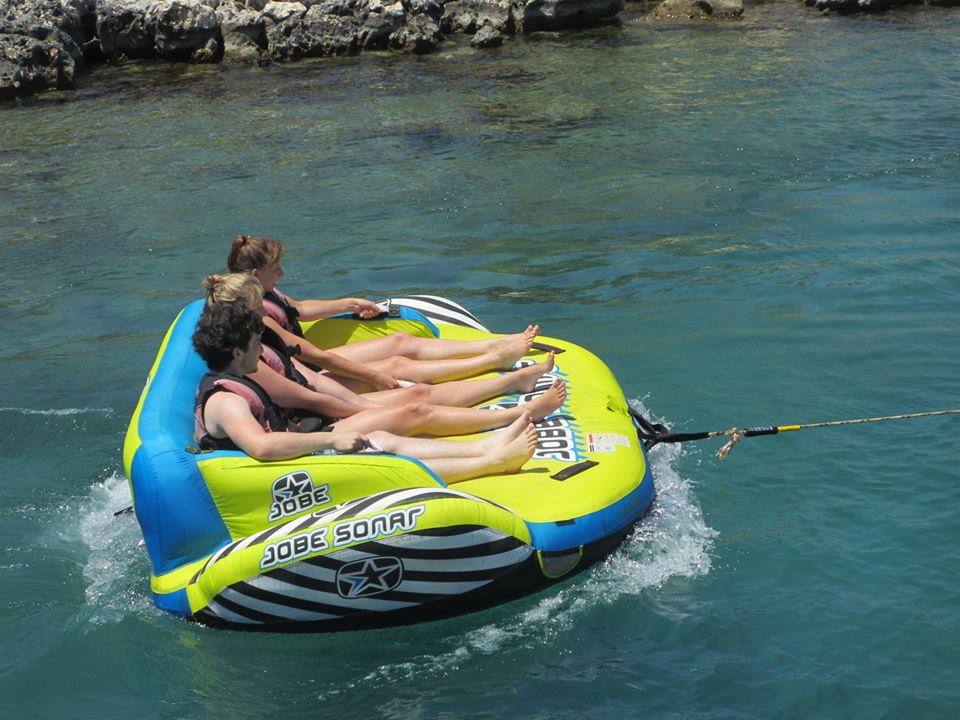 27th july 2014
A couple more days by the pool meant I started to get itchy feet – sitting by the pool is lovely, but as I'm sure you'll tell from my other blog posts on here, I like to be out and about. As such I came across a spa, 5 minutes from the hotel called Atlantis Wellness Centre who, according to reviews I saw, offer amazing Turkish Bath's.
Located behind a large supermarket just north of the town, it doesn't look all that; walking down the side of the supermarket to the spa access with some dodgy looking signs, but inside is lovely! We walked up in the morning to book and found they had availability later that afternoon.
For £32 each we had a Turkish bath, half body massage and face mask. We were there for a total of 2 hours and it was heaven. We went into the Turkish Bath as a group and were scrubbed down for an exfoliation, before being covered in bubbles and given a soapy massage (it was a bit like being inside a washing up bowl – bubbles everywhere!) Despite the bubble novelty it was incredibly relaxing and I could have laid there all day. We were washed down with warm water and given some Turkish tea while we waited for our individual massages. Incredible value and a great way to break up the day – I highly recommend this place to anyone going to Kalkan.
28th july 2014
Looking for something else a bit different, we heard good things about Indigo Beach Club, a short walk from our hotel and the bottom of Kalkan town. We decided to head there for the day for a day by the sea, swimming and (best of all) watersports!
The sofa ride during our cruise day was just a taster and I was itching for more. An independent water sports company is set up at the end of the beach club and offer reasonable prices for a range of sports. Torn between jet ski and donuts, we ended up choosing to go on the donuts – a real adrenaline rush! 3 went of us went on and 1 by 1, our speed boat driver managed to pick us off as we flung into the sea and had the ungraceful attempt to clamber back into the donut. It was SO much fun though and I'd go back on them again in a heartbeat.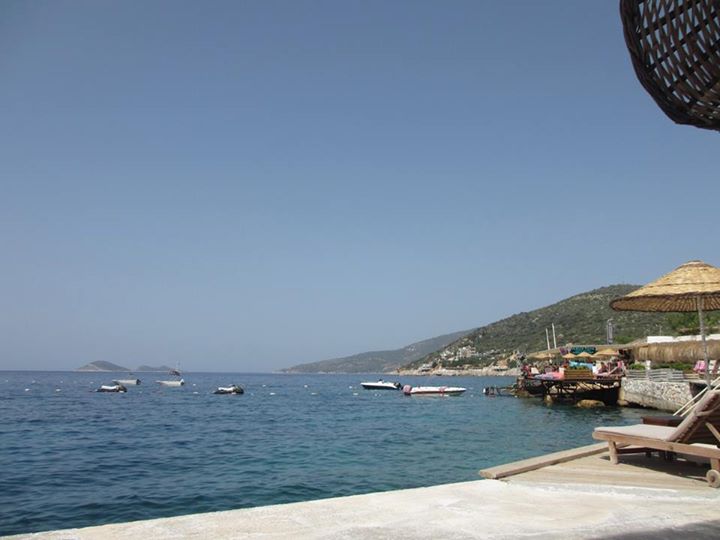 Indigo isn't really the prettiest of clubs, but it's not really designed for that. It's a great little sun trap, water sports are great and provides great entertainment for people watching. The water was clean and clear too, so swimming was a pleasure. We headed up to the bar for lunch… what a mistake that was. We were completely forgotten about, having to ask for menu's and for someone to take our orders. The food also wasn't that nice and it was quite expensive for what it was.
We headed back about 5pm and started to get ready for the evening. We'd heard good things about the local club, Mojito's, so after dinner we headed there for drinks and a planned night of dancing the night away. It looked lovely; all open plan with huge sofa's to sit on outside, however, after 3 hours of drinking, we decided to call it a night and left – it wasn't all that and we later found a better place during our stay anyway.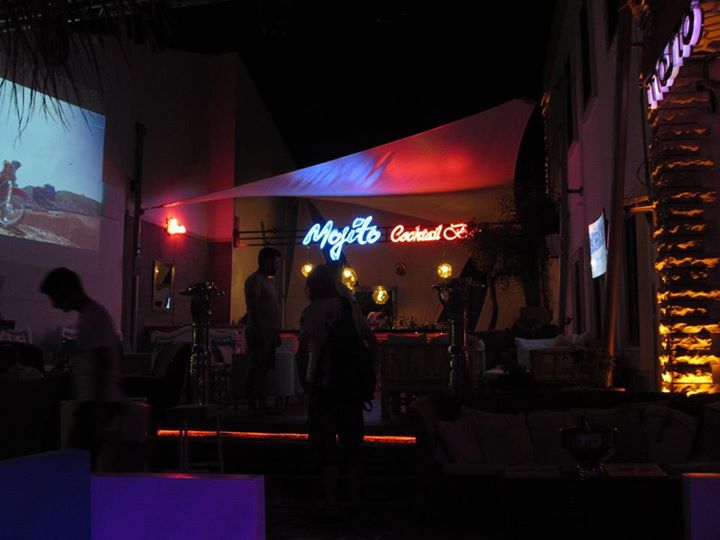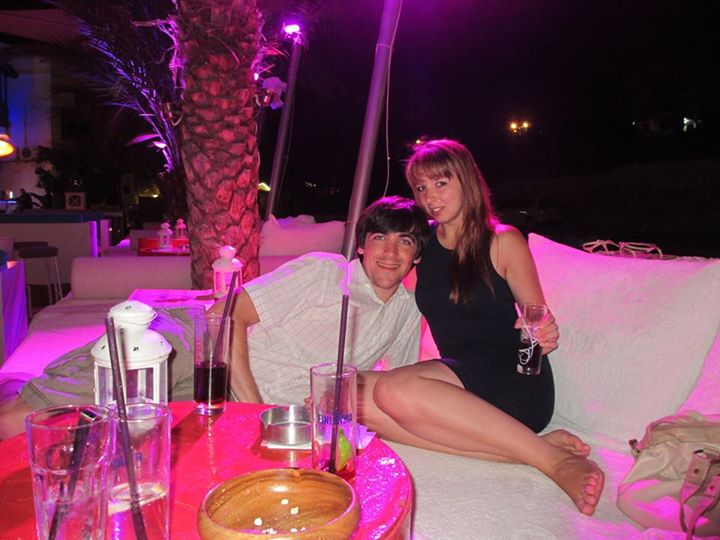 29th july 2014
Today we hopped on our 2nd cruise of our holiday; the blue cruise. Purely a relaxing boat cruise around the different coves and bays of Kalkan and Kalamar. At our first stop the sea was freezing cold, it was far from welcoming from the heat. We were later told there was a fresh water spring near by, which filters in to the sea – some forward notice would have been nice haha.
We left for the cruise from Kalkan marina and had a beautiful view from the boat before we left, looking up to the mountains of Kalkan and the mosque.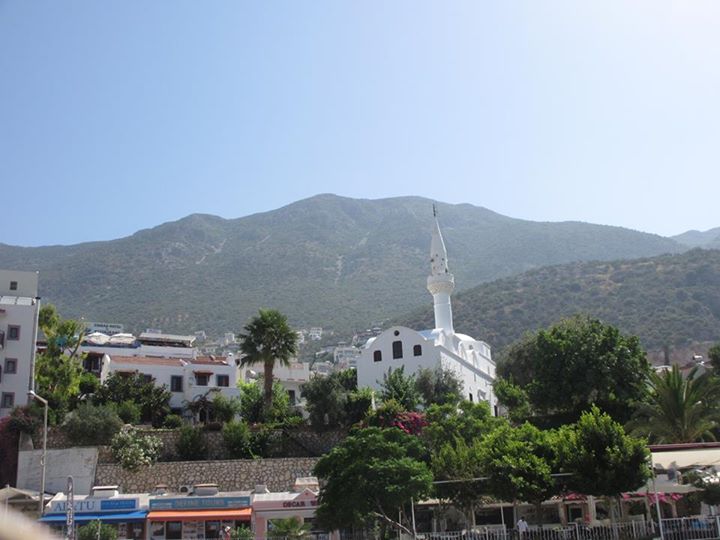 Our second beach stop was a very stoney beach – we swam out to the beach without our flip flops (rookie error). However, a staff member from our boat swam out with us and offered natural mud baths to those who were interested. It was a weird sensation; it was so hot I could practically feel the mud baking on to my skin as it was being applied. It was nice to have a bit of a pamper and I stumbled into the sea after a few minutes to wash it all off and make a fuss of my nice smooth skin – highly recommended.
We continued sailing around the bays, making our way slowly back towards Kalkan and eventually arrived back at the marina at 5pm.
1st july 2014
A few more days by the pool and we booked a tour to Saklikent Gorge with Mediteram again – this was by the the highlight of our holiday!
Mediteram picked us up from our hotel, where we then found out we had been the only people to book the Tuesday trip, so we had the tour all to ourselves! We began by first driving to Xanthos, a city reduced to ruins and tombs, with a very impressive amphitheatre.
We spent about an hour with our tour guide at Xanthos, learning about the area and exploring. We then moved on to Saklikent Gorge, our trip highlight!
We began our gorge visit, with a rafting trip down the fresh water river which leaves the gorge. The water was freezing! The kind of freezing that makes your feet go numb instantly and it's almost too painful to bare – not even exaggerating. I couldn't wait to get in my raft / ring. Due to the water I couldn't bring my camera, but these should give you a good idea. Rafting was so much fun and lasted about 45 mins; the scenery is beautiful and if it wasn't for the intense heat I'd swear I was somewhere near the Alps. Very picturesque.
From here we got picked up and taken back to the gorge with our guide and headed inside. This is why I'm so thankful we were a small group and had our tour guide to ourself. Once you get through the waist-height painful ice cold water, you're at the 'mouth' of the gorge.
Our guide typically offers 30 mins in the gorge due to the size of her groups and their age / capability, but once she got to her normal point she asked if we wanted to continue? We of course said yes! By this point we were done walking and back in waist-high sometimes shoulder height water (at least it was warm this time). We were in the gorge a total of 90 minutes and made it as far into the gorge as possible, reaching the waterfall at the end, where the passage is then blocked with bolders and rocks.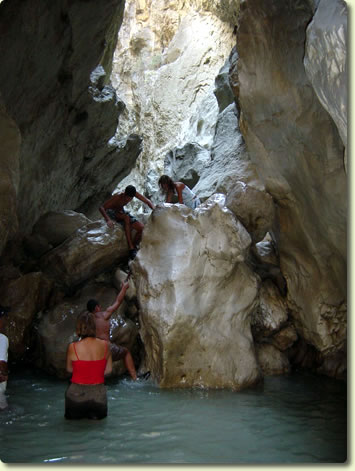 To get there though, we had our fair share of challenges. The deep water made the rock hard to see (a few bruised shins) and there was also one rock that was particularly hard to get up – and then we had to come back to down it (easier said than done!)
Thankfully there were some lovely Turkish people around while we were trying to get up and down, who helped us out and gave us some support. I didn't take my camera due to the water, but I found this photo on Google and think it gives a good idea of the difficulty.
Once out of the gorge, we then drove about 5 minutes down the road to a restaurant, which has seats sitting on top of the river. It was a lovely way to relax and take in our achievement of making it to the waterfall.
From here we moved on to Patara Beach, one of the longest and prettiest beaches Turkey has to offer. There are also some interesting ruins and 2 amphitheatre's just outside the entrance to the beach, which is well worth a visit.
We spent about an hour at Patara before deciding to move on. Although beautiful, sitting by a sandy beach doing nothing didn't quite cut it after the excitement of Saklikent.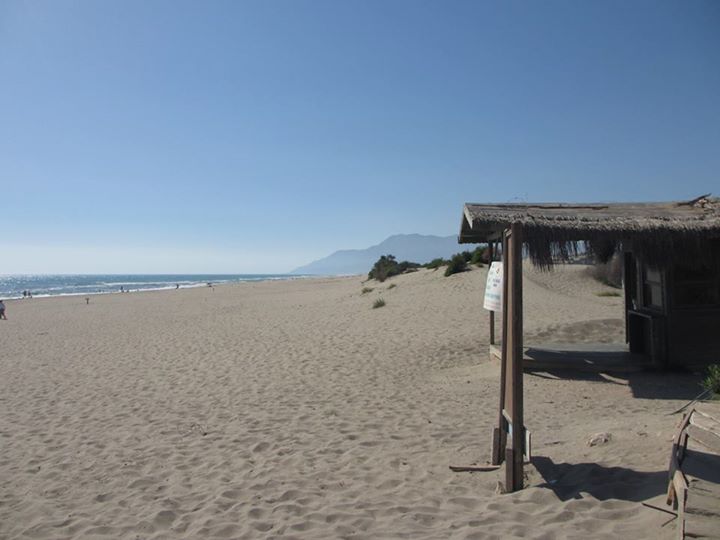 In the evening we ate at a great restaurant called Alternatif and then stumbled across our soon-to-be favourite bar, Authentic. We came here for after-dinner drinks and quickly fell in love with the place and became good friends with the staff, who were very good at wining and dining us all, joking around.
The decor is fab – traditional Turkish design, cosy cushions and big rugs with floor seating. The play great music and have the addition of dart boards, which was great fun. Our main waiter Muzaffer did a great job at looking after us, so much so that we continued to go back there for drinks every night. We also booked a table for dinner one night on their roof terrace, which was lovely! Authentic was our favourite place and I recommend it to anyone!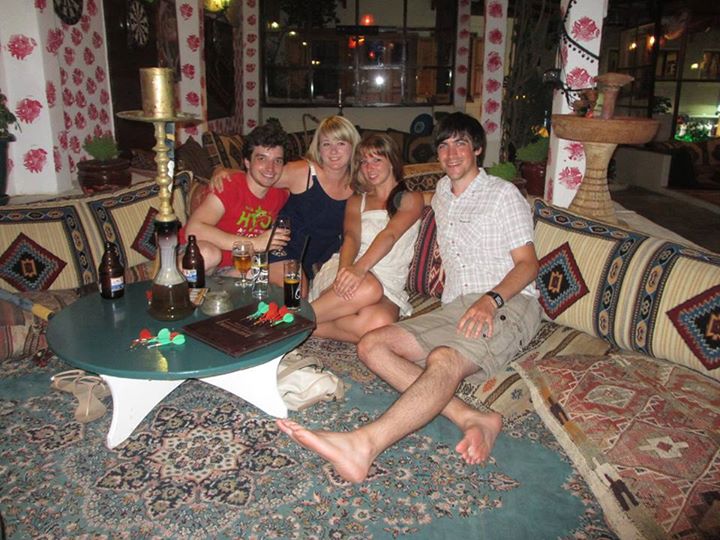 5th july 2014
A few more days were spent by the pool relaxing, we were well into 39 – 40 degree daily heat by this point and it was literally to hot to do anything, so a couple days by the pool was quite welcome.
When talking to one of the other hotel guests, they recommended a visit to Kalamar Beach Club, so we decided to give it a go. Our hotel called the 'Kalamar Cab' who took us to the Beach Club for free and providing we paid for a sun bed (which we obviously were going to do anyway), the Beach Club organised the same thing going back.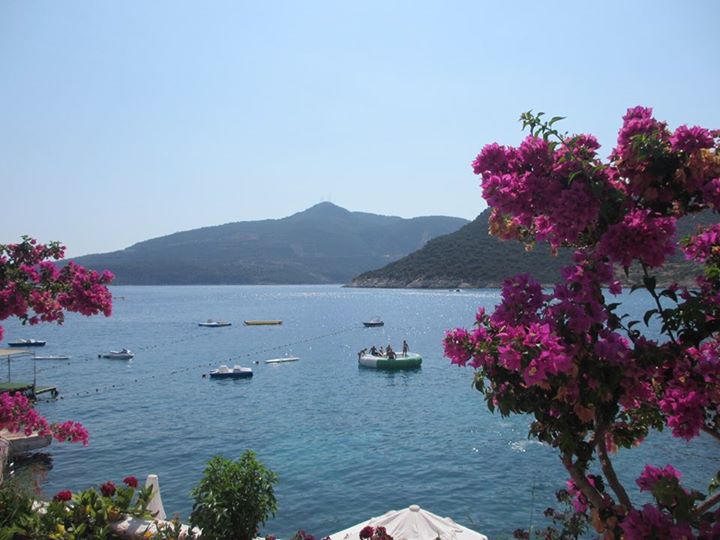 The beach club was lovely and much nicer than Indigo. The staff were lovely and real characters which was nice. They would often come round and take drinks orders and the bar upstairs for lunch was lovely! The food was good, great prices and we didn't feel forgotten about, unlike at Indigo.
The only downside was the water by the steps to get into the sea was pretty scummy, once past the scum the sea was lovely, but it was a bit of a turn off. They offer pedalo and canoe hire, free of charge and there's a huge trampoline in the middle which was great fun!
There is also another water sports company too, so we couldn't resist and decided to book another go on the sofa. We had a great full day here and left about 5pm, ready for a jam packed evening.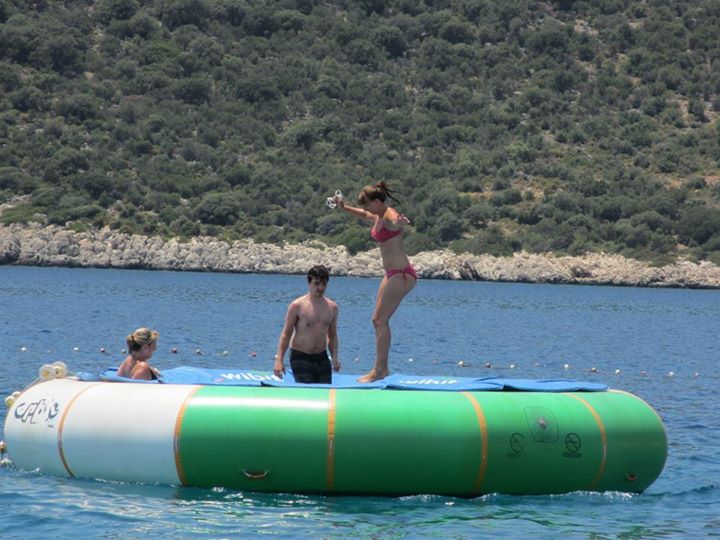 This was out last full evening, so for our last Kalkan meal we went to a restaurant called Doy Doy, which we had decided was the best we'd been to. The food was incredible, definitely the meals we had, but the staff truly made our experience there. They took great care of us, were chatty, friendly and real jokers (wind up merchants). So we enjoyed having a laugh with them and was pleased to see this hadn't changed at all when we came back a second time.
Afterwards we headed back to Authentic for drinks, where we stayed till about 1:30am, playing darts and cards with the staff and then (move over Mojito's), we headed to Chocolate Bar – this place is more like it and knocked spots off Mojito's in terms of atmosphere. We had a fantastic night here; lots of laughs and great music. We also run into all the staff we'd made friends with from Old Trading House, Doy Doy and Authentic.
We spent our last full night dancing with all our new friends until 3:30am when we decided to call it a night, knowing we had to be up early to check out the next day. Boo!
Our last day
Our last day was spent by the pool, trying to enjoy every last drop of sunshine, before coming back to the harsh reality of the UK. We went to a fantastic pizza place near our hotel (so cheap!!) for an early dinner and spent the rest of evening back at the hotel roof terrace bar, until we were picked up at 9:45pm.
I had an incredible time in Kalkan. For someone who had never been interested in traveling to Turkey before, I am now fully converted and would go back in a second – if it wasn't for the fact there are so many other places to see in the world! But I would consider other places in Turkey.
For all the places we ate at and to see my reviews, please see my Trip Advisor profile here.
I had an incredible time, with incredible weather and incredible experiences. Thanks Kalkan & I urge anyone considering Kalkan to book it up right now, you'll love it!