Nestled in the bustling heart of Phuket, not far from Kamala Beach, is Keemala – a luxurious oasis, cocooned within a lush, vibrant jungle. Here you can retreat to a lavish hideaway, perched high on a hill in a one-of-a-kind Treehouse Villa, overlooking the jungle and tropical plants surrounding you. Keemala promises "a new level of relaxation, rejuvenation and connection with nature, where sustainability and eco-friendliness is a way of life". Sounds great to me!
Having spent 3 days in Bangkok, 5 days in Krabi and 4 days on Koh Yao Yai, we were sadly coming to the end of our honeymoon in Thailand. But now it was time for 5 glorious days of pampering, unwinding and pure indulgence at Keemala. The resort boasts an array of incredible amenities, including a spa, rooftop restaurant and bar with views out to the Andaman Sea, daily activities to keep guests entertained and a lagoon-inspired communal pool complete with waterfall and swim-up bar. So, rather than a typical report outlining what we got up to in Phuket (which, in this case, amounted to absolute relaxation!), here's an overview of our unforgettable stay at Keemala.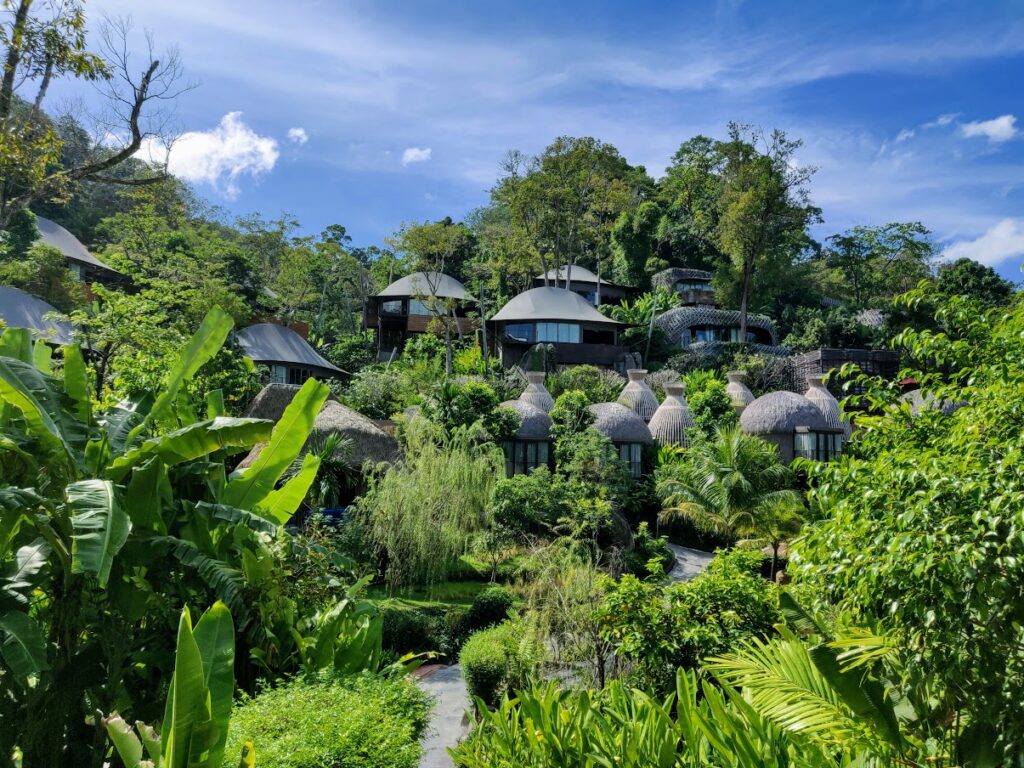 Overall experience
At Keemala, guests check-out of the real world entirely, embracing a true escape which leaves you feeling you could be a million miles away from anywhere – definitely not only 20 minutes away from a popular tourist resort like Kamala Beach! It's not unusual for guests staying here to live a more reclusive life within the comfort of their private villa, retreating from the day-to-day hustle and bustle, and simply revel in the tranquillity that surrounds them. And this is exactly what we did.
When you first arrive at the resort, it is surprising to see a complex of other hotels and buildings alongside Keemala, and it appears as though this may not be the exclusive retreat you'd envisioned. Having not enjoyed our resort stay at Santhiya on Koh Yao Yai, we were sceptical and wondered if Keemala would be the right fit for us, but once you step through the entrance all of that is forgotten, and it's as if you are transported to a completely different part of the world.
Comprising of 38 exslusive private pool villas, Keemala captures the essence of a small & friendly boutique hotel, while delivery top-tier luxury. Nestled beneath the rainforest canopy, the villas are connected by winding jungle pathways, immersing you in lush greenery and tropical gardens at every turn. Distance-wise, everything is within easy walking distance at the resort – it took just a few short minutes to walk from our Treehouse Villa to the main restaurant for example. However, some of the pathways can be slippery and steps are needed to get around some parts of the resort. That said, from an accessibility aspect, the resort also run a free and convenient buggy system to whisk you around the resort if that's easier.
Upon our arrival, the Keemala team made our check-in a breeze, a friendly escort promptly delivered us to our villa, also taking care of our luggage which we left at reception and arrived at our villa shortly after we did. Throughout our stay the service was nothing short of fantastic, supported by a cheerful team who it seemed could not do enough to ensure our stay was exceeding our expectations.
We spent 1 of our days at Keemala's main swimming pool, which felt surprisingly private, despite being a communal pool and actually having a couple of the villas overlooking the pool (one of the Birds Nest or Tent Villas I believe). The Villas actually felt more exposed looking over the pool, and I was personally glad we weren't staying in one of those – considering how much the rooms cost. Definitely something to be mindful of when choosing a room to stay in, and depending on how bothered you are about that.
The pool is a nice size and pebble shaped, like some natural lagoon you've stumbled upon, complete with a cascading waterfall and welcoming swim-up bar. We met the pool's barman, known as "Beer" (love that!) who took great care of us, and his personal touch made our day even more enjoyable!
Keemala takes great pride in its commitment to sustainability and the environment, which shone through in every aspect of our stay. From the use of fresh, onsite ingredients in the restaurant and the natural products in the spa, to the natural materials used in the design of the Villas and the seamless integration with the natural surroundings, eco-friendly practices are the norm here. Keemala was also designed around the existing landscape, preserving mature trees, and utilising natural streams and waterfalls to be integral features of the resort's design. It felt clear to us, that every detail had been thoughtfully considered, enhancing our overall experience at Keemala.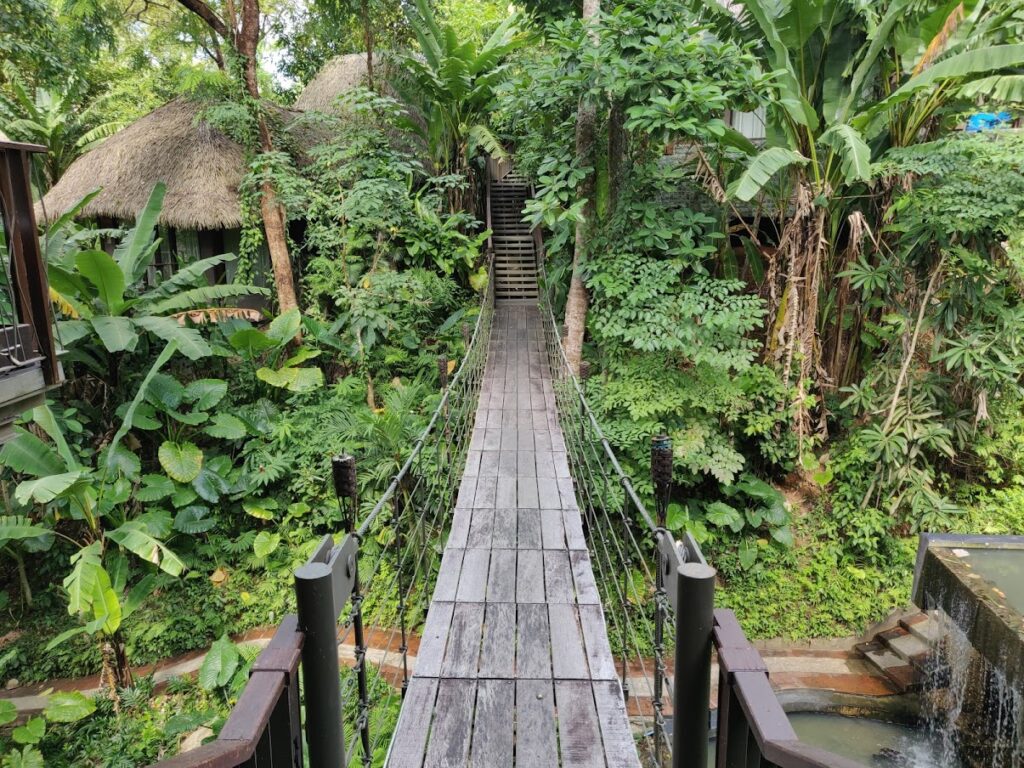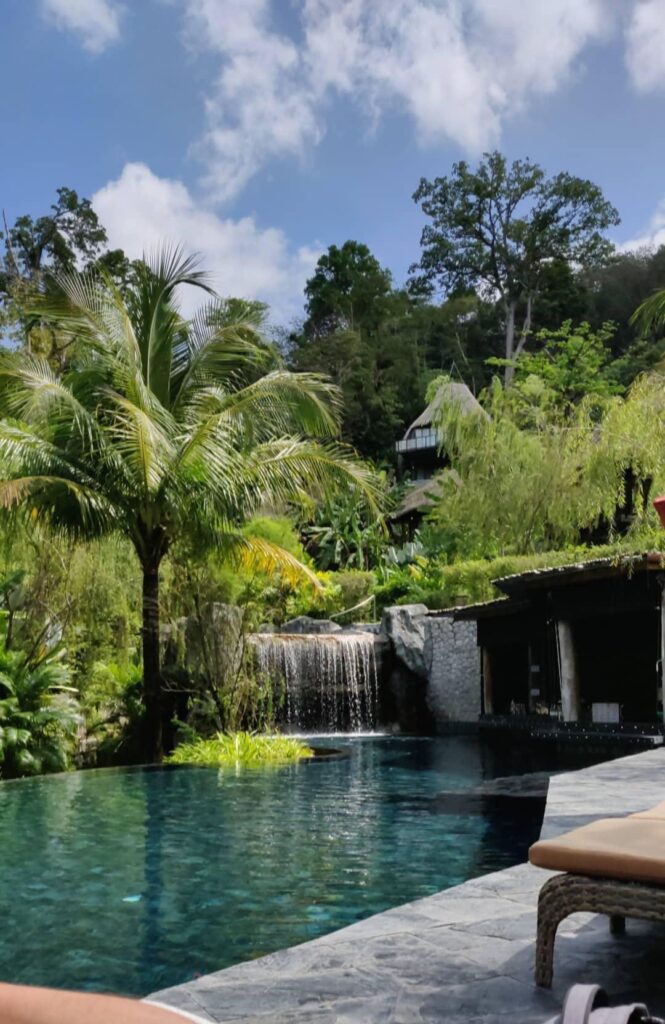 Our Treehouse Villa experience
Hidden amongst the lush greenery of Keemala are their distinctive villas, each drawing inspiration from the mythical cultures of Phuket's first inhabitants. This includes:
x16 Clay Pool Villas – which reflect the traditions of the 'Pa-Ta-Pea' (Earth) clan
x7 Tent Pool Villas – inspired by the nomadic lifestyle of 'Khon-Jorn' (Wanderer) clan
x7 Treehouse Villas – represent the 'We-Ha' (Sky) clan
x8 Birds Next Villas – reflect the 'Rung-Nok' (Nest) clain
We spent 4 nights in 1 of their Treehouse Villas which are truly incredible. Split over 2 levels – a cosy bedroom with a private terrace on the top level. This also included a huge bathroom, with a private outdoor shower. Descend a wide curved staircase and you're in an open-plan living space, with dining room and large double doors which open out to the private halfmoon pool. Both levels offer beautiful views of jungle flora and tropical plants, creating the perfect fusion of luxury and nature.
The interiors are sleek and comfortable, with natural colours, shapes and materials, like charcoal hues, cherry woods, stone tiles and a large circular sofa. The bathroom featured beautiful mosaic floors, an oversized bathtub and a gorgeous outdoor shower that felt like you're showing in the rainfall. The villas also include a complimentary minibar (soft drinks) and a bag of Chiang Rai coffee beans with a small grinder for your morning coffee. 

Crafted from a tent-like fabric with a sturdy wooden skeleton frame, the Treehouse Villas provide a unique and immersive stay. Each morning we would wake up to a chorus of singing tropical birds, and in the evenings, we could watch the pitter patter of (what we think were) monkey paws running across the top of our villa.
Privacy is also one of the standout features of the Treehouse Villas. We loved the seclusion and couldn't see any other villa or terrace from our pool. Surprisingly, it didn't seem as though the Birds Nest Villas (the most expensive villa option at Keemala) were as secluded, with many paths and walkways set directly alongside the private pool areas – as we were walking through the resort we could see right into people's pool areas without even trying. I'd be quite disappointed if we'd booked one of those, but we really couldn't fault our Treehouse Villa.
If there had to be one drawback, I'd say keep in mind that the resort is perched on a hill beneath the forest canopy, and faces northwest. Some parts of the resort will catch some morning sunshine, but most will be completely shaded by early afternoon, (except for maybe the highest villas, but luck of the draw which one you get). Regardless, neither sunrise nor sunset can be witnessed from the hotel. We didn't mind this, but it did mean that we didn't really get to make use of a private pool as much as we'd have liked to because it wasn't warm enough. But this really is a minor quibble and me being picky.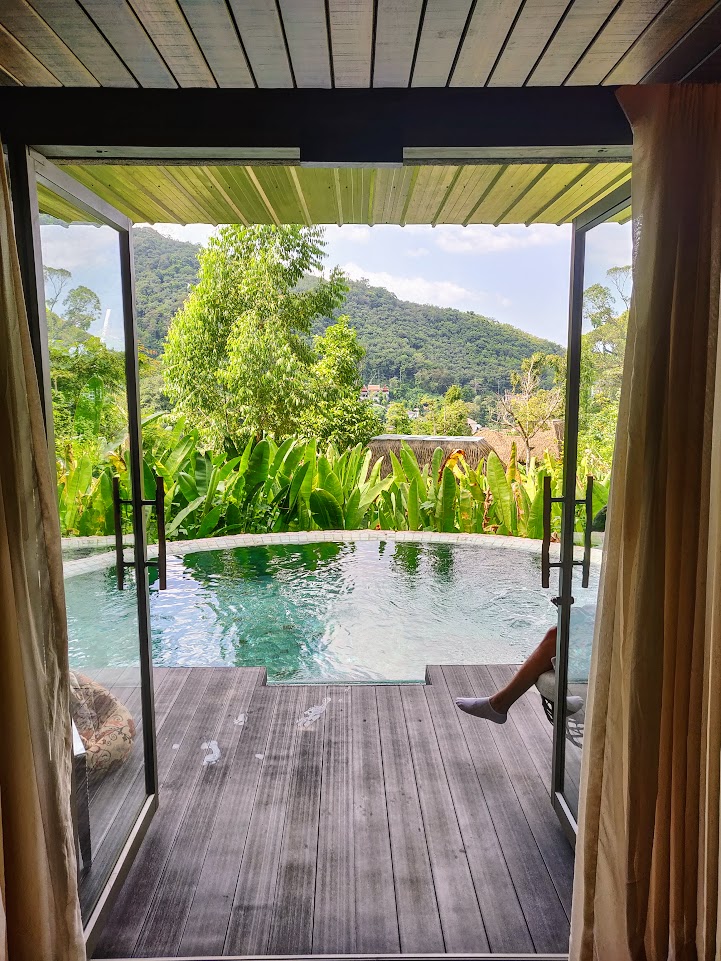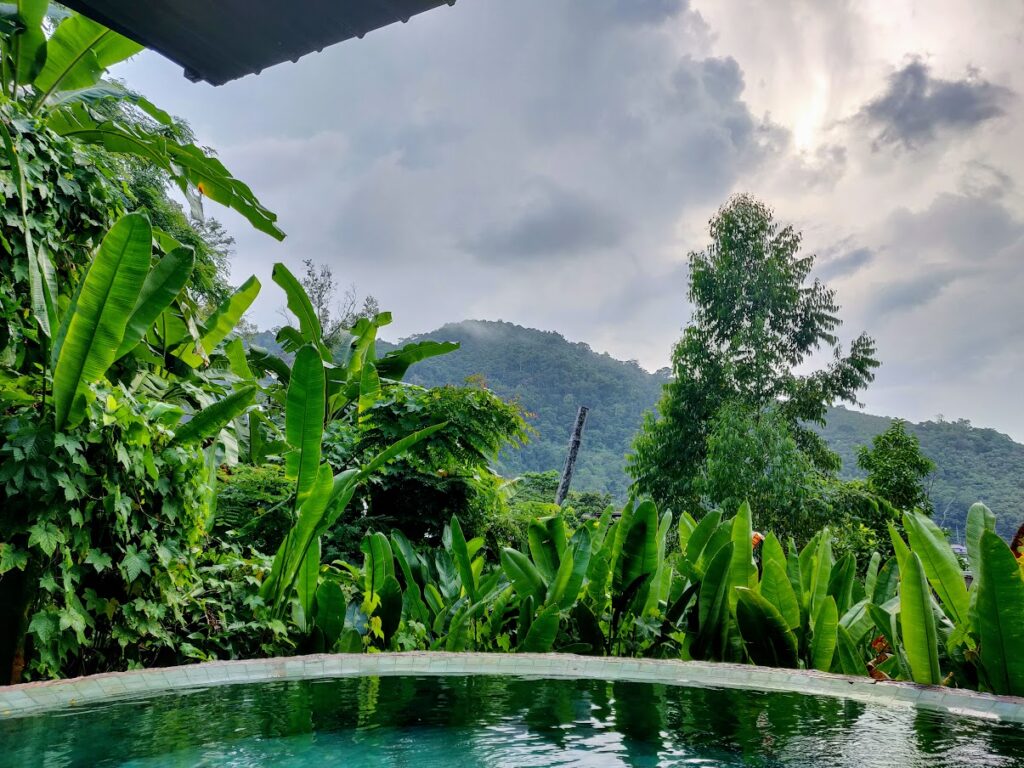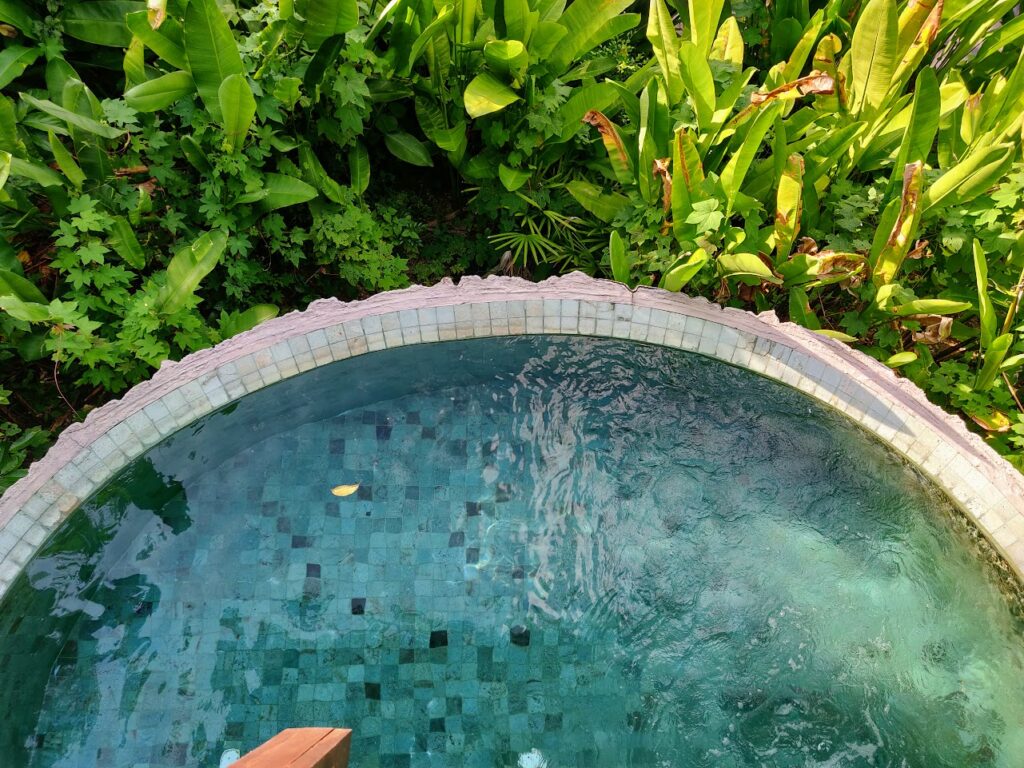 Food & drink
When it comes to dining at Keemala, you're in for a treat!
Breakfast is included as standard, served from 6:30am – 11am, and is complete with a side of complimentary bubbles which you can help yourself to as you walk into the restaurant! The hotel has one restaurant on-site which caters to all your breakfast, lunch and dinner needs, and covers a variety of international, Indian and Thai dishes, including options for vegetarians, gluten-free etc.
The bar, which can be found at the back of the restaurant is also a real find! With a beautiful feature bar and outdoor seating on the terrace, this is one of the best places at the resort to sit back and relax with one of their (many) refreshing cocktails and enjoy the vistas around you.
Keemala's commitment to sustainability continues into the kitchen, where they use natural ingredients grown from their own grounds! The resorts 'Enchanted Garden' covers almost half of the daily vegetables and herbs served in the restaurant, from basil and chili, to lemongrass and kaffir lime, plus even seasonal fruits like mangos and starfruit, with banana trees providing fruit all year-round!
Overall the dining experience at Keemala was faultless, with mouth-watering dishes that kept us coming back for more. I also had the best Pad Thai dish at Keemala out of our whole time in Thailand!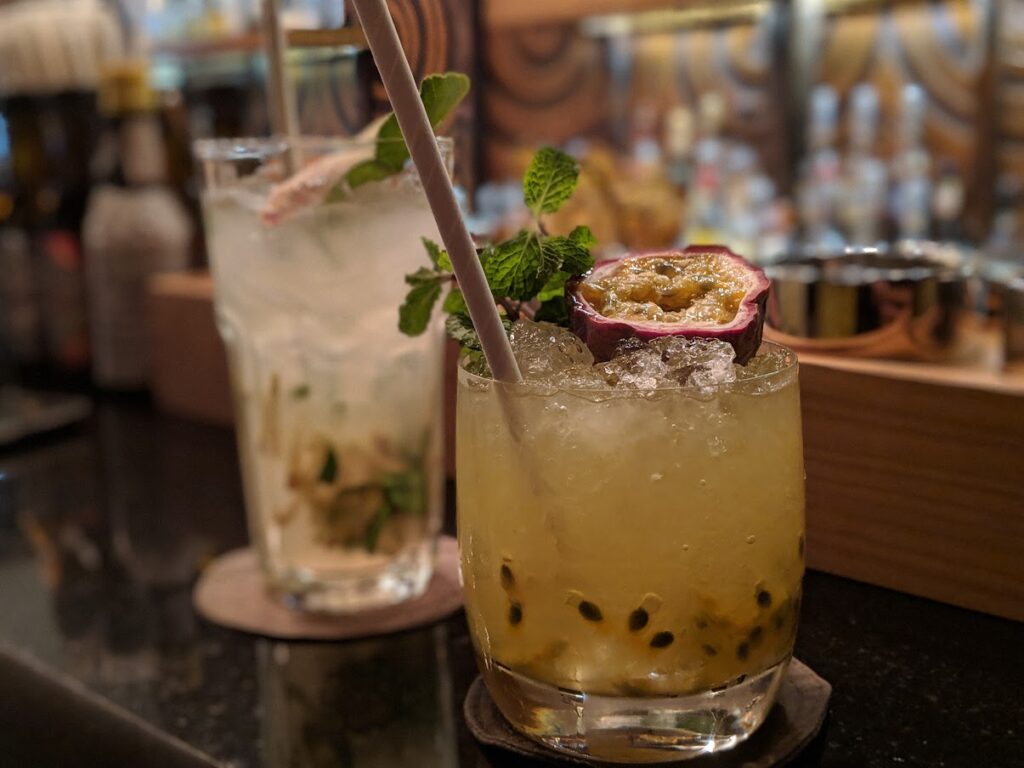 Activities
If simply basking in paradise isn't enough for you, then the hotel also offers a number of complementary activities to keep you busy during your stay!
During our check-in we were given a schedule of all the daily activities available and how to sign-up. This included anything from cocktail making in the resort's bar, to a HIIT session at their gym, photography tours around the resort or a sunrise yoga session. I loved the thought of the sunrise yoga session, but unfortunately was never actually awake early enough to take part! We did however book onto the cocktail making class, with one other couple, which was so much fun, and we enjoyed chatting in the bar with them afterwards. On another day, we booked onto the rubber plant tour, led by one of the hotel's groundskeepers, who showed us around the grounds and taught us how to harvest rubber from their on-site rubber tree plantation!
Keemala also host weekly guest drinks on their terrace before dinner. This is a lovely opportunity to see all the other hotel guests emerge who have been in hiding during your stay, and enjoy some delicious complementary cocktails before dinner.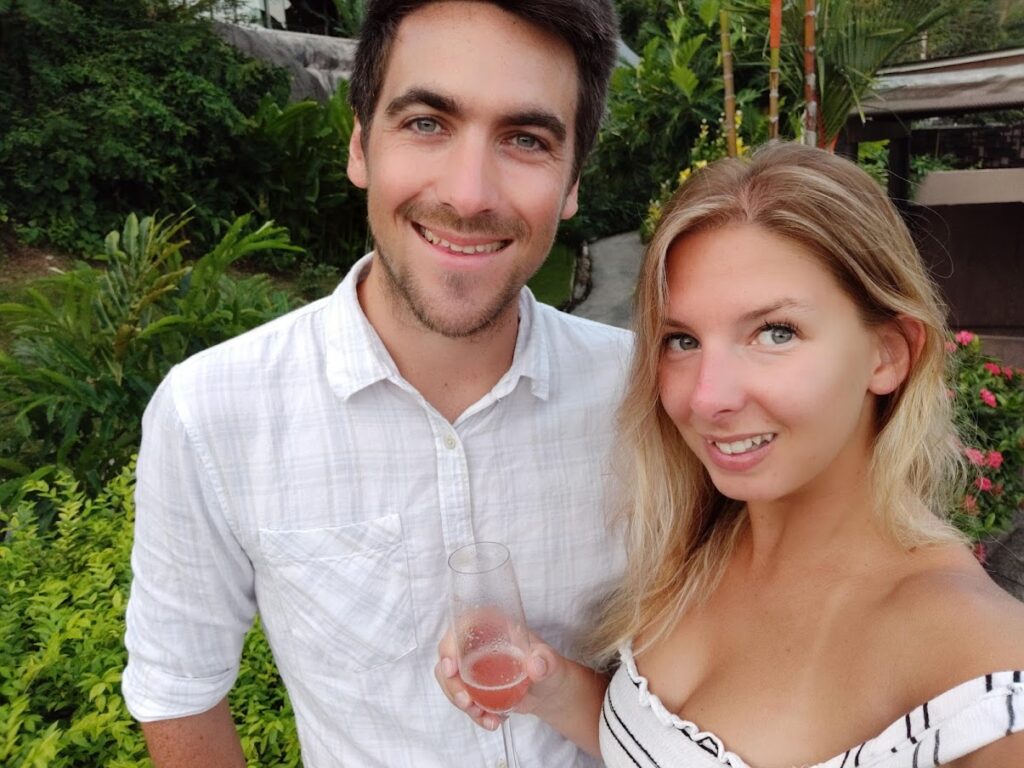 Spa
Keemala's renowned spa, Mala Spa, boasts 8 treatment rooms, in small pod-shaped structures, and each designed to provide a tranquil and rejuvenating escape. If you've come to Keemala to check-out from the real world, to feel refreshed and be pampered then a trip to the spa is a must for you!
The spa features traditional Thai therapies, plus holistic treatments like energy rebalancing and wellness programmes. We both booked ourselves in for a full body treatment, which included a steam, foot soak, top-to-toe body scrub, followed by a full body massage. It was honestly the best spa treatment we'd had during our whole time in Thailand – so much so that I actually fell asleep during my massage! Afterwards, we relaxed some more at our villa and enjoyed a complementary glass of bubbles each.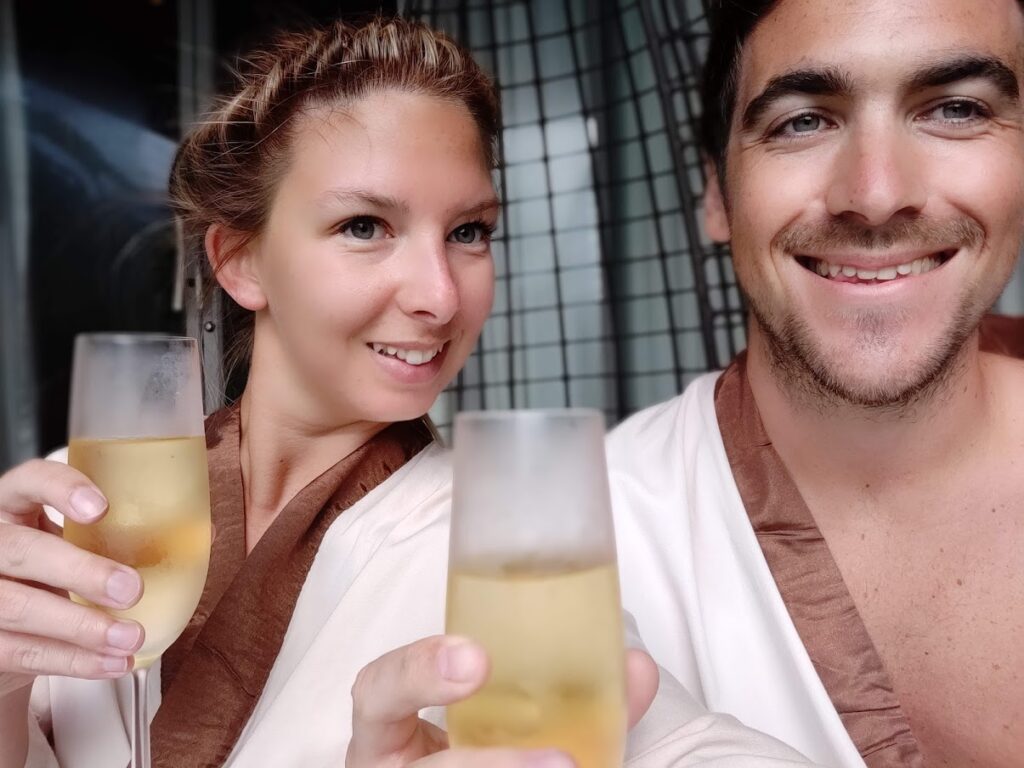 This was the first time we'd ever stayed in a luxury resort like this, and we felt spoilt rotten from the moment we arrived until the second we left. Keemala really is a hidden gem, offering an escape from the ordinary, surrounded by natural beauty.
Keemala is about 45 minutes drive from Phuket International Airport, and I'd say the best time to visit would be during the dry season, November – February. We came in early December and had beautiful weather everyday.
Our stay in the Treehouse Villa was truly unforgettable, but it did come at a price of £2,000 for 5 days. Would I come back? In a heartbeat! Do I think it's worth the money? Absolutely, but this is once-in-a-lifetime special occasion territory I'd say. Weddings, honeymooners, or super significant anniversaries or birthdays. I personally don't think I could fly all the way to Thailand, just to stay at the resort for the entire time. Combined with a few days or a week of traveling though, and Keemala would be the most perfect, welcome respite. I don't think anyone could regret a stay here.
If you enjoyed our review, or if you have any questions, please drop them in the comments below. Thanks!