The area of Phang Nga Bay is a truly stunning part of Thailand, with bucket list views, hidden caves of wonders, busy fishing villages, history and iconic locations. Located between Phuket and Krabi province, the area is notable for its jaw-dropping karsts that dramatically jut out of the ocean and of course "James Bond Island" which was featured in the 1974 James Bond movie 'Man with the Golden Gun'. More recently, the area has also been put on the map for its stunning sunrise views looking out across the bay.
There is so much to see and do in this beautiful part of Thailand, it can be hard to do it all by yourself, as the best way to see Phang Nga Bay is by boat. Numerous tours leave Phuket and Krabi on day trips to this incredible natural wonderland, and during our 5 days in Phuket, we booked a full-day tour with 'Phuket Let's Go', which was easily the highlight of our time in Phuket.
Samet Nangshe sunrise hike
The very definition of "bright and early", our day started with a 4am(!) pick-up from our hotel in Phuket. We were staying at the beautiful Keemala resort, in the Kathu district of Phuket island, meaning we had a 1 hour transfer time ahead of us, to reach our first destination of the day: Samet Nangshe viewpoint, to witness the sunrise over the picturesque Phang Nga Bay.
We are generally early-risers (perhaps not quite 4am early-risers!) but we are always keen to make the most of our day, whether at home or on our travels. But whether you're an early-riser yourself or not, I can promise you getting up before the birds is well and truly worth it for these jaw-dropping sunrise views.
Samet Nangshe is a 800m panoramic viewpoint within the Phang Nga Bay area, located about 25km north of Phuket island. If you're making the journey to the viewpoint yourself, then there is a car park at the bottom, along with some toilets. You'll have to pay a small entry fee before you can begin the trek up to the viewpoint. If you don't fancy the hike, there is a truck which can take you to the summit (for a fee). However if arriving for sunrise is your goal, the trucks don't tend to run that early unfortunately! But if you're like us and you book with Phuket Let's Go (or someone similar), then your entrance fee will be included in your tour price and they will also time your hotel pick-up time to coincide with making it to Samet Nangshe for sunrise.
We were dropped off at the car park, and armed with head torches from our guide, we made our way through the dark up to the summit. The hike is a continuous ascent, with no flat spots. It's very steep in places, but I'd say is still manageable for all fitness levels, just make sure you pace yourself if needed. I would say we are reasonably fit and able, and the ascent took us about 20 – 25 minutes.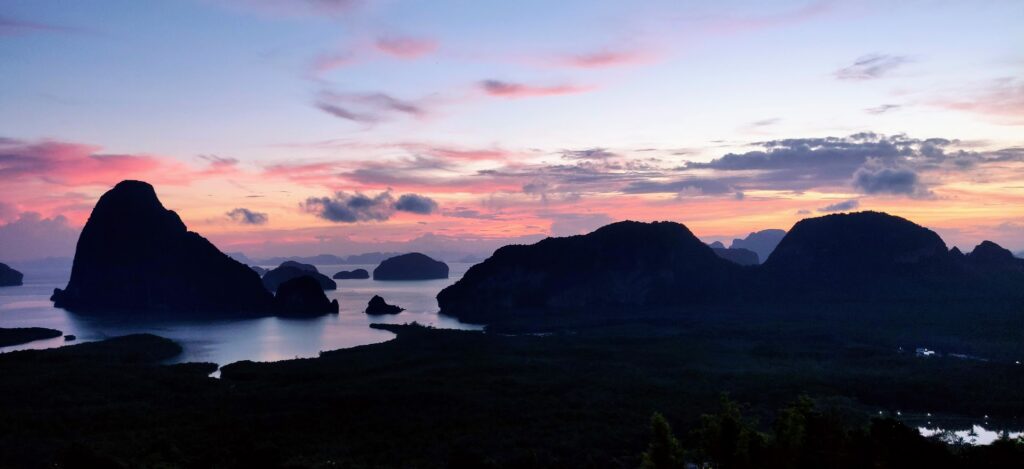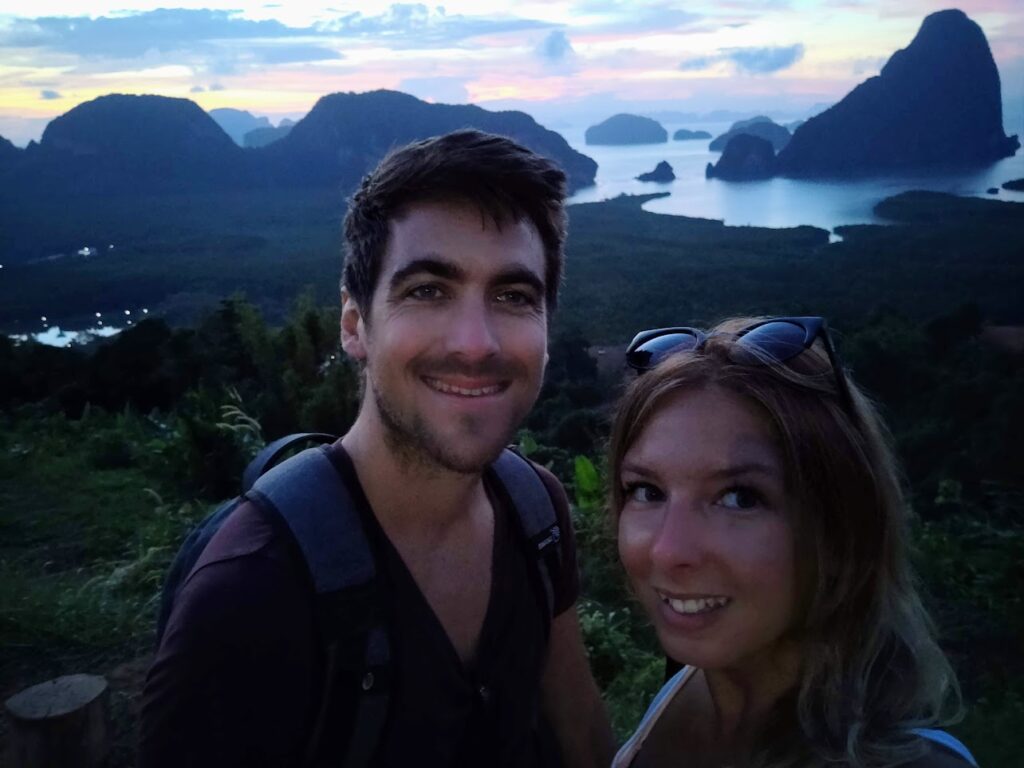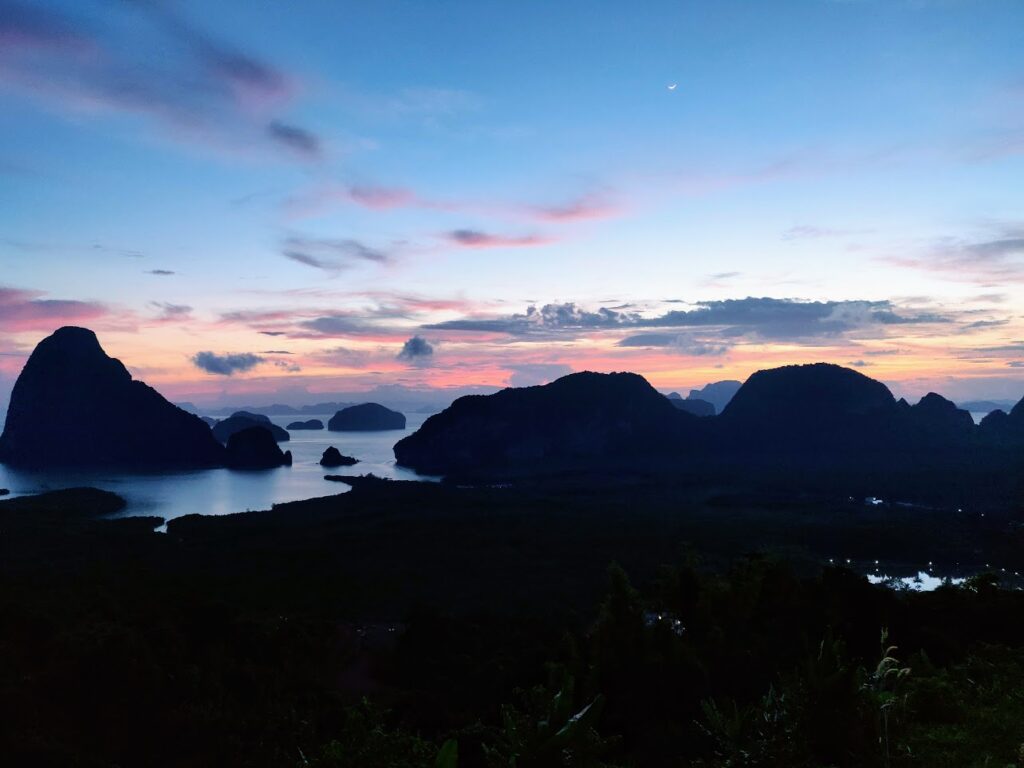 Despite starting the hike to the summit in darkness, daylight broke pretty quickly, and we made it to the summit just in time to see the sky transform into beautiful pastel shades of pink, yellow and blue as the sun began to rise over the horizon. The hot and sweaty walk to the viewpoint was worth it, as we stood at the top and gawped at the endless towering limestone karsts, jutting out from the ocean as far as we could see.
There were a few other groups of people who had also made the pilgrimage for sunrise, but on the whole it was pretty quiet. Phuket Lets Go also don't book groups of more than 8 people, so it meant even our own tour group size was small and felt really personable.
We sat down on some benches and enjoyed the views with a small sandwich breakfast provided to us by our tour guide. We were fascinated by the microclimate generated between the karsts, watching the sky turn an electric purple, filled with localised lightening storms in one area, while slightly further to our right the sky was transforming from its dreamy blend of pastels into stronger golden rays as the sun crept higher.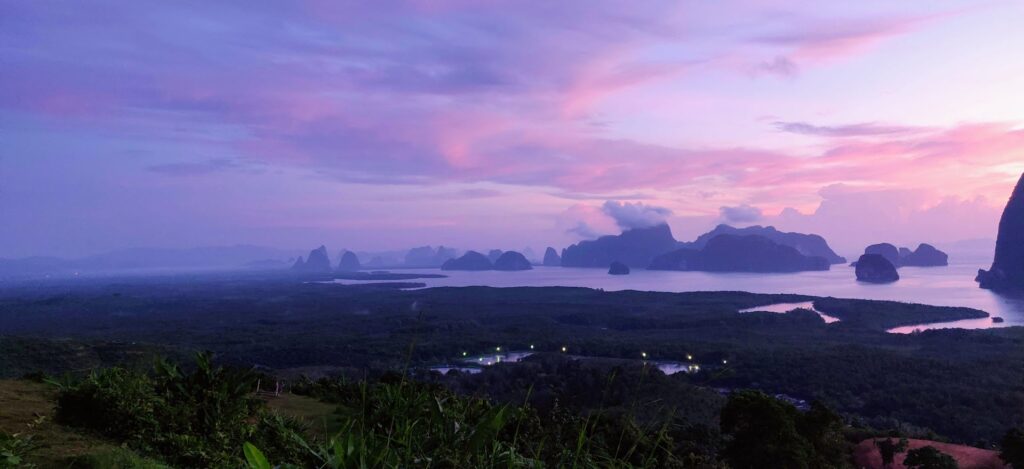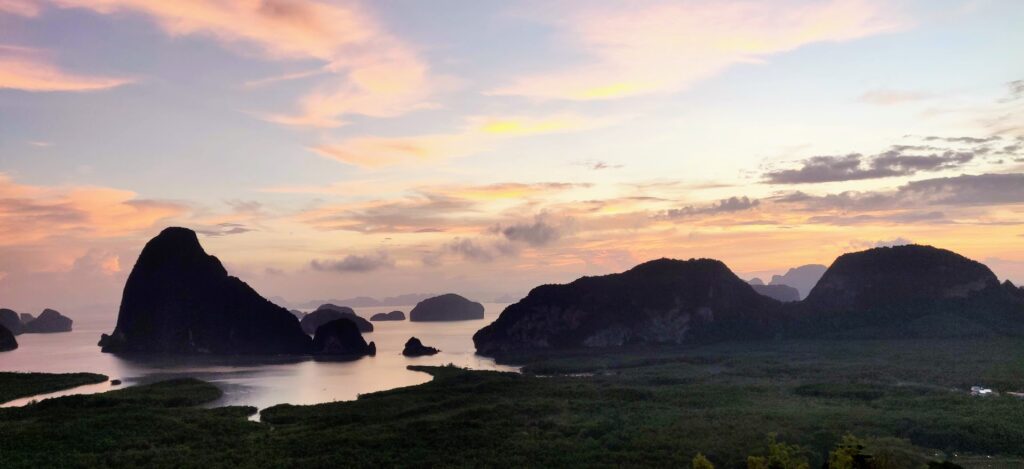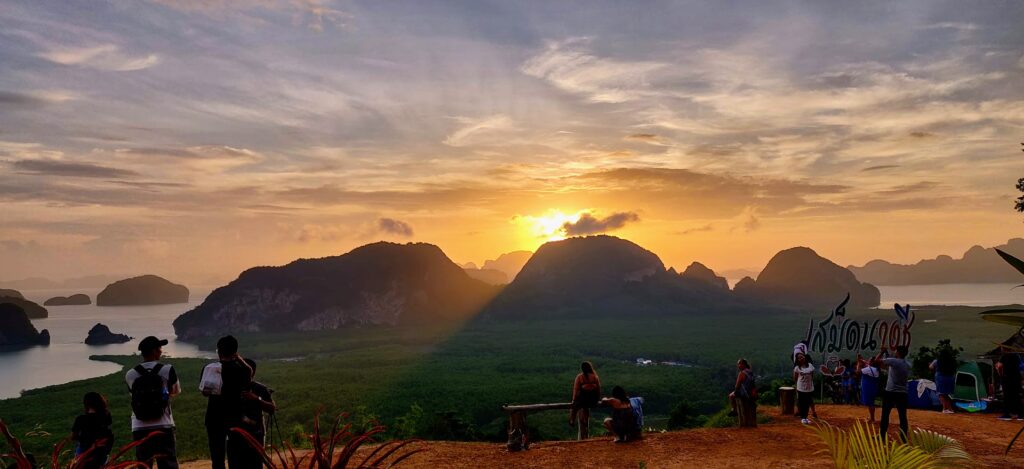 After sunrise, we made our way leisurely back down the summit and headed off to a local fishing village with our guide and the rest of our tour group. The journey must have taken no more than 20 minutes and was lovely to see a quieter side to Thailand as locals spent the early morning preparing for their day ahead. The scenery is also incredible too, as we got out of the car and headed towards our boat pick-up point, surrounded by lush greenery and sea views.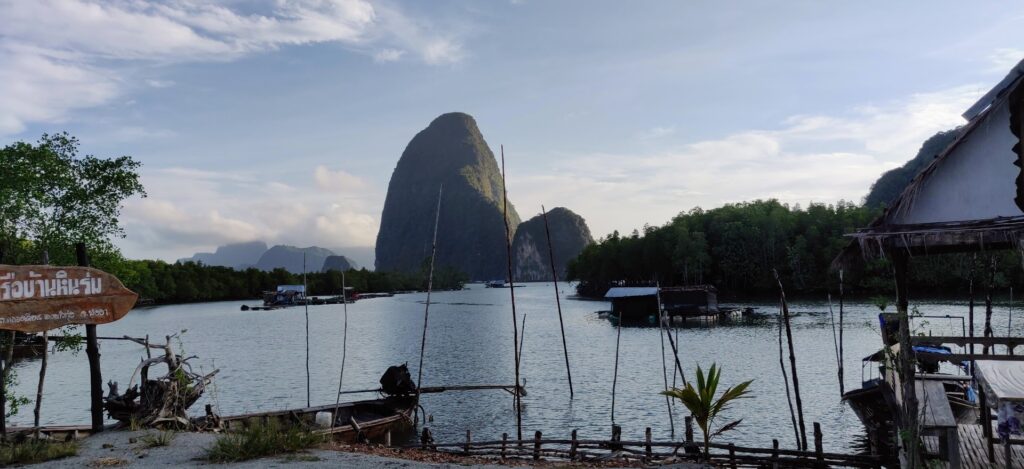 The next part of our day would very much all take place at sea, so we hopped in our long-tail boat for the day, and enjoyed the short boat trip out to "Koh Ta Pu" (otherwise known as James Bond Island). Due to the location being featured in "The Man with the Golden Gun" this is one of the area's most iconic and busiest tourist attractions – thankfully Phuket Let's Go timed our visit out of sync with all the other tour groups which visit here throughout the day and it meant we largely had the island all to ourselves.
While I thought it was interesting that the island had been featured in a classic James Bond film, I must confess I'm not really a fan of James Bond films – and nor have I actually seen "The Man with the Golden Gun", so I was keen to explore more and soon found that this tiny island had so much more to offer. Touristic or not, this place is well worth a visit if you're exploring Phang Nga Bay.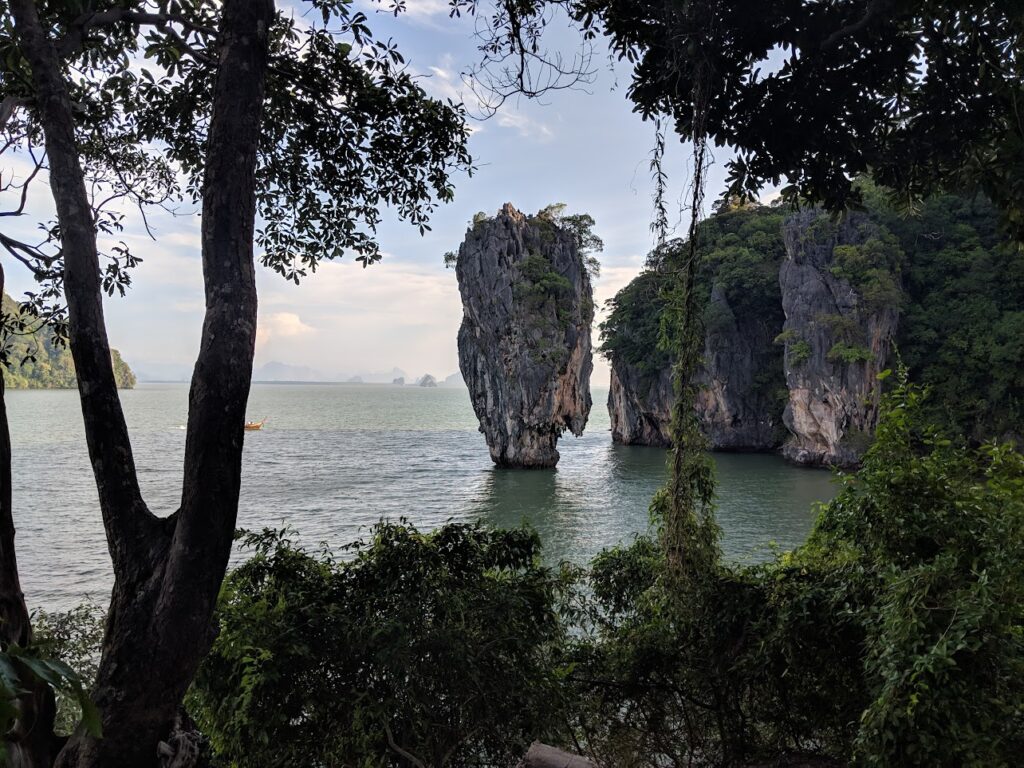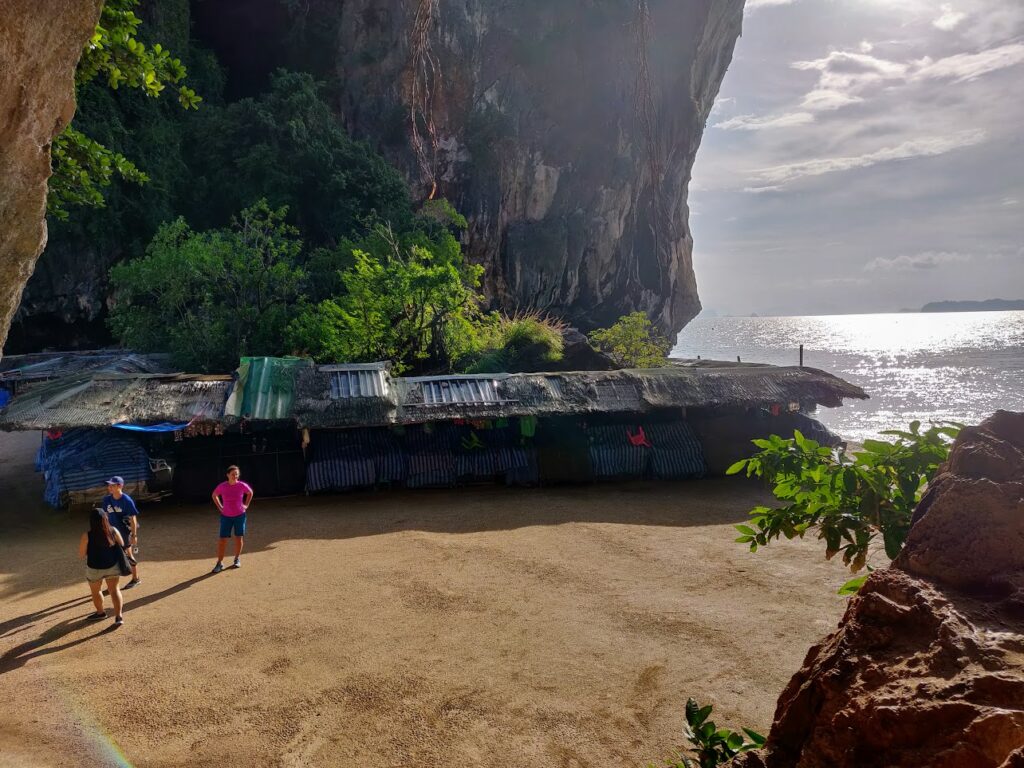 If you travel here solo, there's a fee for visiting, but if you visit with an organised group, this fee will usually be included as part of your overall charge. After snapping some obligatory photos in front of Koh Ta Pu, we were free to explore the rest of the island and all its beauty.
The island is quiet, and largely leafy and green, with a couple of small sandy beaches and coves, which we had all to ourselves. There were a couple of locals who I think worked for the National Park and helped to maintain the area. They showed us some of the unique sites on the island, such as a very unique cliff-face, sloped at such a steep angle the locals have made it into a game as whether you can stand up straight against it and for how long.
The whole region is known for its limestone formations and caves, and this island is no different at all. We had a lot of fun exploring the caves and finding beautiful hidden lookout spots, with nothing but miles and miles of clear ocean views – heaven!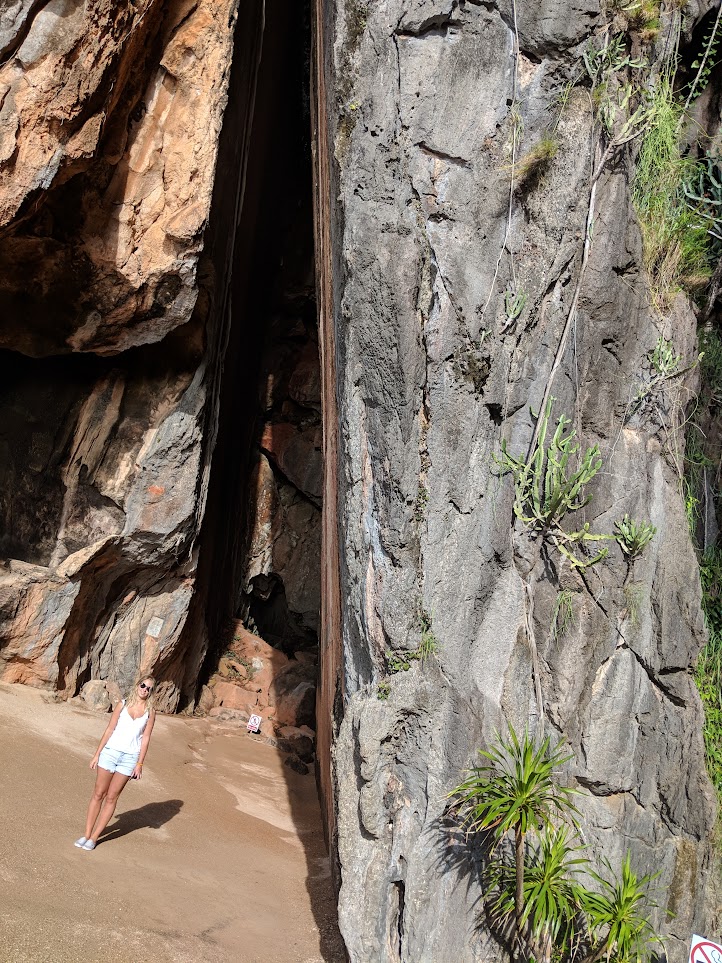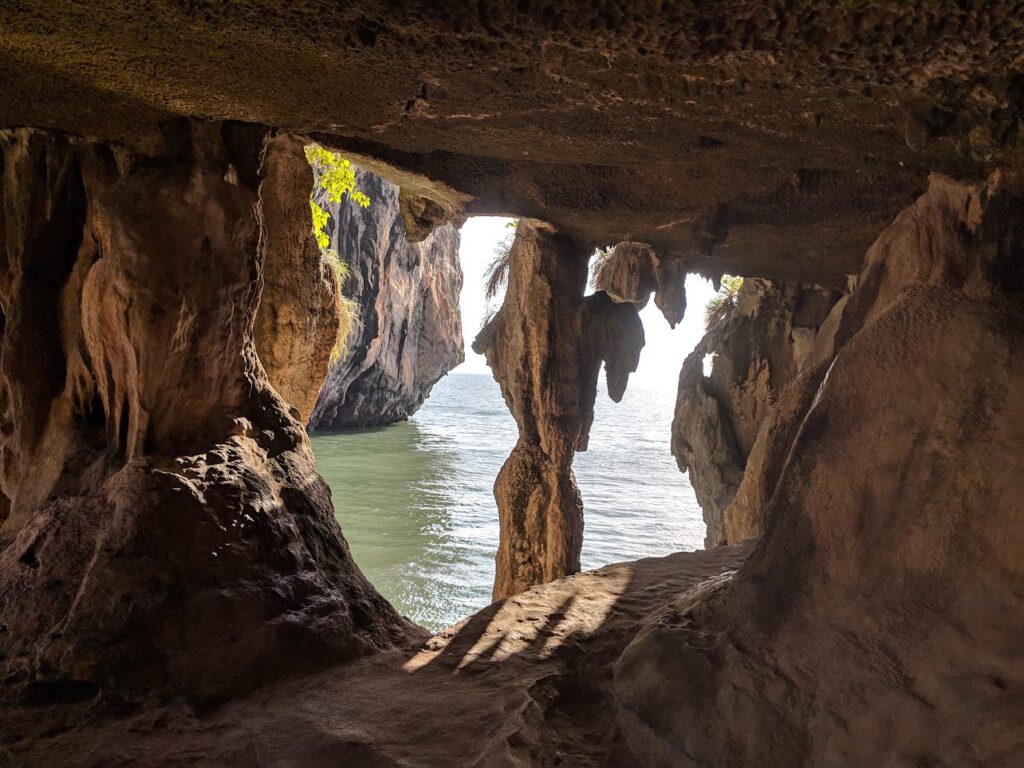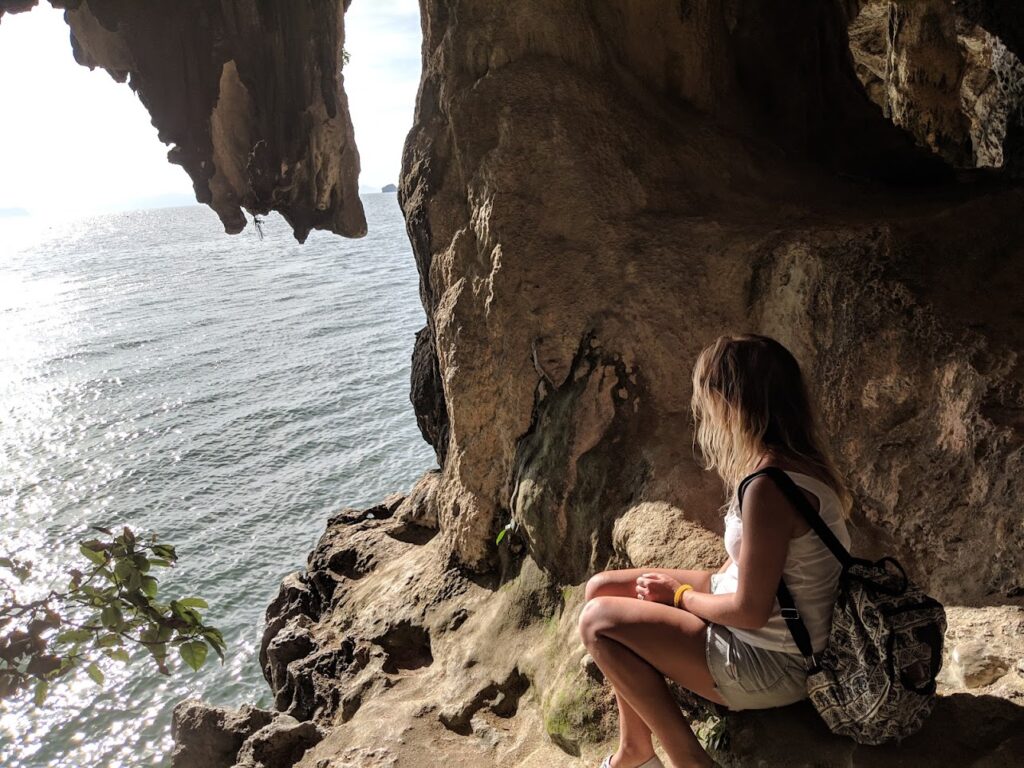 The rest of our day was a pretty relaxed affair, hopping back on the long-tail to explore the sea caves and hongs (hidden lagoons) that are dotted throughout the Phang Nga Bay area. The scenery is beautiful, no amount of photos or detailed descriptions could do the region justice.
I am also a huge lover of bats, they are my favourite animals, and I was over the moon to find out that one of the caves we visited was home to hundreds of them! Our boat pulled up alongside a cave and we hopped off-board and into the cave, careful to be as quiet as we could so that we didn't disturb all the sleeping bats above our heads.
We stopped off at a couple of caves like this, some with bats in, some completely empty, which allowed us more freedom to explore. The caves are incredibly impressive, filled with stalactites hanging dramatically above our heads, and we loved the flexibility of just pulling up alongside and hopping inside for an explore as we sailed around the National Park.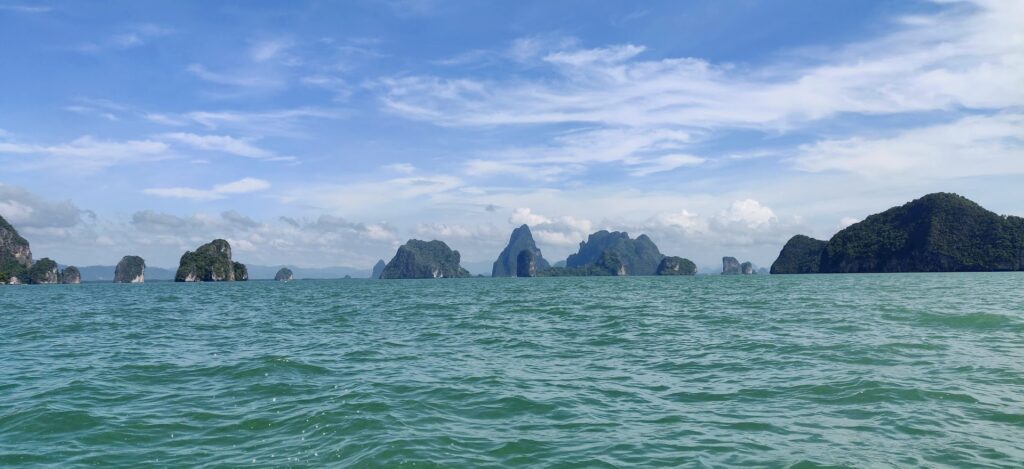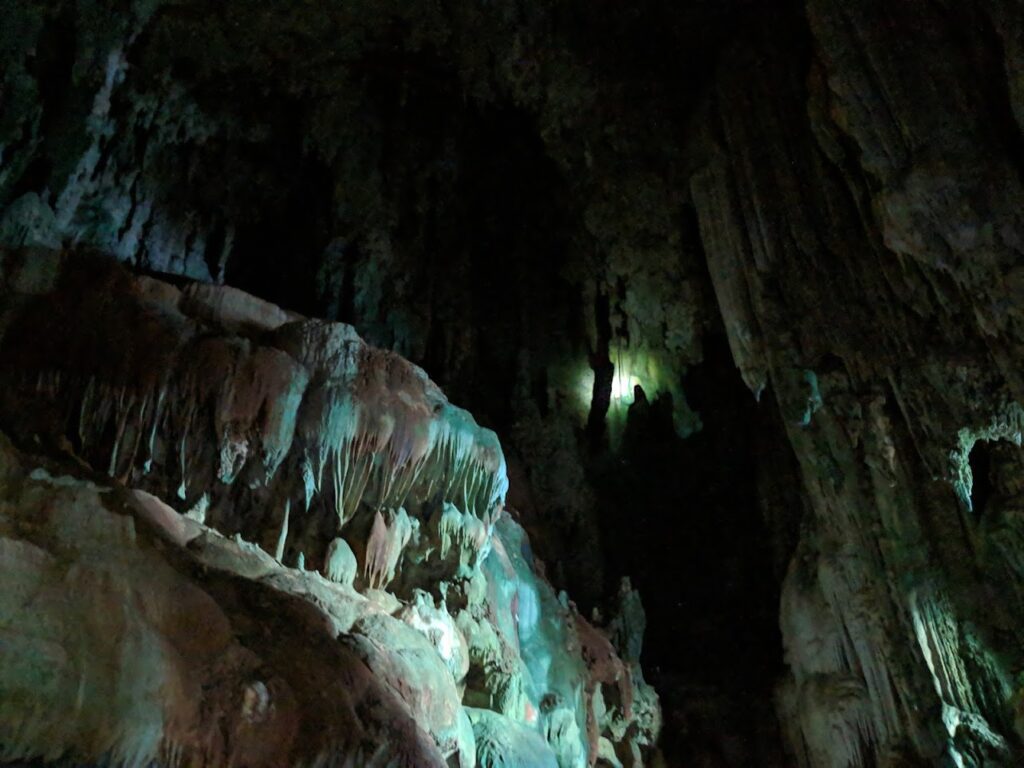 One of our final stops of the day included visiting a small hidden lagoon, reachable by kayak. Much like the National Park fees, the charge for kayaking was already included in the charge from Phuket Lets Go. We met by a small team who helped us all into our individual kayaks and then we got to sit back and enjoy the stunning views while the team kayaked us around the area.
The activity surprised me as I didn't expect to enjoy it as much as I did. It was so peaceful and serene. My guide in the kayak with me would point out small details and sights usually overlooked or missed by most visitors and it was great to be able to take-in all the views from a different perspective and explore the typically more hidden lagoons inaccessible by the larger boats. 
After our kayak excursion, we made our way to our final tour activity for the day – a visit to an old shell cemetery. We pulled up alongside a modest wooden walkway – if you weren't looking for it, you'd easily miss it – surrounded by lush green jungle and mangroves.
We made our way a short walk through the mangroves to the scene of an ancient shell cemetery, famous for its collection of fossilised seashells, believed to be millions of years old. The shells are embedded in the rocks and cliffs, offering a unique glimpse into the region's ancient marine history.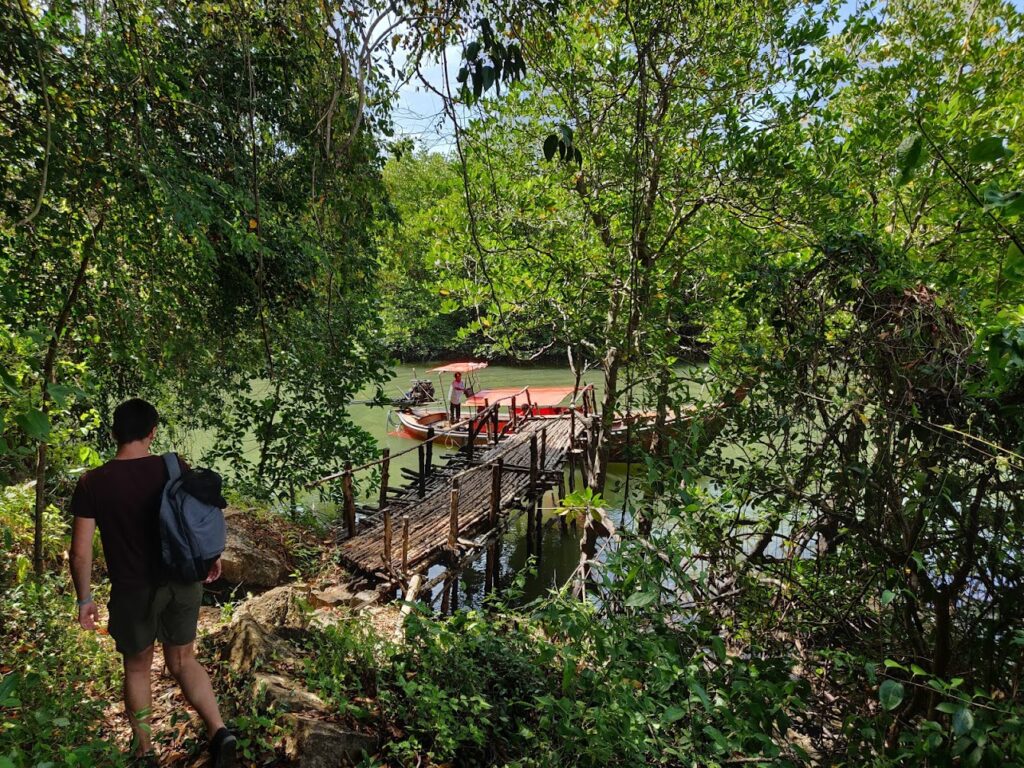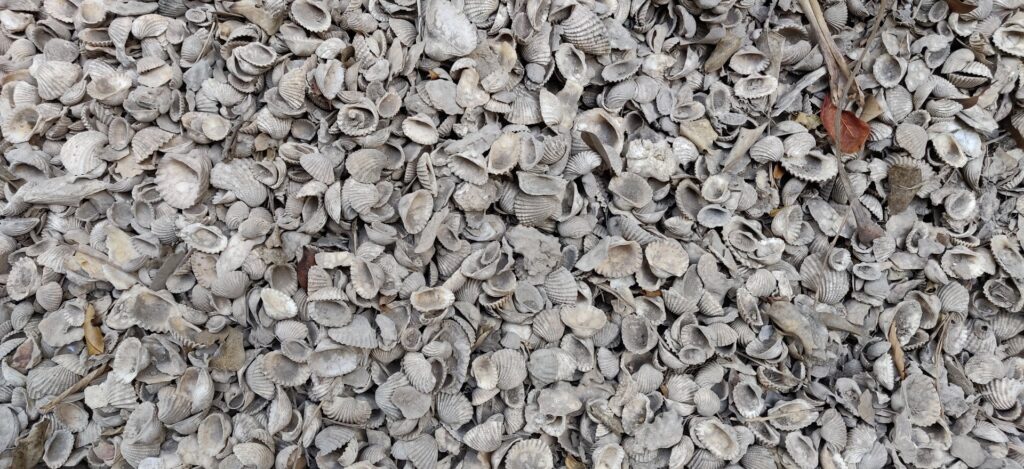 The shell cemetery was a unique experience and concluded our tour activities for the day. Our long-tail took us back to the fishing village where our day had started many hours ago, and our car took us back towards Phuket – but not without a tasty and fulfilling late lunch first!
Each lunch location is usually different I believe, depending on availability and where the drop-off locations are for tour groups. Our group stopped off at The Adventure Mountain Club, where a delicious Thai lunch was prepared for us, with sweeping views across the leafy Phuket region.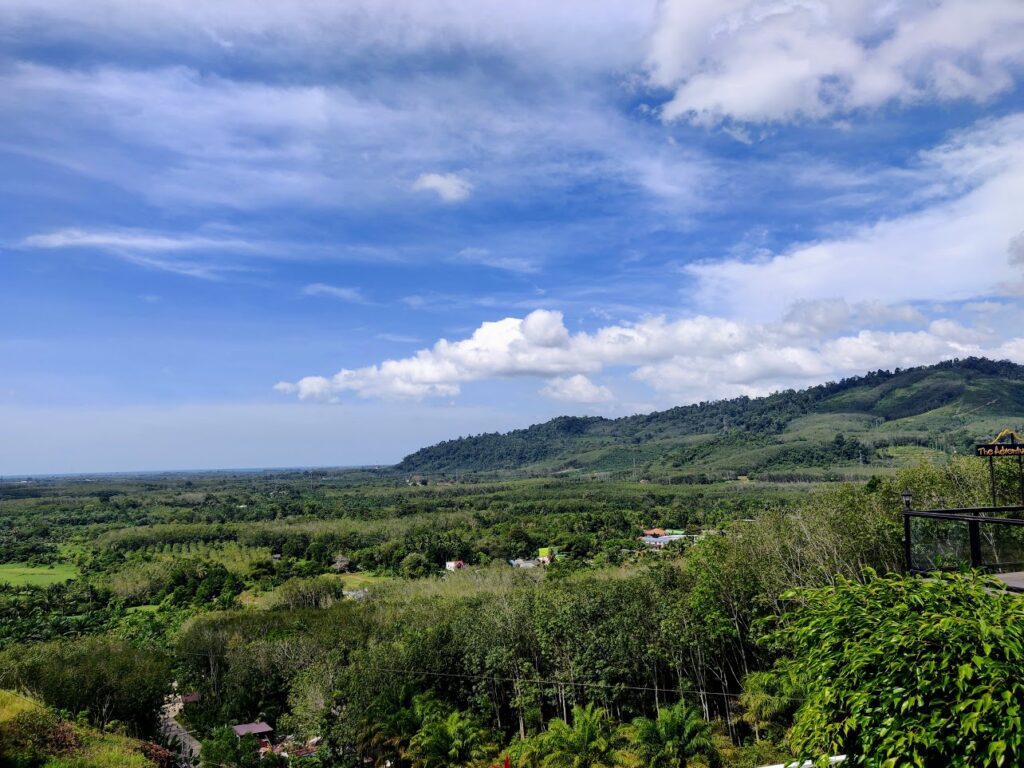 Feeling suitably well-fed and fulfilled from our day of exploring, we were dropped off at our hotel by mid-afternoon, and we enjoyed a much needed relax by the pool, re-living the amazing day we'd had.
I hope you enjoyed the report! I highly recommend booking this trip with Phuket Lets Go! It was one of our trip highlights, and those sunrise views will stick with me for a long, long time! If you have any questions, please ask away in the comments below – thanks!